I'm flying from Seattle to Frankfurt right now on Lufthansa in business class. Yes, that wasn't a typo — business class.
If you're not a long time blog reader, let me explain why that's weird. Simply put, I'm probably Lufthansa's biggest fan ever. Their first class ground services are phenomenal — the best in the world, perhaps along with Emirates' in Dubai and Thai's in Bangkok — and I find their cabin crew strike the perfect balance between being professional, attentive, and personable. I wrote a post about this back in May, entitled "do I hype Lufthansa first class too much?"
Well I'm in the middle of a 90,000 mile US Airways business class award, and I decided to fly Lufthansa from Seattle to Frankfurt. Yes, I voluntarily booked the old product, and my primary motivation was actually being able to report back to you guys with my impressions (though this segment isn't really the highlight of the trip — my main goal is to try EVA, Star Alliance's newest member airline). The funny thing is that on longhaul Lufthansa flights I haven't flown anything but first class for over five years now. I've flown dozens of segments in Lufthansa first class, so no wonder I love them so much. Their new first class hard product is phenomenal, and their ground experience is so impressive that it's easy to forget you're not flying in a private jet. I've almost spent the past five years without giving much thought to the experience on the other side of the "curtain." And that's not even intentional, it's just that Lufthansa does such a damn good job isolating the first class experience.
While Lufthansa's new business class looks quite nice, I didn't have high expectations of their old business class. But my gosh, even with low expectations the product was disappointing, and actually made me wish I was on a US carrier instead.
Let me explain:
The seat
The seat is the most uncomfortable angled flat business class seat I've ever flown in. It's much less private than American's angled flat seat, since there's not as much of a "shell" around the side of the seat. The seat is also at a rather steep angle, even more so than American's seat. Fortunately the new fully flat product fixes that.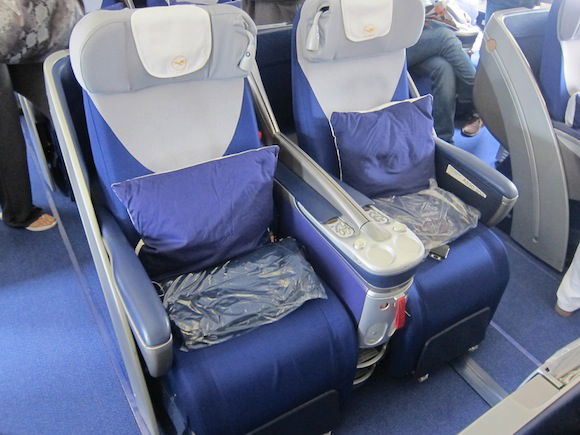 The food
Holy crap. Amy's Baking Company must have the catering contract for Lufthansa business class. For those of you not familiar with Amy's Baking Company, put down what you're doing for the next 41 minutes and enjoy:
https://www.youtube.com/watch?v=3XjgHEctcy0
If it weren't for the plating I would've guessed this was a coach meal. The appetizer was a small portion of prawns and a side salad with nothing but lettuce and a few small pieces of shaved carrot.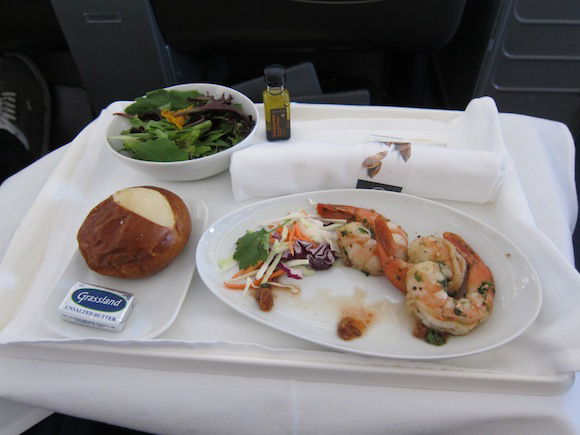 For the main course there was the choice between chicken, salmon, and gnocchi. I wanted the salmon, though they ran out of it before they got to my seat — and I'm seated in the middle of the cabin. I had the gnocchi instead, which was chewy.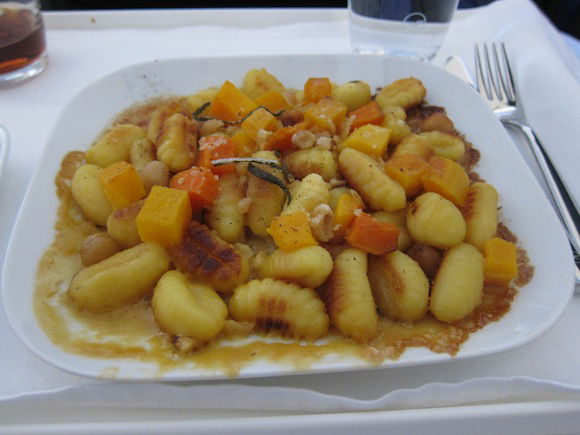 For dessert the only "sweet" option was ice cream, served in a container.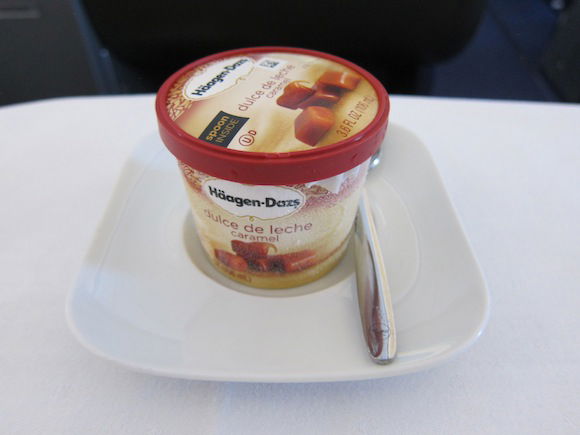 Three course meals don't get simpler than this, though it was more than three hours into the flight before the meal service was complete.
The service
The funny thing is that the crew was actually exceptionally friendly. Every time we saw them they were smiling and courteous.
By my gosh, never before in my life have I felt like I'm as much part of an assembly line as on this flight. The galley curtains would be closed, then all four flight attendants would come through the cabin at the same time with their carts. Back to the galley they went, and curtains were closed. All four flight attendants came around with the appetizer. Back to the galley they went, and curtains were closed. All four flight attendants came around with the main course. Back to the galley they went, and curtains were closed. All four flight attendants came around with dessert. Back to the galley they went, and curtains were closed. All four flight attendants came around the cabin to clear trays.
It's hard to describe it exactly because the crew was friendly, but at no point did a single flight attendant come through the cabin to see if someone might want a refill or their tray cleared outside of the "assembly line" they were operating. It was bizarre, and I've flown business class on dozens of airlines and never experienced anything like it before. And the worst part is that the whole "assembly line" wasn't even done with German efficiency.
On top of everything else, the power ports are broken, so I'm limited in the amount of complaining I can do online during my flight. 😉
Bottom line
I'm really happy I took this flight, as it gave me a lot of perspective on their product. Lufthansa still absolutely rocks… if you're in first class. In business class it's scary the degree to which Austrian beats Lufthansa. And the thing it really made me realize is that US airlines don't really suck that much by comparison, at least in business class. The food, seat, and degree of attentiveness with the service on most US airlines beat what I experienced on Lufthansa. I think it's first class where foreign carriers shine.
And it really pains me to admit this, but I think Aer Lingus' business class is better than Lufthansa's.
If you've flown Lufthansa business class, what did you think? Am I off base?
(In the interest of full disclosure, some of the above ideas may be about first world problems [#FirstWorldProblems]. Please don't take them seriously, compare them to real problems in the world, etc. Thanks.)