---
I've been a fan of Air Berlin since long before they joined the OneWorld alliance, thanks in no small part to the fact that I may or may not have a cousin that's a captain for them. I've never flown Air Berlin in the passenger cabin, so was curious to see what the service was like.
It's worth noting that I called Air Berlin in advance to get seat assignments. Usually they charge for seat assignments in advance, but as a OneWorld Emerald you can assign them in advance for free. While they won't give you the exit row for free (known as "XL seats"), they will assign you any other seat, including the bulkhead. So I requested seats in 1D & 1F, in hopes of the center seat staying empty.
Calling Air Berlin is an experience in and of itself, given how ridiculously seductive the phone prompt is. You fully expect to hear "for our 900 number services, press one. For Air Berlin's contact center, press two." But alas, that's not the case.
We were dropped off at Catania Airport at around 7:30PM for our 9:10PM flight, and proceeded to Air Berlin check-in, which was mostly deserted. Our boarding passes were printed quickly, and we proceeded to security. While there was a priority line, unfortunately being OneWorld Emerald didn't get us access to it.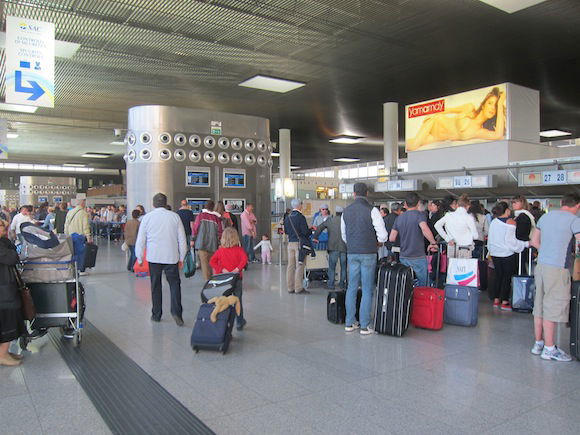 Landside terminal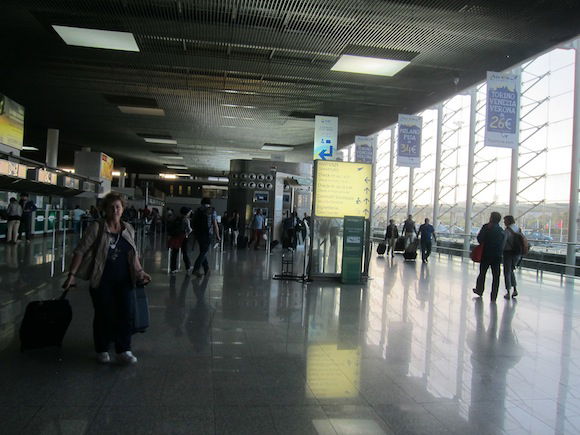 Landside terminal
Security took almost half an hour, and we decided to proceed to the Priority Pass lounge at the airport, which was to the left once in the terminal.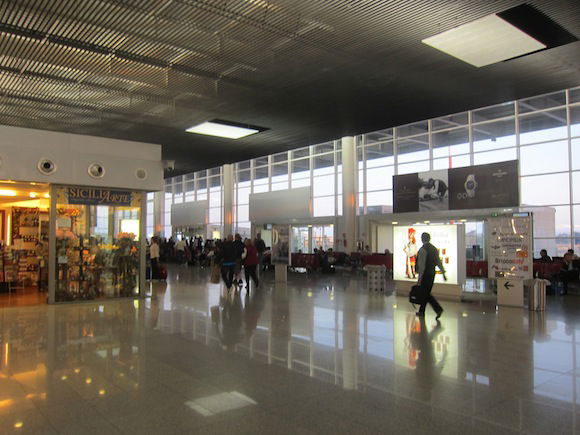 Airside terminal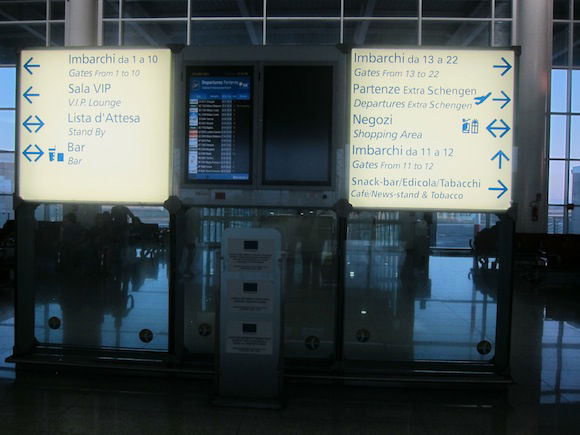 Airside signage
Go figure that the lounge had limited hours just on Monday, so was closed.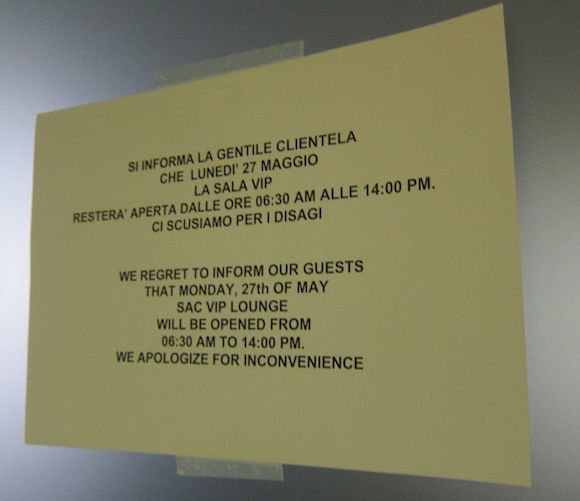 No lounge for us!
Instead we headed to one of the restaurants for a sandwich since we hadn't eaten yet, and at around 8:45PM headed to the gate for boarding. Once there boarding was called within five minutes, and once again we were loaded onto a bus like sardines till there was no room anymore.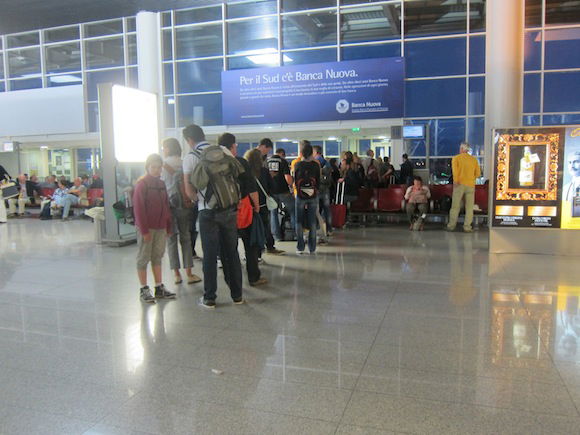 Departure gate
Once at the plane, boarding was taking place through both the forward and rear doors. Since we were in row one we boarded through the forward door.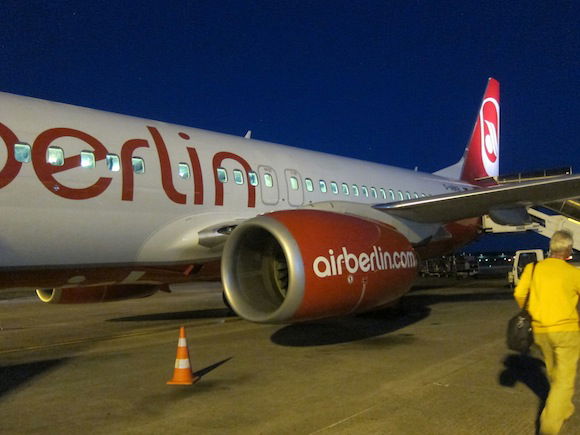 Our plane to Munich
Air Berlin 8887
Catania (CTA) – Munich (MUC)
Monday, May 27
Depart: 9:10PM
Arrive: 11:20PM
Duration: 2hr10min
Aircraft: Boeing 737-800
Seat: 1D (Economy Class)
My first reaction was "holy crap, this is an attractive crew." There were four flight attendants — two females and two males — and they could have all been supermodels. None of them were especially charming, though…
Before pushback the captain informed us of our flight time of 1hr50min, and shortly thereafter we began our taxi to the runway. Fortunately the middle seat between us stayed empty, so it was just like intra-Europe business class.
About 20 minutes after takeoff the inflight service began. The impressive thing about Air Berlin is that on flights of over an hour they sell hot meals aboard. The first flight attendant came through the cabin to see if anyone wanted to order a hot meal. The menu was extensive, and I decided to order the tortellini, which was pricey at €9.90.
Next the drink cart was rolled around, from which we were offered drinks along with complimentary sandwiches. Just to prove that Air Berlin coach could be better than intra-Europe business class I ordered a couple of bottles of Moet, which retailed for €15 each. Yes, a total waste of money, but I figured the photo opp of eating and drinking better in intra-Europe coach than business class justified the cost.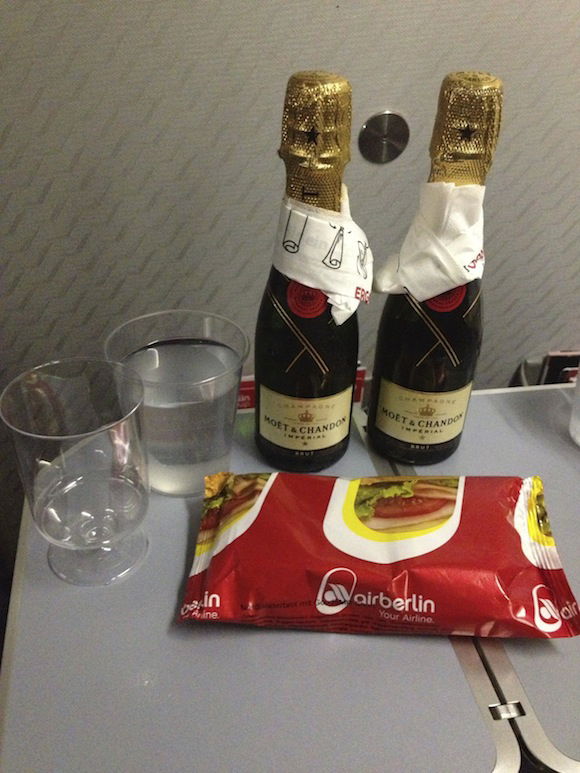 Moet and sandwich
The sandwich consisted of veggies and cheese, and not surprisingly was pretty dry.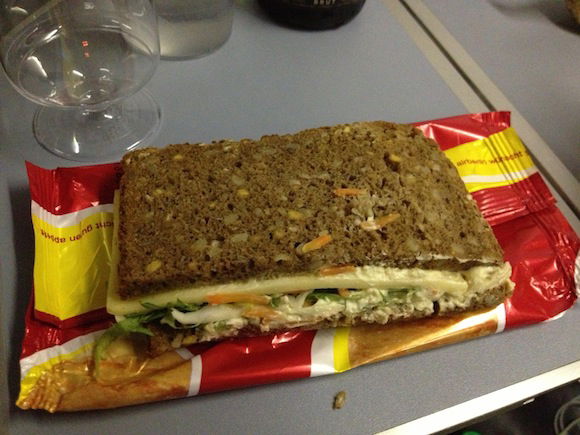 Complimentary sandwich
About 15 minutes after the initial drink service the hot entrees were brought around, and I was charged the €9.90 for tortellini. I reminded them I hadn't yet paid for the two bottles of champagne, though they said it was on them. Not sure if it's because I was OneWorld Emerald or what, but I certainly wasn't complaining.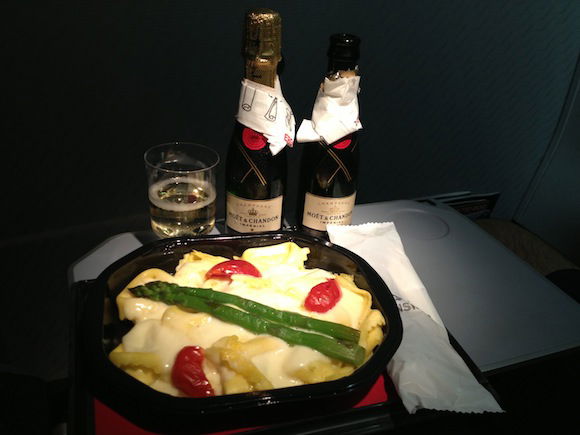 Tortellini
While expensive, I have to say that the tortellini was actually really good and a huge portion, possibly the best pasta I've had on a plane in a while. So I didn't think it was a half bad value all things considered.
There were overhead monitors playing sitcoms the entire flight, though I instead read for the remaining hour or so of the flight.
After a smooth touch down and quick taxi to the gate we made it to Munich, where we took a taxi to the Sheraton Munich Airport, which cost about €20.
Air Berlin exceeded my expectations, and I wouldn't hesitate to fly them again!