About a month ago American began service with their brand new Airbus A321T aircraft, which operate exclusively between New York and Los Angeles (and soon between New York and San Francisco). These A321s are slowly replacing American's 767-200 aircraft, which up until now have operated the "premium" transcontinental routes out of New York.
American's new A321 are pretty exciting for a few reasons. For one, American chose to keep first class on their A321 aircraft, making them the only carrier operating three cabin flights between New York and Los Angeles. Meanwhile United recently cut first class from their premium service routes, instead choosing to just have a business and economy class product. Beyond that, as spacious as they are, American's 767-200 fleet is ancient and showing its age.
So a couple of weeks ago I had the chance to fly in first class on an American A321 from New York to Los Angeles as part of a discounted business class ticket that I had upgraded to first class using a systemwide upgrade.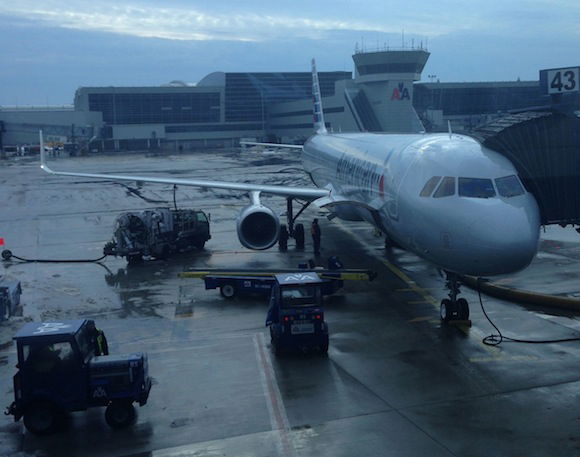 American A321T
First it's worth noting that American's A321 first class features reverse herringbone seats. These are the same seats that American has in business class on their new 777-300ER aircraft.
Since the A321 is a narrowbody aircraft, the seats are in a 1-1 configuration, with five rows consisting of a total of 10 seats. So the cabin looks ridiculously sleek in a 1-1 configuration.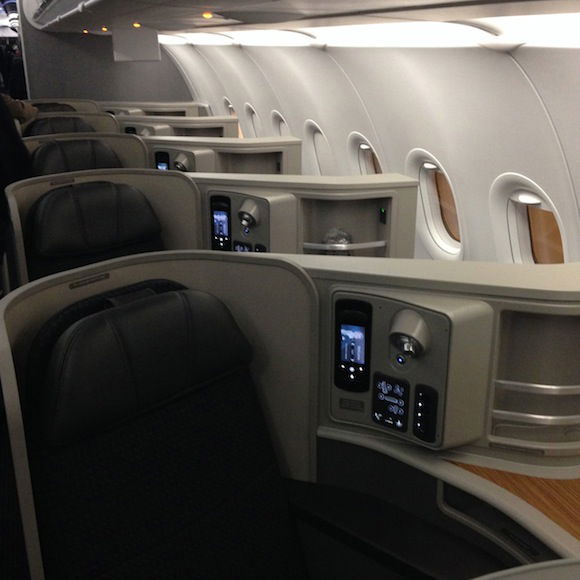 American A321 first class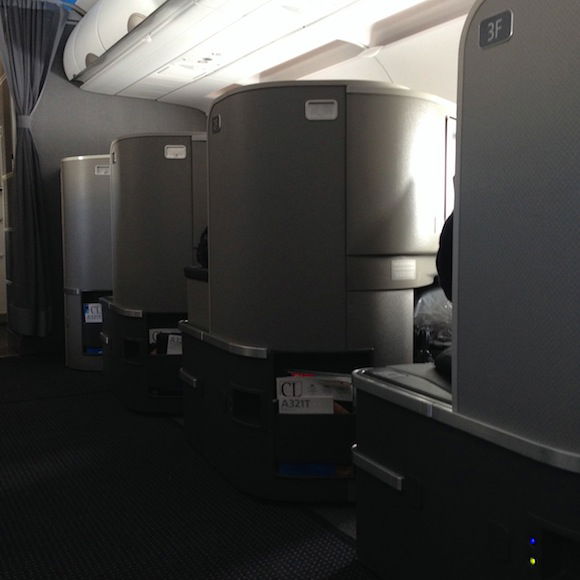 American A321 first class
For whatever reason American boards their A321s through door one (as opposed to door two, located in front of business class), so I could hear the reactions of everyone walking by. I don't think I've ever heard so many "OMG WOW LOOK AT THAT" reactions as on this plane. It's probably not just because of the seats themselves, but because of the 1-1 configuration.
So the seat itself is almost identical to business class on the 777-300ER. Almost.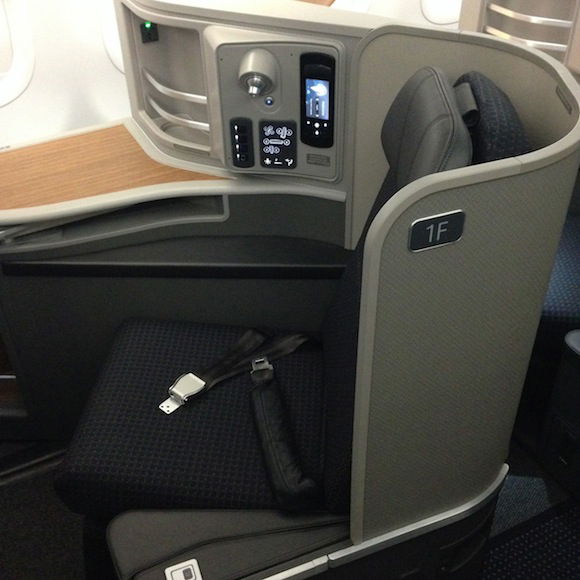 American A321T first class seat
Maybe it's my imagination playing tricks on me, or maybe it's because it's a narrowbody and therefore feels a bit more claustrophobic, but I couldn't help but feel like the area for your feet was a bit tighter than on the 777-300ER.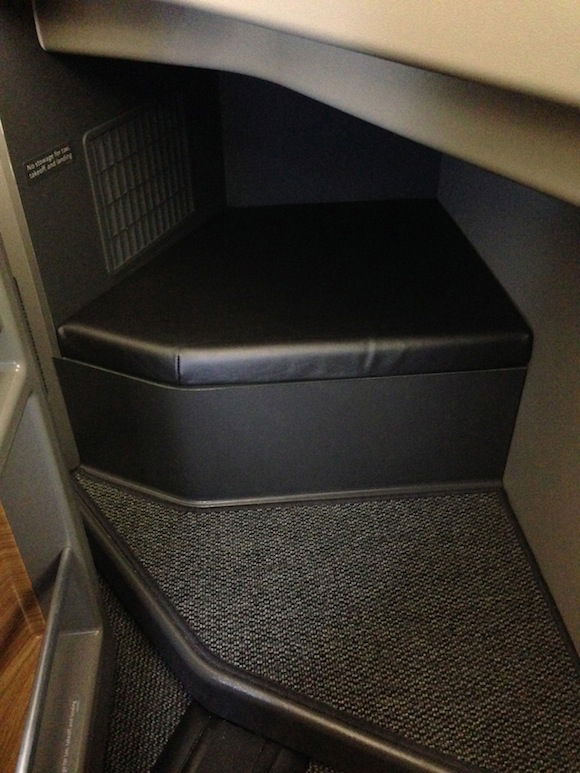 American A321T first class legroom

American 777-300ER business class legroom
Specifically, the area above the ottoman didn't seem to be as tall as on the 777-300ER. So if you sleep on your back and your feet go straight up you'd probably have a hard time fitting them there. I'm a side sleeper, so that didn't really negatively impact me, but I'm sure it would bother others.
It's also awesome that the seats now have built in TV screens, as you'd expect. On the old 767-200 aircraft they had portable entertainment players, which were always a pain since I'd constantly drop them and they were collected ~45 minutes before landing. The entertainment selection on the new screens was extensive, and I loved that they had airshow.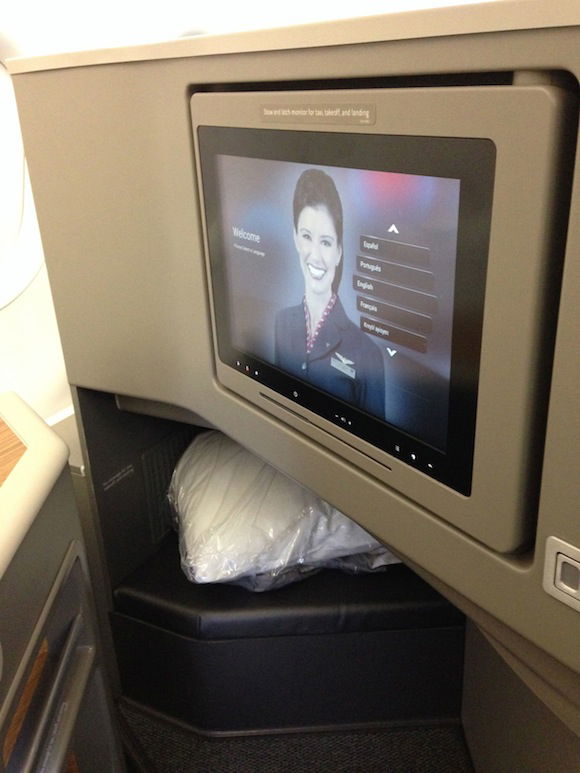 American A321T first class entertainment system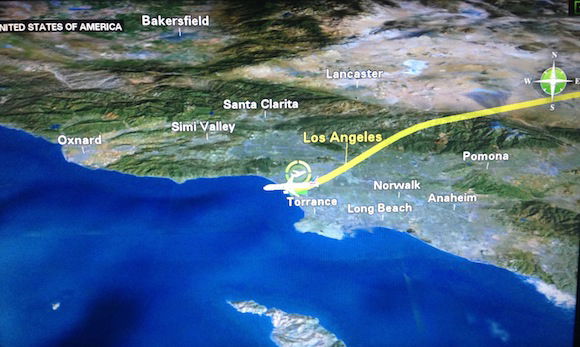 American A321T first class airshow
American has also added a few other amenities since launching the new A321T, including offering amenity kits and noise canceling headphones on these flights.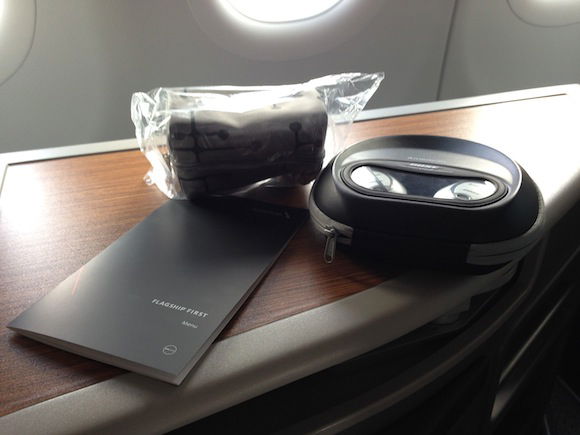 American A321T first class menu, headphones, and amenity kit
In terms of food, I was on a lunch flight, so it was typical "premium" transcon catering.
To start they offered hot nuts and cheese.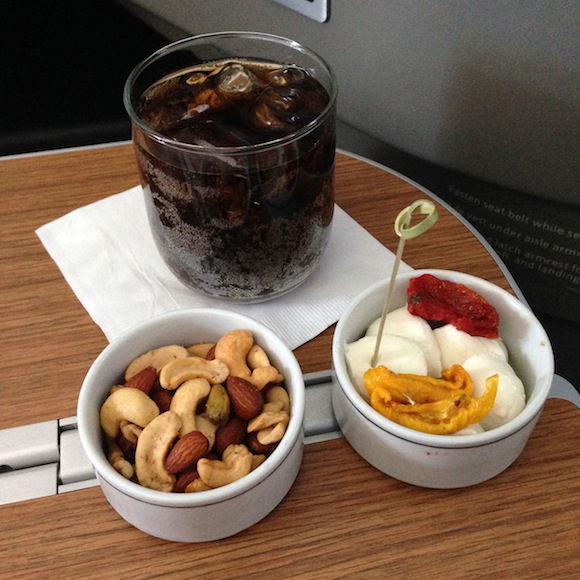 American first class hot nuts and cheese
That was followed by a salad with chicken.

American first class salad
Then for the main course I ordered salmon.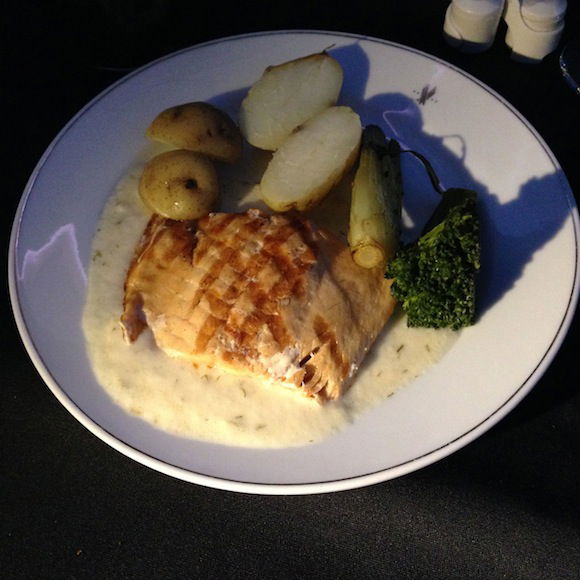 American first class main course
And for dessert I had an ice cream sundae.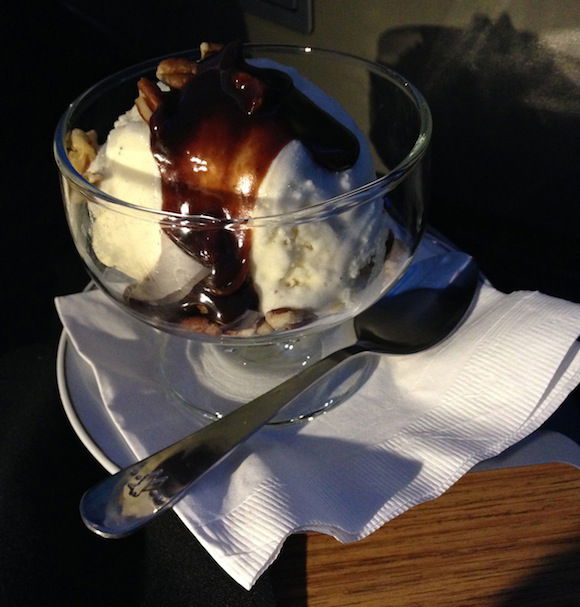 American first class dessert
Bottom line
American really did a spectacular job with their new A321s. While a reverse herringbone seat is at the end of the day "only" an international business class seat, it's hands down the best out there, in my opinion. Aside from Cathay Pacific's flight between New York and Vancouver, this is the best way to fly coast-to-coast.