I'm presently taking my dad on a surprise round the world trip to celebrate his "round" birthday. Even now the trip remains a surprise, as he's just finding out what we're doing and where we're going on a day-by-day basis.
Here are the previous posts about the trip:
---
On Tuesday morning (or Monday night, depending on how you look at it), we had a 3AM flight out of Dubai. As you guys know by now, this is a total surprise trip for my dad, and he's learning our plans day-by-day.
Monday morning when he woke up he came up to me and said "Benny, I know vhere ve are going next."
He was oddly confident in his guess, to the point that I wondered if he learned how to use the internet overnight.
So he proposed an idea — he'd write his guess of our next destination on a piece of paper, and he'd reveal it to me the same time that he gets the boarding pass.
Of course I wasn't going to make it quite that easy. He thought he was going to get his boarding pass at check-in, but I extended the suspense a bit longer.
Here's a video he filmed before check-in:
At check-in I explained the situation to the agent — "I'm taking my dad on a surprise birthday trip and he doesn't know our next destination. When he gives you his passport could you please not tell him where we're going? Just give me his boarding pass." They laughed at the idea and were happy to play along.
We cleared immigration and security, and headed towards the A380 concourse. There we visited the first class lounge, where the big reveal happened. I again explained the situation to the lounge staff as we entered the lounge, as I know they usually tell remind you of your departure gate and boarding time as you enter.
So before I post the video of the "reveal," let's make it a bit of a game for you guys (that way my dad isn't playing the game all by himself). 😉
What destination did my dad have written on the piece of paper? Where did he think we were going next?
He was caught completely off guard when he found out we were flying from Los Angeles to Dubai, as he was convinced we were going to Asia or Australia based on the fact that we were flying from west from Tampa to Los Angeles.
Let me know below where you think my dad thought we were going, and I'll randomly give one commenter a fresh pair of Emirates pajamas and a Bulgari amenity kit (glass of Dom and pre-used slippers not included).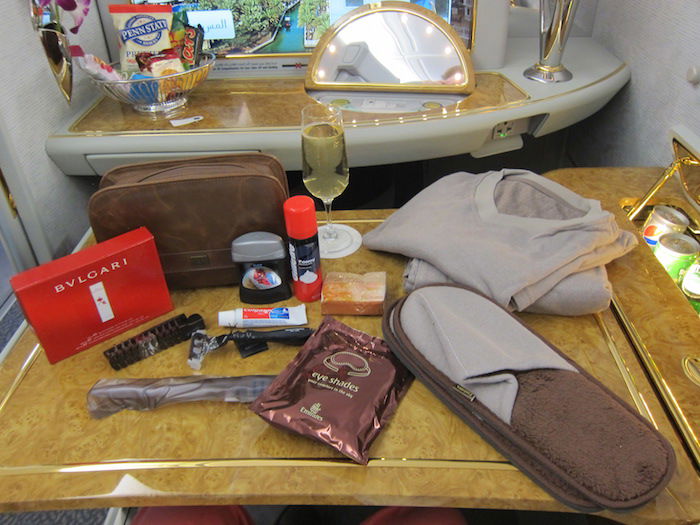 The deadline to enter is whenever I post the video revealing the next destination to my dad. And you don't actually have to guess to be eligible to win, but rather just have to comment.
And worry not, it's the first of many sets of amenities on this trip that I'll be giving away.
Thanks again for reading, guys!