I moved from Tampa to Seattle a bit over a year ago, and to be honest I've seen my parents less than I'd like to in that time period. That being said, the time I have spent with them has been a lot more meaningful, and probably my two most memorable trips this year were with my parents. I took my mom to Bali in June for her "round" birthday, and took my dad to Europe in September for a week.
My mom's "round" birthday this past June worked out well by chance. I only planned the trip a couple of weeks out, and I'd say it was pretty close to being perfect, though I did learn some lessons from the trip.
Anyway, my dad has a "round" birthday coming up next November as well, and I'm trying to get a head start on booking it. Rather than waiting till the last minute I'll lock it in now. The good thing about my dad is that he's really easy going, so I think he'll be happy anywhere we go, as long as we're spending time together (hey, at the end of the day that's what really counts). I asked if he'd be okay with me just planning a surprise trip, and he seemed excited about that, so I guess that's what we're going with. His only restriction is that he can't be gone for more than two weeks.
So slight confession time — even though I plan travel for others for a living, and travel on my own constantly, I'm horrible at committing to itineraries. For my own travels I tend to book them as I go. I mean, I'll typically finalize an award ticket a day before I leave, and then book hotels as I travel. After all, availability tends to be best either 11 months our or right before departure, and I don't know where I'm going to be 11 months from now, so that doesn't leave many other options.
My dad has never been to Australia before, so given that his birthday is in November I think that would be a great place to go due to the weather and also the possibility for an awesome flight experience. While my mom enjoys a good flight, for her it's just a means to an end. My dad, on the other hand, loves first class travel. If you read my trip report about our Houston to Frankfurt Lufthansa A380 flight, you may recall he didn't want to watch to TV or sleep or do anything else — "I just vant to sit here and enjoy za ambiance."
So here are the two things I'm struggling with:
How much flying is too much flying in two weeks? Right now I have roundtrip Qantas A380 first class locked in for the trip, and I'm committed to keeping that for the return so he can experience the Sydney first class lounge and the tasting menu ex-Australia. However, I'd love to add some variety to the outbound.
But when you "only" have two weeks, how much flying is too much? I was thinking of a couple of options:
Flying to Hong Kong on Cathay Pacific in first class, and then Hong Kong to Singapore to Australia in Singapore A380 Suites Class
Flying Emirates A380 first class from New York to Dubai to Singapore (with a stopover in Dubai for a couple of days), then from Singapore to Australia in Singapore A380 Suites Class
This way we could break up our journey a bit and he'd experience some new A380 first class products on the trip, which I know he'd love and find unforgettable. But there's a tradeoff, of course…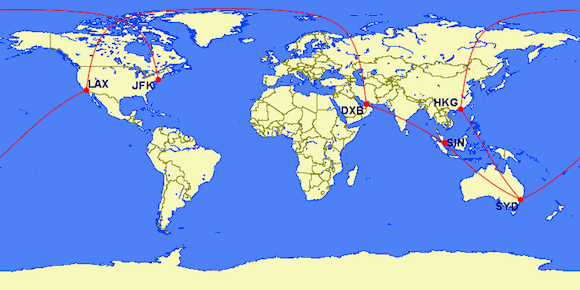 How many destinations are too many in two weeks? What's the right "pace" at which to plan travel with others? In an ideal world I'd hit Dubai for a couple of nights, Singapore for a night or two, Australia, and even make it down to New Zealand in two weeks if I could. But that also sounds really, really rushed, especially if traveling with someone else. But what's the right pace at which to go? I'm trying to balance destinations with nice hotels, since I want to make sure we're hitting great cities and great hotels. For example, in Sydney I'll redeem Gold Passport points at the Park Hyatt, which should be spectacular. But how many nights should we be spending in Sydney? Two? Three? Four? Five? The added challenge is that I need to lock this all in fairly soon, since Hyatt is devaluing their award chart in January, and it would help to have everything locked in before then so I can get the old rates.
Help me out, folks! I fly hundreds of thousands of miles a year and spend over a hundred nights a year at hotels, but feel like a total newb when it comes to planning travel 11 months out. What would you do for someone that loves destinations, loves nice hotels, and loves nice first class products? Hit up a handful of places for a couple of nights each and "rush" the trip, only hit up two destinations and go "the long way" with a couple of stopovers on the way?
Regardless, very excited to planning this trip down to a "t" as much as possible.