I'm presently taking my dad on a surprise round the world trip to celebrate his "round" birthday. Even now the trip remains a surprise, as he's just finding out what we're doing and where we're going on a day-by-day basis.
Here are the previous posts about the trip:
---
On Thursday our journey around the world continued, with a flight from Singapore to Melbourne in Singapore Airlines first class. This is the segment that I was most personally disappointed in myself over.
That's because when I first booked the trip, the flight was scheduled to be operated by an A380. However, back in April Singapore Airlines downgraded the flight to a 777-300ER. I knew my dad would still be thrilled with a 777, but in this case I was my own worst enemy.
So I considered alternatives, including flying to Sydney or Auckland instead, but in the end decided to stick with our current routing, for a variety of reasons.
We took the daytime flight from Singapore to Melbourne, departing Singapore at 10:45AM and arriving in Melbourne at around 9PM.
We got to Changi Airport at around 8:30AM, where we pulled right up to the first class check-in area. It was about ten times busier than I've previously ever seen it. I still kept our destination from my dad, though told him we were flying Singapore Airlines first class.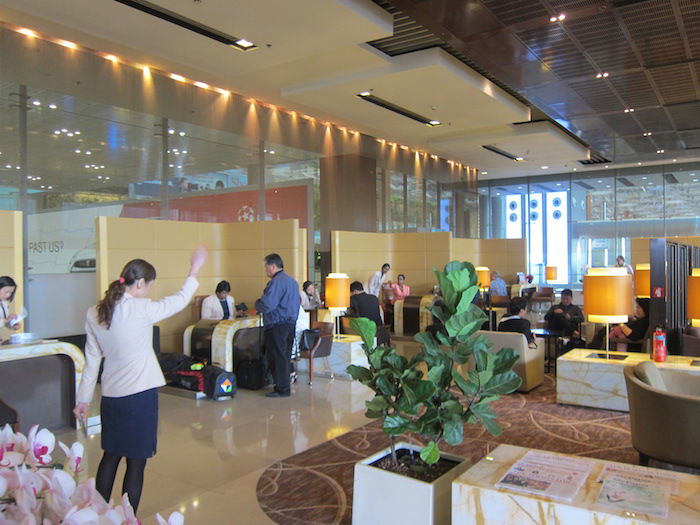 Singapore Airlines first class check-in Changi Airport
Singapore Airlines has a private first class check-in area, and from there they have a private immigration channel, which lets out into the terminal.
"Benny, vhy are zhere so many virst class passengers?"
"Hmmm, what do you mean?"
"Zha people in zha terminal. Zhere are so many of zhem. In Dubai we vhere zha only ones."
"Oh this is just the terminal, we're going to the lounge now. They don't have a first class concourse here."
"Oh…"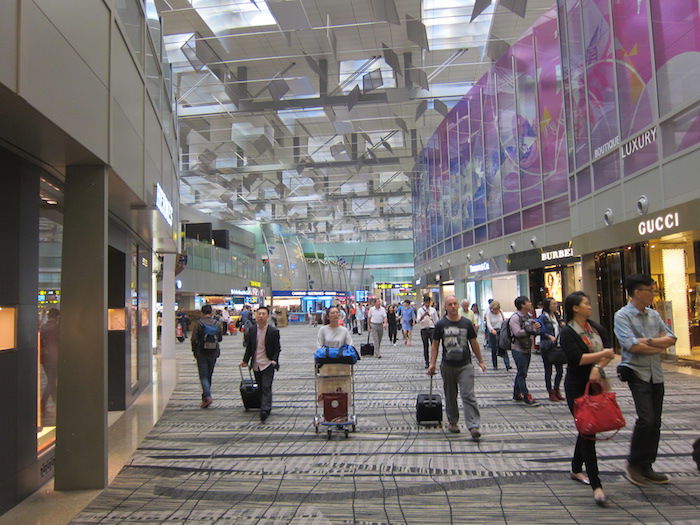 Changi Airport Terminal 3
Fortunately he was impressed by The Private Room, if for no other reason than that it's a lounge within a lounge within a lounge. You first go through the business class lounge to the first class lounge, and then are escorted from there into The Private Room.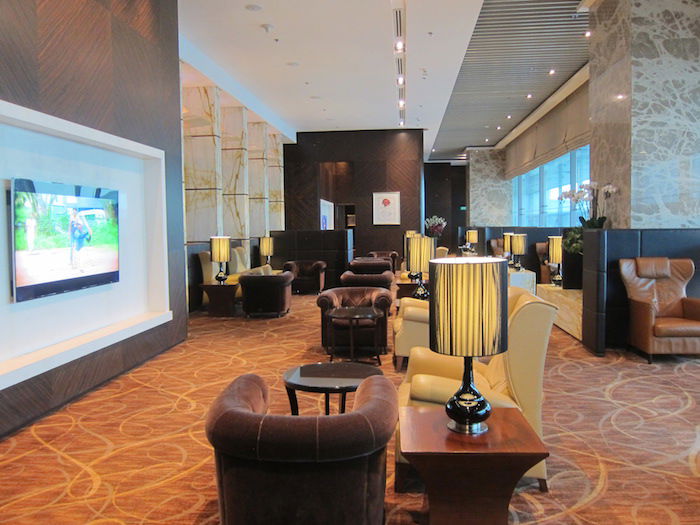 The Private Room Singapore
In the lounge he finally learned about our next destination. How did he feel about it? I'll let his reaction speak for itself: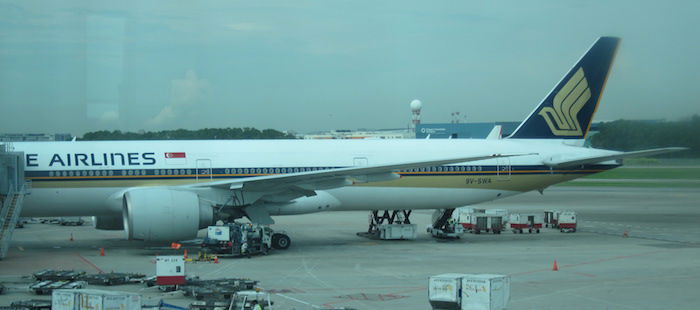 Singapore Airlines 777-300ER
So after two consecutive flights in Emirates A380 first class with a private suite, onboard shower, and bar, he certainly didn't have the "VOW" reaction he had on his first Emirates flight. Don't get me wrong, he was thrilled and liked the product, but admittedly it is a bit of an adjustment.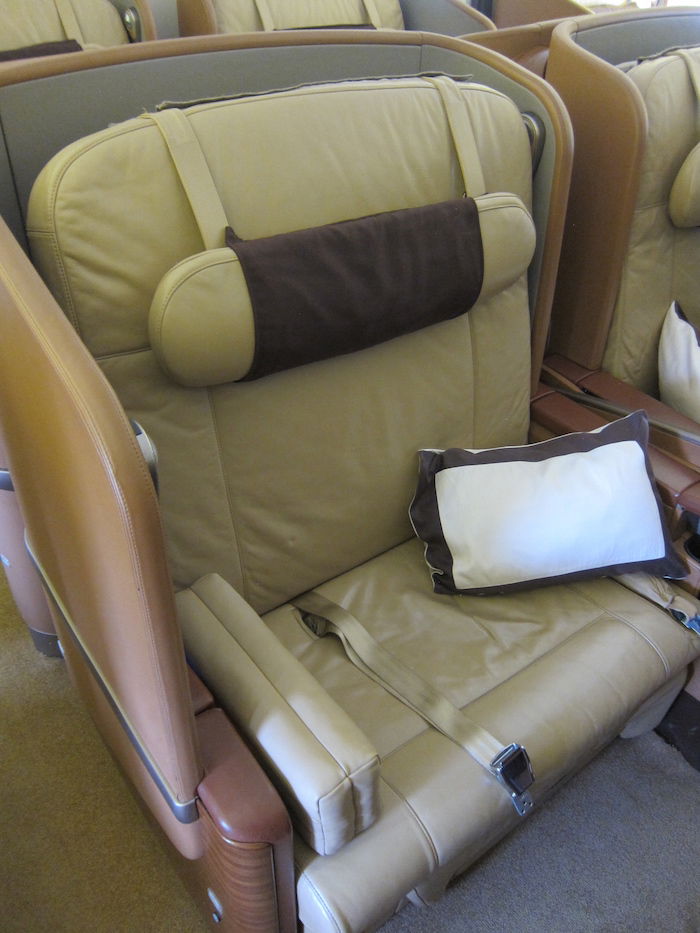 Singapore Airlines first class seat 777-300ER
Fortunately the service aboard was fabulous. How fabulous was it? I'll leave it to Kenya Moore to explain: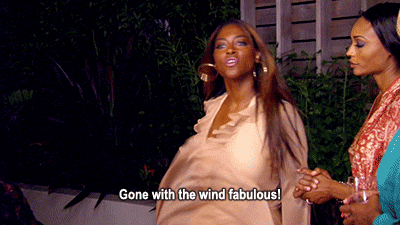 Inflight Supervisor Vienna, Leading Steward Jimmy, and especially Leading Stewardess Michelle were simply perfect. They provided textbook perfect service (and then some), and not in a way that was robotic. They just couldn't have been any better, as there's no part of their service that I could critique.
You can't beat a 6hr30min daytime flight on Singapore Airlines, enjoying a lovely five course meal consisting of caviar, lobster, etc.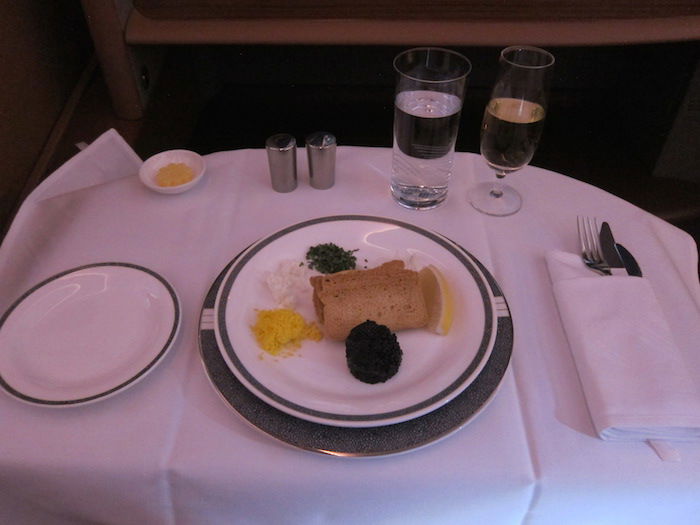 Singapore Airlines first class lunch — chilled malossol caviar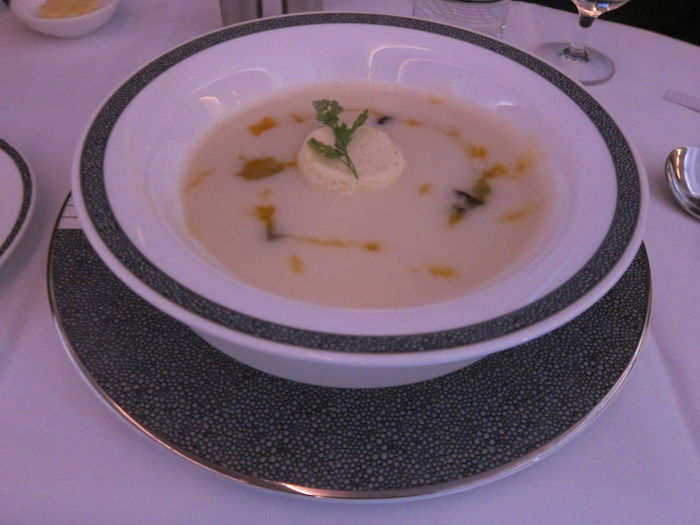 Singapore Airlines first class lunch — sunchoke soup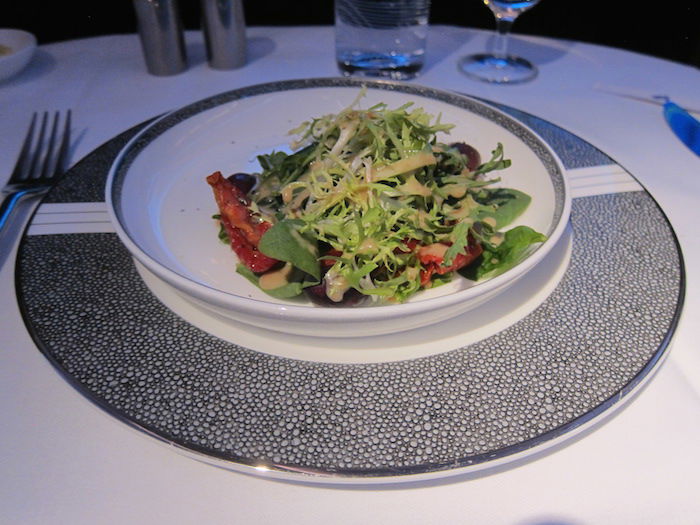 Singapore Airlines first class lunch — salad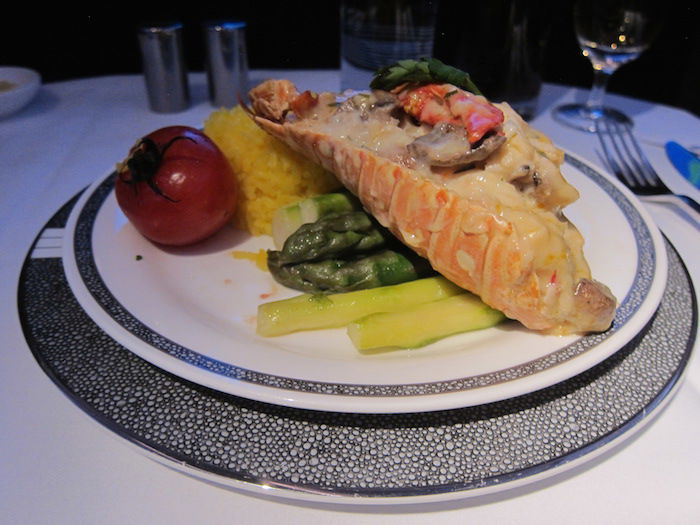 Singapore Airlines first class lunch — Boston lobster thermidor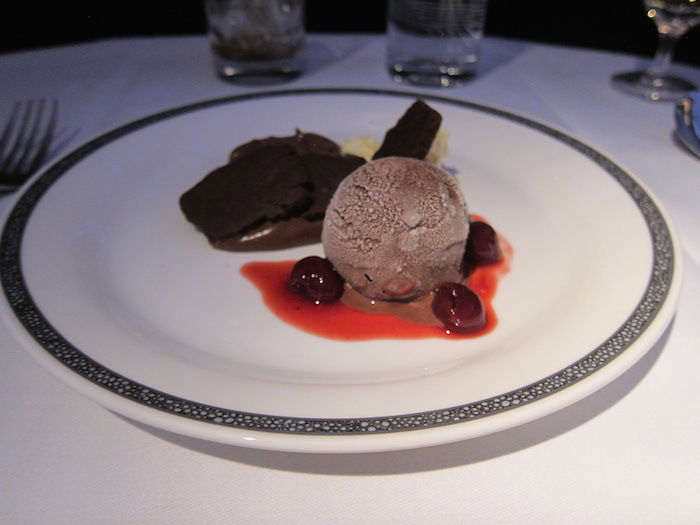 Singapore Airlines first class lunch — "Gotham" black

How did my dad feel about the meal?
Michelle came by my seat during lunch to ask when I wanted them to present dad with his birthday cake (which I had pre-ordered). I suggested they maybe do it an hour before landing.
An hour before landing Michelle came by my dad's seat to take out the tray table and put a tablecloth on his table. My dad said "no no no no, I don't vant anymore of zha food." She just looked at him and walked away. As she walked away my dad said "why isn't she listening to me? I don't want more food!"
30 seconds later the crew did something that caught my dad way off guard, and even caught me off guard.
They sang happy birthday to my dad. The whole damn song… like, singing it… on a plane!
Here's a video, though I only caught the tail end of the song (I was so shocked by the singing myself):
Amazing!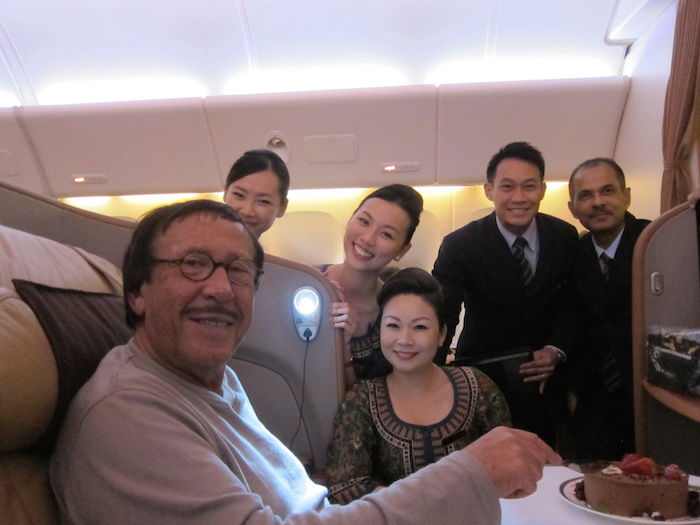 Singapore Airlines first class birthday cake surprise
Not only was there a cake, but there was a dry ice display and a nice card signed by our first class crew, the captain, and the first officer.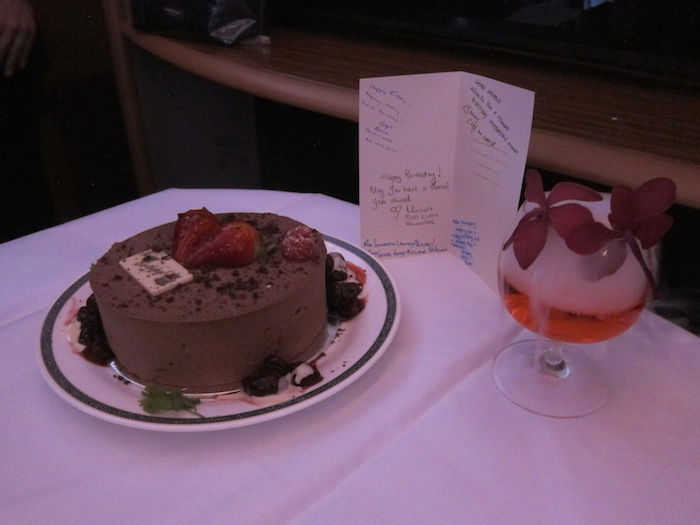 Singapore Airlines first class birthday cake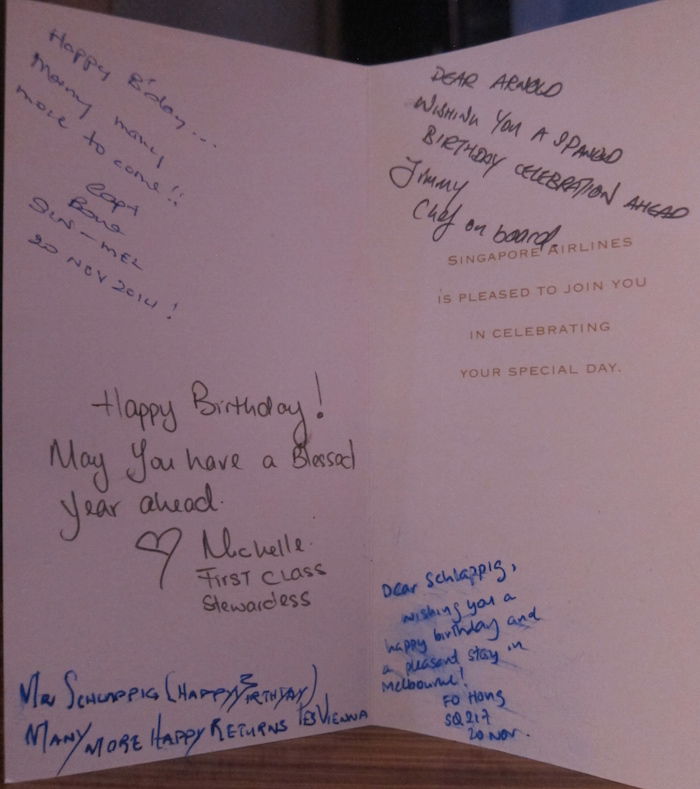 Singapore Airlines first class birthday card

My dad was left truly speechless. We were full at this point, so they cut us a small piece, and then my dad asked that they share the rest with the crew and other passengers.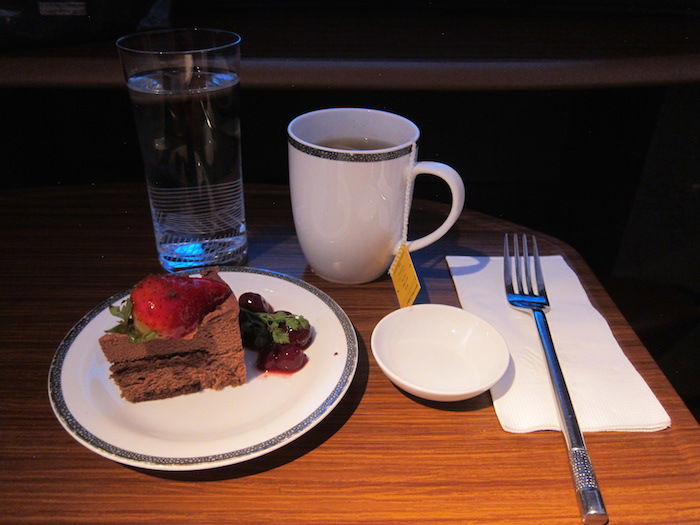 Perhaps along with the cake in the Emirates first class lounge, this was one of the two moments that caught my dad most off guard. It's one thing to offer a cake, but to sing?! Wow!
This morning we Skyped my mom and he was telling her about the lobster.
"Zha lobster was unbelievable. This iz zha lobstah dreams are made ov!"
Anyway, I know I sound like a broken record at this point, but this is hands down the best trip I've ever taken. Even selfishly, being able to take a loved one on a trip they've never been on before is the greatest gift I could ask for. It puts our hobby in perspective so much, and I've never seen my dad in shock for as long as he's been on this trip.
Admittedly not everyone would be down for a "surprise" trip, so this isn't something you can force. For example, my mom wouldn't enjoy a surprise trip — she would want to know where she was going, both so she could prepare, and also so she could look forward to it. But for someone like my dad that's down for anything, this is just the most fun I could ask for.