In December I wrote about my dad's upcoming "round" birthday. It's actually next November which seems far out, though November can be a tough time to find award space to warm climates, so I figured I'd get a head start in planning the trip.
Last year I took two amazing trips with my parents — I took my mom to Bali for her "round" birthday, and my dad to Europe a couple of months before his birthday. I had a blast on both trips, and can't wait to spend similar quality time with my parents this year.
Anyway, I asked you guys for feedback on planning the trip, so figured I'd provide an update of what I have planned, given the amazing advice you guys shared.
It's going to be a surprise trip for my dad
While my mom probably wouldn't like a trip that's a total surprise (since for her anticipation of the journey and destination is part of the fun), I asked my dad how he'd feel about a surprise trip. He loved the idea. He has insisted that I tell him just the dates we're going and nothing else. Heck, he even asked that when we reach our first destination he not know where we're going next. It's ridiculously adorable how excited he is about a surprise trip. He told me he'd like to literally show up at the airport and only know the next destination once the boarding passes are issued.
I'm really excited about this as well, as I've never been able to plan a total surprise trip for someone. And that's why I want to go all out, so his expectations are exceeded every step of the way.
A380 first class around the world!
There are people that couldn't care less how they get to a destination, while others enjoy the journey as well. As some of you may recall, my dad had his first A380 flight in Lufthansa first class back in September, and he was indescribably elated. He enjoyed it so much that he didn't want to sleep or watch a movie, because he just "vanted to enjoy za ambiance."
So I figured I'd blow his mind and book an around the world A380 extravaganza, stopping in four awesome cities he has never been to. After this trip he won't have any trouble sleeping on A380s, as he'll have more time to "enjoy za ambiance" than he knows what to do with! We'll be flying the following: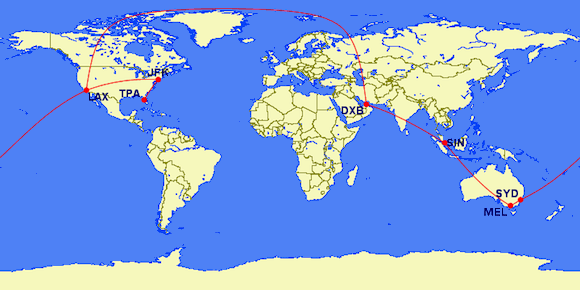 I'm still trying to figure out how to get him from Tampa to Los Angeles and New York to Tampa, though I'm not really in a rush to do that.
The per person cost breakdown is as follows:
100,000 Alaska Mileage Plan miles for Los Angeles to Dubai to Singapore (with a stopover)
63,750 Singapore KrisFlyer miles for Singapore to Melbourne
9,000 British Airways Avios for Melbourne to Sydney
72,500 American AAdvantage miles for Sydney to Los Angeles to New York
On the whole I'd say that's a pretty good value, and I'm thrilled to have grabbed the segments I did. Qantas A380 first class can be nearly impossible to get on miles to/from Los Angeles, so it really required planning as soon as the schedule opened.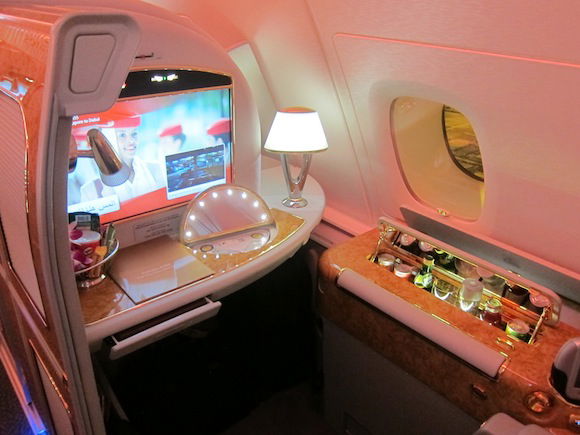 Emirates A380 First Class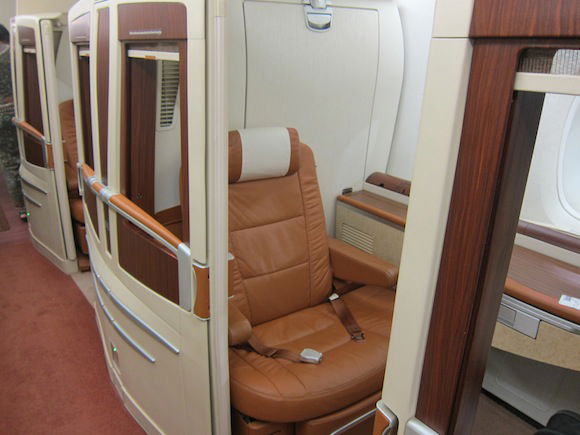 Singapore A380 Suites Class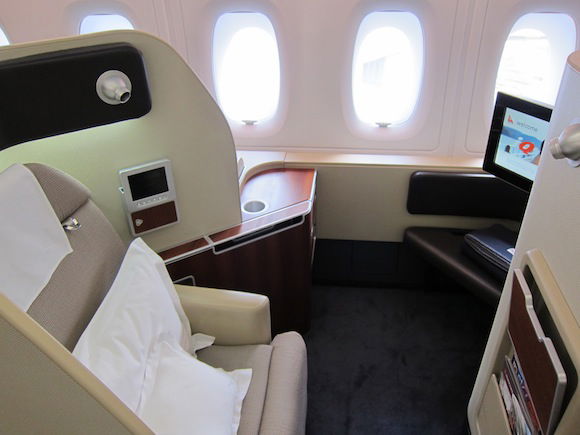 Qantas A380 First Class
Park Hyatt suites around the world!
I have to say Hyatt's new Points + Cash program couldn't have been introduced at a better time, as it proved invaluable for this trip. I wanted to be sure I went "all out" for this trip, so wanted to get as many suites as possible. As luck would have it I had two Hyatt Diamond confirmed suite upgrades expiring this February, which I wouldn't otherwise have a use for. But they can be applied to future reservations, and since Points + Cash bookings are eligible for suite upgrades, I really couldn't be luckier.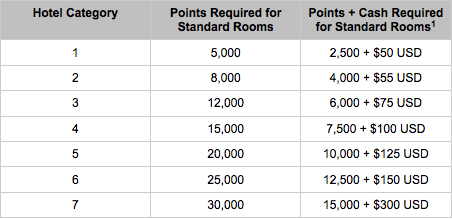 So in terms of hotels I've booked the following:
Bottom line
I'm very excited about this trip, and can't wait to see my dad's reaction. Usually when traveling I don't really plan activities on the ground in advance, though since it's such a special trip I'll spend the next 10 months planning as much of the trip as possible. Thanks to everyone that shared advice, I really appreciate it!
Oh, and after the positive feedback my dad got on his last trip report (you know, the one he faxed me that I had to type out), he won't just be sharing his overall impressions of this trip, but will be writing a segment-by-segment report. So put on your reading glasses and German accents — you'll need it!