I love my parents more than anything in the world, and do what I can to travel with them. Last year I took my mom to Bali in Cathay Pacific first class for her "round" birthday, and took my dad to Europe in Lufthansa first class as a pre-birthday trip. I had a blast on both trips.
My dad's big birthday trip in a few months
This year it's my dad's "round" birthday, and I want to make it extra special, as I did with my mom's trip last year. The great news is that my dad doesn't know how to use the internet, so I can ask you guys for feedback throughout the planning process without him being filled in.
I started planning my dad's birthday trip last December, around 11 months before his birthday. You guys provided some amazing feedback, which I really appreciate. In January I shared an update regarding the trip once everything was finalized and ticketed, which I called the "A380 trip around the world." The itinerary looked as follows: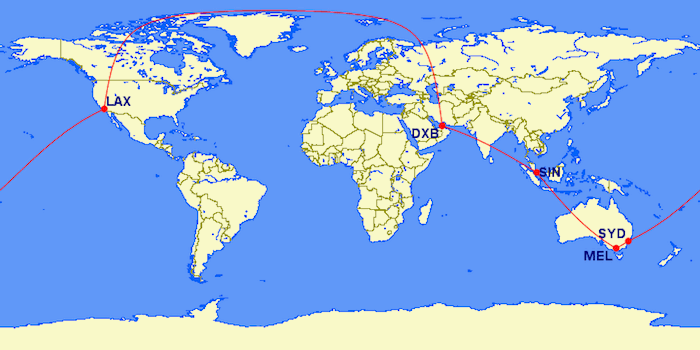 We'd be spending a few nights in Dubai, one night in Singapore, a couple of nights in Melbourne, and a few nights in Sydney.
The challenges with planning far in advance
Planning far in advance is generally awesome, since it means you have a lot of time to figure out the details. Beyond that, if you use the right strategy and know where to look, award availability is usually best far in advance.
Unfortunately there's one downside, which is that airlines often haven't yet finalized their schedules. In our case, a schedule change occurred on the Singapore to Melbourne flight, causing the flight to be operated by a 777-300ER rather than an A380. Of course that's still awesome, but I was really excited to have my dad fly Suites Class on the A380. After all, he's a guy zhats vary vary empressed by zha ayzhreeaity.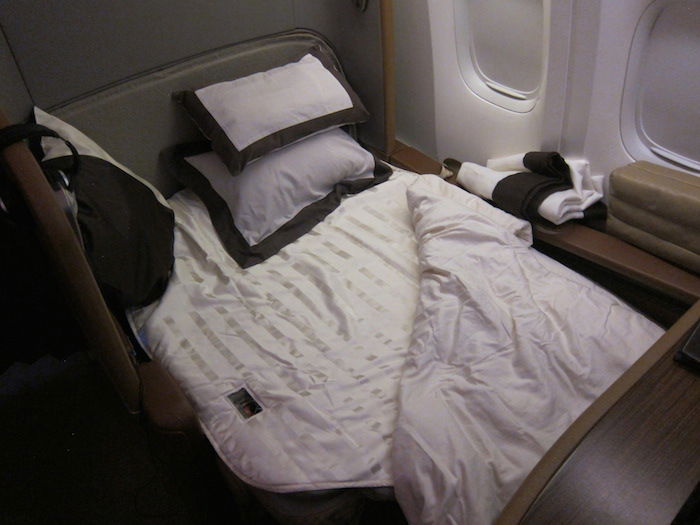 Singapore Airlines 777-300ER first class
What's going to make this trip report awesome
What I'm personally most excited about with this trip is that my dad insisted I not tell him where we're going. When we get to the check-in counter he wants to know our next destination but nothing else. So it's going to be a total surprise trip for him, and he'll be guest blogging "live" during the trip (and by guest blogging I mean he'll be hand writing the trip report and then I'll type it up, as he did last time).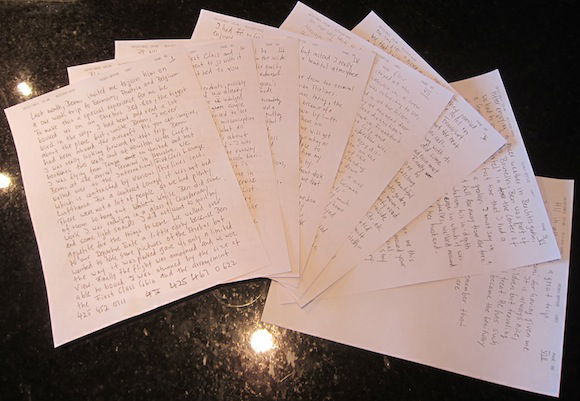 I'll see if I can even do a few videos with him.
Should I change one part of the trip?
Here's where I'd appreciate your thoughts.
As it stands, we have the following itinerary between our stopover in Dubai and our final destination in Sydney:
Emirates 354 Dubai to Singapore departing 3:15AM arriving 2:40PM
Spend one night in Singapore
Singapore 227 Singapore to Melbourne departing 9:15PM arriving 7:45AM (+1 day)
Spend two nights in Melbourne
Qantas 438 Melbourne to Sydney departing 2:00PM arriving 3:25PM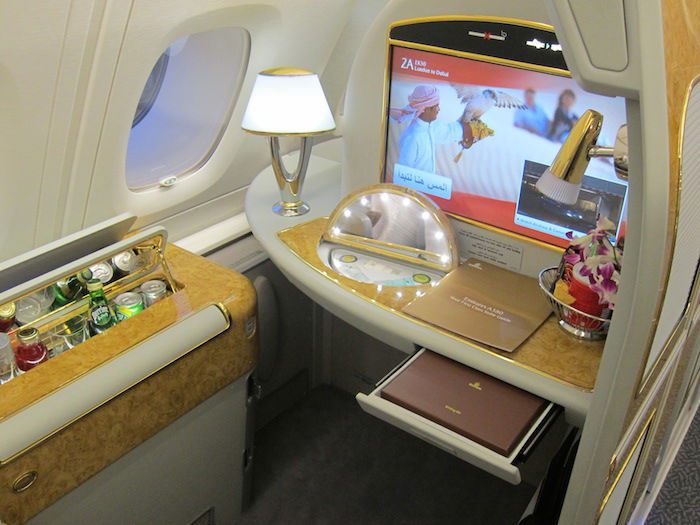 Emirates A380 first class
As I mentioned a couple of days ago, Singapore Airlines just announced A380 flights between Singapore and Auckland, and has tons of Suites Class award space. The flight is almost three hours longer than to Melbourne, so can actually be enjoyed a bit more. And I do love New Zealand. I ticketed that as well, since ultimately Singapore's KrisFlyer program has low redeposit fees, so I figured I might as well lock it in.
If we went with that itinerary, we'd be looking at the following:
Emirates 354 Dubai to Singapore departing 3:15AM arriving 2:40PM
Connect same day instead of spending the night
Singapore 285 Singapore to Auckland departing 8:50PM arriving 11:45AM (+1 day)
We'd be cutting out the night in Singapore, but instead of two days in Melbourne we'd have three days in New Zealand. I intentionally haven't included the Auckland to Sydney leg in the above itinerary, since the timing would depend on which flight we take. What I was thinking about doing was booking Emirates' Auckland to Sydney A380 flight in first class as well, in order to be completely ridiculous and really give him A380s around the world.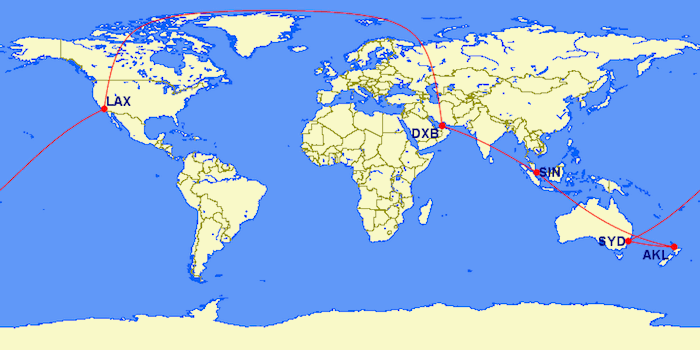 The only thing is that it has been a long time since I've been to New Zealand, and I didn't really love Auckland during my only visit. I'm not sure if I was just cranky, if it was the weather, or if it's legitimately not a cool city.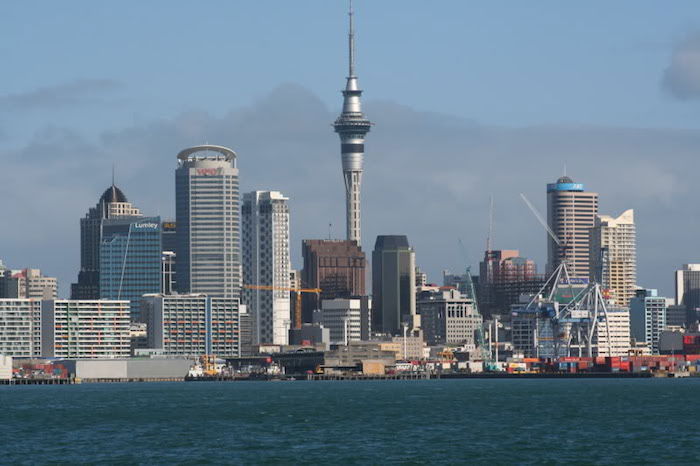 Auckland, New Zealand
But I do love Queenstown. Except that's another two hour flight each way on a one cabin aircraft with inconvenient flight times, which doesn't seem ideal with just three days on the ground.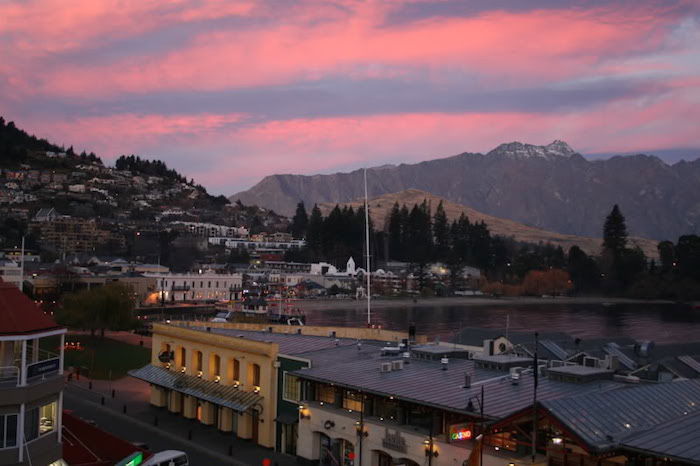 Queenstown, New Zealand
I realize this is as first world as "problems" get, but I really want to make this trip as amazing for my dad as possible.
What would you do?
Stick to the current plan of Melbourne. 777-300ER first class is still a really nice product, the Park Hyatt in Melbourne is nice, and Melbourne is a cool city, so it'll be fun regardless.
Stick to the A380 flight to Auckland, and spend three days in Auckland. Maybe I'm nuts and don't remember it correctly, and it's actually a beautiful city? It's not worth doing too much more travel within New Zealand with just three days on the ground.
Stick to the A380 flight to Auckland, and then book separate flights to Queenstown. We'll only have two days on the ground in Queenstown and we'll have two slightly crazy travel days, but it's well worth it for a place as gorgeous as Queenstown.
Something else altogether.
Would be incredibly grateful to hear what you guys would do!