I'm presently taking my dad on a surprise round the world trip to celebrate his "round" birthday. Even now the trip remains a surprise, as he's just finding out what we're doing and where we're going on a day-by-day basis.
Here are the previous posts about the trip:
---
I just can't even begin to say how impressed I've been with the genuine hospitality offered by Emirates on this trip. First we had an amazing flight from Los Angeles to Dubai. We're now in the Emirates A380 First Class Lounge in Dubai.
When we got to the airport I hadn't yet told my dad where we were going. So I went to the check-in desk and explained the situation — "I'm taking my dad on a surprise birthday trip and he doesn't know our next destination. When he gives you his passport could you please not tell him where we're going? Just give me his boarding pass." They laughed at the idea and gladly cooperated.
When we arrived at the lounge the same thing happened. At first the agents seemed to think I was kidnapping him or something, but once they "got" what I was doing, they loved the idea.
We had about five hours in the lounge, and three hours into our stay we headed to the restaurant area for "dinner" (or whatever you'd like to call eating at 2AM).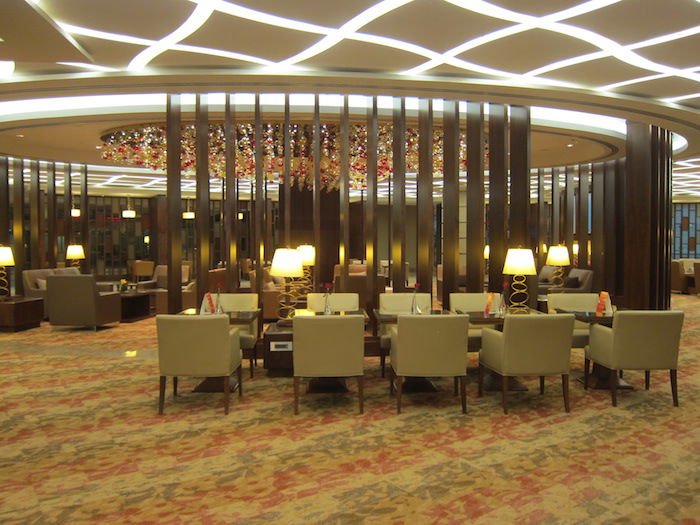 As we finished up our meal, several Emirates staff, including the lounge manager, gate agents, and servers, came up to our table to present my dad with a massive cake.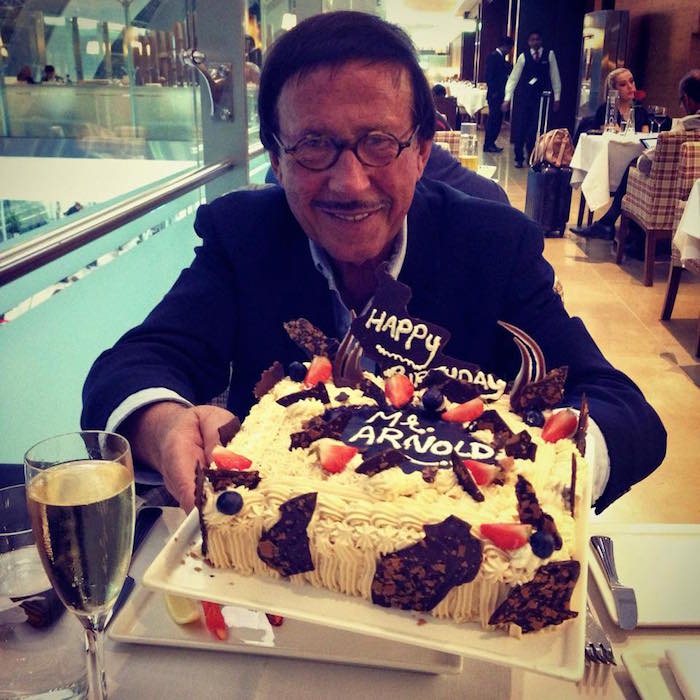 I didn't request the cake, though the lounge manager was seated at the entrance as we walked in and overheard the "story." So as she presented my dad with the cake she said "since we heard it's your birthday, please enjoy this from us at Emirates."
Unbelievable! It's one thing to wish someone a happy birthday, but it's another to go way, way above and beyond with an amazing cake.
Now what the heck are we supposed to do with a cake this size with only 30 minutes to go until boarding?!
Thanks Emirates, you left my dad speechless… for about the fifth time this trip.
And on another note, thanks again for all the kind comments you guys have left for my dad. I've read all of them to my dad (since he doesn't know how to use computers), and to say they've made his week would be an understatement! They might just be the highlight of his trip. 😀
PS: I have several video segments ready to be published, but the Wi-Fi in the lounge is too slow. Expect several videos when we land in Singapore, including our destination being revealed to my dad, him sharing his thoughts on the lounge while in the cigar bar, and even a video of him speaking German.