My dad will be turning a "round" age next month, and to celebrate I'm taking him on a surprise round the world trip.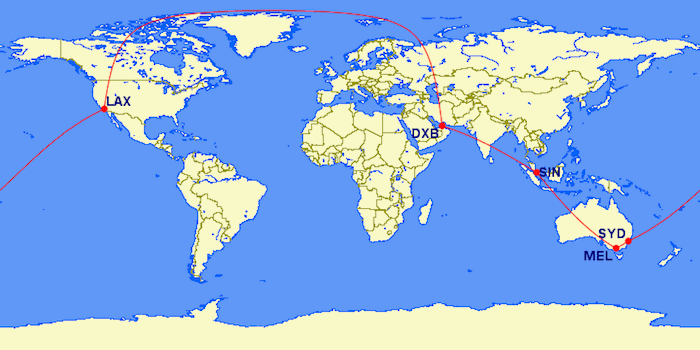 For those of you not up to date on the planning process thus far, check out these posts:
To clarify, the trip itself isn't a surprise. My dad knows that we're going somewhere for a couple of weeks. He just has absolutely no clue where we're going, and has no interest in knowing. He wants it to be a total surprise, so that he doesn't know where we're traveling to until we board a plane to the immediate destination.
And he also doesn't know which airlines we're flying. He's still talking about the Lufthansa A380 we flew from Houston to Frankfurt last year (or as he calls it, "za ay zhree aity"), so little does he know we'll be flying A380s around the world on our trip!
He basically refused to sleep on our A380 flight from Houston to Frankfurt last year, as he was too busy enjoying the "ambiance" to sleep or watch TV — or as he'd say, "I don't vant to watch za TV, I just vant to sit here and enjoy za ambiance."
Anyway, I've done my fair share of premium cabin flying over the years and have been to all the destinations we're traveling to, so what I'm most excited about isn't the trip as such, but rather:
Seeing my dad's reaction to everything
Sharing the experience with you guys, especially through my dad's eyes
My dad's excitement over him sharing the experience with you guys
With that in mind, I want to make sure I'm well positioned to have him "cover" the trip in as interesting of a way as possible.
As usual, my plan is to write a detailed trip report after the trip, though how would you most like to see my dad cover the trip? The way I see it, there are a few options:
1. Have dad write daily trip reports during the trip. This is perhaps the most straightforward option. As a reminder, my dad doesn't actually know how to use a computer, so this is what his daily updates would look like: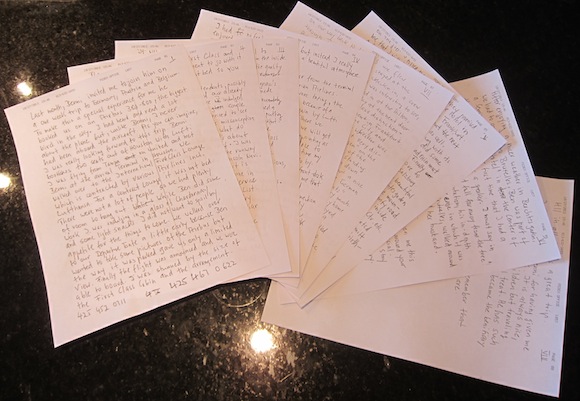 And then I'd be the one transcribing them onto the internet. 😉
2. Have dad do a daily video recap. I don't usually incorporate video reviews into the blog, but my dad is quite the character. Would that be interesting? If so, what's the best idea for a video format? Him just recapping our day? Me asking him questions? His amazement when he sees the Emirates A380 shower? Something else?
3. Have dad write a trip report after the trip. Similar to the first idea above, this would involve him doing a lot of handwriting. And perhaps the other downside is that he'd have to fax me the report, assuming we're not in the same city anymore. But it would also give him the most time to collect his thoughts.
4. Some other option? Is there another idea I overlooked? You guys tell me!
I can't even say how excited I am about this trip. Thanks to everyone that has provided feedback with the planning process — it has been invaluable!
Please let me know in the comments section below how you'd like to see my dad cover the trip!