We haven't seen much innovation or creativity when it comes to the quality of "standard" first class seats in the United States over the past couple of decades. If anything, we've just seen airlines reduce legroom in first class.
That's why I think it's worth specifically talking about Delta Air Lines' brand new first class seat, which entered passenger service today. This is available on Delta's Airbus A321neos, and we should expect 155 of these to be delivered to the airline between now and 2027.
Delta's new A321neo first class seat
The Airbus A321neo represents an exciting new chapter for Delta, as the plane will eventually make up a good chunk of Delta's narrow body fleet. For those not familiar with the plane, this is a more fuel efficient and longer range version of the previous generation Airbus A321.
Delta has introduced an all new first class seat on this plane, designed by RECARO and FactoryDesign. Delta's A321neos will each feature 20 of these seats, spread across five rows in a 2-2 configuration, with 37″ of pitch (which is pretty standard, though on the tight side).
What makes Delta's A321neo first class seats special?
They feature "wings" along the sides of the fixed headrest for more privacy
Each seat has a 10″ personal television with an extensive entertainment library
Tray tables are larger and sturdier, and have 25% more workspace compared to the previous first class seats
Seats have an in-arm water bottle storage compartment, and more storage underneath the seats in front
Power outlets are to the side of the seat, rather than at the seat in front
Below are some pictures of the new Delta first class seats on the A321neo.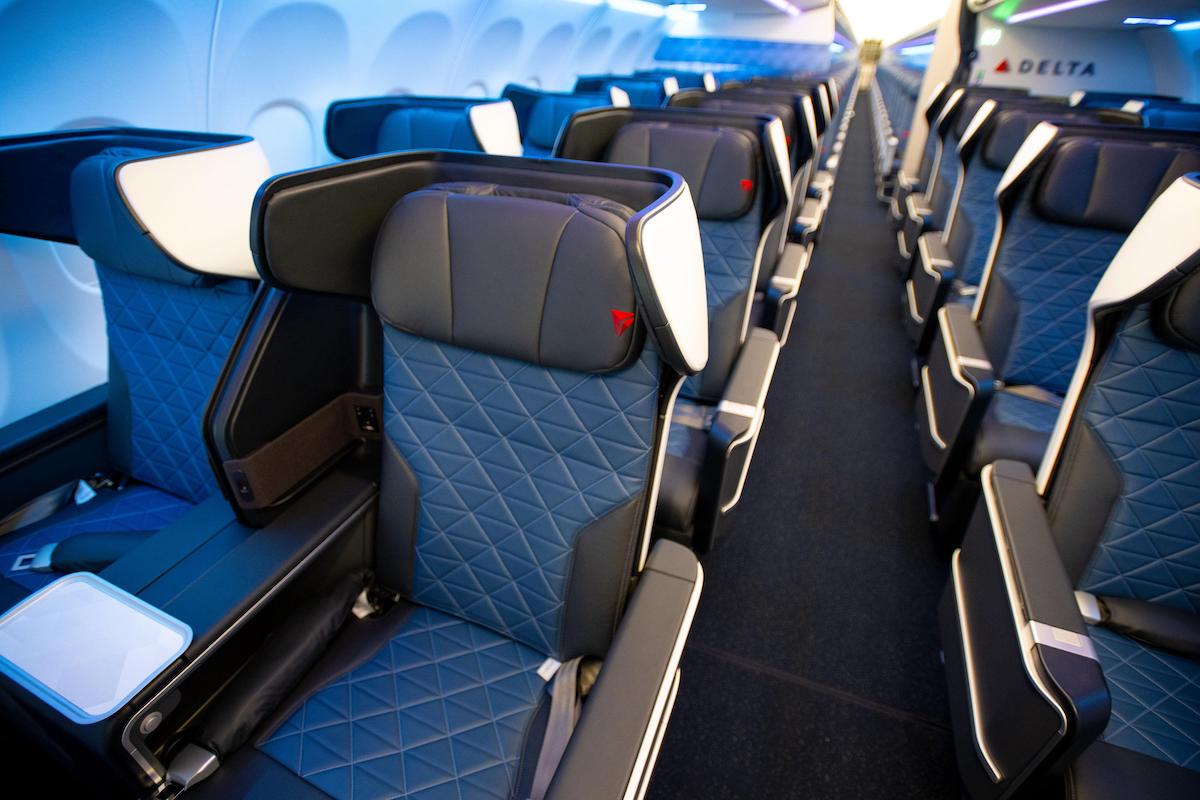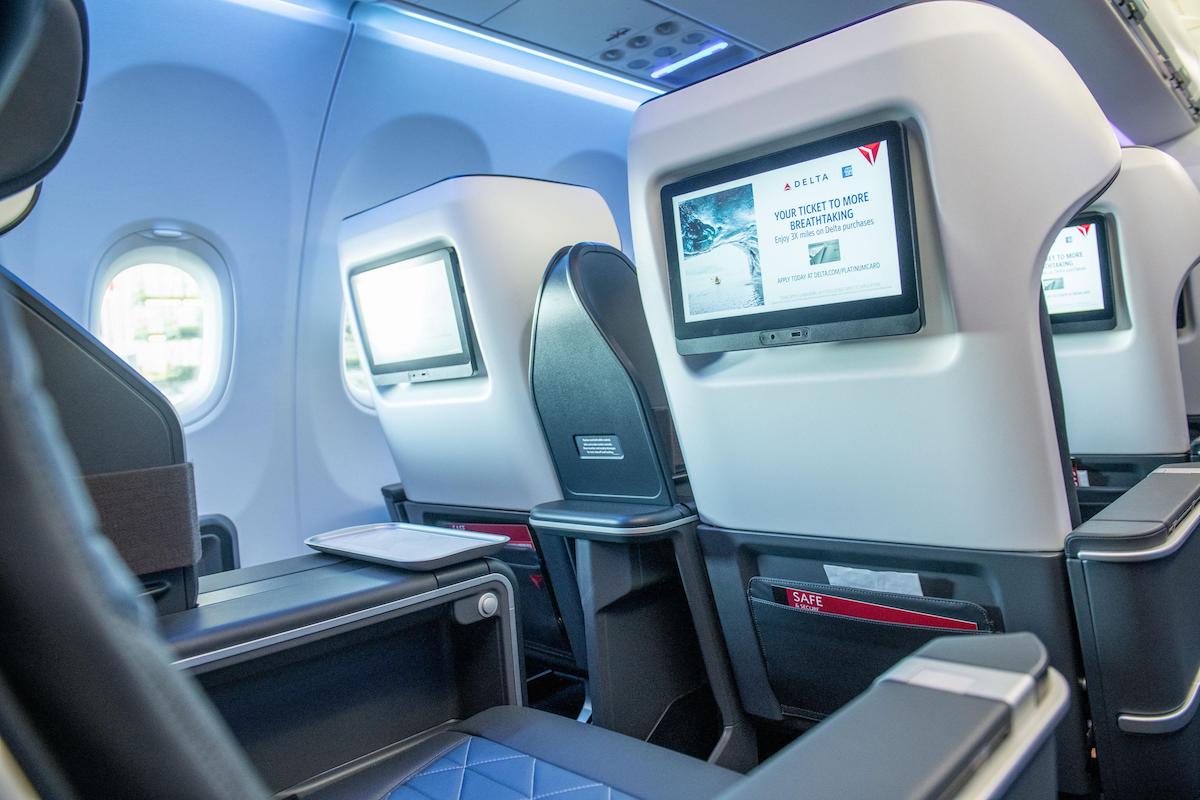 The new first class product is in addition to the generally improved features of the A321neo, including larger overhead bins, Viasat high-speed Wi-Fi, and quieter engines.
Is Delta's new first class evolutionary or revolutionary?
It's great to see innovation to the domestic first class experience, because we truly haven't seen much progress there in a long time. For whatever reason airlines have decided that there was no room to innovate, at least up until now.
There are some things I really like about Delta's new first class seats, as they seem thoughtfully designed:
I appreciate that the power outlets aren't at the seat in front, as that sometimes creates a tripping hazard, and complicates things if you're in the aisle seat and the person in the window wants to get up
I appreciate the larger and sturdier tray table, since some tray tables are problematic in that way
The seats have more storage than before, which is long overdue
The seats have improved privacy, and it's nice to be able to rest your head on the headrest "wings"
In general the cabin looks sleek
But then there are also some things I don't think I love about Delta's new first class seats:
Some people may not love the headrest privacy "wings" if they're traveling with someone, or if they enjoy looking out the window (because it can partly obstruct window views)
The seats look really thin, so I'm curious to see how the padding is, as I feel like that could be a challenge
While I haven't had the chance to try these seats yet, they definitely look like an improvement over the old seats, at least on balance. That being said, I definitely get the sense that these seats are evolutionary rather than revolutionary.
I think it's also worth mentioning that while Delta is the first US airline to be getting innovative in this way, the concept as such isn't totally new. Turkish Airlines' A321neos have business class seats that look somewhat similar. However, Turkish's cabin is much more spacious than Delta's.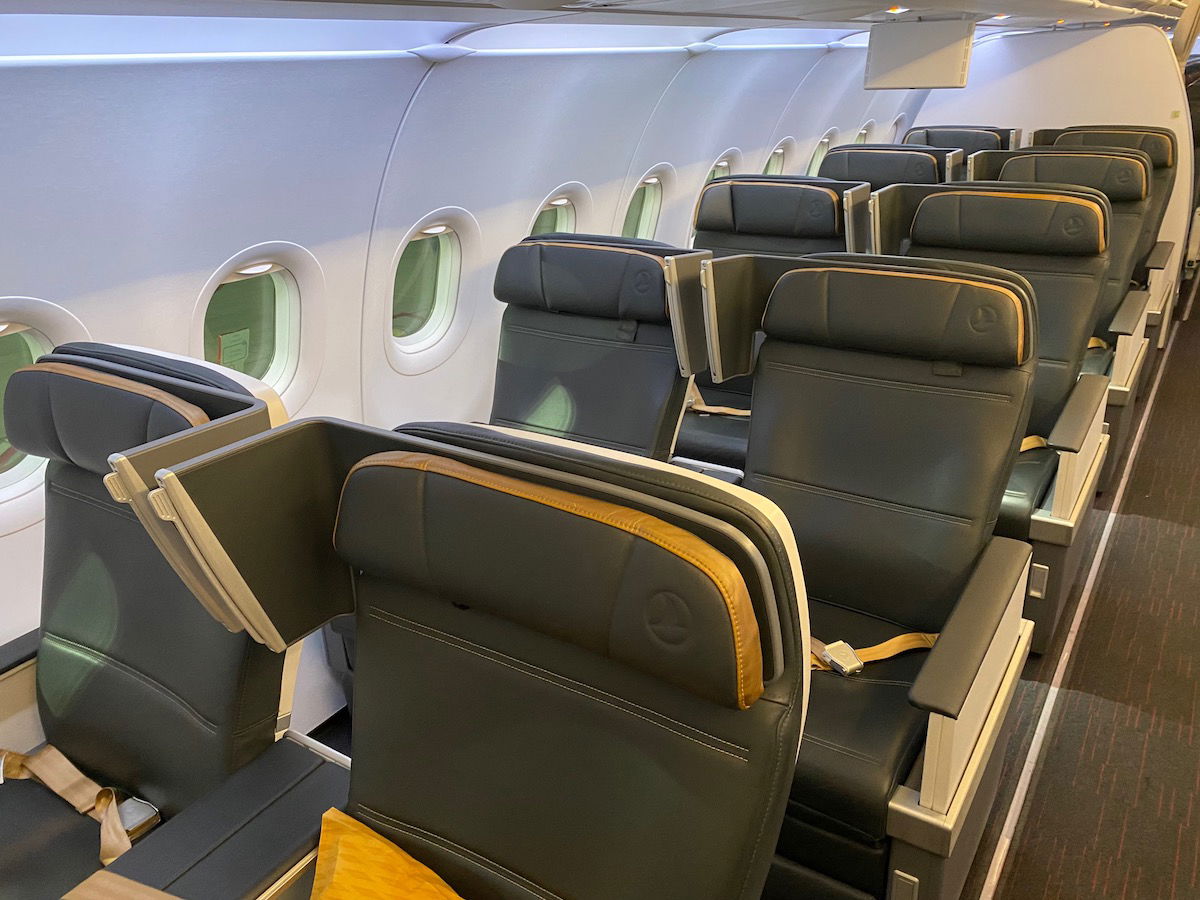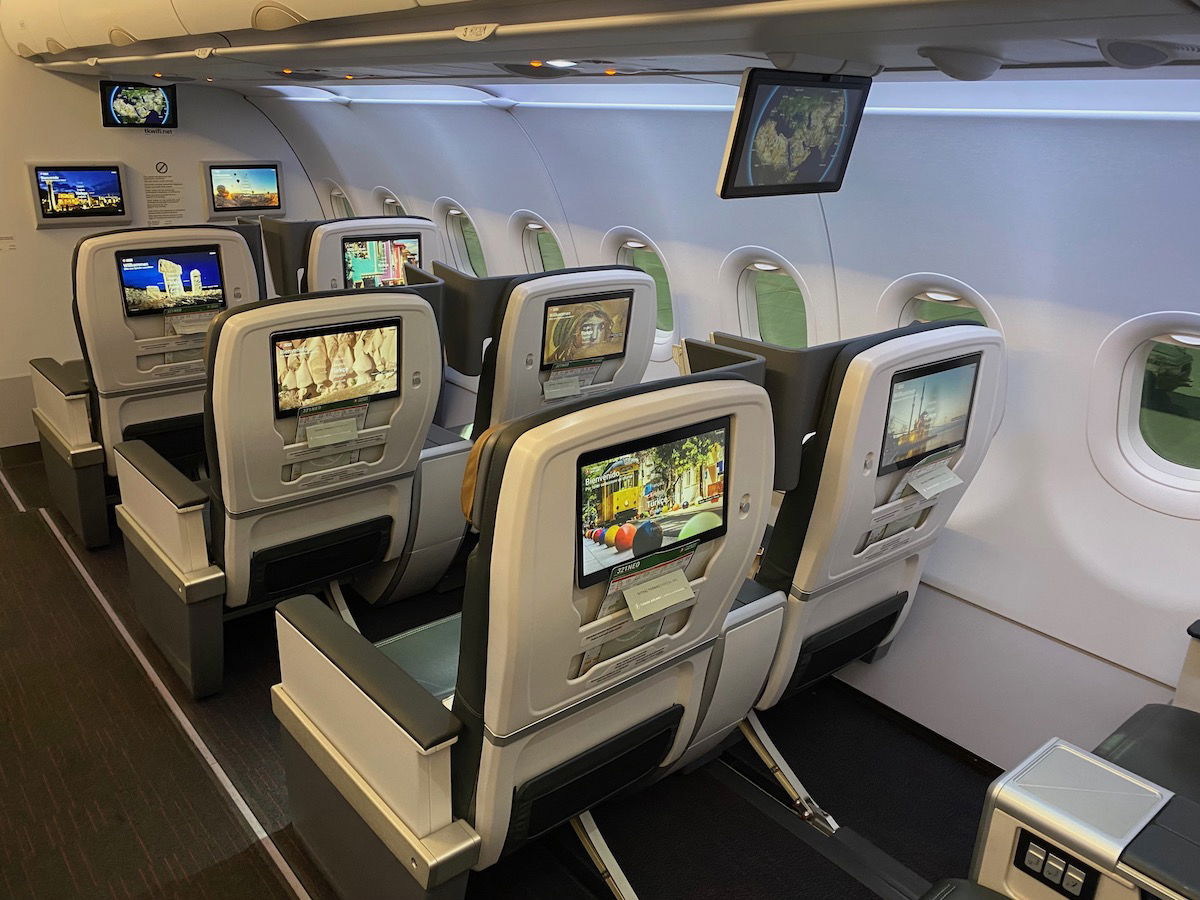 Bottom line
Delta's first Airbus A321neo has just entered service, and with that, the carrier's first plane with the new domestic first class seat is also in service. For the first time in a long time, we're seeing some real innovation to the domestic first class seat.
This configuration is just as efficient as the old configuration (in terms of the cabin's footprint), but has some cool new features, like headrest "wings," improved storage, better placed outlets, and a sturdier tray table.
Ultimately I don't think this seat will redefine domestic first class, or anything, though I do think Delta listened to customer feedback in some important ways, and I'm excited to try this seat myself.
What do you make of Delta's new first class seats? And if any OMAAT readers have the chance to try it, please report back!