I've flown well over a hundred segments in international first class, so I figured I'd share some general tips for maximizing the enjoyment of longhaul premium cabin travel. These thoughts are totally scattered and perhaps mostly quite obvious, so take them with a grain of salt. I'd certainly love to hear what thoughts you guys have in the comments section below.
Know what you want to get out of the flight — sleep or fun? So in theory the greatest thing about premium cabin travel is being able to arrive at your destination well rested. Perhaps I'm in the minority, but I find that when I fly business class I actually arrive more well rested than when flying first class. And that's despite first class having more personal space, much better bedding, and more privacy.
That's because in first class you sometimes feel like you don't want to "miss out" on the service and experience, while a great business class flight is simply one where you arrive well rested, in my opinion.
So decide beforehand what you want to get out of the flight. Do you want to have a blast and have a memorable flight, or arrive so well rested that you won't even remember the flight happened?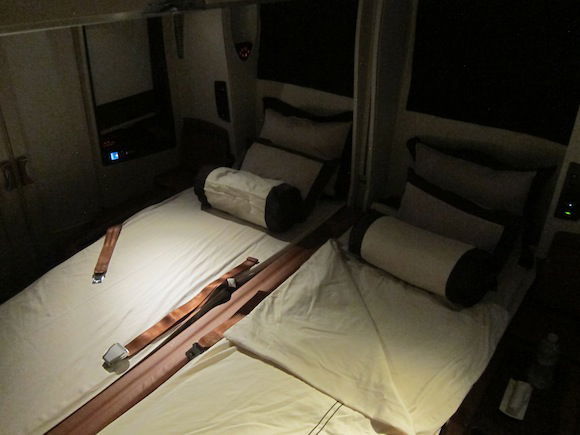 Singapore Airlines A380 Suites Class
Neither approach is wrong, and it obviously varies based on what you have going on at the destination and the type of flight. For example, on a transpacific flight there's usually plenty of time to do both. However, on a flight from New York to London you really don't have that luxury. Either you can go straight to sleep and get at least some rest, or you can stay up and enjoy the flight.
From New York to London I don't have a problem enjoying the flight and then napping for a couple of hours upon landing, which for me is more effective than a few hours of airplane sleep.
Know what amenities your airline offers first class passengers. This comes in two parts.
There are the obvious amenities you should know about, like: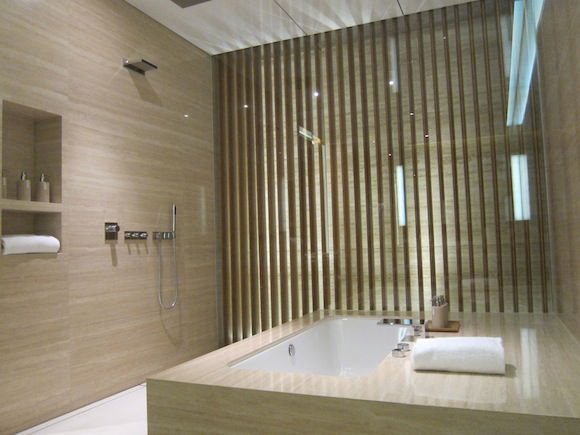 Cathay Pacific "Wing" First Class Lounge Cabana
And then there are the less obvious amenities available, which you may or may not value: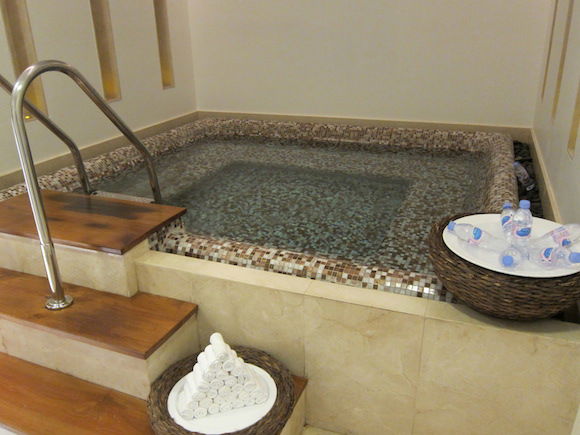 Qatar Airways Premium Terminal Doha hot tub
Ultimately the best way to know about these is to read trip reports/reviews of the products you're flying, so you know what you can expect.
Trust me, it's easy to forget to take advantage of some of these amenities — even I do it. When I recently flew Korean Air A380 First Class from Seoul Incheon to Los Angeles, I forgot to have a luggage tag made in the Korean Air First Class Lounge Seoul Incheon.
Don't eat in the lounge… most of the time. This is something I struggle with when flying. Say you're flying Cathay Pacific First Class from Chicago to Hong Kong. You don't eat during the day since you're anticipating the great meal service on the flight. But then you're sitting in the SAS Lounge Chicago before boarding and realize you're actually really hungry, because you've been saving your appetite for aboard. And then you realize even if boarding is about to start, it's going to be another 90 minutes or so before you're actually eating.
And then you raid the snack cart in the lounge, and eat all the crap you didn't want to, from packaged finger sandwiches to chips.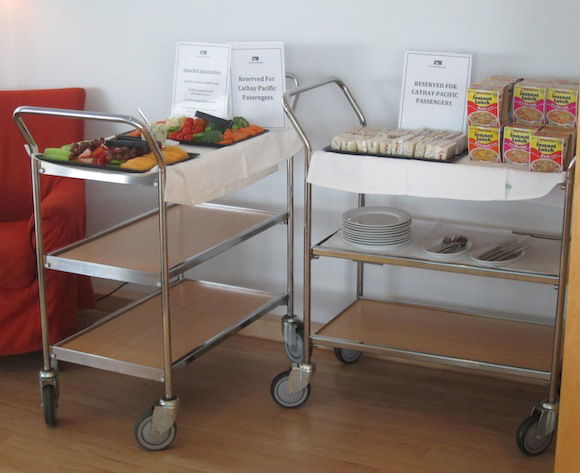 No food before the flight!
That never ends well. So in general while you can "save your appetite" for aboard, don't overdo it.
For the most part totally avoid the food and drinks in the lounge, since you'll surely do better aboard.
There are a few exceptions, however: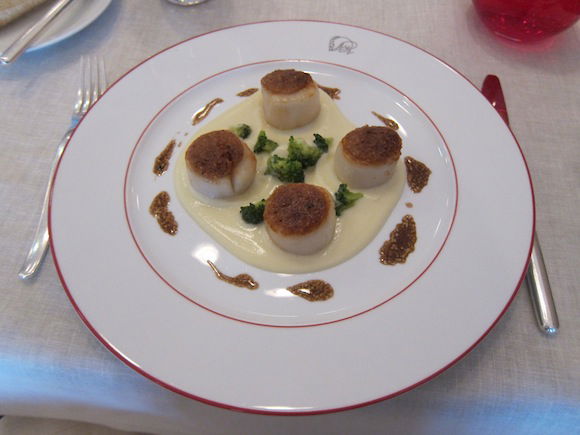 Air France Paris First Class Lounge restaurant pan-seared scallops
Try to work out and drink lots of water before the flight. This might sound obvious, but it really makes a huge difference, in my experience. If you drink plenty of water and work out before a flight you'll be much better positioned to do whatever you want to do after takeoff, whether it's going straight to sleep or staying up and having fun.
Drink lots of water during the flight. So after my Lufthansa First Class flight from Vancouver to Frankfurt, I feel like I should make this point. I don't drink much when on the ground, but when I fly I can down quite a bit of champagne. I almost never have a hangover, though. That's because I usually drink a ton of water with it. On my Vancouver to Frankfurt flight I decided for whatever reason to just drink champagne, and no water. Even though I had less champagne than I've had on many previous flights, I walked off the plane feeling like I got hit by a bus. Don't let it happen to you.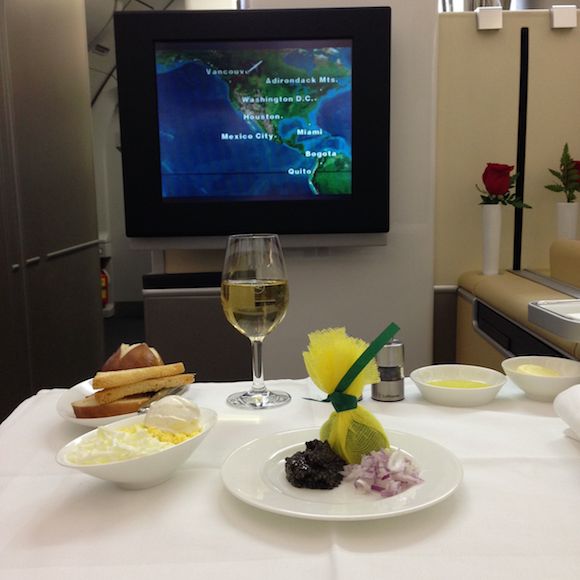 Lufthansa First Class champagne & caviar
Don't get bogged down with the entertainment system. Last year I took a trip to Europe with my dad in Lufthansa first class, and even though I was trying to show him "the ways" of Lufthansa first class, he unintentionally taught me something. I kept trying to get him to watch the TV or something on the entertainment system, and he simply said (cue thick German accent) "I don't vant to watch za TV, I just vant to sit here and enjoy za ambiance."
In the past I'd always force myself to watch something on the entertainment system during the meal, no matter what it is. On several of my most recent flights, though, I've just skipped the entertainment system altogether. I wouldn't watch a movie while eating dinner at home, so I'm not sure why I felt like I should on a plane.
And I actually have found I've enjoyed my flights more since I've stopped always using the entertainment system. I'd rather listen to music, read 50 Shades Of Grey a book, or heck, watch my own entertainment on my iPad so I can watch something I actually want to see.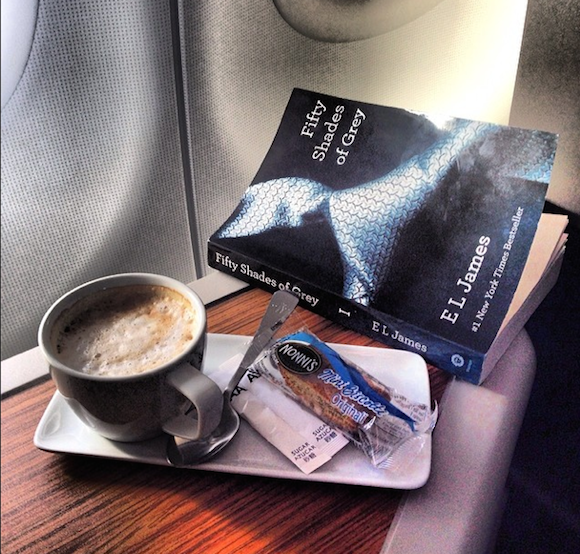 Skip the inflight movie and read quality literature!
But if anything I find the meal service itself is more enjoyable if you're not distracted with the entertainment. You can interact with the crew more and actually enjoy the food, rather than trying to shovel down caviar between scenes of a movie. Or ideally if you're traveling with someone it's nice to enjoy their company vs. both watching movies.
Don't be afraid to admit it's your first time. Perhaps this is just general life advice which applies to more than just premium cabin travel, but don't be afraid to admit it's your first time. Heck, I've flown international premium cabins literally hundreds of times, but since I'm writing reviews I often try to snap pictures during boarding. Once in a while a crew member will ask me if it's my first time in business (or first) class, and I'll simply smile and say "yes."
It's nothing to be ashamed of, and if anything, the crew will be even more excited to serve you. It doesn't matter what industry you're in, it's fun to serve enthusiastic people, and this is no exception.
Should you bring gifts for the crew? I often get asked whether it's appropriate to bring gifts for the crew if it's a special occasion. Ultimately it isn't expected in the least, but it also can't hurt assuming you're not expecting anything out of it. That being said, culturally I think different airlines would view them differently. For example, in the US chocolates are considered acceptable, while if you brought a European crew chocolates you'd probably get a blank stare from them.
So if I've had an exceptional flight with a British Airways crew, for example, and they're a fun bunch, I'll buy them a bottle or two of alcohol from duty free for their layover. It always gives them a chuckle, and unlike chocolate (which they find plain weird), it's something they appreciate and get use out of.
Bottom line
There's no right or wrong way to enjoy international first class, though there are certainly some steps you can take to make sure you maximize your enjoyment, no matter what you're hoping to get out of the flight.
Does anyone have any other tips for maximizing premium cabin travel?
I'll try to write a follow up post with specific amenities/things to be aware of by airline.