---
We had a six hour layover, the first four hours of which we spent in the Japan Airlines first class lounge. I've reviewed the lounge before, so I won't get into too many details on it this time around. As usual it was pretty crowded since both first class and OneWorld Emerald passengers have access, though I do think the lounge itself is nicer than the ANA first class lounge at Narita (though the ANA lounge is consistently more quiet).
One of the nice features of the lounge is the 10 minute massage they offer guests, which I took advantage of immediately. It's not as nice as the hour-long massage Thai Airways offers in their first class lounge, but it's something at least!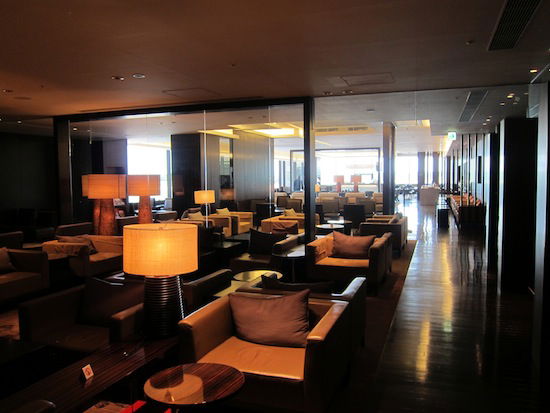 Japan Airlines first class lounge
A little over an hour before departure we headed over to the satellite where American's gates are, which can be accessed by shuttle.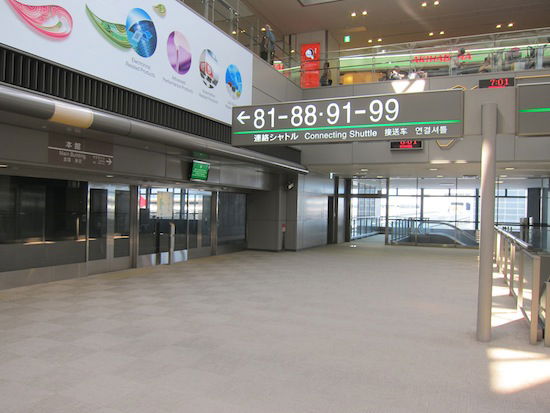 Shuttle to American gates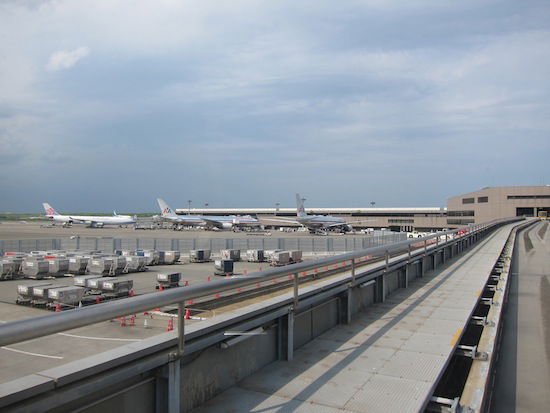 Shuttle to American gates
When we got to the satellite we walked by the Qantas lounge, which I didn't even previously know existed, so we decided to check it out. It was empty, so a nice alternative to the Japan Airlines lounge in the future. Even though it doesn't have a first class section I'll gladly trade a more substantial buffet for a more quiet lounge, and that's an area in which the Qantas lounge delivers.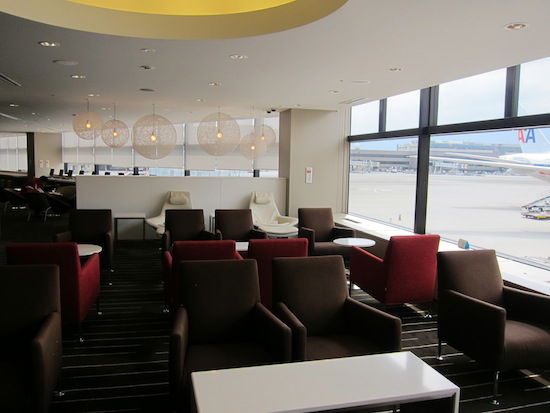 Qantas lounge Narita
We got to the gate at around 3:15PM, right as boarding began.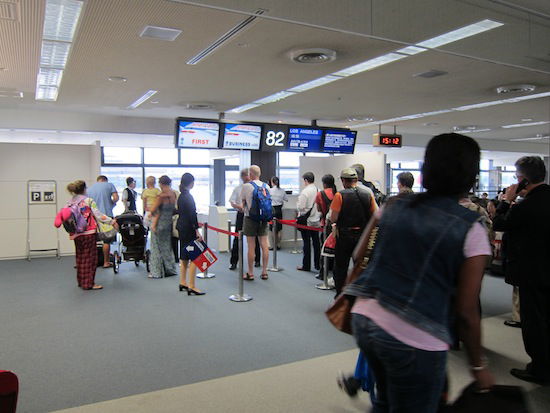 Departure gate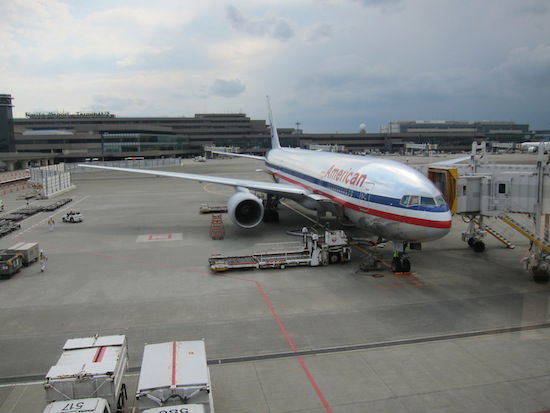 Our plane to LAX
American 170
Tokyo Narita (NRT) – Los Angeles (LAX)
Monday, May 28
Depart: 3:55PM
Arrive: 9:50AM
Duration: 9hr55min
Aircraft: Boeing 777-200
Seat: 3D (First Class)
At the door we took the left turn to the first class cabin, which was still empty at the time.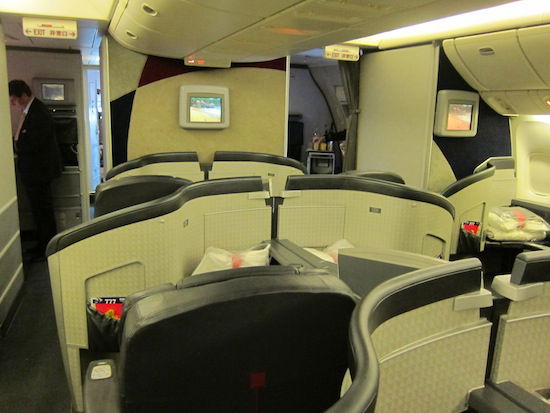 First class cabin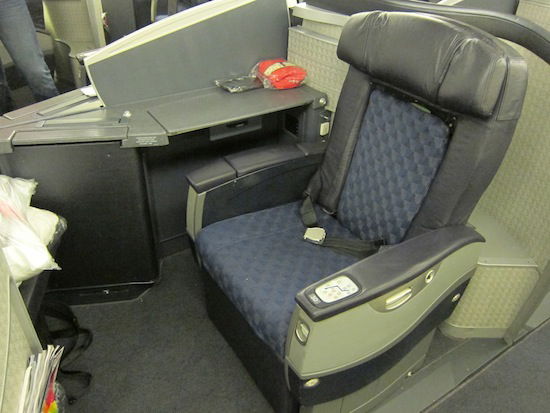 My seat, 3D
Within moments of settling into 3D one of the first class flight attendants, Colleen, came by to offer us pre-departure beverages. I ordered water.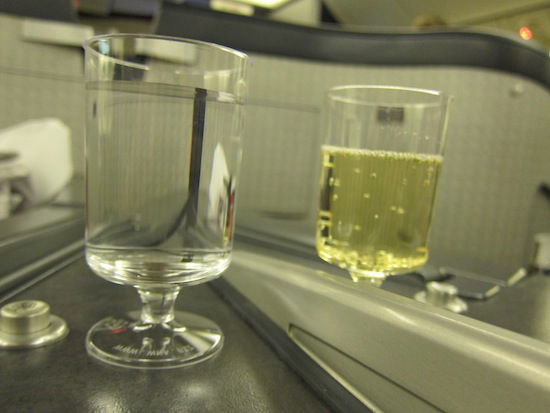 Pre-departure beverages
Already at my seat was a day blanket, duvet, and pillow, and moments later I was offered an amenity kit, large pair of pajamas, slippers, Bose headphones, and the menu.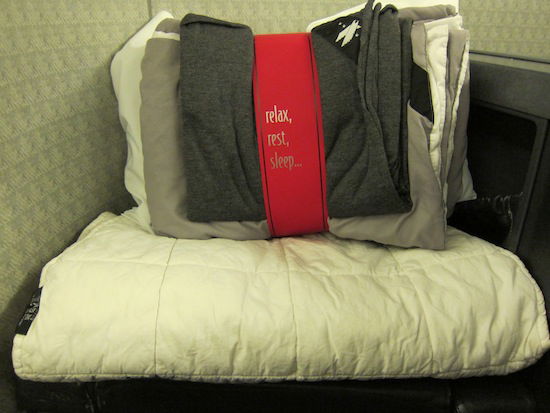 Sleeping gear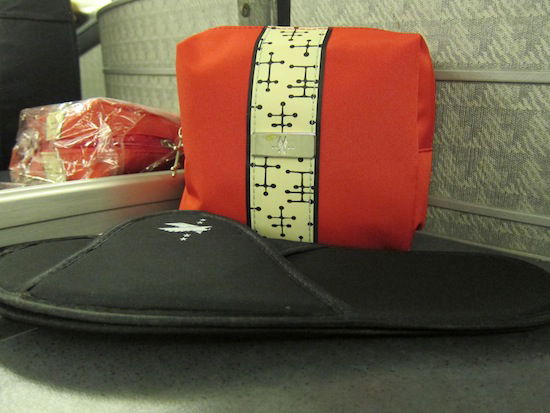 Slippers and amenity kit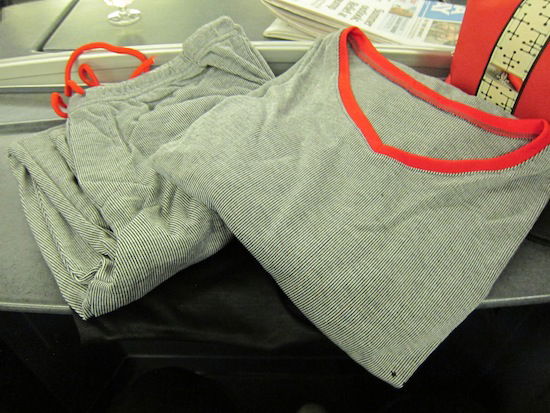 Pajamas
The door closed right on-time and we quickly began our taxi to the runway. Taxiing from terminal 2 at Narita takes F-O-R-E-V-E-R, and the fact that it was "rush hour" and we were about number 10 for takeoff didn't help. The captain came on the PA as we queued for takeoff to advise us of our flight time of nine hours, anticipating an on-time arrival in Los Angeles.
At the same time the purser came around to introduce himself and take meal orders.
Flights from Narita to Los Angeles are always funny to me, because they're much more like an eastbound transatlantic flight than a flight to/from Asia for me. The flight is so quick at just nine hours and lands in the morning, so I have my "sleep" strategy down pretty well on these flights. I have dinner after takeoff with a movie, and then sleep for as long as I can, sometimes waking up for breakfast.
After takeoff I started watching 21 Jump Street, which was hilarious and kept me entertained throughout dinner.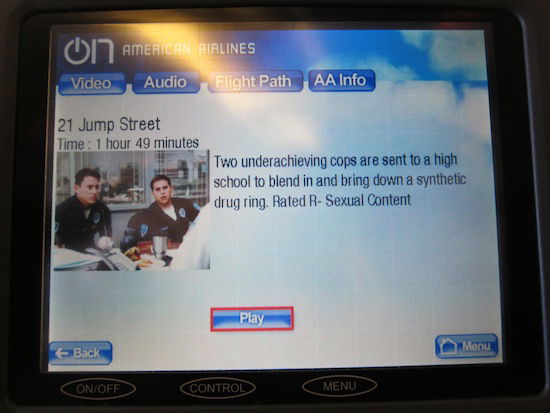 Movie
There was quite a bit of rough air after takeoff, so it was about 30 minutes before the meal service commenced. The dinner menu read as follows: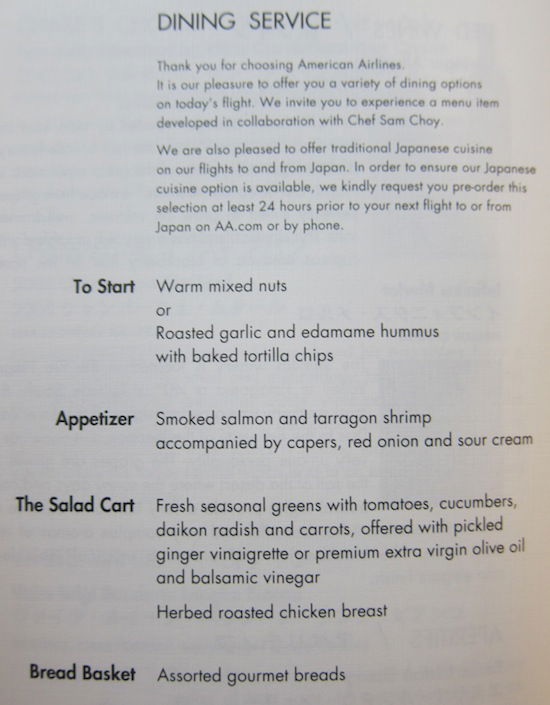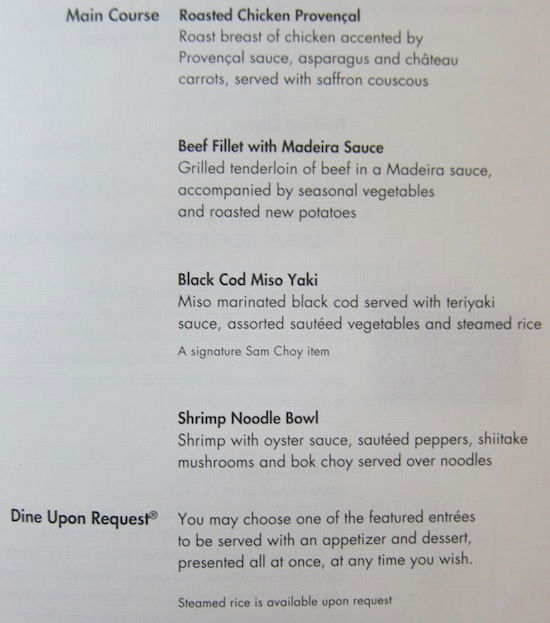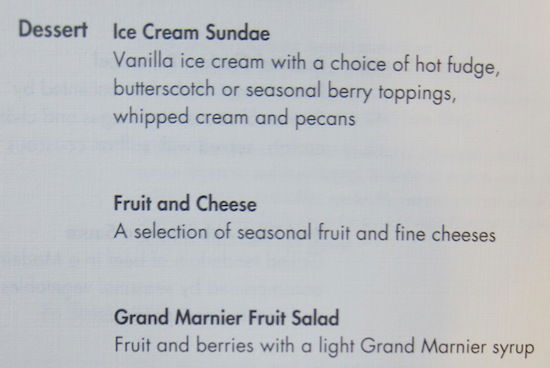 Colleen was serving my aisle, and she was awesome — friendly, engaging, efficient, and attentive. What more could you ask for?
Service started with hot nuts and pita chips with hummus.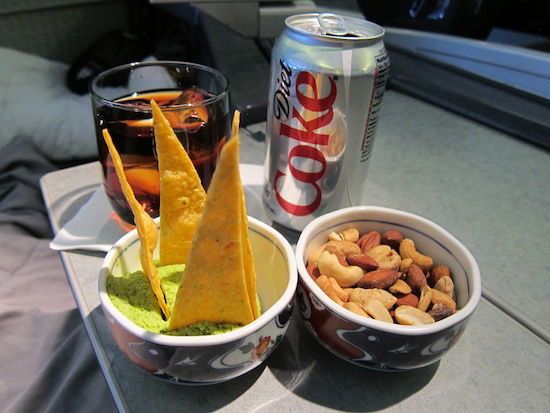 Diet Coke with lime, hot nuts, and pita chips with hummus
The next course was the standard starter of shrimp and salmon, which was plated at my seat. This was done by both Colleen and the purser, who was also friendly.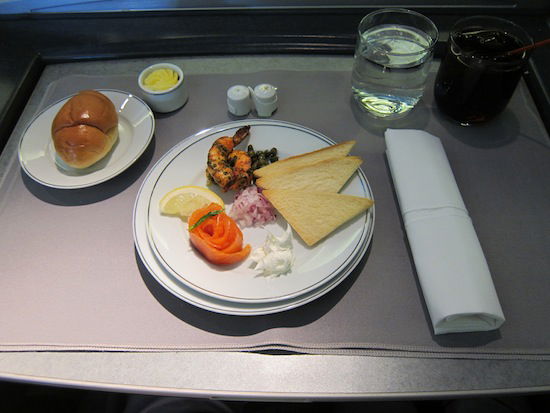 Shrimp and salmon
The next course was salad.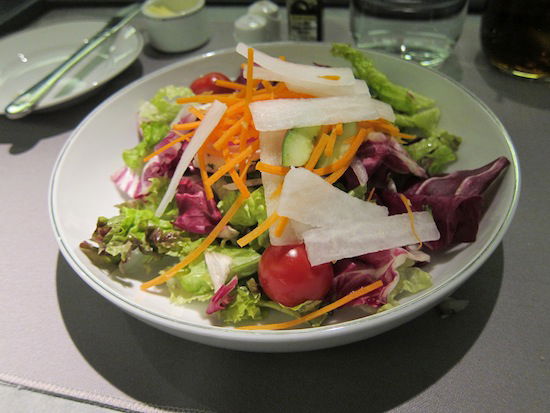 Salad
None of the main courses seemed especially interesting, so I went with the shrimp bowl. It was alright. By no means "international first class gourmet cuisine," but it was edible.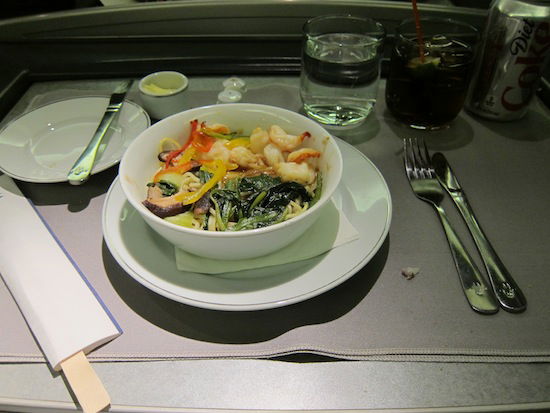 Shrimp noodle bowl
The highlight of any American international first class meal is of course the ice cream sundae. Colleen sure fudged mine up good.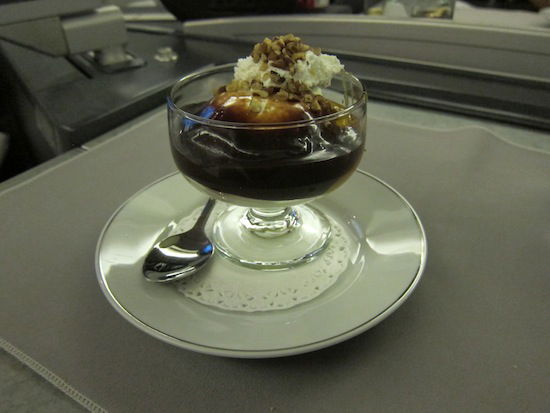 Ice cream sundae
After dessert I changed into pajamas to get a few hours of shut eye. I slept for five hours, and woke up with about 90 minutes to go to LAX.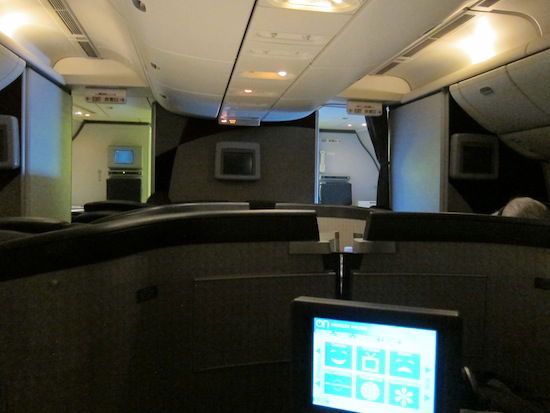 Cabin after dinner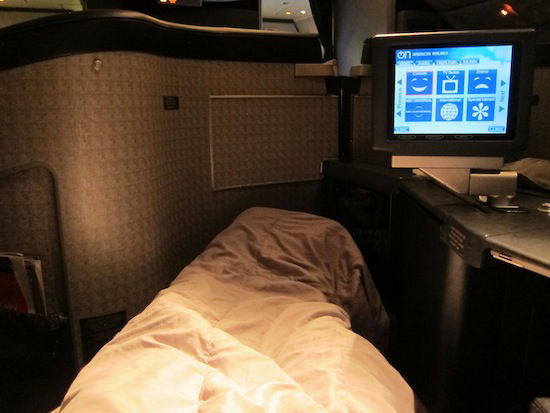 Blanket
At that point breakfast was served. The menu read as follows: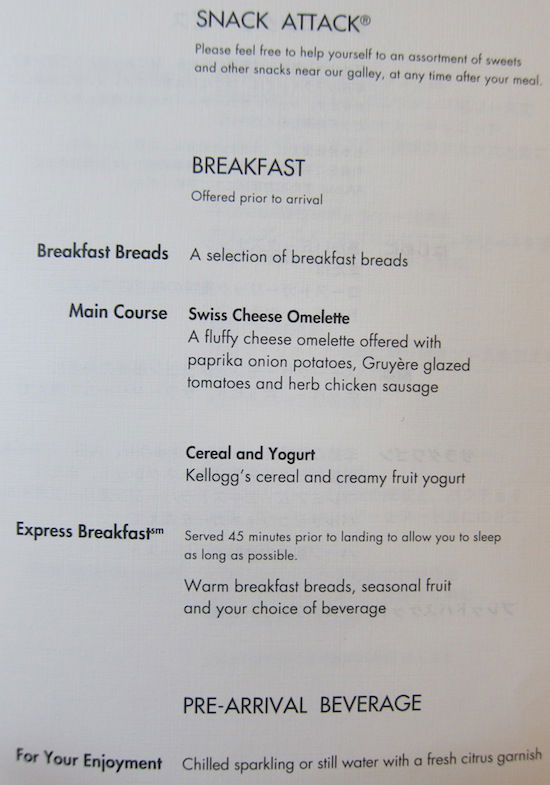 Airline breakfasts are interesting in that on some airlines they're my favorite meal, while on other airlines they're my least favorite meal. With US airlines they're consistently my least favorite meal because they're usually way too greasy, way too cheesy, and the orange juice sucks. Compare that to Lufthansa where they freshly prepare the egg dishes onboard and also have freshly squeezed orange juice, or the amazing breakfast I had on this Qantas flight.
So suffice to say the breakfast was a greasy omelet so I didn't really have all that much of it, though the fruit and cinnamon roll were at least decent.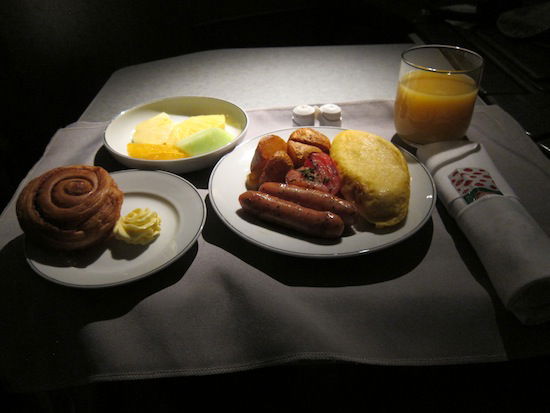 Breakfast
After breakfast I briefly spoke to Colleen, which led to me having to lie. Like I said earlier she was really engaging and friendly, so I couldn't help but ask about the blazers American's flight attendants wear on international flights. I've always noticed they put on blazers during the service, and wasn't sure why. So I asked her about them and she said "oh yeah, we wear them on international flights in first and business class to add a special touch to the service. Aren't they nice?"
How do I respond to that? I happen to think they look like they're from the 1970s and make American's uniforms look even older than they are (which is tough to do), so I responded with the only semi-honest thing I could — "yeah, they're just like the good old days."
About 30 minutes before landing the captain came on the PA to advise us of our arrival time. At that point the flight attendants served sparkling water.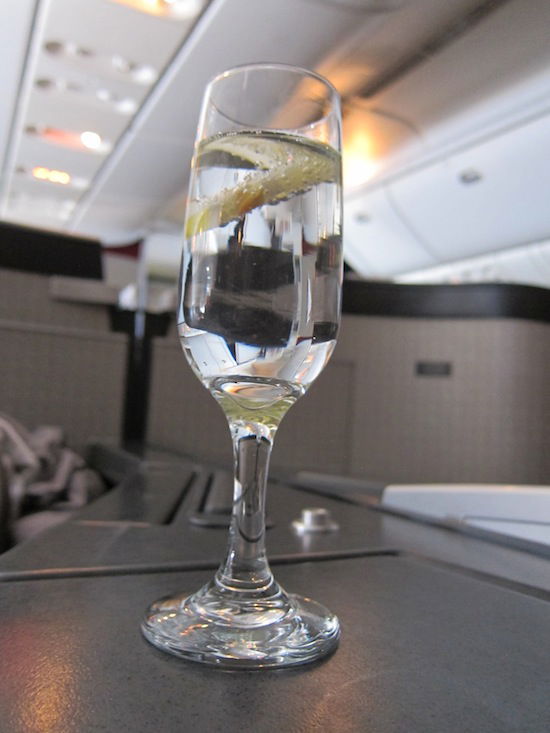 Sparkling water
We touched down right on-time and thanks to Global Entry found ourselves in the Flagship Lounge within about 15 minutes of landing.
On the whole it was an extremely pleasant flight. I love American first class since it's comfortable, but at the same time it's a familiar enough product that I don't feel like I need to stay awake to "experience" the service. As a result I find that I get the most sleep in American first class, which I suppose is what international premium cabins are all about.