---
Last September I was made aware of some special business class fares on American between Atlanta and Japan (the fare was the same to both Tokyo and Nagoya). The fare was about $1,800 all-in for discounted business class. If I couldn't upgrade to first class I wouldn't have gone for it, but since American lets you use systemwide upgrades to upgrade to the next class of service on any revenue fare, I was basically booking a first class ticket for $1,800. Furthermore, at the time I figured it would be a great way to get a jump start on 2012 elite status since I had no travel planned for the year, so I scheduled the trip for May. The trip would net me over 18,000 elite qualifying miles, over 24,000 elite qualifying points, and over 40,000 redeemable miles.
While in and of itself not a "true" mileage run, it is an excellent premium fare, and all I needed to persuade me to plan a five day vacation in Japan. Two friends decided to join me (one on the same fare, and one on an award ticket around the same dates). While our tickets were booked to Nagoya it was our intention to go to Kyoto for a majority of our stay, and spend a couple of nights in Nagoya on the way back.
In the end our routing looked as follows:
05/21 American 4651 Atlanta to New York LGA 9:05AM-11:20AM
05/21 American 133 New York JFK to Los Angeles 3:35PM-7:05PM
05/22 American 169 Los Angeles to Tokyo Narita 11:40AM-3:20PM (+1 day)
05/23 Japan Airlines 3087 Tokyo Narita to Nagoya 6:25PM-7:35PM
05/28 Japan Airlines 3082 Nagoya to Tokyo Narita 8:25AM-9:35AM
05/28 American 170 Tokyo Narita to Los Angeles 3:25PM-9:20AM
05/28 American 4 Los Angeles to New York JFK 12:30PM-9:10PM
05/29 American 4658 New York LGA to Atlanta 12:05PM-2:25PM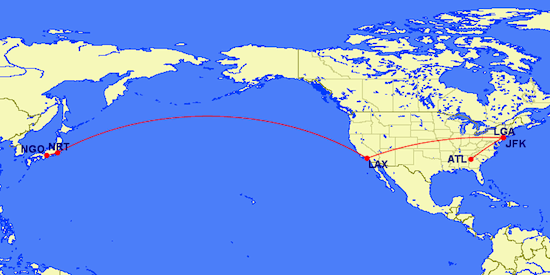 Upgrades immediately cleared to first class for all American segments. As far as the routing goes, as you can see I intentionally routed it through JFK, since this would allow us to fly American's Flagship Service. Instead of standard domestic first class flights, this route is operated by a three cabin 767-200 featuring international first class style service (for an idea of what the service is like, see my previous trip report about Flagship Service first class between New York and San Francisco). While it meant an airport transfer between LGA and JFK, I figured it was well worth it.
While I'll have a post shortly about constructing mileage run routings on American, the planning of this was pretty straightforward since the routing was well within the MPM. I just played around with ITA a bit to find the flights, and then went to Orbitz to make the reservation (I find aa.com to be a pain for booking complicated routings).
As far as getting to and from Atlanta goes, I had been monitoring the fares from Tampa to Atlanta for months leading up to the trip, and American's fares were ridiculous. In the end I needed to be in Seattle a few days before my trip to Japan, and a Tampa to Seattle and Seattle to Atlanta ticket on American actually cost less than a Tampa to Atlanta ticket, so I just booked that. Gotta love airline pricing.
I forgot to book my return ticket from Atlanta to Tampa until my last day in Japan, so after comparing fares I noticed AirTran was the cheapest by far at $80 all-in one way. While they won't be in this trip report, you can read about my experience on that flight here. 😉
As far as the hotels go, the Westin Atlanta Airport received generally good reviews and was an easy way to pick up an SPG night credit on an ~$80 stay.
In Kyoto I've heard great things about the Hyatt Regency, so went with that, especially since it's a Virtuoso hotel (so for booking the Hyatt Daily Rate got a $100 food and beverage credit among other benefits). One of the friends I was traveling with is a luxury travel agent so insisted we stay at Hoshinoya, which is a traditional Japanese ryokan with a modern twist.
Then in Nagoya we stayed at the Westin, which was available on Cash & Points. It was quite a bargain at 2,800 SPG points plus $45 per night.
Anyway, sit back, relax, and get ready to laugh at me. Of all the places I travel to, Japan is the one place where I'll always feel "lost in translation," which is part of what makes it so intriguing.
As always, questions and comments are welcome!