With the exception of Hong Kong, there's no airport I like transiting more than Narita. I always arrive a bit bleary-eyed, immersed in a foreign world as I try to figure out just where the hell I am.
I followed the signs towards transit security, where there was a single lane open. The line was efficient, though, so I was past security in about 10 minutes. The whole process kind of cracks me up, as there's a metal detector passengers have to go through, and next to it there's about a ten foot opening for "staff," yet just about anyone can pass through it as the agents were constantly looking away. Not a huge security concern in the grand scheme of things, since this is for transit passengers that have already been screened anyway.
Immediately past security was the entrance to the ANA Suites lounge.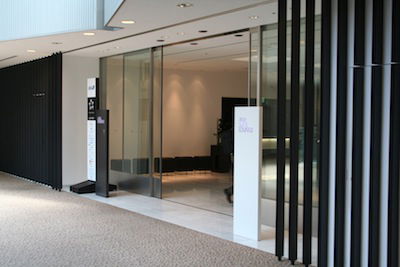 ANA Suites lounge
I was promptly admitted and took a seat near the windows, where I had a great view of the tarmac, overlooking at least 10 or so United 777s and 747s.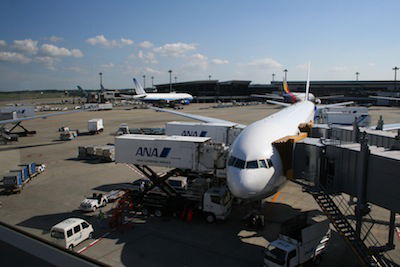 View from the lounge
I felt so close to home, yet so far away. Within about a minute of sitting down one of the attendants brought me a cold towel and offered me a beverage. I just asked for a glass of water, which she promptly brought me.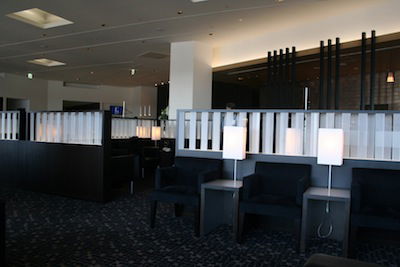 ANA first class lounge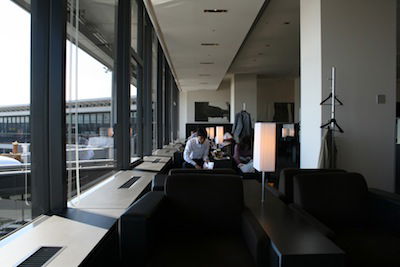 ANA first class lounge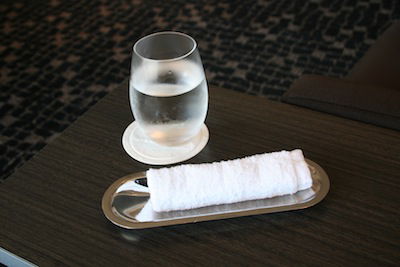 Towel and water
Overall the ANA lounges at Narita are nice, though nothing special compared to the Lufthansa First Class Terminal in Frankfurt or the Thai First Class Lounge and Spa in Bangkok. It has all the basic amenities – showers, comfortable chairs, free internet, and an ok buffet — but lacks any real "frills" that set lounges apart, like massages, real meals, or golf carts. 😉
I took a look at the buffet, which had mediocre offerings, including soup, onion rings, rice, finger sandwiches, sushi, and donuts.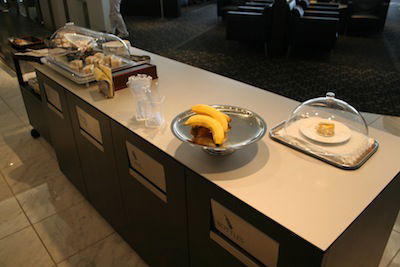 Buffet offerings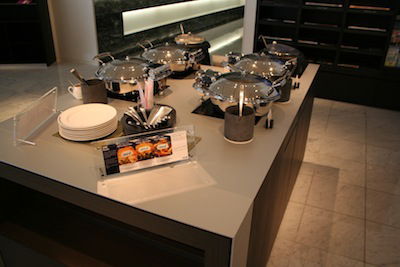 Hot food offerings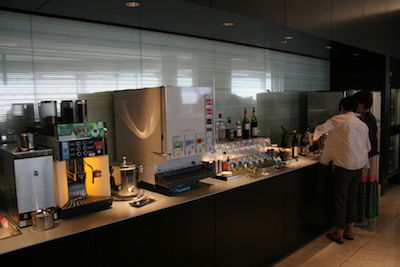 Drinks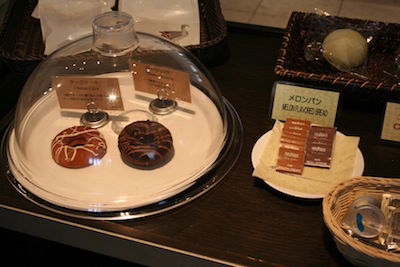 Donuts (notice how inefficiently they're displayed)
I wasn't very hungry, so instead opted to check my email and surf the web for a while. After about an hour I decided it was time for a shower. I handed the attendant my boarding pass, and she handed me an amenity kit and key to the shower room. The shower room was spacious and had *excellent* water pressure and temperature controls, though I wouldn't expect any less from a country that has toilets more advanced than 777 navigation systems.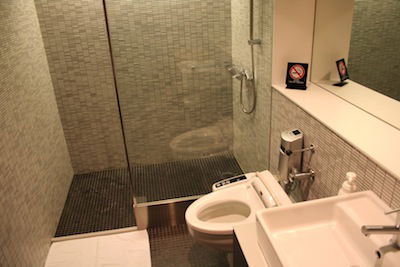 ANA shower room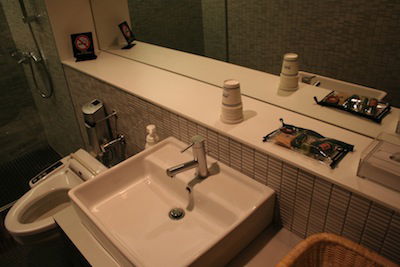 ANA shower room
Nothing is more refreshing than a shower right after a long flight, so I was feeling quite alert at this point. I surfed the web for a bit longer, and then decided to get some exercise by roaming the airport a bit. My connecting flight on Singapore Airlines was leaving from gate 41, so I headed in that general direction. While Narita isn't nearly as impressive of an airport as Hong Kong, Singapore, or even Bangkok, it nonetheless has some charm to it that makes it special in my book.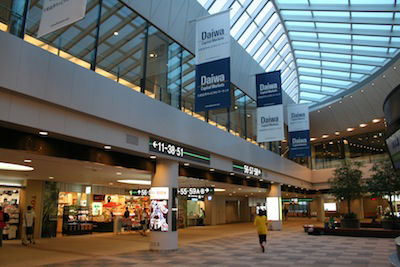 Narita terminal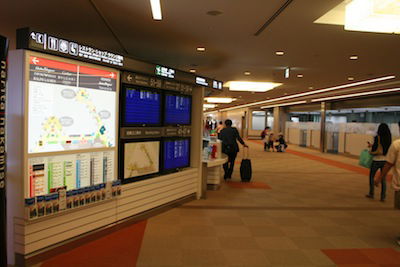 Terminal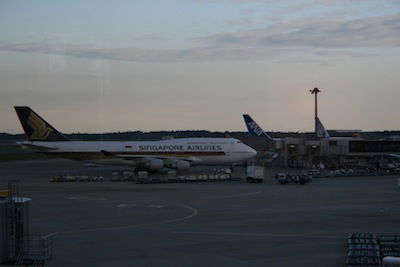 Tarmac views (that's the Singapore plane heading to LAX)
On the way I walked past the United Red Carpet Club and International First Class Lounge, so decided to make a quick stop there. While I've visited the Red Carpet Club many times, I had never been to the International First Class Lounge, as I've heard ANA's lounge is much better. But since I had time, I figured I'd drop in for just a few moments.
The agent at the door directed me towards the elevator which leads up to the First Class Lounge, where my boarding pass was once again checked. The lounge was surprisingly large, and since I was arriving right as the last United flight left for the evening, I had the lounge to myself. What I really loved about the lounge were the incredible tarmac and runway views. The lounge is adjacent to the part of the runway where most of the heavies rotate, so that's pretty tough to beat. At one point I saw three United 777s taking off in a row. Who said Narita isn't a United hub?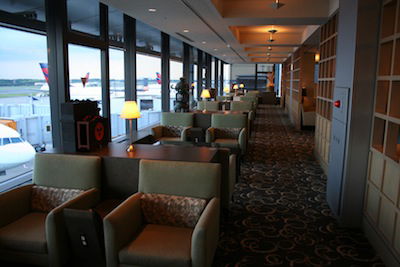 United International First Class Lounge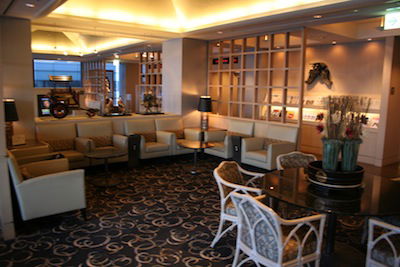 United International First Class Lounge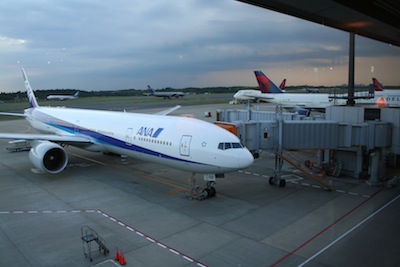 Tarmac views from IFL
Boarding was scheduled to begin at 6:35PM, so at around 6:20PM I decided to head to the gate. The gate area could best be described as organized chaos. At around 6:35PM boarding was called for first and business class passengers, which appeared to be half the plane.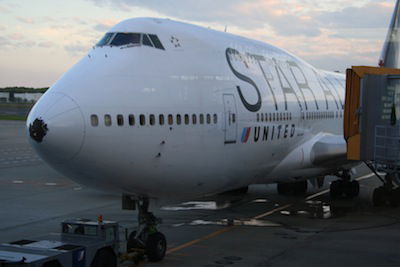 United Star Alliance 747 leaving from gate next to us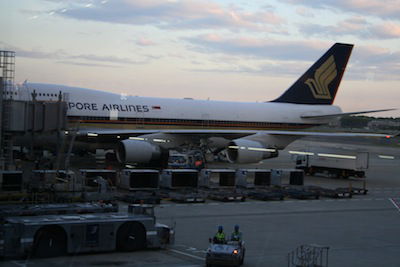 Plane taking us to Singapore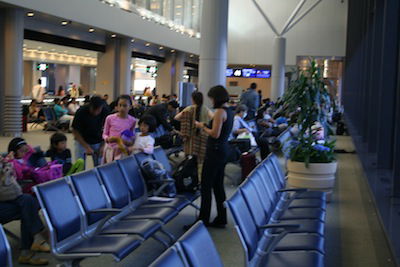 Gate area
Soon enough I was aboard and the next leg of my adventure began. It had been too long since I've flown Singapore first, and I was looking forward to it once again.
Singapore 0012, NRT-SIN, 747-400
Wednesday, June 16
Depart: 7:10PM
Arrive: 1:15AM
Duration: 7hr05min
Seat: 2A (First Class)
Some people like to refer to service on Singapore Airlines as robotic. I couldn't disagree more. It's simply consistent. At door 1L I was greeted by the in-flight service manager, who introduced himself as Gene, and directed me to my seat, 2A.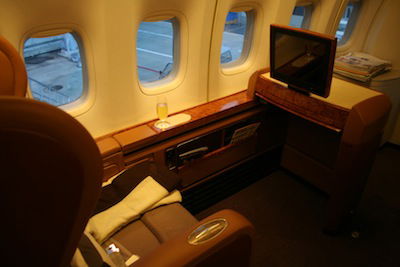 Seat 2A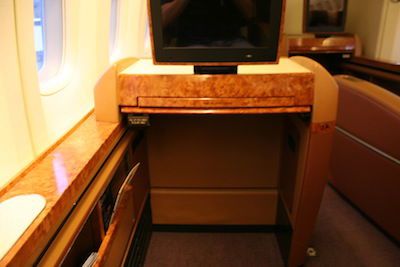 Seat 2A legroom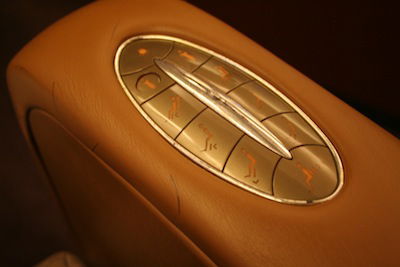 Seat controls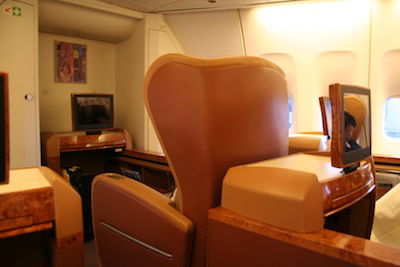 View of seat 1B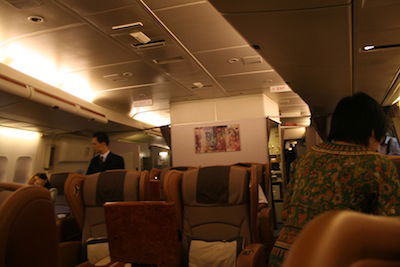 View looking back
As usual the flight attendants working first class, Grace and Michael, were busy with all the pre-departure service, starting with beverages. I asked for a glass of champagne, and with a slight smirk, Grace asked "Dom or Krug?" While I generally prefer Krug I already had a couple of glasses on ANA, so went with Dom. Moments later I heard the cork pop in the galley, as Grace brought out the bottle, presented it to me, and poured me a glass.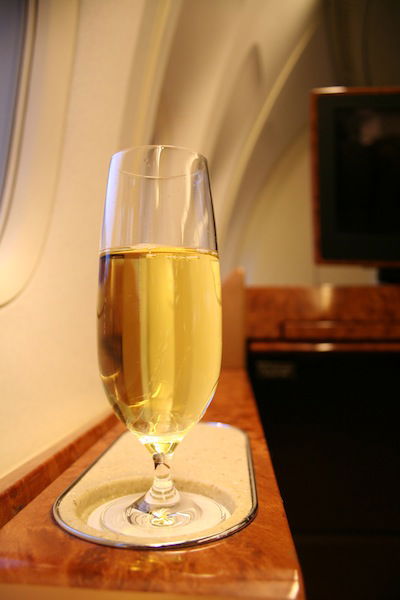 Pre-departure Dom
Moments later I was offered newspapers, magazines, headsets, blankets (courtesy of Givenchy) and a hot towel. The first class cabin continued to fill up and it became apparent that it would be a fairly full load up front today. By the time departure time rolled around 11 of the 12 seats were taken, while at the last minute a last passenger was moved up from business class.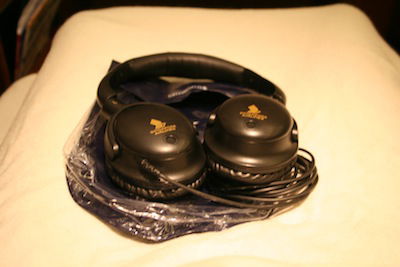 Headsets
The captain came on the PA and advised us that there was some flow control out of Narita, so it would be a few minutes before we departed. He advised us of our flight time of 6hr25min, and said that we should be landing in Singapore on time.
After about 10 minutes we did indeed push back and the safety video began playing. We began our rather long taxi to the runway, where we were number four for takeoff, and soon enough we rocketed off towards the South.
There were quite a few bumps on the initial climb out, but after about 10 minutes the captain turned off the seatbelt sign and the flight attendants sprung into action. Gene, the in-flight service manager, came around to introduce himself once again to everyone. Gene wasn't as engaging as most Singapore in-flight service managers, as he simply greeted everyone by name and thanked them for flying Singapore Airlines. Usually they'll recommend some overpriced restaurants in Singapore (and mention how affordable they are at $200 per person). Grace, the leading stewardess, came around to introduce herself as well as she handed out the dinner menus, which in typical Singapore fashion came in the nice leather folders.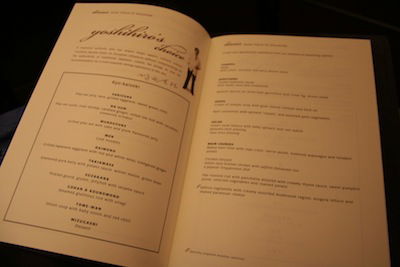 Dinner menu
Moments later she distributed amenity kits, pajamas, slippers, and eyeshades, all with Givenchy branding. The sheer number of amenities on Singapore Airlines takes a real toll on my carry-on bags, as I always take everything with me. And they have some of the best amenity kits and pajamas as well, in my opinion, including a large bottle of cologne.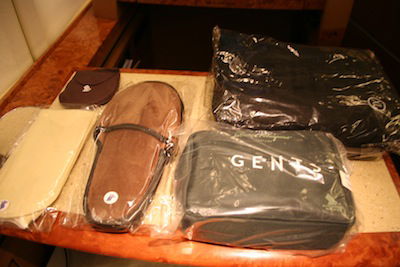 Amenities
While Grace did all that Michael came around taking drink orders, and I went with a Diet Coke. Grace then took dinner orders. The menu read as follows:
Dinner from Tokyo to Singapore

Create your gastronomic experience from our selection of tantalising options

Canapes
Satay
With onion, cucumber and spicy peanut sauce

Appetisers
Chilled malossol caviar
With melba toast and condiments

Spanish iberico air dried ham garnished with fresh fig, mixed salad

Soups
Cream of tomato soup with goat cheese timbale and herb oil

Beef consomme with spinach "royale" and assorted petit vegetables

Salad
Green coral lettuce with baby spinach and red radish
Balsamic herb dressing
Yuzu miso dressing

Main Courses
Baked beef fillet with ceps crust, carrot puree, buttered asparagus and fondant potato

Chicken biryani
Indian style braised chicken with saffron-flavored rice
A popular Singaporean dish

Pan roasted cod with panchetta drizzled with creamy thyme sauce, sweet pumpkin puree, selected vegetables and roasted potato

Saffron tagliatelle with creamy assorted mushroom ragout, arugula lettuce and shaved parmesan cheese

Desserts
Warm fruit and almond-pistachio cream tart topped with vanilla ice cream and raspberry coulis

Cheeses
Saint morgon, blue stilton, red cheddar and brie served with grapes, crackers and nuts

Fruits
Fresh fruits in season

Finale
A selection of gourmet coffees & fine teas served with pralines
And for those of you that prefer liquid nutrition, here's the wine menu:
Champagnes:
Dom Perignon 2000
Krug Grand Cuvee

White Wines:
Cloudy Bay Sauvignon Blanc 2008
Clos du Bois Calcaire Chardonnay 2006

Red Wines:
Chateau Pinchon-Longueville, Comtesse De Lalande 2004
Dry Creek Cabernet Sauvignon 2006
Robert Mondavi Winery Cabarnet Sauvignon

Port:
Graham's 20 Year Old Tawny Port
I went nearly all the way – satay, caviar, soup, salad, main course, and dessert. Even though I wasn't all that hungry, the presentation of the food itself makes it worth eating.
By the time we leveled off the satay course and Diet Coke were on my tray table. Satay is one of my favorite dishes, and Singapore Airlines' variety is quite phenomenal.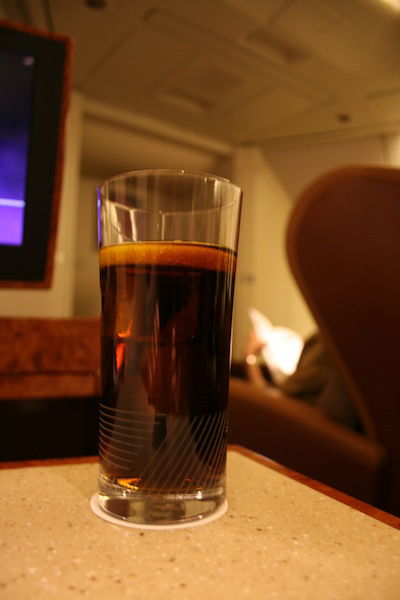 Diet Coke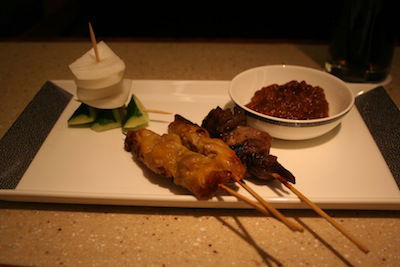 Satay
As I finished up my tray table was cleared and tablecloth was set, which was followed immediately by the caviar course. The attention to detail when it comes to setting the table always amazes me at Singapore Airlines, from ensuring that everything is spaced out properly to making sure all the logos face the same direction.
Most passengers seemed to be going with the Asian meal, so I got a generous helping of caviar.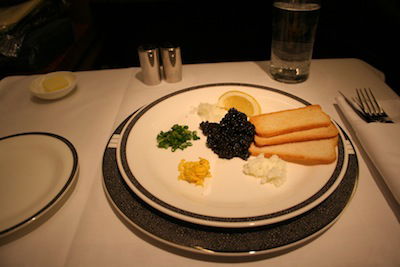 Chilled malossol caviar
Following that was the soup course, which was quite possibly the best soup I've ever had, on the ground or in the air. Spectacular.

Cream of tomato soup with goat cheese timbale and herb oil
Then came the salad course, which made me chuckle.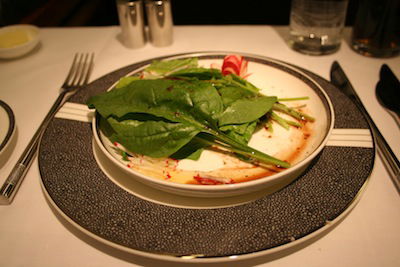 Green coral lettuce with baby spinach and red radish
Need I say more?
Shortly thereafter the main course was served, which was tasty.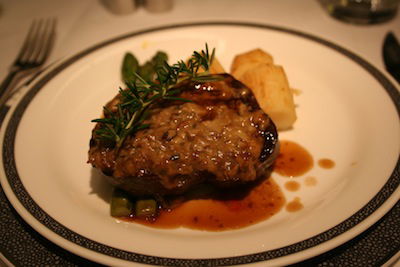 Baked beef fillet with ceps crust, carrot puree, buttered asparagus and fondant potato
Following that the dessert was served, which wasn't that great.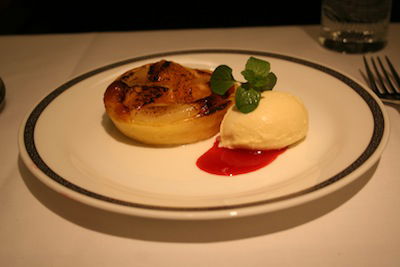 Warm fruit and almond-pistachio cream tart topped with vanilla ice cream and raspberry coulis
The fruit was a bit sour, so I ended up removing most of it. I was offered coffee and pralines, but I passed. I decided to watch a couple of episodes of The Big Bang Theory, which was quite funny as usual. After that there were about four hours to go to Singapore, so I asked the flight attendants to make my bed. They brought out the duvet, an extra pillow, and blanket.
As they made my bed I took a quick picture of the cabin, and noticed one of the guys sitting in row four giving me the most bizarre, prolonged look. Moments later he spoke to the in-flight service manager. I then noticed that he was actually a captain in uniform. Sheesh, never seen someone take a picture of the first class cabin? C'mon, if you're going to stare me down for taking a picture, don't make me feel uncomfortable, please! I was discreet and not using flash, so didn't really feel it was necessary.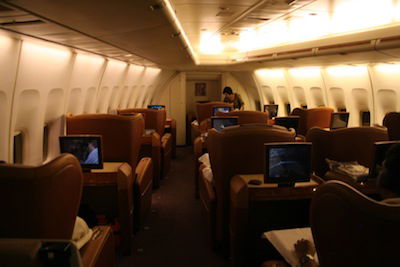 First class cabin
Singapore's hard product might not be the most modern, but it still gets the job done. The seats are incredibly comfortable, and while the width isn't amazing for sleeping, it's plenty since it's not in any way claustrophobic. I slept for about 3.5 hours, at which point the captain made the pre-arrival announcement, advising us we had 30 minutes to go to Singapore. I returned my seat into the upright position and tried to stuff all the amenities from the flight into my carry-on without much success.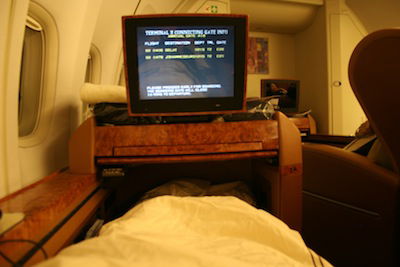 View lying down
As we began our final descent, Gene, the in-flight service manager, came around once again to thank each passenger for flying Singapore Airlines with a firm handshake. Minutes later we touched down and with a slow deceleration exited the runway and made it to our gate at Terminal 3.
On the way out I thanked the flight attendants for the great service and walked towards immigration. Since we arrived in Terminal 3 we had to take the SkyTrain to get to immigration. Fortunately there wasn't a single person waiting at immigration, so I was through in no time. Singapore gets the award for the nicest immigration officers, in my opinion. The only question I've ever been asked by their officers is whether I'd care for a piece of candy.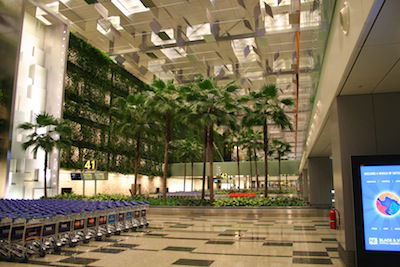 Terminal 3
I had booked the Crowne Plaza Changi for the first night given the late arrival time, so headed straight towards it. It's connected to the terminal, so quite convenient. I timed it, and I was in my room exactly 19 minutes after the door of the aircraft opened. Now that's what I call efficient!