---
Shortly after 10AM we had cleared customs and proceeded back into the terminal, this time through the American Flagship check-in area. This is for international (and flagship) first class passengers, Concierge Key members, and those that purchased American's Five Star Service.
As you can see in the pictures below it's a separate roped off entrance which leads to a private check-in area.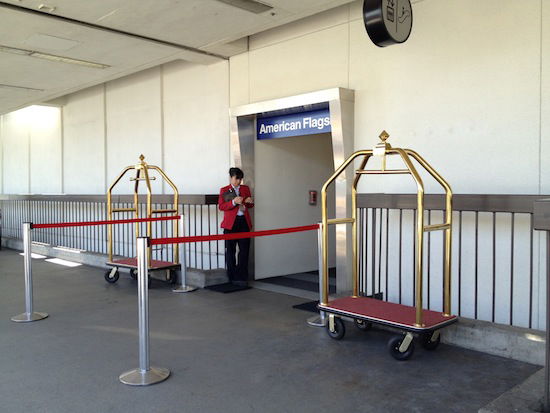 Flagship check-in entrance
While the check-in room is by no means glamorous, I suspect it's nice for celebrities since it's completely private and separated from the terminal.
The check-in agent was friendly and printed our boarding passes in no time. I believe they typically escort you through security, though in this case the porter wasn't available, so we were simply directed to the elevator which leads right to the security line.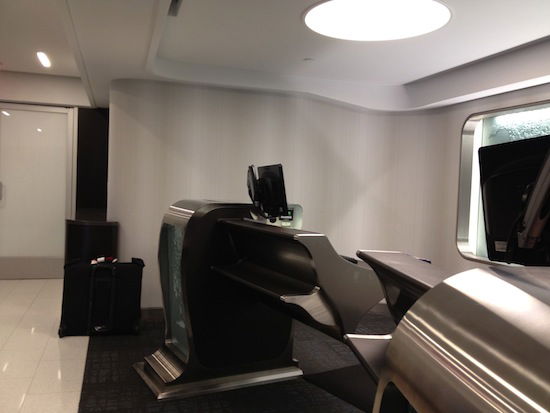 Flagship check-in room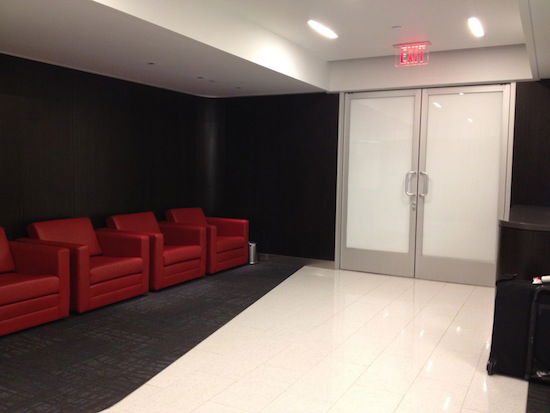 Flagship check-in room
Unfortunately it was a slow afternoon so the premium security line wasn't even open, and we were directed to the general security line.
Within a few minutes we were in the Flagship Lounge once again, and after catching up on email for about 15 minutes we headed to the gate for our departure to New York.
We got to the gate at around 10:20AM, right as boarding started.
American 40
Los Angeles (LAX) – New York JFK (JFK)
Monday, May 28
Depart: 11:00AM
Arrive: 7:35PM
Duration: 5hr35min
Aircraft: Boeing 767-200
Seat: 2H (First Class)
I quickly settled into 2H, where I found a duvet and pillow, which would be put to good use since I was pretty exhausted.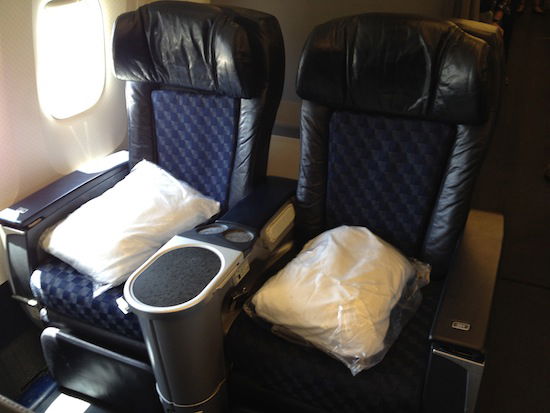 My seat, 2H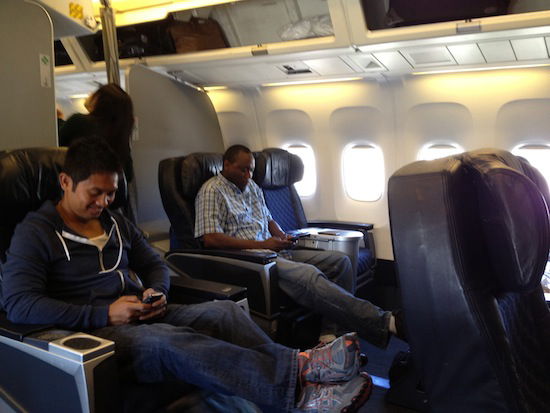 Cabin view (let's just say those guys are there for your safety)
The downside to the 767 is that everyone boards through the front door, so boarding is rather hectic. Fortunately the flight attendants were great and got service started with pre-departure beverages, distributing menus, and taking meal and drink orders for after takeoff.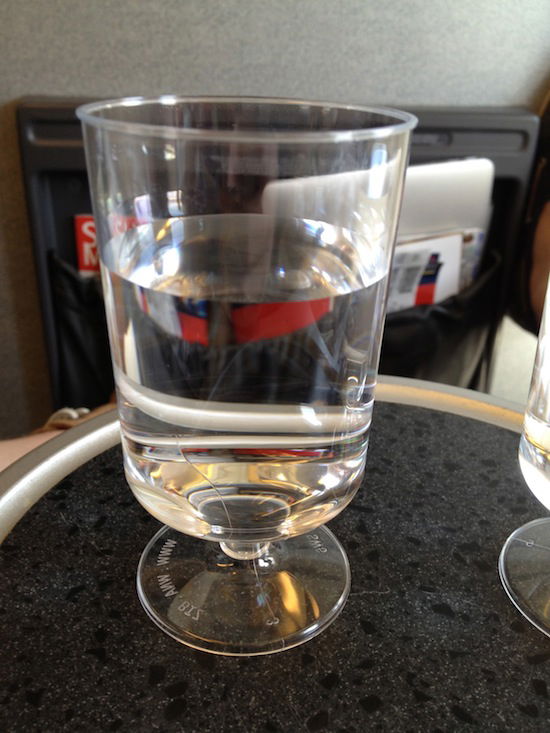 Pre-departure water
The last two passengers to board were first class passengers connecting from a Qantas flight that were out of breath. I'm not sure if the flight arrived late or they forgot to set their watches correctly, but they were out of breath by the time they took their seats, and the door closed right behind them.
Before we pushed back the captain came on the PA to advise us of our flight time of five hours, anticipating an on-time arrival in New York.
We quickly began our taxi and within about ten minutes were airborne.
30 minutes later meal service began, starting with hot towels and drinks. The menu read as follows: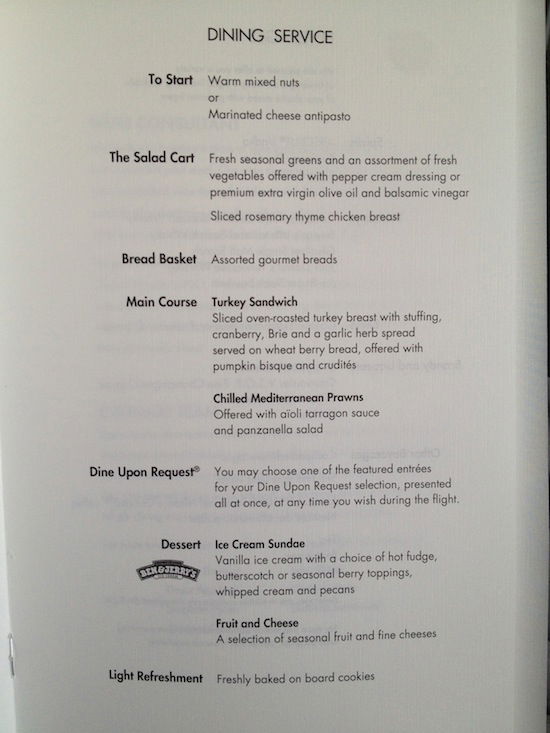 My Diet Coke was served with hot nuts and marinated cheese. I'm now slightly hooked on the hummus and pita chips I had on my flight to Tokyo Narita, though the variety was nice as well.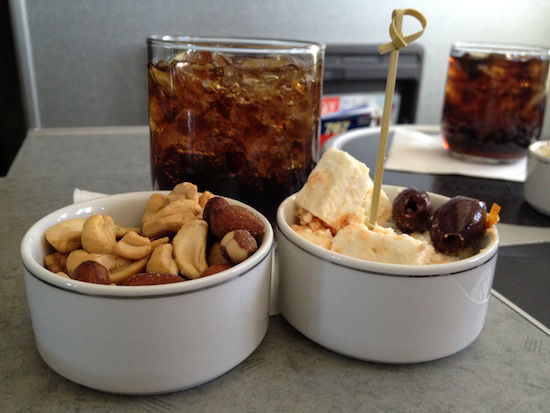 Diet Coke, hot nuts, and marinated cheese
That was followed by the salad cart.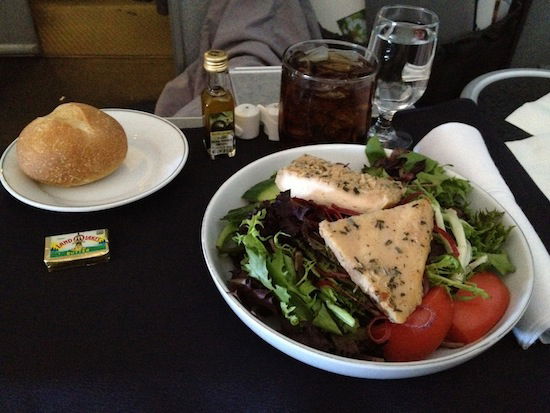 Salad
Neither of the entrees sounded good to me, though I eventually decided on the turkey sandwich since the pumpkin bisque that came with it sounded good. I'm no food snob but it was pretty awful. Come to think of it I don't think I've ever had anything resembling a decent sandwich on a plane, perhaps with the exception of the Qantas steak sandwich.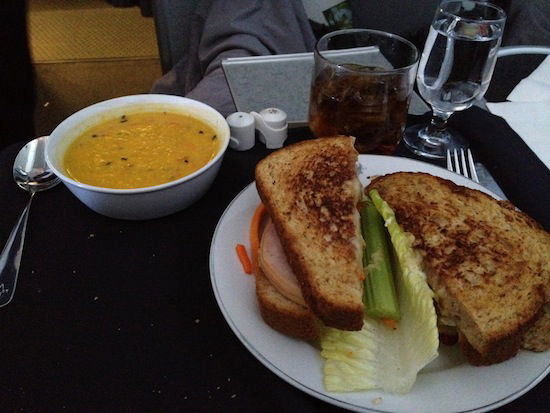 Turkey sandwich
That was followed by an ice cream sundae, my second for the day.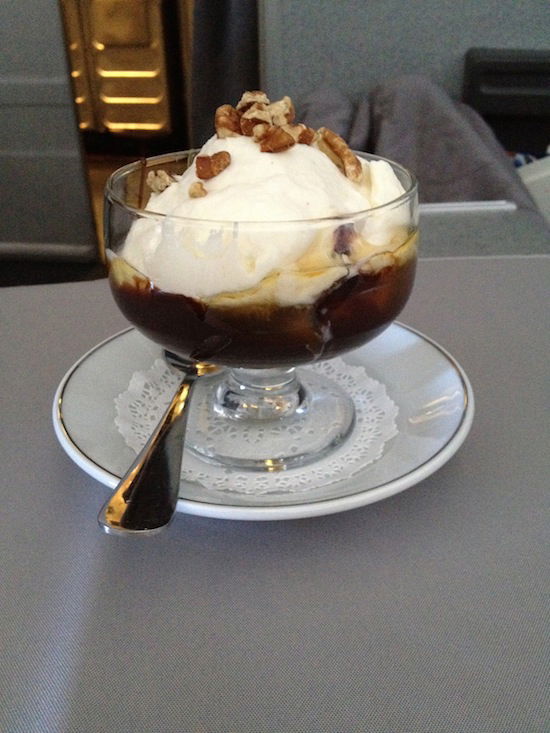 Ice cream sundae
I conked out until about an hour before landing, at which point chocolate chip cookies and milk were served.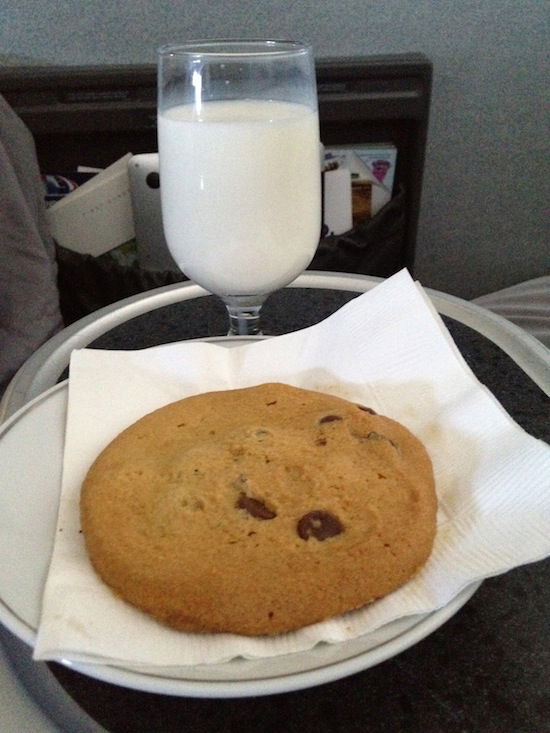 Milk and cookies
After a smooth (and quick — by New York standards!) descent we touched down and began the second half of our flight, which was taxiing around JFK, since we landed on the opposite side of the airport.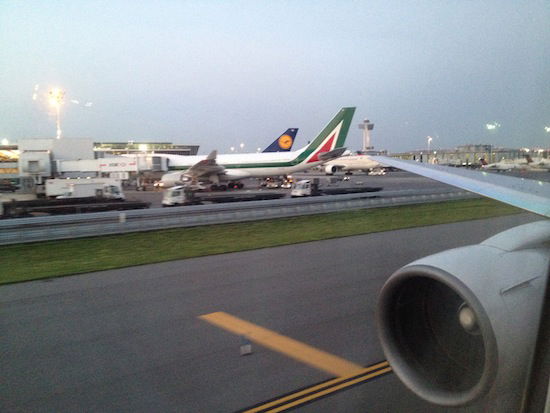 Taxiing to our gate
On the whole it was a perfectly nice flight minus the entree, which I wasn't a fan of.
Our flight from New York to Atlanta wasn't till the following afternoon and departed from LGA, so we decided to spend the night at the Andaz Wall Street, where we scored a rate of ~$200. I've reviewed the Andaz Wall Street extensively in the past so I'll skip it this time around.
I'd usually also skip the American Eagle flight review since there's usually not much to report, though this was a fun one.
There are nine seats in first class and at the time of boarding my friend and I were the only ones with assigned seats. In the end there were four passengers in first class, which leads me to believe the other two were non-revs (not significant, minus the details coming up on one of the other passengers).
The two flight attendants working the flight were both very young, in their early 20s. The flight was quite empty so they sat in two of the first class seats throughout the boarding process, which meant I got to hear their conversation. One of them mentioned how it was her "hot" cousin's 21st birthday and she was "broke as hell and don't know what to get him." Okay, cool.
After takeoff they quickly did the lunch and beverage service, and then took seats 1C & 1D and had lunch as well, while rubbing something on their skin from a hummus-style container. Okay, cool.
Then the flight attendant seated in 1C got up to do a trash run (the flight attendant in 1D remained seated), and the guy seated across from us, a gentleman in his 50s with a Harley jacket, sits down in 1C. The flight attendant says "sir, the lavatory is in the back of the plane." He proceeds to say "sweety pie, I wasn't looking for no bathroom, I was looking for you," and they proceed to talk for about 30 minutes. Meanwhile the other flight attendant is getting pretty pissed since "her" seat is being taken by this guy, so she keeps trying to motion for him to get up, but he doesn't seem to get it.
Then as soon as we land and the cockpit door opens the first officer yells to the flight attendant "hey, we're canceled back to Chicago." So I guess due to weather the flight they were supposed to work to Chicago was canceled. The flight attendant nearly lost it and said "damn, we gotta fly cause I need that money." Then the first officer said "we'll be on another flight in three hours." She then responds with a grunt and says "why can't they just send us to the hotel and have us fly tomorrow so I can relax? I don't want to sit around here for three hours." Nice…
Then I flew from Atlanta to Tampa on AirTran, which was an experience in and of itself…