---
Let me start by saying that I have no clue why this place isn't a Park Hyatt. Wow.
We arrived at Kyoto Station at around 9PM and took a cab from there to the Hyatt Regency, which took about 10 minutes and cost ~$10USD.
At the entrance we were helped by the porters with our bags and directed to check-in.
While the exterior of the hotel was lit up beautifully at night it didn't look especially modern, unlike the rest of the hotel.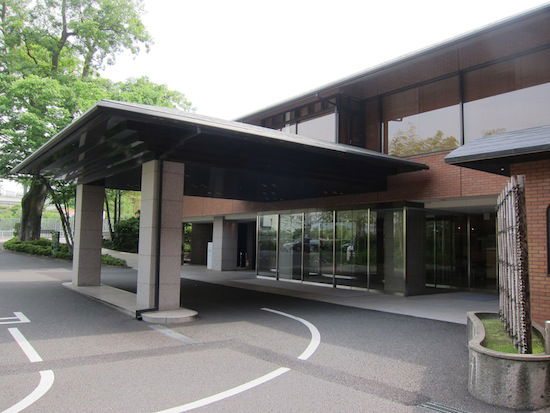 Hyatt Regency Kyoto exterior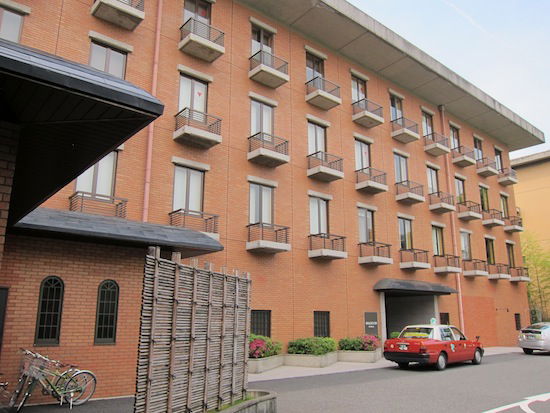 Hyatt Regency Kyoto exterior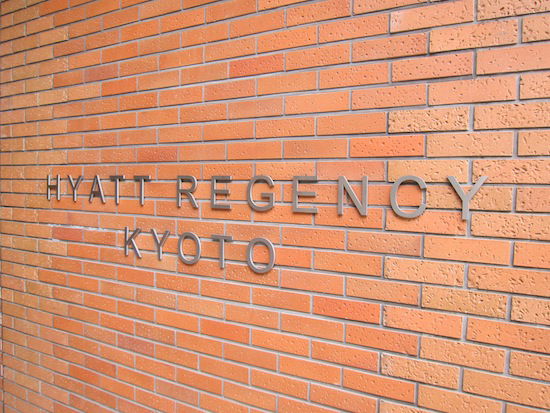 Hyatt Regency Kyoto exterior
Check-in is located on the right side once you enter the lobby, where we were promptly helped. The agent confirmed we had made our booking through Virtuoso (we paid roughly $250USD per night), which entitled us to a room upgrade, free breakfast, $100 food and beverage credit, and tickets to Sanjusangendo Temple, which is located right across the street from the hotel. With the exception of the food and beverage credit and temple tickets the benefits were pretty redundant, given that we get a room upgrade and free breakfast as Diamonds anyway. However, having booked through Virtuoso and being a Diamond member may have resulted in a better upgrade.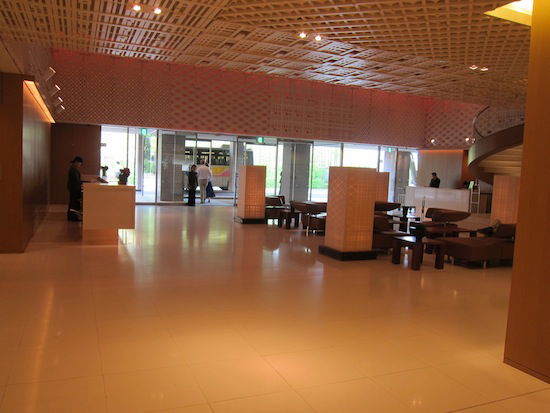 Hyatt Regency Kyoto lobby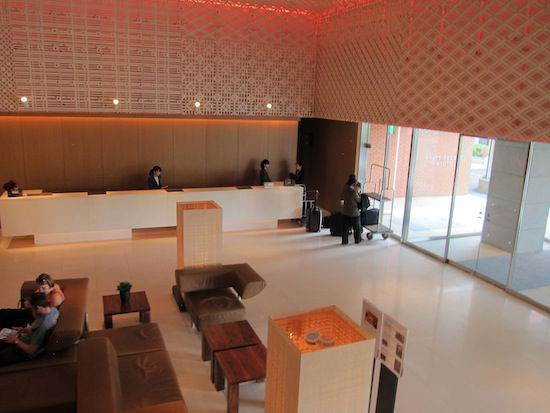 Hyatt Regency Kyoto lobby
In addition to the breakfast vouchers we also got a coupon for 3,000 Yen off a dinner menu order at any of their restaurants.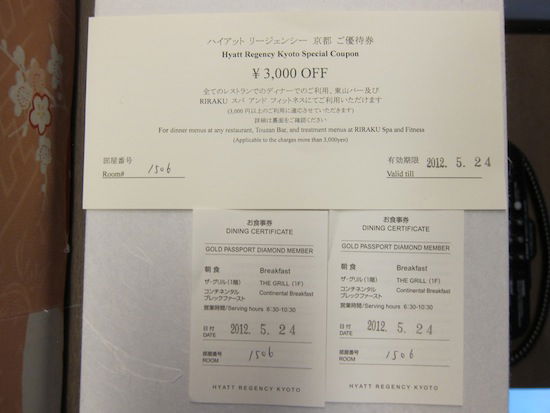 Vouchers
I asked the associate about the possibility of late check-out (I try to be polite and phrase it as a question, though as a Hyatt Diamond member I'm entitled to guaranteed 4PM check-out). After checking with her supervisor the agent offered 2PM check-out. Rather than argue I figured I'd take care of it in the morning when I was fresh, since we really did want 4PM check-out.
A porter walked us to our room, which was located on the 5th floor.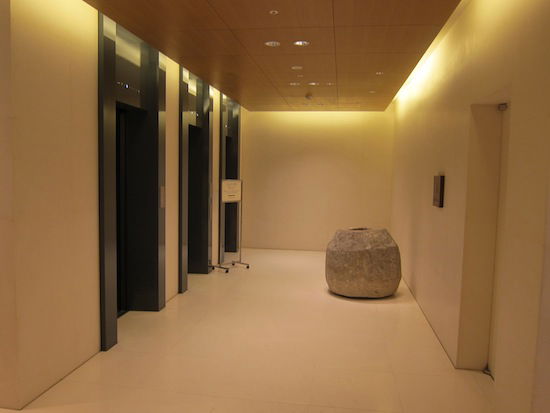 Elevators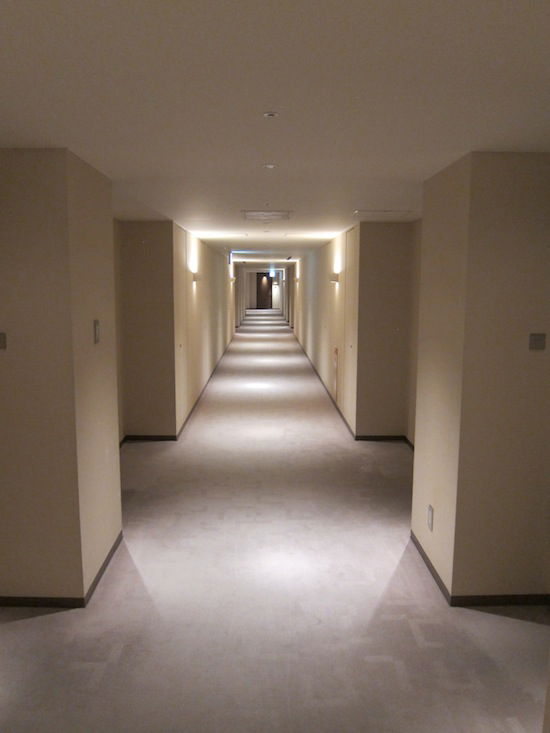 Hallway
Our room was 1506, a stunning Deluxe Balcony King room. It's worth noting that this hotel doesn't have suites and therefore doesn't allow Diamond members to use suite upgrades. Their Deluxe Balcony rooms are spectacular, though they only have a handful of them (and only on the 5th floor), so we were really lucky to get the upgrade.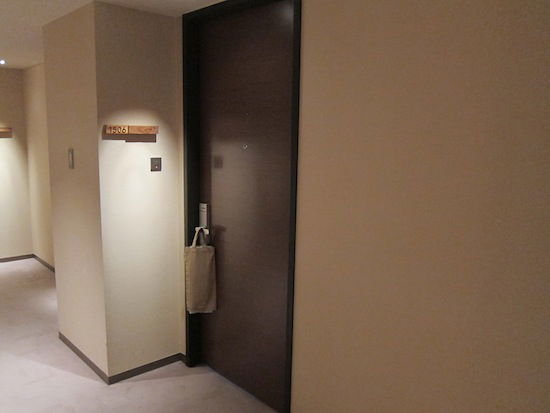 Our room, 1506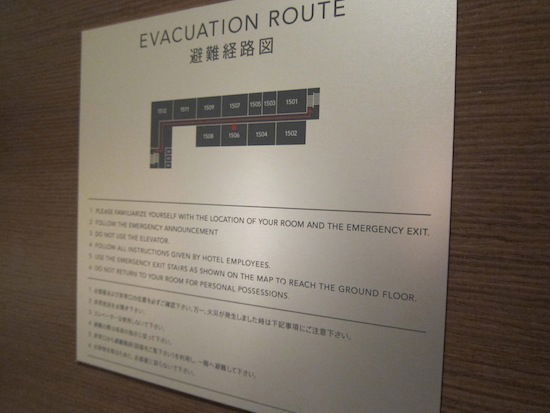 Floor layout
The room was triangular with an "L" shaped couch, king size bed, and large desk. The room really does feel like it belongs in a Park Hyatt based on the furnishings, so blew me away because I wasn't expecting it to be so nice.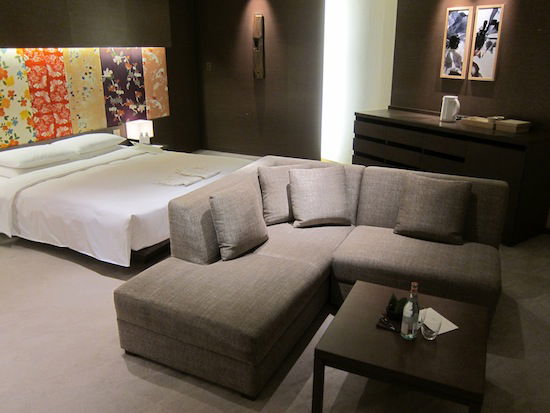 Deluxe King Balcony room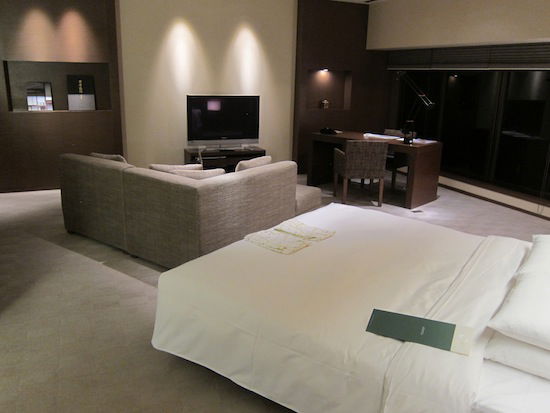 Deluxe King Balcony room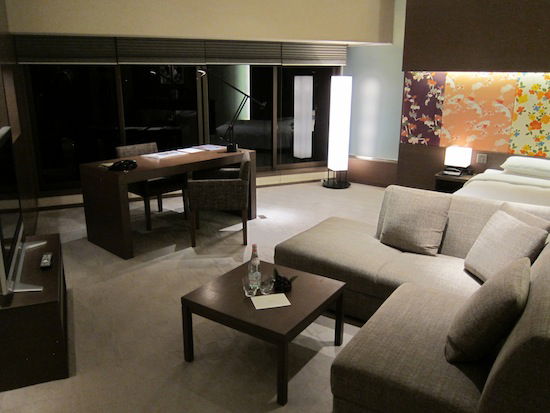 Deluxe King Balcony room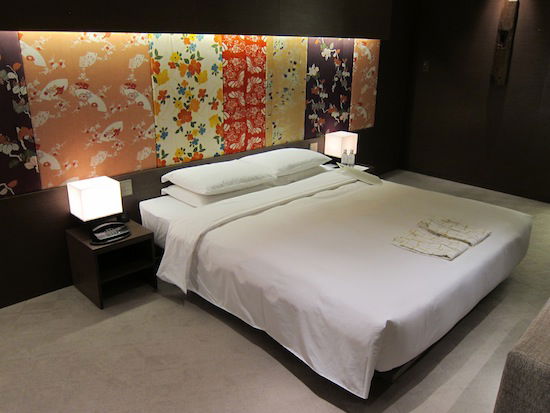 Deluxe King Balcony room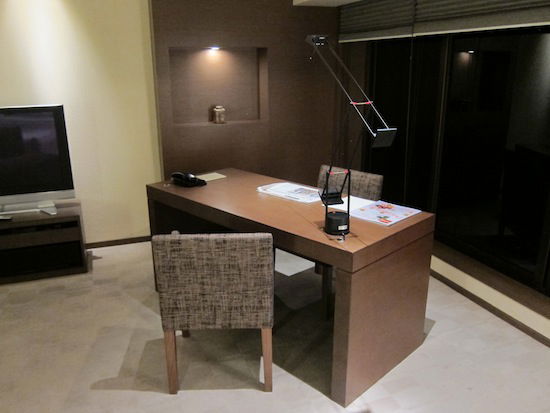 Deluxe King Balcony room
There was a welcome letter on the desk, along with a bottle of still water.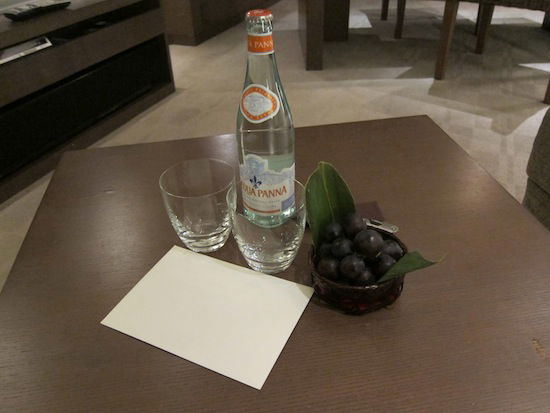 Welcome amenity
Behind the bedroom was the bathroom, which was just as impressive as the rest of the room. To the side was a small room with the toilet, which had as many buttons as a 747 cockpit.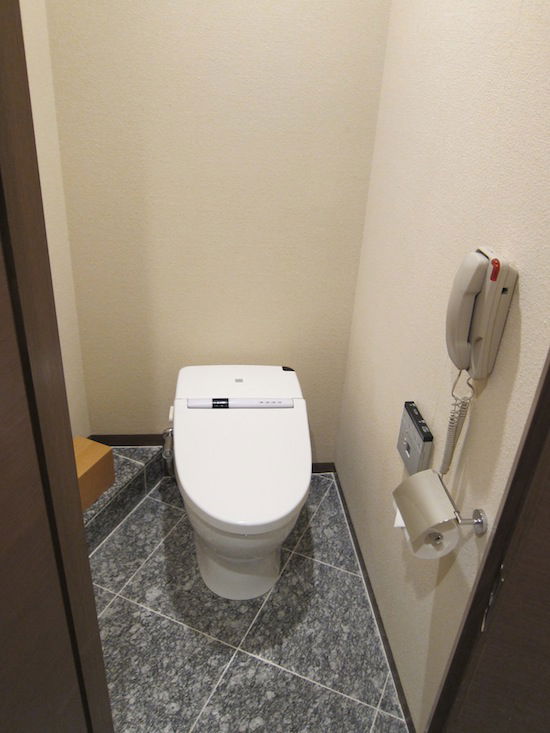 Toilet
The bathroom featured dual sinks, though the highlight was the tub and shower area, which reminded me a bit of the Park Hyatt Seoul. The bathtub and shower were in the same enclosure, which I found to be a pretty cool setup.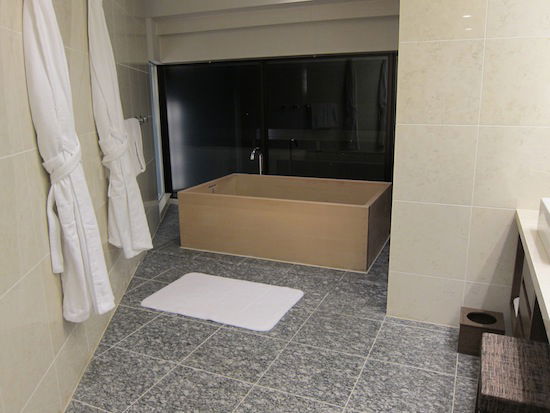 Shower/tub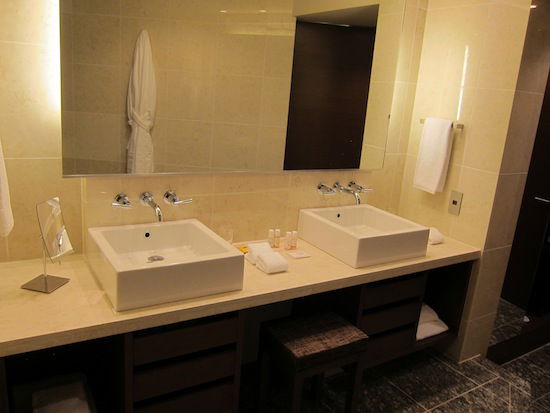 Bathroom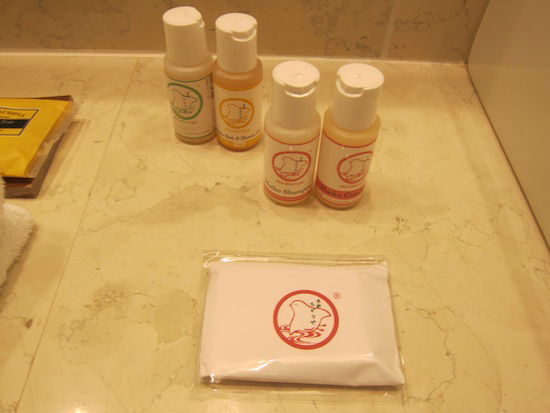 Bath amenities
Now, I didn't actually use the tub, though I suspect it was style over substance. It looked stylish, though in looking at it I can't imagine it was especially comfortable to use.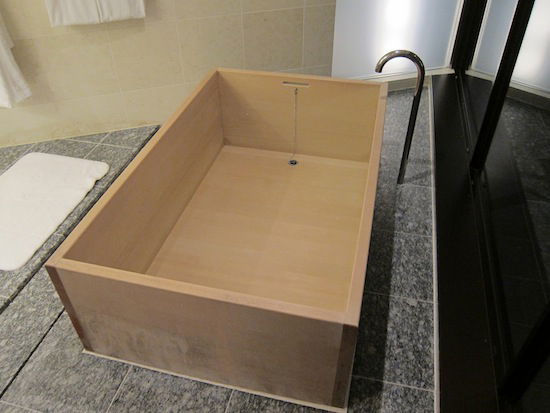 Tub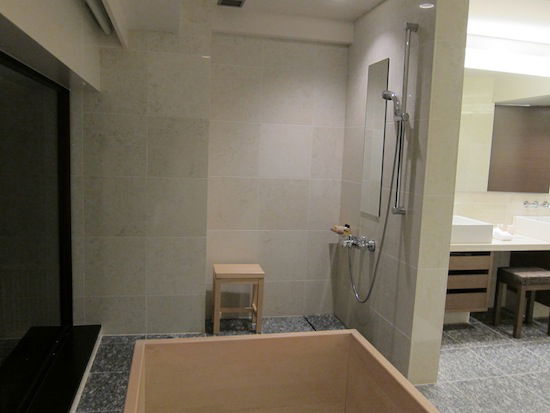 Shower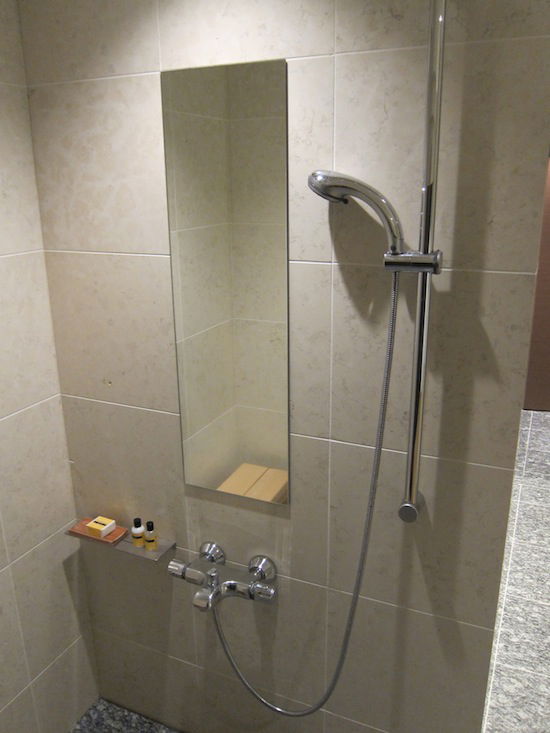 Shower
The room also featured a huge balcony overlooking the hotel's garden. I wish they would have had some furniture on the balcony, as the views were great and it was very relaxing.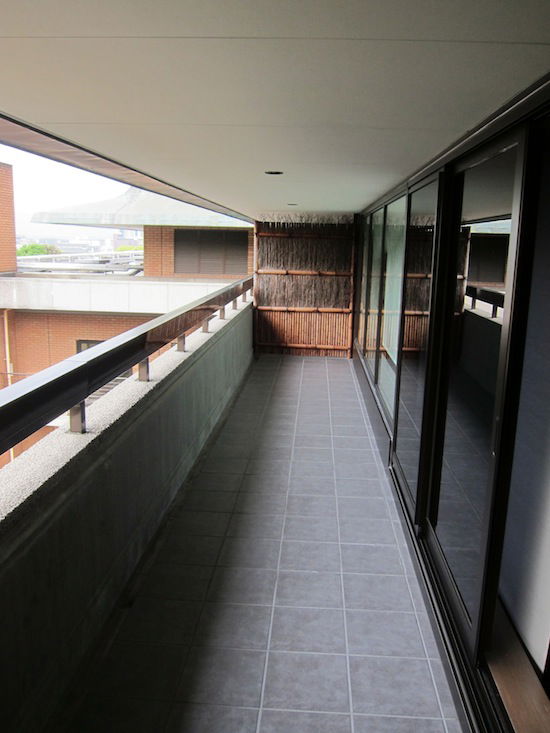 Balcony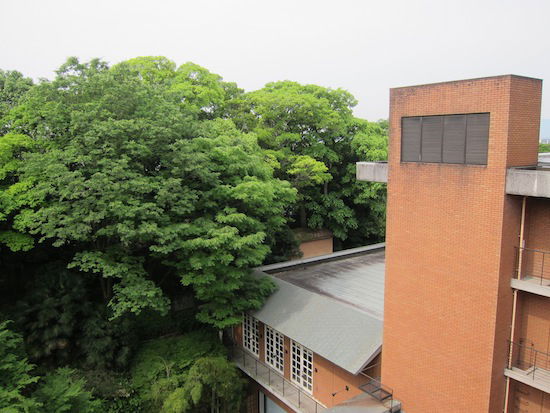 View from balcony
The gardens were accessible from the ground floor and beautiful to stroll around.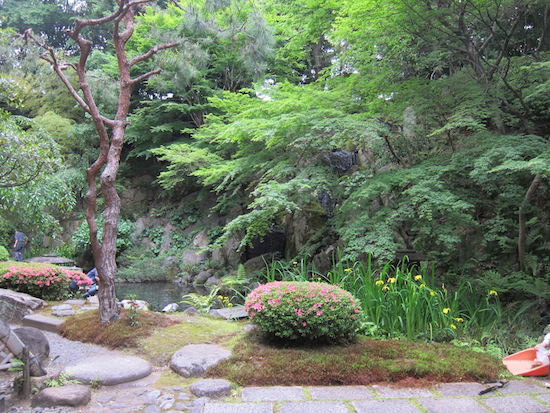 Gardens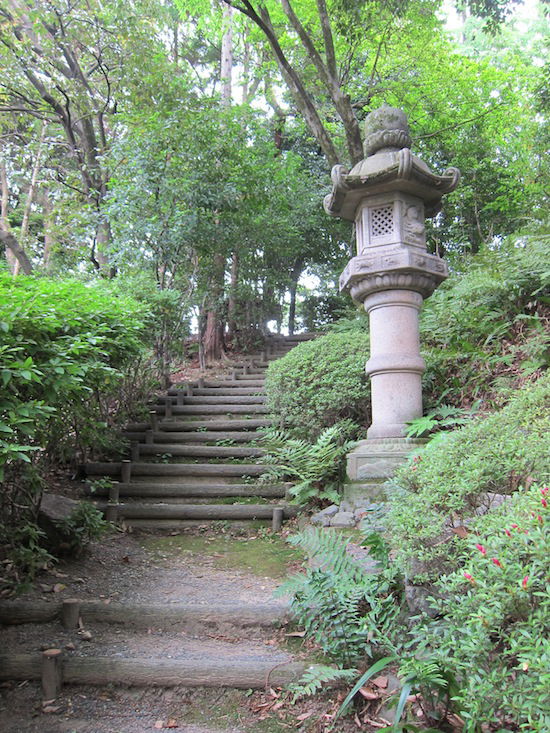 Gardens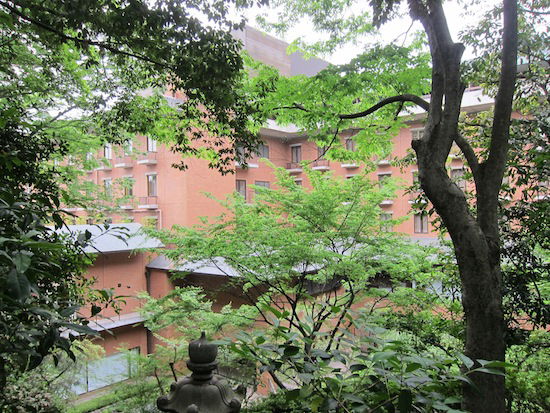 Gardens
The hotel also has a nice gym with modern equipment. Nothing beats watching lip synching and karaoke on Japanese MTV while on the treadmill.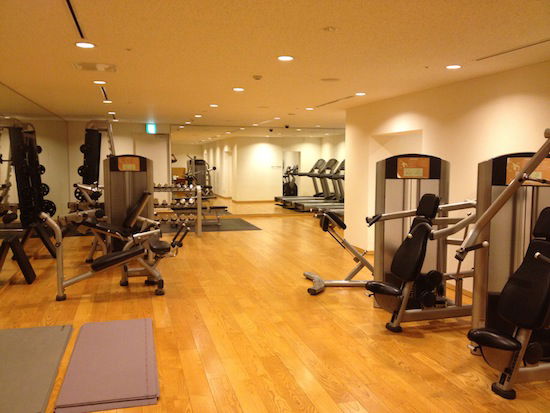 Gym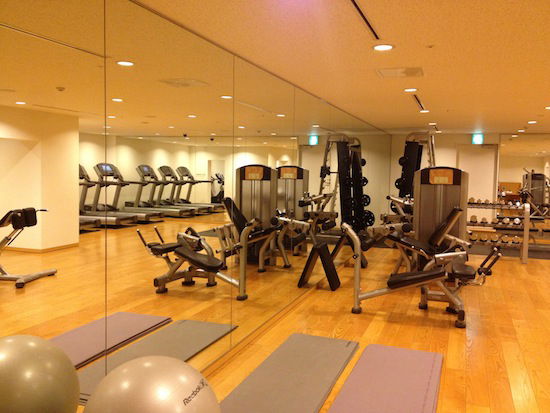 Gym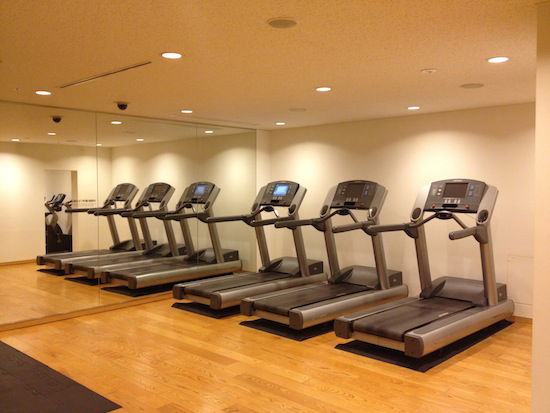 Gym
Breakfast was served daily from 6:30AM till 10:30AM in The Grill, which is located in the lobby.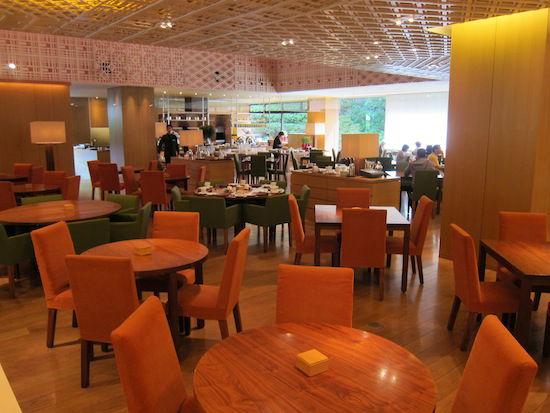 The Grill
The buffet spread was very nice, consisting of fresh fruit, juices, pastries, meat, cheese, as well as several hot dishes. Service was attentive, as you'd expect in Japan.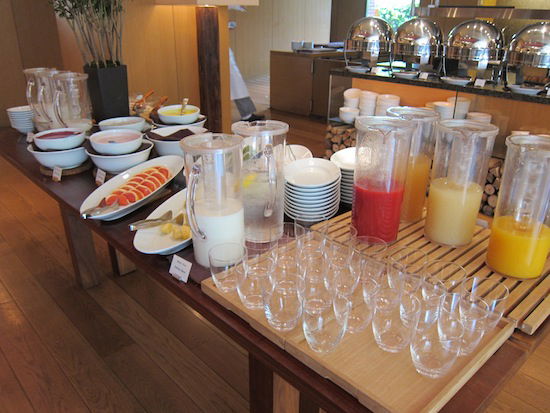 Breakfast spread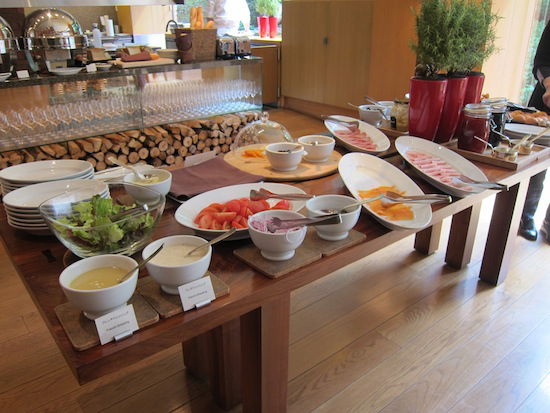 Breakfast spread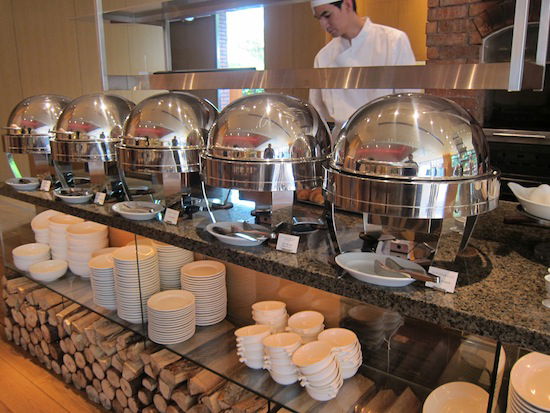 Breakfast spread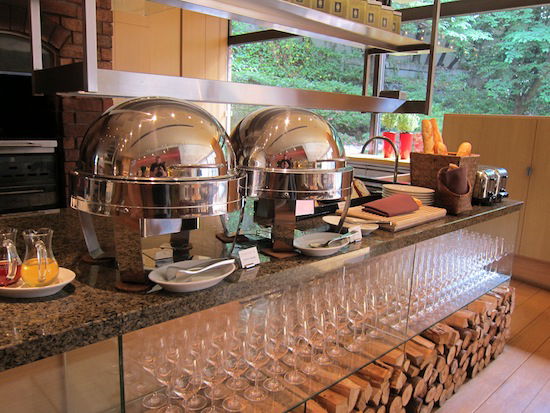 Breakfast spread
We had lunch one afternoon at Trattoria Sette, the hotel's Italian restaurant. We got there at around 2:30PM, were presented with lunch menus, and talked for about 30 minutes before ordering. The waiter comes over to take our order, and as we say what we want he says "oh, wrong menu, it's not lunch time anymore."
He proceeds to bring us the dinner menu, which has higher prices and a more limited selection. We asked if we could just order off the lunch menu since that's what we were presented with, but he said no, because it wasn't 2:30PM anymore. It's the first time I've had the menus switched on me after sitting down.
Now, it's not all bad news. I was given a 3,000 Yen (~$35USD) voucher at check-in for any restaurant purchase off the dinner menu. While it wasn't dinner time, the voucher specifically said that it was for orders off the dinner menu. I figured that would compensate somewhat for the higher prices of the dinner menu.
He comes over and I present the voucher. He smiles and says "oh no, it's lunch time, not dinner time." Yeah, except you took the lunch menu right out of our hands as we were ready to order. He then claimed it was "snack time." Fine, then present me with a "snack" menu and not the dinner menu please.
Look, I don't want to be the "ugly" tourist. I understand Japan is about rules/procedures so I figured he could appreciate the fact that the voucher specifically said "dinner menu" and we were ordering off the dinner menu. While it took a bit of back and forth, we did eventually get the discount.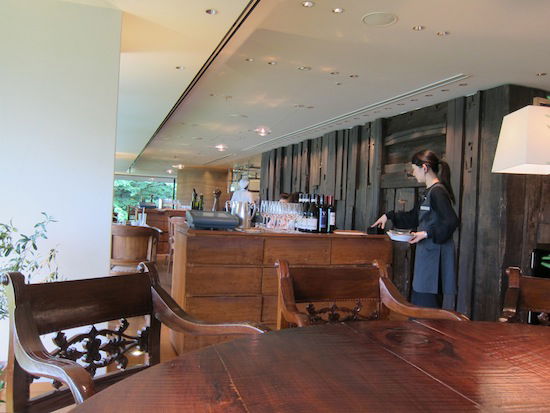 Trattoria Sette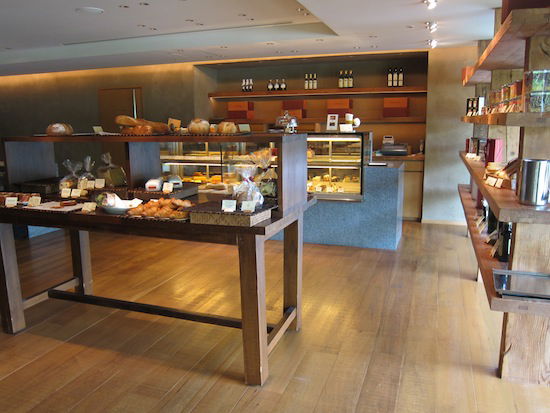 Trattoria Sette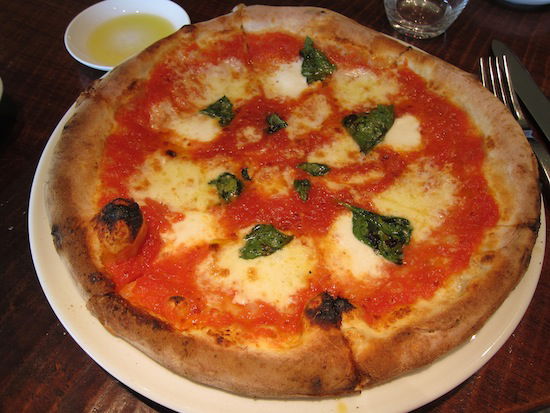 Delicious pizza
And while I didn't actually eat at it, the hotel also has a high-end Japanese restaurant, Touzan, which I snapped a couple of pictures of.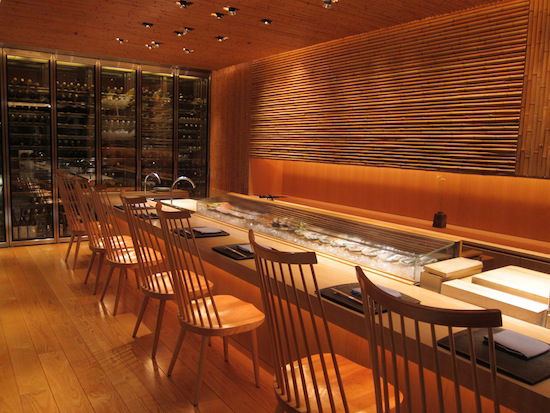 Touzan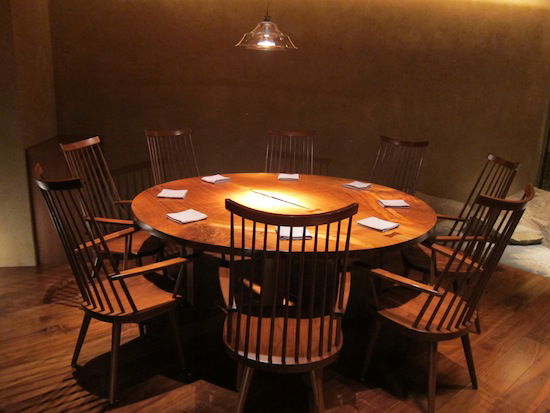 Touzan
The bar connected to Touzan had to be one of the most unique I've ever seen, given that the walls were literally made of books. Awesome!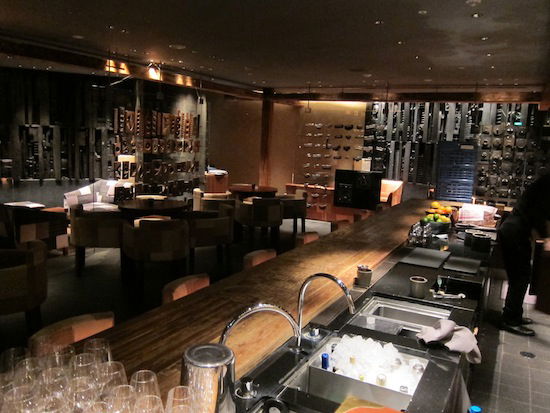 Touzan Bar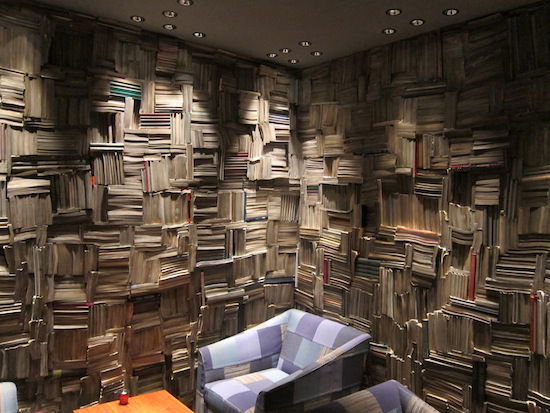 Touzan Bar
As far as the hotel's location goes, I'd say it was pretty good. Kyoto is pretty spread out in terms of visiting the sights, though the Hyatt Regency has a good location for seeing many gardens and temples. It's proximity to Kyoto Station is also practical.
On the whole the service was spectacular. Every time I walked through the hallways of the hotel, the housekeeping staff would stop and bow. It was almost embarrassing, since they'd stop 100 feet down the hallway and start bowing. Hell, on one occasion I just opened my door and there happened to be a housekeeping employee servicing the room across from mine, and even she started bowing immediately.
It was clear the employees were there to delight, and they did for the most part. The restaurant experience was frustrating, and I was also rather frustrated by the late check-out situation, since even the next day they wouldn't budge on 4PM, even though it's a guaranteed benefit. I didn't push it since we didn't mind leaving a bit earlier, but I still find it ridiculous that the hotel won't honor a guaranteed benefit. At least the negotiations were entertaining:
"I just wanted to confirm I could have 4PM check-out as a Diamond member, please."
"How about 2PM?"
"How about 4PM, please?"
"We can do 2PM."
"But am I not guaranteed 4PM check-out as a Diamond member?"
"We're very full tomorrow. How about 2:30PM?"
"Okay, fine"
"Please hold on, let me ask my manger if we can do 2:30PM check-out."
pause
"Okay, how about we move you to another room from 2PM to 2:30PM?"
Either way, this hotel is spectacular, and I'd say probably the best option in Kyoto. It's the closest thing I've seen to a Park Hyatt without actually being one…