---
We spent the night at the Sheraton Gateway LAX, which is my favorite airport hotel at LAX. They are great with upgrading Platinum members to suites, the beds are extremely comfortable, and they actually have a restaurant-quality… restaurant! Which is rather rare for an airport hotel…
Ironically enough this was my one stay where I didn't get a suite upgrade, as they were fully committed. Since I've reviewed the Sheraton Gateway LAX before, I'll skip reviewing it this time around.
I took the shuttle from the Sheraton Gateway about 75 minutes before my departure time, while my friend ended up having to take a cab since he was running late and didn't want to cut it too close with the next shuttle.
I headed inside to first class check-in, where there was no queue. The agent was polite and within about five minutes printed my boarding passes all the way to Kyoto.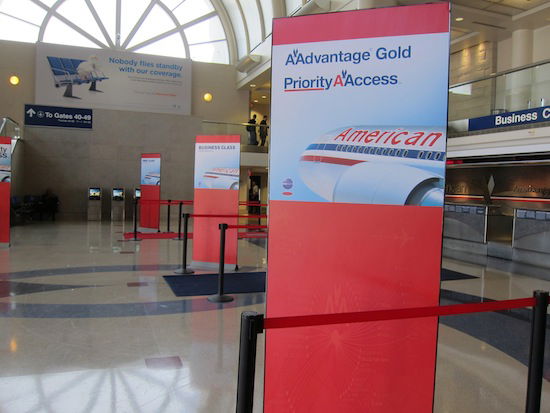 First class check-in
I headed up to the security checkpoint, where there was about a five minute wait. Meanwhile my friend passed me in line while being escorted by one of the porters. I guess I hadn't realized that international first class entitles you to use the Flagship check-in area (which for whatever reason I thought was only available to Concierge Key members and those that paid for Five Star Service), which he had smartly taken advantage of. Don't worry, I took advantage of it on the return, though!
Past security I headed to the Flagship Lounge for about 10 minutes, before boarding was called for the Tokyo Narita flight. The Flagship Lounge LAX is one of my favorite lounges in the US, so see my previous review for more pictures and commentary.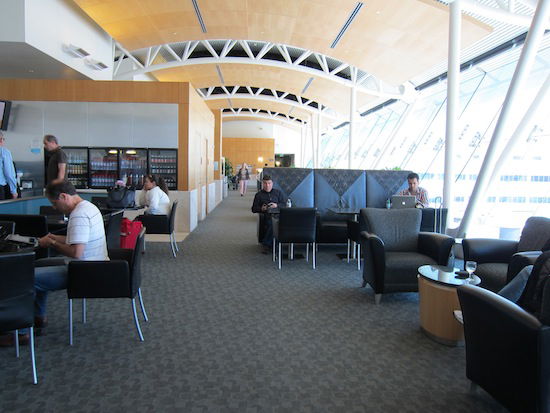 Flagship Lounge LAX
The flight was departing from gate 41, and I got there right as first class boarding was announced.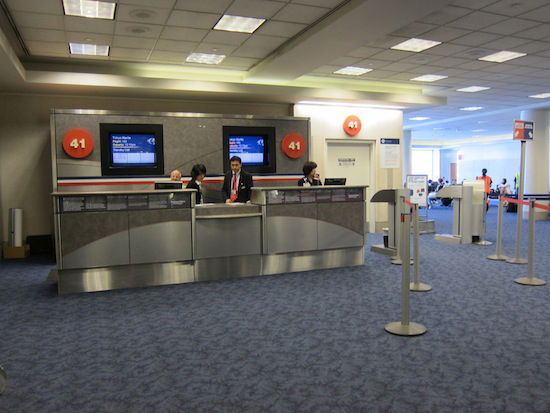 Gate 41
American 169
Los Angeles (LAX) – Tokyo Narita (NRT)
Tuesday, May 22
Depart: 11:40AM
Arrive: 3:20PM
Duration: 11hr40min
Aircraft: Boeing 777-200
Seat: 3A (First Class)
Boarding was through door 2L, so I turned left into the huge first class cabin, consisting of 16 seats (is there any airline with a larger international first class cabin?).
I chose seat 3A because this was an odd numbered flight, so meal orders are taken starting in the back of the cabin. On even numbered flights I usually aim for 2A.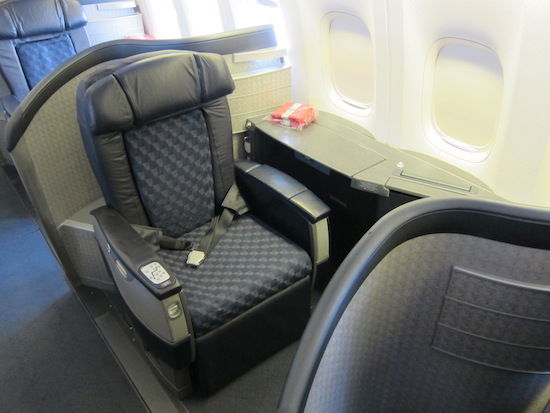 My seat, 3A
Waiting at my seat was a day blanket, pillow, duvet, and amenity kit.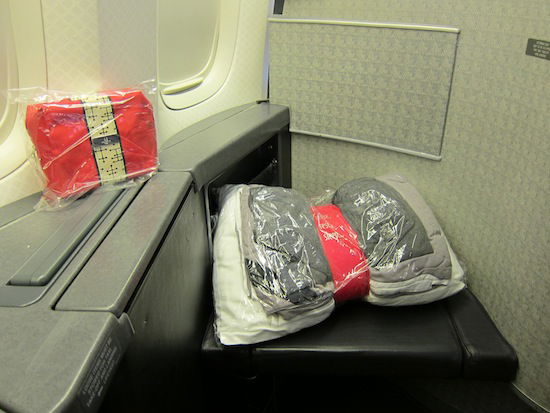 Legroom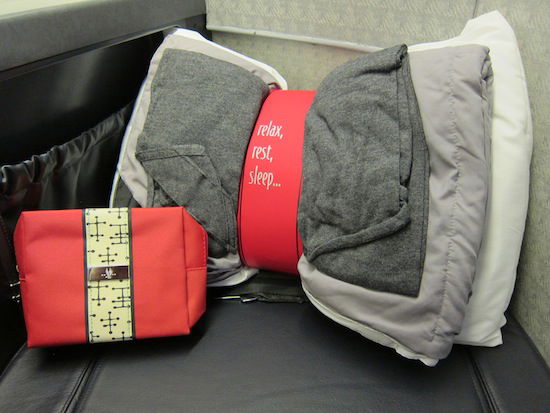 Day blanket, pillow, duvet, and amenity kit
While not the most luxurious in the world, American's amenity kits are functional and have all the basics.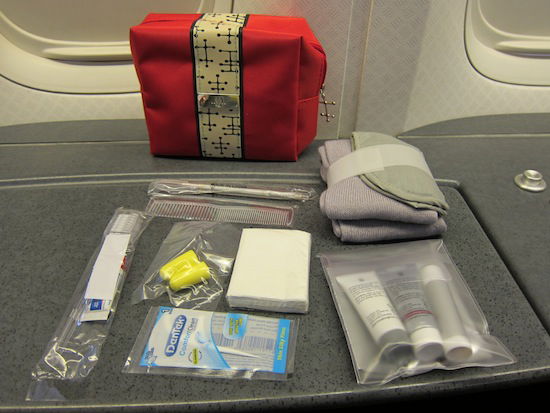 Amenity kit contents
Within a few minutes of settling in the first class cabin was nearly full, with 14 of the 16 seats taken, meaning there was one empty seat (the other empty seat is a pilot crew rest). While not significant in any way, I've always found it interesting that American's international first class cabins consistently have a more leisurely crowd than what I've found on most other airlines. With the exception of my friend and I and one other passenger, everyone else in first class were couples in their 70s. They all seemed to be vacation bound and snapping pictures.
About five minutes after taking my seat the purser, Steve, introduced himself. He was very friendly and (very, very, very) talkative, and more than happy to offer flight tips, tips on Japan, etc. He spent at least five minutes explaining to the guy behind me how best to cope with jetlag on Japan-bound flights.
He offered me a pre-departure beverage, the menu for the flight, and a set of pajamas. He also explained that he'd be more than happy to provide me with turn down service anytime I wanted.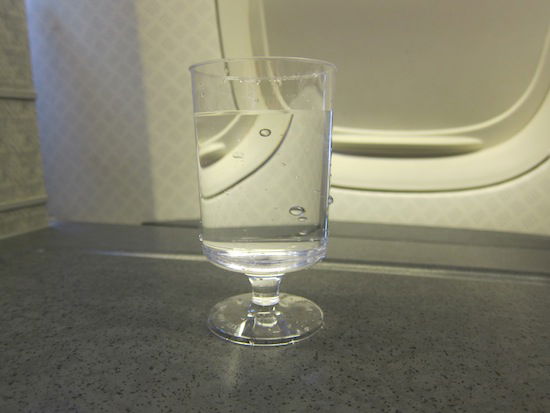 Pre-departure beverage
American deserves huge props for introducing pajamas in first class. While most other airlines are cost cutting, it's nice to see American investing a bit in their international first class product. And while the pajamas weren't Shanghai Tang like Cathay Pacific, they were very comfortable and I've found myself wearing them at home more than any other set thanks to how light they are.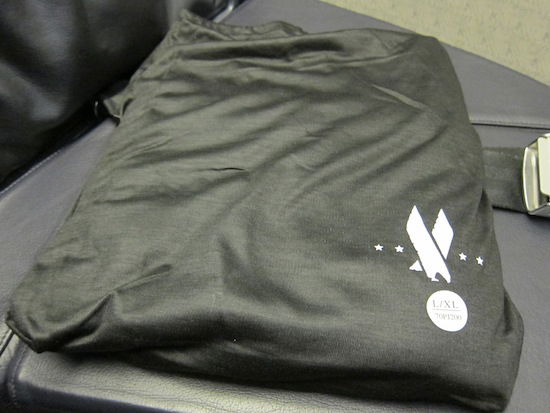 Pajamas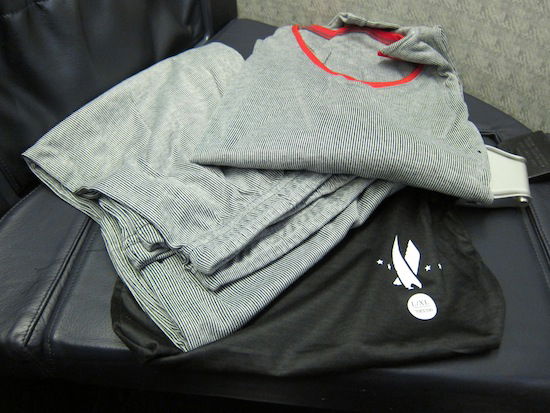 Pajamas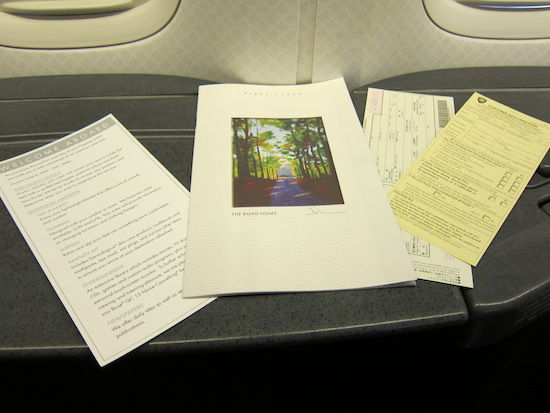 Menu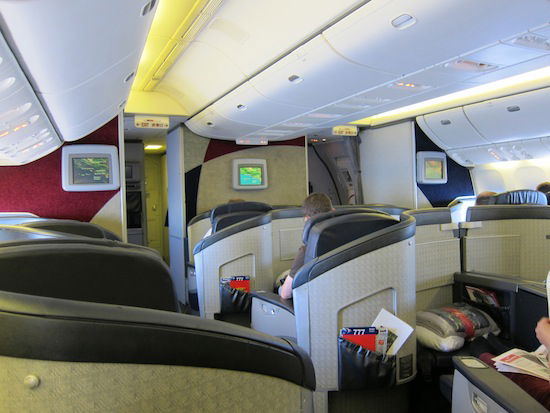 Cabin

Boarding was efficient, and at around 11:30AM we commenced our push back and taxi to runway 25R.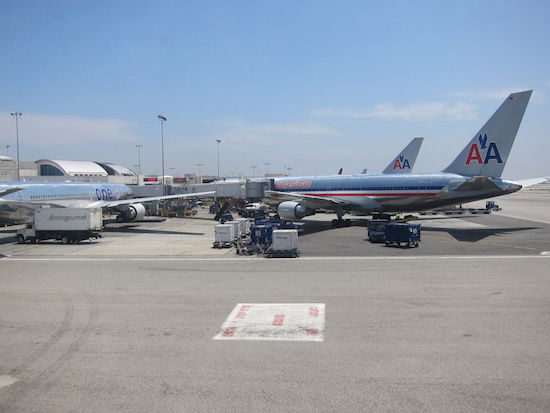 American planes
After a rather long takeoff roll we were airborne and flew out over the Pacific before taking a right turn North up the coast. While there are perhaps more "iconic" views on takeoff, there's something I love about flying out of SoCal on a sunny day.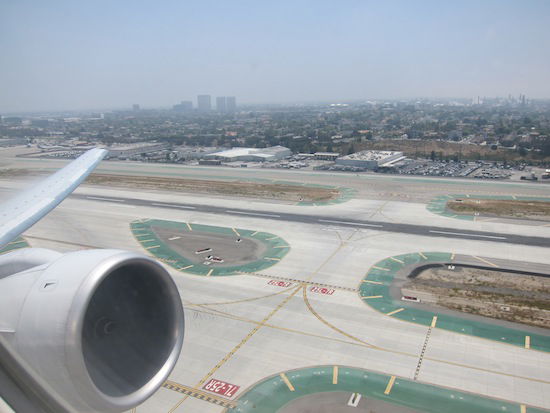 Airborne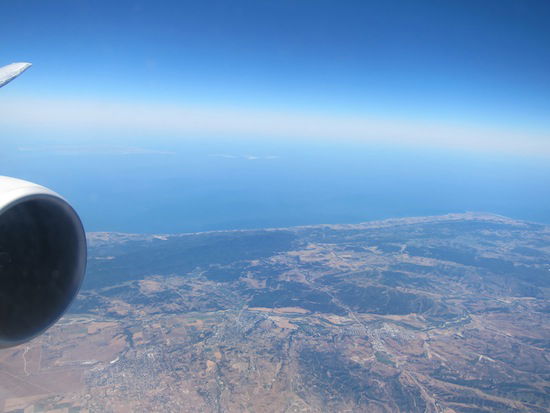 View up the California coast
About 30 minutes after takeoff the service commenced, starting with Bose headphones being distributed.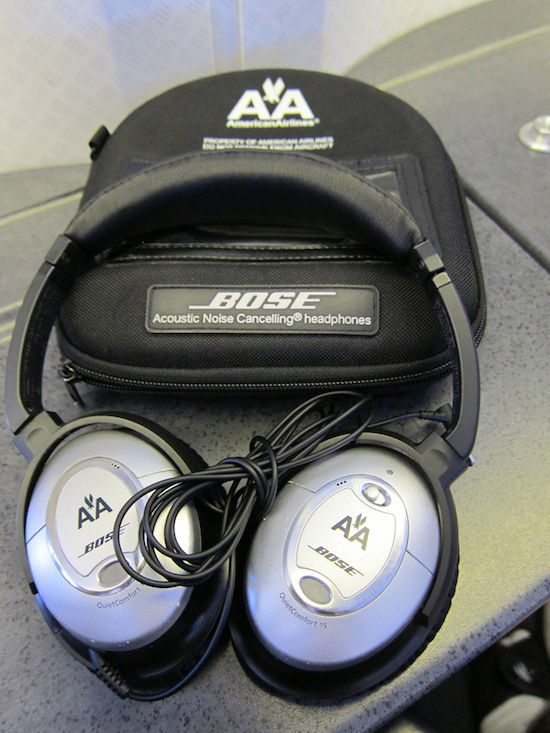 Bose headphones
Shortly thereafter the meal service commenced. The lunch menu read as follows: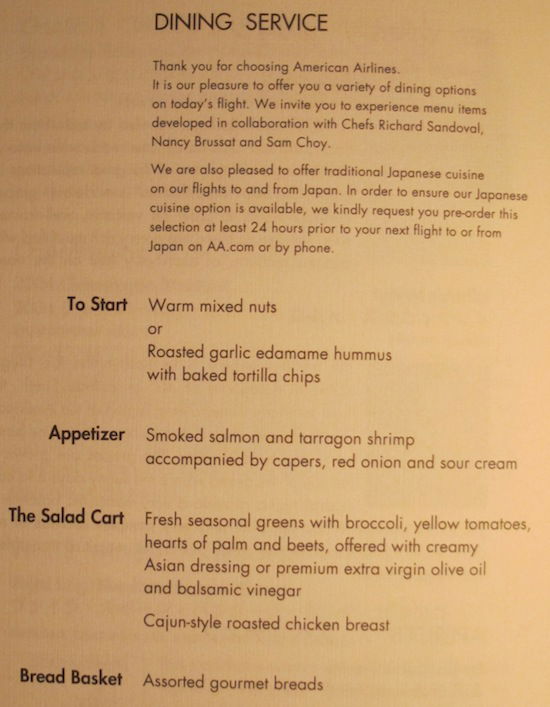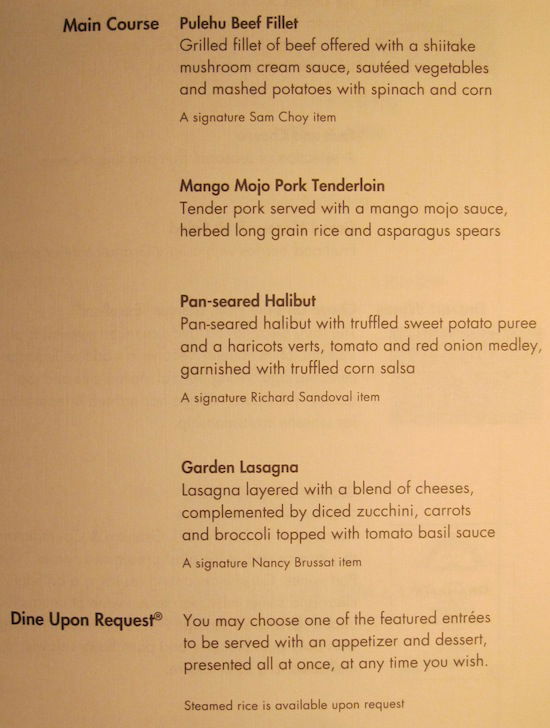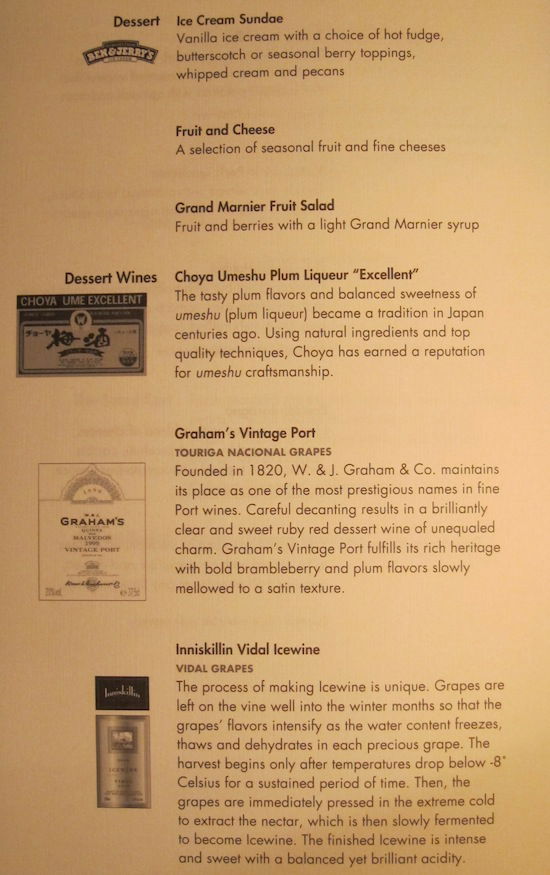 And the wine list read as follows: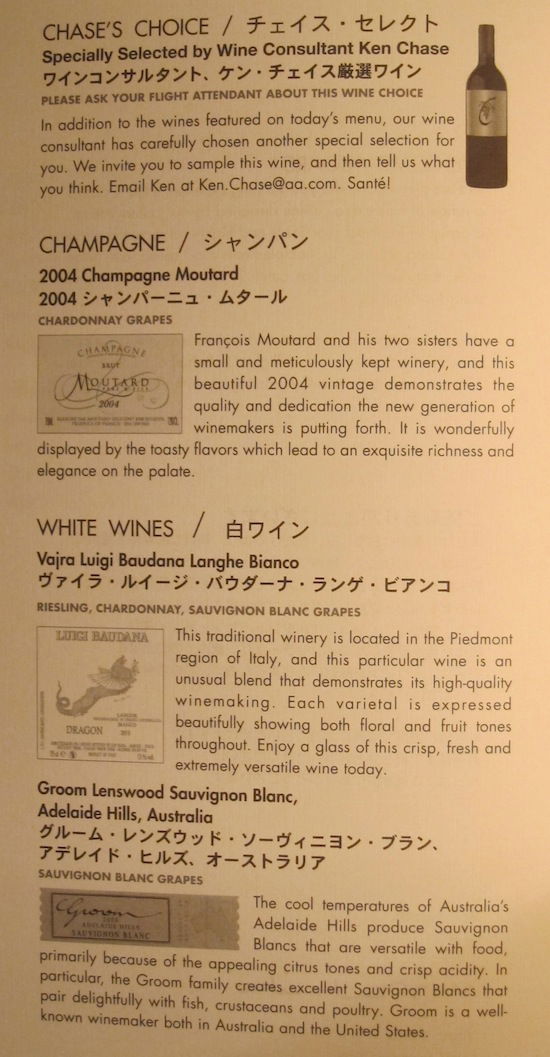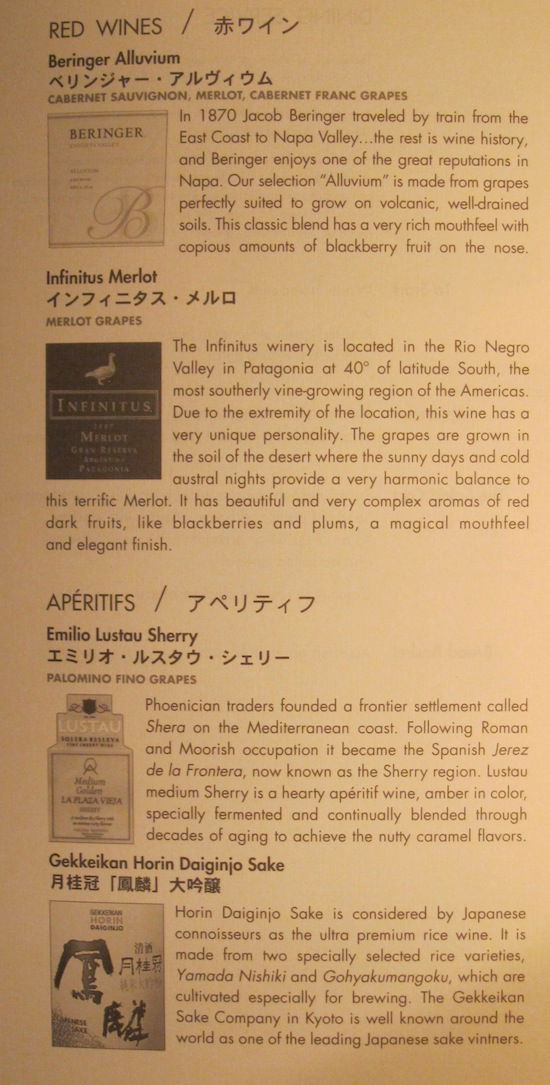 Service began with tortilla chips and hummus, which was a nice change of pace from the usual cheese antipasto. I also quite liked the ramekins, which I believe American just has on the Japan routes.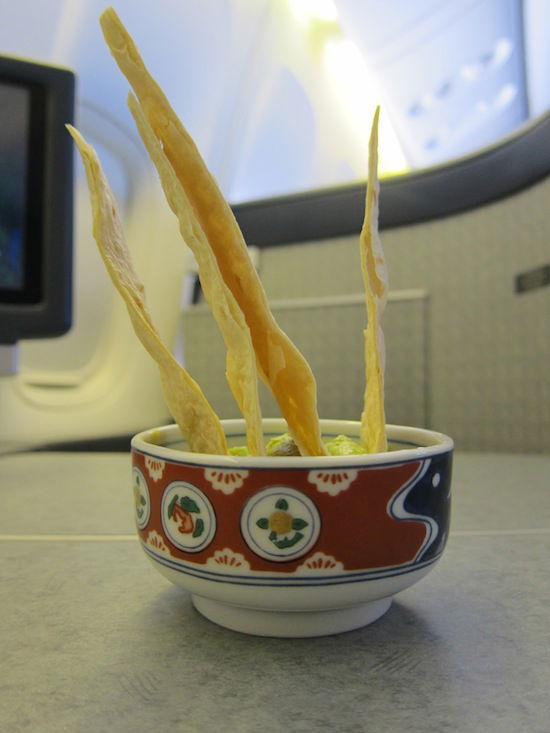 Tortilla chips and hummus
That was followed by Diet Coke and hot nuts. See if you can spot what's wrong with the picture below.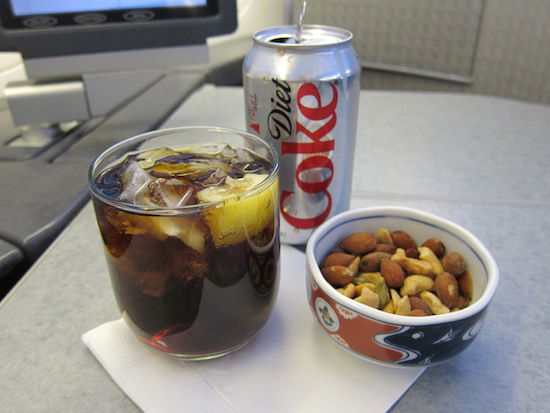 Diet Coke and hot nuts
It took at least 45 minutes before the initial beverage service before the appetizer cart was rolled around, and then it took at least a few minutes per person for Steve to serve the shrimp and salmon. I don't fault him for it since he was engaging with each passenger and they all loved it. Meanwhile, I was just hungry!
While it's not caviar, I like salmon and shrimp just as much, and Steve certainly put a lot of effort into the preparation.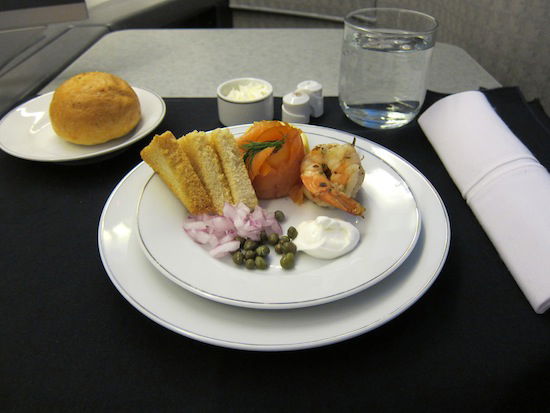 Smoked salmon and tarragon shrimp
The next course was salad, also served off the cart. It was served with chicken breast and the choice between a creamy Asian dressing and balsamic vinaigrette.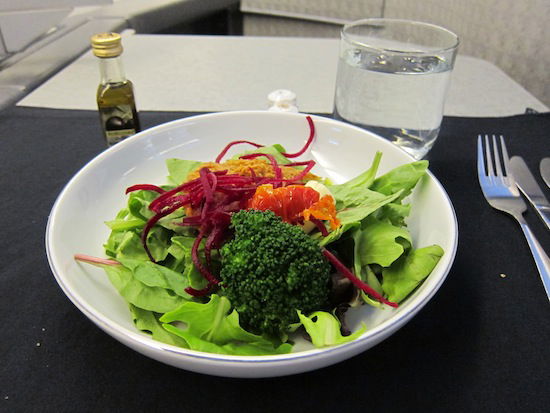 Salad
For the main course I selected the pan-seared halibut. It had a lot of potential, though was very dry. I suspect it was sitting in the oven for too long given that the service was a bit slower than usual.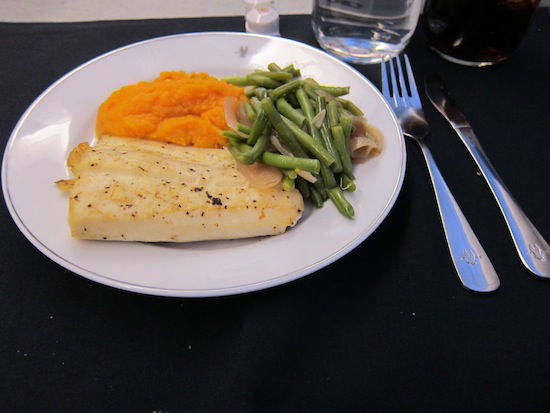 Pan-seared halibut
For dessert I selected the ice cream sundae, which was delicious. I had a glass of Bailey's to go along with it.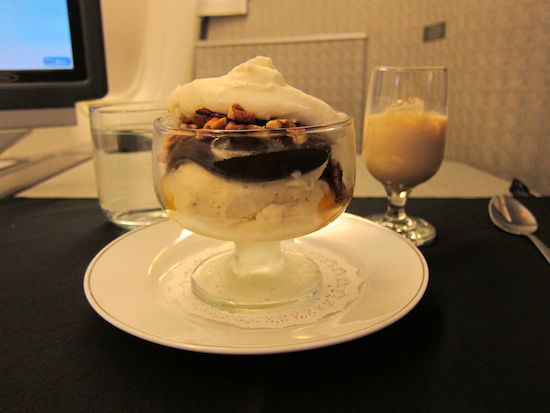 Ice cream sundae and Bailey's
It was over three hours into the flight before the meal service was finished, at which point I decided to try and take a nap. I asked Steve for the turn down service, which he promptly provided. It consisted of a sheet placed on the seat, which definitely made the seat more comfortable. As I tried to fall asleep Steve sat down in the "buddy seat" of the seat behind me, and proceeded to give the guy seated behind me tips on what to see in Tokyo for about an hour.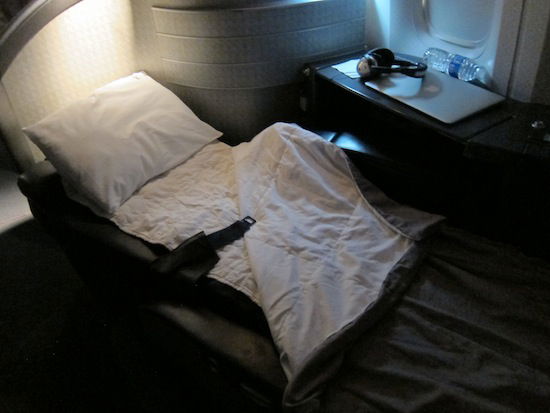 Turn down service
I napped for about three hours and woke up a bit over five hours out of Tokyo. At this point the other first class flight attendant came by to offer me a snack. I asked what was in the bento box (I didn't have the menu handy) and she said "I dunno, but it has rice." You don't say…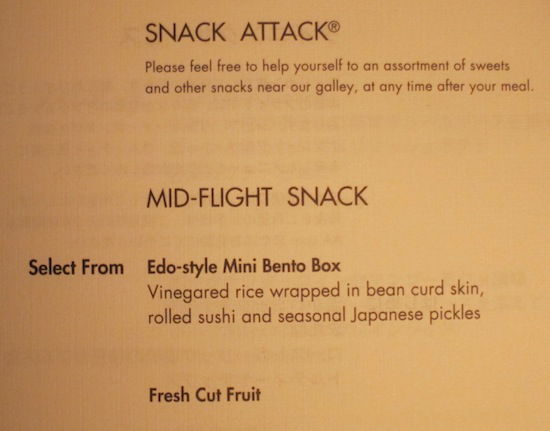 Mid-flight snack menu
I ordered a Diet Coke to go along with it, though apparently I drank the cabin dry because all they had left was Diet Pepsi.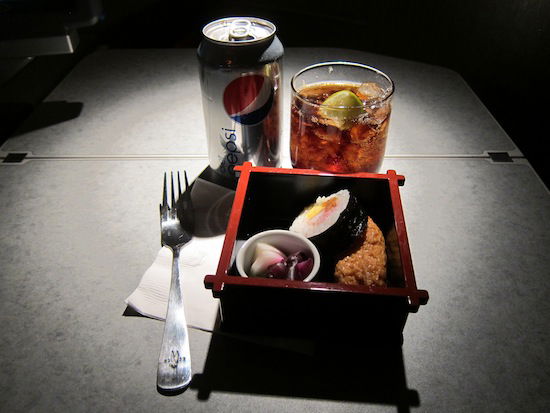 Bento box
After the snack I slept for another couple of hours, and woke up about 90 minutes out of Tokyo, at which point the pre-arrival meal service began.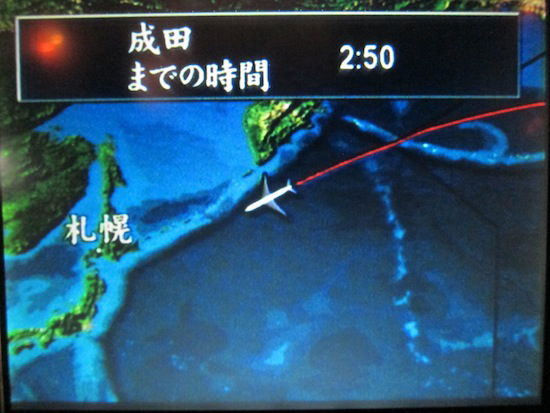 Approaching Japan
The pre-arrival menu read as follows: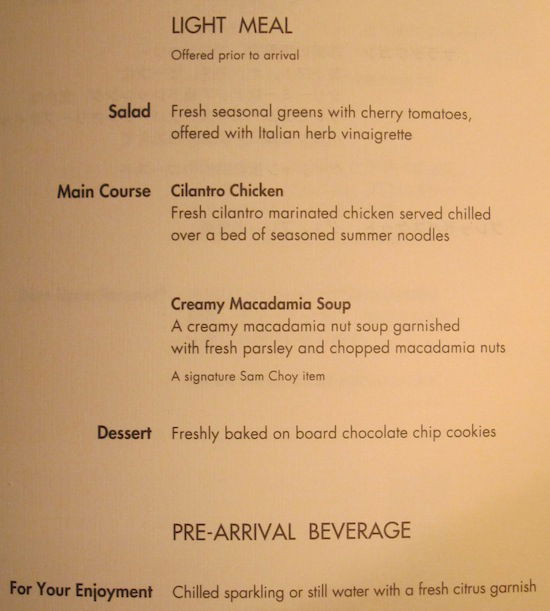 Any long time reader knows I love nuts, probably more than anyone else. So I nearly had a heart attack when I saw a main course dedicated to nuts on the menu. A creamy macadamia soup? Yes please!
I never thought I'd say this, but the soup was too nutty for me. The nut chunks were huge, so it was a very crunchy soup.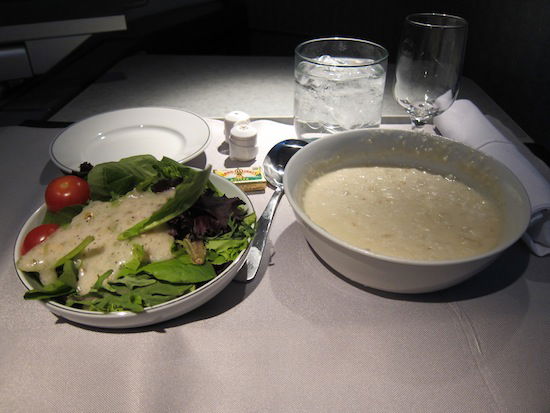 Creamy macadamia soup
For dessert I had fruit and cookies, which were delicious.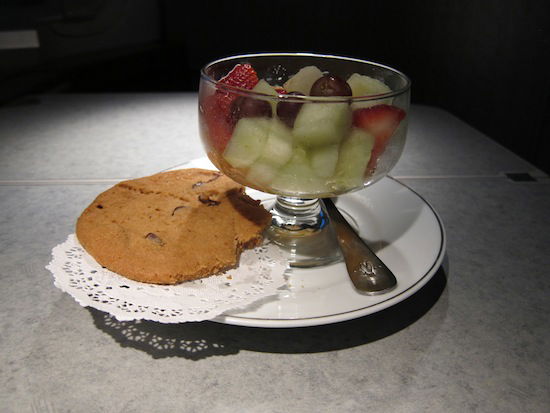 Dessert
About 30 minutes out the captain advised us we'd be starting our approach shortly, and should be landing at Narita Airport about 20 minutes early. The pre-arrival UNICEF announcement was made, and the crew collected headphones at this point as well. I changed back into my jeans and filled out the Japan landing card in anticipation of our arrival.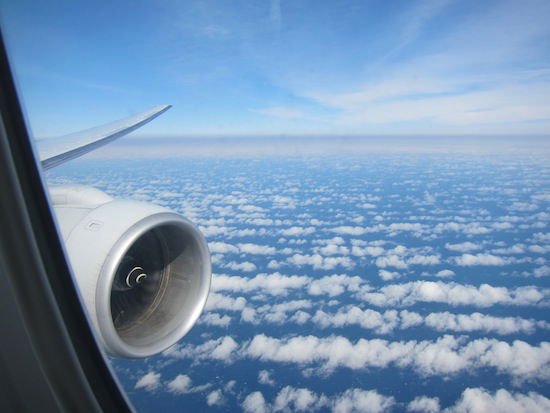 Approaching Japan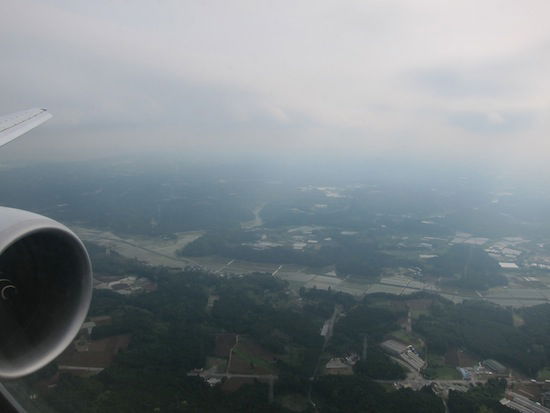 Final approach
After a smooth touch down we landed at Narita Airport. One of the downsides of flying OneWorld instead of Star Alliance into Narita is that Terminal 2 is much further from the runway than Terminal 1, so it adds at least 10 minutes to the taxi time. Then again, Narita has such exciting traffic that you could taxi me around all day and I wouldn't get bored.
As the purser made his arrival announcement he wished the couple seated across from me a happy anniversary over the PA, which lit up the wife's face.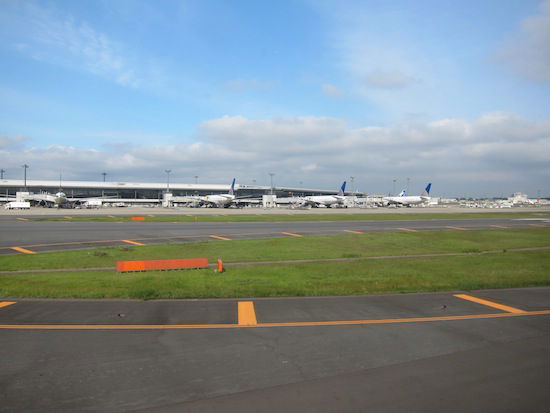 Terminal 1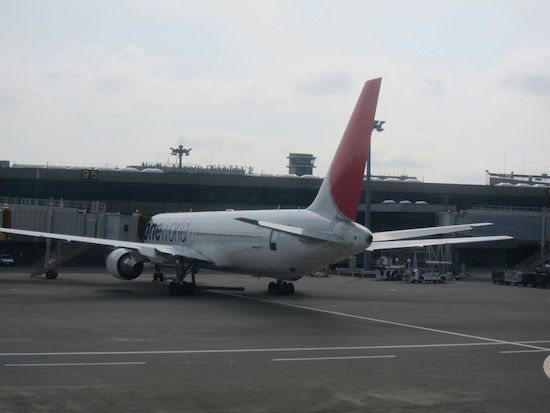 JAL 767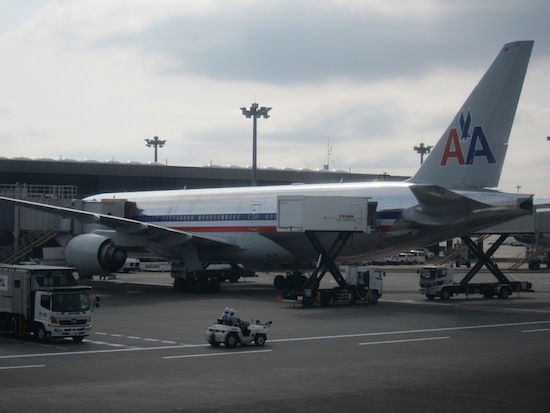 American 777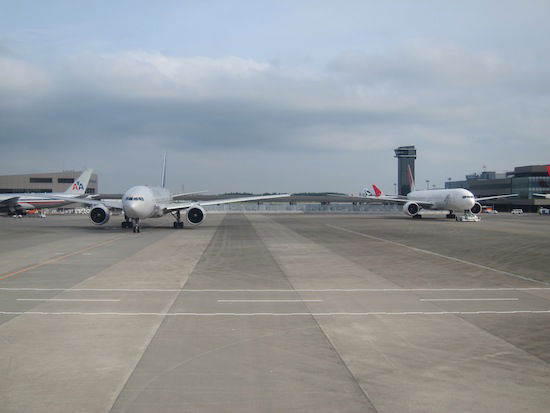 Traffic on the taxiway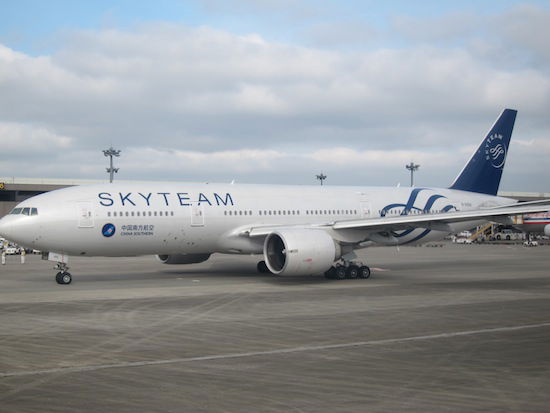 China Southern 777
Once we arrived at the gate I briefly spoke to the lady seated across from me (who was celebrating her anniversary). She commented about how despite having traveled internationally extensively she had never flown first class before, and commented about what unparalleled luxury it was. As much as I can be jaded, it always puts a smile on my face when people are blown away like that.
And on the whole it was a very pleasant flight. No, it wasn't Singapore Airlines, but the seat was comfortable, service was sincere and friendly, and food reasonably good.