---
We had an almost comical series of screw ups on our way to the airport, starting at Nagoya Station. The cab ride from the hotel to Nagoya Station was quick given that it was 6AM, and we made it to the train ticket counter with 15 minutes to spare before the train we had planned on taking was scheduled to depart. We purchased our tickets and everything was fine, until I remembered we needed to purchase "reserved seating." There are several types of trains running between Nagoya Station and Nagoya Airport, from a fast train that goes nonstop to one that makes 20+ stops. The issue is that the train that goes nonstop only has "reserved seating," and that costs extra. I went back to the counter to purchase the reserved seating "voucher," only to realize I was literally about 80 Yen (~$1USD) short. They didn't take credit cards and there was no ATM nearby, so we were more or less hosed.
We then got on the "local" train which doesn't require reserved seating, and it took forever. One of my friends was getting irritated and suggested we take the train one track over, which passed us several times but didn't seem to require reserved seating either. So we did that, though when we changed at the station it took over 20 minutes for the next "faster" train to arrive. Grrr, we were now cutting it close on time.
I'll save the drama, but we made it to the airport just under an hour before departure, so I guess everything worked out in the end.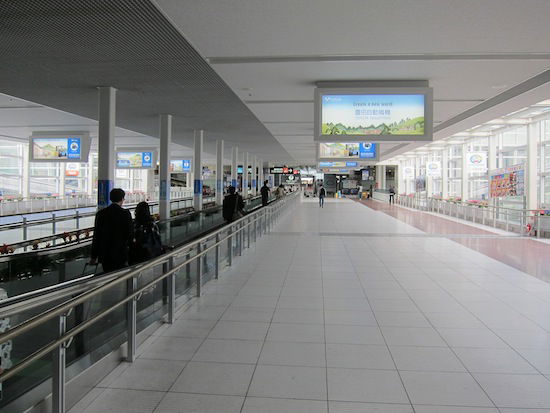 Walkway from the airport train station to terminal
The Nagoya terminal was impressive, though we were more focused on running to the JAL counters.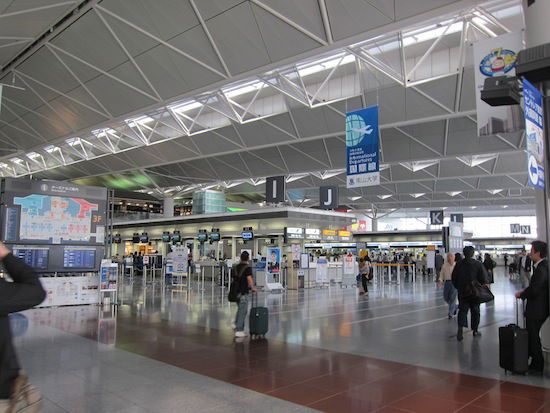 Nagoya terminal
There was only a short wait, at which point we were helped by a friendly agent.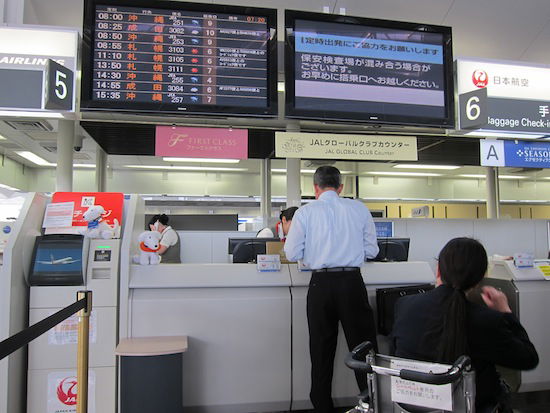 JAL counter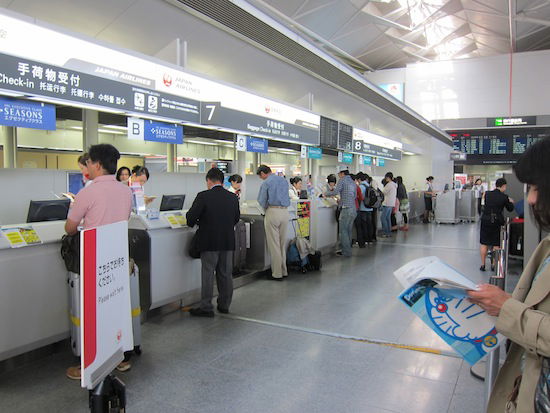 JAL counter
One of my friends and I (on revenue tickets) had no problem checking in, and got our business class seat assignment. My other friend was on an American award ticket he had just booked the night before (he was originally going to return on Lufthansa), and he was issued a boarding pass for coach. Fortunately he had his e-ticket receipt saved on his computer (since he didn't have Wi-Fi and his phone didn't have wireless data), and we showed it to the agent, and it did indeed reflect business class. After talking to her supervisor for about 10 minutes he also got a seat in business class.
Later on we found out that my friend had gotten an email from American a few hours prior (which he didn't see till we got to Narita) saying to call them regarding an issue on his ticket. As it turns out they had booked him in the incorrect fare code for business class, so he was really supposed to be in coach for that segment. Oops!
Security was quick and as I placed my bag on the belt the agent lifted up a sign in English which more or less read "YOUR BAG IS TOO BIG." He basically wrote me a "ticket" I was supposed to give the gate agent, though it ended up going somewhere else…
Once past security we headed to the shared Nagoya lounge.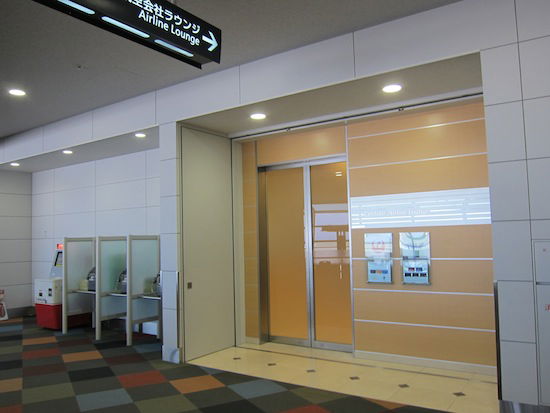 Lounge entrance
While the terminal was bright and spacious, the lounge was dark and overcrowded, and it's not like there was any food to speak of, so we left the lounge before even sitting down. Sometimes I have to wonder why people bother with lounges when the terminal is nicer.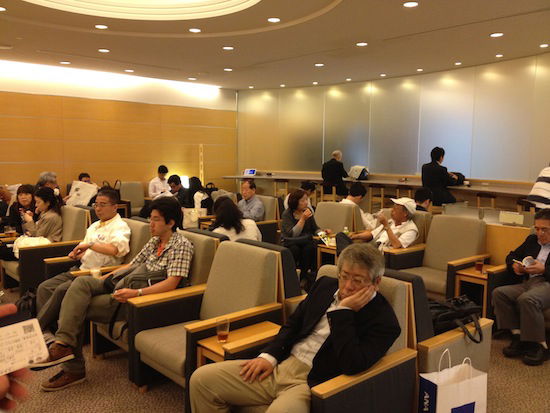 Lounge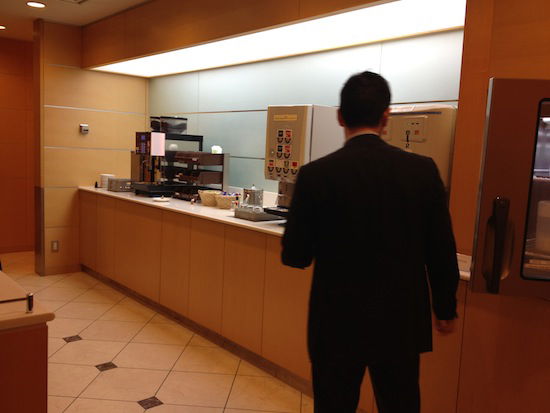 Lounge
Instead we went to the restaurant in the center of the terminal and got soft serve, after an all too exciting morning.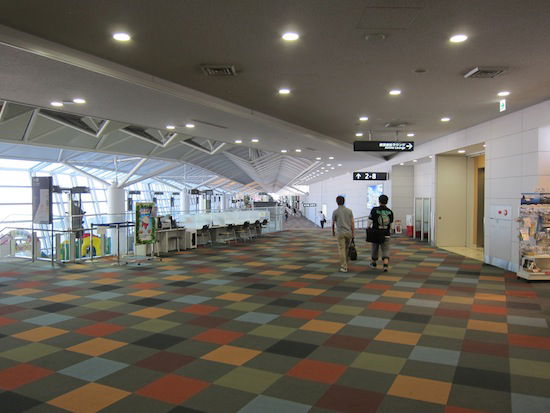 Terminal
We then headed to our departure gate, gate 10, where boarding was announced at 8:05AM.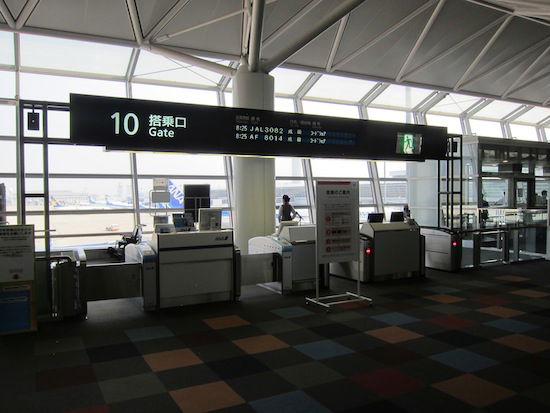 Departure gate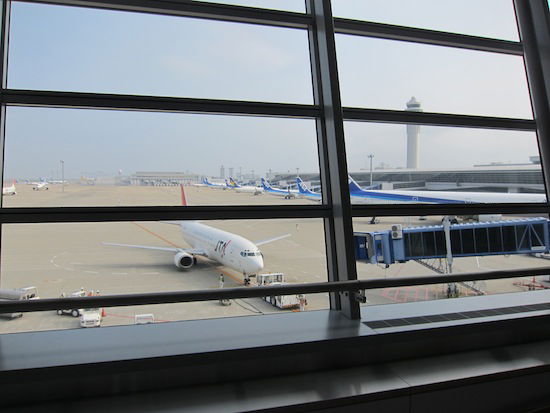 Nagoya Airport traffic

Our plane to Narita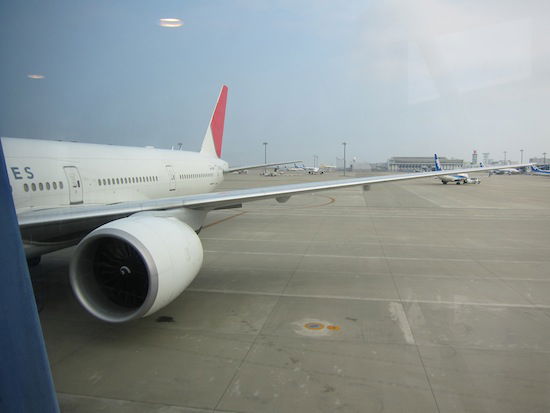 Our plane to Narita
Japan Airlines 3082
Nagoya (NGO) – Tokyo Narita (NRT)
Monday, May 28
Depart: 8:25AM
Arrive: 9:35AM
Duration: 1hr10min
Aircraft: Boeing 777-300ER
Seat: 11G (Business Class)
Once aboard we took our set of three seats in the center of the business class cabin. While Japan Airlines doesn't serve pre-departure beverages, they do board planes really, really fast, so we were underway within 15 minutes of the boarding time.
After the safety demo and a quick taxi we were airborne for our 40 minute flight to Narita.
After takeoff I immediately reclined. The seats on this plane are the same that are used on their longhaul fleet, and I can't say they're especially comfortable. They're angled flat though just feel a bit tight all around, especially around the area for your feet.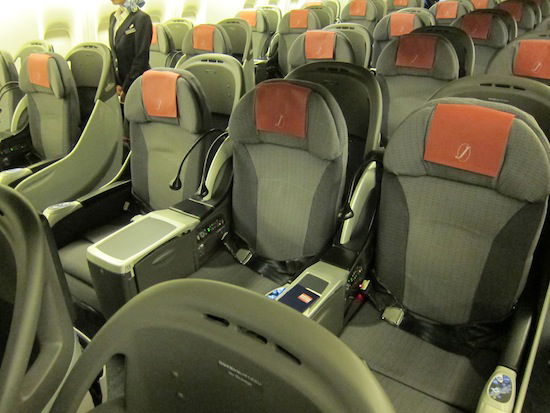 Business class seats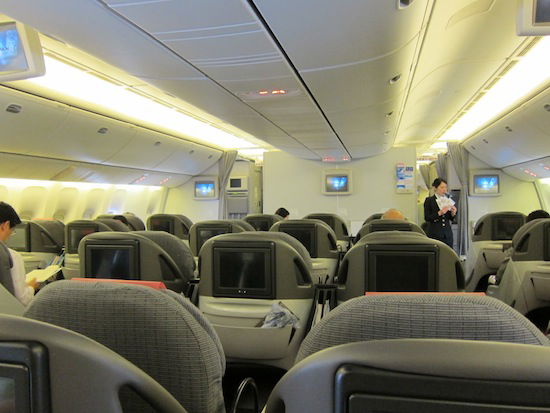 Business class cabin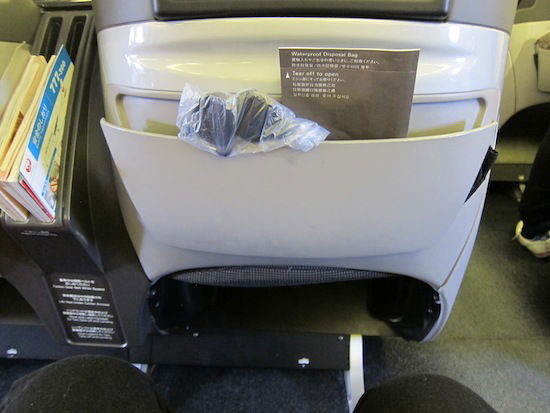 Legroom
10 minutes after takeoff "service" began, and I chose the one unique thing they had on their menu. Bonus points to anyone that can figure out what it is based on the picture below.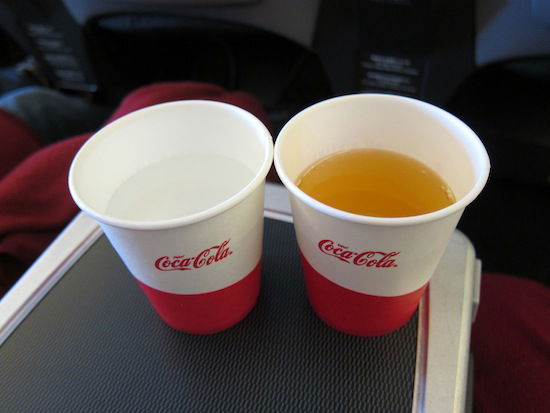 Extent of the service
After a firm touchdown we taxied to the gate, which felt as long as the rest of the flight.
Once there we followed the signs for international connections, where we cleared security and prepared for our long layover at Narita.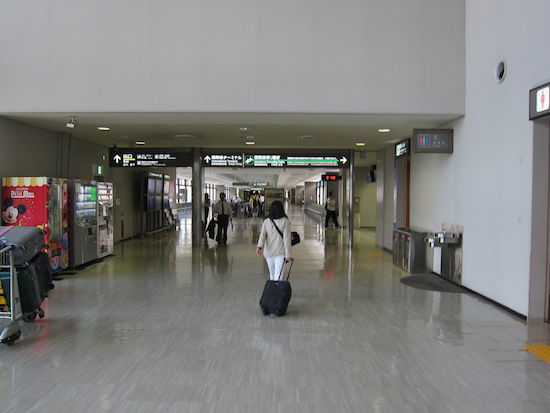 International connections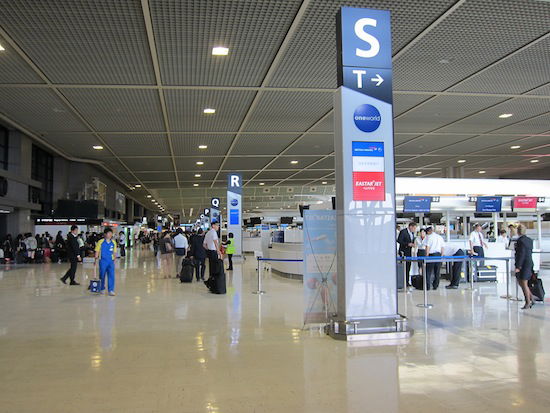 Narita check-in