---
One of the friends I was traveling with is a travel agent, and he insisted on staying at Hoshinoya, since it's somewhere he has sent clients to before and he wanted to check it out. It's intended to be a contemporary twist on a traditional Japanese ryokan, so I didn't mind either. The place is pricey (I don't know what exactly we paid, but it wasn't cheap), so I had high expectations.
One of the unique aspects of Hoshinoya is that there's a boat landing area where guests arrive, and then it's a 15 minute boat ride from there to the resort.
The boat landing area is pretty easy to miss, and the taxi driver actually drove about half a mile past it before turning around. You've gotta love Japan, though, because he proceeded to drive in reverse for half a mile (instead of turning the car around), and then was honest enough not only to stop the meter, but to deduct part of the amount since he missed the dock.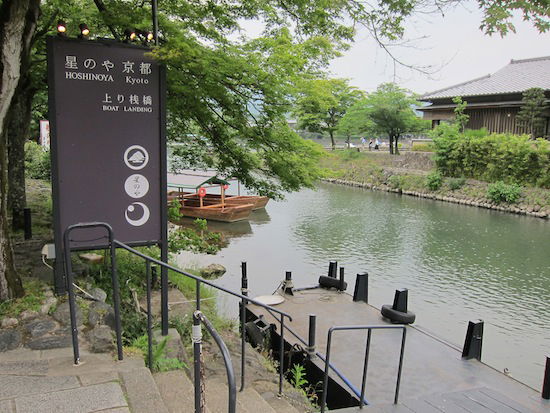 Boat landing
During our wait for the boat we were directed to an air conditioned room where we were offered cold towels and tea, which was a nice touch. After about 10 minutes "boarding" was announced, and we all headed down to the dock.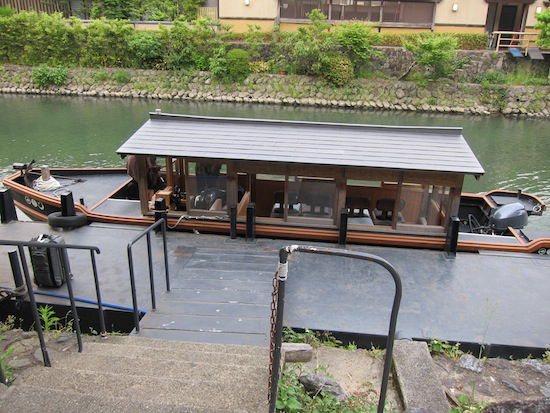 Boat to resort
The boat ride was enjoyable thanks to the abundant greenery along the sides of the lake. While the boat ride was nice once, I can't say I enjoyed it as much the second, third, or fourth time, and I do feel it's a bit style over substance given that the resort is (apparently) accessible by car as well.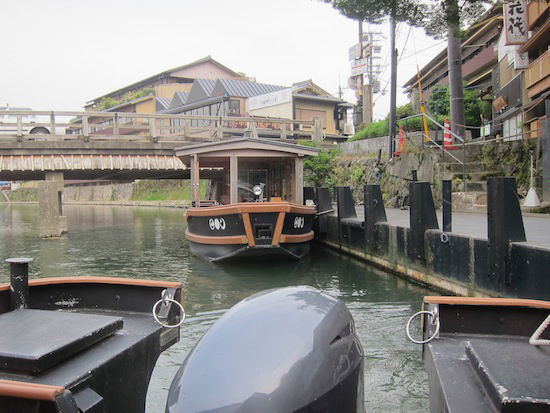 Boat ride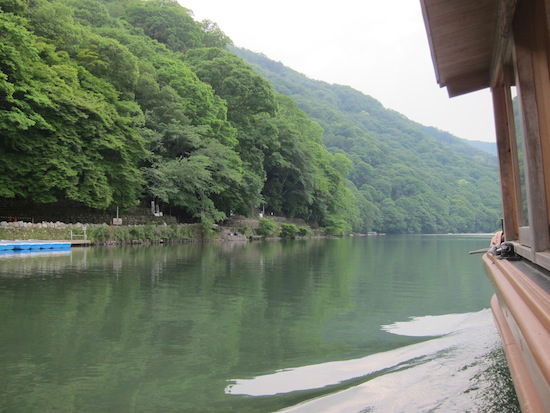 Boat ride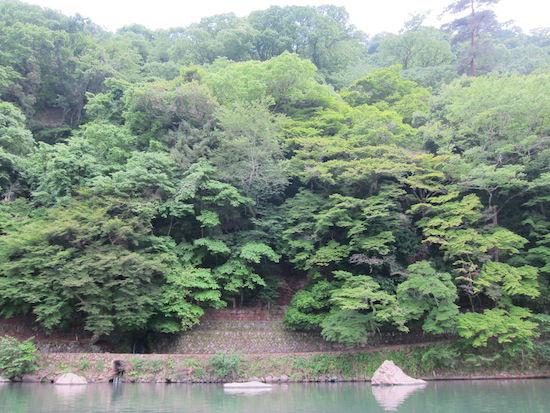 Boat ride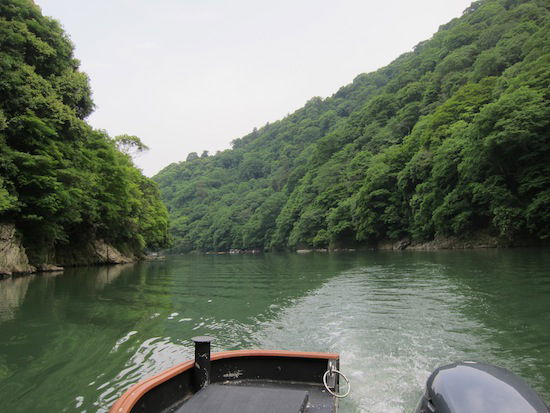 Boat ride
As we arrived at the resort there was one representative waiting to greet each "party," and they bowed as we approached.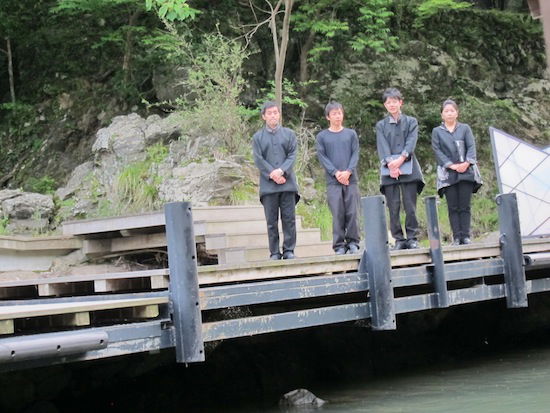 Hosts
Our representative introduced herself and led us up the walkway to our room, pointing out the facilities as we passed them. The resort only has a few dozen rooms so while our room was located at the far end of the resort, the walk took only about five minutes.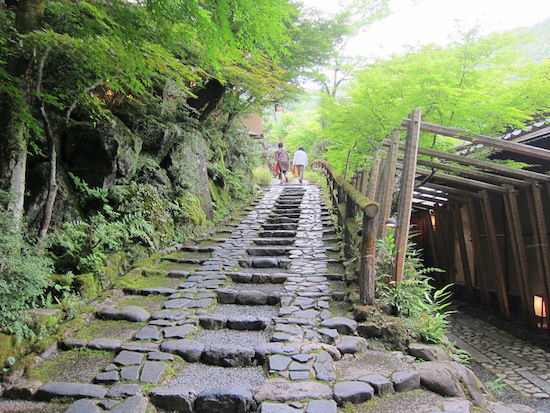 Walkway to resort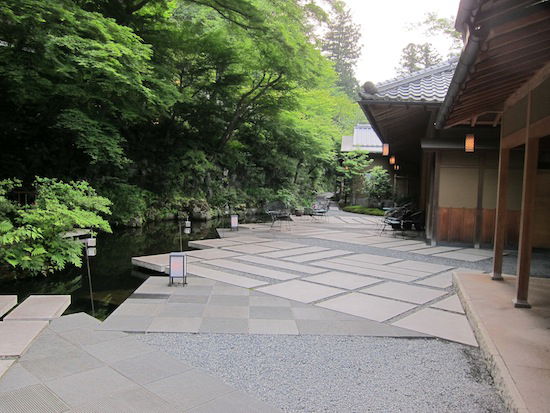 Pond by reception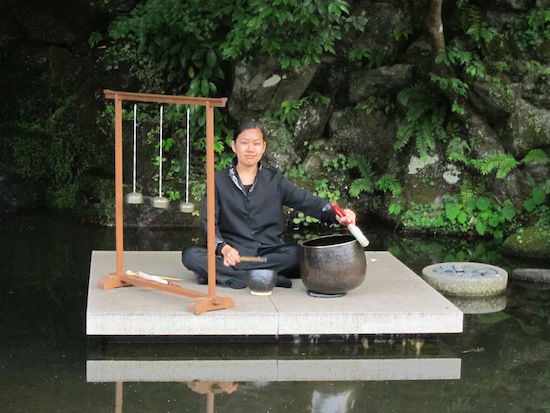 Musician by pond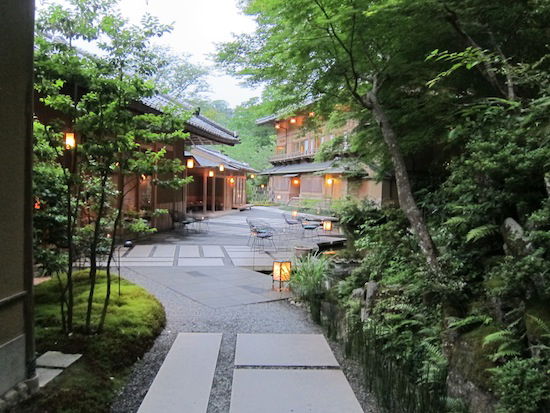 View of main buildings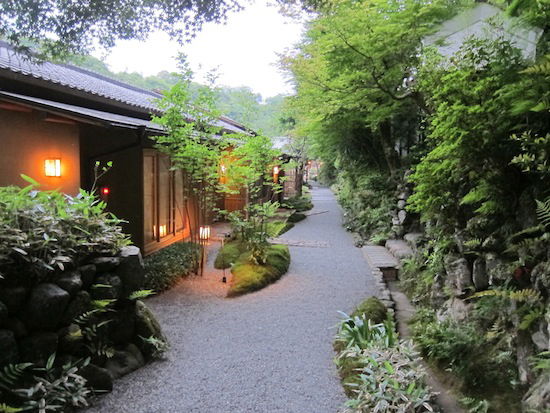 Walkway to room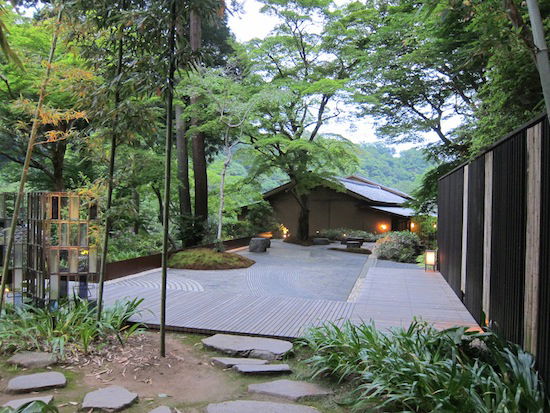 Walkway to room
At the entrance to our room we were asked to take off our shoes and instead wear slippers.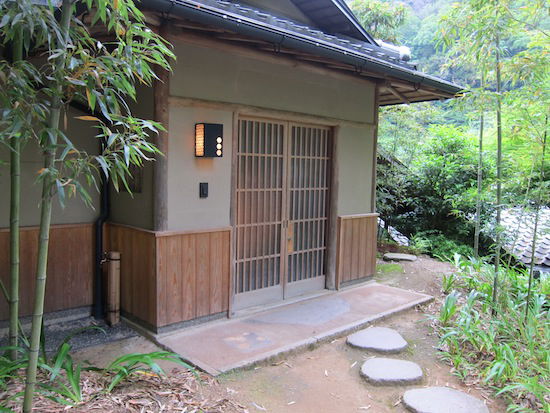 Entrance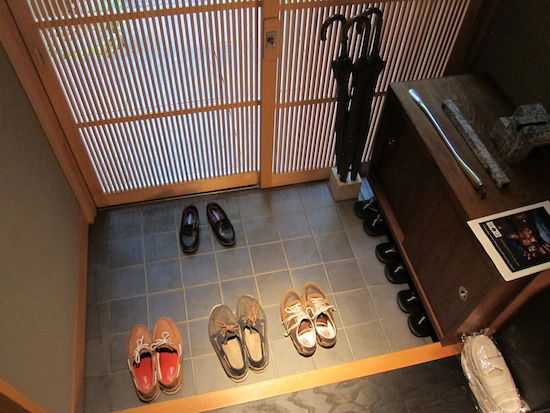 Entryway
On the ground floor was the bathroom (separate toilet and shower rooms) and living room.
To the left of the entrance was the toilet, which was super-modern and had one of those seats that freaks me out, given that it goes up as soon as you enter the room. It caught me by surprise every time.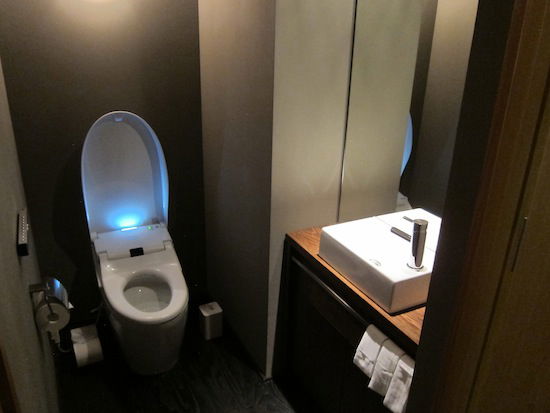 Toilet
The shower was also modern, and housed a nice bathtub in the same enclosure.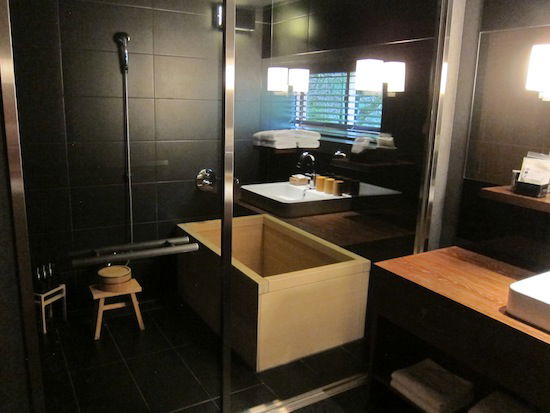 Bathroom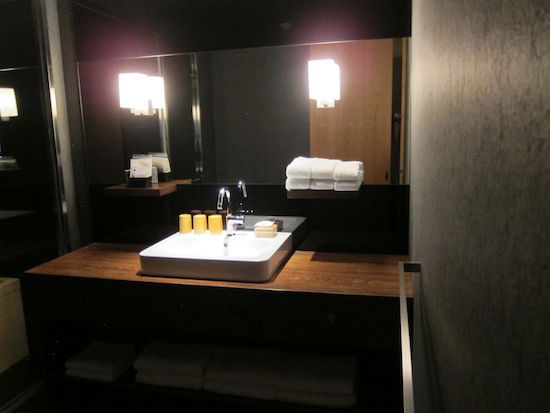 Bathroom
To the right of the bathroom and by the stairs was the entryway to the living room.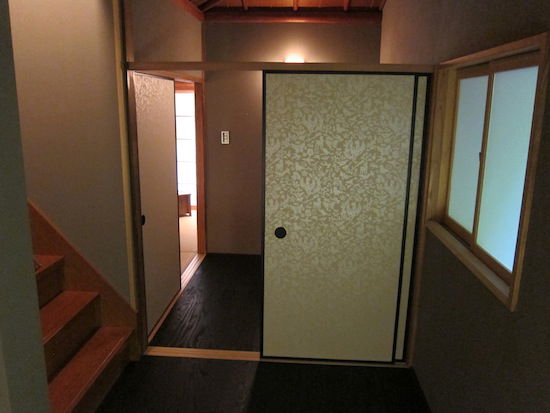 Entryway to the living room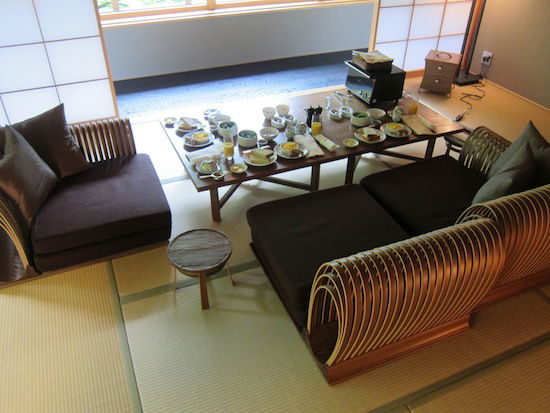 Living room
The stairs led up to the bedroom and sun room.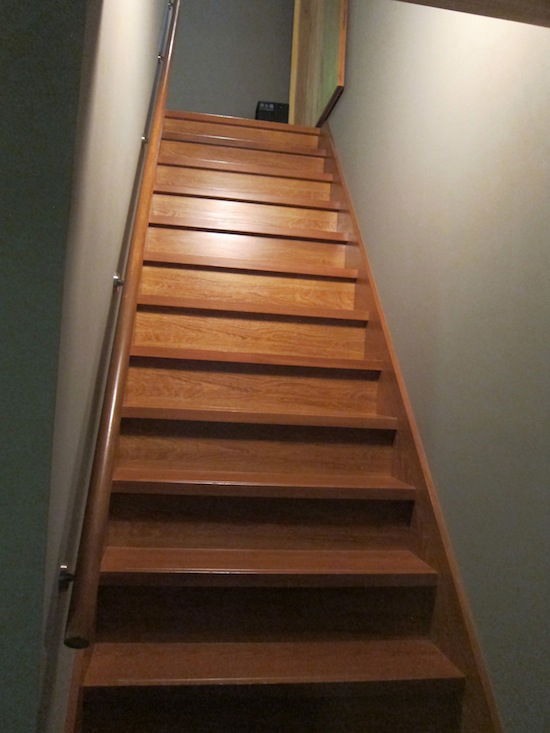 Stairs
The sun room featured nice views of the river and surrounding forest, and featured hands down the most comfortable furniture in the room. 😉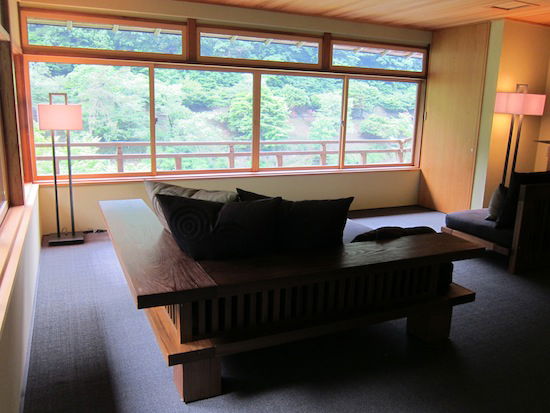 Sun room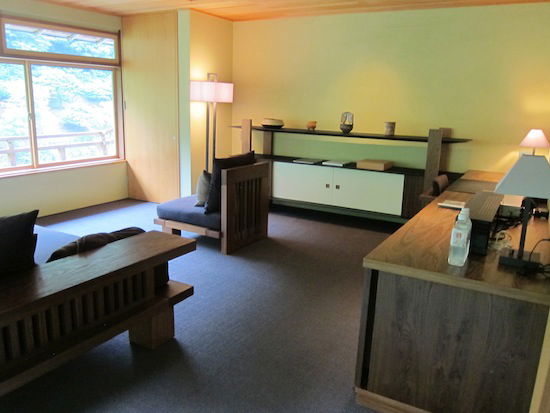 Sun room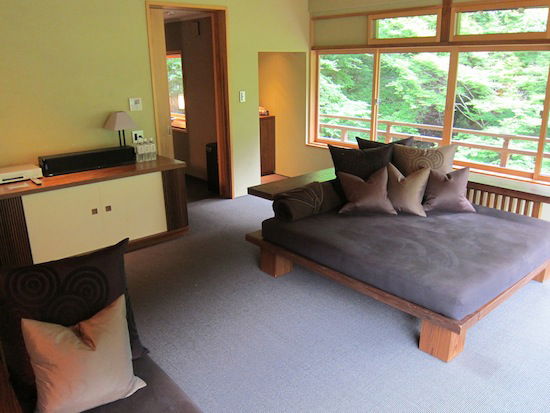 Sun room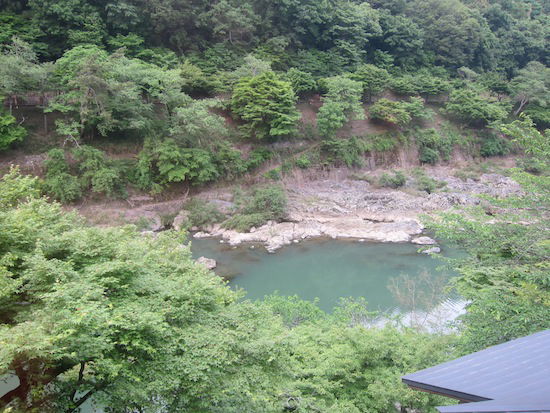 View from sun room
Just down the hall from the sun room was the bedroom, which featured mattresses that were placed on an elevated floor.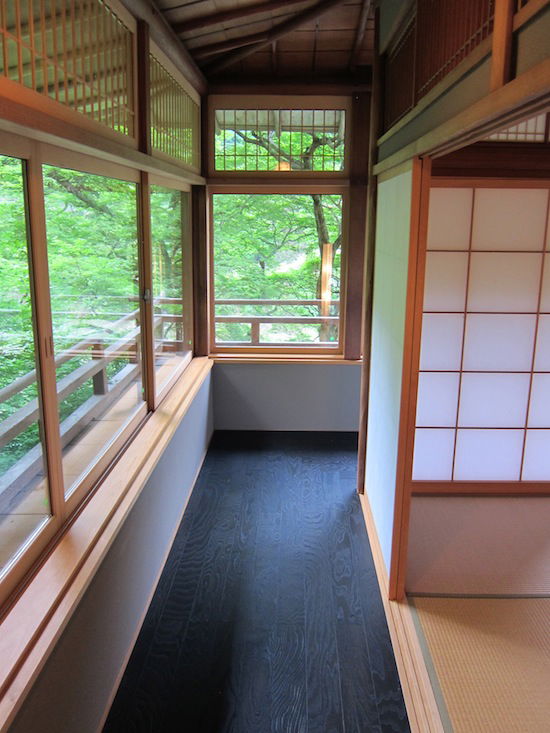 Hallway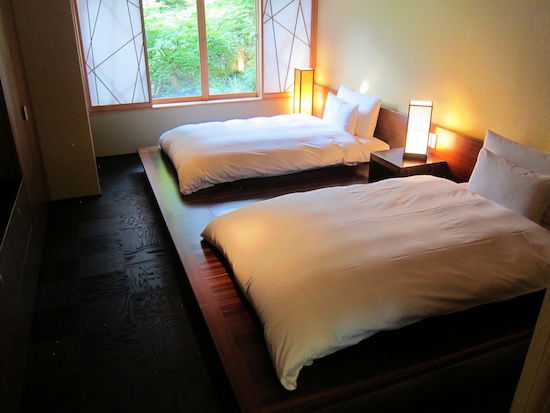 Bedroom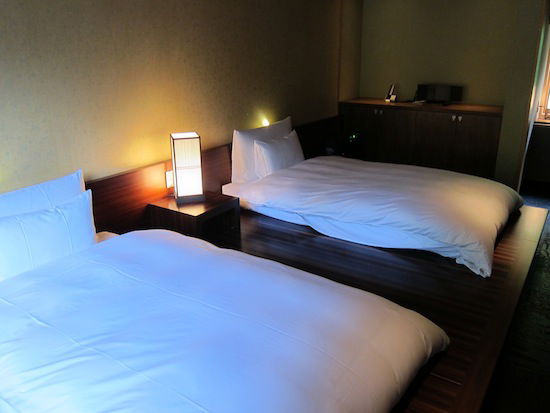 Bedroom
Service at the resort was uniformly friendly, but then again I've rarely come across someone in Japan that wasn't genuinely helpful and friendly. It's part of the culture.
That being said, here's my beef with this place, and I hope it comes across right. I love, love, love good destination resorts. I actually never thought I'd be a huge fan of destination resorts, but then I stayed at a few Aman hotels in India, which completely blew me away. Aman-i-Khas and Amanbagh are two of the most stunning properties I've ever stayed at, and both were (more or less) located in the middle of nowhere.
But what made them so great was a few things, which I think are found at all Aman properties:
The service was proactive, friendly, polished, and laid back, all at the same time.
Everything revolves around the guest. They don't present you with a schedule, but instead you set the schedule.
The resorts featured most of the amenities you'd find at major hotels, but at the same time had awesome cultural activities hosted by the hotel, be it a visit to the local village, camel ride, guided tour of ruins, etc.
And that's kind of where I felt Hoshinoya fell short. Don't get me wrong, I suspect it's one of the most luxurious and modern ryokans you'll find, so for high rollers looking for that "authentic" experience, you can't beat this place. But what I kind of didn't love about this place is that it was sufficiently removed from the city so that it was inconvenient for sightseeing compared to the Hyatt Regency Kyoto, but at the same time didn't have sufficient amenities to make staying there all day exciting.
While a pool or gym would have been nice, that's not what I was expecting, since I realize the intent is that it's more of a "traditional" Japanese experience, and it doesn't fit into it. But what was kind of frustrating is that there was very little to do at the resort. There was a tea ceremony that could be attended at a certain time one day, but that was about it. There wasn't much hiking in the area or activities on the grounds, the restaurant hours were limited, and the place just kind of felt "dead" despite being rather full.
The only public area really was the library by reception, which served tea and coffee all day.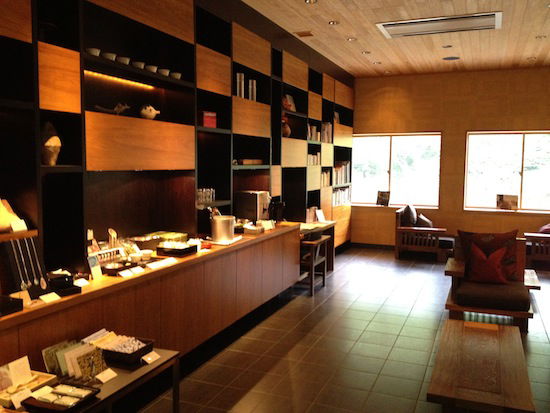 Library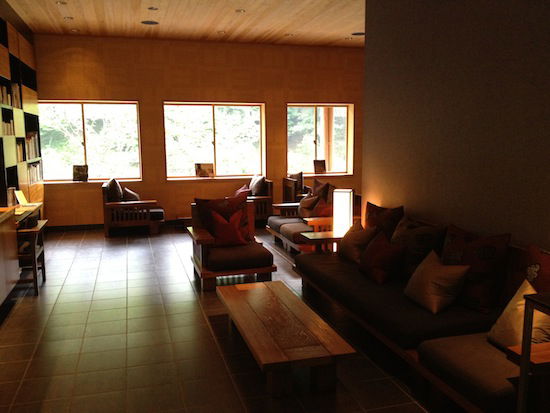 Library
Again, that's not to say the resort wasn't beautiful, because it was. It's just not an experience I'd be dying to repeat at my age, especially at the price point. I'd rather stay at a modern city hotel like the Hyatt Regency with a gym and lots of amenities, and conveniently tour the local sights from there.
Before leaving in the morning we had breakfast, which was served in-room (that's the only way to have breakfast, they don't serve it in the restaurant). That was an experience in and of itself since the set up took at least 20 minutes, given that they brought a toaster and probably close to 50 plates and dishes, all by foot.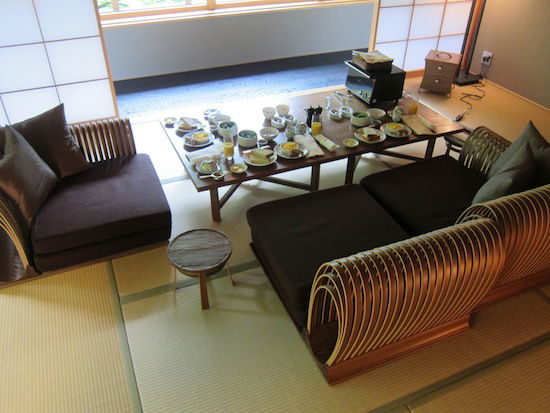 Breakfast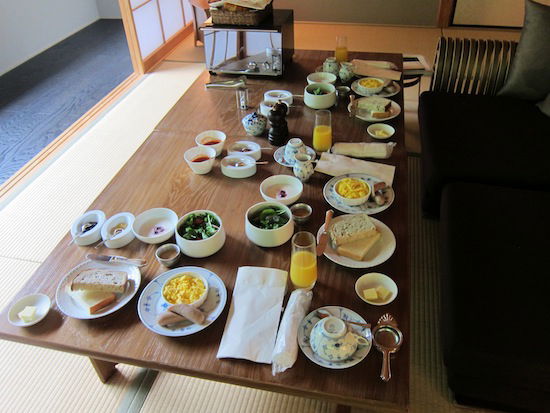 Breakfast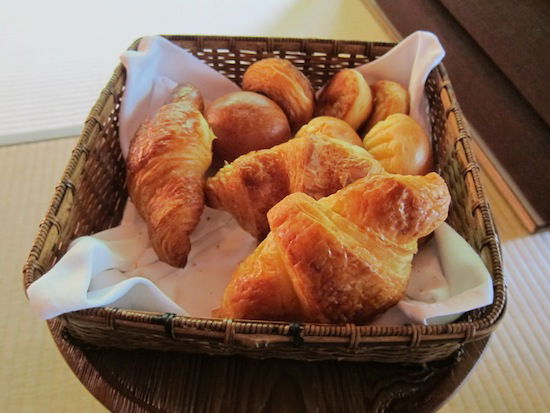 Breakfast breads