---
After a substantial delay on our flight from Atlanta to New York, we made it to LaGuardia at around 1PM. We were originally due in at 11:20AM but there was some weather in the New York area, so we ended up sitting on the tarmac in Atlanta for about 90 minutes. The crew had a good sense of humor and whipped out the "emergency granola bar" box about an hour into the delay.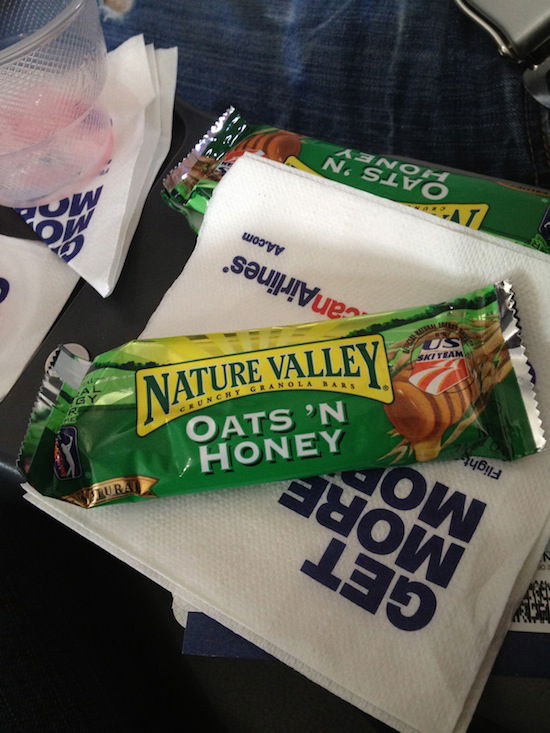 Granola bar
Since this flight was operated by American Eagle, the meal service was a bit different than it would be on a mainline flight. Still, I'm impressed by American Eagle compared to United Express, where they serve nothing but a snack box in first class.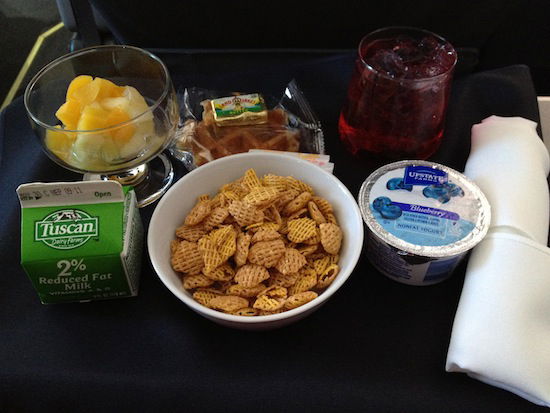 Breakfast
We had to switch airports in New York, so upon arrival hopped into a cab for Kennedy, which took about 25 minutes and cost about $30.
Once at JFK we headed straight for security. I was surprised to find virtually no queue, which is rare at terminal eight, in my experience.
Past security we headed to the Flagship Lounge, where we were promptly admitted.
I've reviewed the American Flagship Lounge at JFK several times before, including here and here, so I'll keep this part of the review short.
Due to our delay we only had a little over an our in the lounge, so I took the opportunity to catch up on email.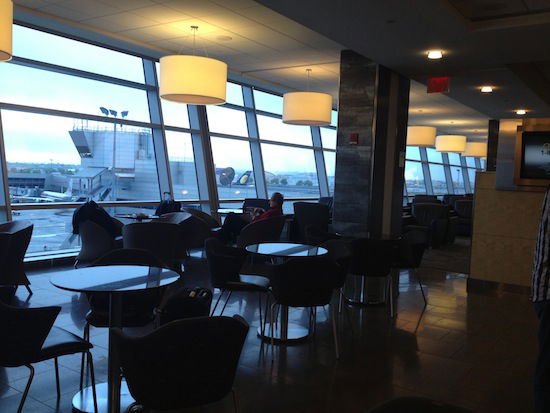 Flagship Lounge JFK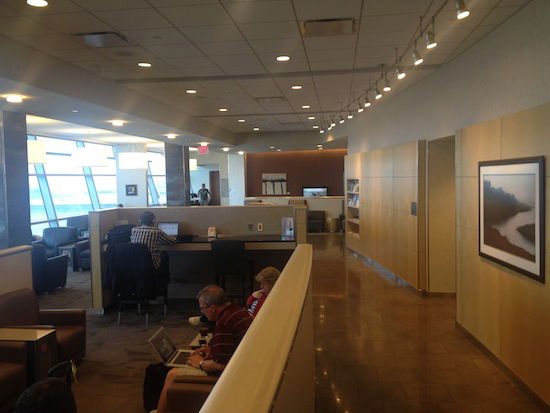 Flagship Lounge JFK
At around 2:45PM we headed down to the gate for our departure to LA. Our flight was leaving from gate 44, so it was about a 10 minute walk to the other side of the terminal.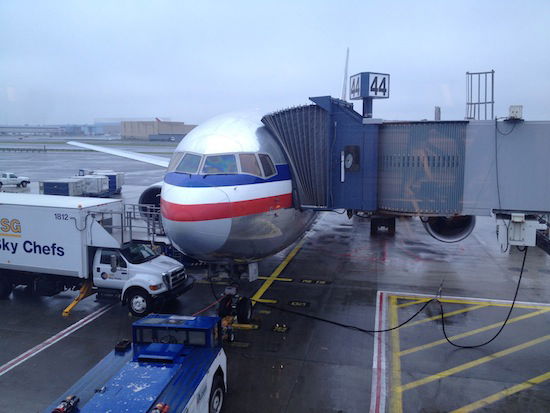 Our plane to LAX
At around 2:55PM boarding was called for first class, and we were among the first aboard.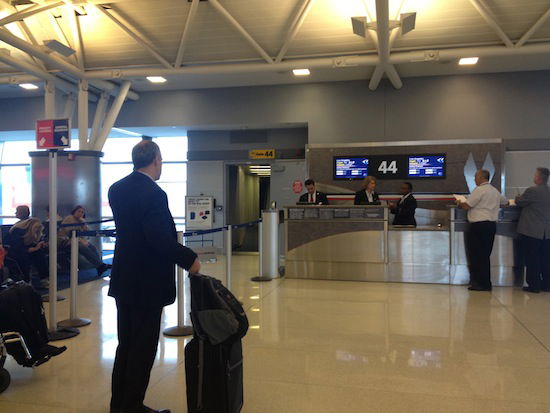 Gate
American 133
New York (JFK) – Los Angeles (LAX)
Monday, May 21
Depart: 3:35PM
Arrive: 7:05PM
Duration: 6hr30min
Aircraft: Boeing 767-200
Seat: 3B (First Class)
Once aboard we were welcomed by a rather chipper JFK based crew and directed to our seats in row three (which is actually the second row). American has 10 first class seats and 30 business class seats on their Flagship Service configured aircraft. While the first class seats aren't fully flat, they do recline back most of the way, and I find them to be very comfortable. United flies 757s with angled flat seats on this route, though I find American's first class seats to be more comfortable by a long shot (though the same isn't true in business class).
At my seat I found a wrapped duvet and pillow.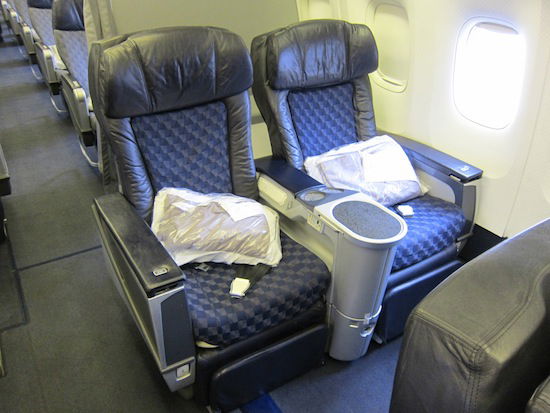 Our seats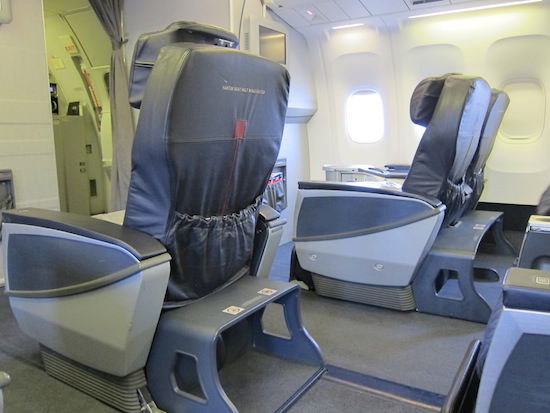 Cabin view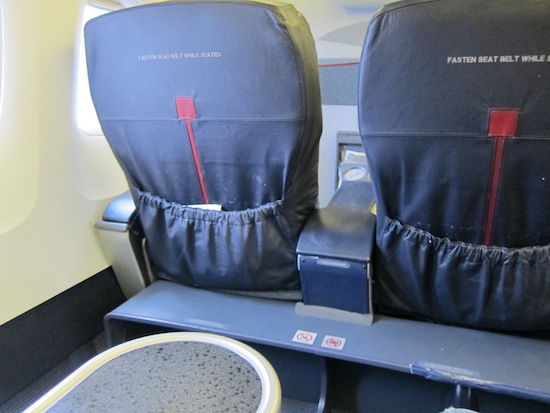 Plenty of legroom
Within moments of settling in the flight attendant brought around a tray with water, orange juice, and champagne. I took a cup of orange juice.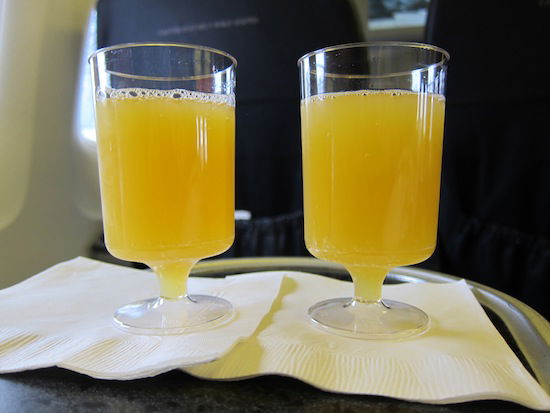 Pre-departure OJ
The one downside of the 767-200 is that there's no mid-cabin door, so everyone boards through the front, meaning it's very busy in first class during boarding. By the time boarding was complete, every seat was taken in first class.
As boarding finished up the captain came on the PA to advise us of our flight time of 5hr30min, which translated to an early arrival into LAX.
Right on time we commenced our pushback and the safety video started playing.
By the time we made it to the runway we were number five for takeoff, so we were airborne within 15 minutes of our scheduled departure time.
About 20 minutes after takeoff the seatbelt sign was turned off and service began, starting with Samsung Galaxy Tabs and Bose headphones being distributed.
This was followed quickly by the flight attendant taking meal orders. She was an interesting character because she was quite friendly though very informal. As she took drink and meal orders she said "I'm Debbie, what's your name?" I suppose it was an attempt at personalizing the service, though when you're dealing with an international crowd I really don't think that's a good idea. A lot of people prefer to be referred to by their last name, and you'd come across as a bit of a douche if you responded with "Mr. Smith" when she introduces herself by her first name.
I remember a United flight I took in first class to Frankfurt maybe five years ago. The purser referred to everyone by their first name, and eventually a German passenger lost his cool and said "I am not Hans, you will call me Mr. Dr. XYZ." I think she learned her lesson about addressing passengers by their first name after that. 😉
Anyway, the dinner menu read as follows: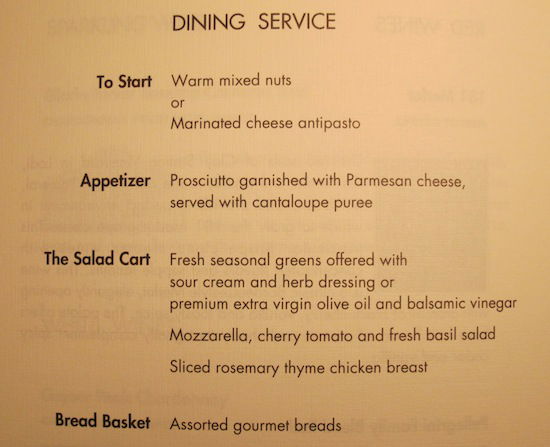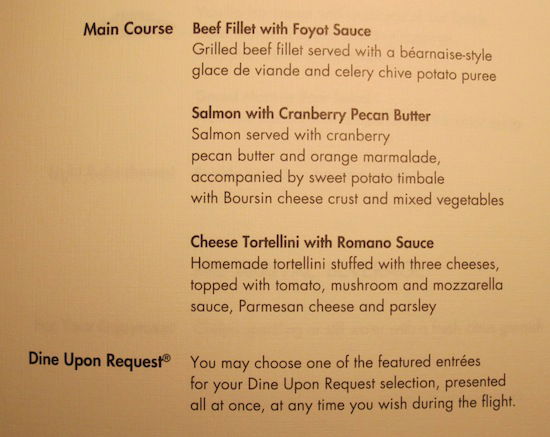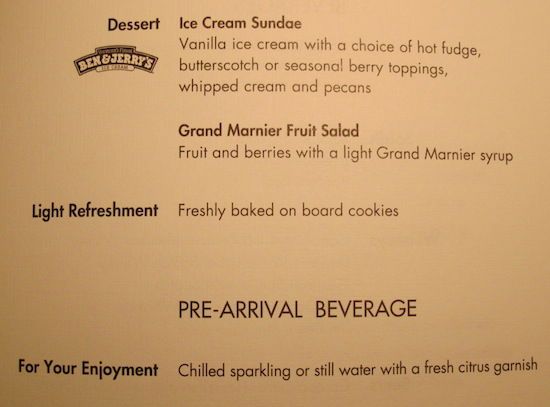 And the wine list read as follows: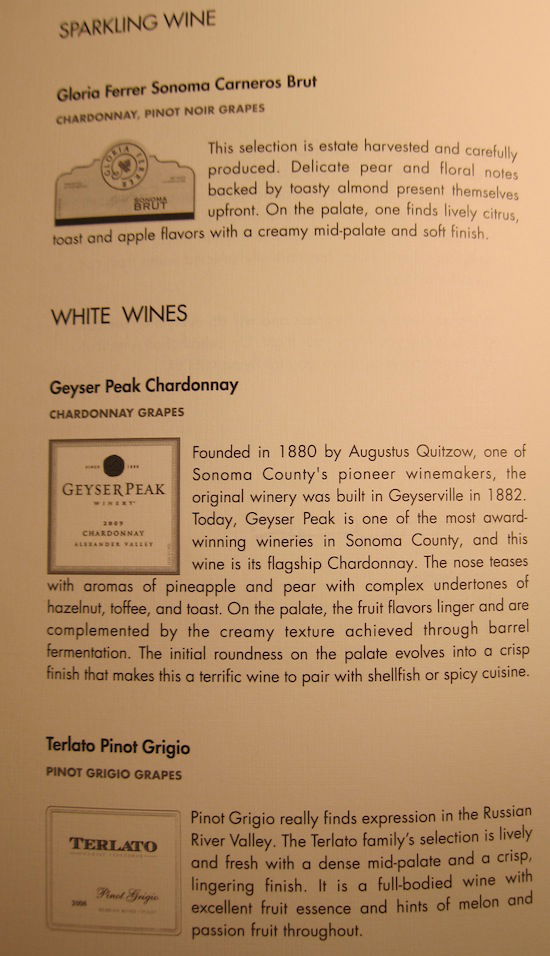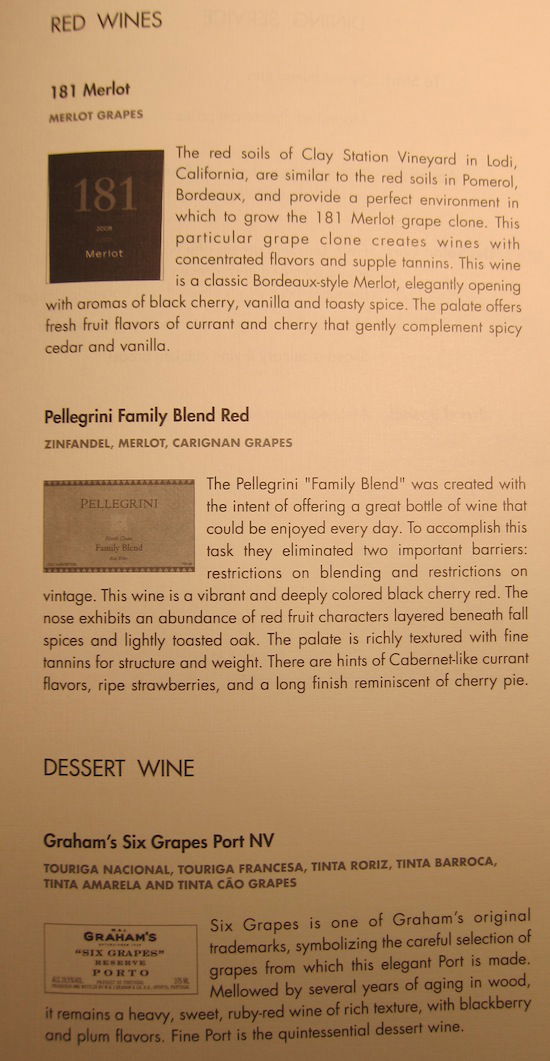 Just as the purser finished taking drink and meal orders, the other flight attendant started the beverage service, offering hot nuts and the cheese antipasto.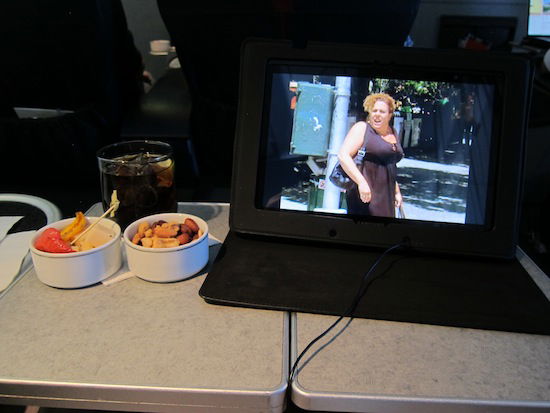 Diet Coke wth lime, hot nuts, and cheese antipasto
The starter consisted of prosciutto, and was accompanied by some bread.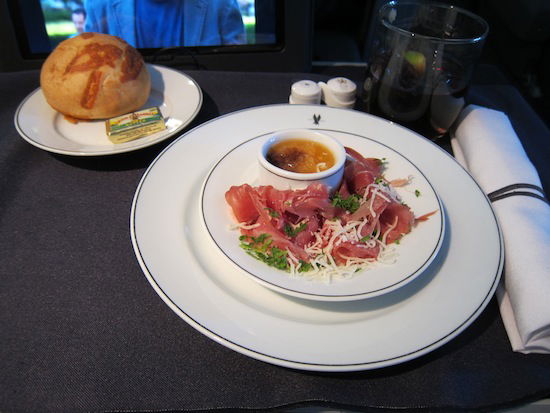 Starter
Salad was served from a cart, with the option of tomatoes and mozzarella and chicken. There was also the choice between a sour cream dressing and a balsamic vinaigrette; I went with the latter.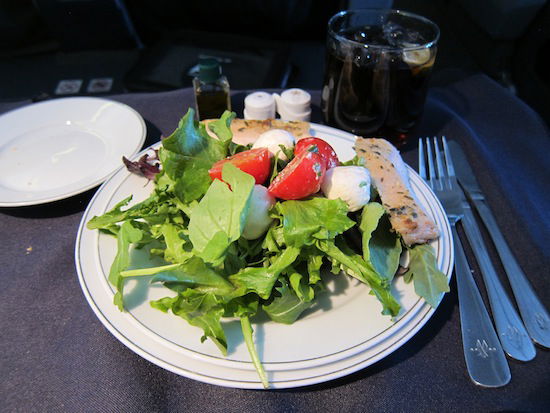 Salad
For the main course I ordered the beef while my friend ordered the cheese ravioli. While the beef itself was quite good, the "special sauce" wouldn't even fly at McDonald's. My friend enjoyed his cheese tortellini, though.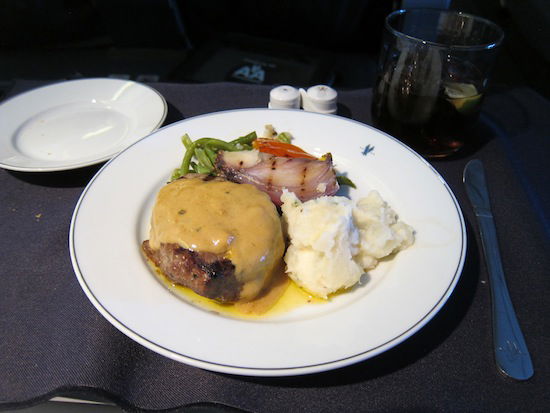 Beef entree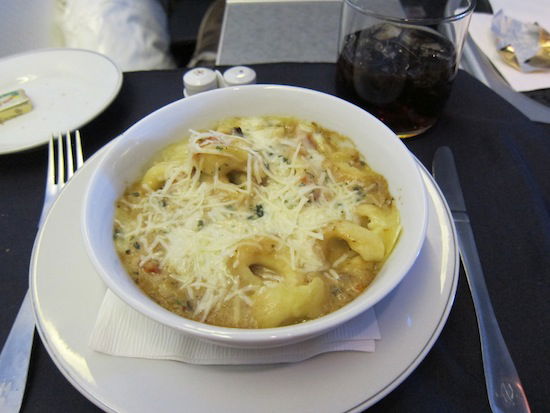 Tortellini entree
For dessert I had an ice cream sundae with chocolate sauce, butterscotch, whipped cream, and nuts. Mmmm…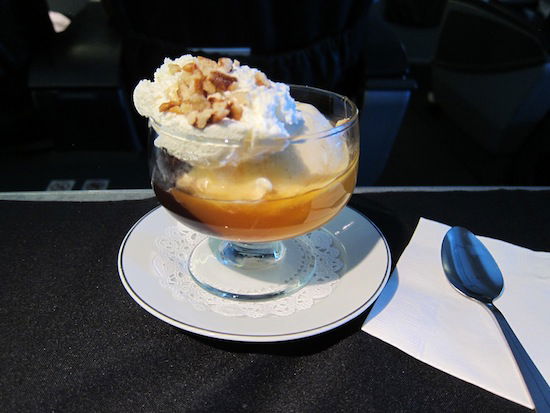 Dessert
The flight attendants were attentive throughout the meal service, constantly offering refills and clearing plates.
As the meal service finished up water bottles were distributed and I reclined my seat to take a nap. I conked out for about three hours, and woke up with about an hour to go to LA.
Around that time the flight attendants served warm cookies and milk.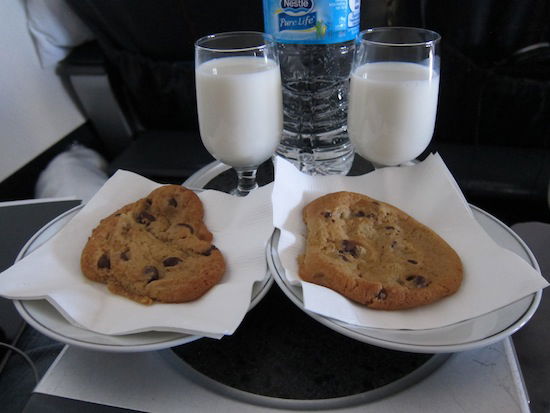 Warm cookies and milk
30 minutes out we began our descent into a beautiful SoCal evening, and touched down on runway 25L about 30 minutes early.
On the way out one of the business class passengers ran to catch up to the guy that was seated in front of us, and said "I'm a huge fan of your work." I have no clue who the guy was, though I found it funny when he then proceeded to give him his business card and pimp out his professional services.
Anyway, as usual my Flagship Service flight was great. It's one of the best ways to fly domestically between the comfortable seats, great meal service, and Wi-Fi.