---
Upon deplaning we more or less sprinted towards immigration, since queues tend to be really long in the afternoons with all the arrivals from the US. Much to my surprise there was no queue, and we were through in no time.
After clearing customs and immigration we found ourselves in the arrivals hall, where we followed the signs to the domestic terminal.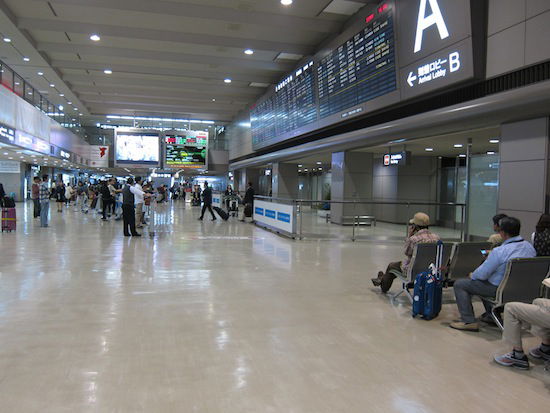 Arrivals hall
Security was friendly and efficient, as it usually is in Japan, and inside the terminal we found the Japan Airlines Sakura Lounge.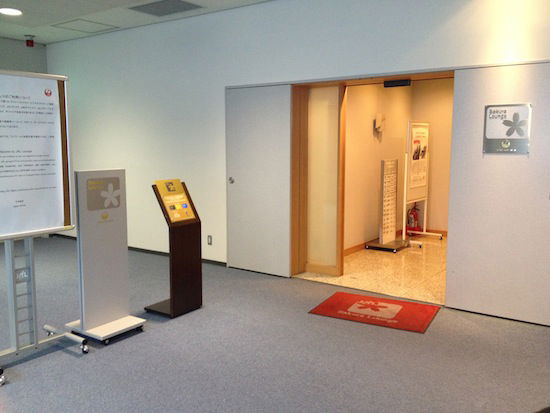 Sakura Lounge
We were warmly greeted at the entrance, and after they took down our flight details we were invited in.
The lounge was basic and lacked natural light, so felt a bit like a hospital waiting room. I was most interested in connecting to the internet, and was happy to see the Wi-Fi speed was decent.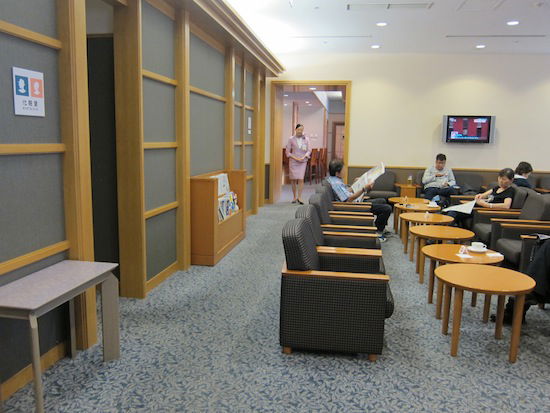 Sakura Lounge
The snack selection was virtually non-existent, though they did have a beer and soda machine.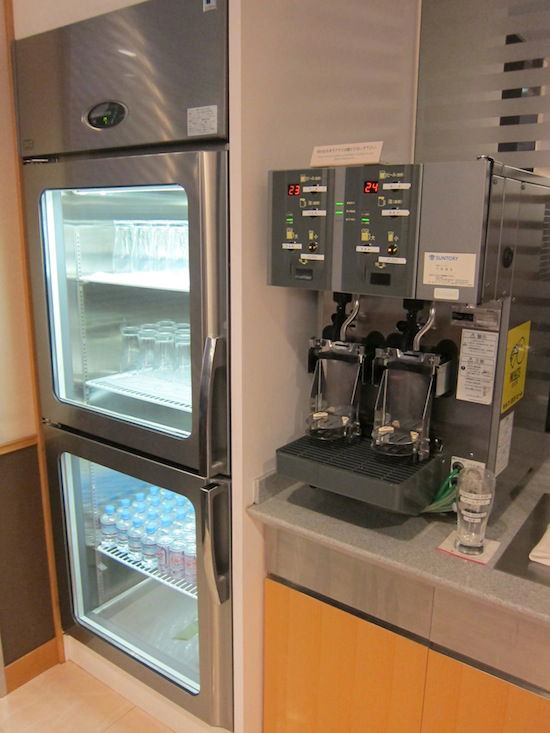 Beer machine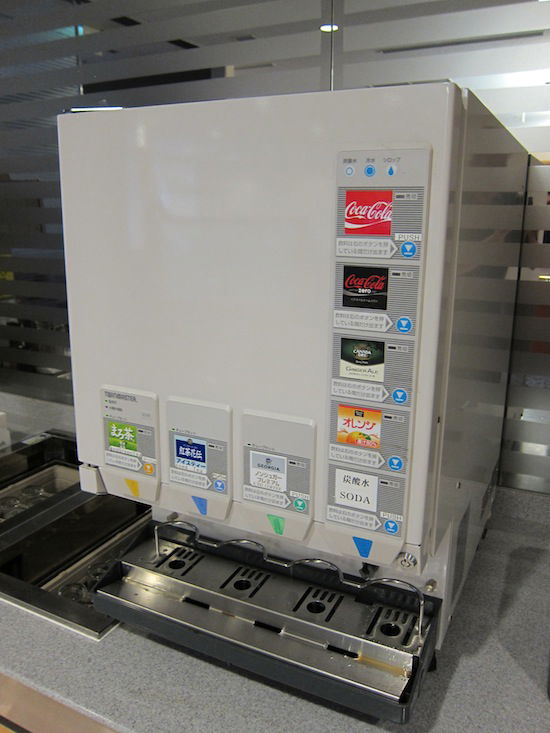 Soda machine
About 15 minutes before we were scheduled to board, my travel companion and I (or at least names slightly resembling ours') were paged in the lounge. My friend was on a call, so I went to the desk for both of us, and was rather concerned about what might be wrong, since the flight still showed on time when I checked a few minutes earlier.
There were three agents standing there with frowns on their faces — "Mr. Lucky, I'm so very sorry, but is it okay if we give you a better seat?" I looked a bit surprised, though they had a laminated piece of paper with the aircraft's seatmap. "Mr. Lucky, I'm so sorry, may I put you in 1K, this is a first class seat?" I said "that would be great, and where would my friend sit, in 2K or 1G?"
All three of them covered their mouths and let out a collective gasp. "I'm so sorry, you are traveling together?!" I said "yes," and they said he would be in 1G, which is immediately across the aisle. I said I'm sure that would be just fine (given that the plane's configuration is 1-1-1), and all three of them thanked me profusely and apologized once again, concerned this arrangement might not be okay since we would be seated so far apart.
They asked for both of our boarding passes, and used a pen to cross out our current seat assignments and wrote our new seat assignments next to them, telling us we'll get the new boarding passes at the gate. Hmm, I'll have to try that on my next American flight. 😉
We headed down to our departure gate, which was actually a joint gate for the Nagoya and Osaka flights.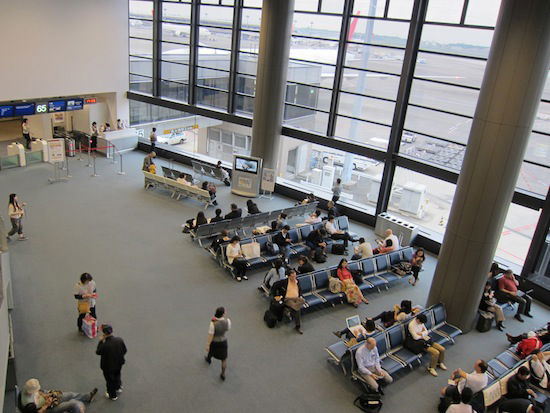 Gate for Osaka flight
Once in the gate area we went up to one of the roughly 23 gate agents and handed her our boarding passes. She immediately handed us our new boarding passes, and once again apologized profusely for the upgrade.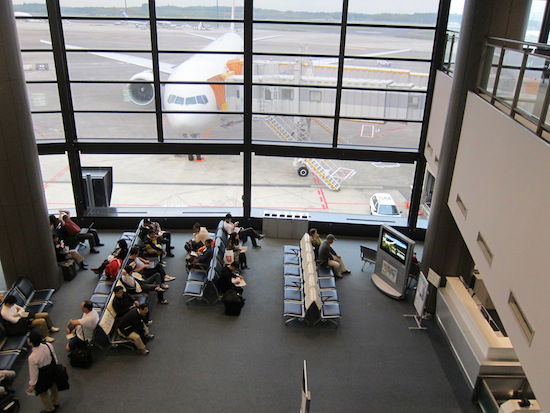 Gate for Nagoya flight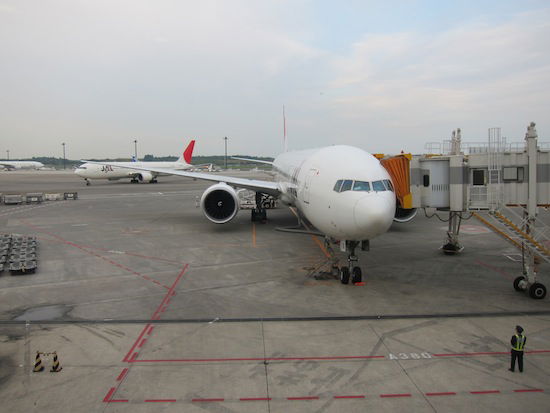 Our plane to Nagoya
Shortly after 6PM boarding was announced, starting with one of the gate agents coming to personally invite us to board (no clue what we did to deserve that).
Japan Airlines 3087
Tokyo Narita (NRT) – Nagoya (NGO)
Wednesday, May 23
Depart: 6:25PM
Arrive: 7:35PM
Duration: 1hr10min
Aircraft: Boeing 777-300
Seat: 1K (First Class)
Initially I figured our flight was operated by one of Japan Airlines' super-high-density domestic 777s, though it was actually one of their longhaul 777s configured with their old product, which was an awesome surprise. This was the same Jetsons-esque product I flew from Tokyo Narita to New York JFK a couple of years ago, except the last flight was on a 747. On the 777 the product is in a 1-1-1 configuration, with the seats scattered a bit to save space.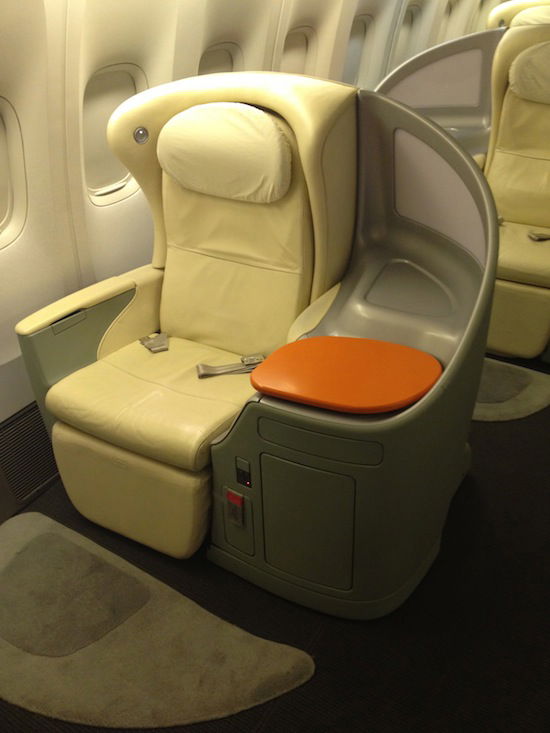 My seat, 1A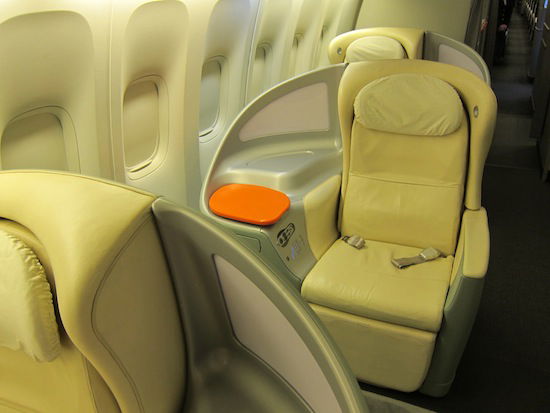 First class cabin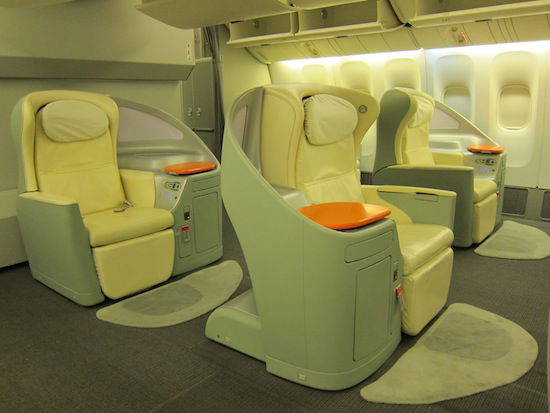 First class cabin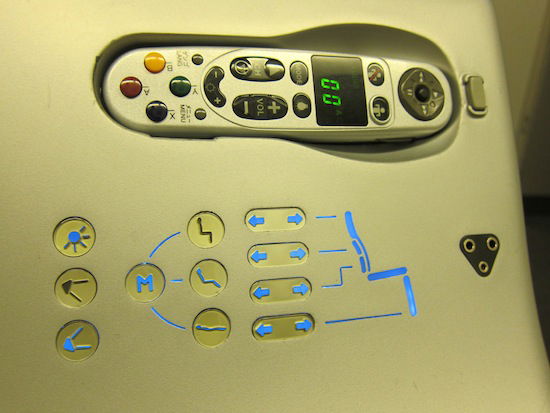 Seat controls
The flight was very empty, and within 10 minutes boarding was complete. As usual on Japan Airlines there were no pre-departure beverages, though I was offered a pillow and blanket.
Pre-departure the flight attendants did their "safety checks." On Japanese airlines this includes the flight attendants touching the overhead bin latches to ensure they're closed. I counted five different flight attendants doing the "check" on my side of the cabin, while not a single flight attendant did it on the other side of the cabin. While the TSA might be the ultimate security theater, Japanese airlines are the ultimate safety theater!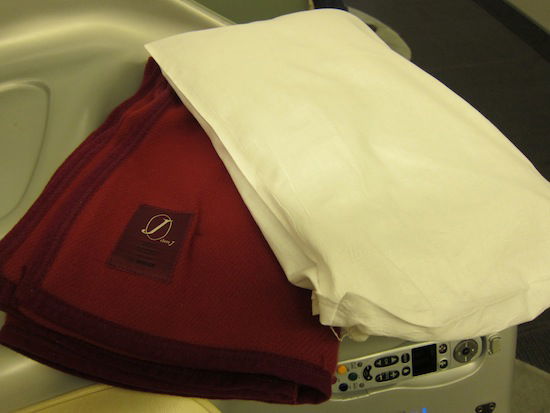 Pillow and blanket
As we began our taxi the safety video played, starting with the flight attendants bowing in the front of the cabin. There were a total of four passengers in first class, and for that we had three flight attendants bowing in the little cabin. Insulting, really, that they didn't add a fourth to make it a 1:1 bow: passenger ratio. 😉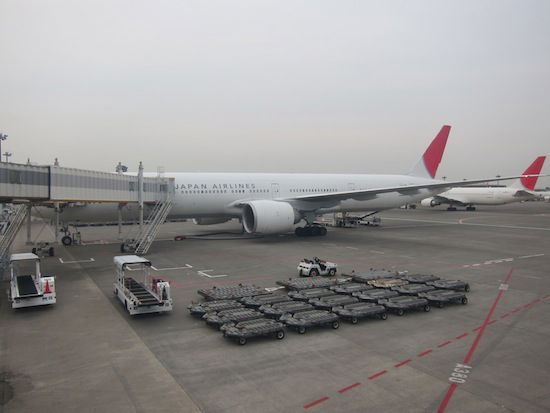 777 bound for Osaka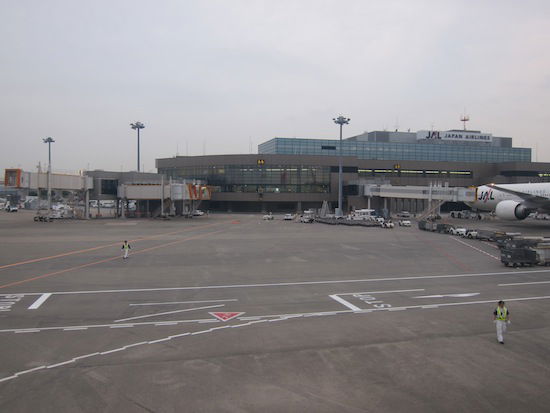 Japan Airlines terminal
The taxi was very long given the distance of the terminal to the runway, not to mention that it was rush hour, so there were a dozen planes ahead of us when we actually did make it to the runway. Fortunately there was plenty of exciting traffic to keep me entertained.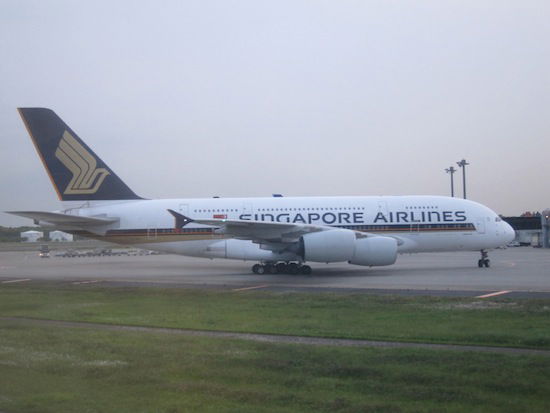 Singapore Airlines Airbus 380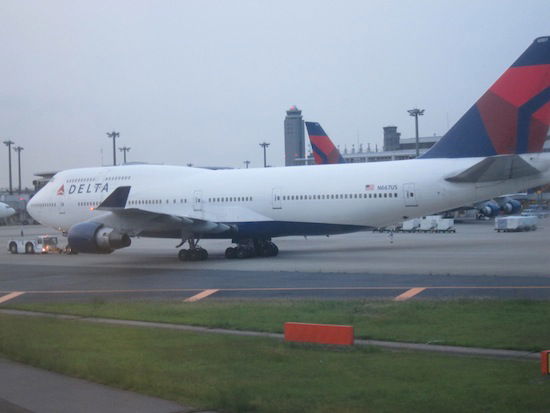 Delta 747
While in the queue for takeoff, the captain came on the PA to advise us of our flight time of 40 minutes, anticipating a slightly delayed arrival in Nagoya due to our late departure.
Once airborne we hit turbulence almost immediately, and for the first 30 minutes we were being thrown around nonstop. It was one of the bumpiest flights of my life, actually. Despite that, the seatbelt sign was turned off for almost the entire flight.
About 10 minutes after takeoff service began. Japan Airlines only serves drinks in business class on intra-Japan flights, and they're served in (tiny) plastic cups with lids. I just had some apple juice, which was served within minutes.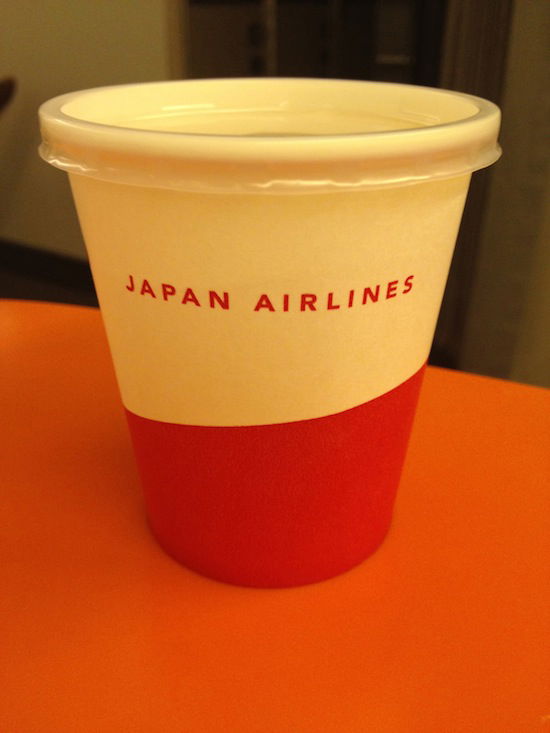 Apple juice
After the drink was served I had a quick look at the business class cabin, which was almost completely empty.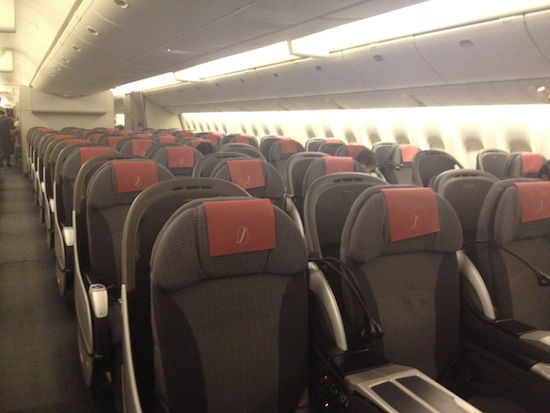 Business class cabin
About halfway through our flight we passed Mt. Fuji, which the captain announced. It was one of the most spectacular views I've ever had in-flight. Unfortunately the cabin lights were on so I had a hard time snapping a picture which did it justice.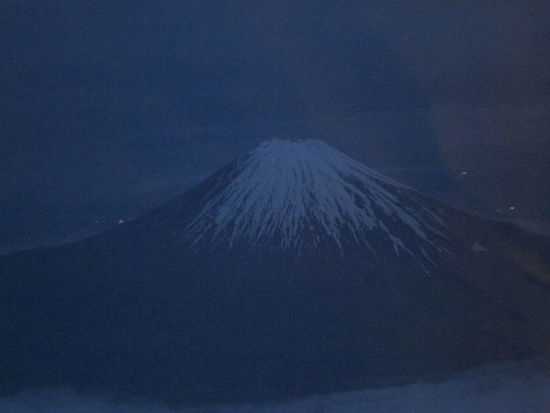 Mt. Fuji
The ride finally smoothed out about 15 minutes out of Nagoya. After a smooth descent and touchdown we had a quick five minute taxi to the gate, and were happy to have finally made it to our destination.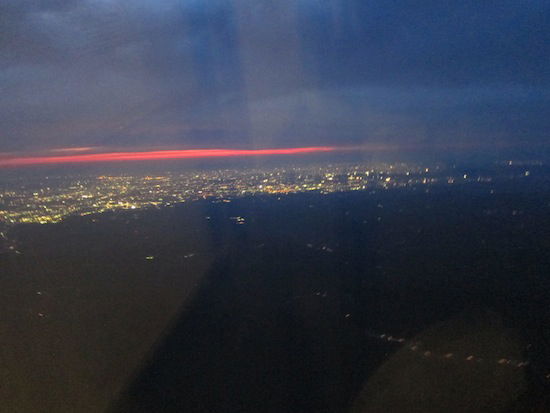 View on descent
Upon arrival we took a train to Nagoya Station, which took about 30 minutes, and from there took a bullet train to Kyoto Station, which took another 30 minutes. Trains in Japan are outrageously expensive, and our 30 minute bullet train ride alone cost ~$75USD per person.
From there it was just a quick taxi ride to the Hyatt Regency Kyoto, where I was finally looking forward to sleeping in a real bed.