On Friday I flew Qatar Airways A380 first class from Doha to Paris. While Emirates and Etihad are continuing to invest in their first class product, Qatar Airways takes a different approach. Their CEO is on record as saying that there is no need for first class, given how good he believes Qatar's business class product is.
After my flight, I sort of agree… because if you cut the first class soft product enough, it feels like business class. 😉 Perhaps that's part of the problem here — I do believe that Qatar Airways has the world's best business class product (even before they introduce super business class), but then they do very little to differentiate first class.
So I won't be writing a full report on this, given that I've reviewed Qatar Airways' A380 first class between Doha and London a couple of times before, and the flight was very similar. Instead I'll just share my general thoughts.
Qatar Airways' A380 first class cabin is extremely elegant. It's located at the front of the upper deck, and features a total of eight seats, spread across two rows in a 1-2-1 configuration.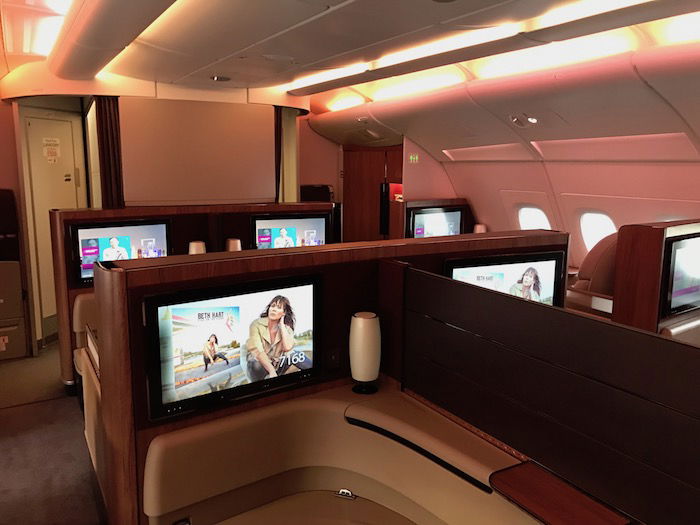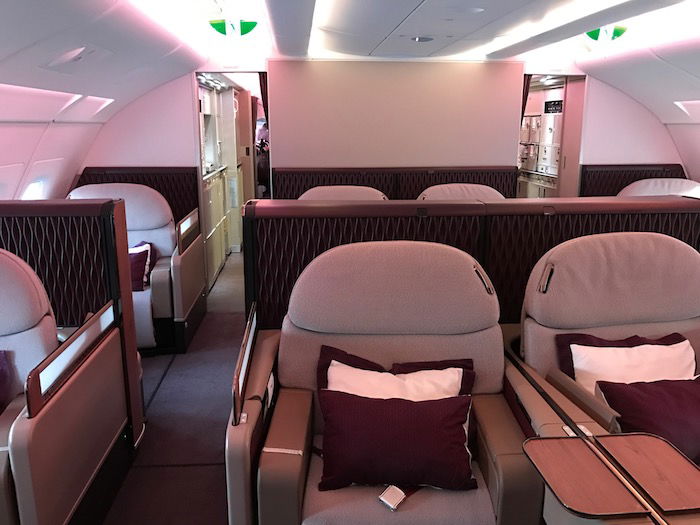 The seats aren't especially private (though there is a privacy partition that can be raised), but that's perfectly fine for a seven hour flight. The seats are very well padded, so I find them to be among the most comfortable seats for just lounging.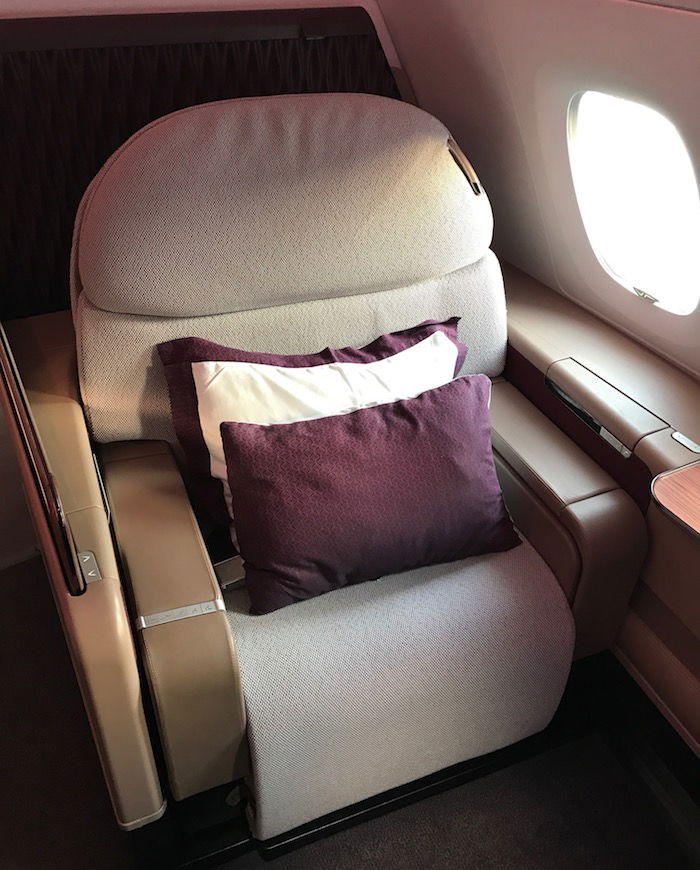 On these early morning flights from Doha (this one was departing at 7AM), the food selection is virtually the same as what you'll find in business class. There's breakfast after takeoff, and then a dine on demand snack menu. But rather than enhancing the snack menu for first class, it's a very basic selection.
Qatar Airways still serves Krug (they've cut it from the onboard bar but still have it in first class), so I had a glass of that before takeoff.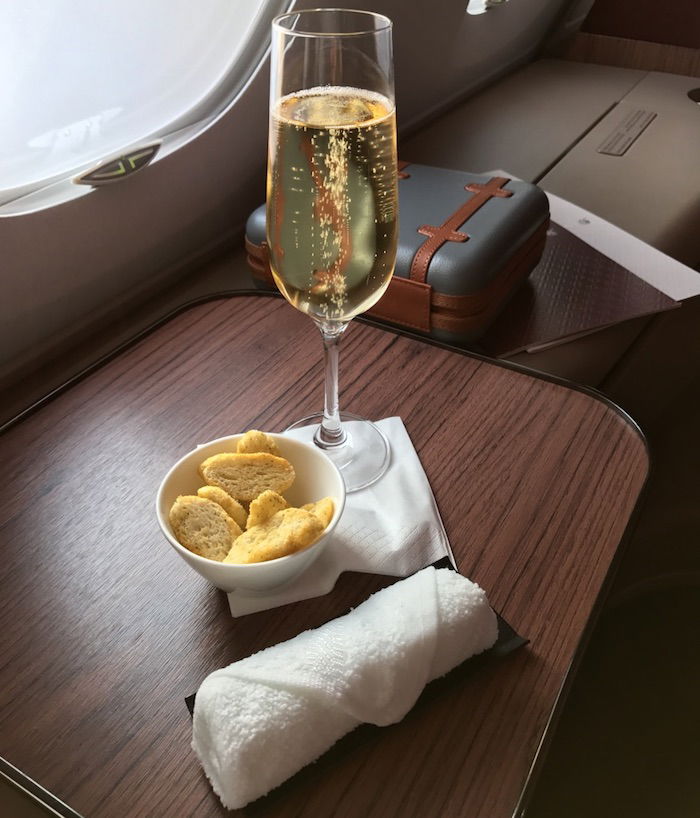 After takeoff I had breakfast right away. I had a smoothie to start.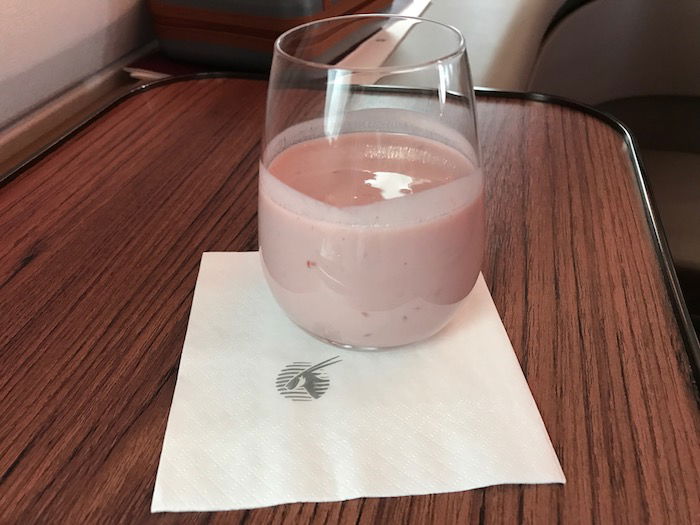 Then I had salmon as the appetizer.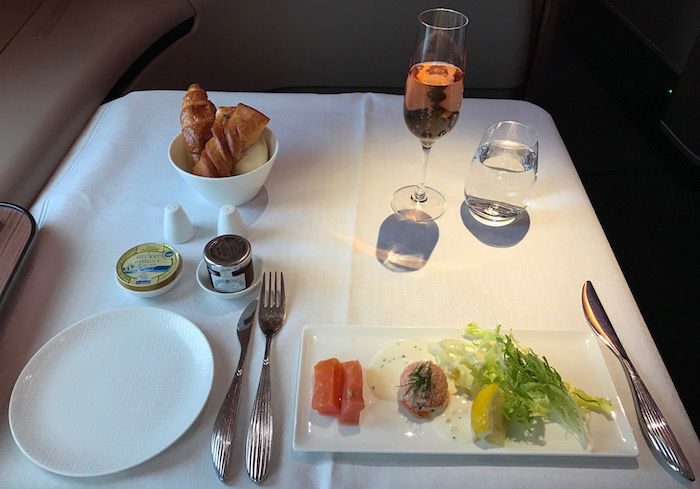 Then for the main course I had the aloo paneer tikki, which was good.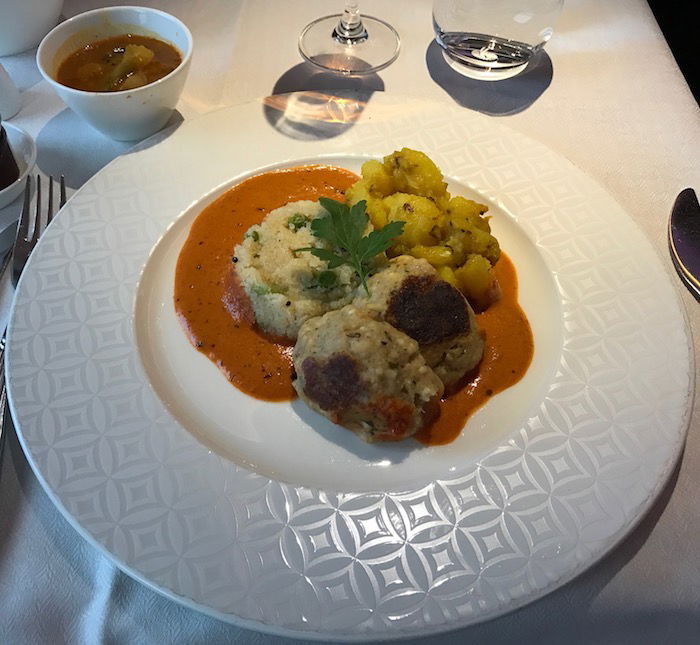 Then prior to landing the options were somewhat limited, between a mezze, glass and beef noodle salad, spicy clear broth, chicken sandwich, cheese plate, and dessert. You'd think they'd spruce up the selection a bit with something like caviar, but nope.
I had the chicken sandwich, which was fine.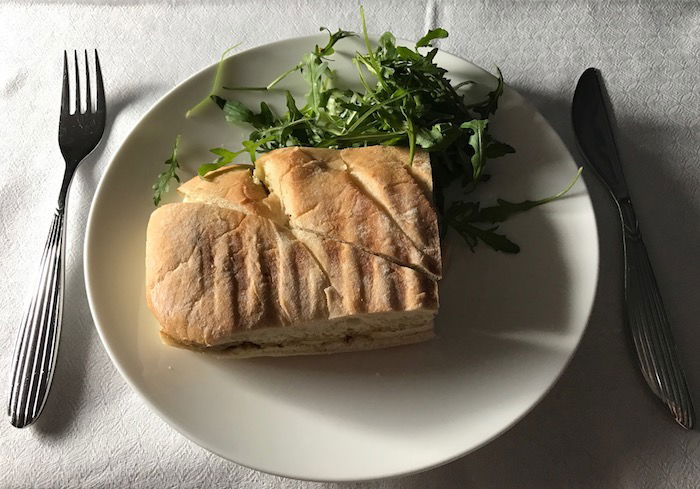 Then I had the selection of sweets for dessert, along with a cup of tea.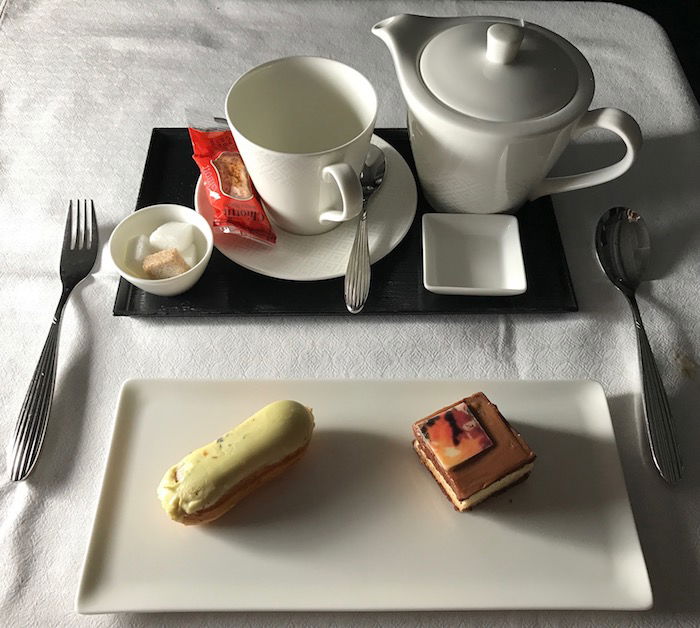 The meal service was perfectly good, though virtually identical to the business class menu.
As far as amenities go, that's where I was most disappointed. There were no pajamas, which matches my previous experience on Qatar (though a couple of years back they still offered them on daytime flights). But what I find absolutely ridiculous is that they've cut bedding since the last time I've flown with them. So you get a pillow and basic blanket, but they've removed bedding from daytime flights, so there's no longer a mattress pad or enhanced blanket.
Most people on this flight in first class wanted to sleep given that they were connecting (two people in first class were coming from Sydney, and three from Guangzhou), so you'd think it would be common sense to have bedding in first class on a seven hour flight (Emirates and Etihad certainly have that on all longhaul daytime flight). But apparently Qatar recently cut that.
On the plus side, Qatar Airways' new amenity kits are quite nice, and they continue to offer free Wi-Fi for first class passengers (though it was really slow).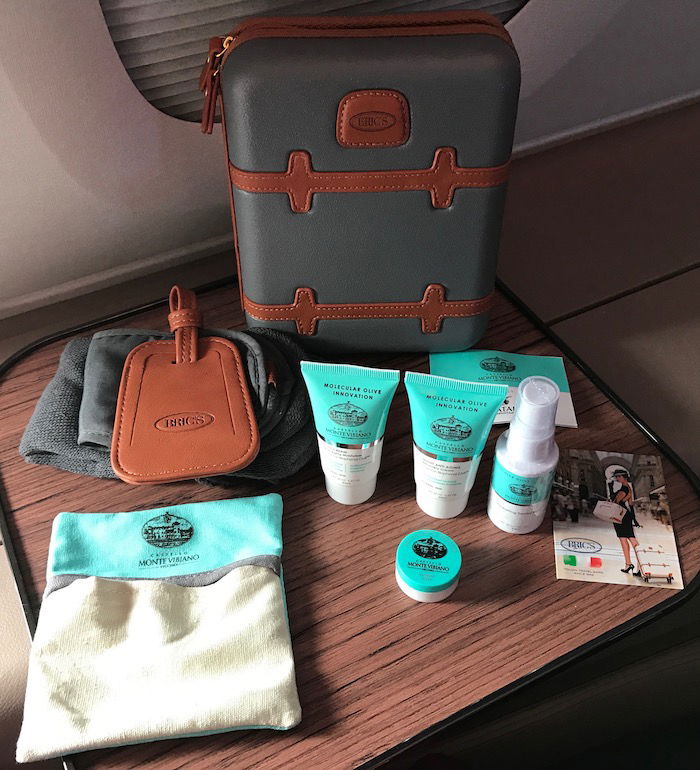 While Qatar doesn't have onboard showers, they do have two very nice lavatories at the front of the first class cabin. And they also have the nicest onboard bar in the sky.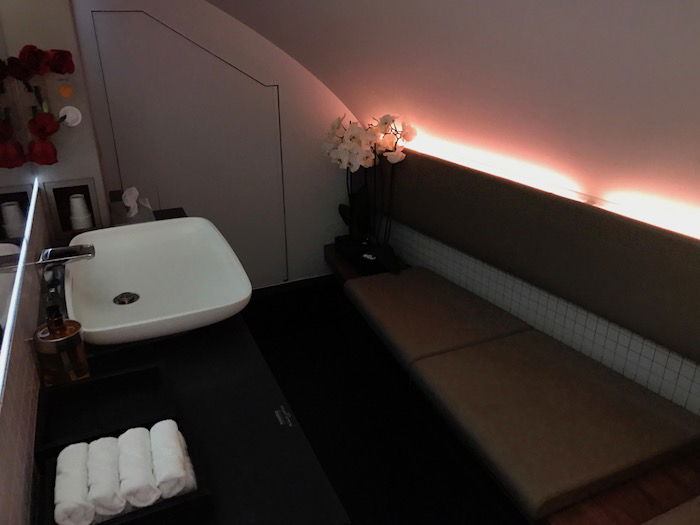 As far as the service goes, it was typical of what I find on Qatar Airways, which is to say that it was just a bit off, as usual. There are probably a couple of reasons for this:
To put it politely, Qatar Airways is known for not getting "first rate" crews, since most people applying for Gulf carriers go for Emirates and Etihad first, and then if they're rejected there, apply for Qatar (they're not exactly known for treating their employees very well)
Qatar has such strict service rules that I find the crews are scared to show personality, and are robotic
So the crew was okay, but the service didn't feel especially personalized, and also the crew wasn't very engaging.
Bottom line
Qatar Airways unarguably has one of the world's best business class products. Unfortunately that's a problem for their first class, since I found there to be very little differentiation. The seats, service, and food were more or less identical to what I've received in business class. Perhaps the only real difference is the wine selection.
While Qatar Airways has been cost cutting significantly, I find it especially unfortunate that they decided to cut bedding from daytime first class routes. I know it sounds minor, but for a product that already has very little differentiation, I find that to be especially cheap.
If you've flown Qatar Airways first class, what was your experience like?