I'm going to be dragging my dad along on a trip shortly. He has no clue where we're going, and for that matter, I don't even know exactly where we're going…
I haven't traveled much with my dad lately
I love traveling with my parents, and over the years I've made an effort to do so as much as possible. It's the least I can do for them for all they've done for me, and for that matter, I really enjoy it.
I've gone on some amazing trips with my dad over the years — a couple are most memorable. Back in 2014, I took him on a surprise round the world trip for his "round" birthday (below is a short video from his first Emirates first class flight). Then in 2019, I took him on a surprise safari for his next "milestone" birthday (a quarter century milestone, but we won't say how old he is). 😉
Unfortunately in the past few years, I just haven't had much of a chance to travel with him. That's because four years ago on Mother's Day, my mom was diagnosed with cancer. I'm so grateful she has fought and is still with us, and frankly I've prioritized traveling with her as much as possible, and we've been on some amazing trips, from Big Sur, to Hawaii, to Greece.
Anyway, it's about time I take another major trip with my dad, and that's exactly what's about to happen. Fortunately he's always down for a surprise…
My dad wants to go to Germany, but…
My dad would like to go to Germany, to go back to his hometown, and also to fly Lufthansa first class and visit the First Class Terminal in Frankfurt. 😉 We were going to tie this in with visiting a couple of other countries in the region that I haven't yet visited, including Luxembourg and Slovakia.
However, since he wants to fly Lufthansa first class, I've asked him to be patient with me. Specifically, I want to go to Germany with him once Lufthansa brings back the Airbus A380 this summer, since that would be a new product to review (I've recently reviewed Lufthansa's 747-8 first class and A340-600 first class).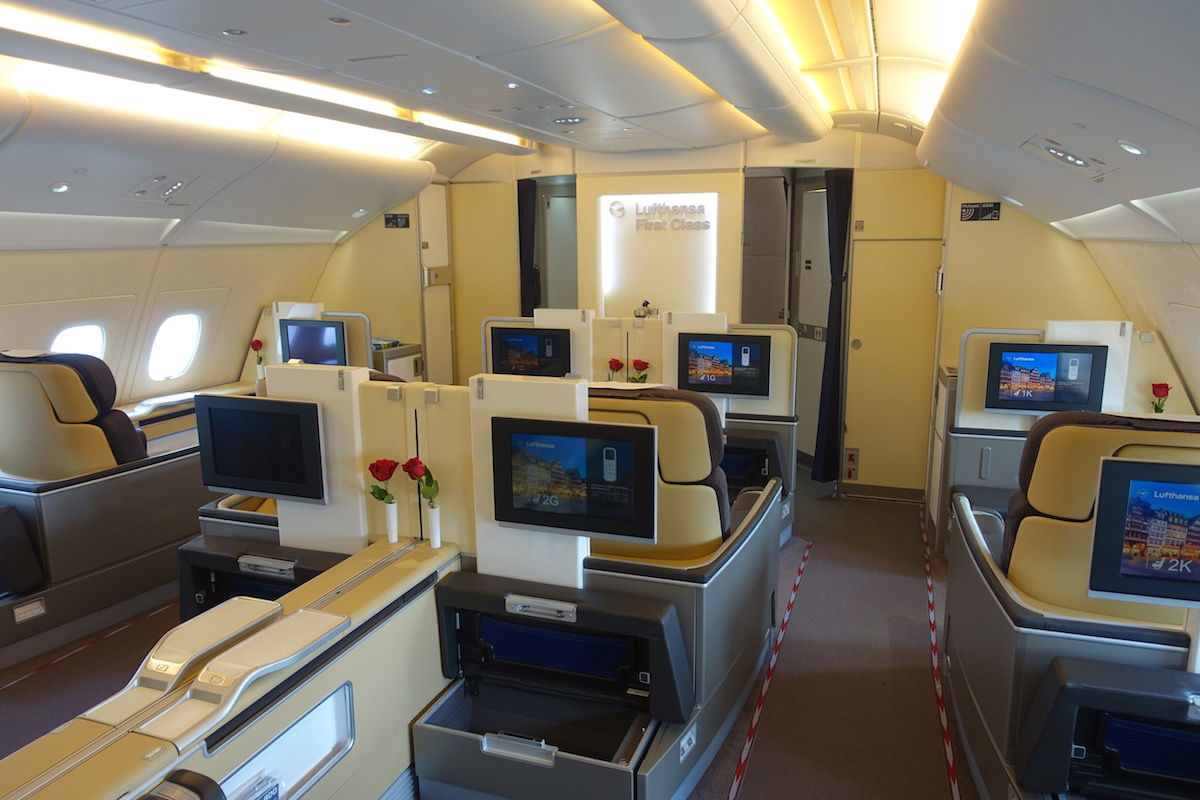 He has agreed to that, but I figured I might as well take my dad on another trip in the meantime.
The trip I'm instead taking my dad on
Here's where it gets a bit tricky. Up until several years ago, my dad didn't even have a smartphone or cell phone, so I could blog about my trips with him here in advance, without worrying about him learning the details. Well, nowadays he has a cell phone and reads the blog, so I can't quite get away with that anymore.
All I'll do for now is drop some hints. First of all, I've warned my dad repeatedly that he's going on a review trip with me, and while it will be very comfortable, we won't actually be on the ground for very long. Why am I subjecting him to this?
Like I said, this is a review trip, so I think OMAAT readers will enjoy this
Given that we have an infant, I'm trying to minimize my time away from home, so want to make the most of this trip in terms of review material
I'm pretty sure my dad will still have a great time
So, where are we going? To be honest, there are still a couple of parts of the trip that I'm trying to figure out based on some moving parts.
First I'll share the hint that I shared with my dad (pardon the part about dinner, it's part of my dad's nightly update on what he's eating, which I always enjoy)…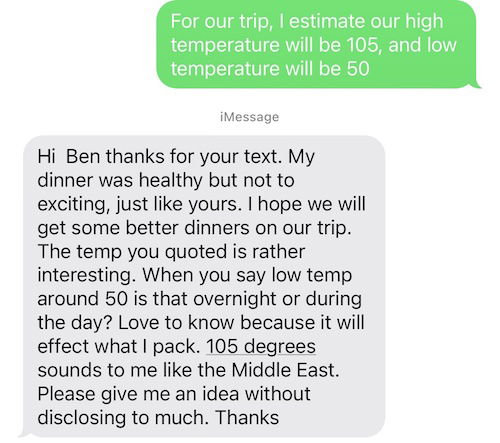 He likes a surprise, so I wasn't going to reveal any more. But that didn't stop him from asking again…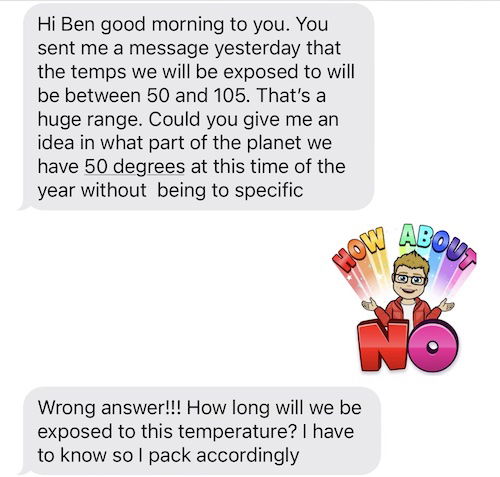 And again…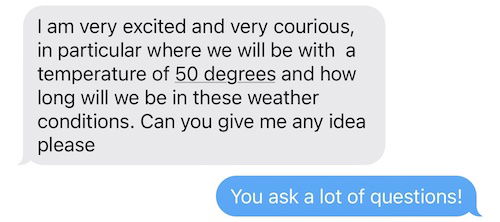 I'll give you guys some more clues about what I'm planning to check out this trip, without giving away too much. Some clues are abstract, while others aren't:
This trip includes what I'd consider to be a "unicorn" award, which is among the hardest in the world to snag
I'm hoping to visit the single points hotel that most intrigues me at the moment
There's a specific airline lounge I'm particularly keen to visit on this trip
I'm hoping to incorporate something a little Russian into this trip
One additional clue is that I'm trying to limit the total number of segments we fly, so that this isn't too exhausting for my dad (even though we'll cover a lot of miles). So no, we won't be flying from Chicago to Hanoi via Vienna, Rome, Bahrain, Singapore, and Ho Chi Minh City. 😉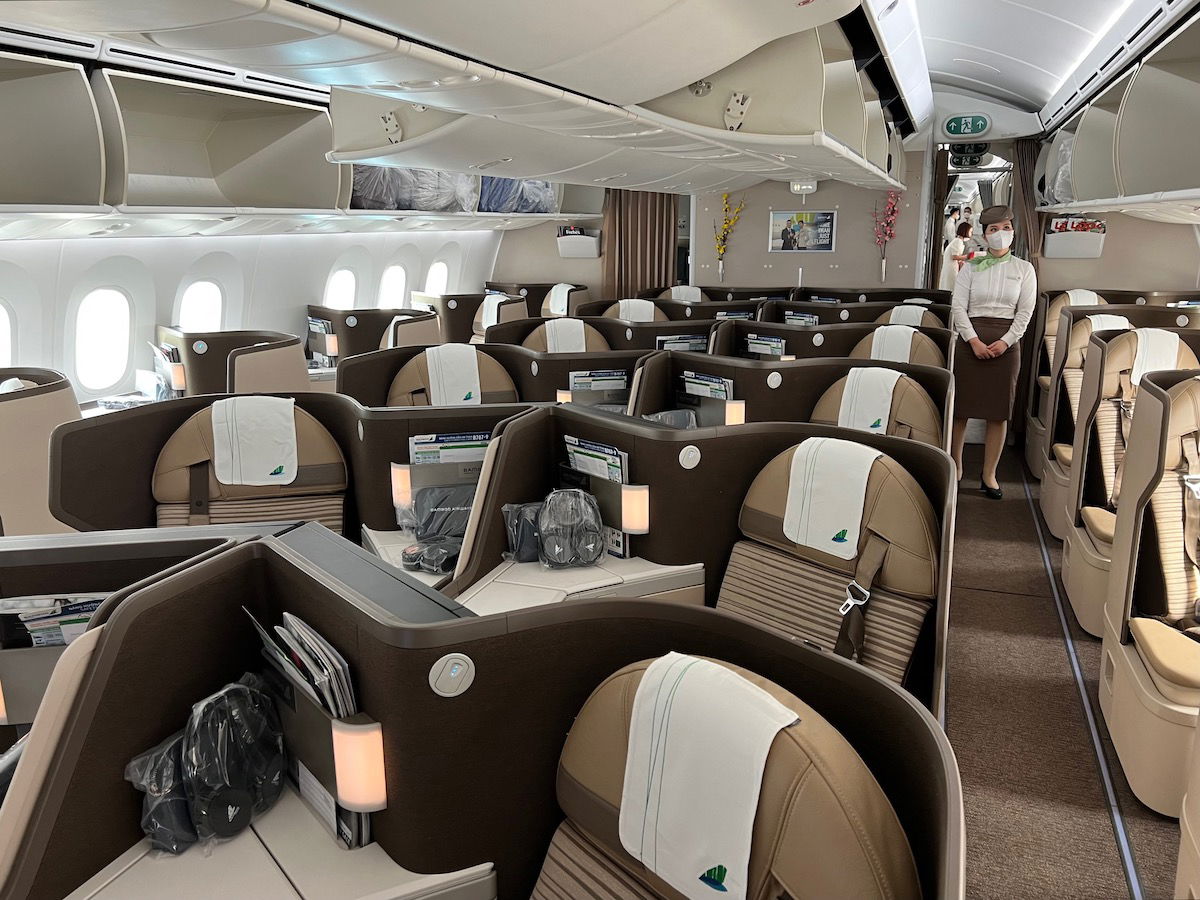 Bottom line
While there are still a couple of details I'm trying to iron out, I'm planning on taking my dad on a review trip shortly. I love how he's always up for a surprise trip, though this one will be a bit different than usual, as we'll be covering a lot of airline and hotel products in a short period of time.
Since my dad reads the blog nowadays, I can't share all the details here anymore while hiding it from him, but y'all are free to guess based on the above clues. And if anyone has any specific requests that they'd possibly like me to incorporate into this trip, I'd welcome it!