I think people spend too much time focused on the past, at least when using selective memory. It's like when people talk about "the good old days of flying," when service was good, people dressed up to fly, etc. What they selectively forget is that flying is a fraction of the price it used to be, and that in many ways getting on a plane isn't that different than getting on a bus. The way I see it, it's a net positive that flying has become so accessible.
So my goal with this post isn't to say that "the good old days" are behind us, but rather to look at some of the award redemption possibilities from years past that I miss. I'll have a separate post about how "the good days" are really now, and about things we have now that we didn't have then.
I'll share these roughly in chronological order of when they were pulled, and I'm curious how many of you guys remember these deals. For those who have been around miles & points for a long time, I hope you'll share any deals that come to mind as well. Here we go:
Aeroplan first class awards from the US to Asia for 120,000 miles
Air Canada's spun off frequent flyer program, Aeroplan, used to offer the best premium cabin redemption rates of any program out there, in my opinion. For 120,000 miles you could fly roundtrip from the US to Asia with no fuel surcharges. Best of all, you could have two stopovers in addition to your destination, and you could route via Europe.
San Francisco to Munich to Zurich to Bangkok to Hong Kong to Seoul to Frankfurt to Seattle for 120,000 miles in first class with no carrier imposed surcharges? Yes please.
In 2011 Aeroplan devalued their award chart, and shortly thereafter they also added carrier imposed surcharges on most partners.
Lufthansa opening 4-8 first class award seats in advance
Lufthansa used to be one of the most generous airlines in the world when it came to releasing first class award space, even in advance. That's because they used to have 747-400s with 16 first class seats, so it was perfectly normal to see 4-8 first class award seats in advance. It was actually one of the easiest first class products to book on miles.
Then in 2011 Lufthansa shrank the size of their first class cabin, and the 747-400 went from having 16 first class seats to having eight first class seats. That caused a huge reduction in the amount of first class award space, and then shortly after that Lufthansa implemented a policy where they only began releasing first class award seats to partner frequent flyer programs at most 15 days out.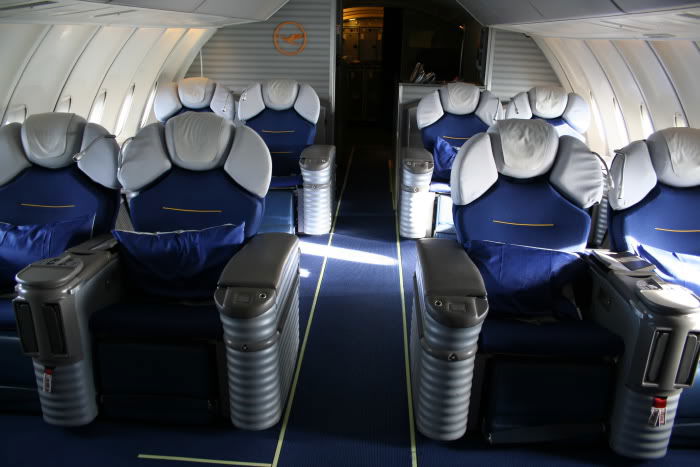 Earning British Midland Diamond Club miles for award flights
British Midland is my favorite airline that I almost never flew. They had one of the best frequent flyer programs in history, though unfortunately they were eventually taken over by British Airways.
Not only did they make it super easy to qualify for Star Alliance Gold status, but the airline was known to credit miles for award flights. As if that's not cool enough, they also had among the most lucrative mileage earning rates of any program — under some circumstances, Lufthansa first class tickets would earn 600%+ miles. You could basically earn back as many points as you redeemed.
Unfortunately the British Midland Diamond Club program was discontinued in 2012.
Oneworld Explorer awards with insane rules
American used to offer what they called oneworld Explorer awards, which were distance based rather than zone based, and allowed unlimited stopovers. They ended up discontinuing them in 2014 (with no notice), though that wasn't even the best part of Explorer awards.
Back in the day — a couple of years before they were discontinued — the Explorer award cost was based on where you chose to have stopovers, rather than the cumulative distance you flew. Traveling continuously from Tampa to Chicago to Hong Kong to Sydney to Los Angeles to Miami without any stopovers? Well you're just going from Tampa to Miami — you'll be charged based on your ~200 mile flight from Tampa to Miami. Yes, that's actually how they enforced it.
Obviously that was too good to last.
Being able to book Swiss first class with partner airline miles
Swiss used to be one of the airlines that made first class so readily available to anyone redeeming miles. I remember that back in the day when Swiss' A330s had eight first class seats, I'd often see flights with 6-8 first class award seats. Being able to redeem US Airways miles for those flights was a heck of a deal.
Unfortunately as of January 1, 2014, Swiss went from one extreme to the other. They went from making first class awards wide open for members of partner programs, to restricting them exclusively to Miles & More Senator members and above, meaning that Swiss first class awards are off limits for most of us.
Fortunately last June there was a very brief period where Swiss first class was bookable with partner airline miles, which allowed me to fly their new 777-300ER first class product between Zurich and Los Angeles.
Star Alliance first class from the US to Asia via Europe for 70,000 United miles
This actually doesn't go back that far. In early 2014, United MileagePlus devalued their award chart. While this wasn't a crazy value like some of the above, redeeming 70,000 miles for something like Los Angeles to Frankfurt to Bangkok was tough to beat.
US Airways business class awards from the US to North Asia for 90,000 miles
I sure do miss US Airways Dividend Miles, and specifically, the ability to redeem just 90,000 miles for roundtrip business class from the US to North Asia. The best part was that you could route through Europe. The even better part was that Dividend Miles agents were geographically challenged, so you could get away with even more than that. (Is Madrid in Spain or Argentina? Frankfurt is really in Kentucky, right?) 😉
I have so many amazing memories of Dividend Miles redemptions, like New York to Warsaw to Zurich to Beijing to Addis Ababa to Frankfurt to Washington. I don't think there's an award I've ever booked more of than this one.
Given that US Airways sold miles for 1.1 cents each, you could basically book these for $1,000 each. Not a bad deal.
This award redemption was discontinued in April 2014.
Domestic US awards via Europe on Lufthansa
Back in the day, LifeMiles' website would let you book domestic first class awards within the US on Lufthansa. But wait a second, Lufthansa doesn't operate flights within the US? That's correct, so you could do something like Los Angeles to Frankfurt to San Francisco for 25,000 miles in first class, the same price you'd pay for flying United first class from Los Angeles to San Francisco.
25,000 British Airways Avios for transatlantic business class on Aer Lingus
Sometimes distance based award charts work in our favor, and other times they don't. With British Airways' old award chart, they charged just 12,500 miles for economy or 25,000 miles for business class on flights of up to 3,000 miles one-way. As luck would have it, Boston to Dublin covered a distance of ~2,990 miles.
Flying across the Atlantic for the price of a domestic ticket was a steal. Unfortunately British Airways devalued their award chart in 2015, and at this point that award will cost you 20,000 Avios and 60,000 Avios in economy and business, respectively.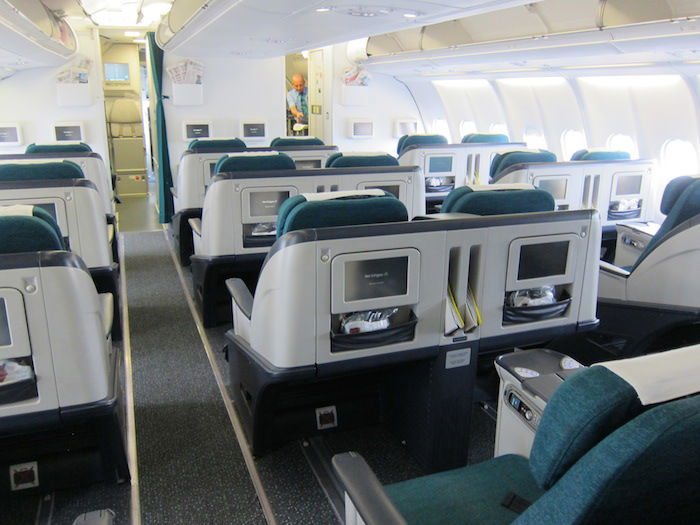 Cathay Pacific first class for 67,500 American miles (with two seats in advance)
This doesn't all go back that far. For something more recent, up until March 2016, American charged just 67,500 miles for first class between the US and Asia in Cathay Pacific first class.
But what I'm really looking back longingly on is when Cathay Pacific used to make two first class award seats available in advance. Now that was awesome. Unfortunately for the past few years they typically only make one first class award seat available per flight in advance, which makes it tougher to book the product in advance as a couple.
Ahhhh, good times…
Anyone have exprience with any of the above, or have any other great deals from back in the day to share?