Earlier I posted about American making some massive changes to their standard level AAnytime awards without any advance notice.
Overnight they basically raised the cost of standard awards from double the cost of a saver award, to in some cases almost triple the cost of a saver award. Unfortunately these changes seem to just be the beginning.
Let me say upfront that as much as I hate devaluations with a passion, I respect them as long as they're communicated well and advance notice is provided.
There's nothing more deceitful on the part of a loyalty program than making changes without advance notice. Members work hard to accrue miles with specific redemption goals in mind, so when you radically alter that value proposition without giving them some advance notice, it's just plain wrong.
I'll be the first to admit I've been an American cheerleader up until now. And that's because up until now I believe they've genuinely approached their loyalty program with a different level of respect than other legacy carriers. And they've worked hard on that… until today, where they threw out years of hard work in a matter of hours.
Not that I'd ever believe the marketing bullets an airline feeds us, but please, American, explain the one below. Their theme for the merger has basically boiled down to "you can trust us, we won't f&#@ you over."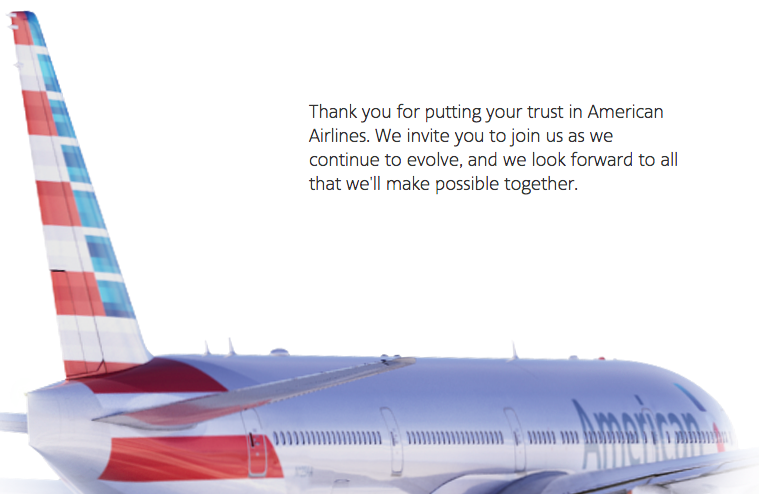 So I'm curious, American, where does making a handful of changes to your loyalty program overnight with no advance notice fit into the "trusting you" equation? The way these changes have been handled is even sleazier than anything Delta SkyMiles or United MileagePlus has done in the past year… and that takes hard work!
Here are the most recent changes, all made without any advance notice:
American Eliminates oneworld Explorer Awards
I've written in the past about the amazing value of American's distance based oneworld Explorer Awards. Through these awards you can fly up to 16 segments and have as many stopovers as you'd like.
Now they've added the following message to the award reservation page of aa.com (bolding mine):
AAnytime Awards: Effective April 8, 2014, for tickets issued for travel starting June 1, 2014, we have updated award levels. We will continue to honor any award tickets issued on / before April 7, 2014. For award bookings after April 8 for travel between April 8 and June 1, 2014, these award mileage levels will apply.

oneworld Explorer Awards are no longer available for award booking. We will continue to honor any award tickets issued on / before April 7, 2014.

So, yeah, overnight they eliminated Explorer Awards. No advance notice. Whatsoever.
American Eliminates Stopovers At Gateway Cities On Award Tickets
American's stopover policy has long been that you can have a free stopover at your international gateway city on an award, even on a one-way.
Well, overnight it appears that's no longer the case anymore either. You can't have a stopover on a one-way award anymore, and if you try to change the date of an existing "stopover" segment it will price the segments separately.
US Airways Dividend Miles Award Chart Changes
Take a look at the US Airways award charts:
Notice anything interesting? Yep, they've changed the cost of business class award tickets between the US and North Asia from 90,000 miles t0 110,000 miles, which is the same rate American charges for travel to "Asia 2." They've kept everything else the same.
Again, no advance notice.
US Airways Adds Two Standard Award Levels As Well
Not to be outdone, US Airways has also added an additional standard award level for travel starting June 1, 2014.
The Biggest Crime Here Is The Lack Of Advance Notice
Obviously these changes suck. That being said, if these are all the changes they were planning on making to their award charts (which I highly doubt), then I'd say we got off easy.
So for them to make this many changes overnight without any advance notice is absolutely disgusting. People work hard to accrue miles, and ultimately American has the right to adjust award levels, offerings, and rules. But if someone has been working towards a distance based Explorer Award, and from one day to the next no longer has the ability to book that, it's just not right.
I'm not sure if this is what frequent flyers should expect post-merger or what. But it's horrible, deceptive, and just not right to make such major changes without any warning. And frankly the most disappointing part of this is that I know the AAdvantage leadership team is incredibly competent, so I can't help but wonder who thought this approach was okay.