In the interest of full disclosure, OMAAT earns a referral bonus for anyone that's approved through some of the below links. These are the best publicly available offers (terms apply) that we have found for each product or service. Opinions expressed here are the author's alone, not those of the bank, credit card issuer, airline, hotel chain, or product manufacturer/service provider, and have not been reviewed, approved or otherwise endorsed by any of these entities. Please check out
our advertiser policy
for further details about our partners, and thanks for your support!
Every year around this time, frequent travelers around the world scramble to make last-second pushes to secure elite status before time runs out. While this used to be incredibly commonplace, annual program changes have made this practice of "status running" increasingly more challenging, and less rewarding.
So, in keeping tradition alive, I thought it would be worth taking a step back to examine the perks of "status running" – and whether it still makes sense given the state of existing programs.
What even is a "status run?"
I was first introduced to the concept, if not the term, some 20 years ago. My family was having a quiet December night in, and my aunt – the original frequent flyer in our family – was out of town.
This time, she wasn't on a business trip to a convention or a girls' weekend in Florida. Rather, she was getting on a plane from Hartford to Vegas. To get off of the plane, turn around, and get back on another plane.
Why? Because she was trying to preserve her elite status on a preferred airline, and she needed to fly a certain number of miles before the end of the calendar year in order to get there. By taking this last flight, her higher-tier status would get her additional airline perks, like higher upgrade priority and more frequent flyer miles to bankroll our family trips.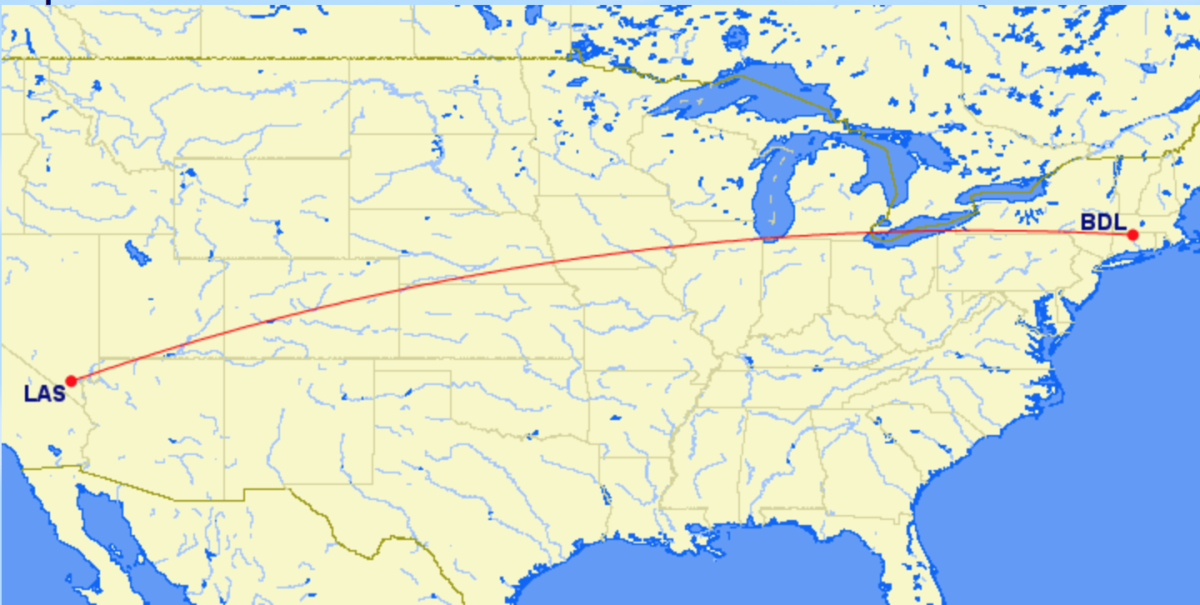 In other words, flying to Vegas and back in a day made more sense for her than not flying to Vegas and back in a day.
The family had a good chuckle at this behavior that could otherwise have someone committed, but I was secretly intrigued.
Why it may not make sense anymore
Twenty years ago – or even five years ago, for that matter – it wasn't uncommon for frequent flyers to eschew all forms of perceivable sanity and get on these "flights to nowhere" in order to maintain some level of elite perks. Cheap round-trip fares were common, elite flyers were fewer and further between, and for many of us, a couple hundred extra dollars out-of-pocket in exchange for unlimited upgrades and lounge access was a no-brainer.
But over the past five years, domestic U.S.-based airlines have moved away from distance-based loyalty programs to ones that reward individuals who spend more. Each of the "big three" airlines (American, United, and Delta) have implemented some sort of "minimum spend" requirement. As a matter of fact, both American and United have raised these requirements in recent weeks.
Conversely, airlines have hacked away at top-tier elite benefits in recent years, cutting mileage earnings for many types of tickets and limiting other perks, like upgrade certificates and companion lounge access.
While life can still be pretty great as a top-tier elite, the value proposition has arguably gone down, and airlines have conversely made earning elite status more difficult.
In other words, it just may not be worth it any more.
So keeping all that in mind, below are a couple of scenarios where I implore you not to take a status run:
If you are going for low-level status
Most airlines offer some version of cubic zirconia status for flying somewhere in the range of 20,000-25,000 miles a year. Typically this comes with priority-ish boarding, a free checked bag, and upgrade probability that typically resembles the odds of the recent Powerball.
Here's the thing: most airline co-branded credit cards offer perks that resemble – if not exceed – bottom-level status. We'll get into some options in a bit, but for now it's important to note that you can likely replicate many of these perks with a much lower out-of-pocket annual spend.
It's also worth noting that everyone and their emotional support animal has some level of airline status these days. A couple of weeks ago, I was in a "Premium" boarding queue on a Delta flight (read: top tier Diamond Medallions and first class only) that looked like this: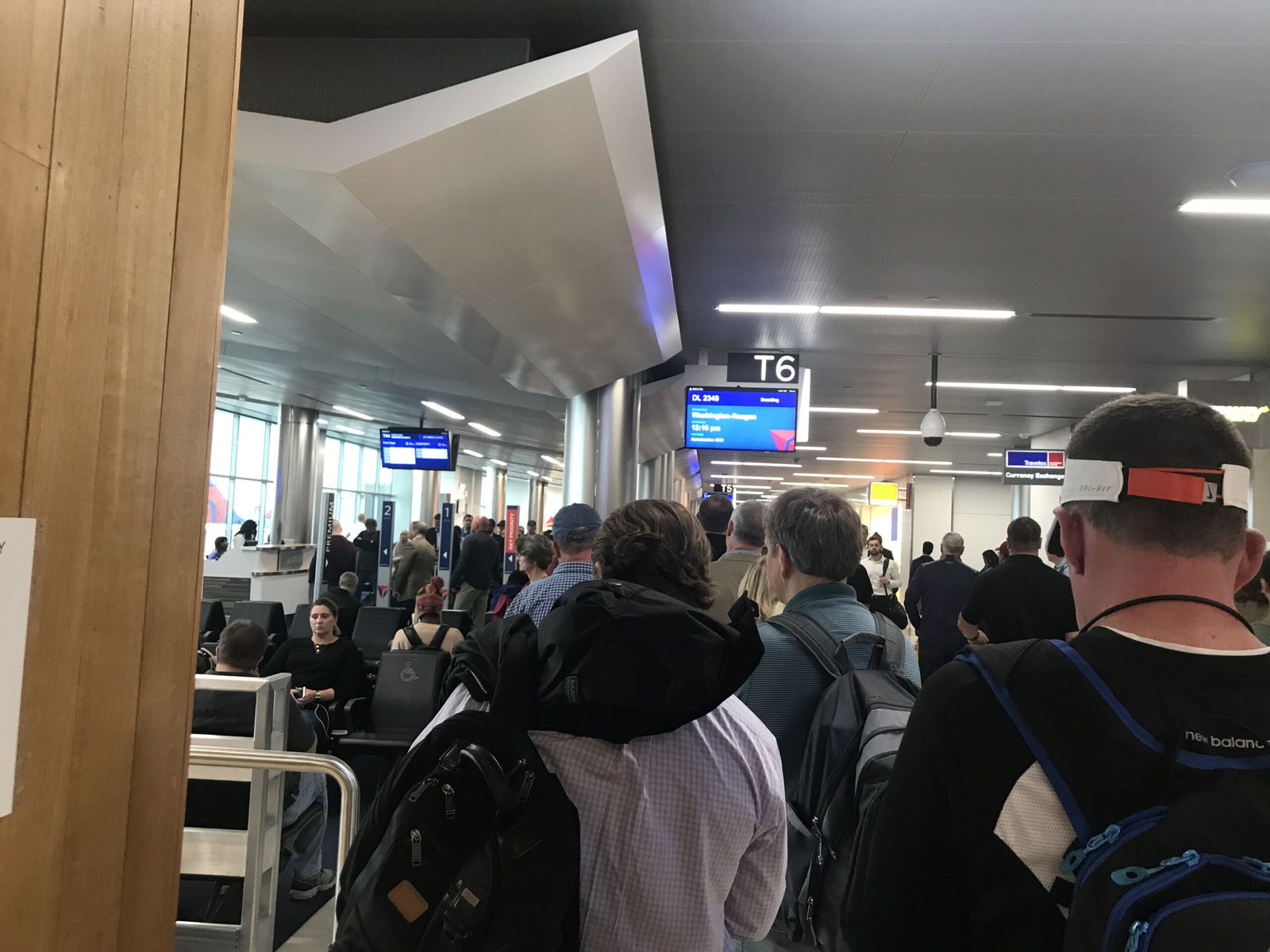 And just the other day, I looked at an upgrade list that was forty two people long. On a Tuesday night flight from Detroit to Hartford.
All that to say that if you're new to the game and expecting them to roll out the red carpet for you for flying 25,000 miles a year, you're probably going to be sorely disappointed.
The only time when this might make sense is if you are within a couple thousand (or hundred) miles of that baseline status, and you've already met your minimum spend requirement.
Still – and this is speaking as someone who has "status run" for bottom-tier United Silver – this generally isn't a great use of your time or money.
If you need to spend a certain amount in order to get there
Back when elite status was credited solely on miles flown, the goal was to find the cheapest fare for the longest distance possible. But over the past five years, airlines have implemented various spend requirements for each level of status, making it that much more challenging to earn elite status on miles flown alone.
For example, Delta requires you to spend $15,000 in a calendar year on flights in order to maintain top-tier Diamond Medallion status (in addition to the miles flown), and American and United are following suit next year with similar requirements. And no, the taxes and fees don't count toward that spend requirement.
So if you're several thousand dollars short on spend, it's probably not a great idea to drop that kind of money just to get to the next level of elite status.
If you are more than 10,000 miles short
Again, if you're having to fly the equivalent of two roundtrip transcontinental flights just to maintain a higher level of status, there's probably a decent amount of cash outlay that needs to happen in order to get there. To say nothing of the lost productivity (and lost sanity!) that will probably have to happen.
I imagine there's some outlier scenario where this could make sense, but as a general rule, this isn't something that I would recommend based on the incremental increase in benefits.
Additionally, if your loyalty lies with Delta, any Elite Qualifying Miles above the threshold will automatically be rolled over to the following year, so those miles won't be "wasted" so to speak. Just one more factor to keep in mind.
If you anticipate that your travel patterns will decrease in 2019
Even if you're close, if you know that your travel is likely to go down in 2019, it just might not be worth putting in the time.
It might feel good to see that number roll in, but if you're not going to take advantage and get the full value next year, you might be happier keeping the money in your bank account and spending the time at home.
When should you do a status run?
Look, we all value airline status differently, and if you're gunning for a specific perk – like upgrade certificates for upcoming international economy flights, or lounge access – it might make sense for you. Or if you frequently fly through an area that is highly prone to weather delays, that elite phone line just might be worth those extra eight hours on a flight.
Just be sure to keep the following in mind:
Make sure you are covering your spend requirements
The last thing you want to do is hit your distance-based requirement but fall short on minimum spend. United and Delta both offer spend waivers (up to their 75,000 mile Platinum status) if you spend $25,000 or more in a calendar year on a credit card, which may help.
That's absolutely a hefty amount to spend on an airline co-branded credit card, but may be worth it if you are flying upward of 75,000 miles a year on discounted economy fares that don't quite meet the spend requirements.
Cheap business class fares
If you're looking to hit spend and mileage requirements, this is probably the best bang-for-your-buck and allows you to maintain a relative level of comfort. Most business class fares – even deeply discounted ones – come with a higher mileage earning rate than many economy fares.
It's also worth noting that American and Delta let you earn Elite/Medallion Qualifying Dollars on partner airlines based on a percentage of miles flown. This requires more than a little bit of math to figure out, but basically it means that if you are booking a 5,000 mile flight on a partner airline, and you are earning EQDs (American) or MQDs (Delta) at a rate of 25% of the distance flown, you are essentially earning 1,250 EQDs/MQDs. Regardless of how much you spent on the flight.
You can read more about American's partner earnings here and Delta's partners here. In essence, AA lets you earn EQDs for up to 30% of miles flown in full-fare first class, and 25% for discounted business class. To their credit, Delta lets you earn MQDs at up to 60% of miles flown in full-fare partner first class, and 40% in discounted business class.
In other words, this could be the quickest back-door way to spend requirements, assuming you find the right flight.
Oh, and United does let you earn Premier Qualifying Dollars (PQDs) on their partners, sort of, but they are much more opaque about their rules.
Make it worth your time
Like many of you, I live in a world where adult responsibilities have taken over, and pure status running for the sake of flying just isn't a thing any more. But if I can figure out a way to squeeze in an extra business meeting or a weekend away, and that extra flight puts me over the top to the next level, then it becomes a much easier pill to swallow.
For example, last year I had some Marriott free night certificates that were about to expire, and needed to re-up my diving before an end-of-year trip to Malaysia. A quick weekend getaway to Miami (with a layover in Detroit, because obviously you fly north to go south) was enough to top me off for Delta's Diamond Medallion status while eliminating diving jitters and providing a fun weekend away.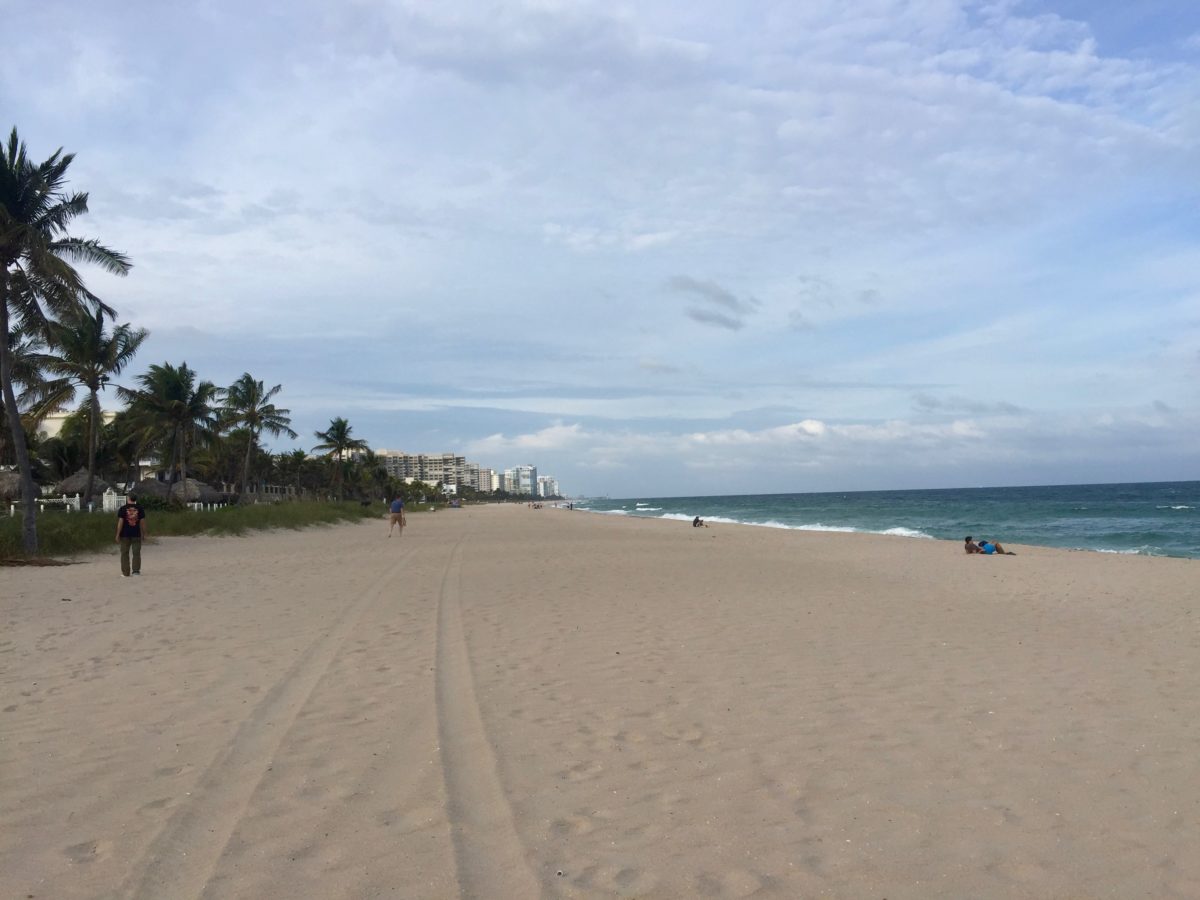 Obviously your mileage will vary, but if you're looking for an excuse to top off those last few hundred (or thousand) miles, at least make it worth your time!
Some alternatives
Co-branded credit cards
This is probably the easiest way to "cheat" your way to some of the perks of elite status. Most major airlines offer some sort of mid-range credit card that offers a free checked bag, priority boarding and various other perks.
Earn airline miles and get additional perks with these cards:
For example, the United℠ Explorer Card offers two United Club passes each calendar year and costs $95 annually ($0 first year), while the Alaska Airlines Visa Signature Card includes an annual $121 companion fare, for the price of $75 a year.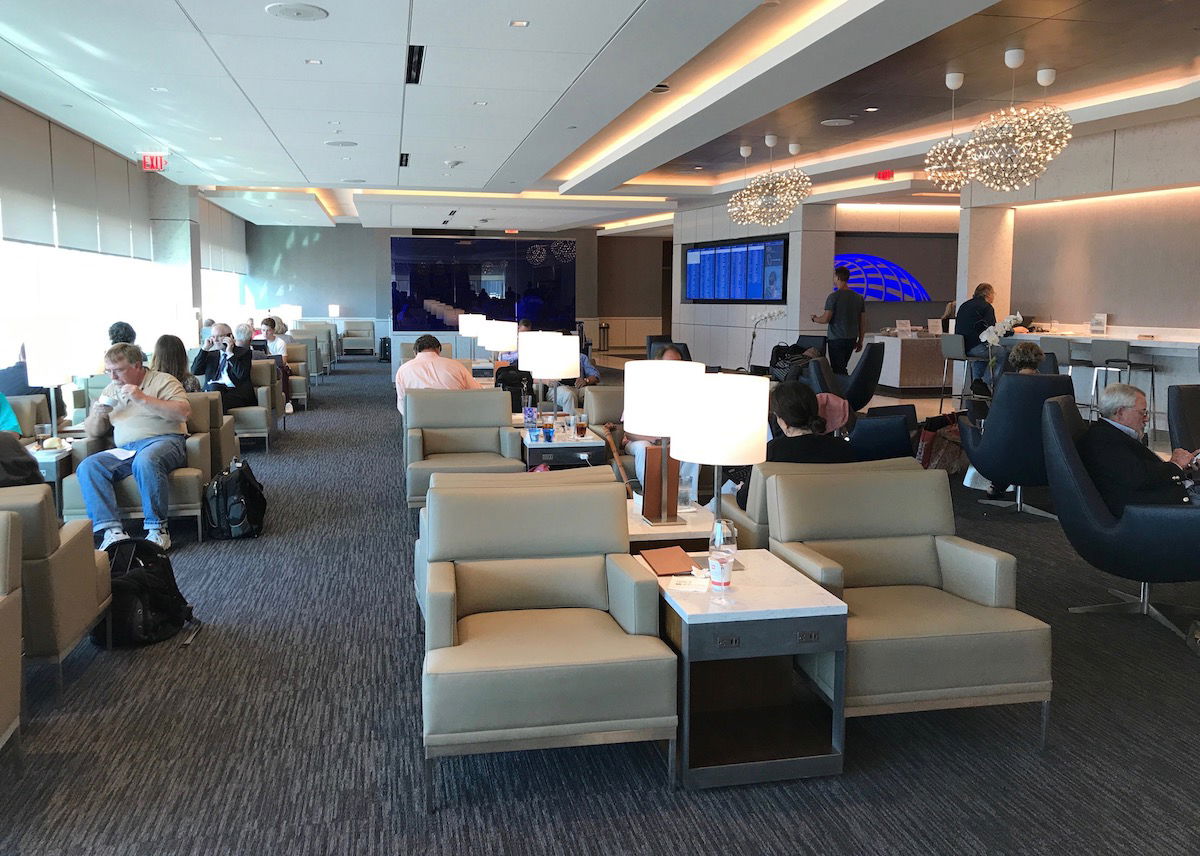 If you're looking for a more premium experience without circumnavigating the globe multiple times, it's worth considering one of the higher-end airline credit cards. The United MileagePlus Club Card, the Delta SkyMiles® Reserve Business American Express Card, and the Citi® / AAdvantage® Executive World Elite Mastercard® all come with lounge access.
Buying up
Depending on your flying history, it's not uncommon for airlines offer the option to "buy up" to the next level of status. Many of these offers are targeted, based on flying patterns, and I'm sure we will have more to say on this in the coming days as the offers start to roll in.
But for now I'll say this – as a general rule, these deals range from not great to for the love of God please don't.
Oftentimes, these promotions tend to cost more than the airfare for a status run, and are an easy way for airlines to grab some last-minute revenue before the end of the year. But if you're just a few thousand (or hundred!) miles short, this may be an easy way to bolster your status – without having to question your sanity.
Free agency
If you're primarily a leisure traveler and purchase your own airfare, it's generally not worth gunning for elite status at this point. Being airline-monogamous often means having to spend more – or connecting in weird places – to get to the exact same destination. All else equal, if you're only traveling a handful of times a year, it may be worth going for the cheapest (or most direct) option and using the extra dough to pay for the occasional first class upgrade.
And with credit cards like the Chase Sapphire Reserve® and American Express® Gold Card offering such a great return on spend these days, it's likely that most of your "earned" miles will come from credit card spend, rather than flying.
By focusing your attention on earning flexible currencies, you may be more likely to find award space in this: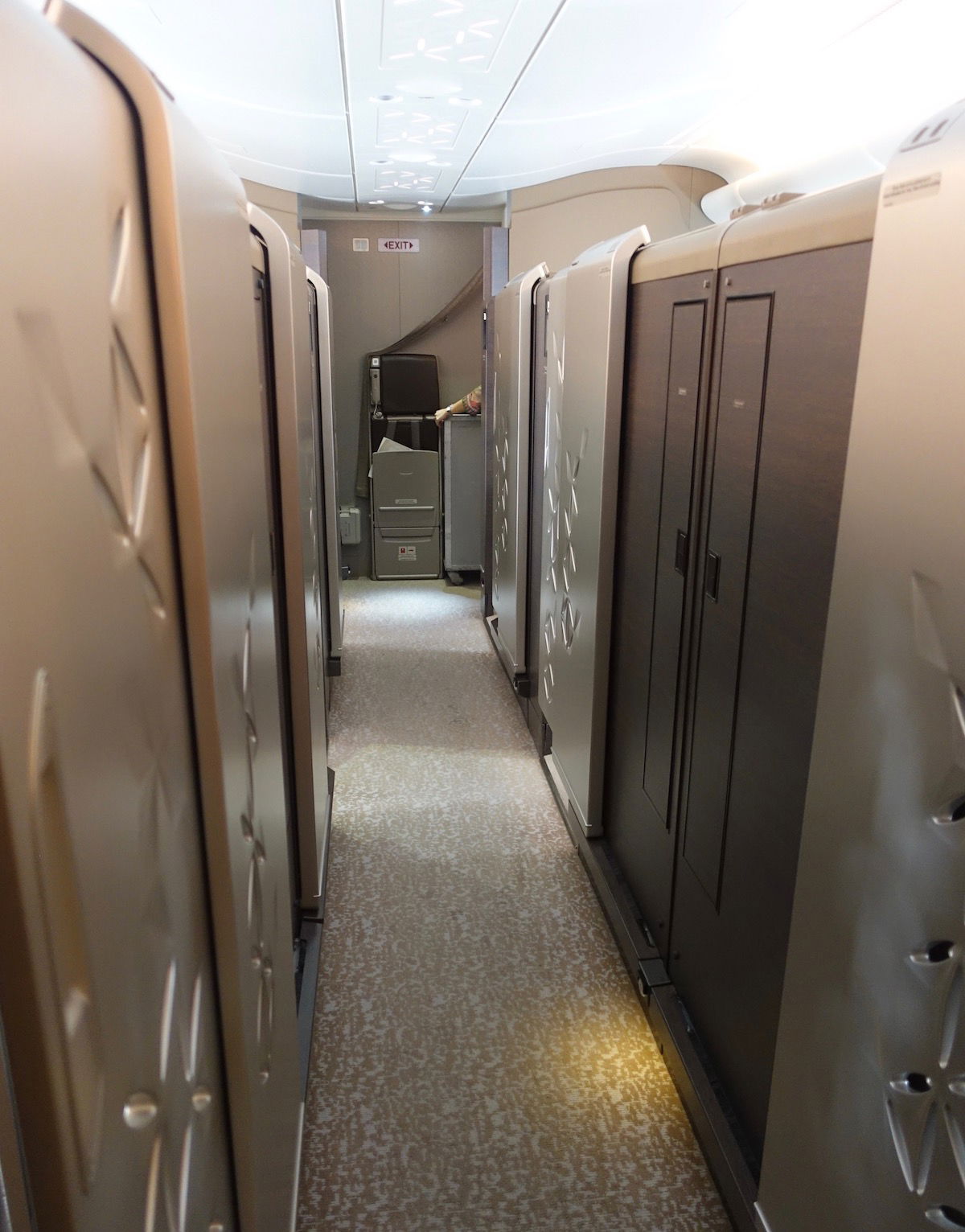 Rather than "status running" in hopes of a complimentary upgrade to this: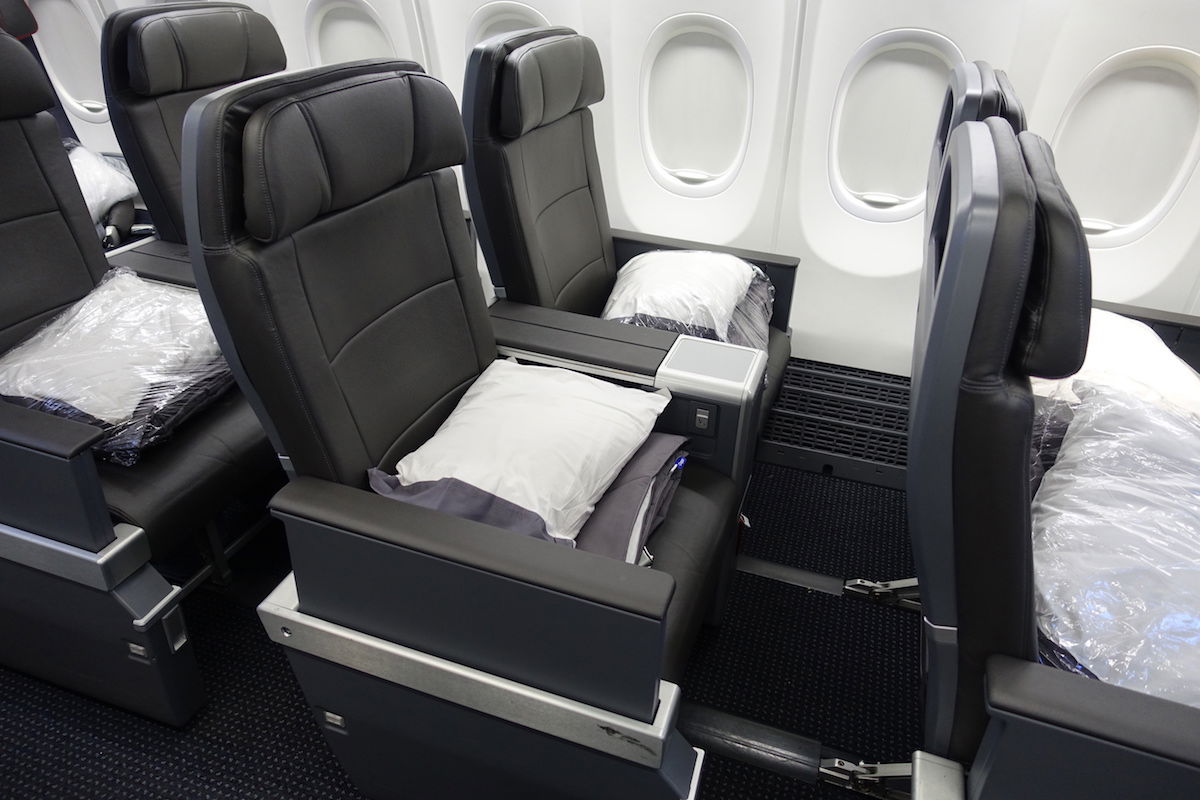 Okay, it's not quite quid-pro-quo, but if you're saving money by not status running, it sure is easier to justify annual credit card fees that maximize points-earning opportunities.
Bottom line
Of course, your mileage will vary, and I'm not suggesting that weekly business travelers suddenly go rogue and drop airline loyalty altogether.
But I am suggesting that if you are finding yourself on the elite status hamster wheel, that you at least stop and think before buying that last-minute ticket to nowhere on December 30th.
Has anyone ever done a crazy end-of-year status run? What do you make of it at this point?