Delta is doing everything they can to turn the SkyMiles program into a revenue based program in just about every way. They're trying to peg the value of one SkyMile at a penny, regardless of what aspect of the travel experience you're trying to redeem your miles for.
Yesterday I flew Delta out of Seattle, and used their gorgeous new SkyClub. I'll have a review of that shortly, but in this post wanted to cover something I've been wanting to do for a long time.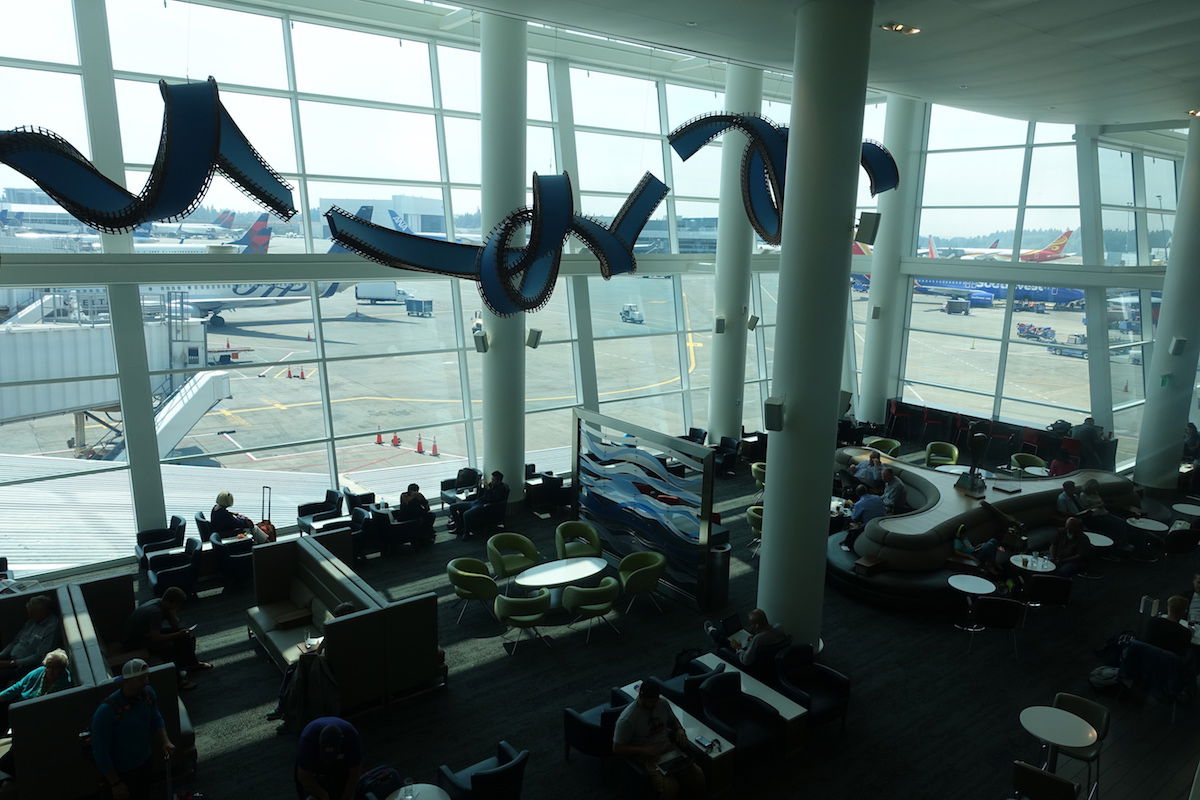 I've long been fascinated by the Delta SkyClub premium drinks menu. While the club has complimentary house wine, beer, and cocktails, there are all kinds of premium drinks you can buy, and among these is champagne. And if you like good champagne, this is actually an exceptional use of SkyMiles.
What sparkling wine can you redeem your SkyMiles for?
Mionetto Prosecco Brut — $8 per glass, or 400 SkyMiles
Moet et Chandon Brut Imperial — $14 per glass, or 700 SkyMiles
Canard-Duchene Authentic Brut — $22 per bottle, or 1,100 SkyMiles
Dom Perignon 2006 — $250 per bottle, or 12,500 SkyMiles
Krug — $200 per bottle, or 10,000 SkyMiles
Louis Roederer Cristal — $275 per bottle, or 13,750 SkyMiles

The first three options are great if you just want a glass or two of something that bubbles, while champagne enthusiasts will no doubt recognize the three bottom champagnes.
While Delta tries to make each SkyMile worth a penny, you'll notice that they give you two cents of value per SkyMile when redeeming towards champagne. Now I suppose that's fair enough, since their cash prices displayed for champagne are higher than you'd find at retail (though nowhere as much as you'd pay in a restaurant). My favorite champagne place is K&L, so let's use their pricing as an example of the retail costs of this. I'm going to factor in the 20.5% Washington State sales tax on liquor on these purchases, given that this is where I consumed it (and you don't pay those taxes when redeeming SkyMiles):
So let me first say that Delta's cash prices for these bottles is only marginally more than retail. But even more so, it's a great use of SkyMiles, as you're getting ~1.8 cents per mile for the Krug, ~1.75 cents per mile for Cristal, and ~1.5 cents per mile for the Dom.
While this is a good value, it's still a lot of cash and miles. Just as I wouldn't buy a bottle of fancy champagne every time I go out to dinner, I also wouldn't redeem miles for one every time I go to a SkyClub.
However, I write about this stuff, so figured I'd take one for the team and test out the process. I know, it's a tough job, but someone's gotta do it! 😉
So I visited the bar at the SkyClub and approached the friendly bartender.
"This is probably a weird question, but is there any chance I could buy a bottle of the Krug to go? Don't worry, I won't consume it on the plane, it's just a great value, and I figured I'd do my champagne shopping here."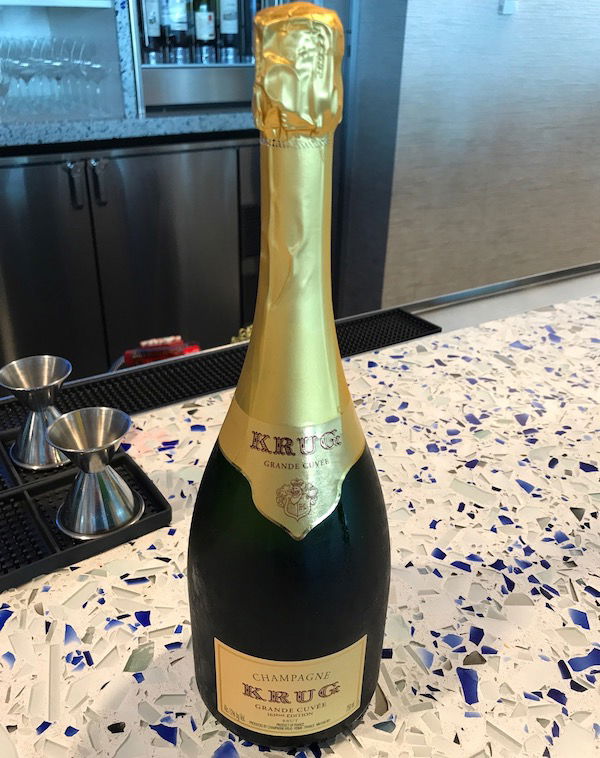 He chuckled, and said "you know, I've never been asked that before." The manager was standing nearby, and he called her over. She laughed, but said that unfortunately due to Washington State liquor laws that's not possible. I'm sure I'm not the only one who had this thought. I guess I'll have to try this at a SkyClub in another state to see if they let me take it there.
However, both the bartender and manager seemed super excited about someone ordering one of their premium champagnes. They asked where we were sitting, and a few minutes later the awesome bartender returned with an ice bucket, the bottle of Krug, and two champagne flutes. Rather hilariously, at first there was a cleaning cloth placed over the ice bucket.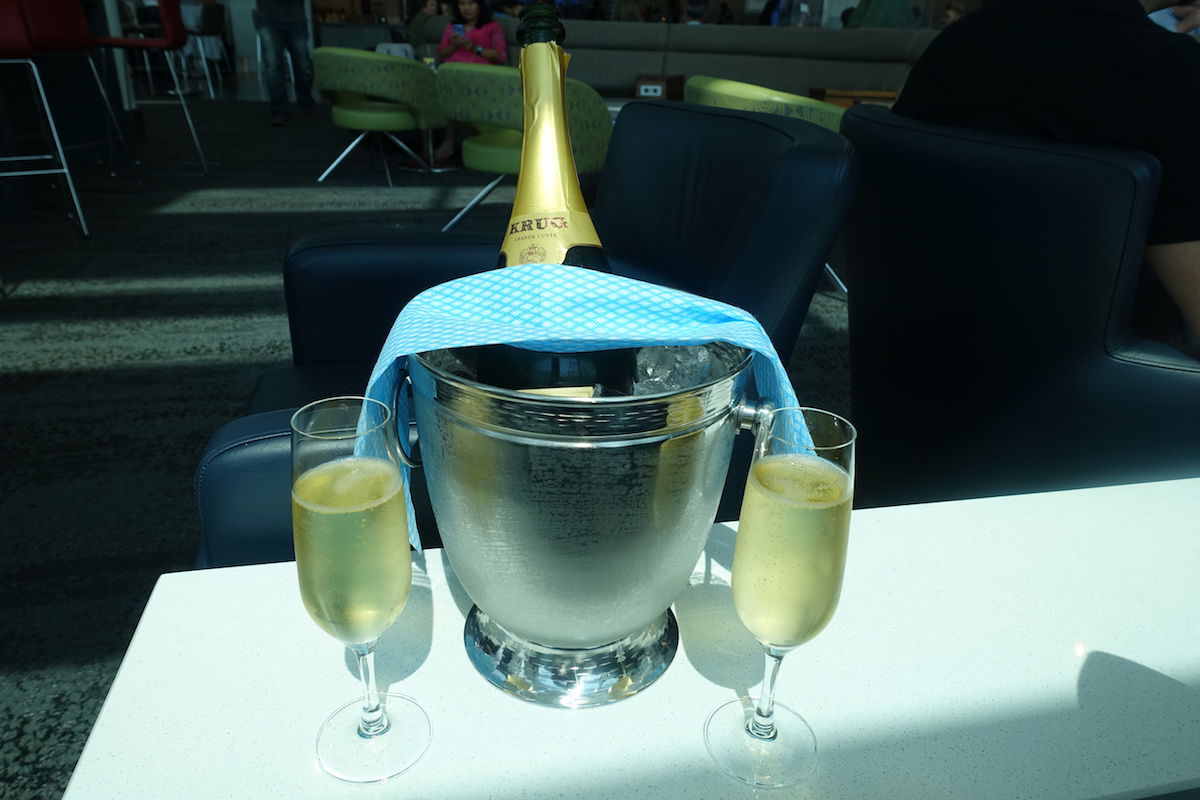 Now that's what I call a drink with a view!!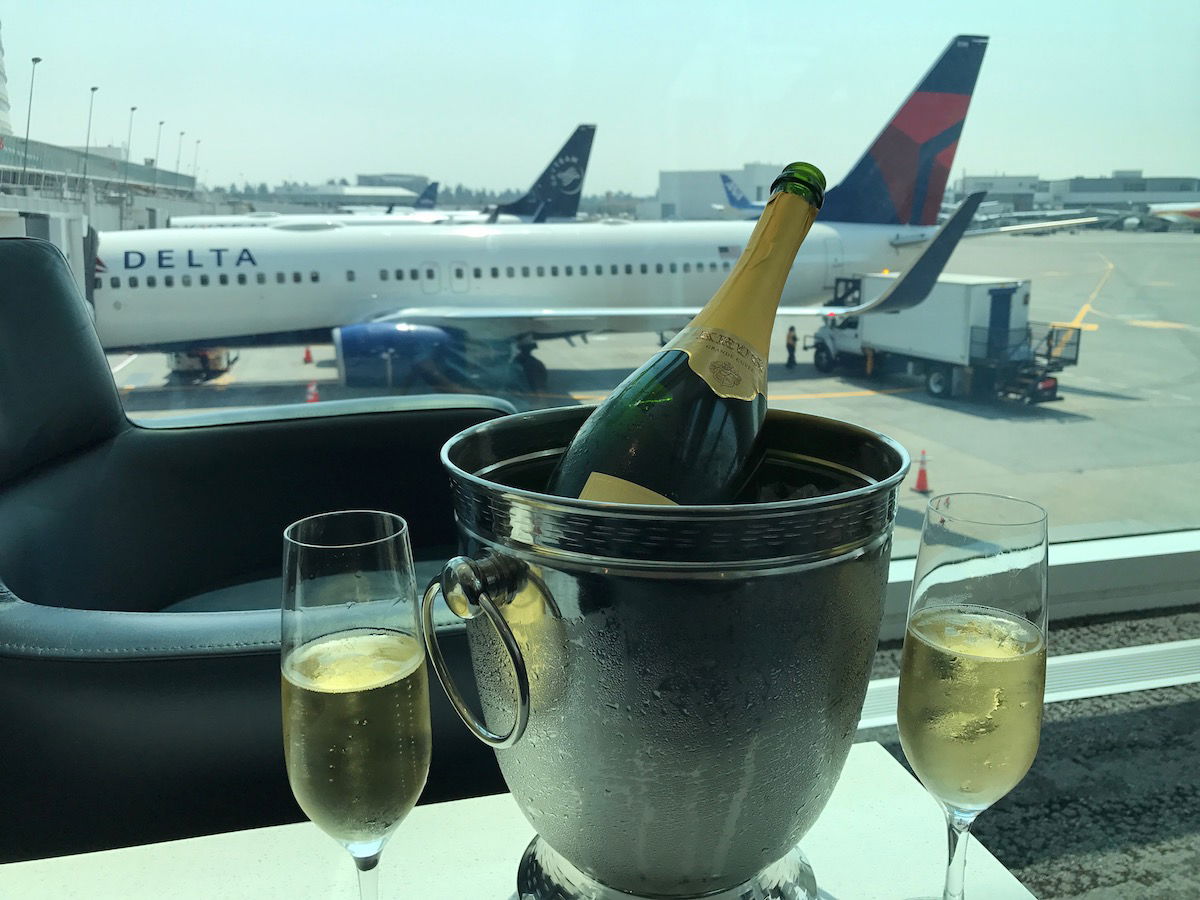 All of the employees seemed genuinely excited about our order. Several of the people who come around to clear plates stopped by to ask how we were enjoying our champagne, etc.
Delta has a tablet they use for guests to redeem SkyMiles for premium drinks, though it wasn't working, which they were all very apologetic for. So they took down my SkyMiles number, etc., and said the transaction would post by the end of the day. It sure did, but it looks like they accidentally charged me for the Cristal rather than the Krug. This will be a fun thing to get straightened out with Delta customer service…

Bottom line
What a cool experience for any champagne lover! Of course I wouldn't do this every time, but if you appreciate good champagne, this is a very cool splurge. At a minimum this is a value of 1.5 cents per SkyMile, which is pretty solid.
The next time there's a Delta Amex sign-up bonus of 50,000-70,000 miles, you can view that as 5-7 bottles of Krug. 😉
I was so impressed by the Delta SkyClub on the whole — everyone working there was amazing, and I can't stress enough how they all made it fun as well.
Have you ever redeemed SkyMiles towards a premium SkyClub drink? Which one, and what was your experience like?