British Airways has been making some improvements to their Club World product lately, which is what they call their longhaul international business class. I recently wrote about my experience with their new bedding, amenity kits, and catering, and I was extremely impressed (especially given my previous experiences with the airline).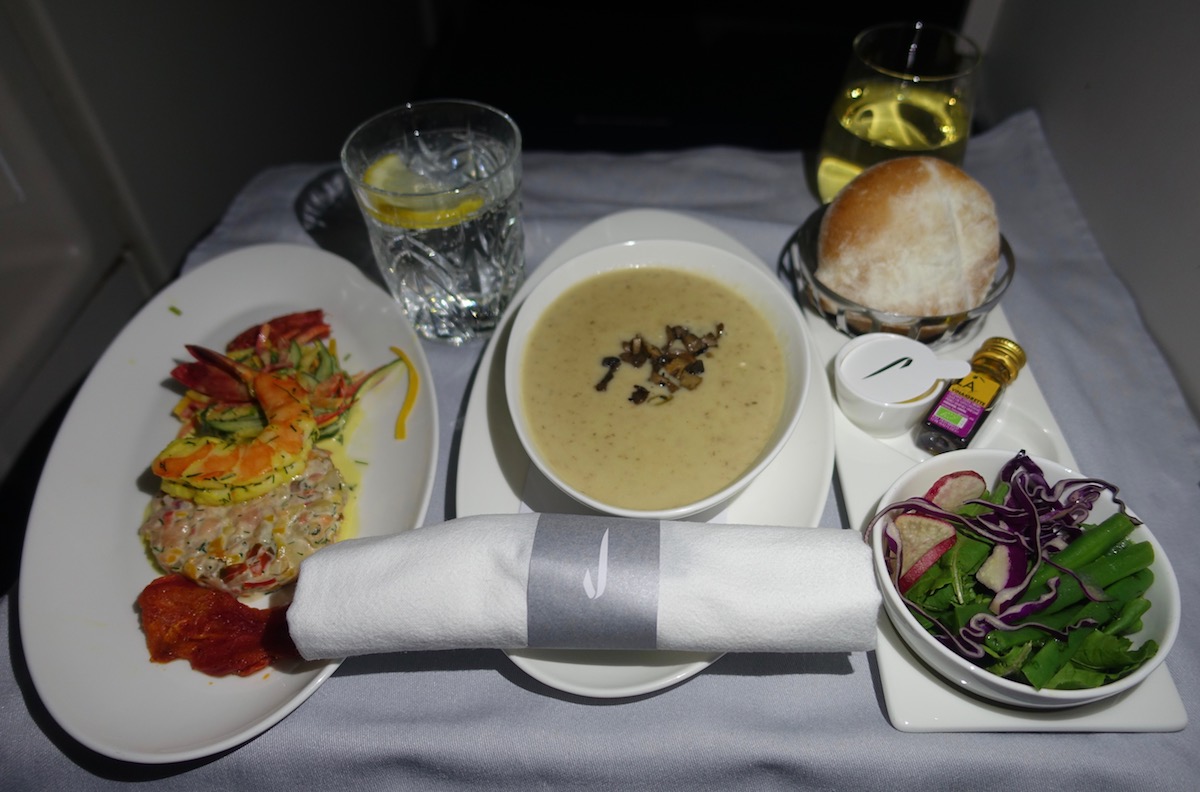 Excellent new British Airways Club World catering
However, the biggest transformation that will happen with British Airways business class is that they're finally going to be introducing a new Club World seat.
Yesterday IAG (the parent company of British Airways) had their Capital Markets Day presentation, which contained some interesting information about the new seat. There's nothing here that wasn't really known before, but rather it's interesting to hear more of the same closer to the anticipated implementation date.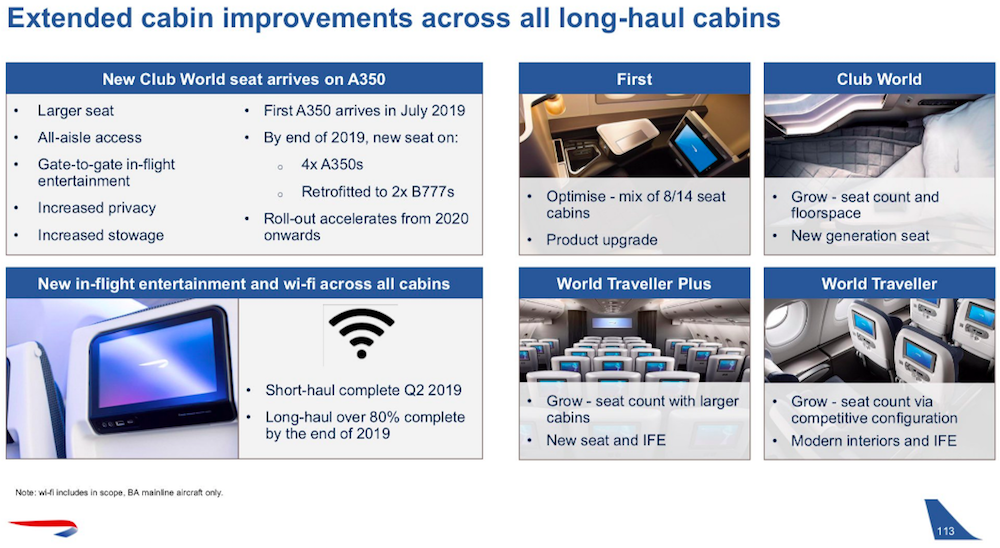 When will British Airways introduce their new business class seat?
British Airways' new business class seat will be introduced on the A350, which is expected to arrive in July 2019. By the end of 2019, British Airways plans to have four A350s and two retrofitted 777s with the new business class seats. That means in over a year only six planes will feature the new seats. Ouch.
British Airways says that rollout will accelerate starting in 2020, and the entire longhaul fleet should feature the new seats by 2023, five years from now. Optimistically I was hoping it would be faster than that, though being realistic most major airlines seem to take 4-5 years to install a new business class seat across the fleet.
It's also interesting to note that British Airways' newly delivered A350s won't feature first class. As a point of comparison, British Airways' 787-9s feature first class, while their 787-8s don't.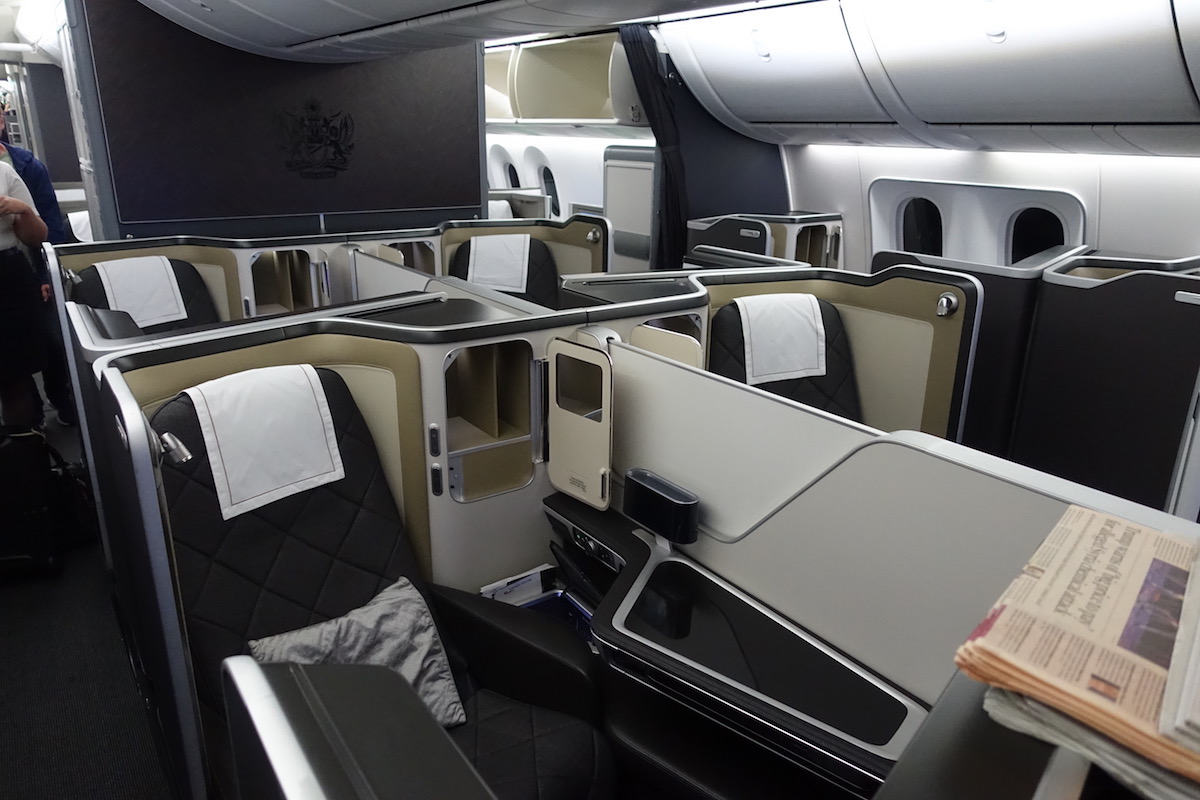 British Airways' 787-9 first class
What should we expect from British Airways' new business class seat?
British Airways is still keeping the details of the new seat private, but there are some general hints. The new business class seat will:
Be larger, with direct aisle access from every seat
Feature gate-to-gate entertainment
Feature increased privacy and stowage
At this point it's anyone's guess what the new seat will be like. We still don't know for sure whether British Airways is introducing a true custom seat, or if they'll simply slightly modify an existing popular model of seat out there.
I think the only real "clue" here is that they say they'll feature gate-to-gate entertainment, which suggests that it will be a type of seat that doesn't require folding away the TV screen during taxi and takeoff (which needs to be done with British Airways' current business class seat).
I doubt we'll see them introduce a revolutionary business class product, but as long as they finally introduce something that's a bit competitive, I'd be happy.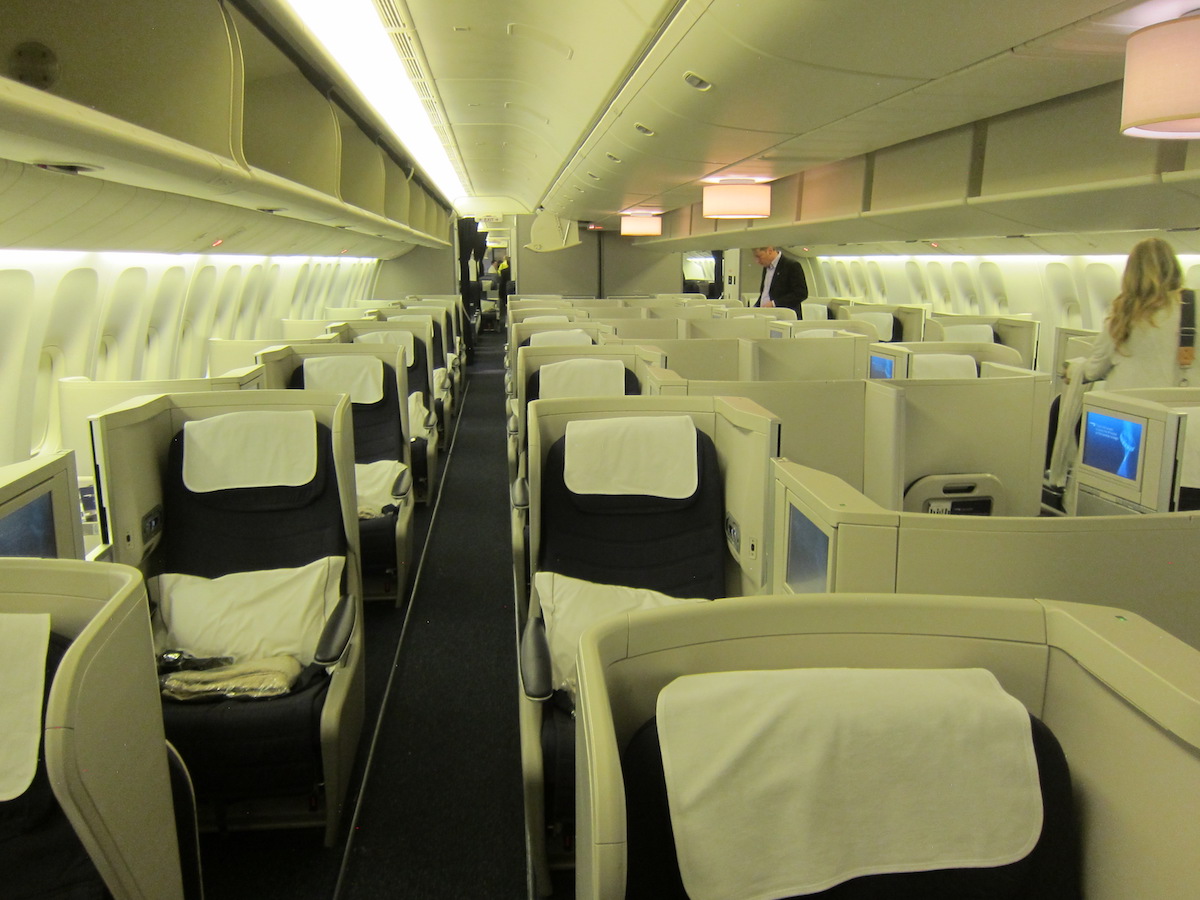 British Airways' 777-300ER business class
My one hope is that they don't just install the current Iberia business class seat, which is a staggered configuration, and which technically meets what they've been promising. I could totally see them doing this, though that would be really disappointing, since it's not a great seat, and far from cutting edge.
Bottom line
The first plane with British Airways' new business class will be in service in July 2019, so I suspect we're just a few months from the seat being revealed. Unfortunately expect the rollout to be very slow — by the end of next year only six planes will feature the new seats, and it'll be 2023 before the entire longhaul fleet has these seats (and I imagine even that could be delayed further).
What are you expecting from British Airways' new business class?
(Tip of the hat to Head for Points)