I had a roughly seven hour layover at Heathrow, as I arrived shortly before 7AM, and departed shortly before 2PM.
I knew I wanted to check out the British Airways Arrivals Lounge, and my connecting flight was departing from Terminal 3, which has some excellent lounges where I could kill time (the Cathay Pacific Lounge and Qantas Lounge are my favorites).
However, my goal was to review something new, so I decided to book the shortest possible block of time at the Aerotel Terminal 3, which is Heathrow Airport's newest transit hotel (I've also reviewed the Yotel Terminal 4). Aerotel is owned by Plaza Premium, which operates many airport lounges.
Booking The Aerotel Heathrow
Transit hotels aren't really "traditional" hotels, in the sense that you book them for a certain number of hours, rather than a night.
You can book the Aerotel Heathrow in blocks of six, nine or 12 hours, with the following rates (which are subject to change):
For a six hour block, a Solo Plus Room can be booked for $64 and a Double Plus Room can be booked for $76
For a nine hour block, a Solo Plus Room can be booked for $99 and a Double Plus Room can be booked for $123
For a 12 hour block, a Solo Plus Room can be booked for $127 and a Double Plus Room can be booked for $152
Through December 31, 2019, you can score 30% off a stay using promotion code LHRAER30, though that only works when booking for a 12 hour block.
Aerotel Heathrow T3 Review
The 82 room Aerotel opened in October 2019, so it's still brand new. Let's take a look at what you need to know about the Aerotel, including the location and arrival experience, the rooms, and the public areas.
Aerotel Heathrow Location
The Aerotel is connected directly to Terminal 3. The hotel has a diagram on their website explaining how to get there, though I don't necessarily think it was that clear due to the lack of reference points.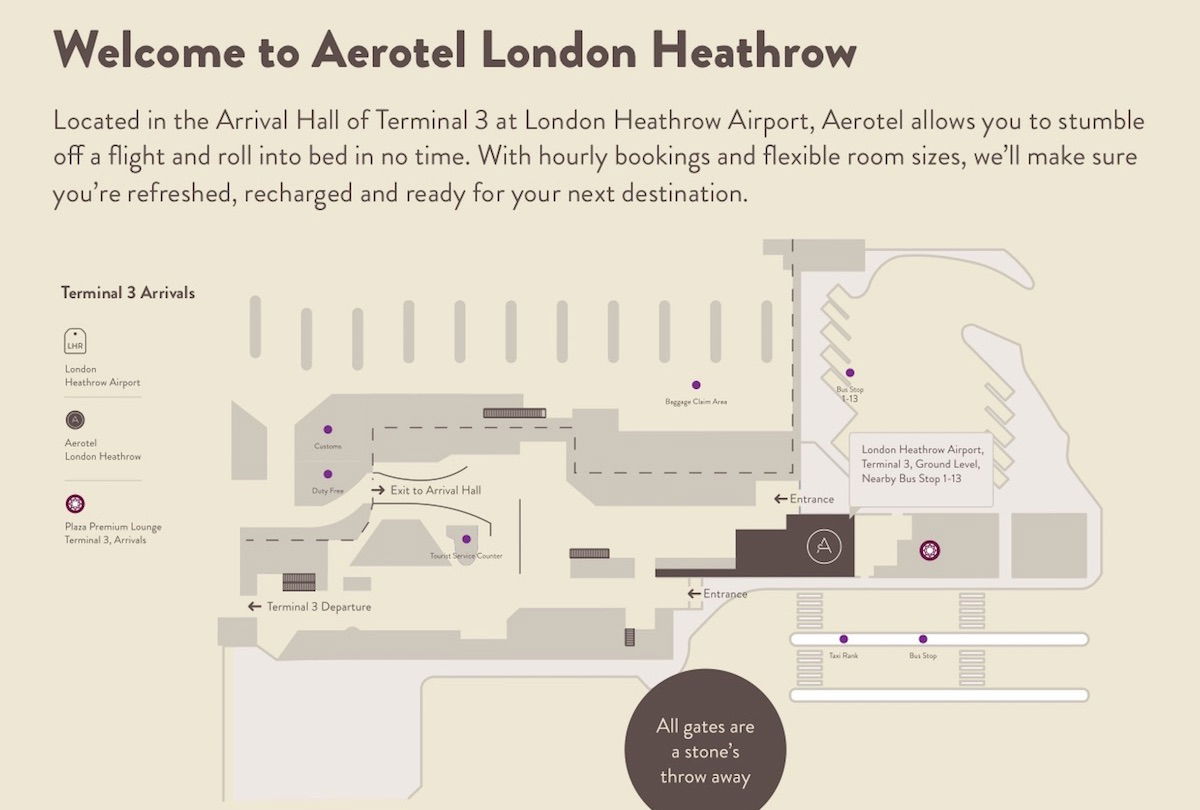 My first order of business was getting from Terminal 5 to Terminal 3. This required taking the Heathrow Express, which is free, though nowadays you need to go to one of the kiosks to get a ticket (though it won't cost you anything). It's just a short five minute train ride.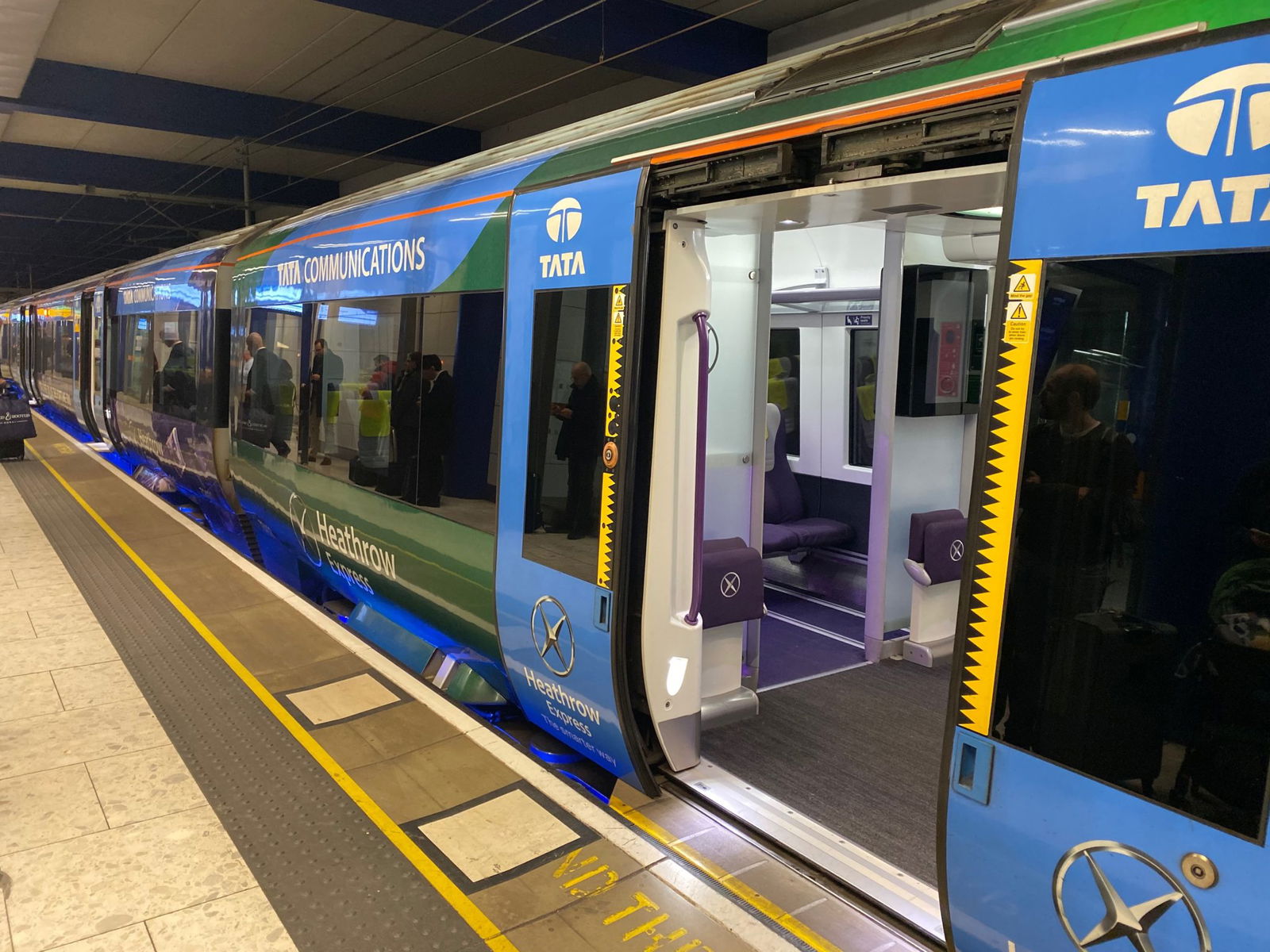 Heathrow Express to Terminal 3
That drops you off between Terminals 2 & 3, so then I walked towards Terminal 3.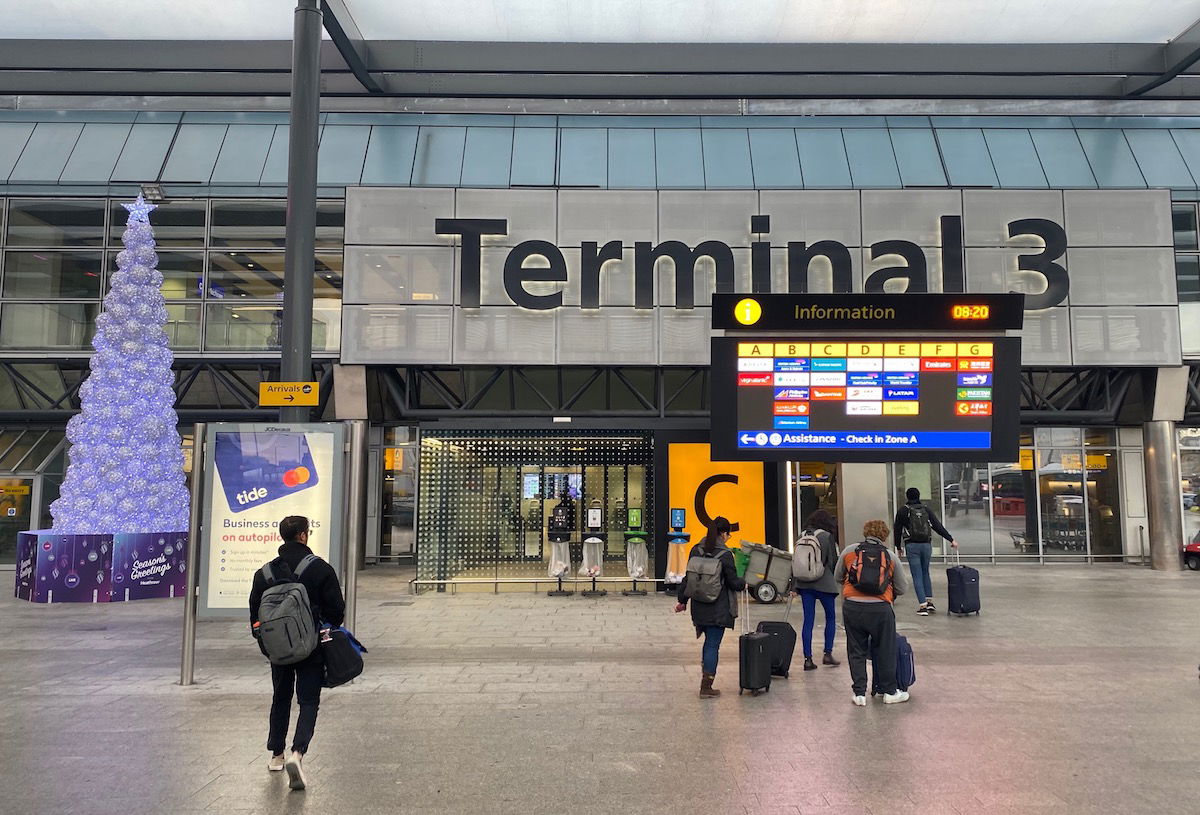 Heathrow Terminal 3 exterior
The Aerotel is connected to the arrivals area. Intuitively I figured I needed to somehow change floors, since typically arrivals is one level below departures. That wasn't the case, though.
When you're facing the terminal turn right, and you'll see a sign leading to the arrivals area, which is where you want to go.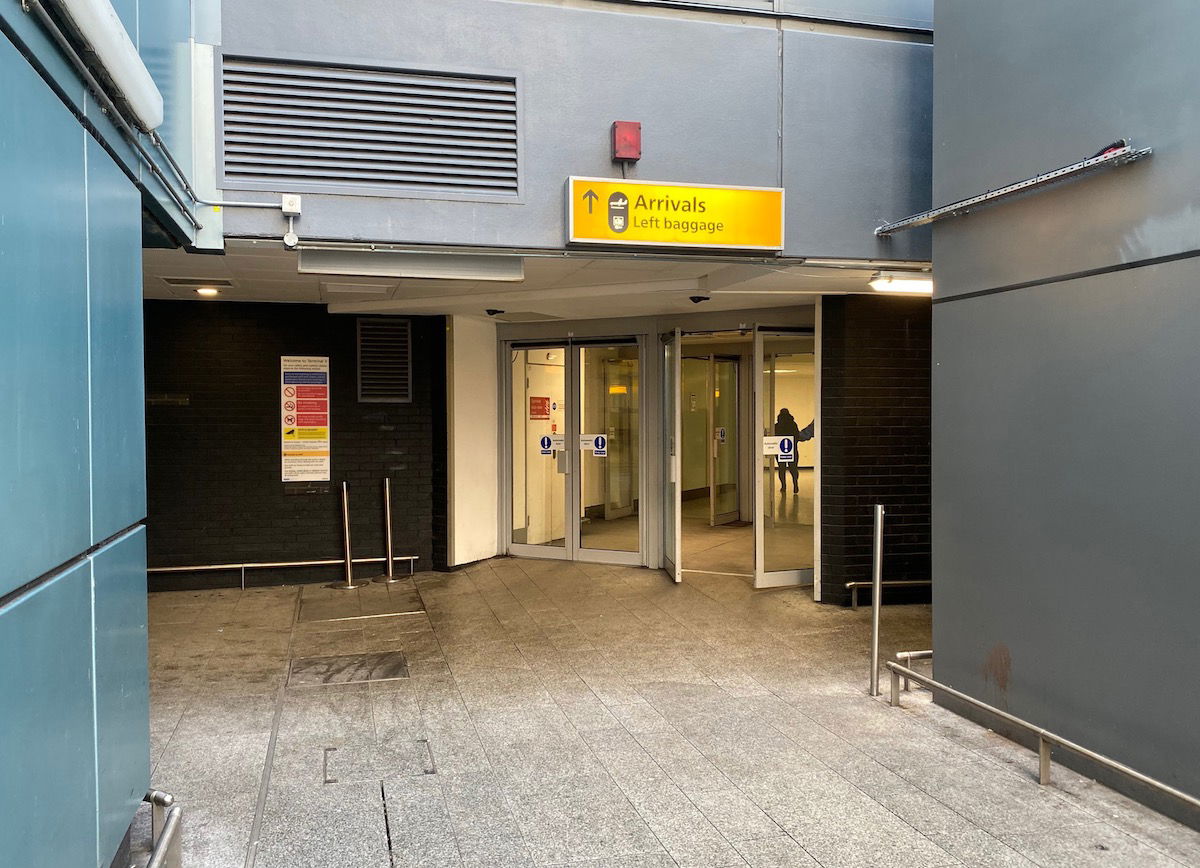 Heathrow Terminal 3 arrivals area
Once in there you'll see signs towards the Aerotel.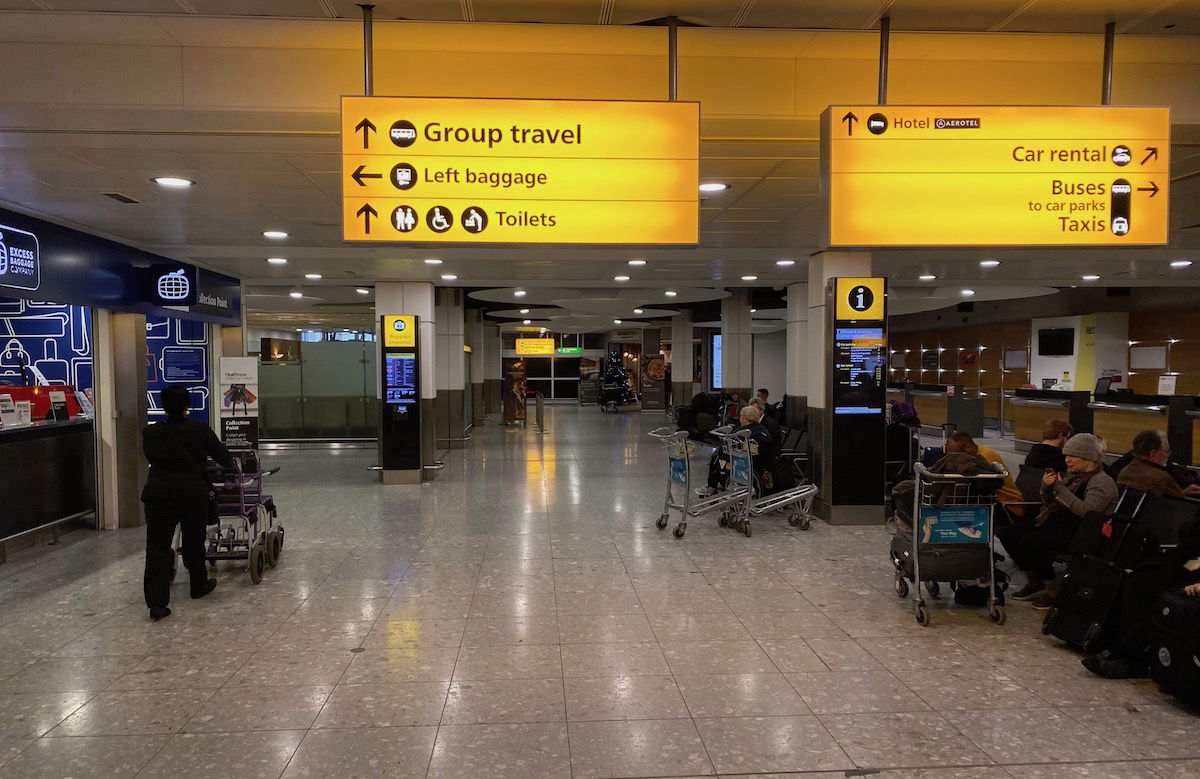 Walking to the Aerotel Heathrow Terminal 3
The Aerotel is at the very end of the terminal on the right.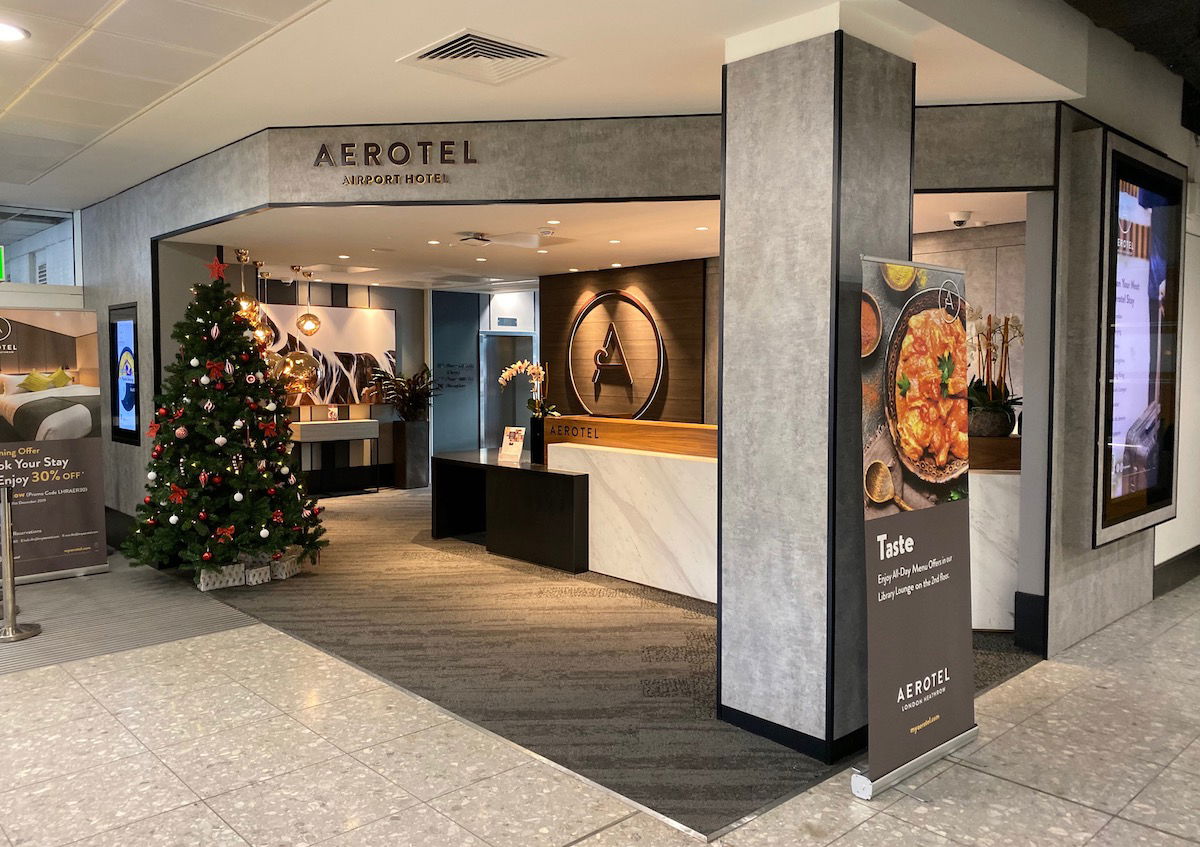 Aerotel Heathrow exterior
Aerotel Heathrow Arrival & Check-In
The check-in experience was easy, and the guy checking me in was friendly. I just had to present my boarding pass, and then within a couple of minutes was issued a room key. There was no need to provide a credit card, given that my room was pre-paid.
I had booked a six hour block in a double room for $76 (they were sold out of the single rooms when I booked).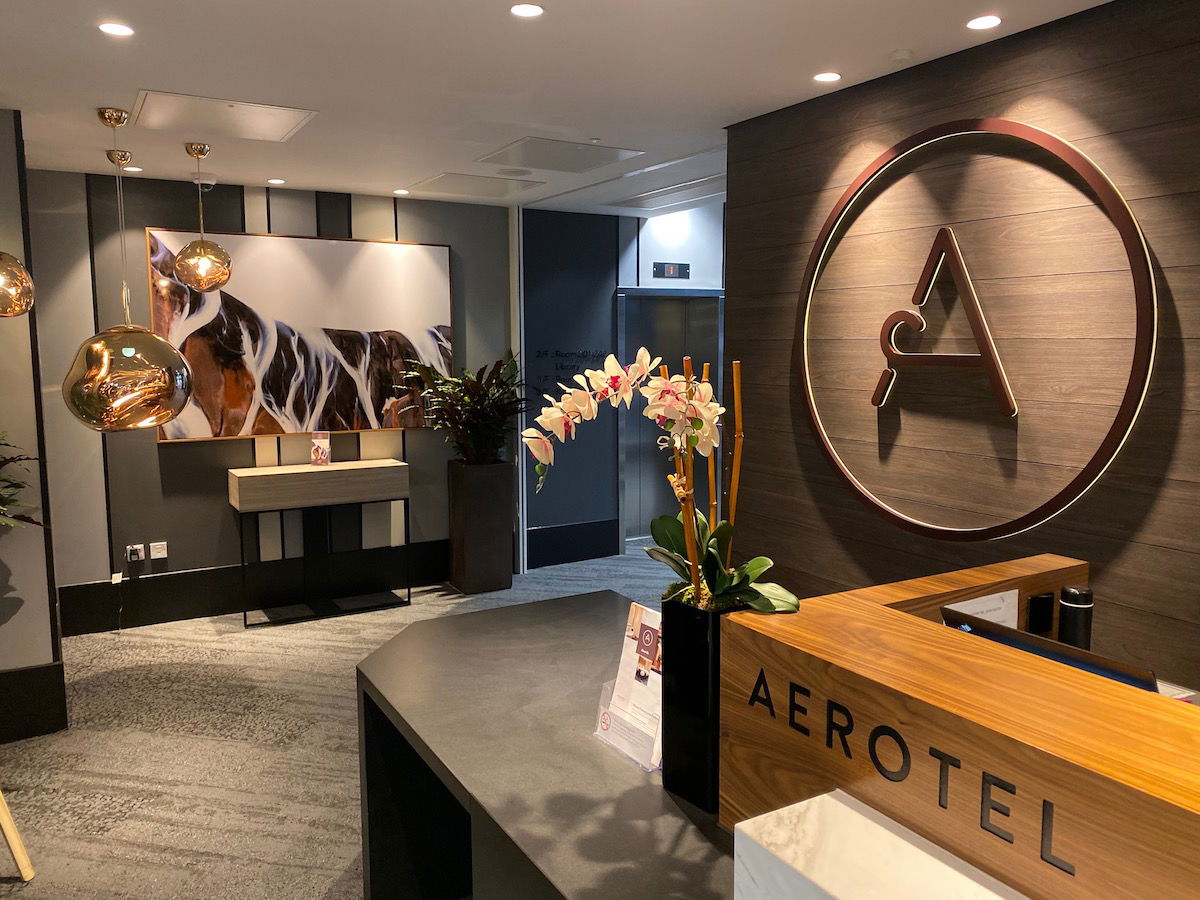 Aerotel Heathrow entrance
Not counting reception (which is on the terminal level), the hotel is spread across two floors, so you can go up two floors either by elevator or stairs.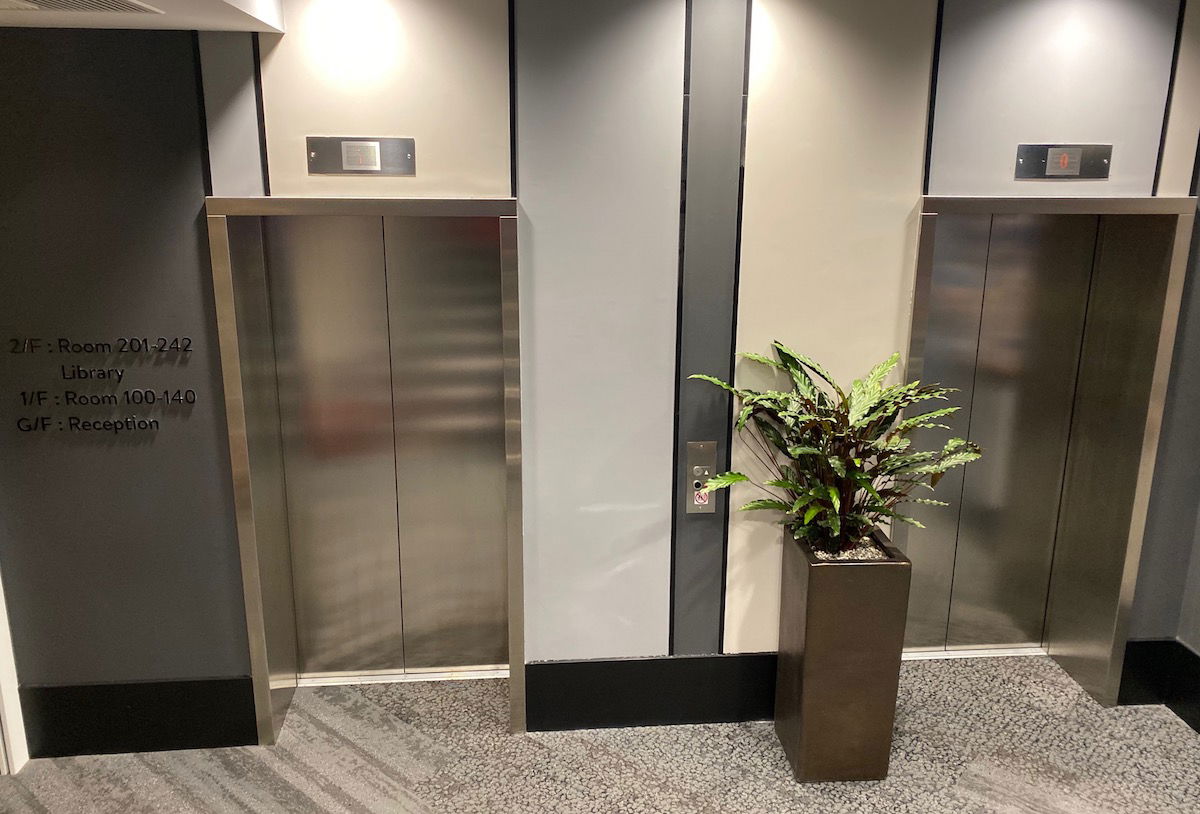 Aerotel Heathrow elevators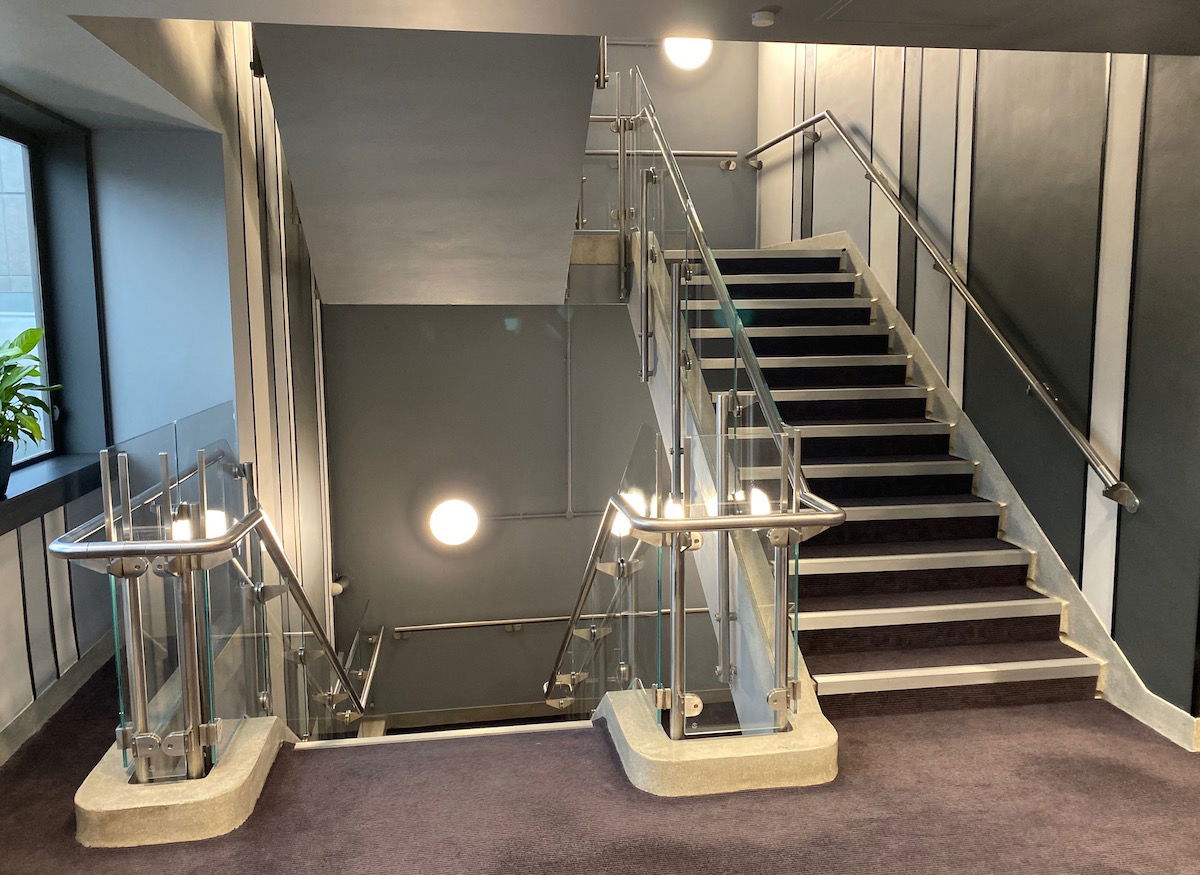 Aerotel Heathrow stairs
My room was located on the first floor, one level above reception.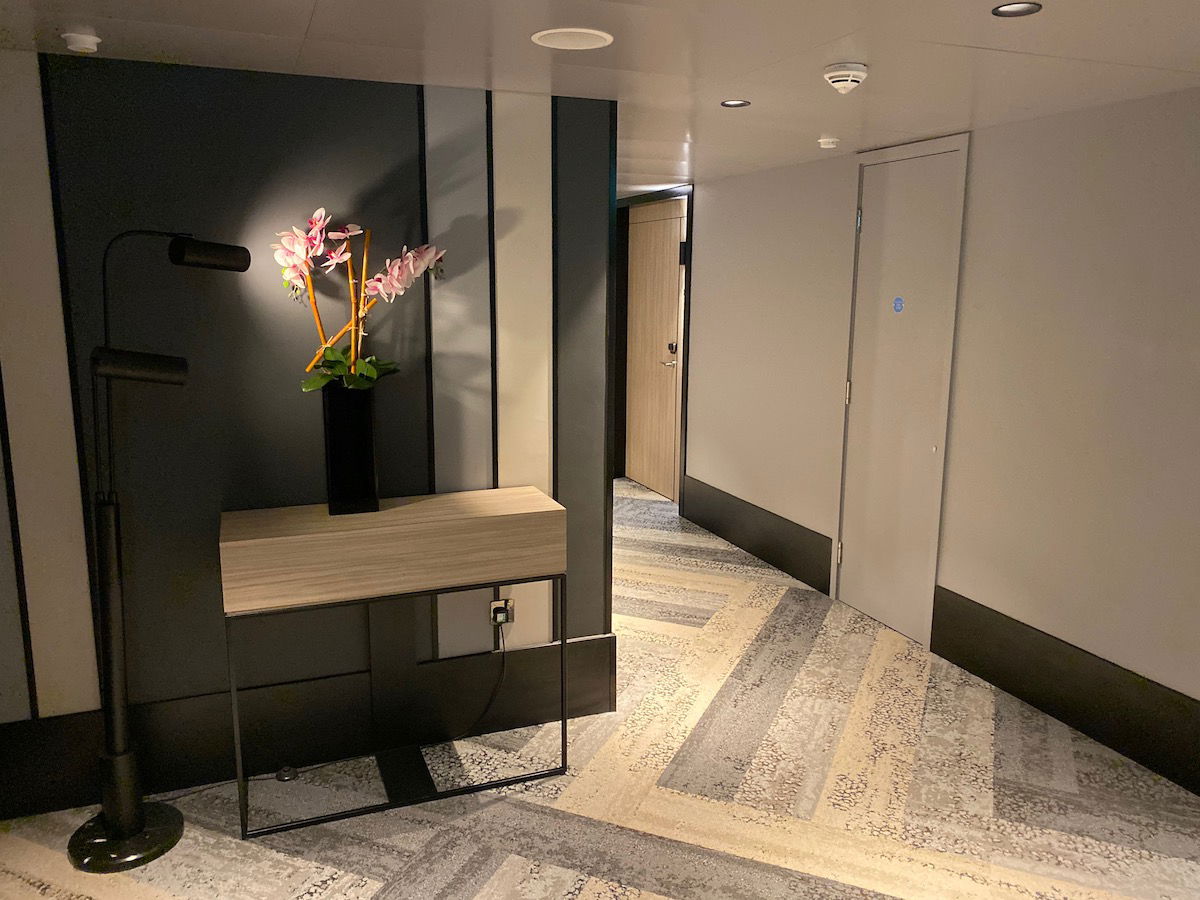 Aerotel London Heathrow hallway
The hallways were super chic for a transit hotel, in my opinion.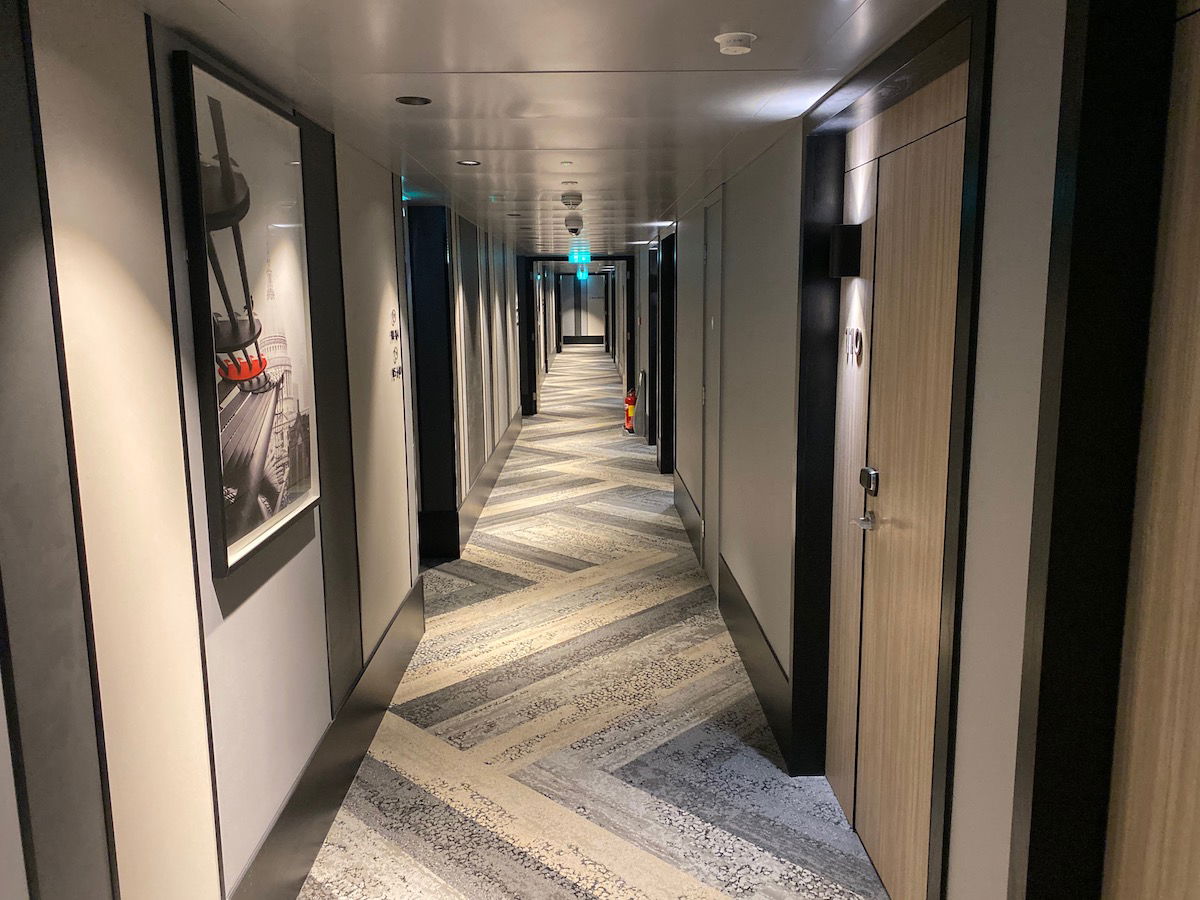 Aerotel London Heathrow hallway
The signage was good, and I easily found my room, #118.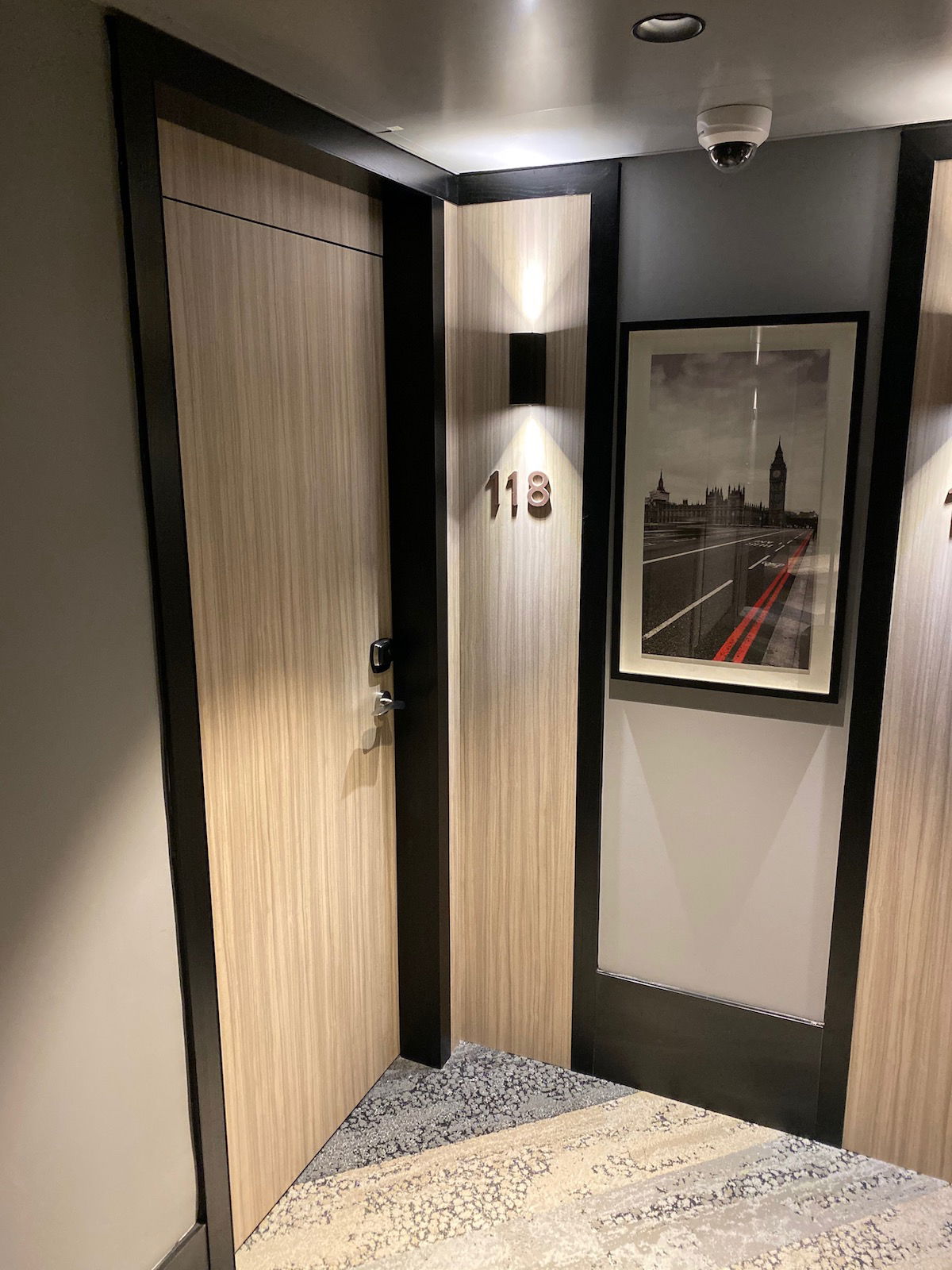 Aerotel London Heathrow room exterior
Here's the floorplan, for reference:


Aerotel London Heathrow floorplan
Aerotel Heathrow Double Plus Room
My Double Plus Room was exactly what I was expecting, so I was happy with it. The room featured a great double bed that was plush, with four excellent pillows.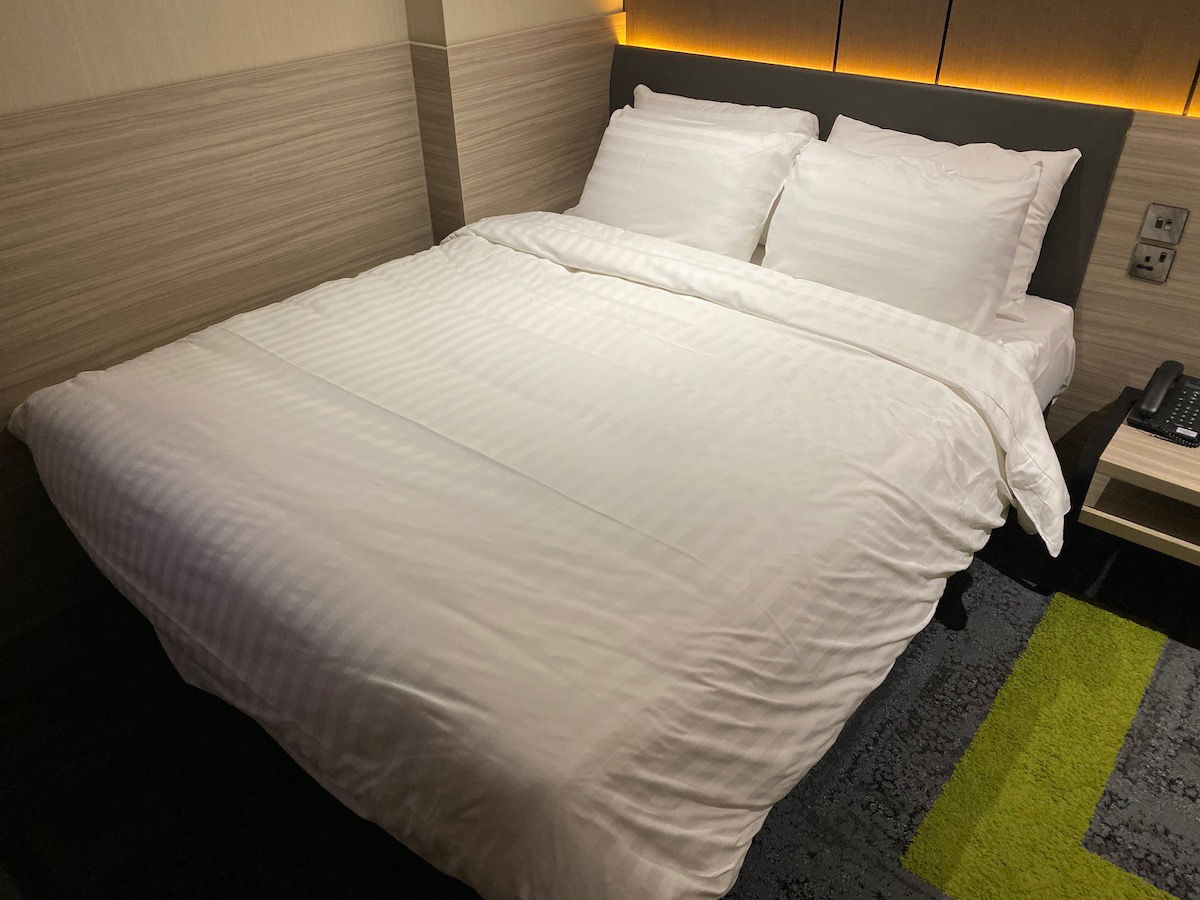 Aerotel London Heathrow double room
Next to the bed was a luggage rack, a kettle with tea and coffee, and a couple of coat hangers.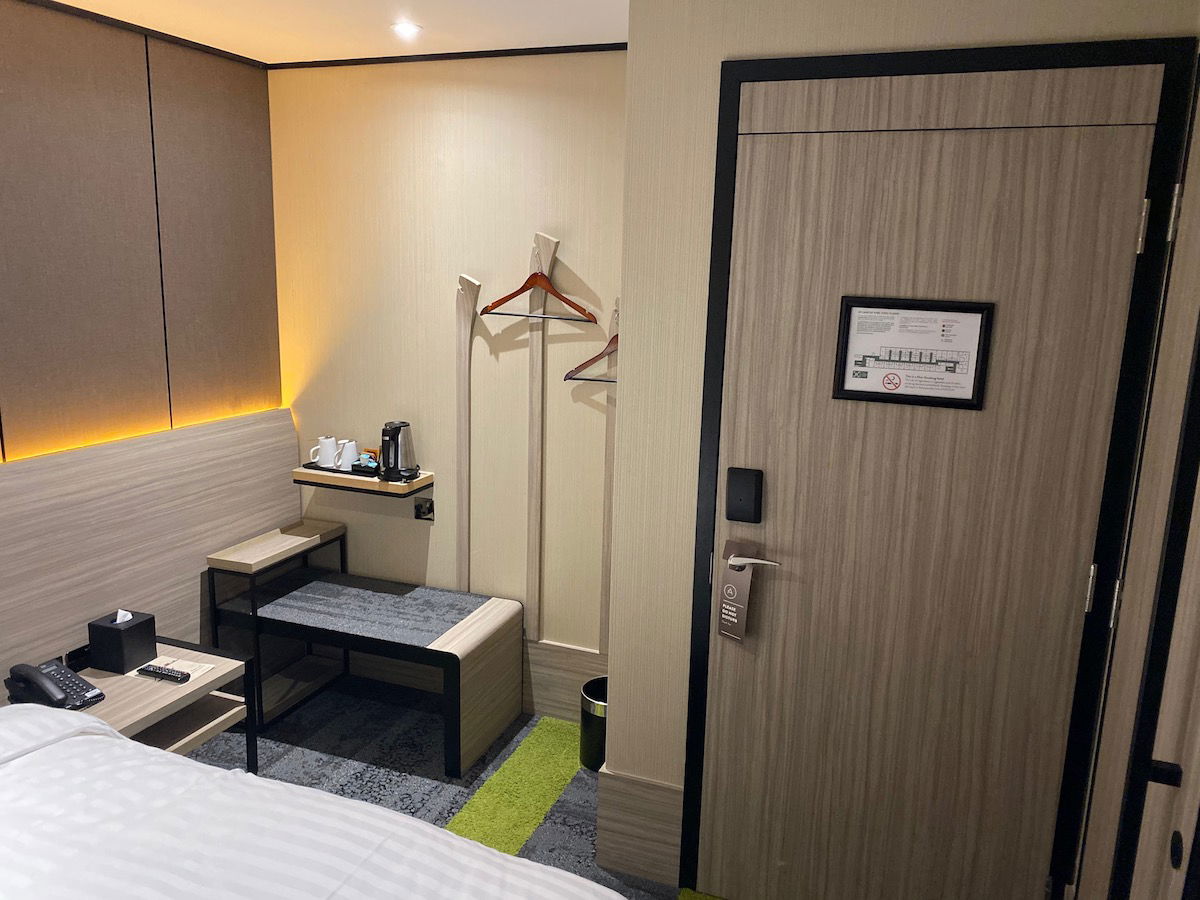 Aerotel London Heathrow room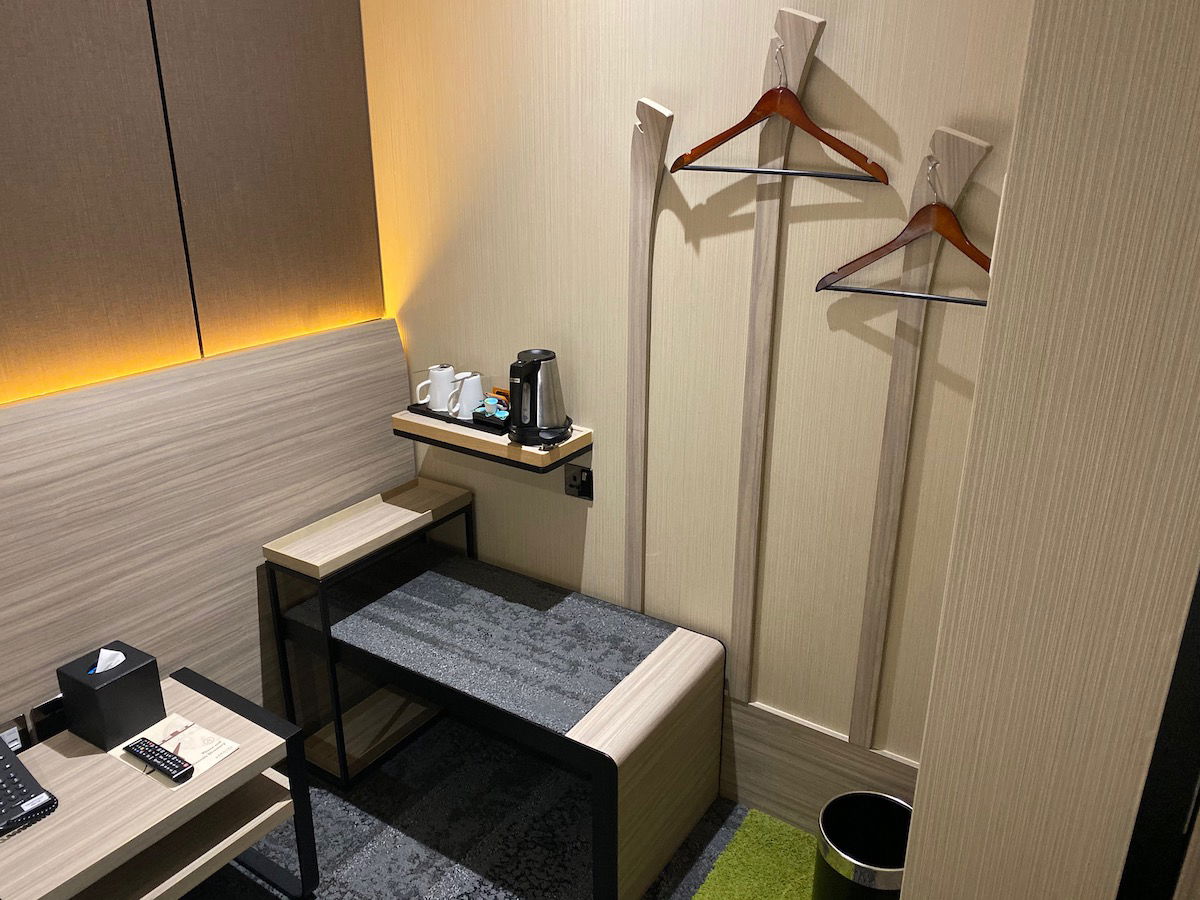 Aerotel London Heathrow room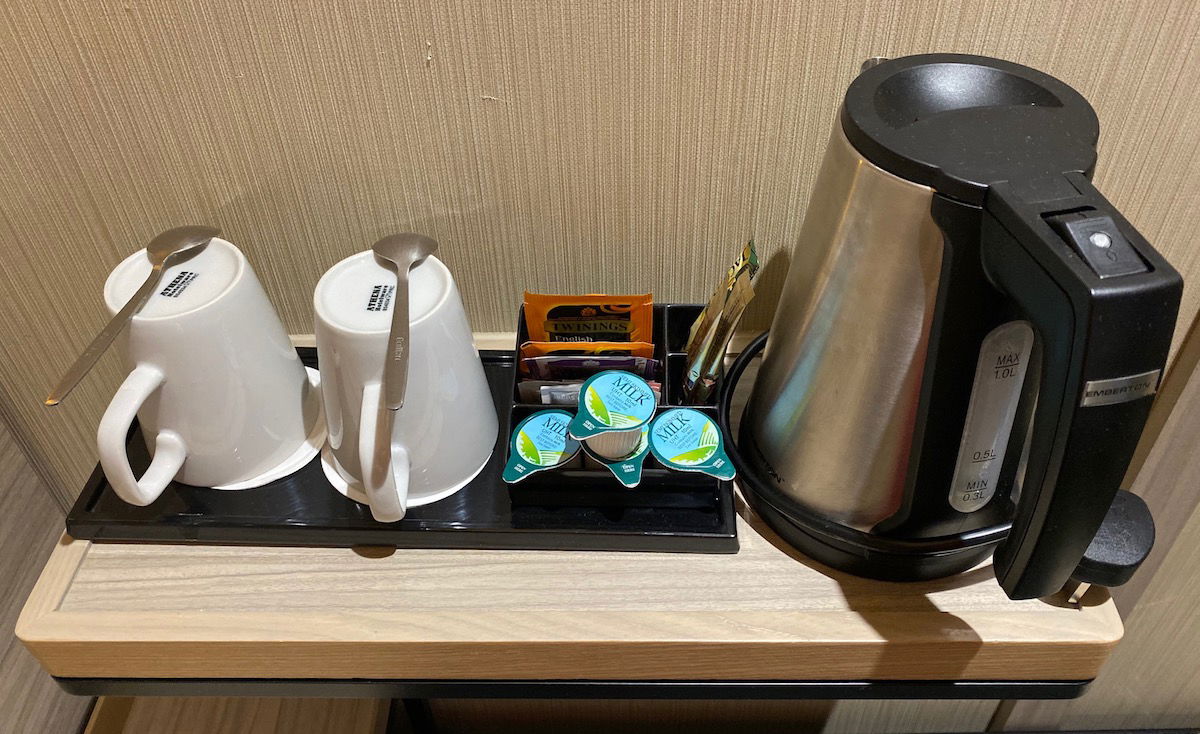 Aerotel London Heathrow in-room tea & coffee
Across from the bed was a wall mounted TV and the door to the bathroom.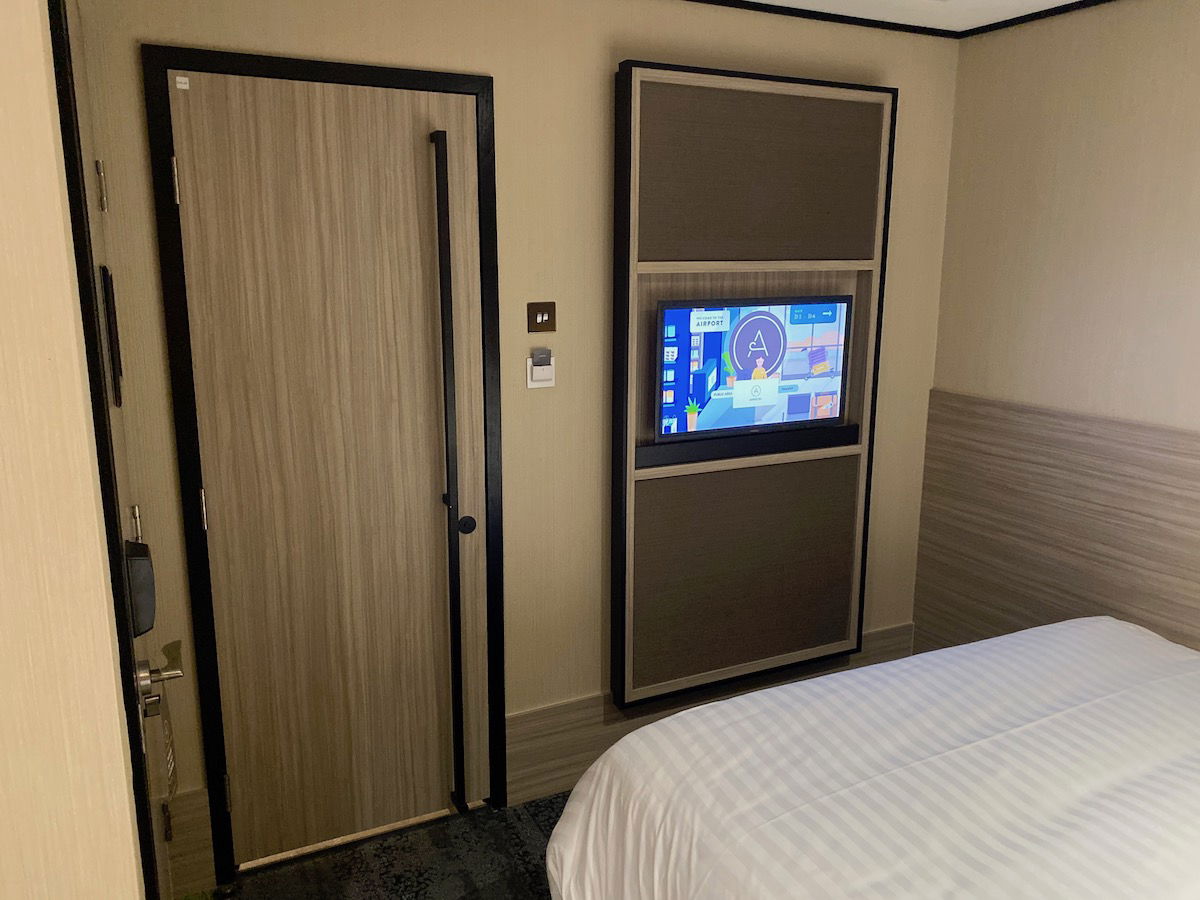 Aerotel London Heathrow room
The bathroom was compact but functional, and had a sink, a toilet, and a walk-in shower.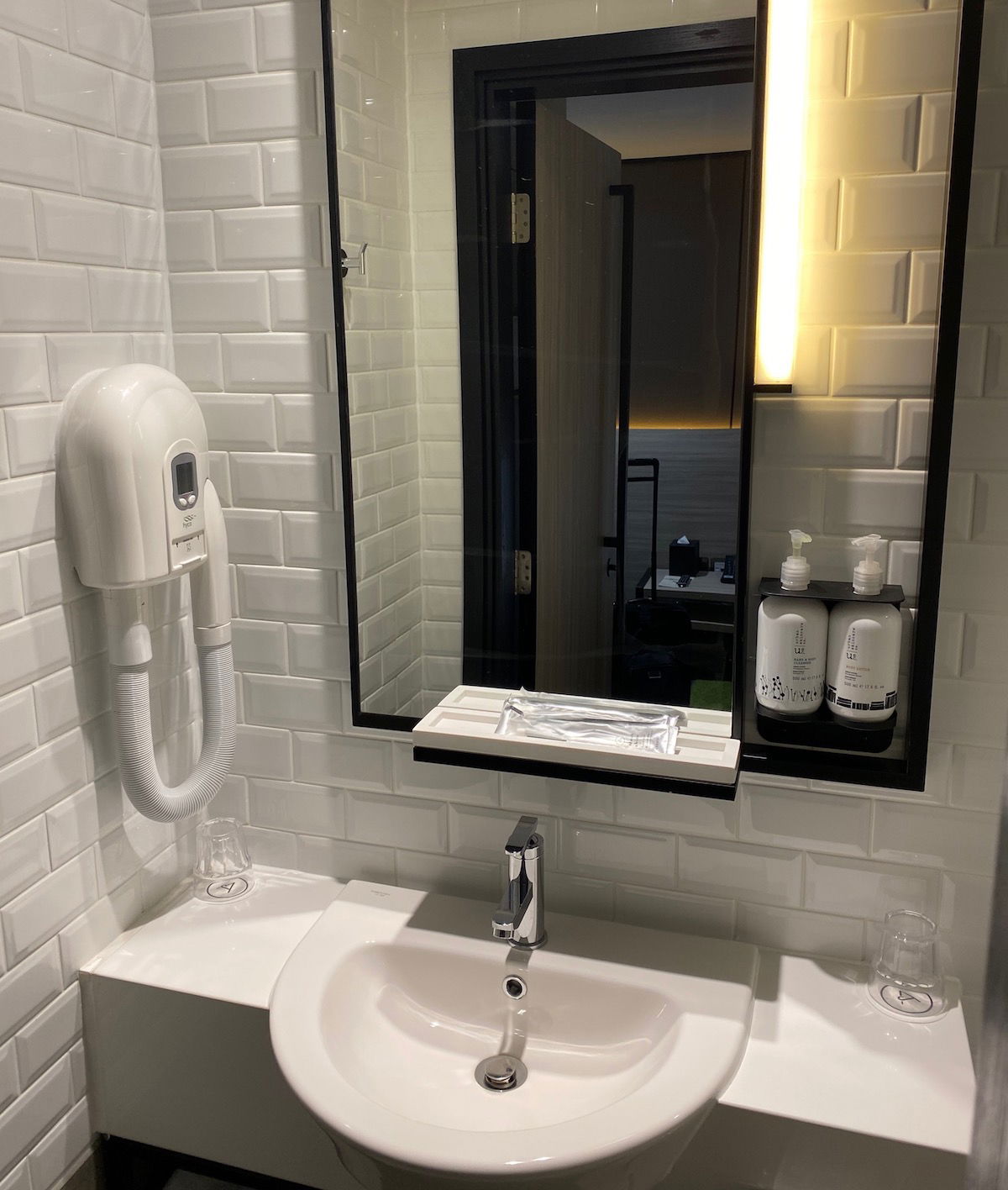 Aerotel London Heathrow bathroom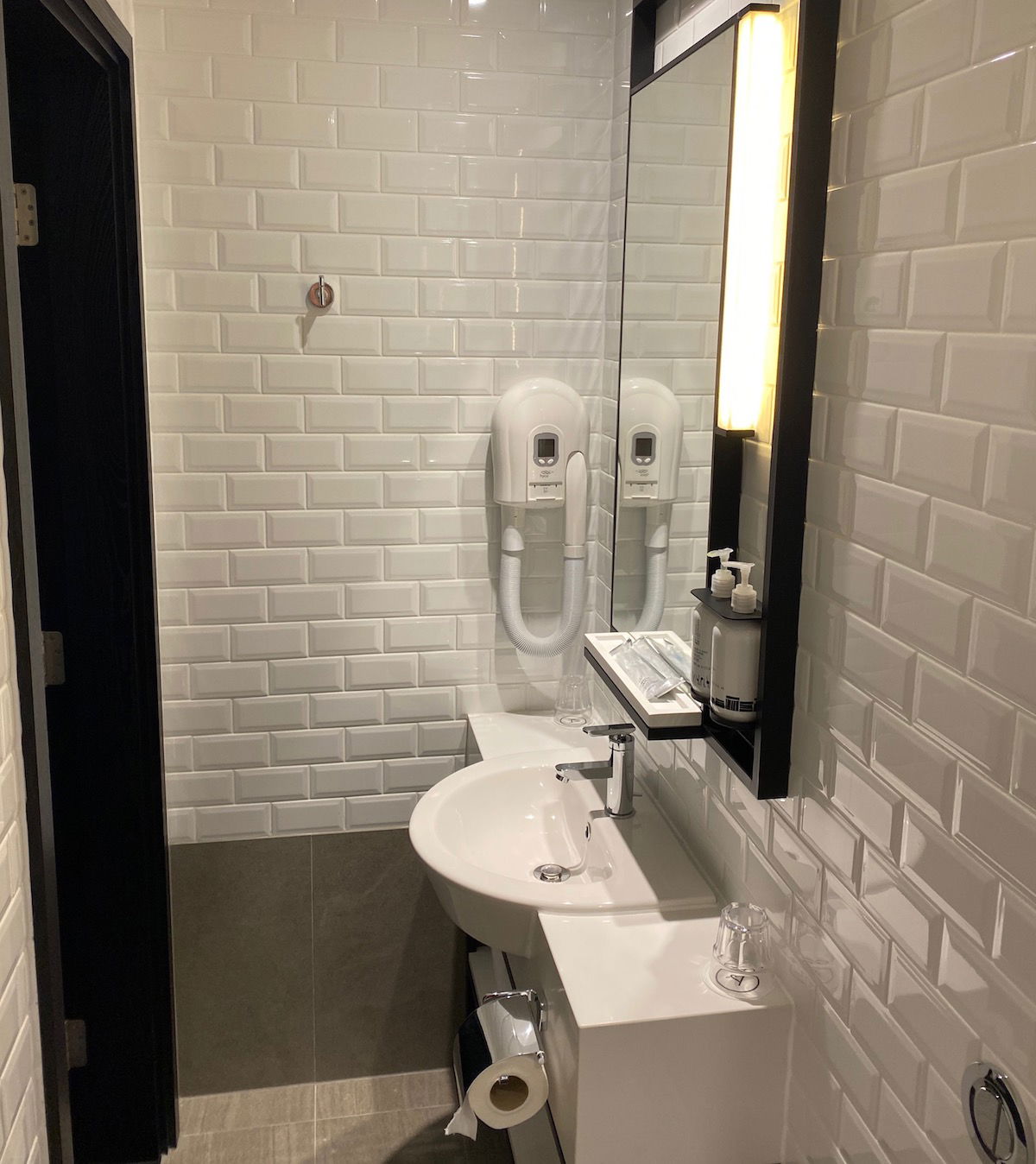 Aerotel London Heathrow bathroom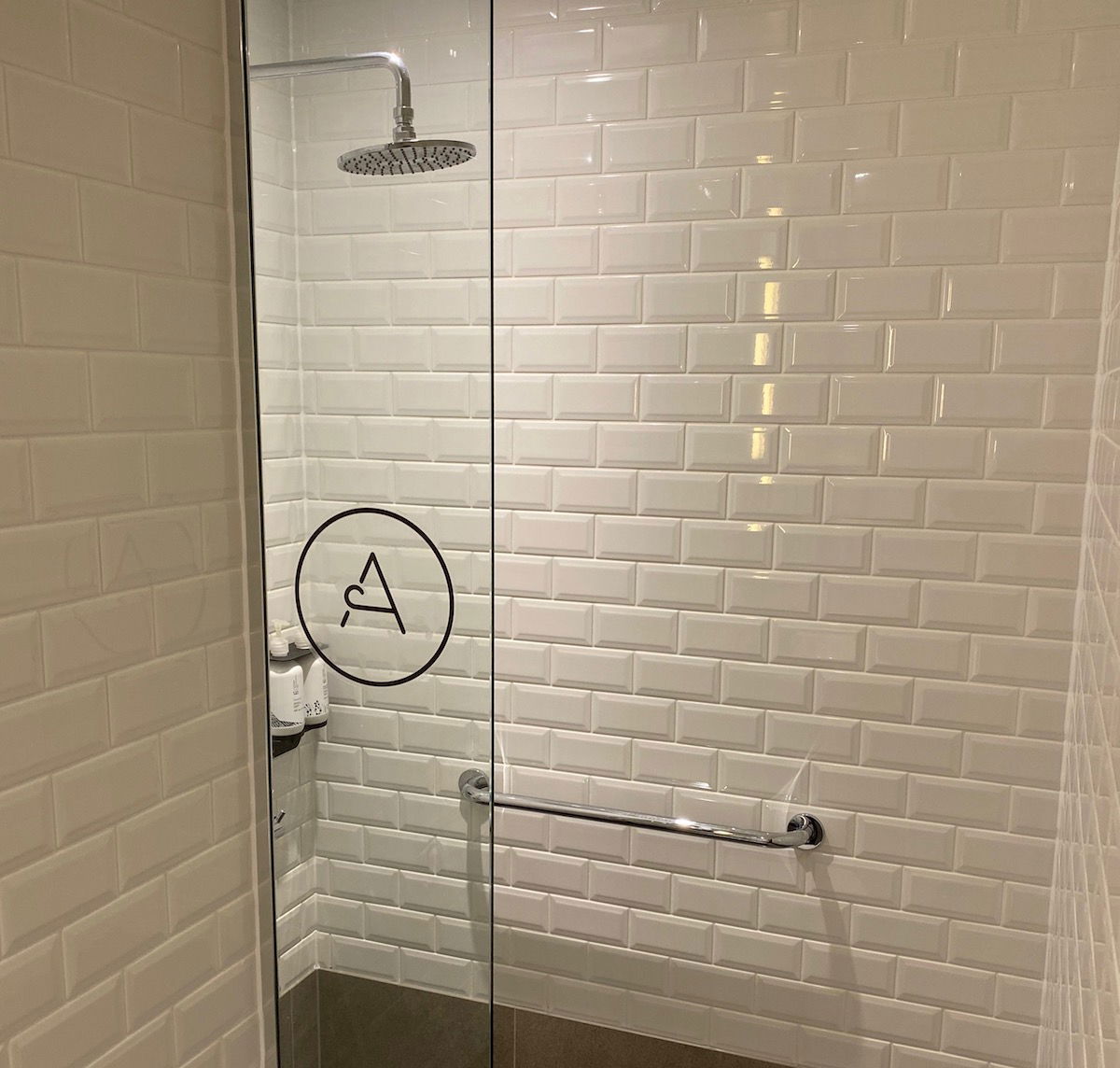 Aerotel London Heathrow shower
It would have been nice if there were a proper door or larger shield between the shower and the rest of the bathroom, as the bathroom did get pretty wet when I showered. But it wasn't a huge deal.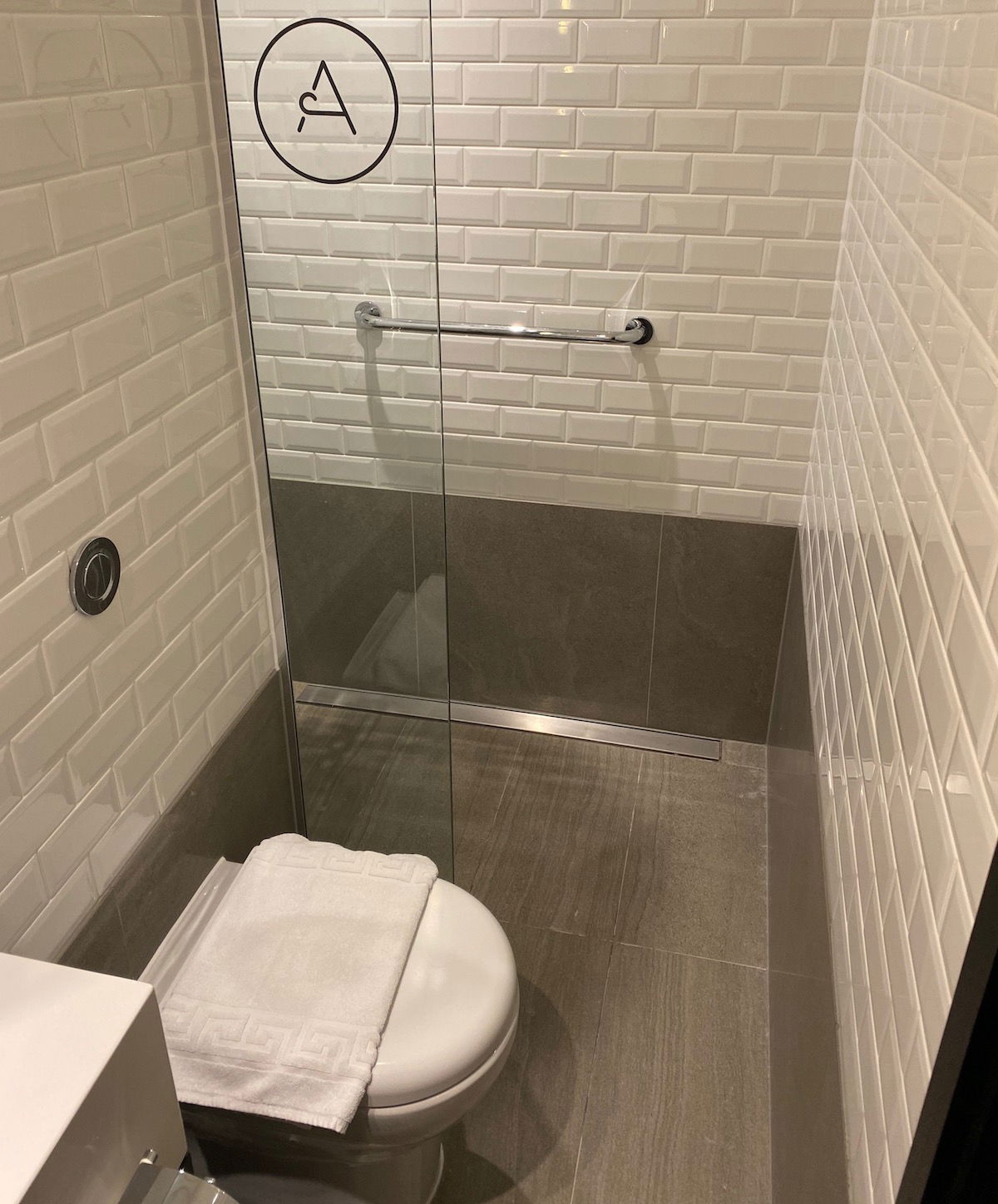 Aerotel London Heathrow bathroom
Toiletries were all in reusable containers, and were from Urban Skincare Co.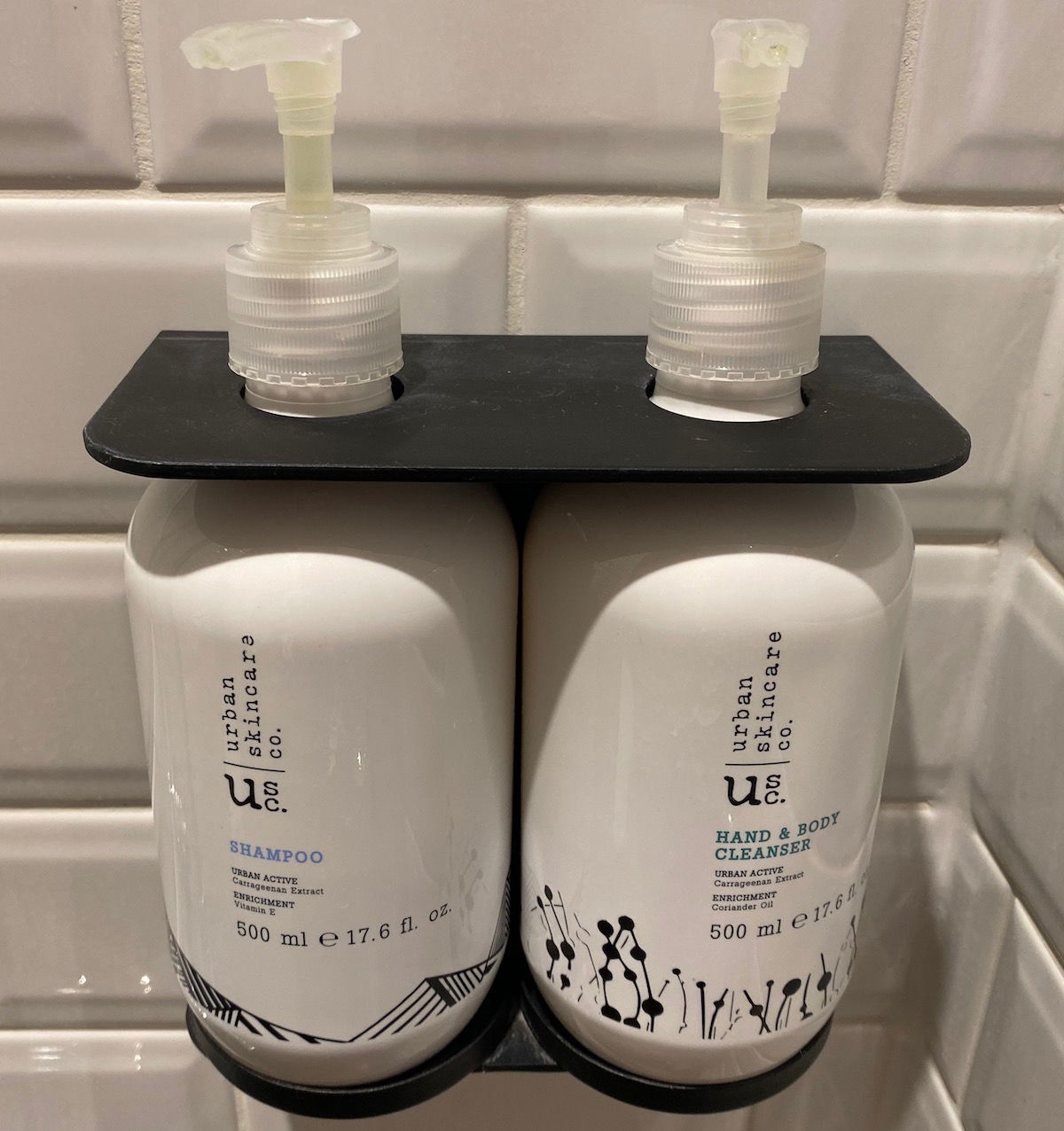 Aerotel London Heathrow toiletries
Wifi throughout the hotel was fast and free, and you could log in with just one click.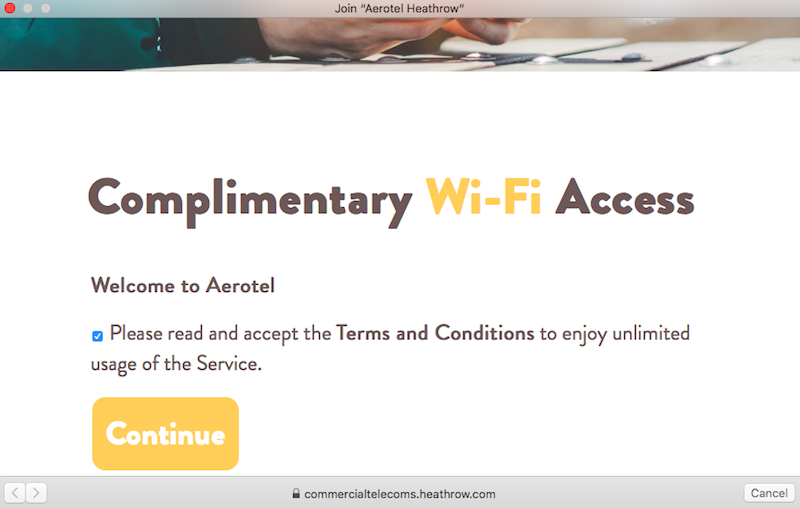 Aerotel Heathrow complimentary Wi-Fi
The lighting controls in the room were easy to use, and there was also an individual temperature control. One thing I never understand is why newly built airport hotels don't have international outlets. Of course I travel with an adapter, but you'd still think that they'd have USB outlets and/or international outlets.
In reality I spent only about three hours in the room, and I managed to nap for about 90 minutes, which sure made me feel like less of a zombie.
One other note about the room — the noise insulation wasn't very good. If someone slammed their door or talked in the hallway I could easily hear it.
Aerotel Heathrow Library Lounge
The Aerotel's only real amenity is the Library Lounge, located on the second floor. The hotel doesn't have a gym, spa, pool, etc.
I'm not sure why exactly they call it the Library Lounge, because there are no books, and it in no way resembles a library. Rather it's just a room with a handful of tables seating two people, a communal table, and some high-top seating by the windows.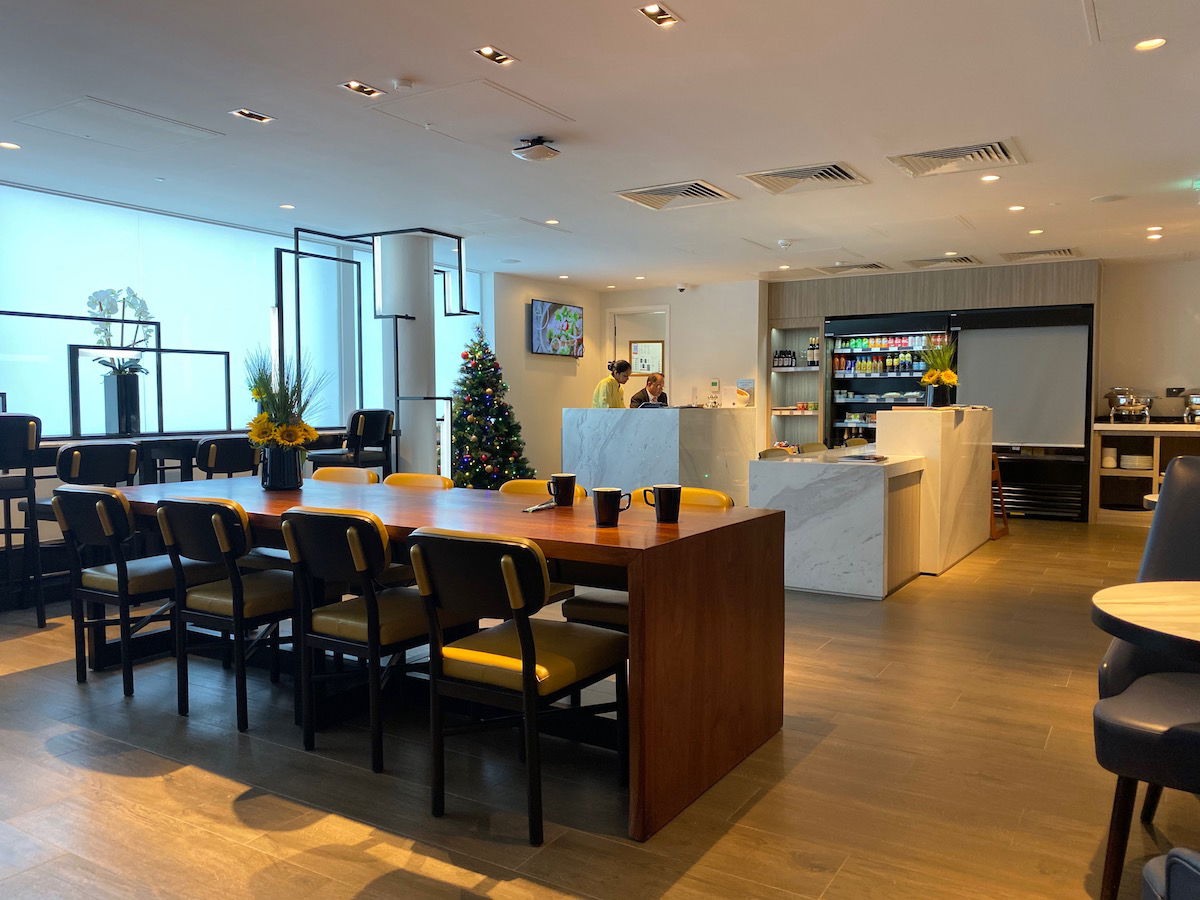 Aerotel Heathrow Library Lounge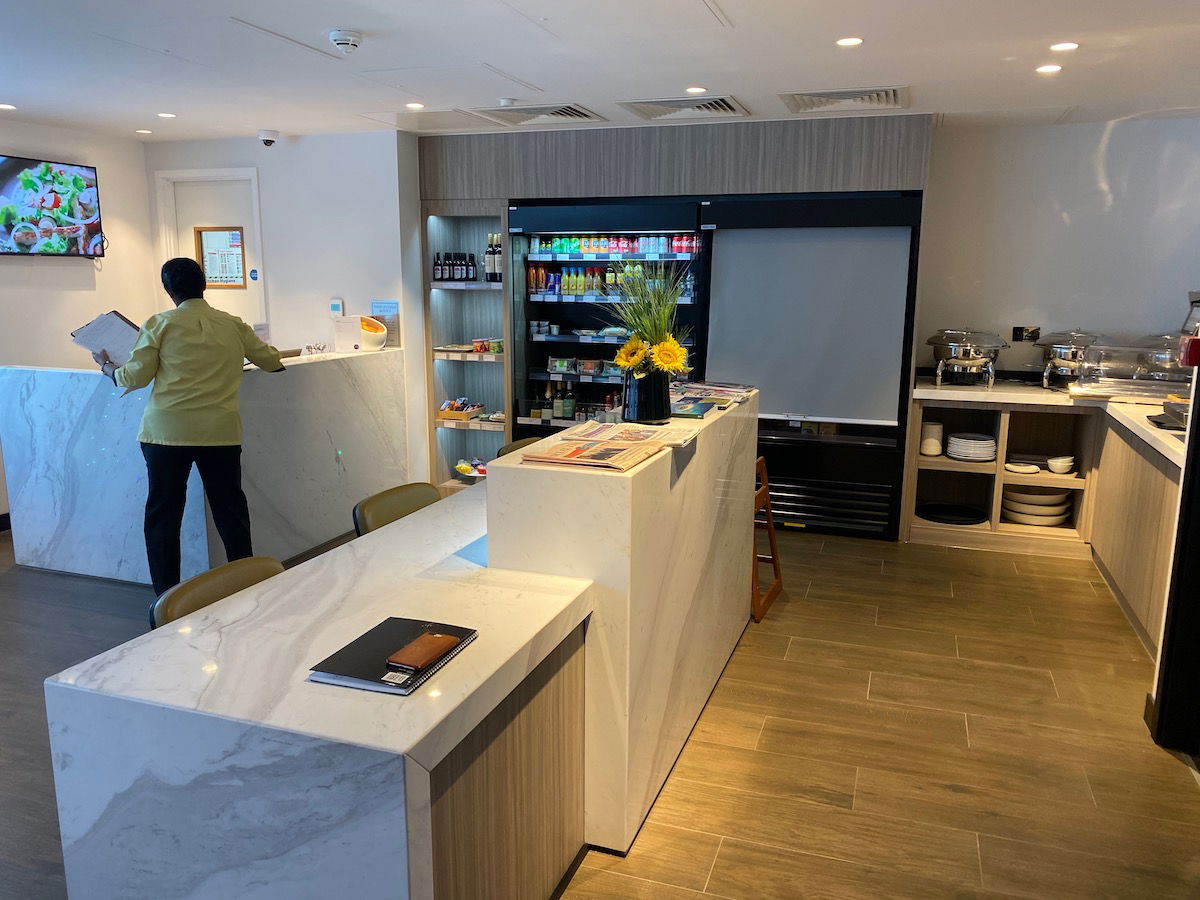 Aerotel Heathrow Library Lounge
There's a grab-and-go concept here, so you can grab a drink (soda, coffee, beer, wine, etc.) or snack (sandwiches, yogurt, packaged snacks, etc.).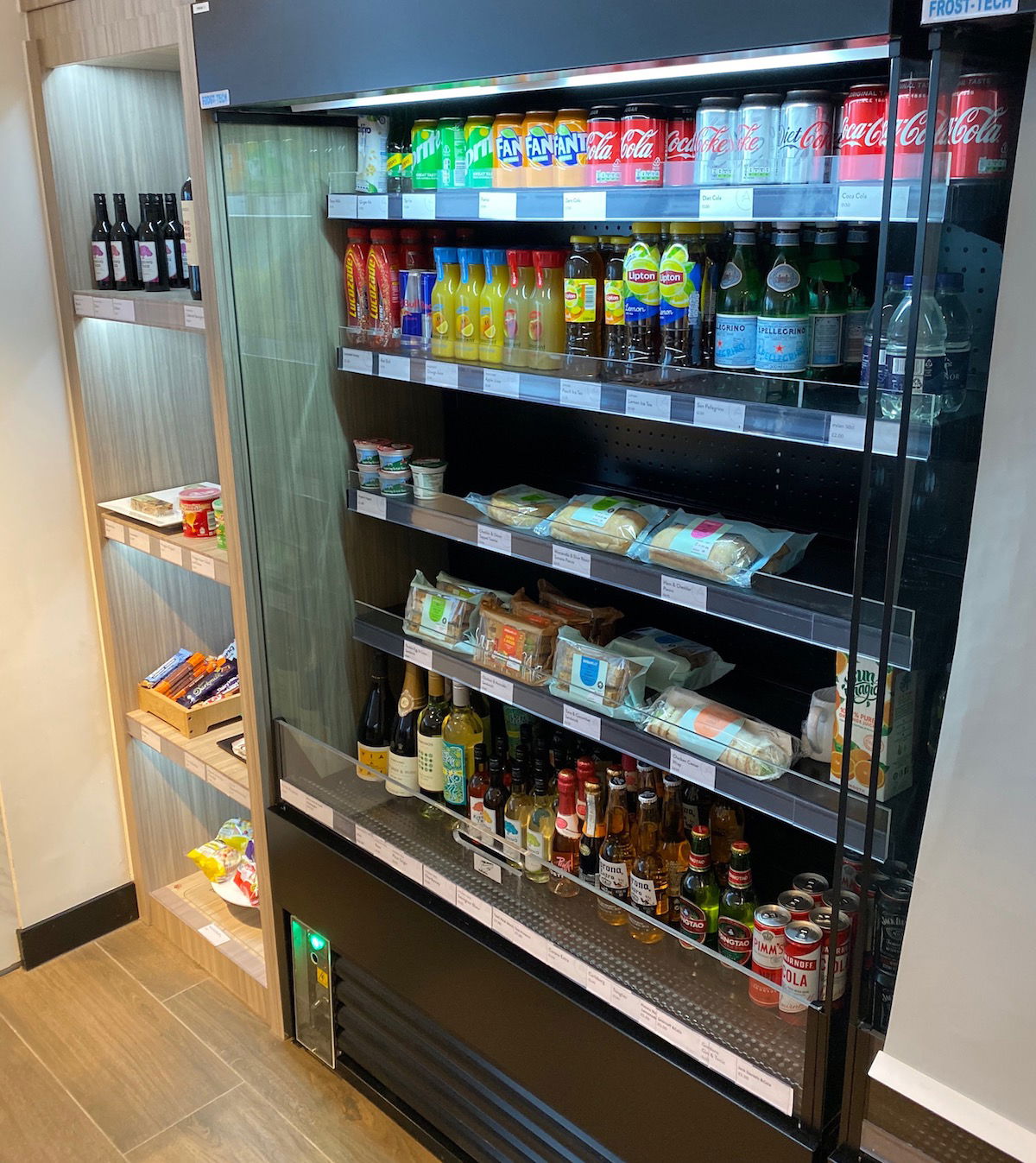 Aerotel Heathrow food & drinks
There's also a menu here, which read as follows: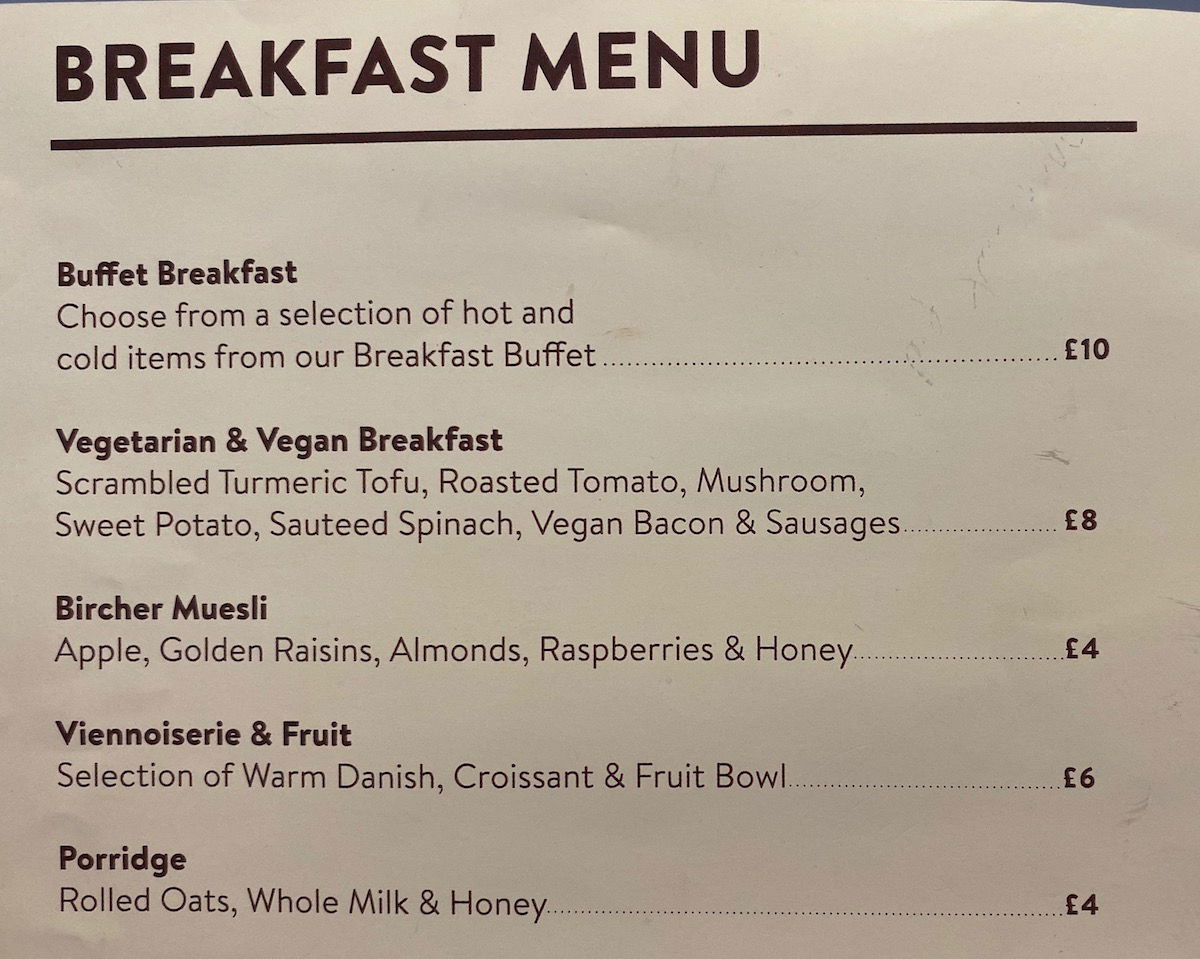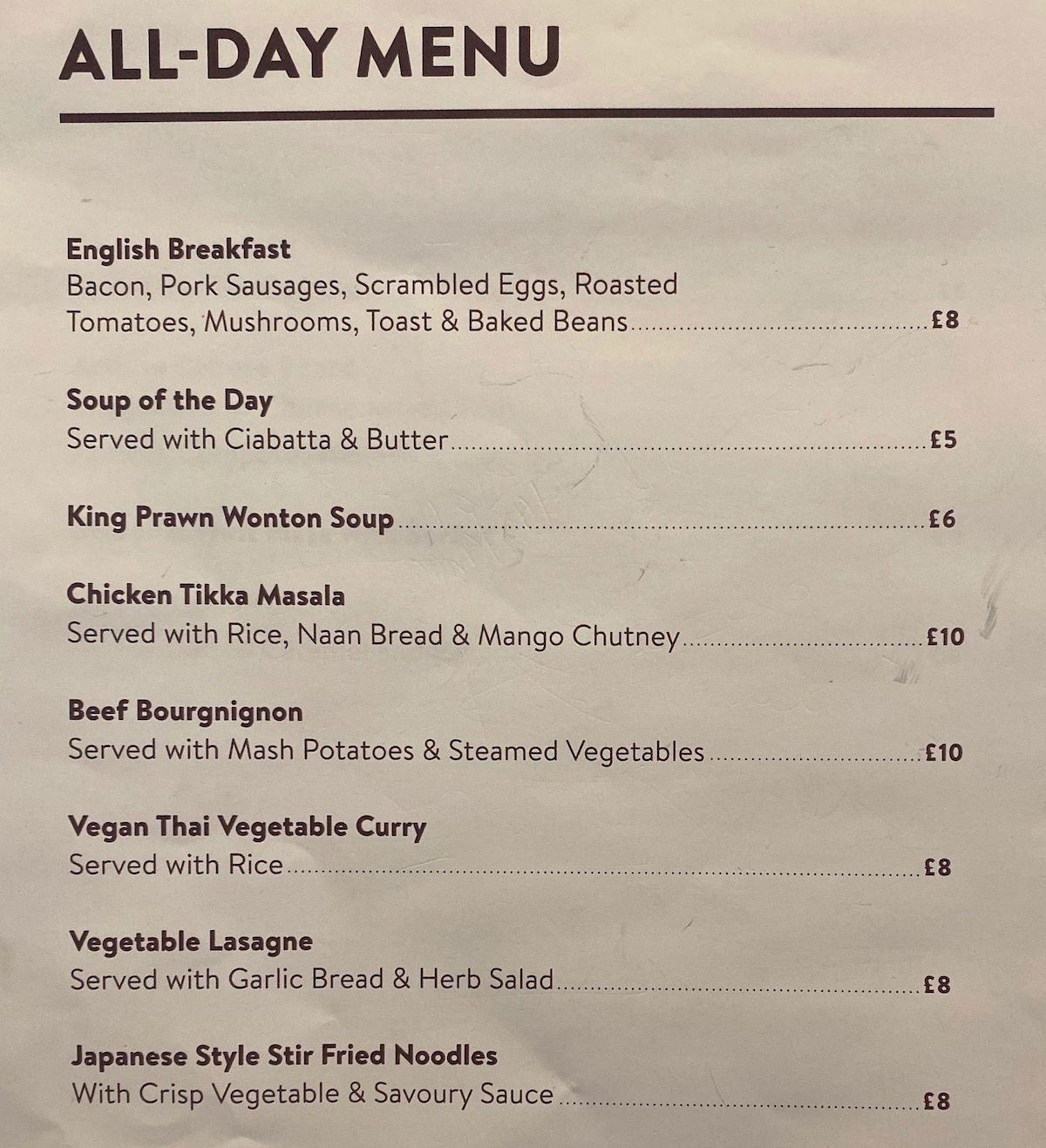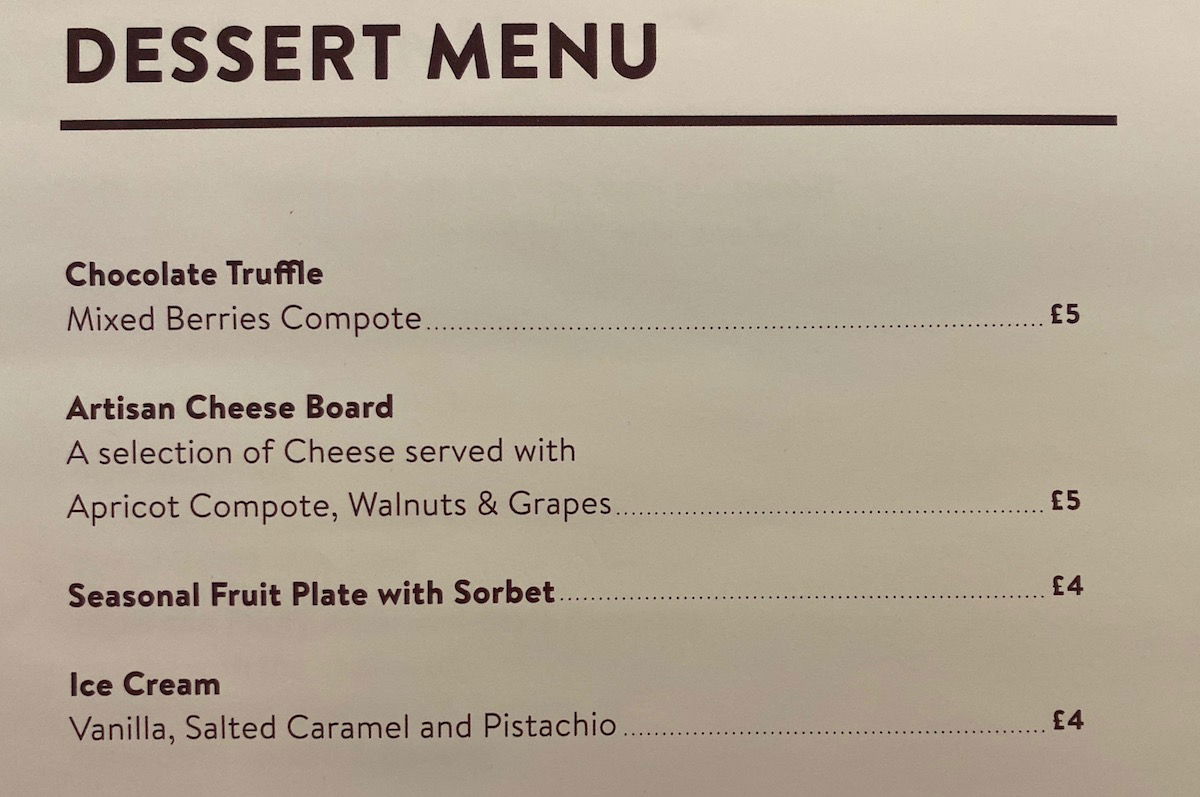 Those prices are quite reasonable, when you consider the usual airport markups.
I wasn't particularly hungry, but figured I needed to try something for the purpose of the review, to get a sense of the food quality. I ordered the Thai vegetable curry. It took about 10 minutes to prepare, and was quite good. It wasn't the most delicious meal I've ever had, but I enjoyed it, and it exceeded my expectations.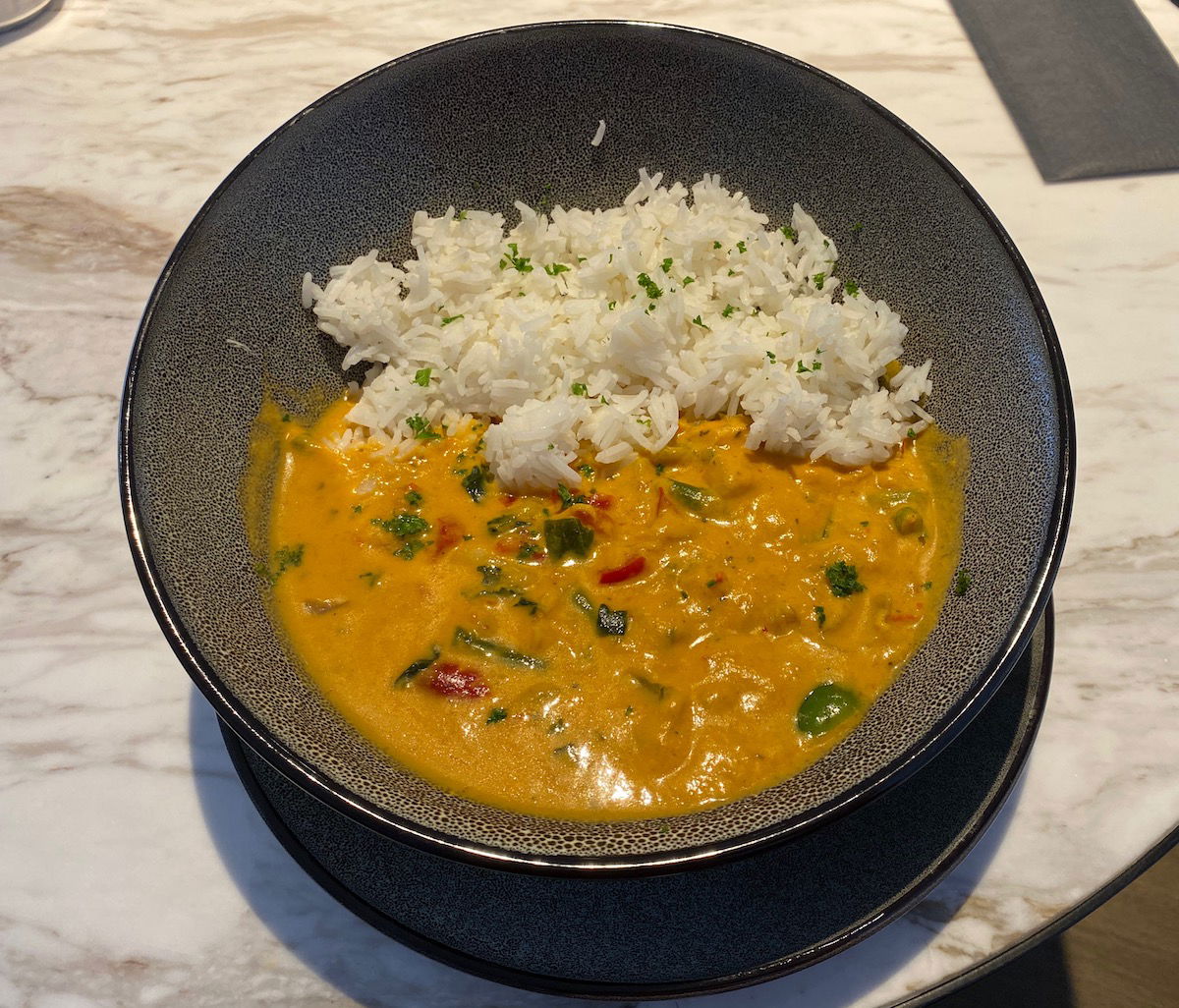 Aerotel Heathrow lunch
The only other thing I'd note is that the hotel manager and several other hotel employees were holding a rather contentious business meeting with outside vendors in the Library Lounge.
I get they probably don't have very many spaces where they can have meetings, but there were quite some disagreements between the two sides, and it seems like this shouldn't be done within earshot of customers.
It was interesting to hear the discussions, though (I wasn't trying to eavesdrop, but they were having a loud meeting right next to me). Apparently they were negotiating with whatever service does their linens, or something, and they couldn't agree on terms of how often they should be delivered.
Then they had a meeting about how much they planned to rely on corporate bookings and relationships with airlines, rather than selling directly to consumers.
Aerotel Heathrow Bottom Line
Aerotel is a fantastic new option at Heathrow, as it's the only hotel connected to Terminal 3. If I had another long daytime layover or short nighttime layover at Terminal 3 I'd absolutely stay here again.
My room was nicely appointed, the bed was comfortable, and I thought the price was reasonable, given how expensive Heathrow otherwise is.
Don't expect much beyond the room as such, though.