---
Welcome to a review of what's possibly one of the most beautiful Priority Pass lounges I've been to, but also by far the most pointless. This is a lounge that's inside a mall that's within an airport.
Background On The Jewel
A couple of installments from now I'll be reviewing the Jewel, which will also be the first shopping mall review on OMAAT, as far as I know.
For those of you who have no clue what I'm talking about, the Jewel opened earlier this year, and it's located at Singapore Changi Airport. It's one of the most gorgeous malls in the world that's on the premises of the airport, but it's not airside.
The Jewel is a destination for both travelers and locals alike, since you don't need to be flying to visit the mall.
Changi Lounge Singapore Jewel Review
Like I said, this lounge is as unusual as they come. So let's look at what you need to know about the lounge — the location, the hours, the access requirements, the seating, the (lack of) food & drinks, and the showers.
Changi Lounge Singapore Location
The Changi Lounge isn't located inside any of the terminals, but rather it's located inside the Jewel shopping mall as such. I arrived at Terminal 1, which is the most convenient for accessing the Jewel.
In the arrivals hall the entrance to the Jewel is straight ahead, and is tough to miss.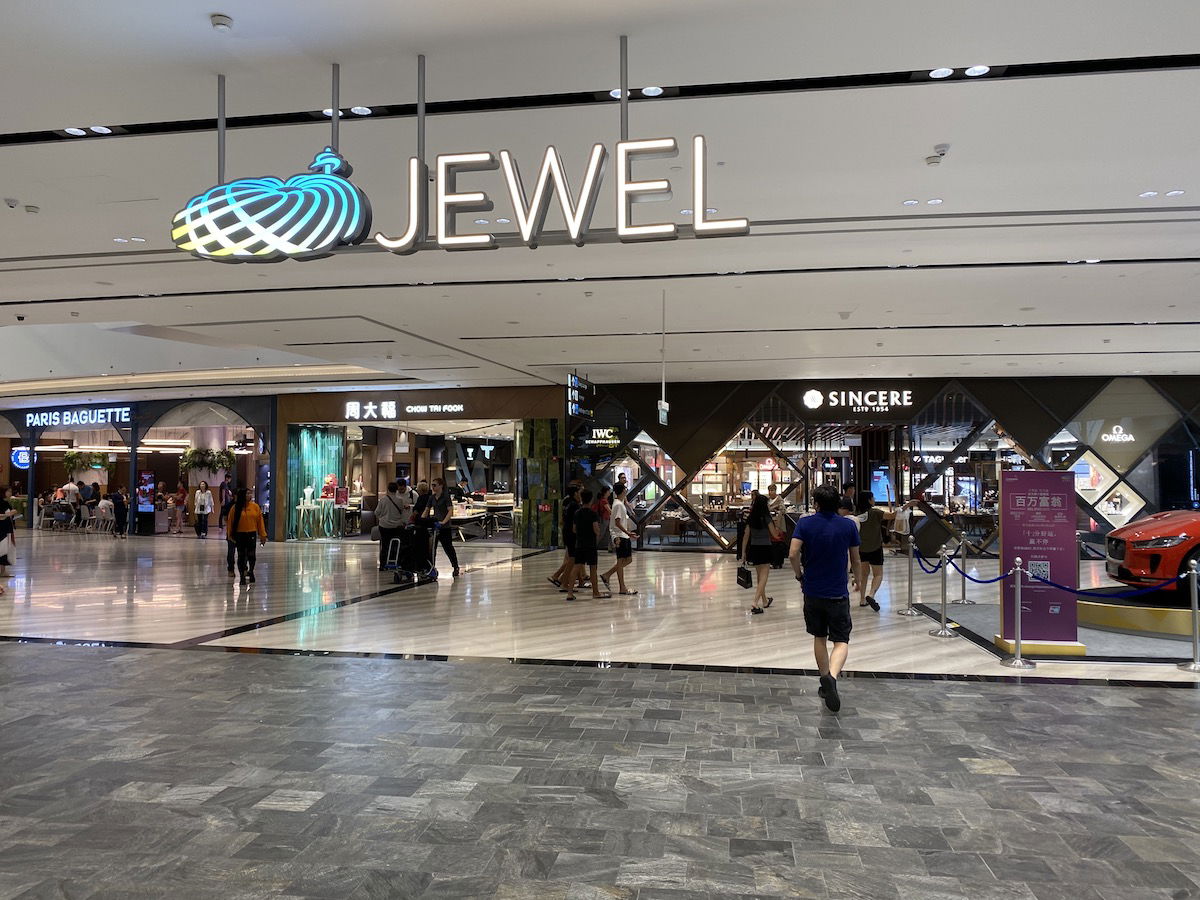 The Jewel Changi Airport
Once you enter the Jewel from Terminal 1, turn left and you'll see the signage pointing you towards the Changi Lounge.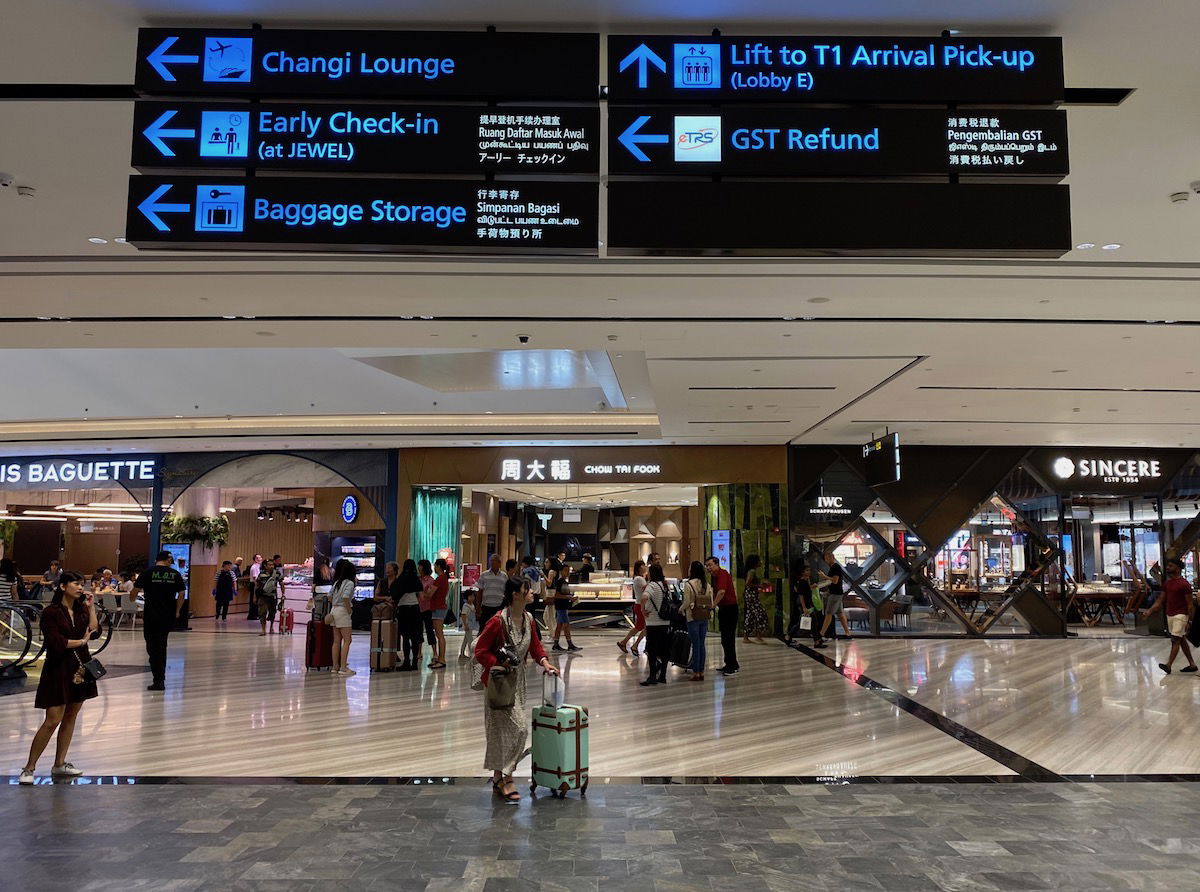 Signage to the Changi Lounge
It's just a short walk from here, and the entrance to the Changi Lounge is to the right, across from the early check-in counters that are inside the mall (yes, this really is a mall unlike any other).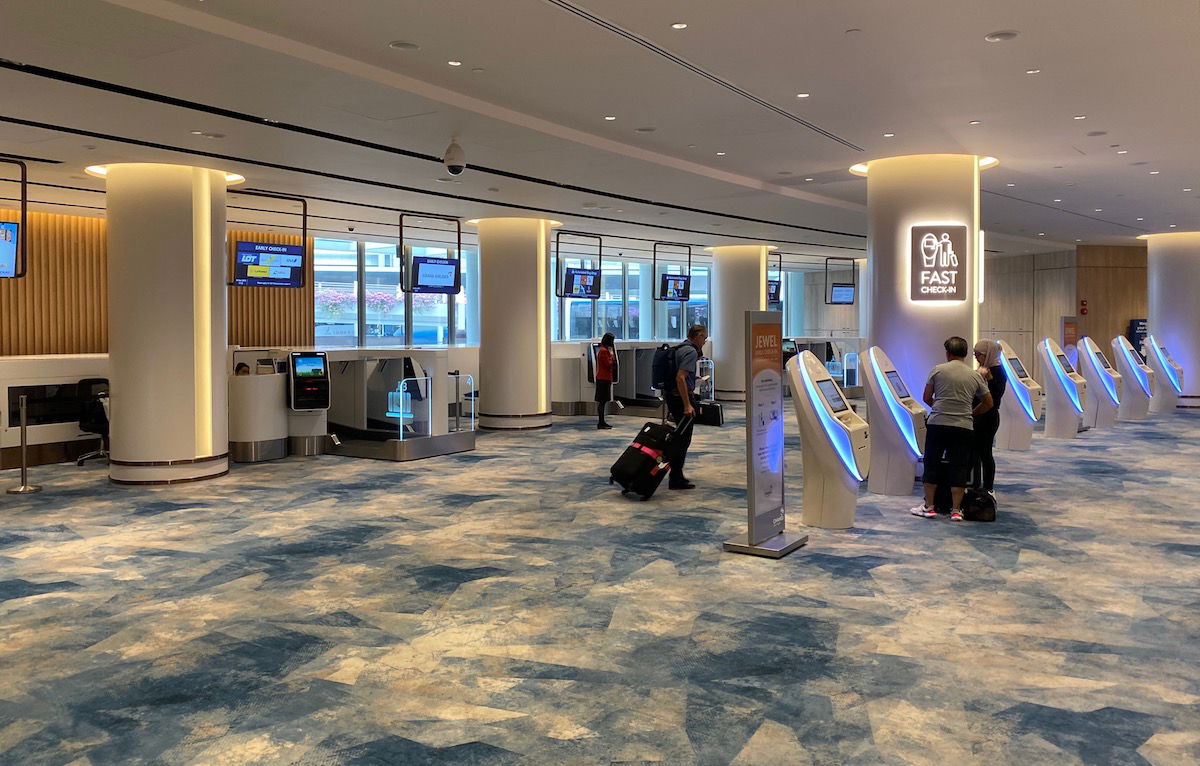 Early check-in at the Jewel
If you're coming from any other part of the mall, the Changi Lounge is close to the "E" lifts, for which you should find signage.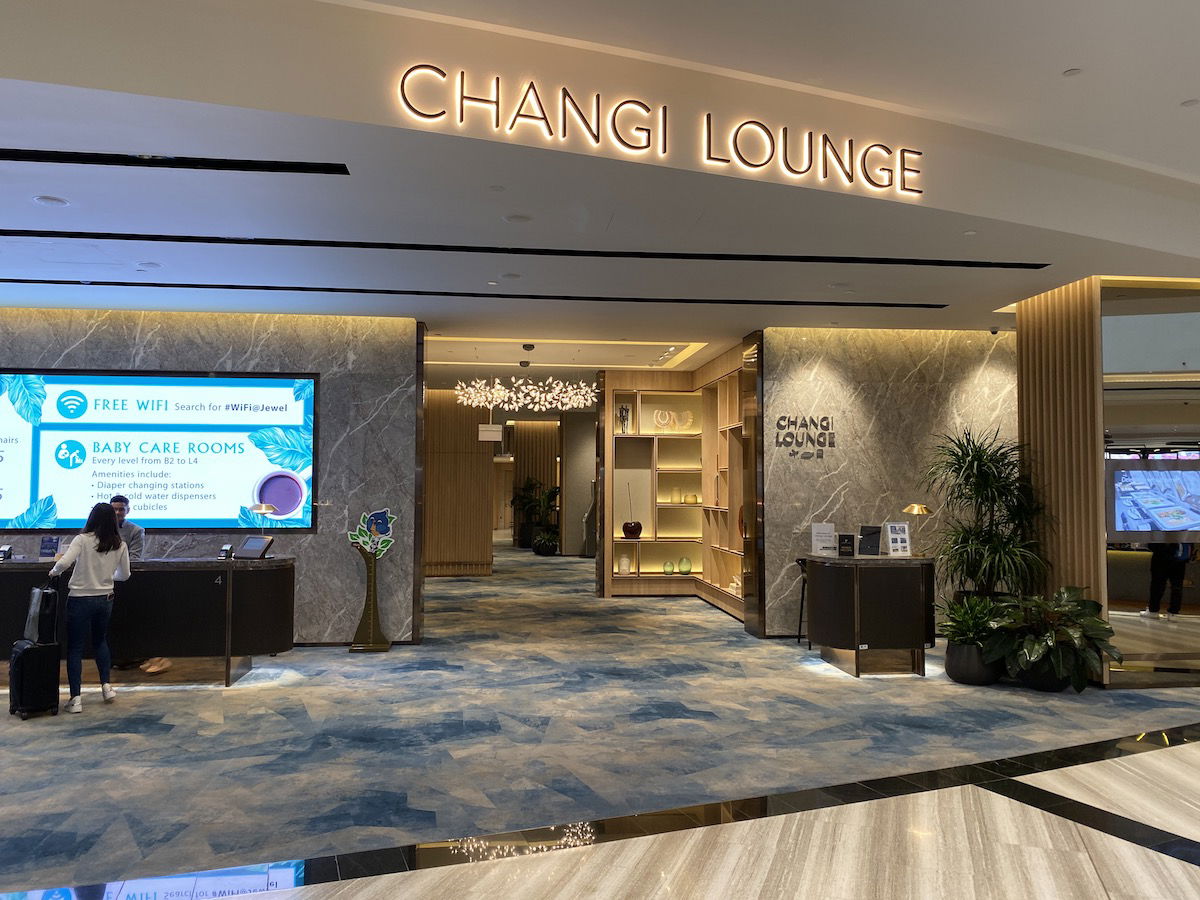 Changi Lounge exterior
Changi Lounge Singapore Hours
The Changi Lounge is open 24/7. A vast majority of shops and restaurants in the Jewel close overnight and there's not much going on there, so I imagine this is about the only thing that has any action at night (though perhaps "action" is a strong word).
Changi Lounge Singapore Access Requirements
For one, the lounge is open to Priority Pass members:
Members can stay for up to three hours
The lounge can be used by members either upon arrival, or no more than four hours before flight departure
A confirmed same day boarding pass is required to access the lounge
I used this as an arrivals lounge, purely so I could review it. I don't really see the point in using this as a departures lounge. I'd much rather already clear immigration and then go to a lounge closer to my gate, rather than being in a mall and still having to go through the airport "process."
You can also buy access to the Changi Lounge at the following cost:
Three hours costs 38SGD (~28USD) per adult
Three hours including a shower costs 50 SGD (~37USD) per adult
You can add on a nap pod for 20SGD (~15USD) per hour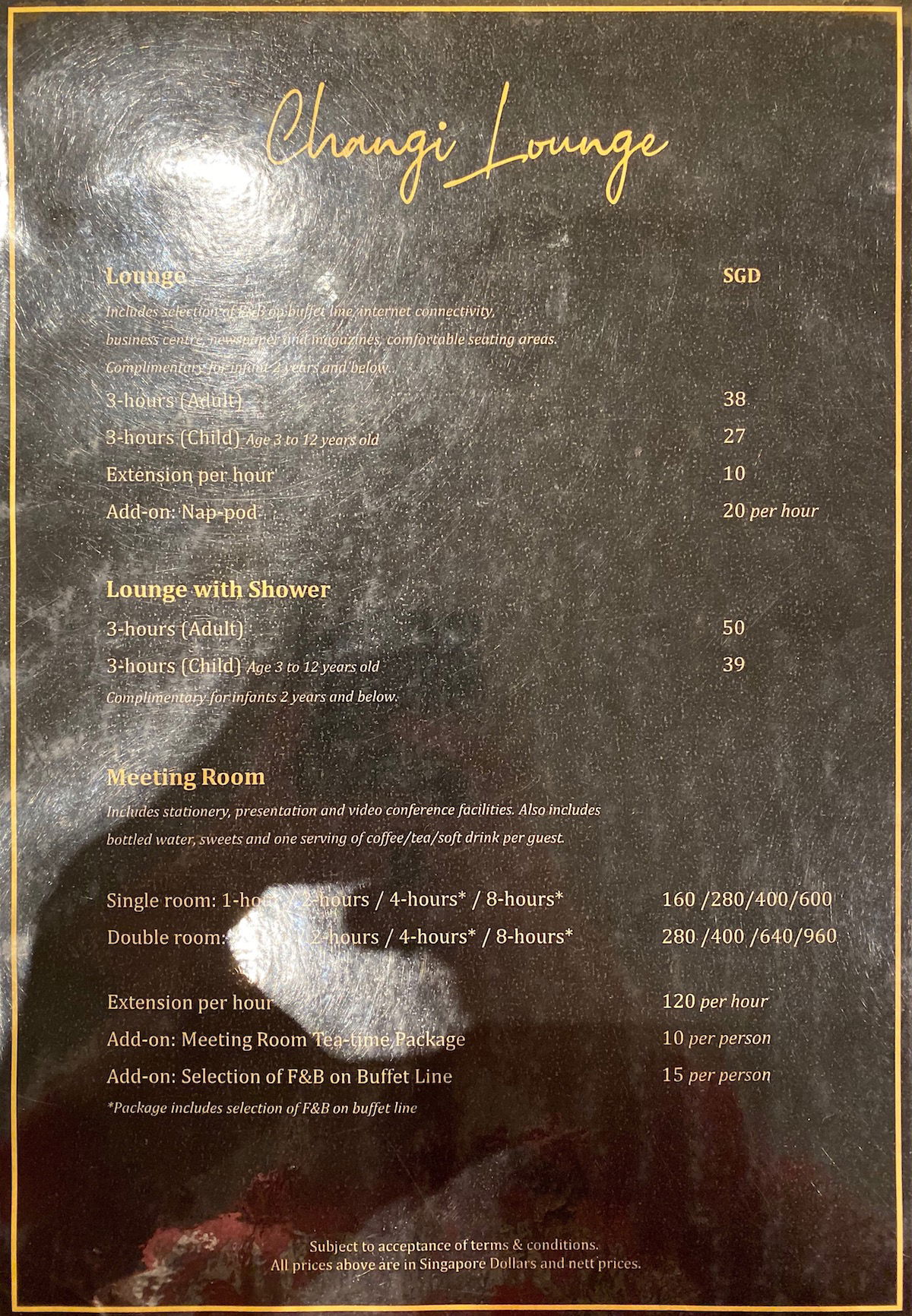 Changi Lounge Singapore Layout & Seating
On the plus side, the lounge is really pretty, one of the more elegant Priority Pass lounges I've seen anywhere. Reception is located just inside the entryway and to the right.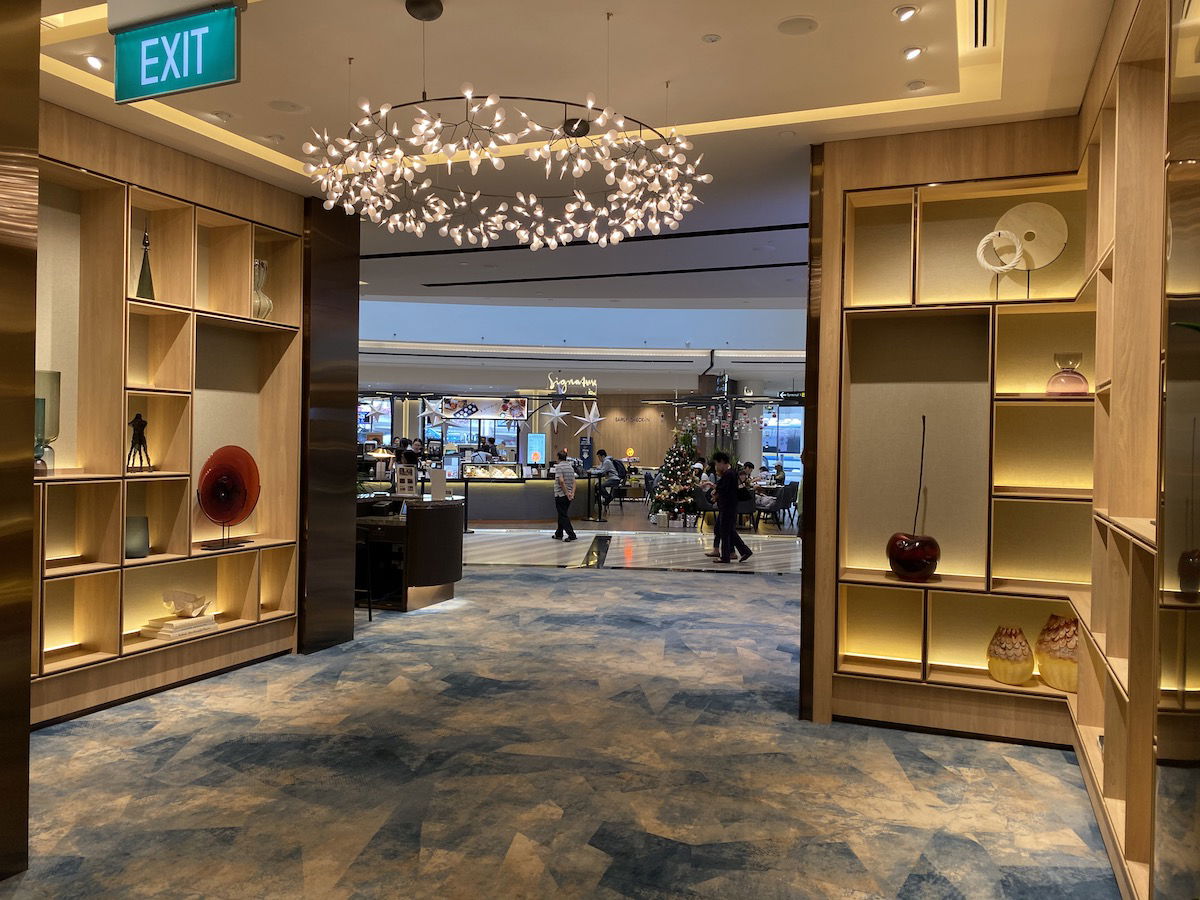 Changi Lounge entryway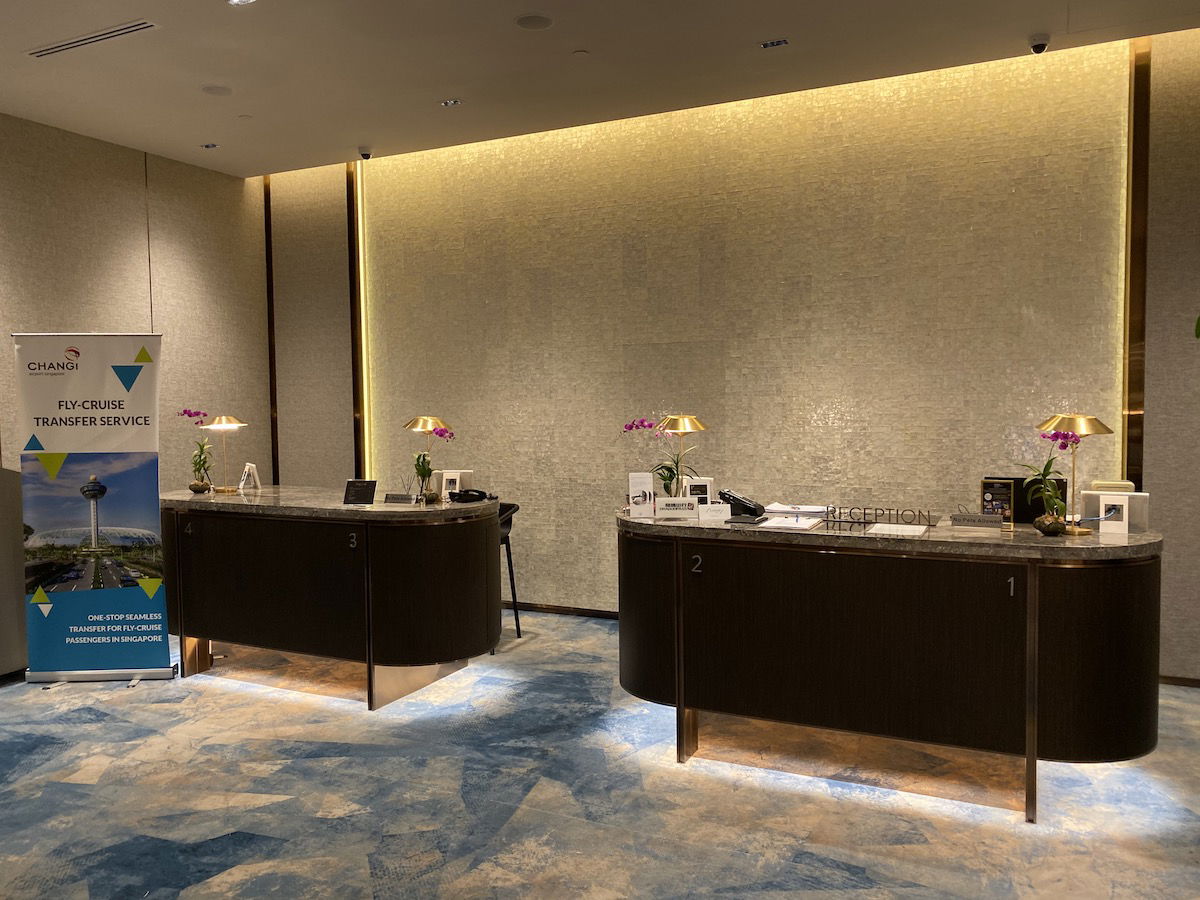 Changi Lounge reception
I presented my inbound boarding pass and Priority Pass card, and was informed that my entrance was valid for three hours, and included a shower and Tiger beer.
The lounge is basically one big rectangular room with lots of partitions, and all kinds of seating options. I'll let the pictures of the seating speak mostly for themselves.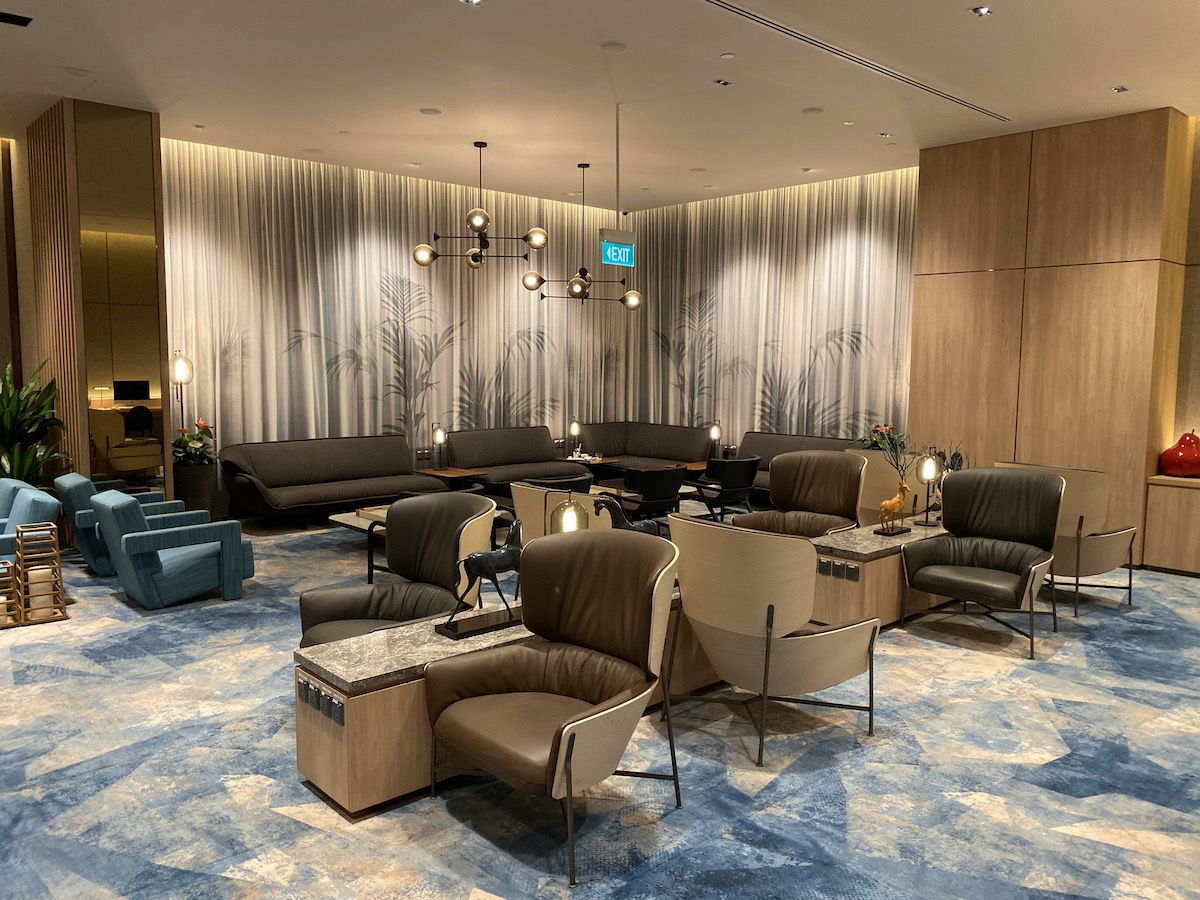 Changi Lounge seating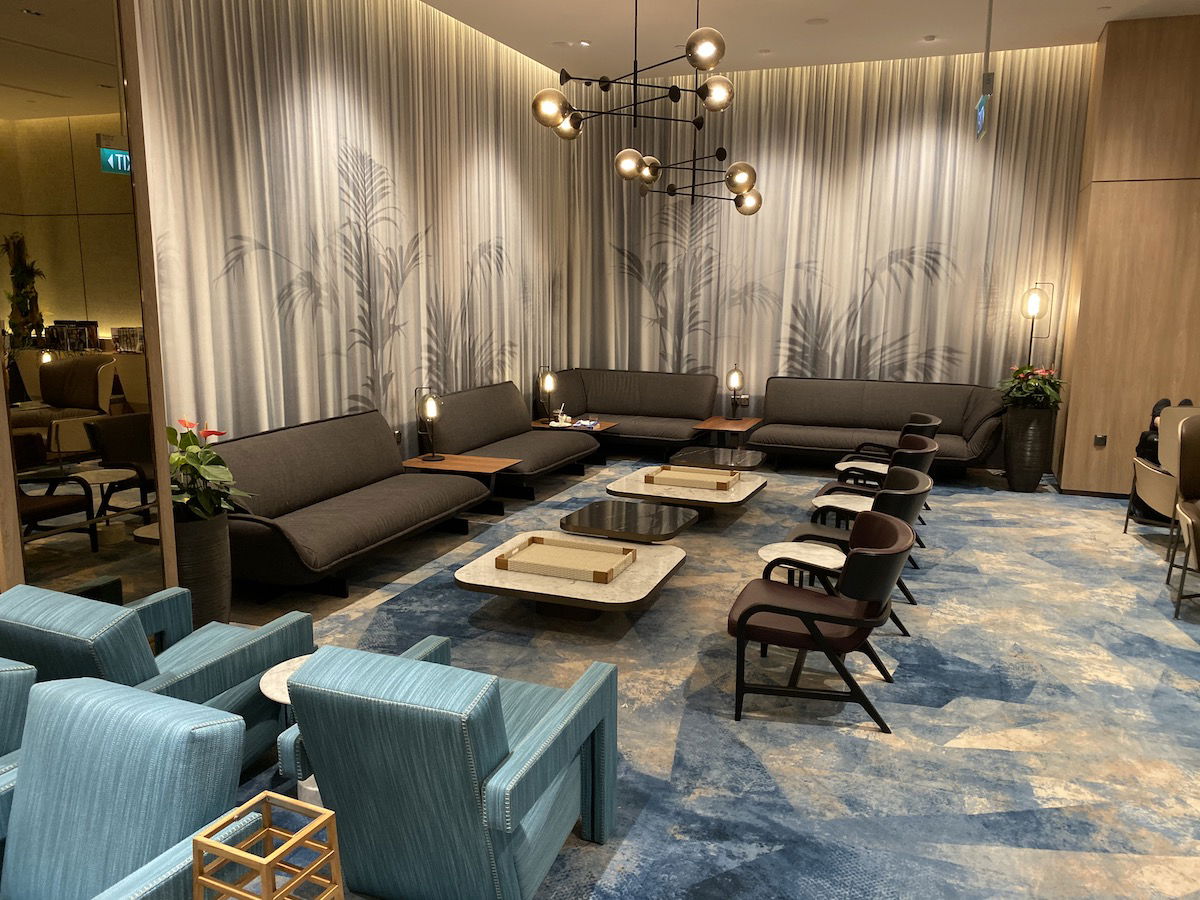 Changi Lounge seating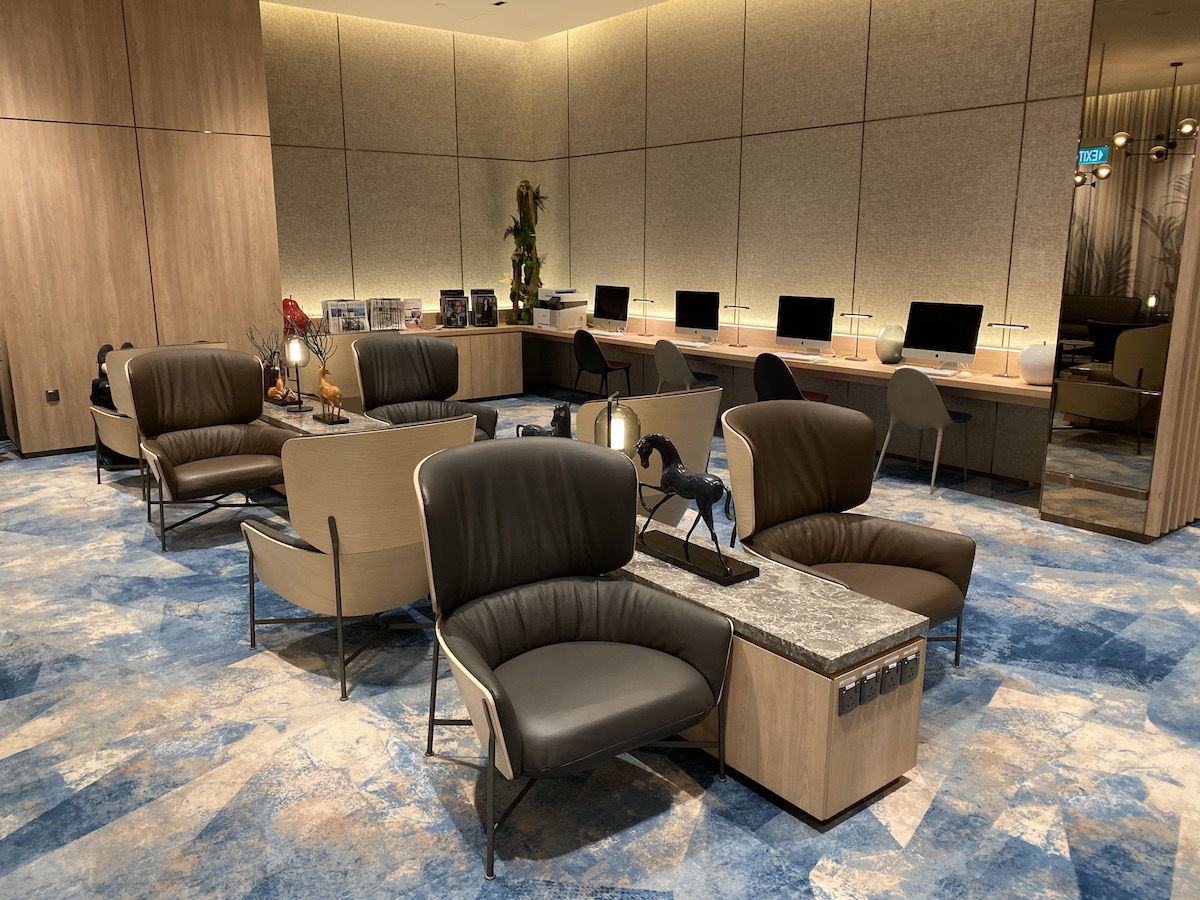 Changi Lounge seating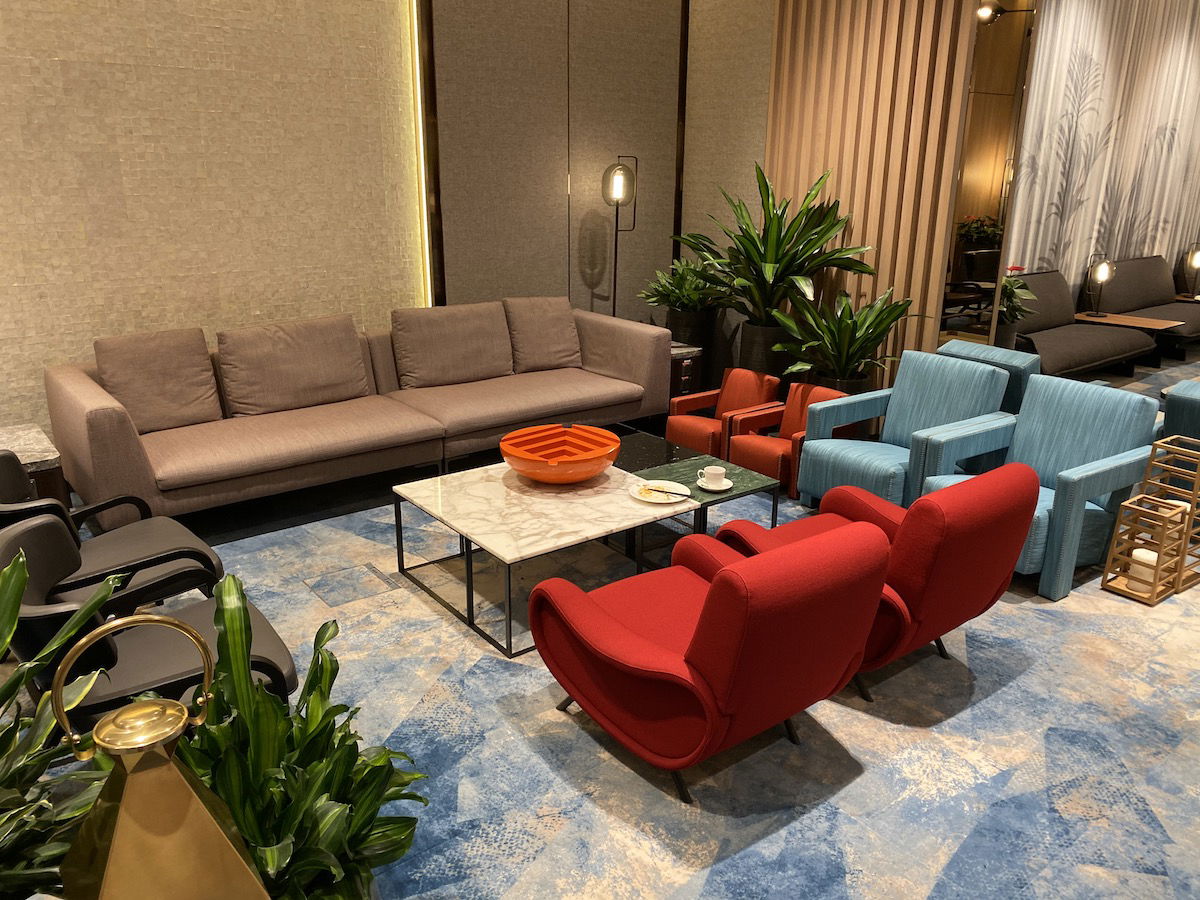 Changi Lounge seating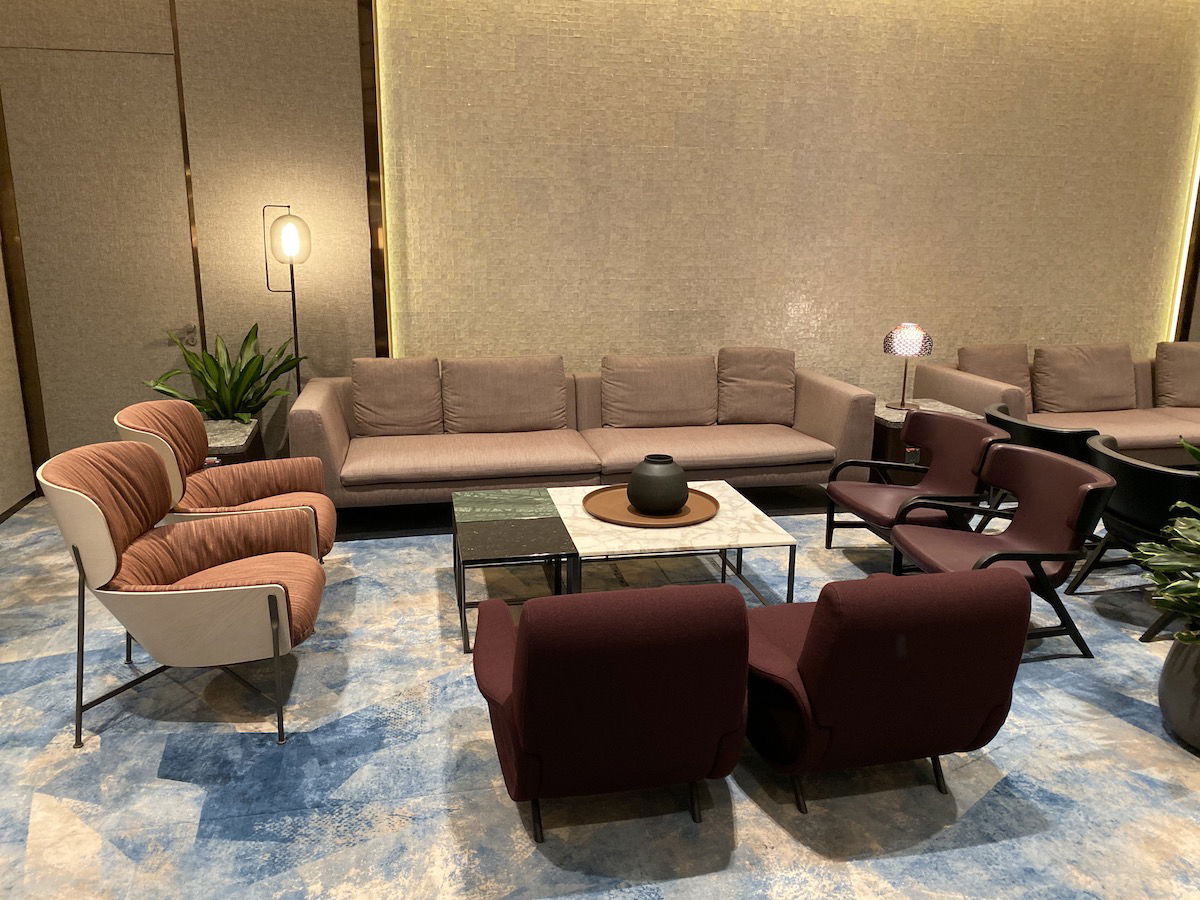 Changi Lounge seating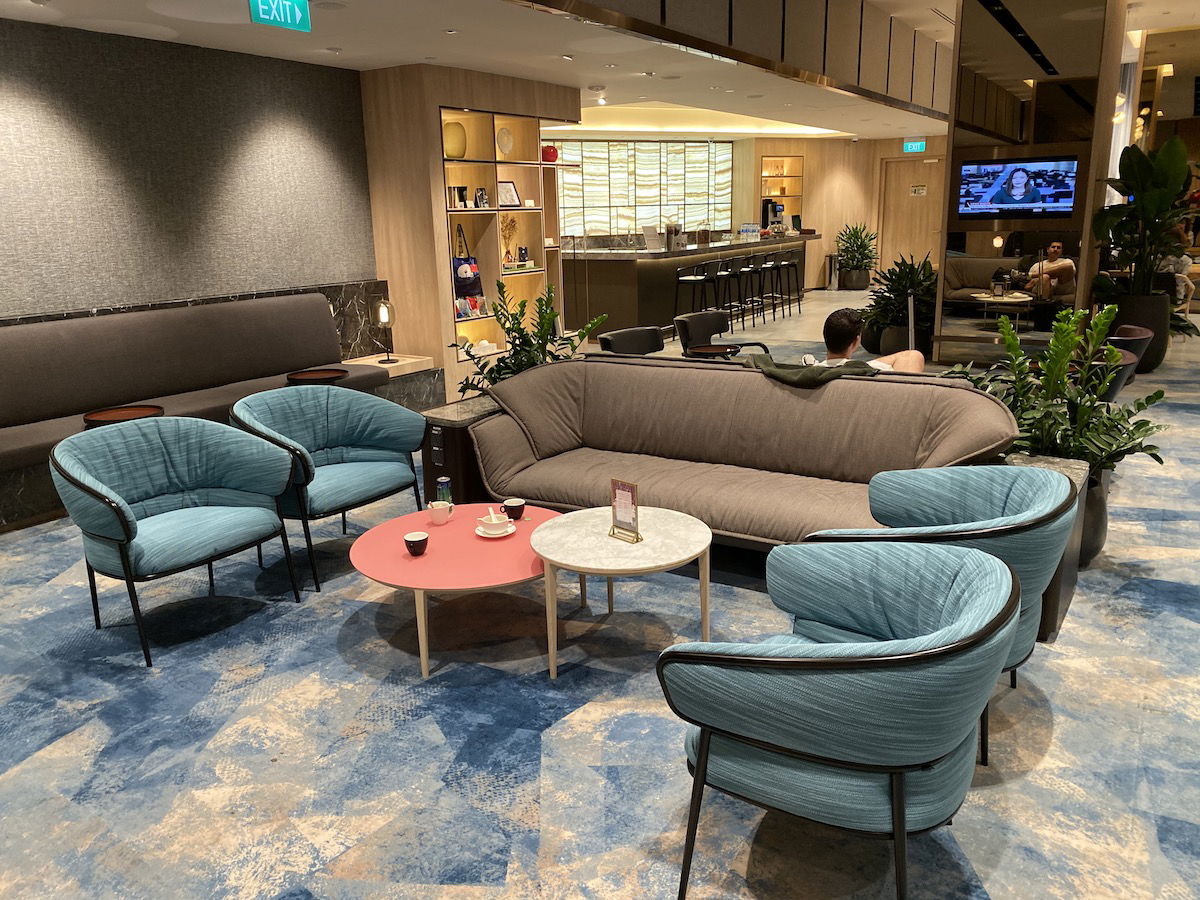 Changi Lounge seating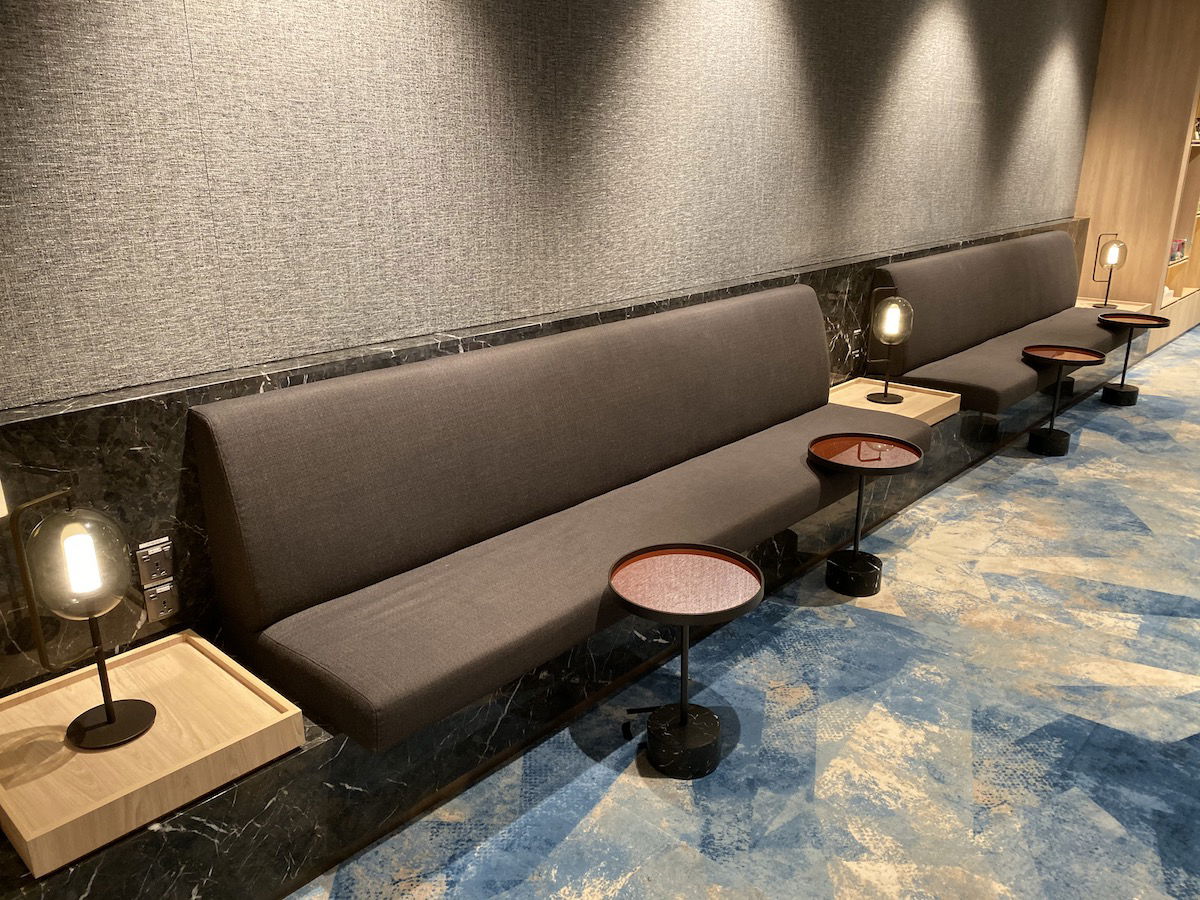 Changi Lounge seating
There was a business center with a bunch of iMacs.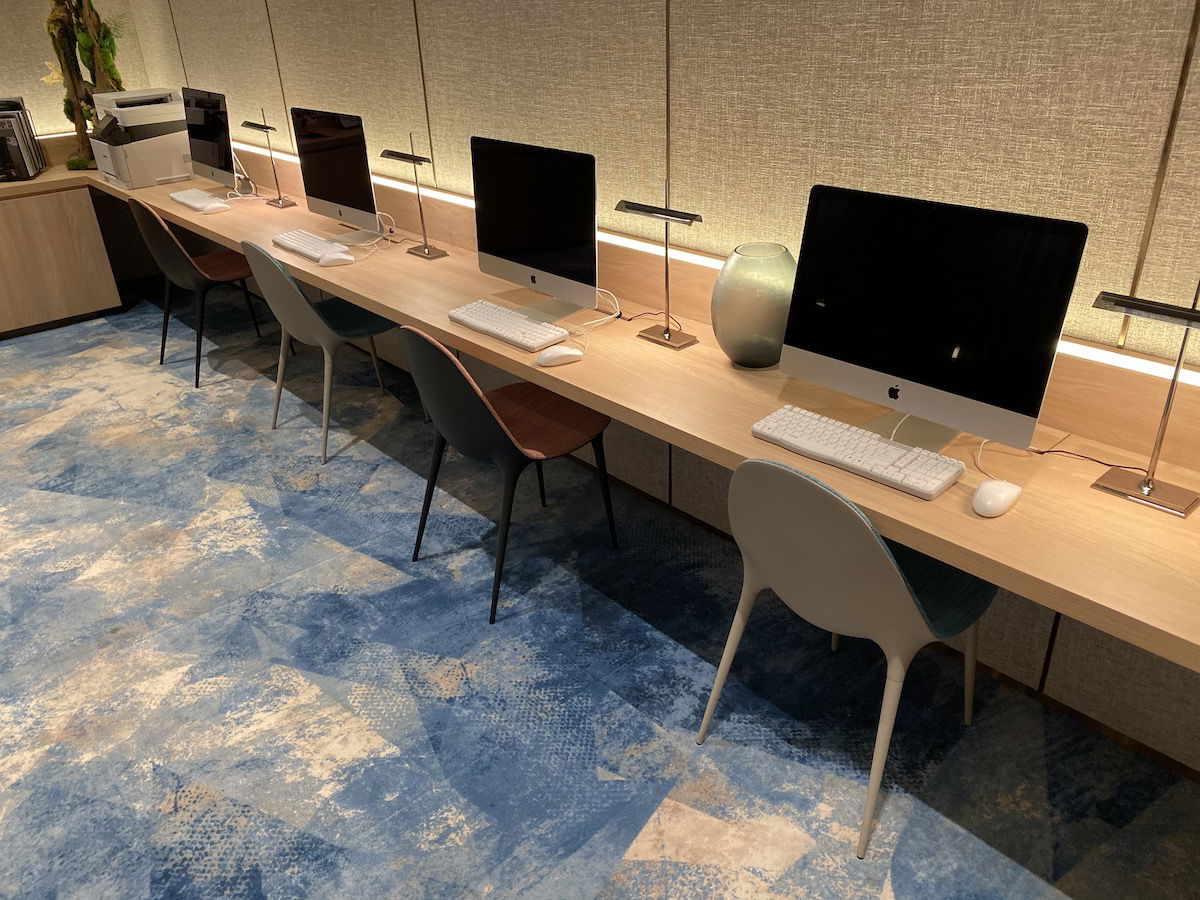 Changi Lounge business center
On the opposite side of the lounge was the dining area, which had a few tables (each with seating for two), and a communal table (with seating for 10).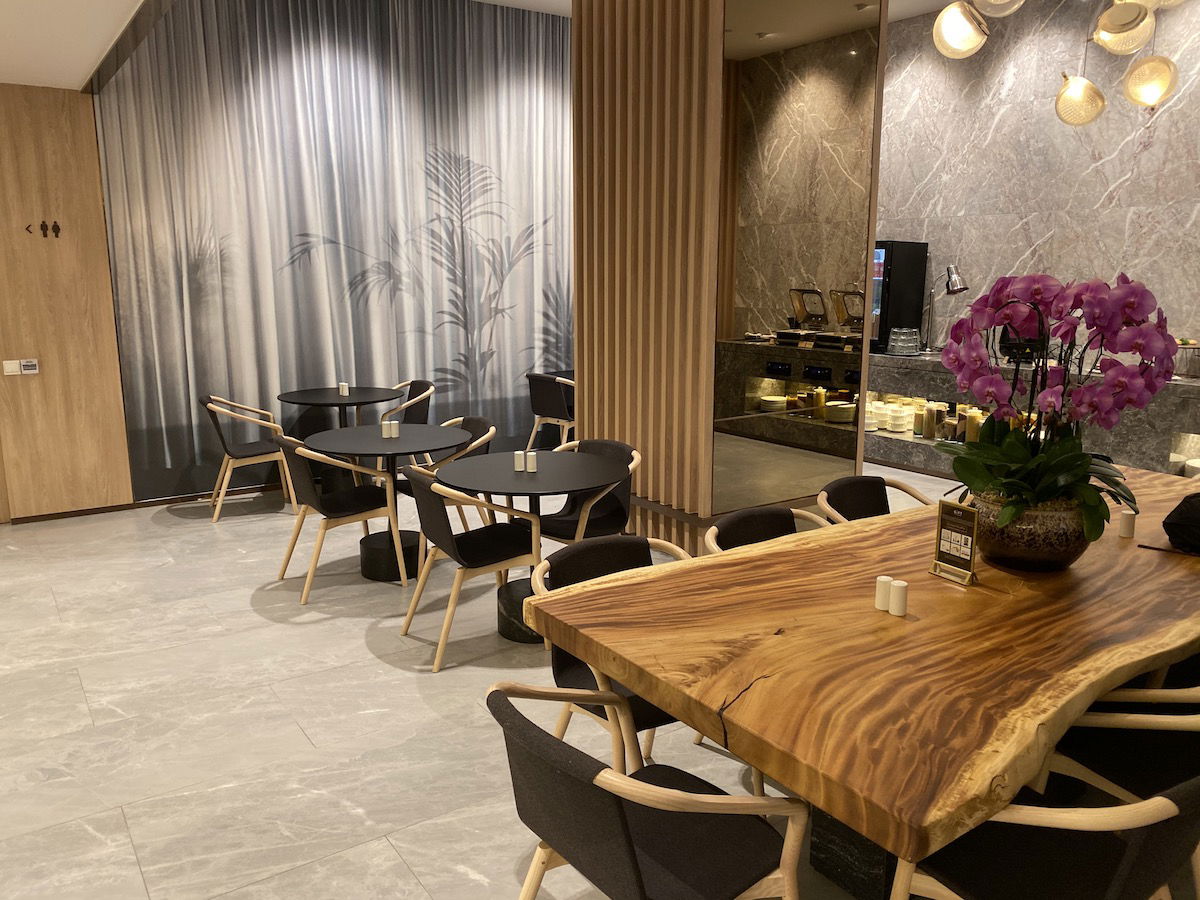 Changi Lounge dining area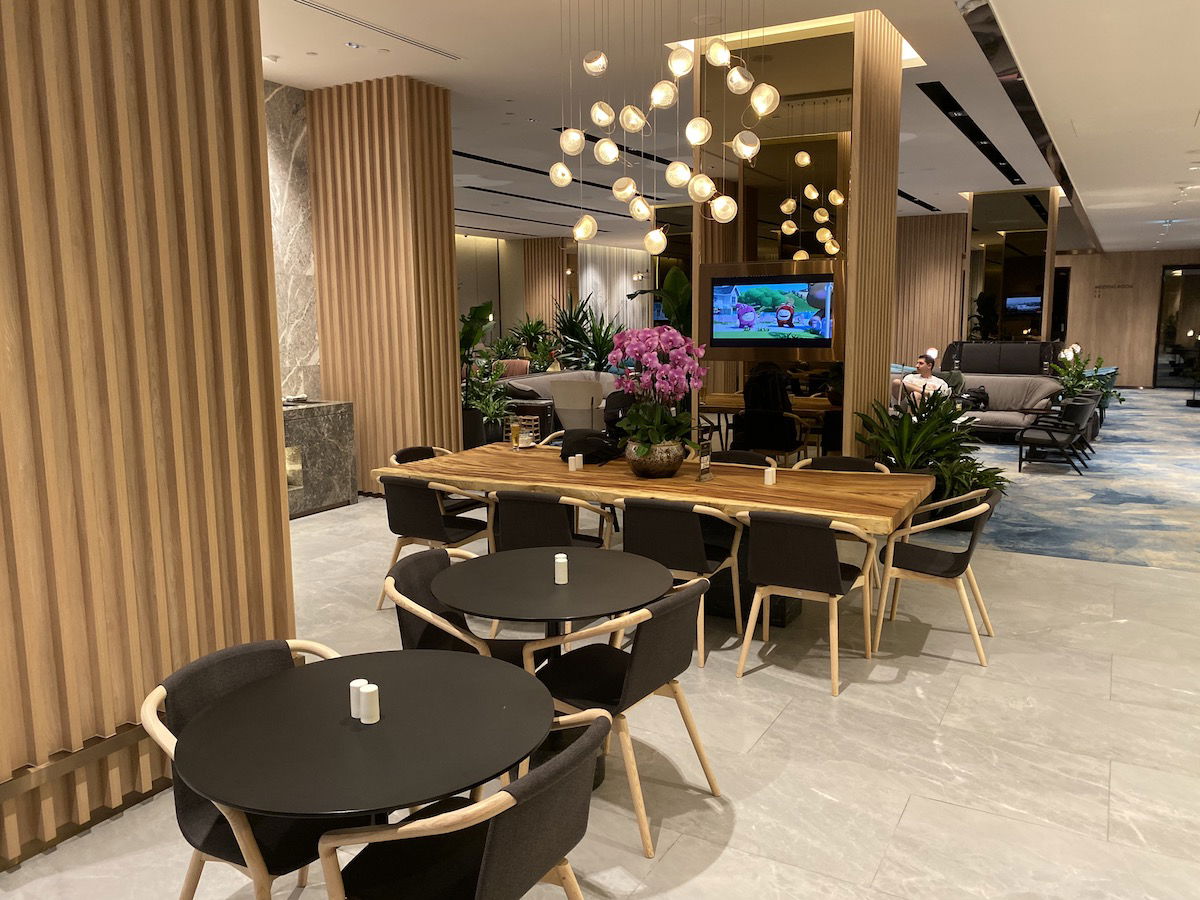 Changi Lounge dining area
This is also where the bar & food selection is.
Changi Lounge Singapore Food & Drink Selection
The food and drink selection in the lounge was abysmal. There's a bar, though the only thing on the bar was bottled water, apples, hot water, and snack mix.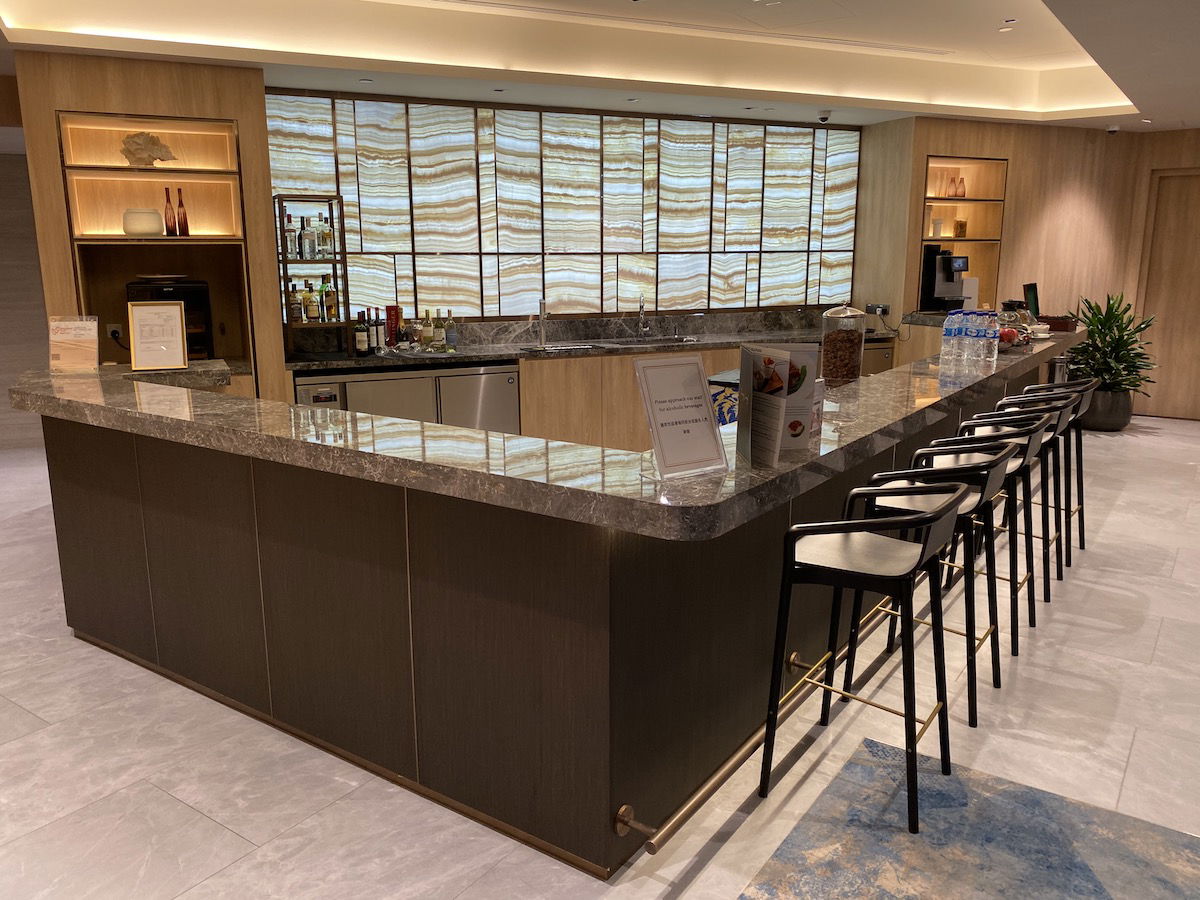 Changi Lounge bar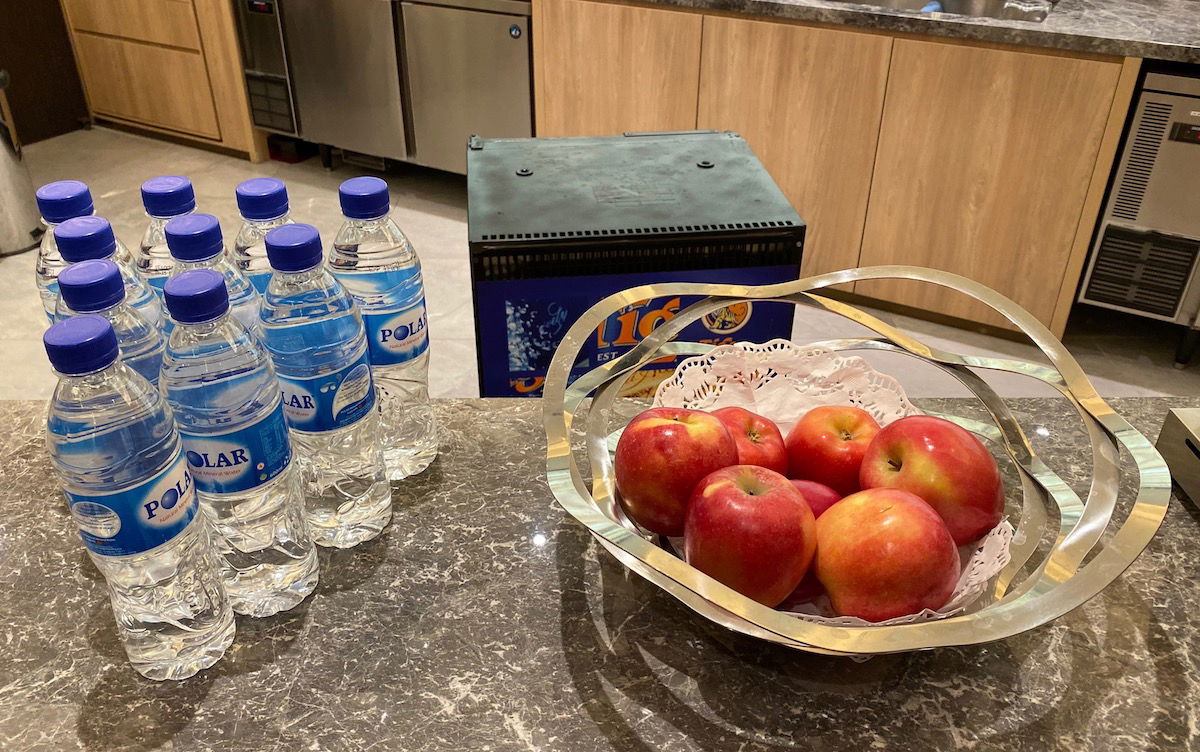 Changi Lounge bar water & apples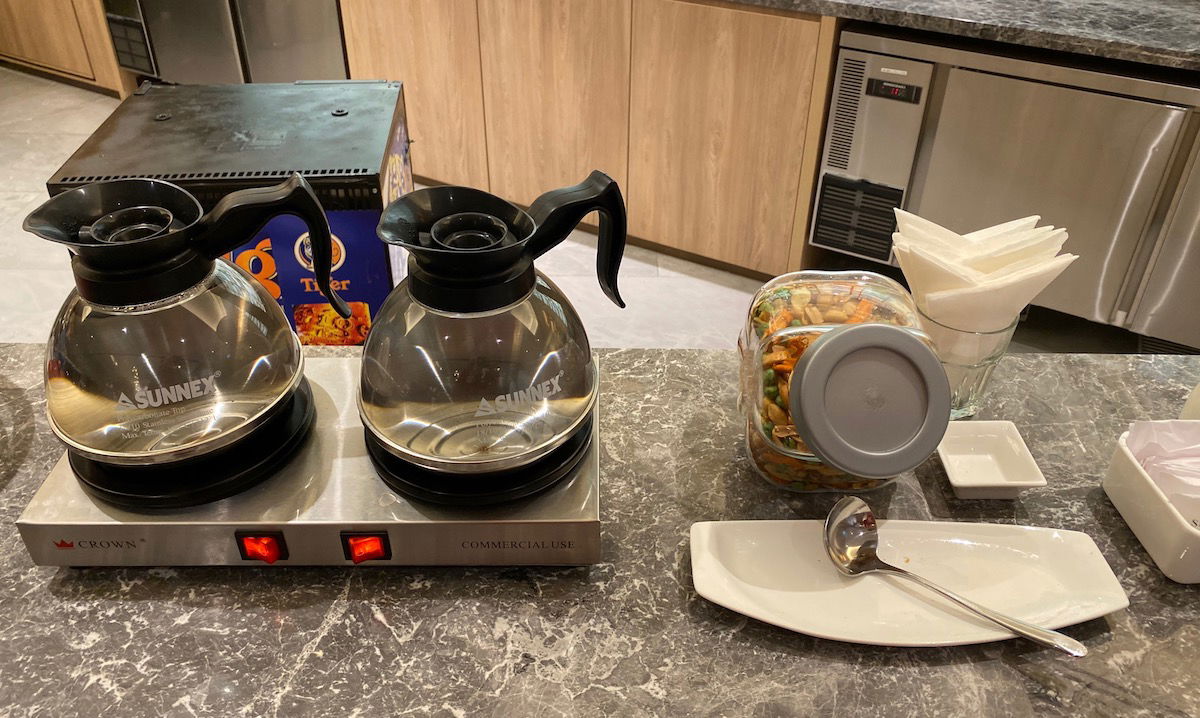 Changi Lounge bar hot water & snack mix
There was also a small buffet with some salad, a couple of desserts (cream puffs and cake, neither of which looked appealing), and then a few hot options.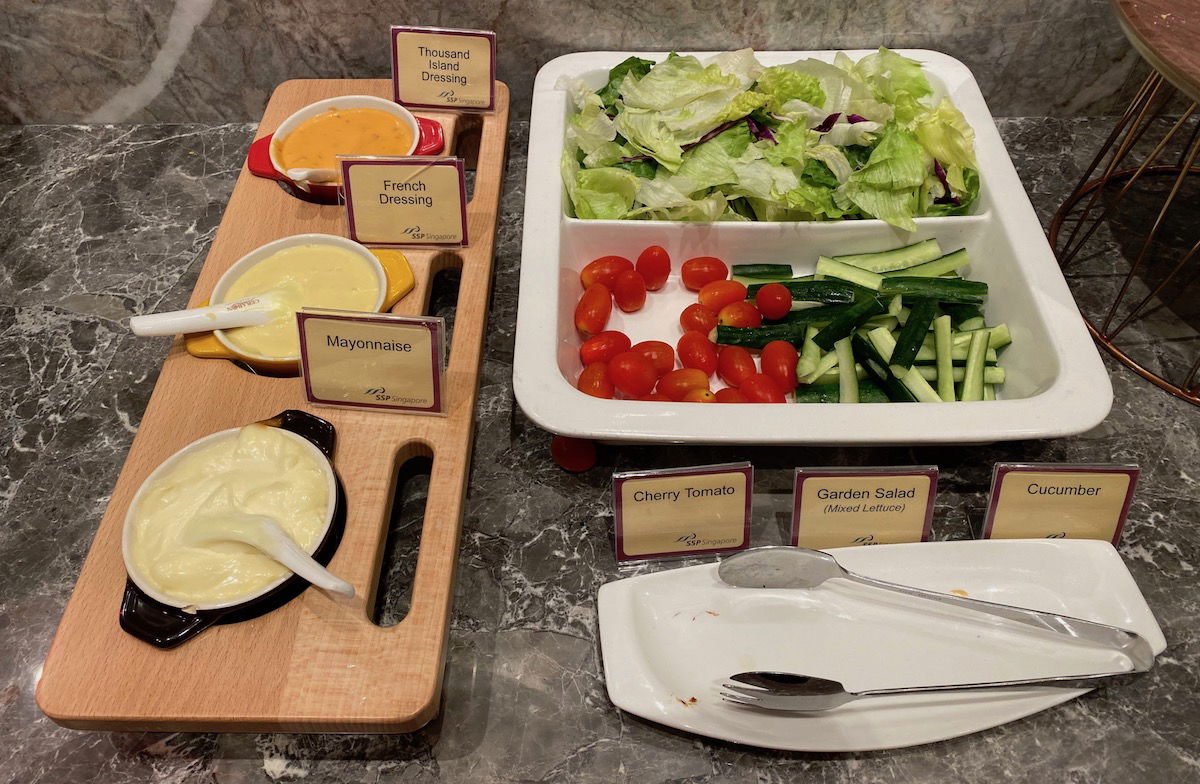 Changi Lounge food selection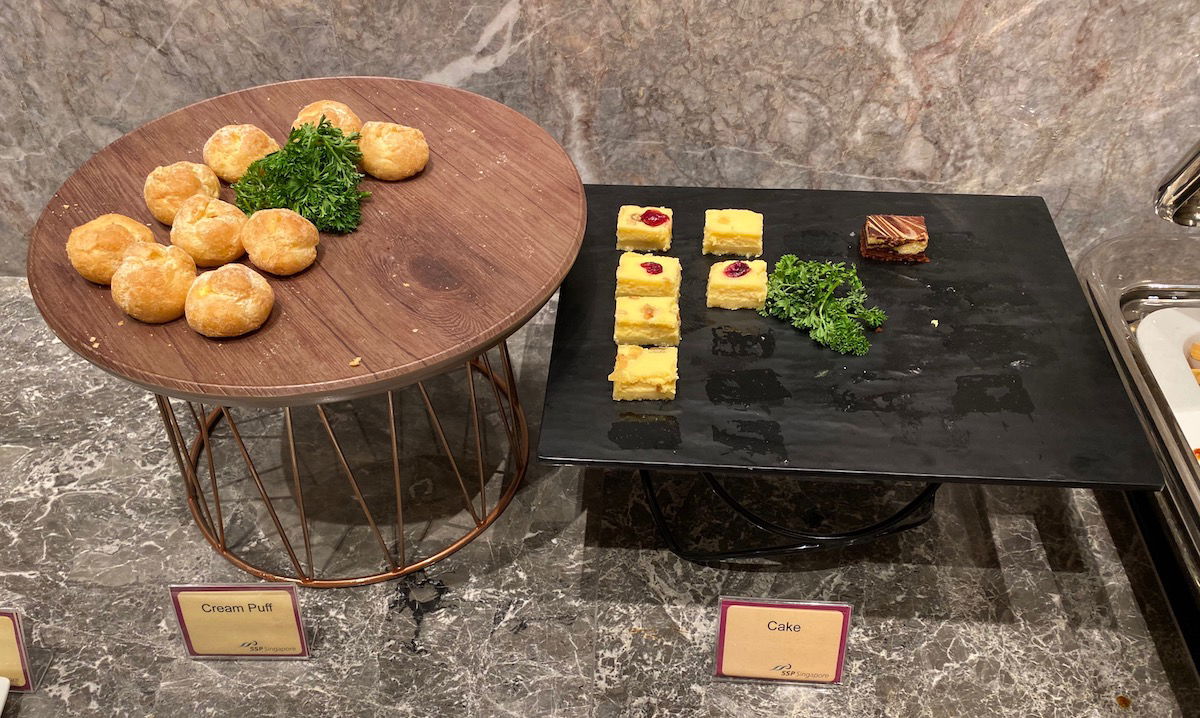 Changi Lounge food selection
For whatever reason the displays for all of the hot options were open…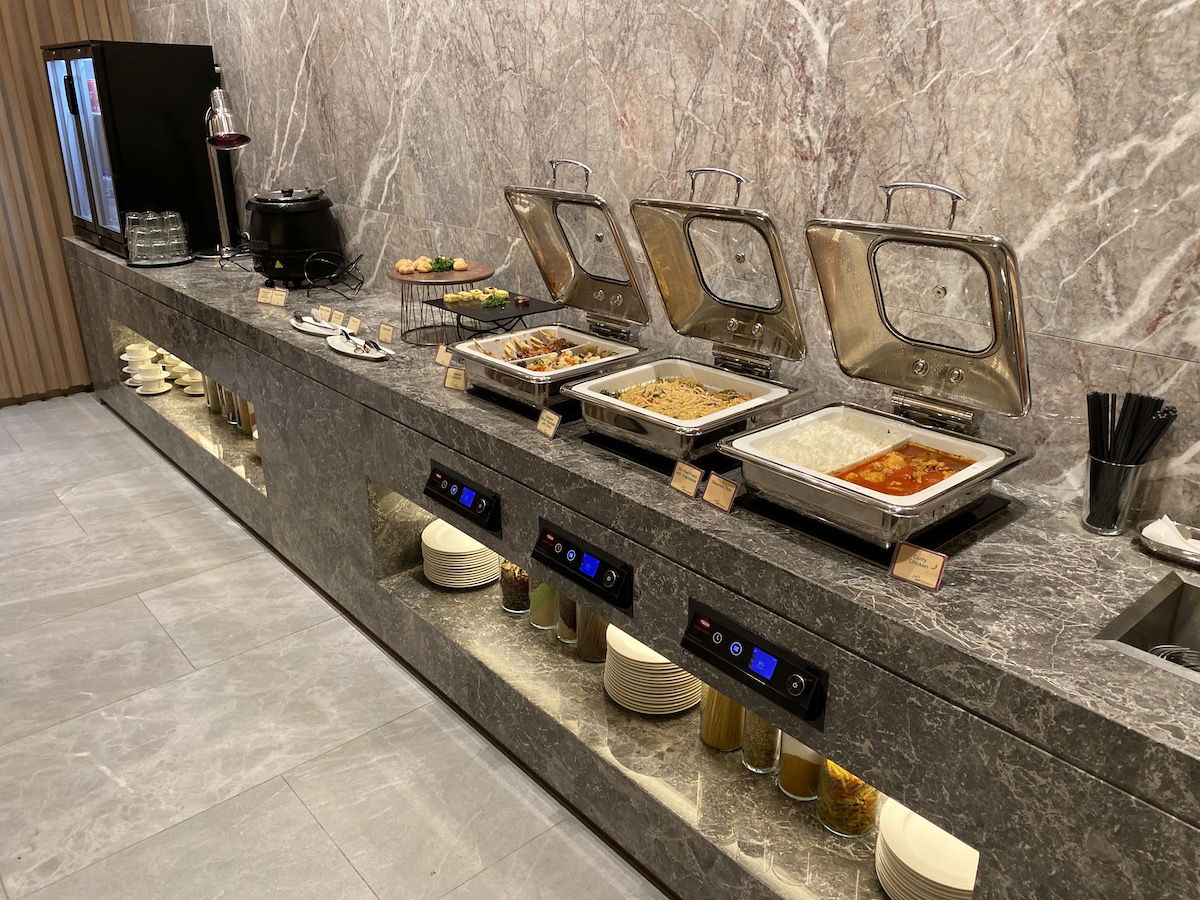 Changi Lounge food selection
Given how few people use the lounge, combined with these display cases just being open, I have slight concerns about the quality of the food.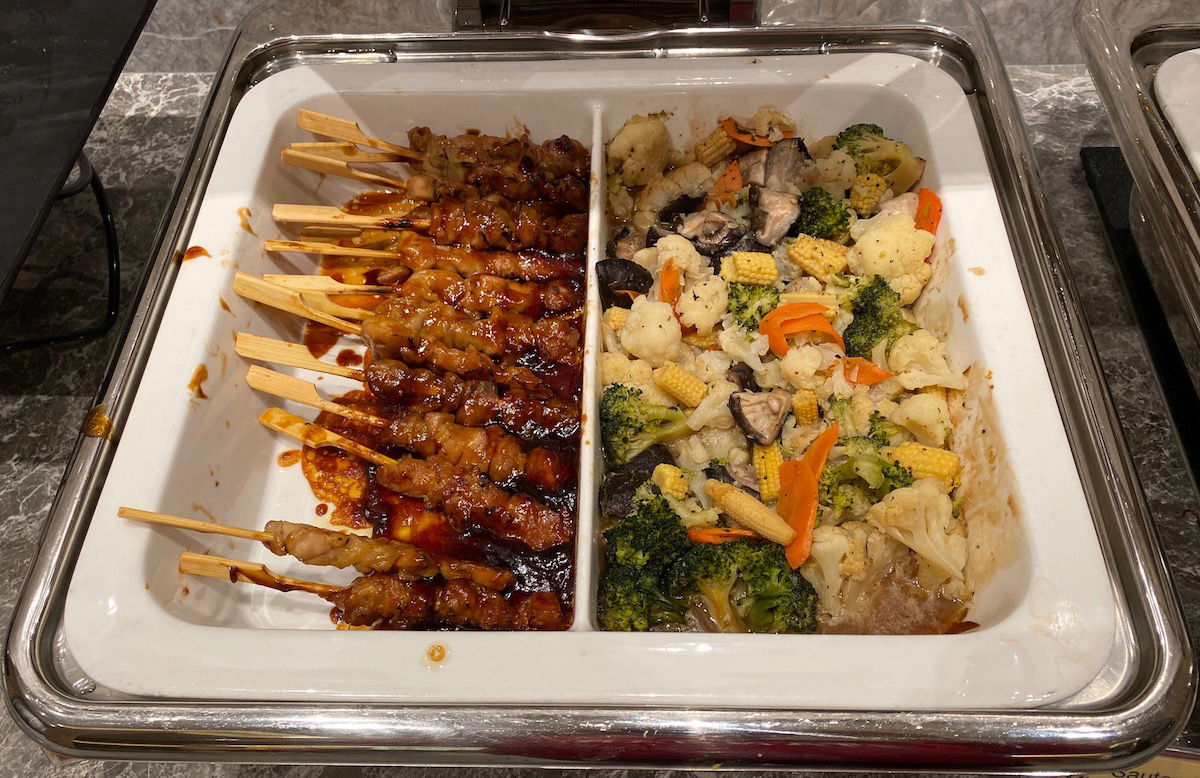 Changi Lounge food selection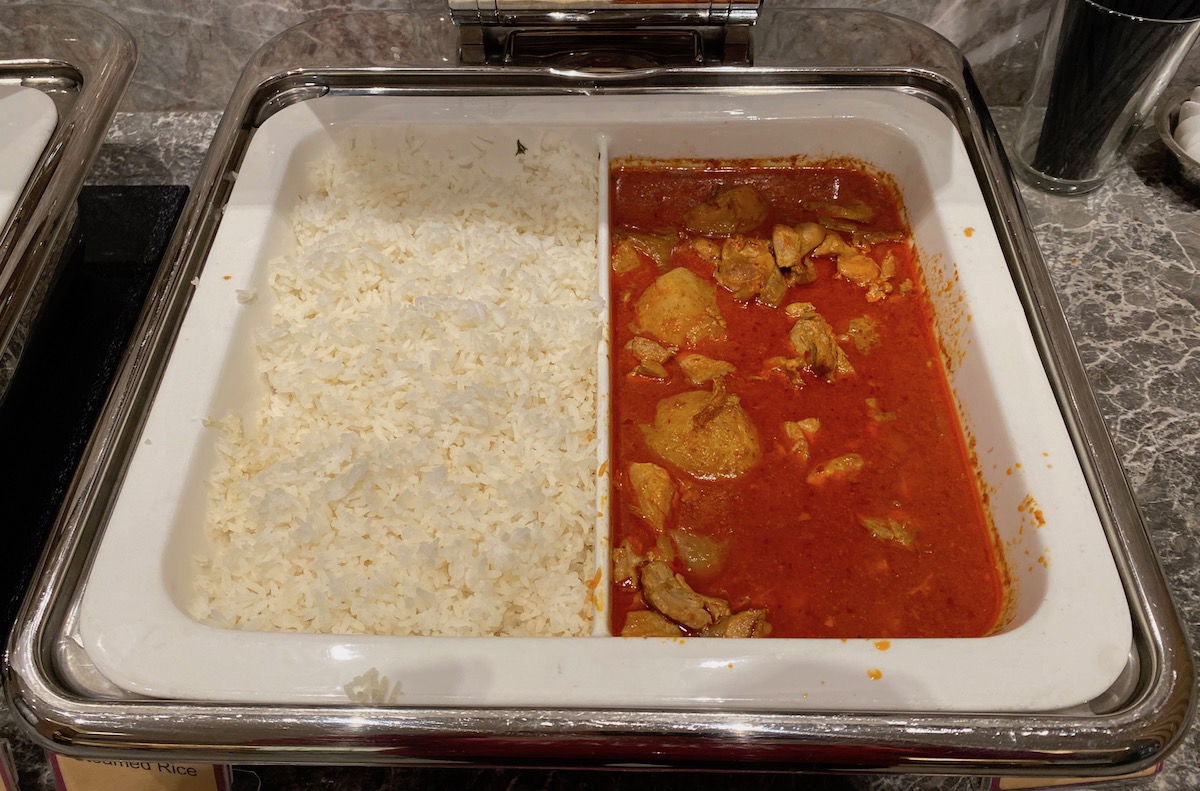 Changi Lounge food selection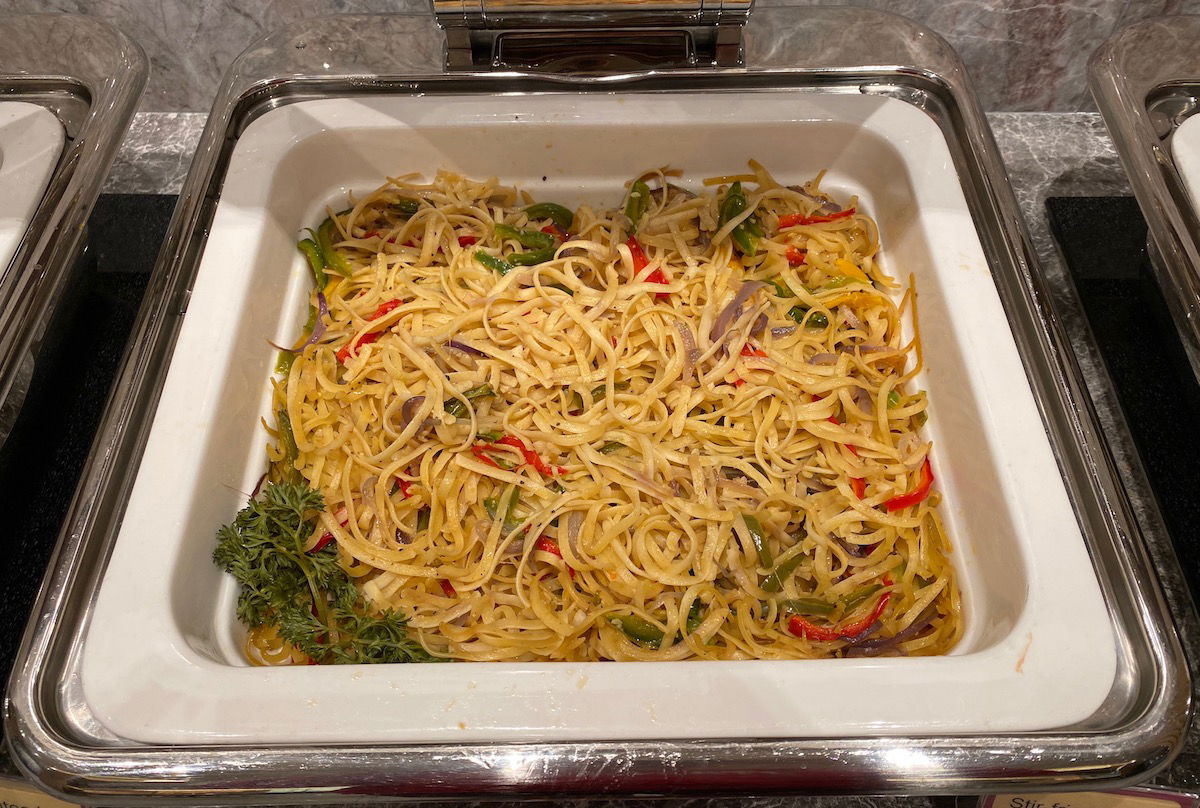 Changi Lounge food selection
There was also a mushroom soup.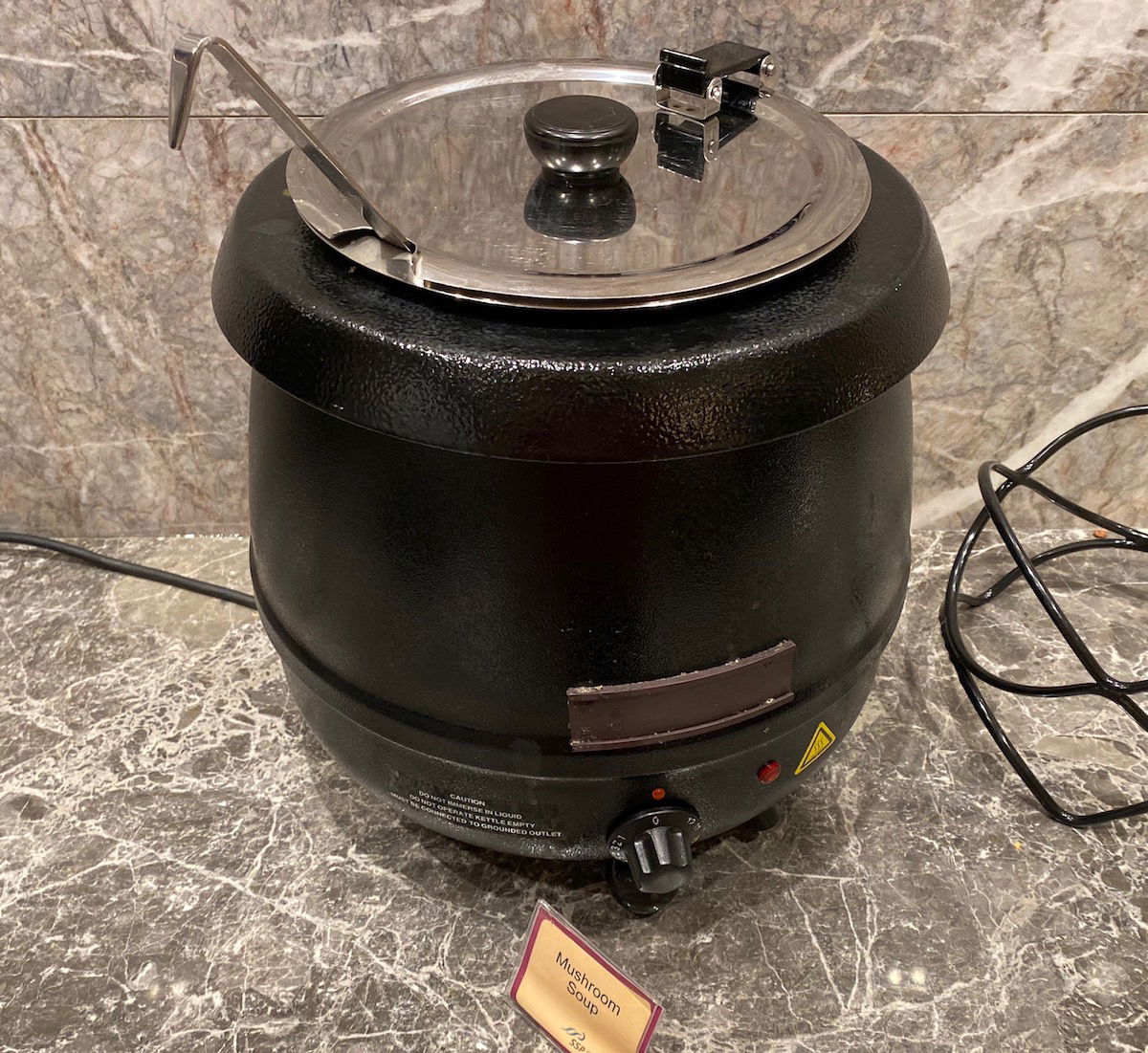 Changi Lounge food selection
Then there was a fridge with soft drinks, juice, and water, as well as a coffee machine.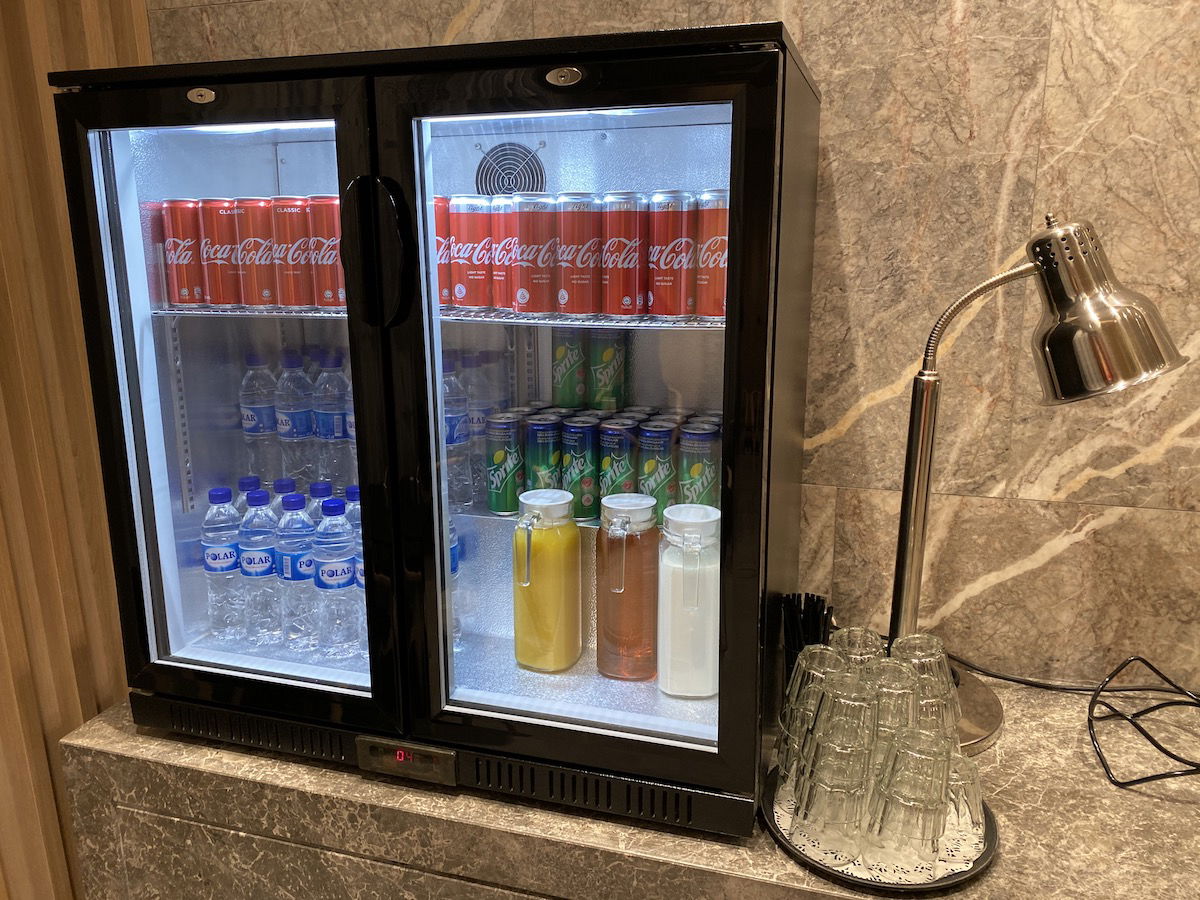 Changi Lounge drinks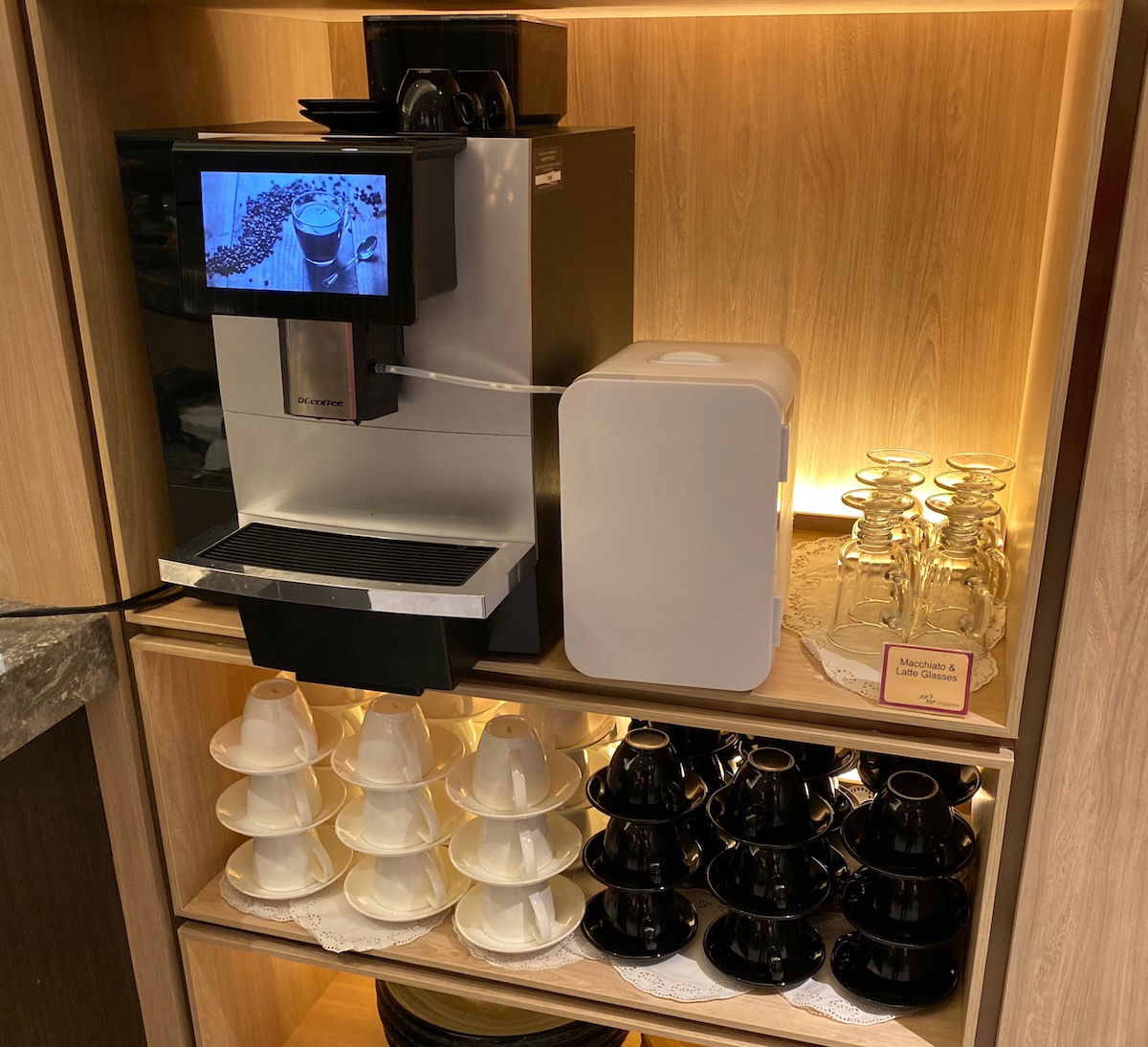 Changi Lounge coffee machine
The only alcohol that was free was a single Tiger beer with every visit, but they did have drinks available for purchase. Here's the menu for that: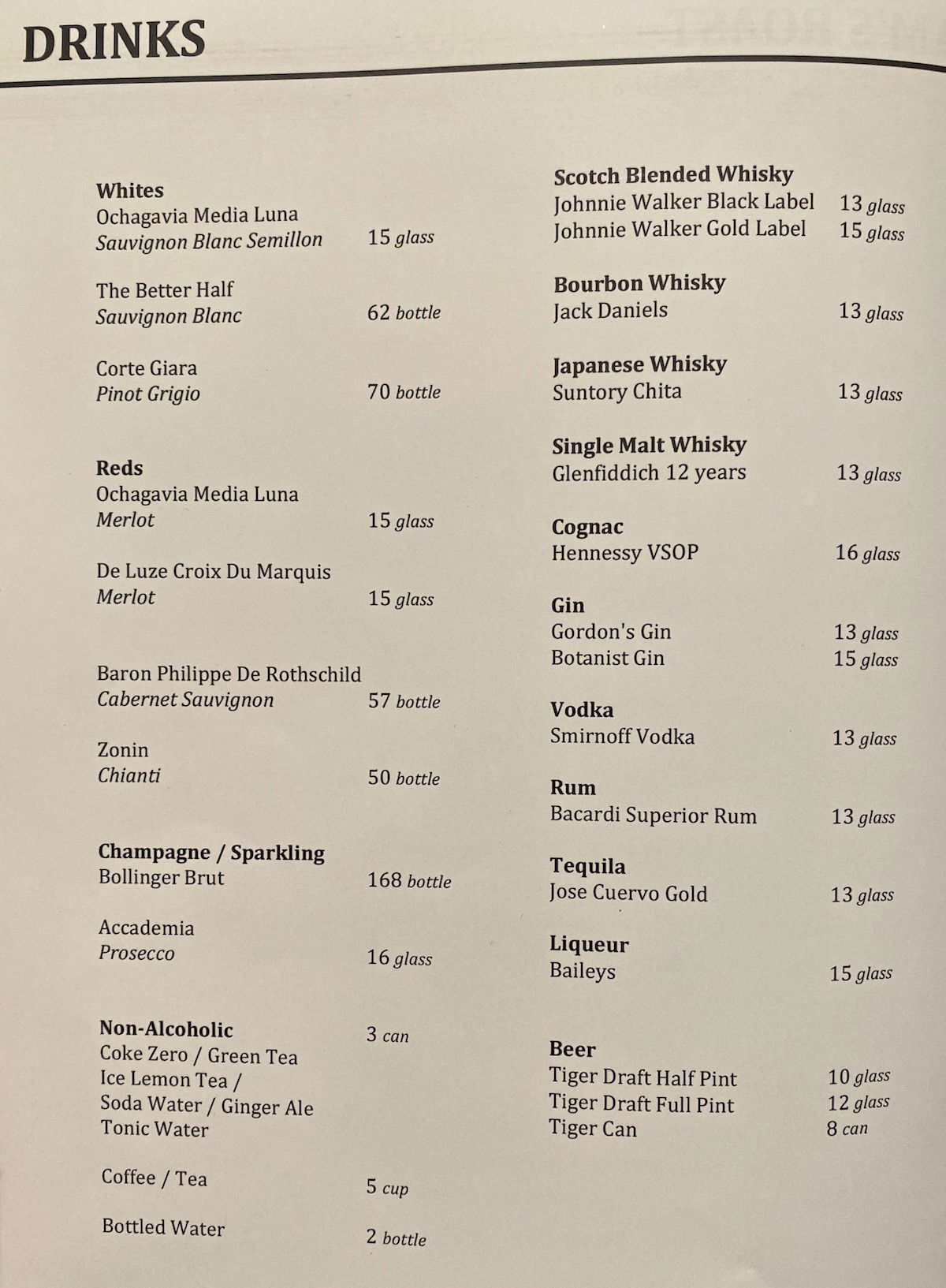 They also had food for purchase from nearby restaurants in the mall. I assume they have some sort of an arrangement set up. Here are a few of those menus: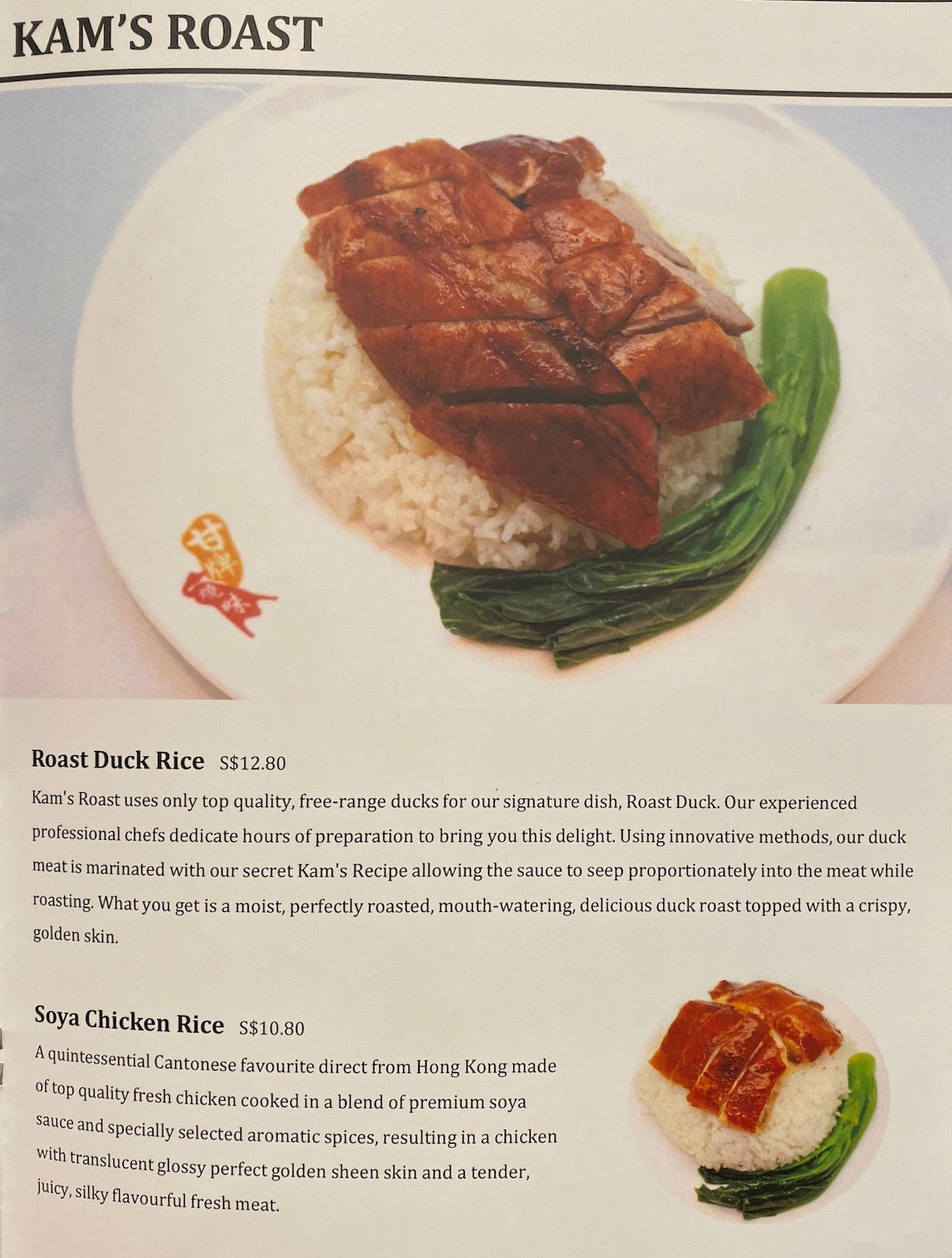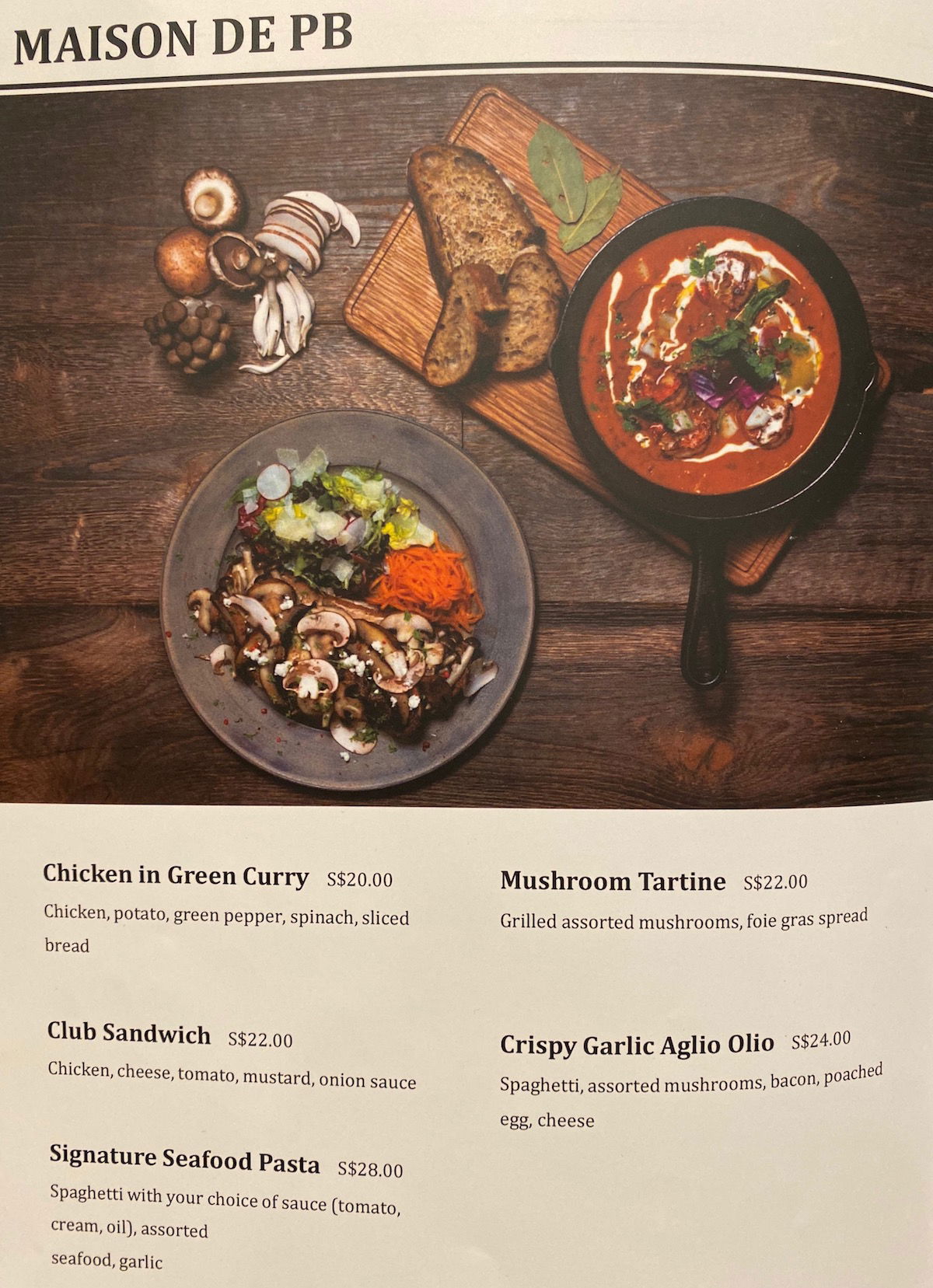 Changi Lounge Singapore Showers
The Changi Lounge doesn't have its own bathrooms. Rather you have to go out into the mall to use the bathrooms, and then you're given a code to get back into the lounge through one of the back doors.
The lounge does, however, have a few shower rooms. I decided to sign up for a shower (so I could check out the room), and that required about an hour wait.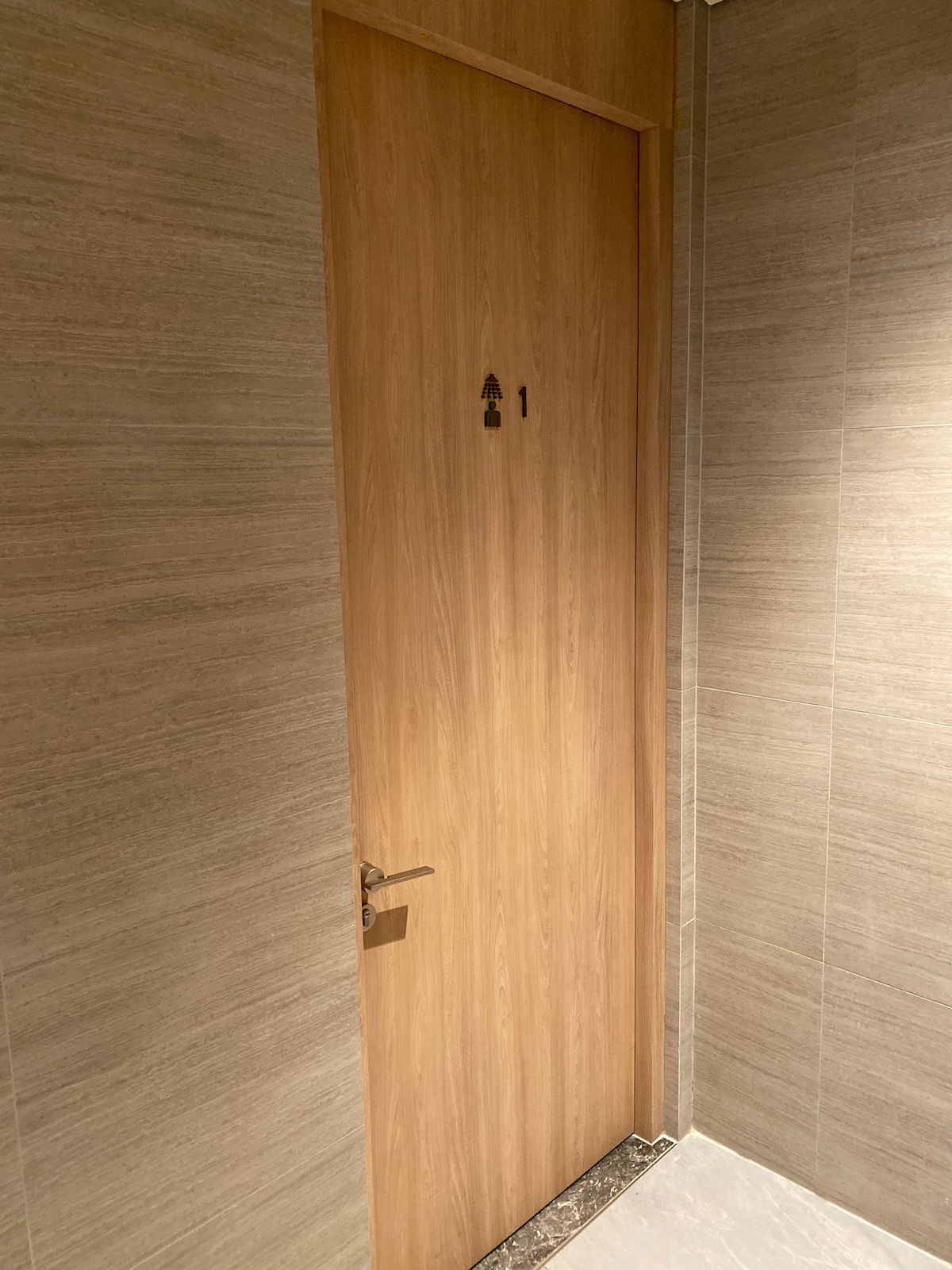 Changi Lounge shower room
The shower room as such was very nice, with a sink, toilet, and walk-in shower.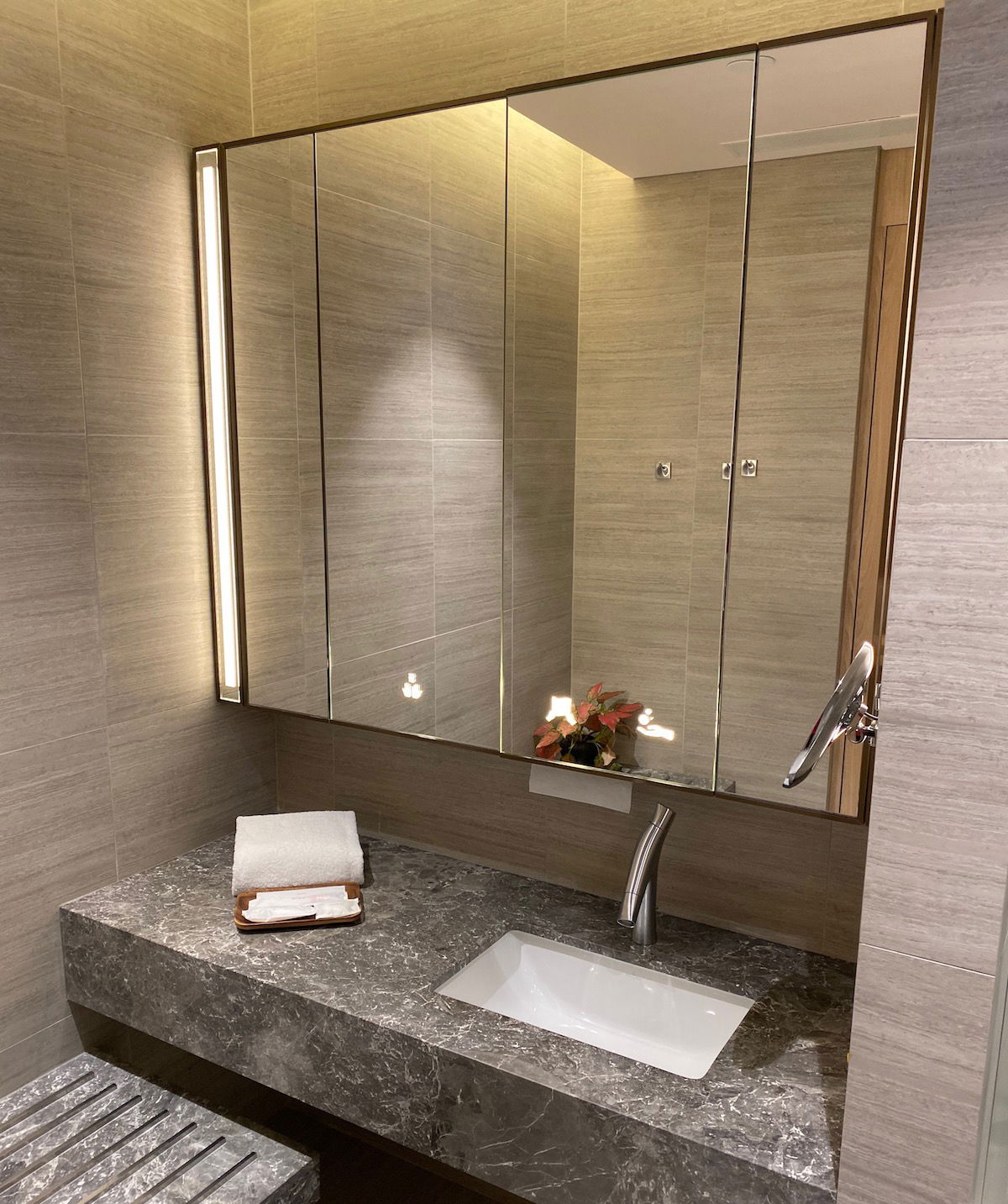 Changi Lounge shower room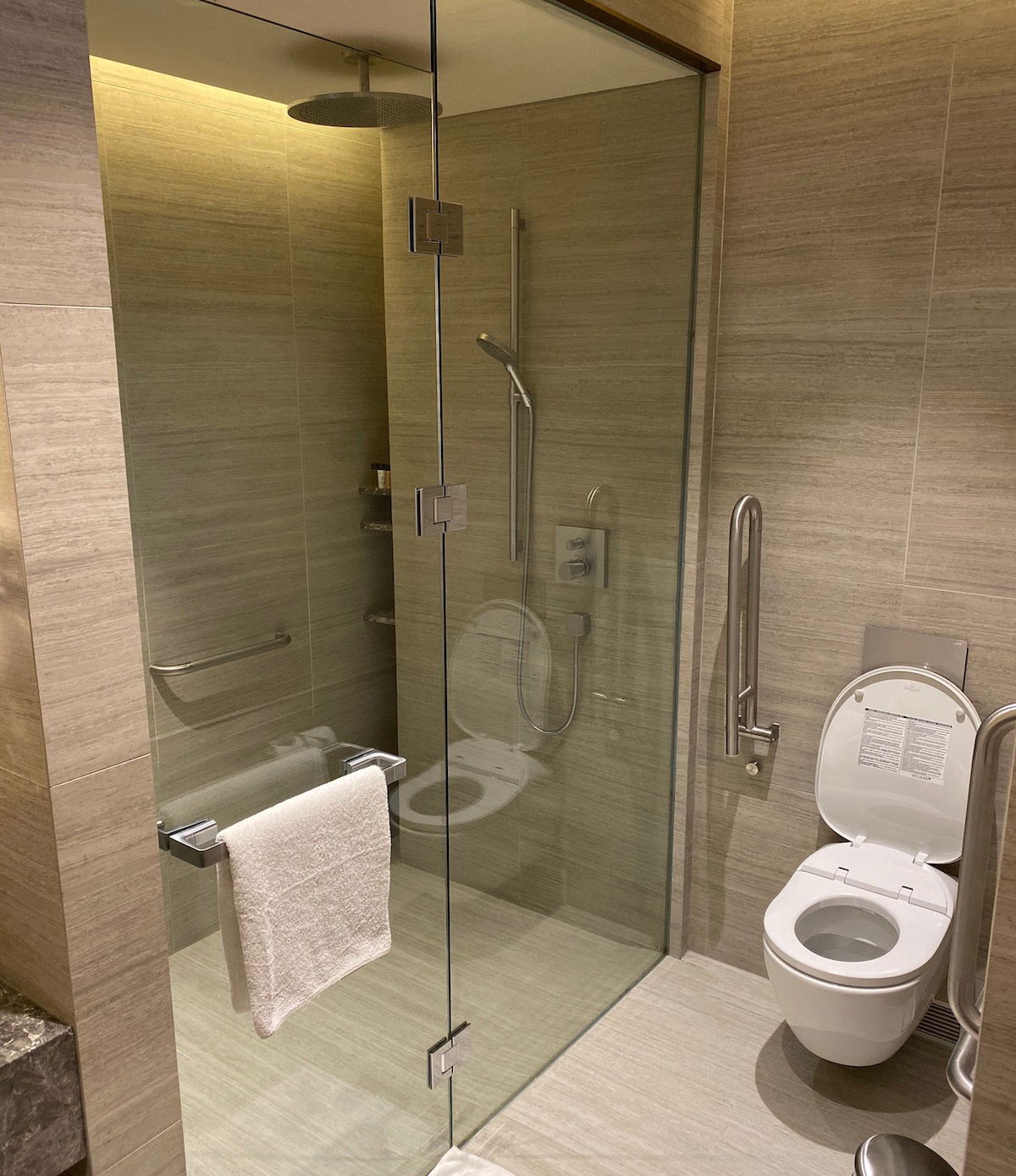 Changi Lounge shower room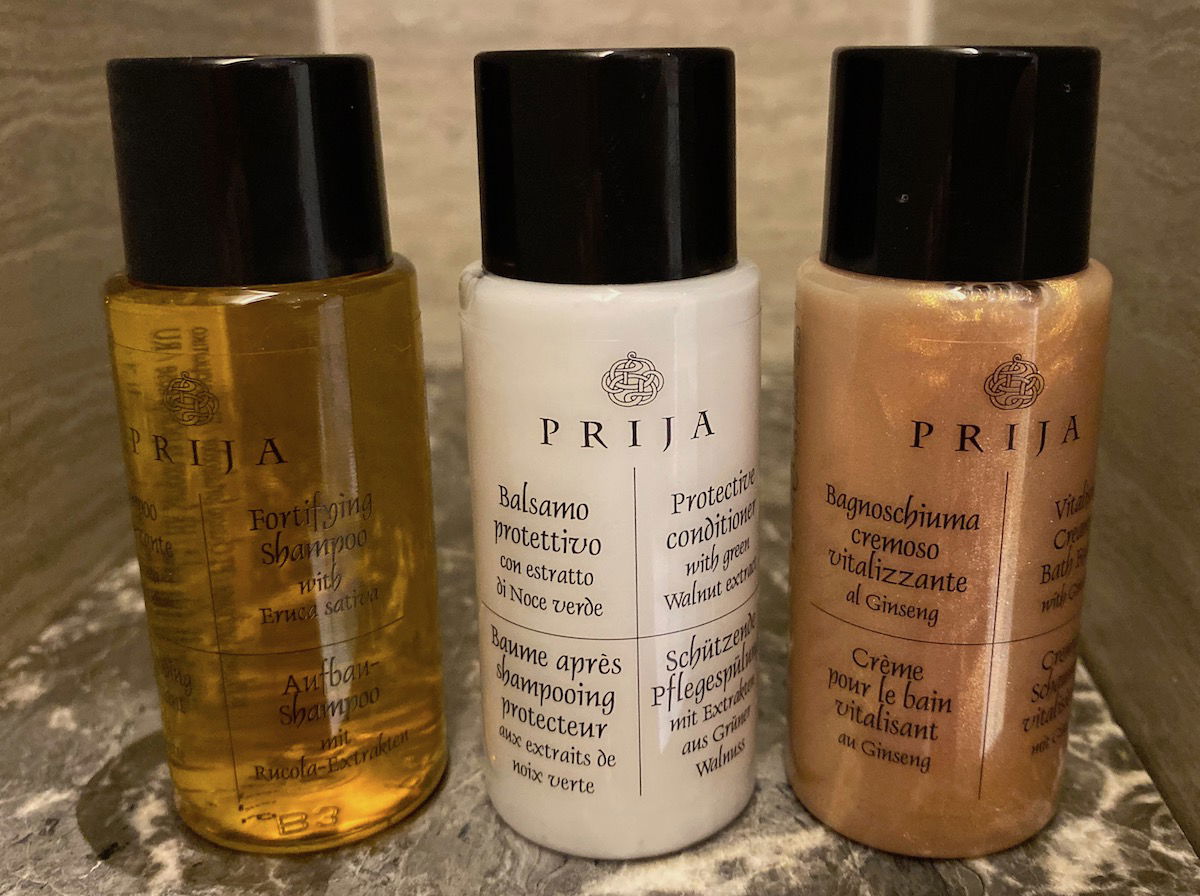 Changi Lounge shower room toiletries
This might be the first lounge I've ever been to that had shower rooms but no bathrooms.
Changi Lounge Singapore Bottom Line
I'm utterly confused by the Changi Lounge Singapore. Physically the lounge is beautiful, but I can't really figure out what market they're going after here?
If I were departing from Changi Airport then I'd much rather already clear immigration and use one of the airside lounges.
If I were arriving at Changi Airport, the only real circumstance under which this would be useful would be to get a shower.
I guess in theory it could also be useful as a place to get some work done. However, even then I don't think I'd use this place. The Jewel has so many amazing coffee shops and venues. I'd much rather sit at the nearby Starbucks Reserve, and actually have a decent cold brew.
The lounge's food selection doesn't look particularly appetizing and the drink selection is abysmal.
There's no doubt some novelty to having a Priority Pass lounge inside a shopping mall, but I just don't at all get the market for this.
Can anyone make sense of the Changi Lounge at the Jewel?