---
After spending my layover at the British Airways Arrivals Lounge and then the Aerotel, it was time to continue my journey on Finnair to Singapore via Helsinki.
How I Booked Finnair Business Class
While I could have redeemed British Airways Avios (or other oneworld miles) for this trip, I ended up booking a discounted business class ticket instead.
British Airways and Finnair had excellent ~1,500USD one-way business class fares from Toronto to Singapore, via London and Helsinki. So I booked the following:
12/02 BA92 Toronto to London departing 6:20PM arriving 6:25AM (+1 day)
12/03 AY1344 London to Helsinki departing 1:50PM arriving 6:45PM
12/03 AY131 Helsinki to Singapore departing 11:55PM arriving 5:15PM (+1 day)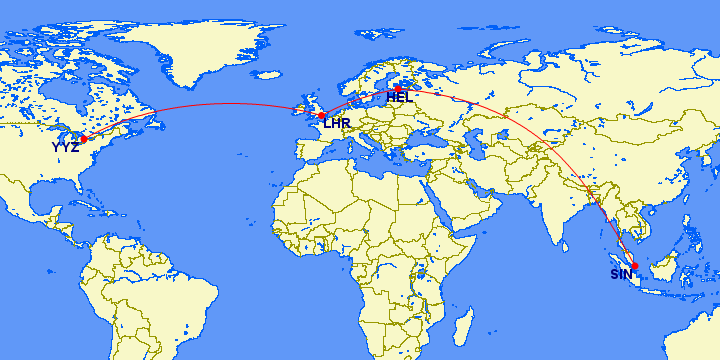 Finnair Business Class A321 Review
I cleared security about 30 minutes ahead of boarding time, so my first order of business was to briefly stop by the Qantas Lounge for a latte. Mmm…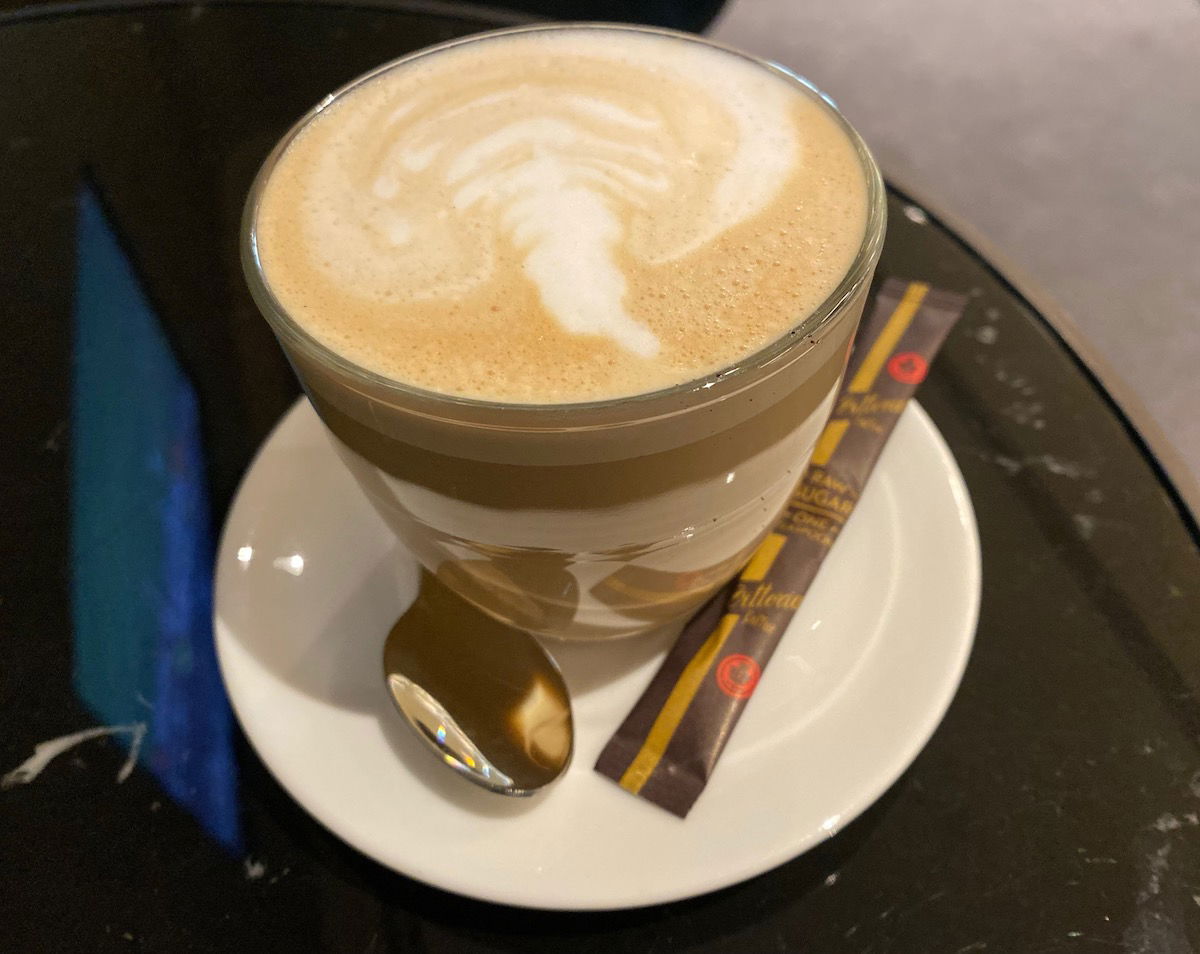 Latte in the Qantas Lounge Heathrow
Between the Qantas Lounge and the Cathay Pacific Lounge, Heathrow Terminal 3 has some excellent lounge options.
About an hour before departure the monitor showed that the flight would be leaving from gate 27, about a five minute walk from the lounge. To enter the gate area there was a separate queue for business class passengers, so there was no wait.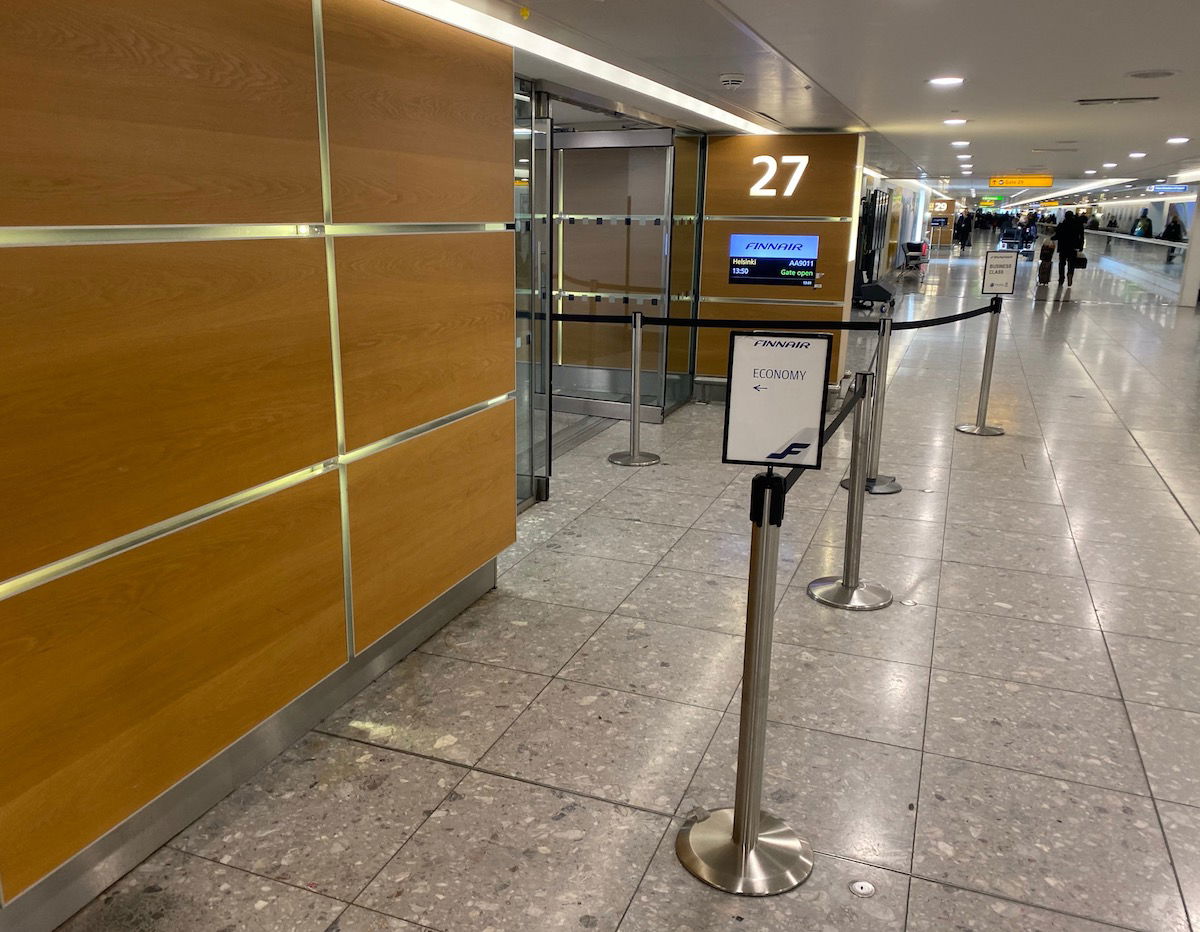 Finnair departure gate London Heathrow
In Terminal 3 the gates are "sterile," so once you enter the gate area you're considered boarded, as they scan your boarding pass and verify your passport before you enter the gate lounge.
While my boarding pass indicated that boarding would start at 1:20PM, in reality it started at 1:10PM.
Finnair 1344
London (LHR) – Helsinki (HEL)
Tuesday, December 3
Depart: 1:50PM
Arrive: 6:45PM
Duration: 2hr55min
Aircraft: Airbus A321
Seat: 11F (Business Class)
My flight to Helsinki was operated by an A321, in a standard short haul configuration. Finnair also operates their long haul A350s on select flights between London and Helsinki. I'd like to point out that I could have also booked the A350, but intentionally booked myself on the less comfortable aircraft so I could review it as well. The sacrifices I make for this blog. 😉
On intra-Europe flights, the size of the business class cabin can vary, since they just move the curtain around based on demand.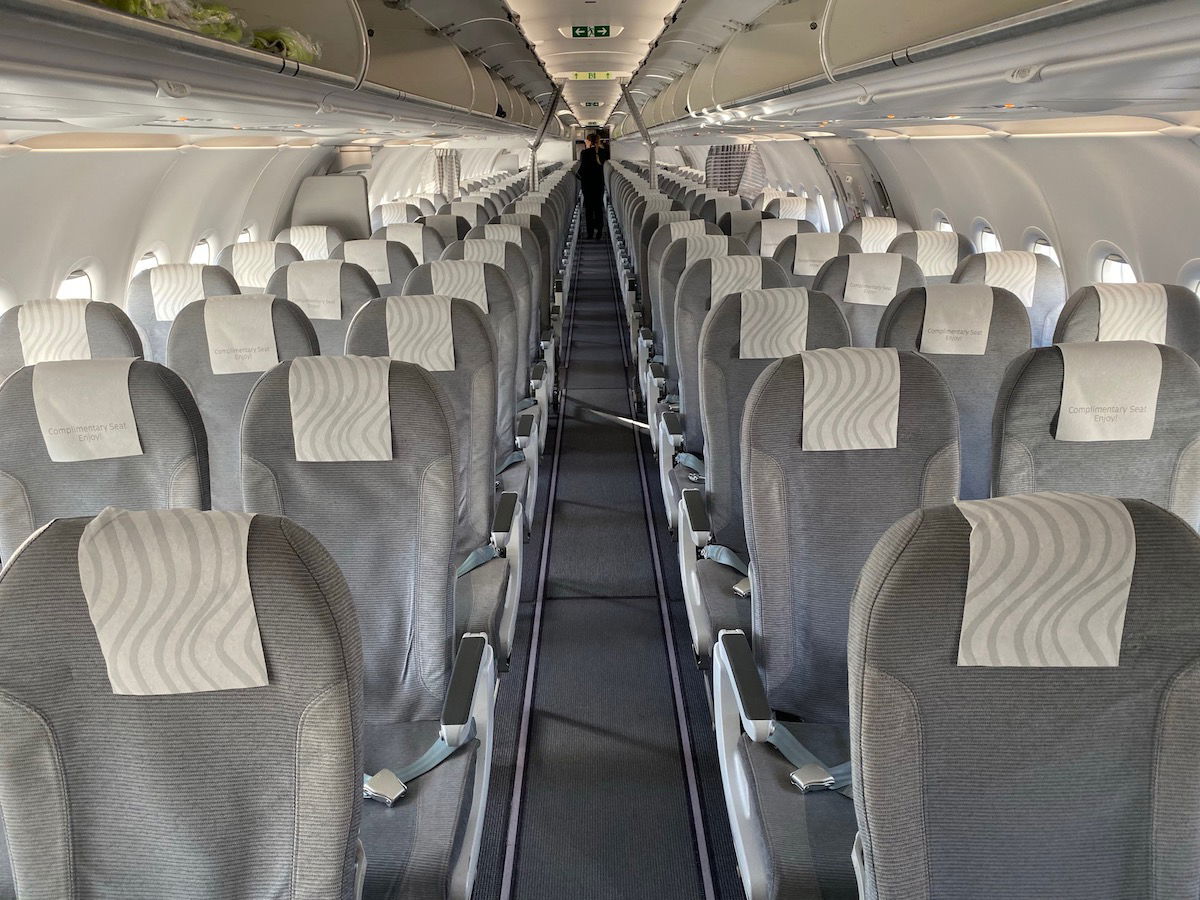 Finnair A321 cabin
On this particular flight the business class cabin was huge, and went all the way back to row 12, meaning that there were 46 business class seats (in one row there are no window seats on either side, since there's an exit).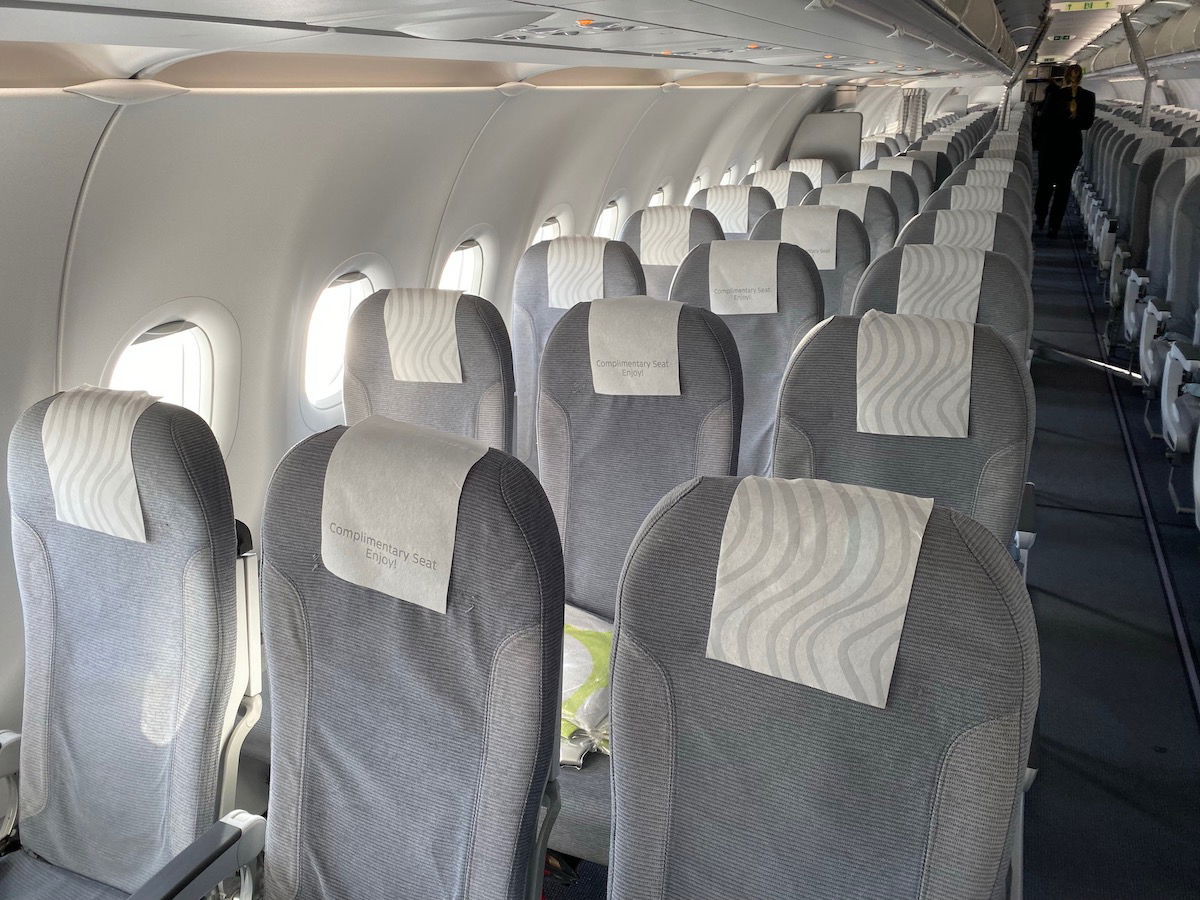 Finnair business class cabin A321
I could have assigned myself the exit row seat…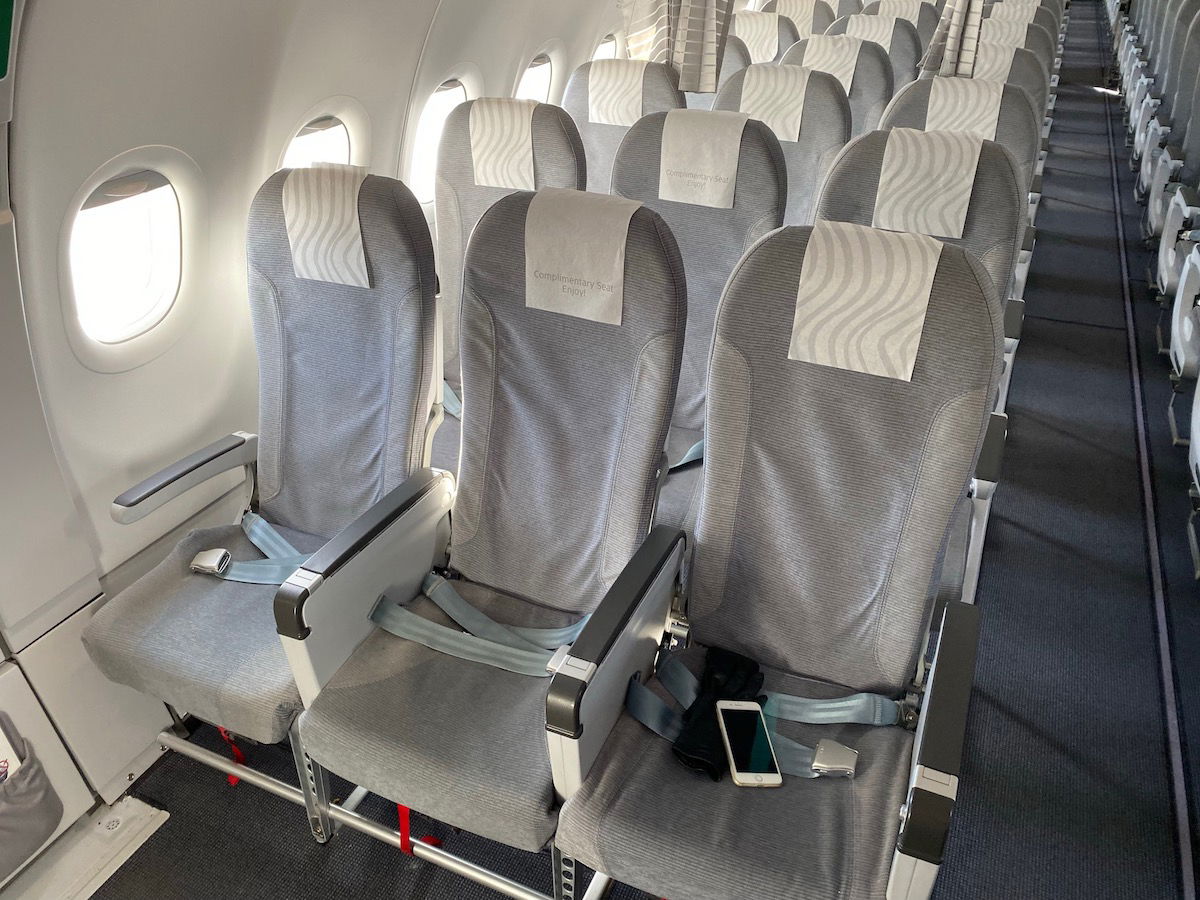 Finnair A321 business class cabin
…but I figured that wouldn't be a fair representation of what the experience is like, since there aren't many exit seats. So instead I assigned myself seat 11F, the window seat right behind the exit row on the right side. Note that unlike some other airlines, Finnair doesn't put little trays on the center seats in business class.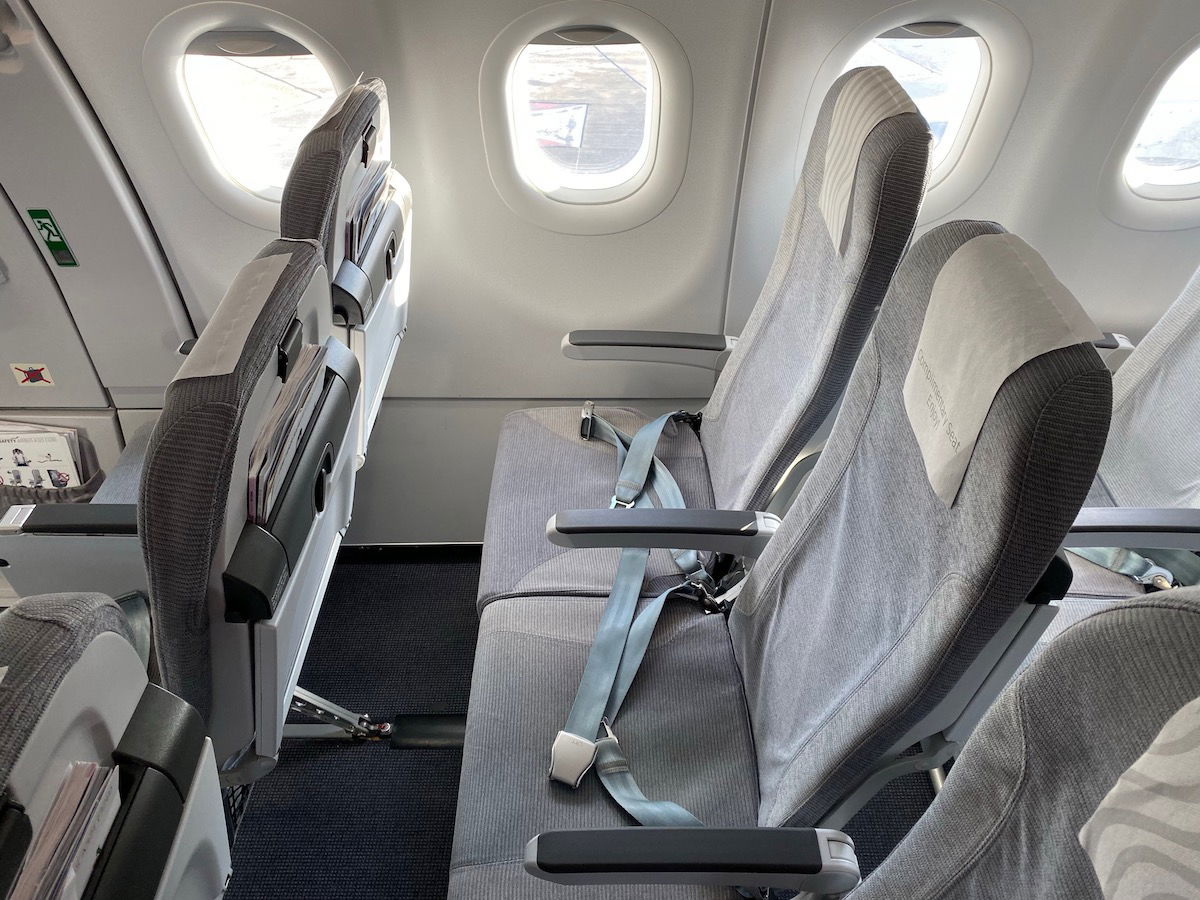 Finnair business class seats A321
Legroom in Finnair business class wasn't great, though frankly it wasn't awful either. They apparently have 31″ of pitch in business and slimline seats, so it wasn't actively uncomfortable from a legroom perspective.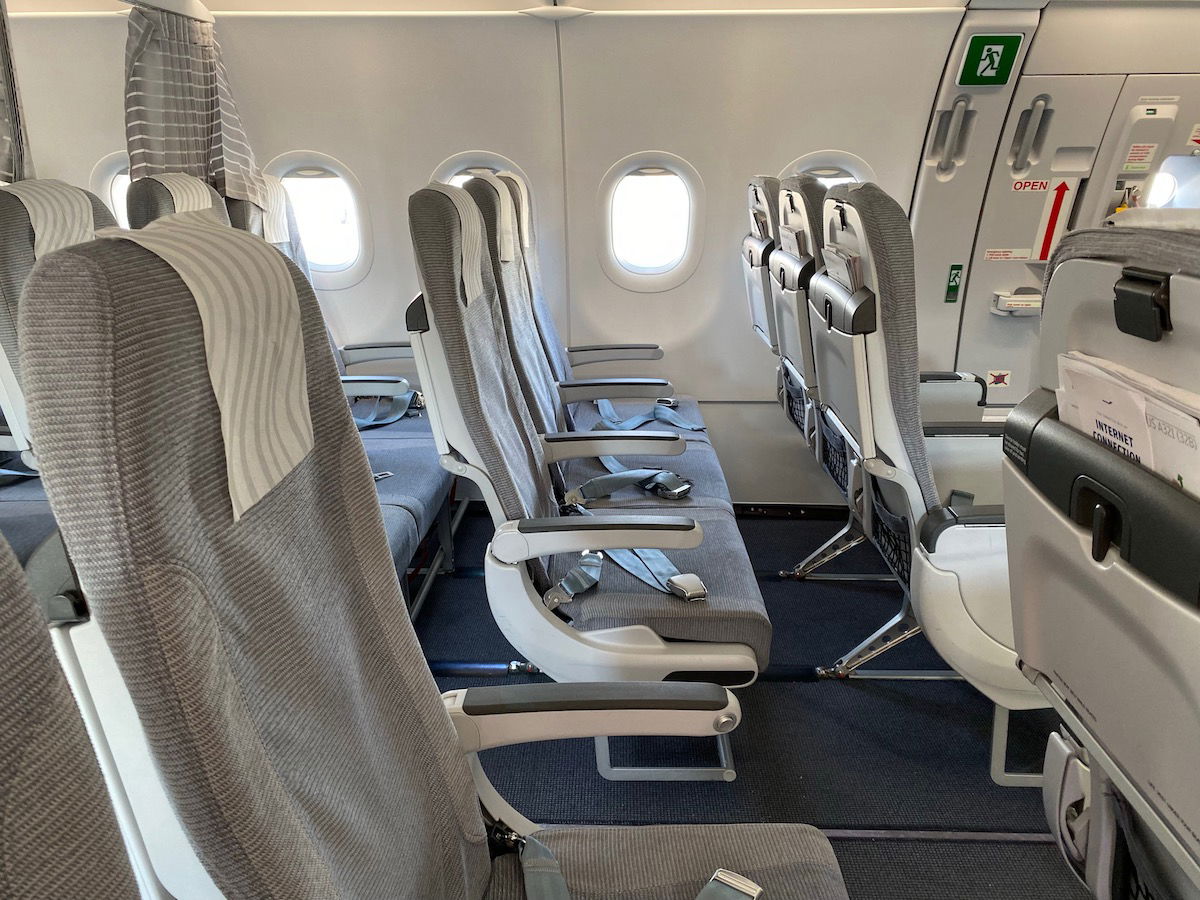 Finnair A321 business class seats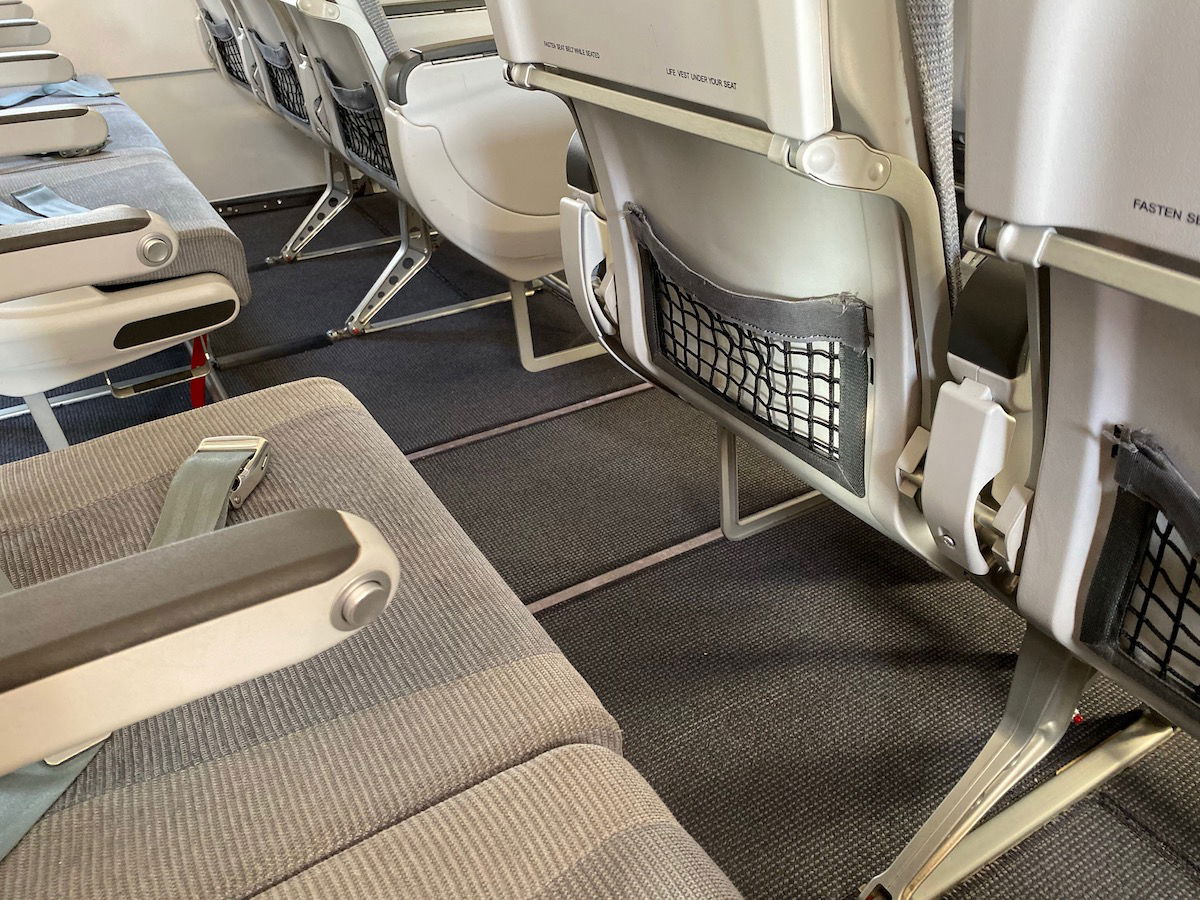 Finnair business class legroom
The tray table was the standard size, and folded down from the seat in front.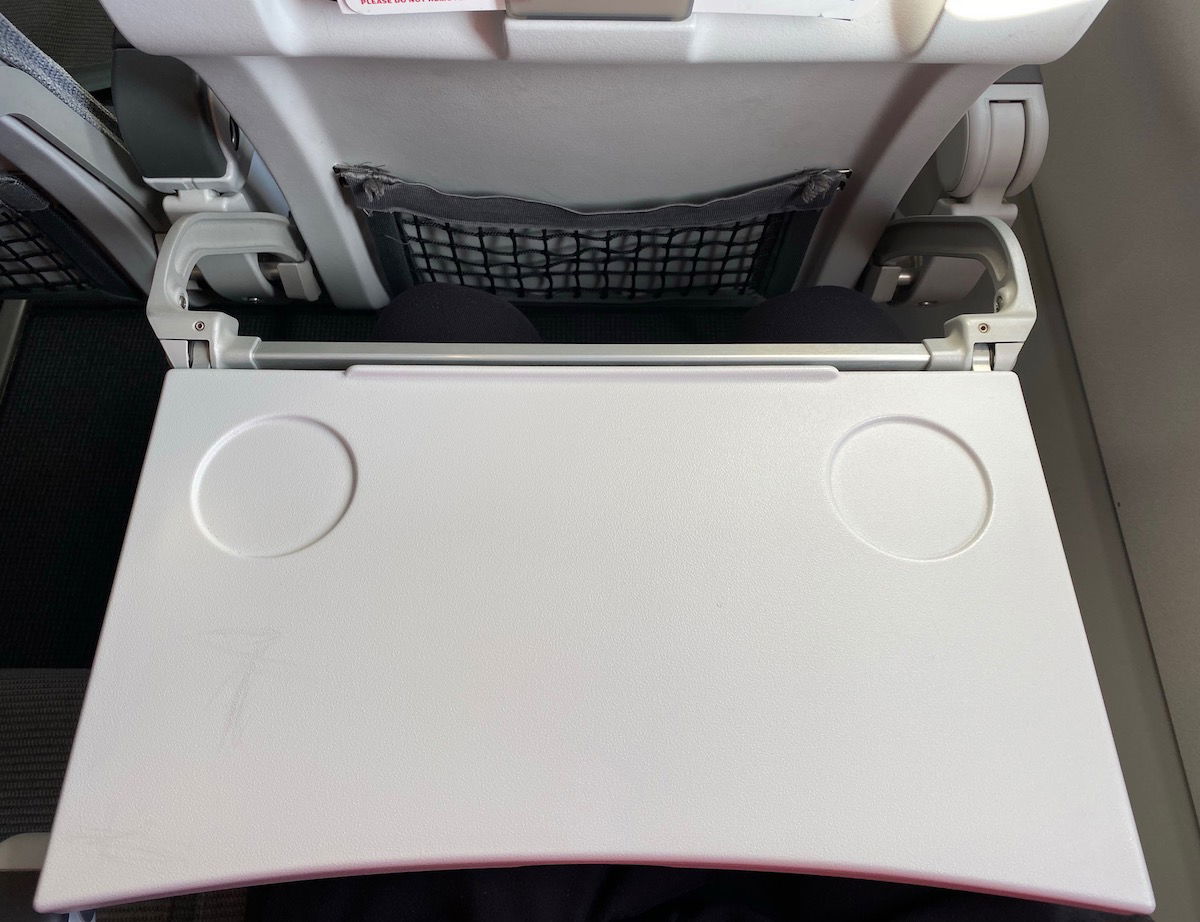 Finnair business class tray table
There were reading lights and individual air nozzles above each seat.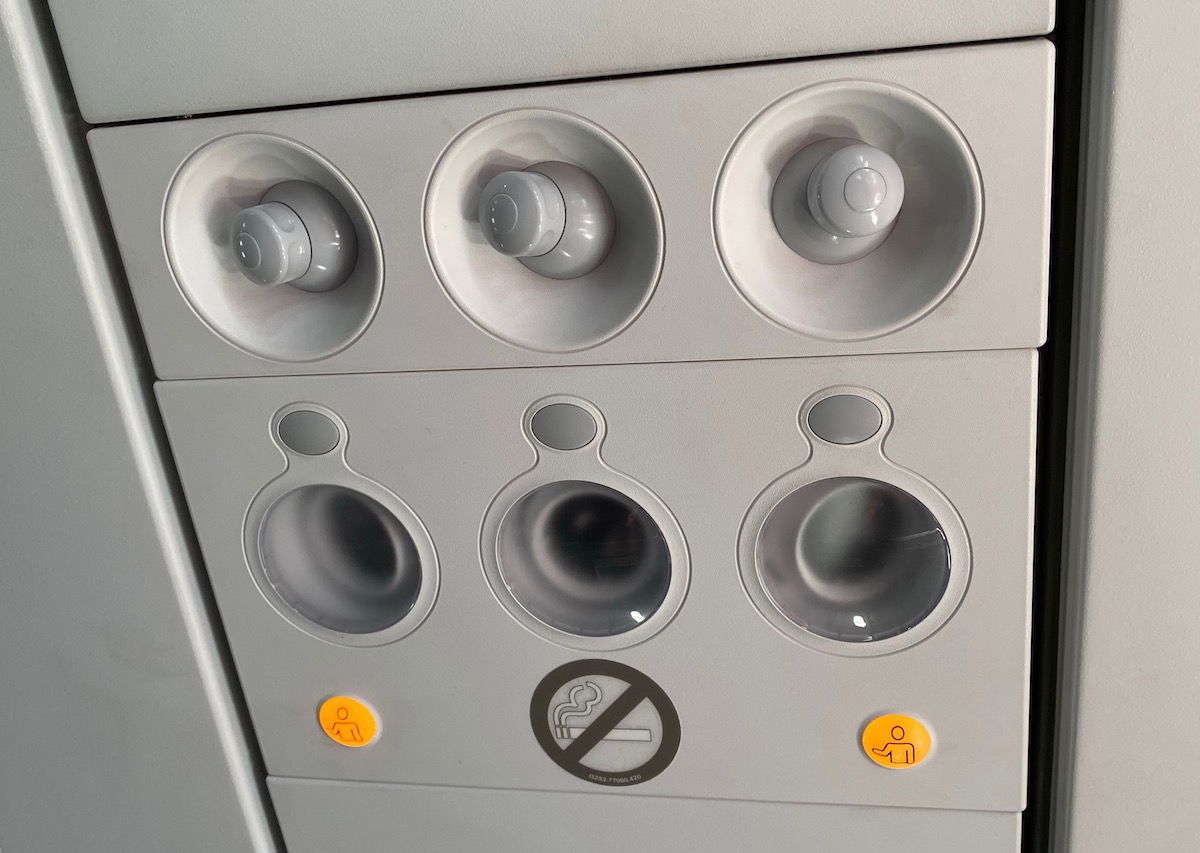 Finnair business class individual air nozzles
All around these were standard intra-Europe seats, so my only real point of frustration was the lack of power outlets.
Finnair has pillows and blankets on demand in business class, and they were surprisingly substantial for an intra-Europe flight.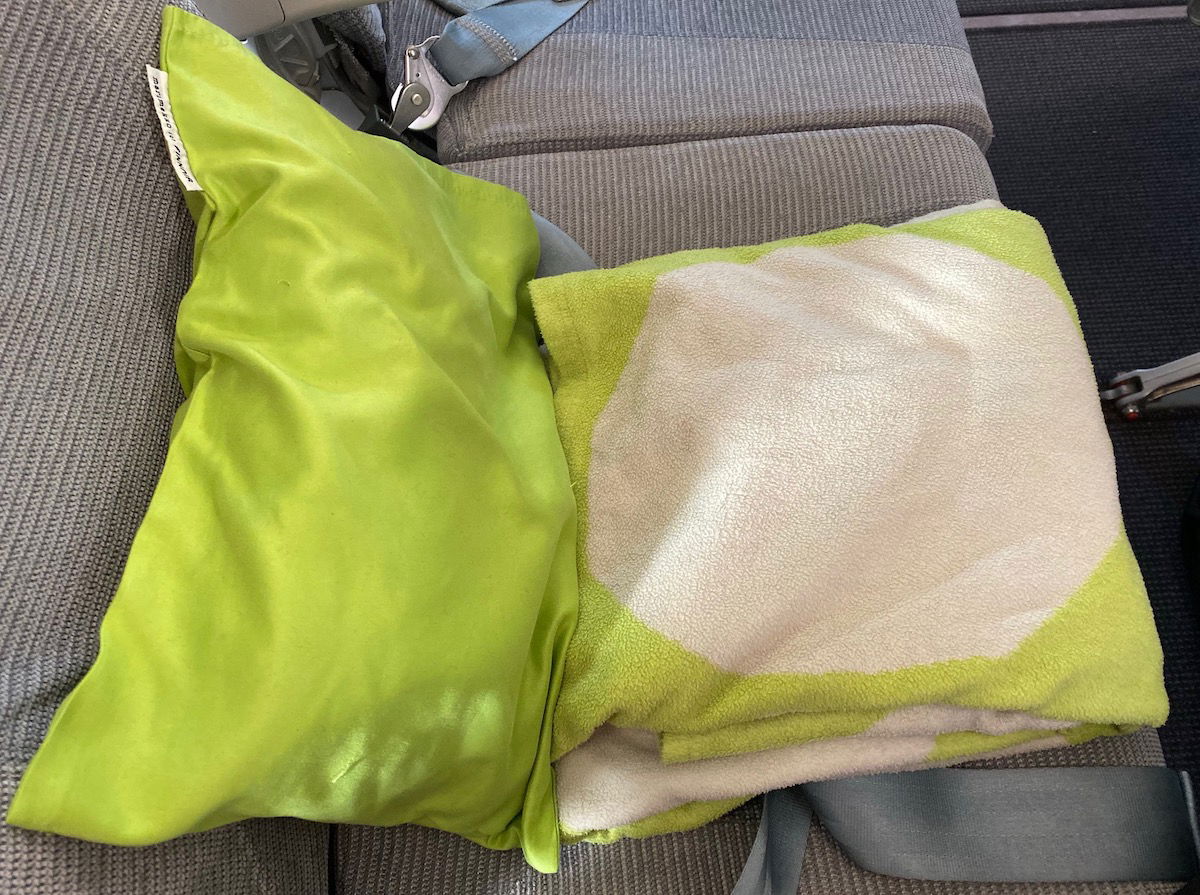 Finnair business class pillow & blanket
During boarding the very friendly chief purser stopped by my seat to welcome me onboard and inform me of the flight time of 2hr40min. She did this for just a few people, so I suspect it's a oneworld Emerald greeting of sorts?
At 1:30PM boarding was complete, with just under half of the business class seats occupied (I was the only person in the last two rows). Economy was full, so I'm surprised by just how far they kept back the curtain on this flight.
A few minutes later the captain made his welcome aboard announcement. I love the Finnish accent, and in particular loved the extent to which every "r" was rrrrrrolled. The captain advised us of our flight time, our anticipated on-time arrival, and the expectation that we'd be taxiing for about 20 minutes at Heathrow.
Shortly thereafter the crew performed a manual safety demonstration. While the demonstration as such was manual, the announcement wasn't read by a crew member, but rather they had a pre-recorded tape for that.
At 1:40PM we began our pushback, and five minutes after that we began our taxi.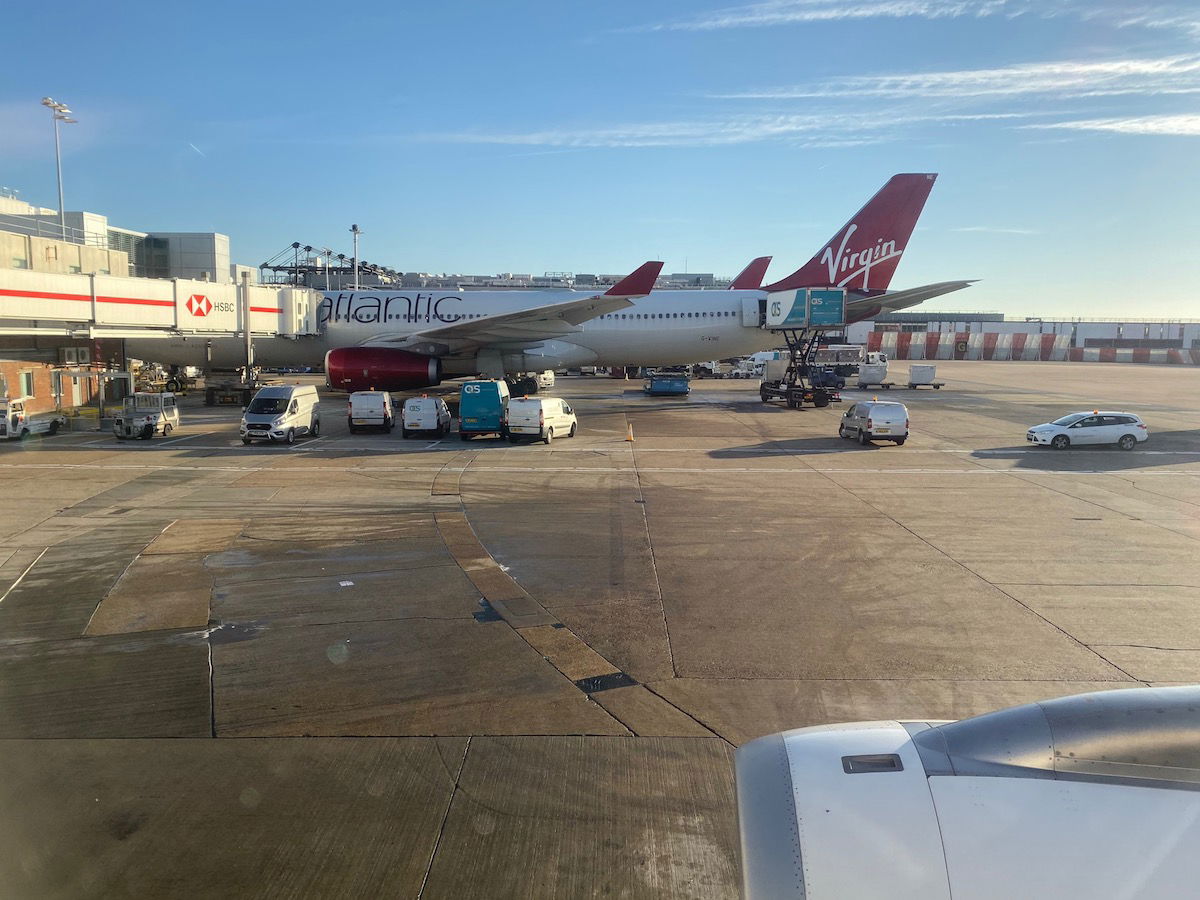 Pushing back Heathrow Airport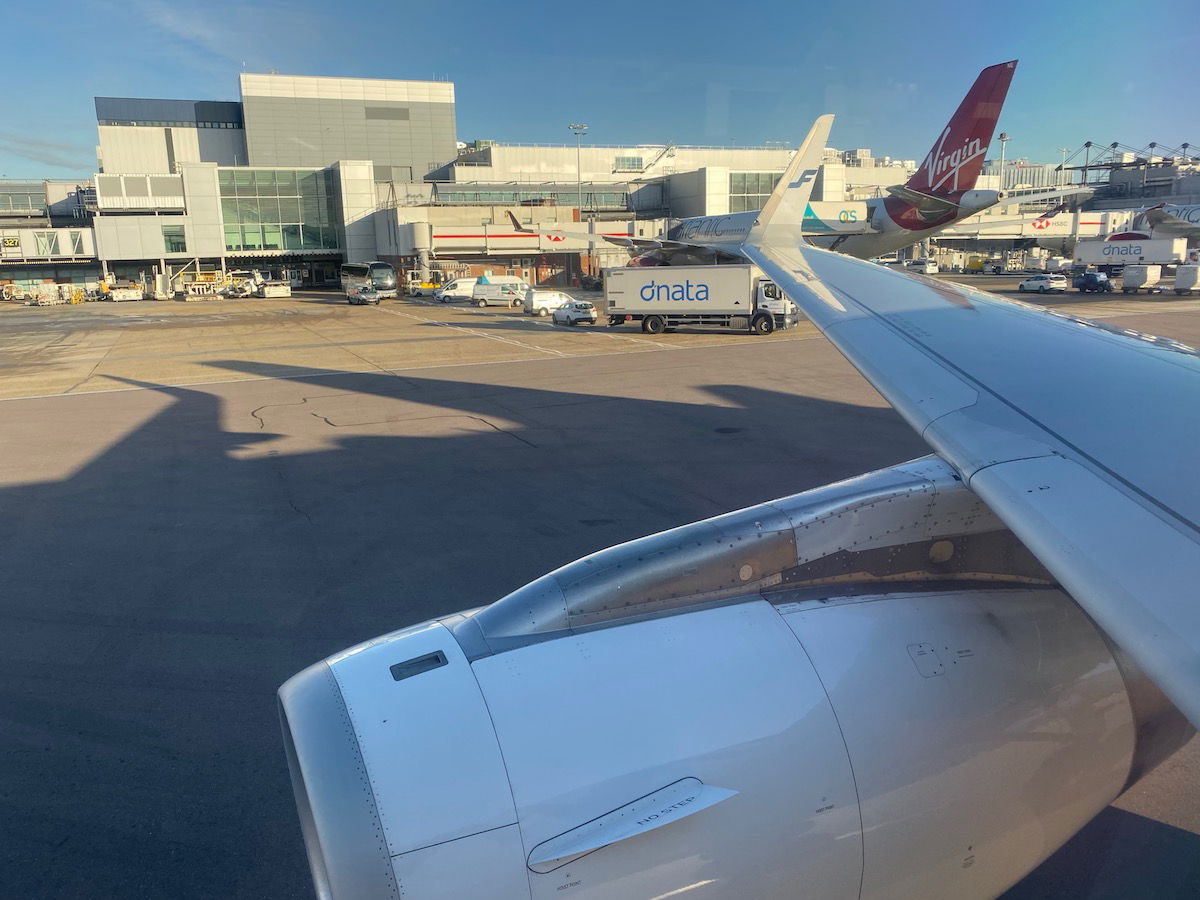 Taxiing Heathrow Airport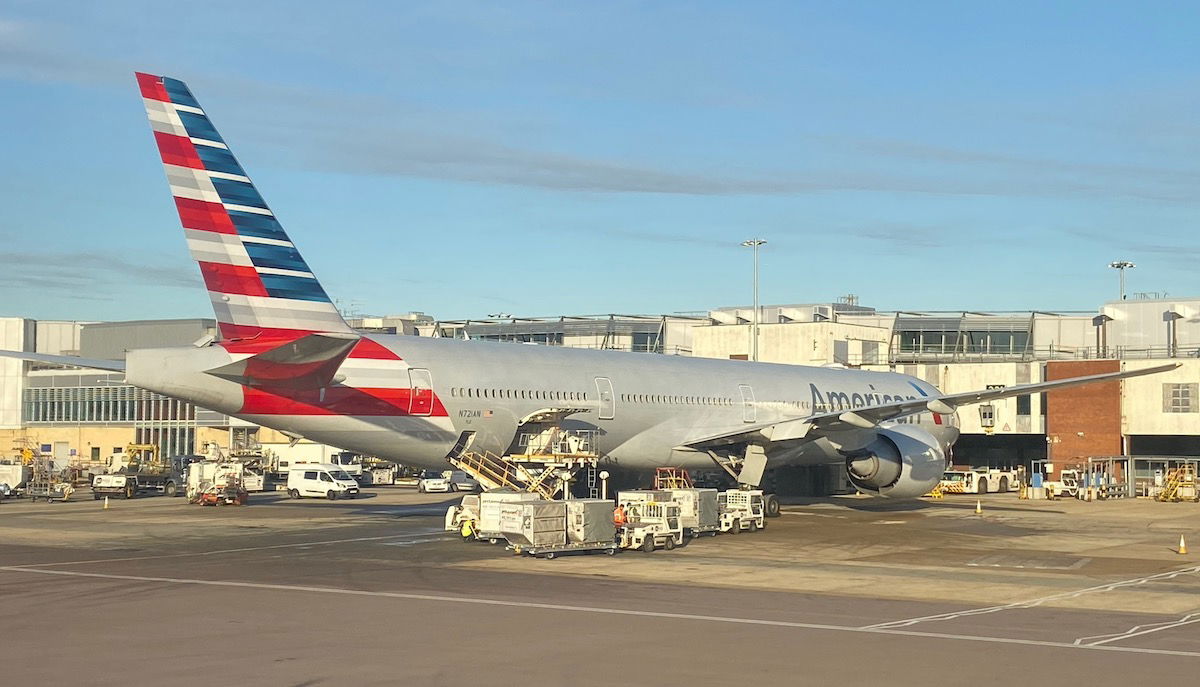 American 777-300ER Heathrow Airport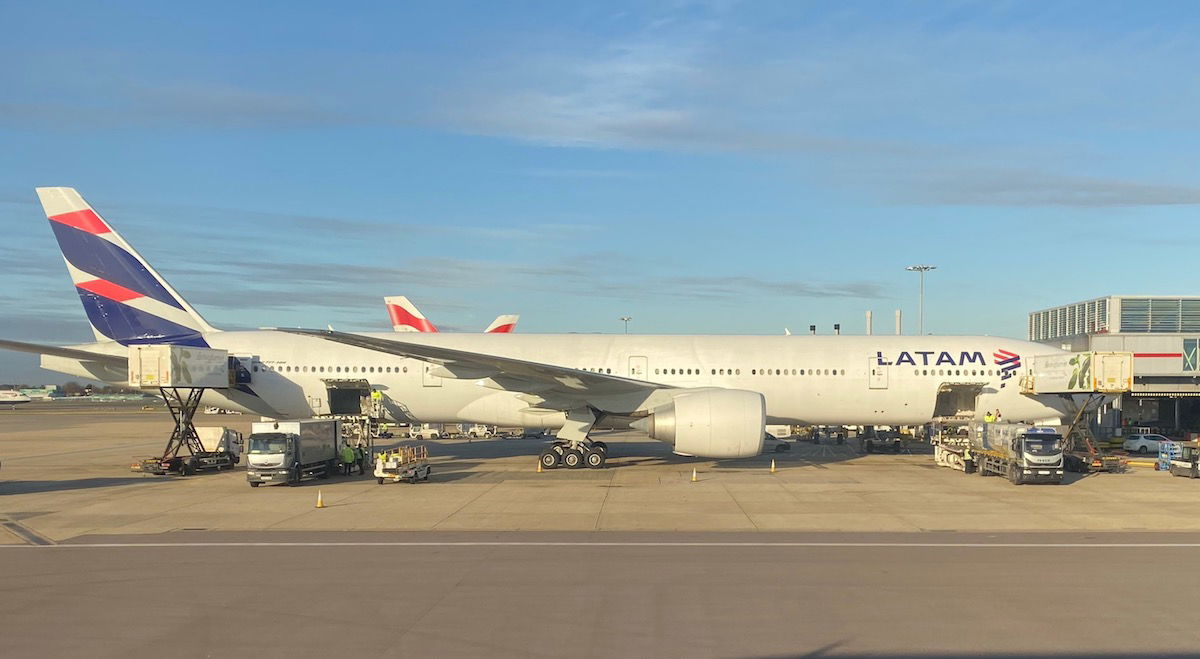 LATAM 777-300ER Heathrow Airport
Our taxi was quicker than expected, and within 10 minutes we were cleared for takeoff on runway 27R.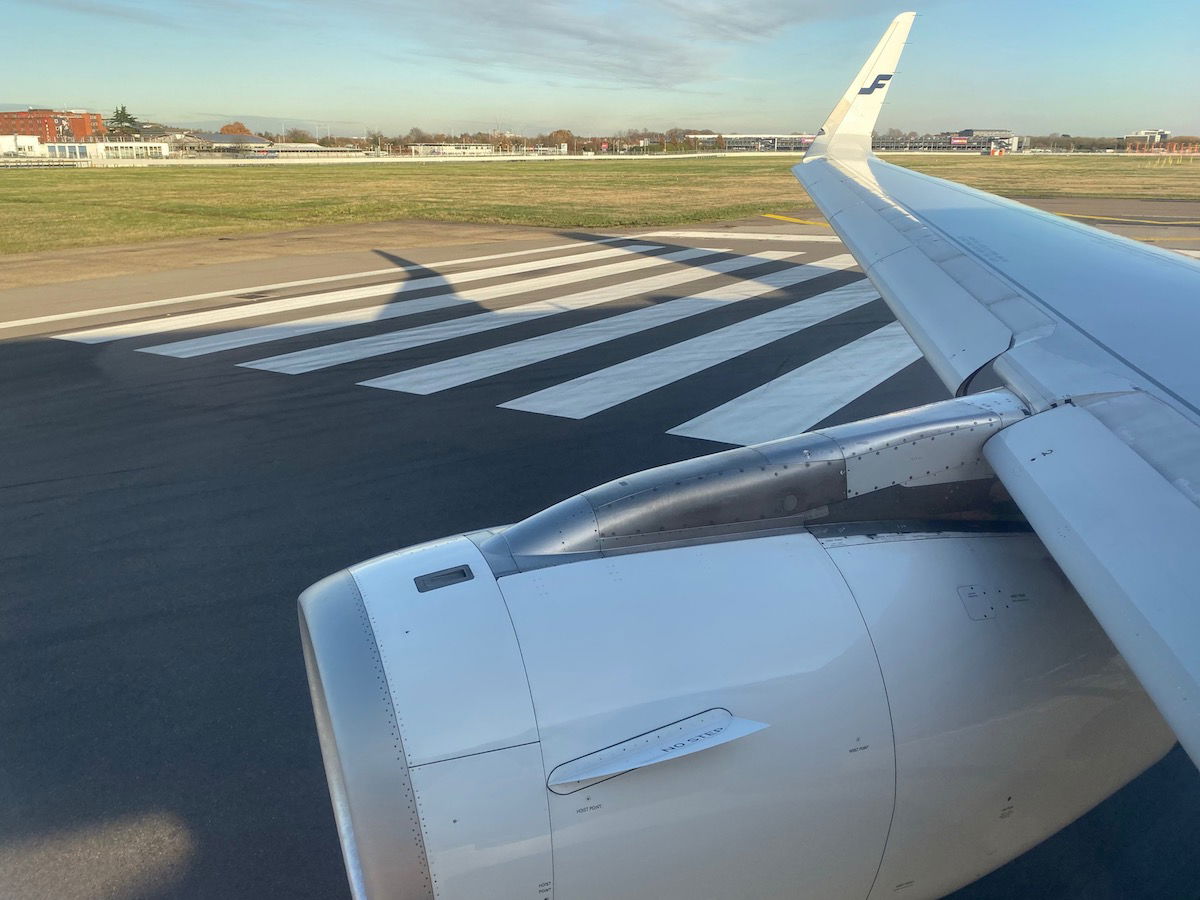 Taking off from Heathrow
It was a beautiful afternoon in London, and I particularly enjoyed the views out the window, because it would be my last daylight for a while, given how early it gets dark in Northern Europe.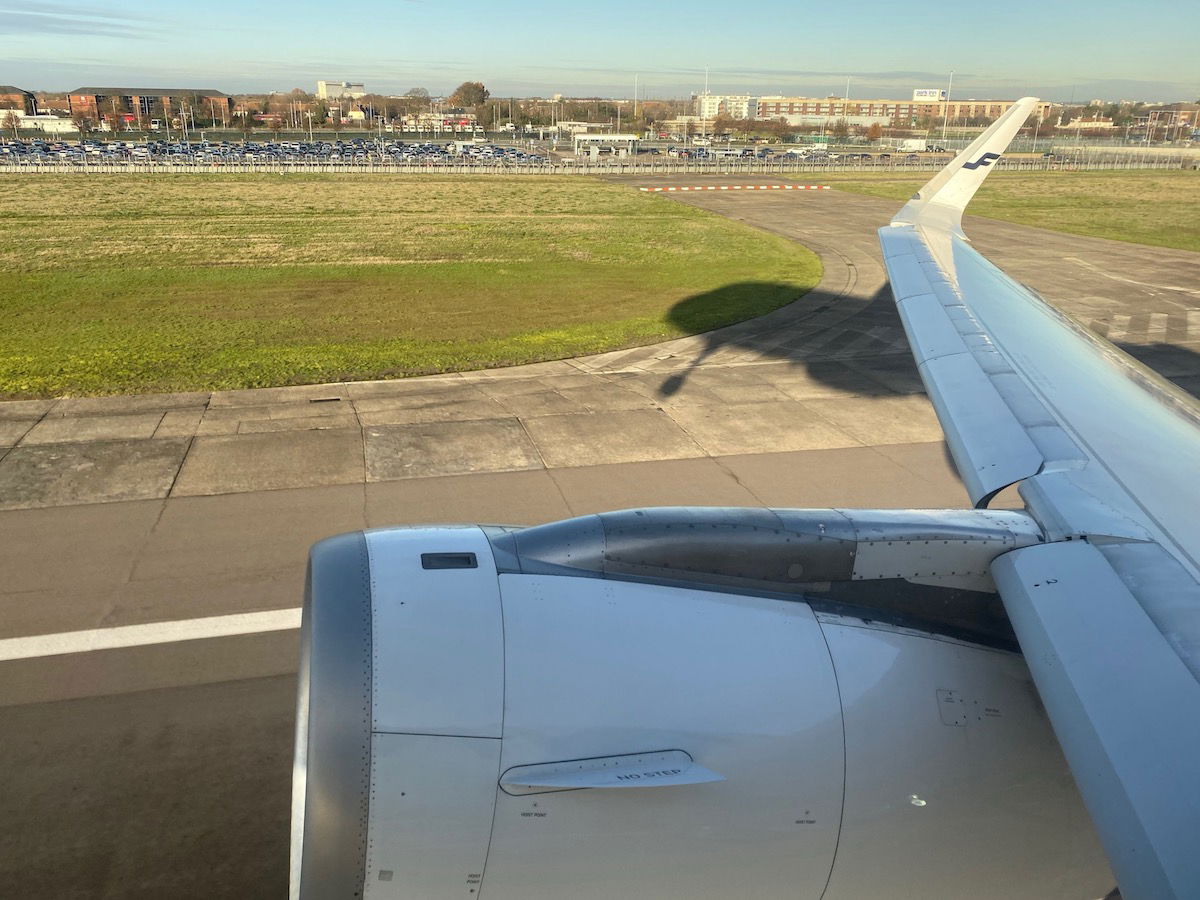 Taking off from Heathrow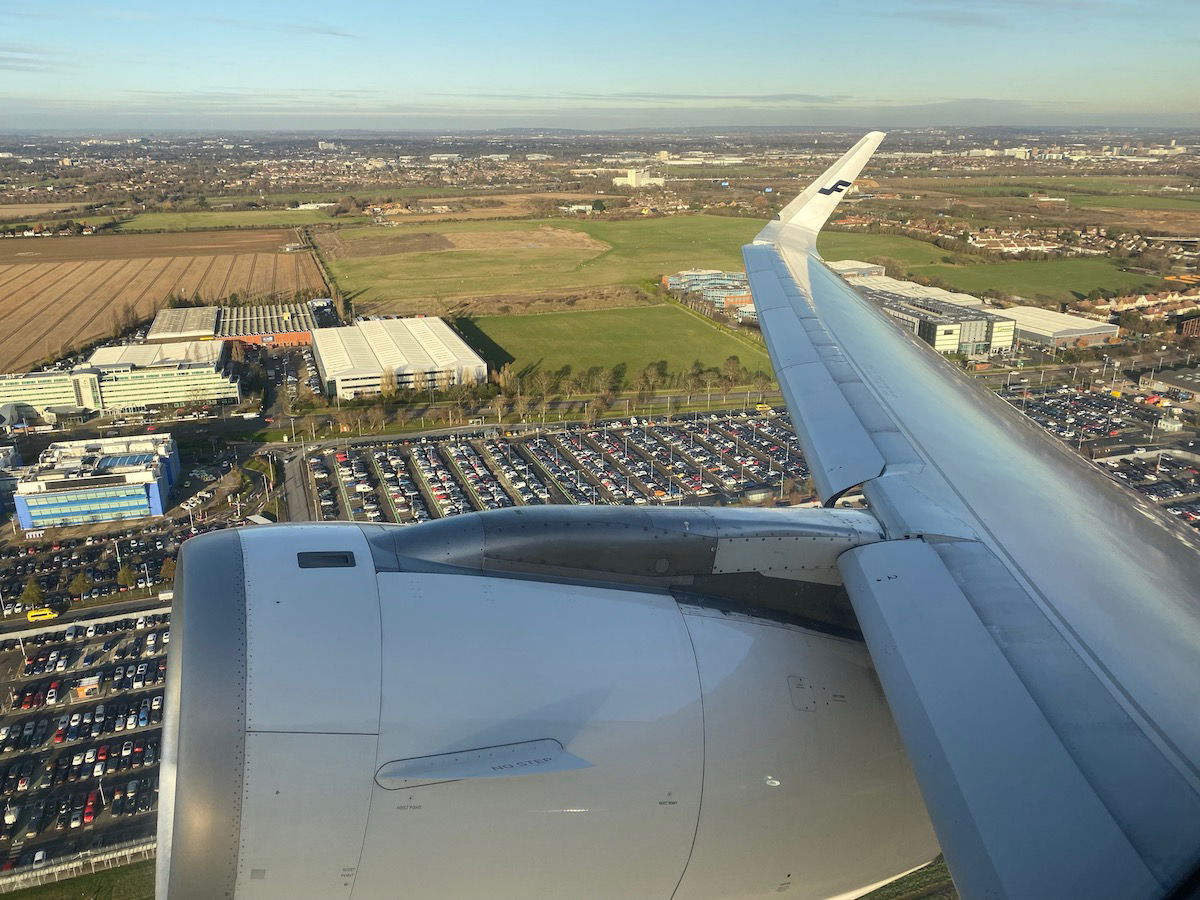 View after takeoff from Heathrow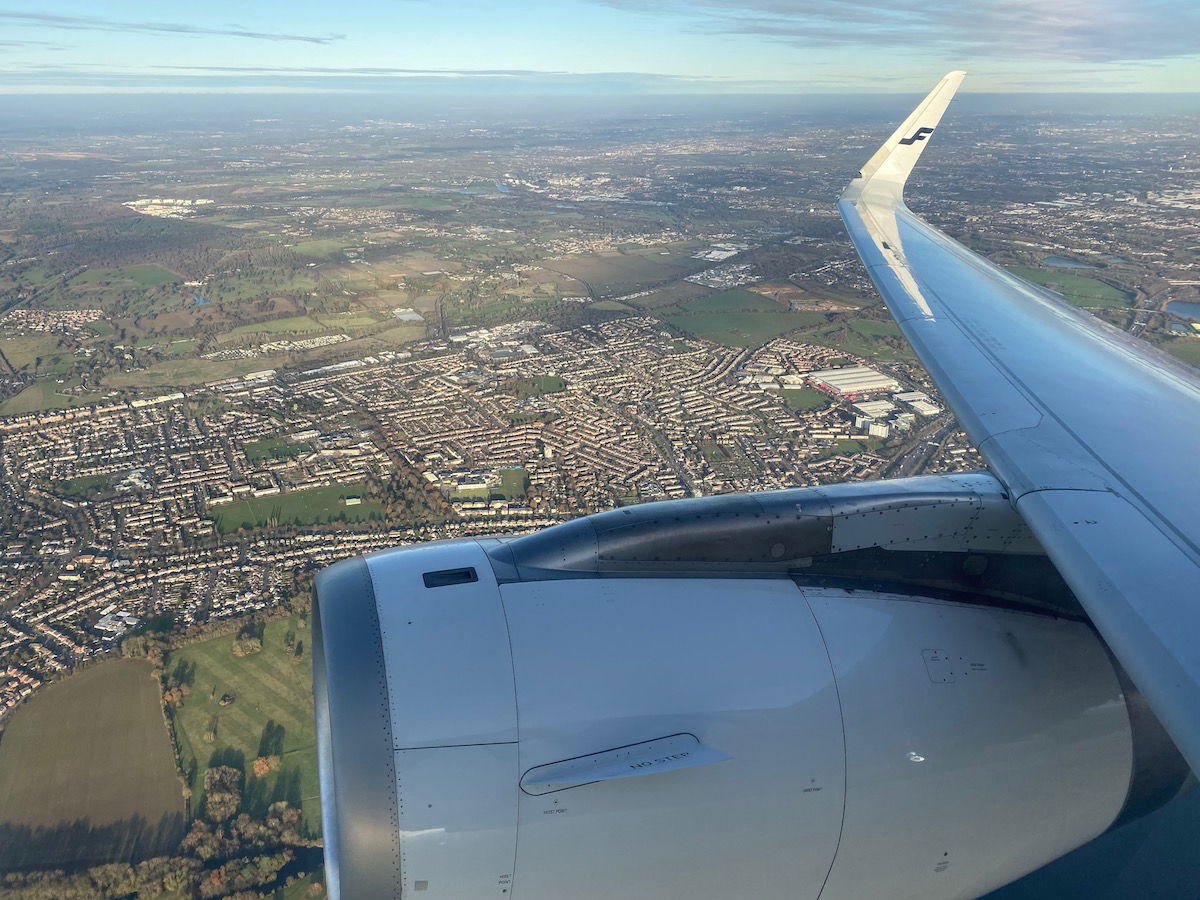 View after takeoff from Heathrow
About 10 minutes after takeoff the seatbelt sign was turned off, at which point the crew closed the curtains between cabins.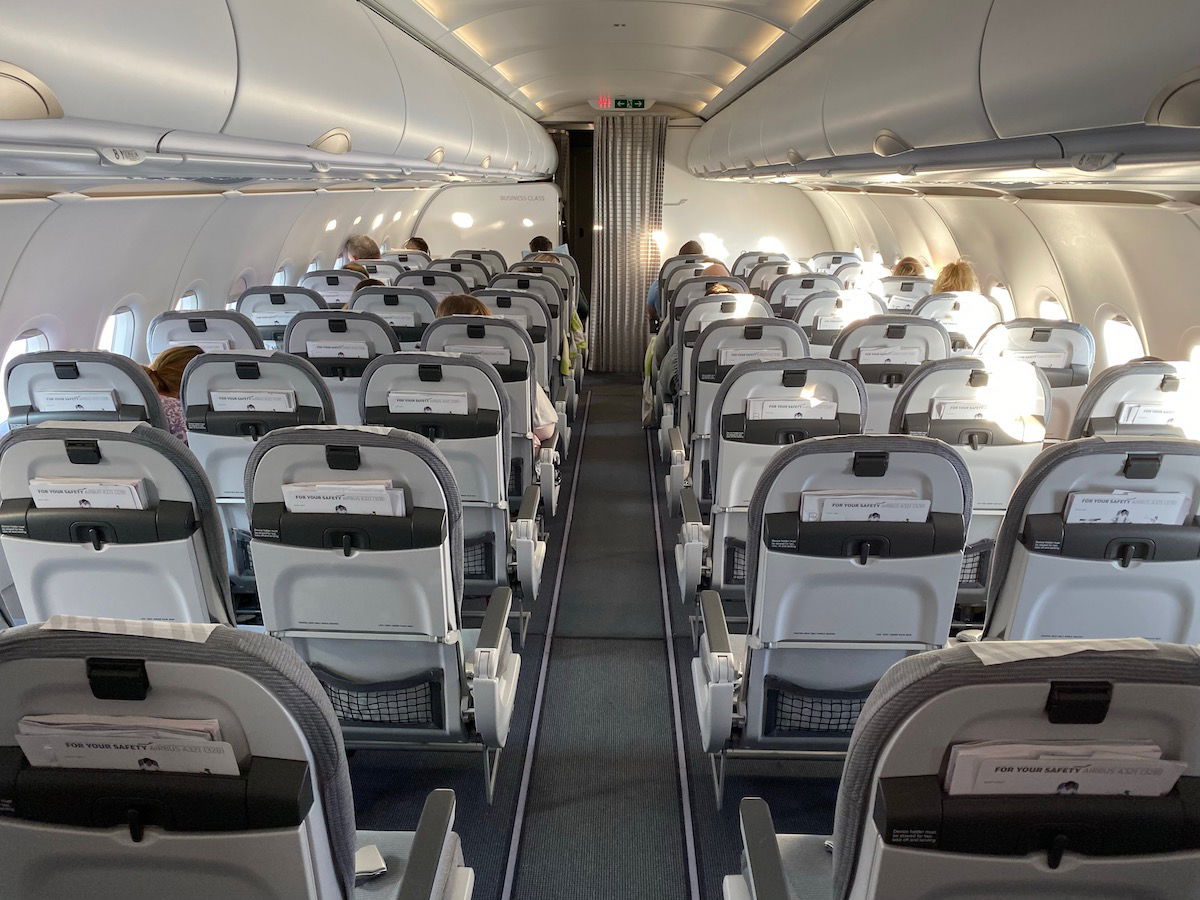 Finnair A321 business class cabin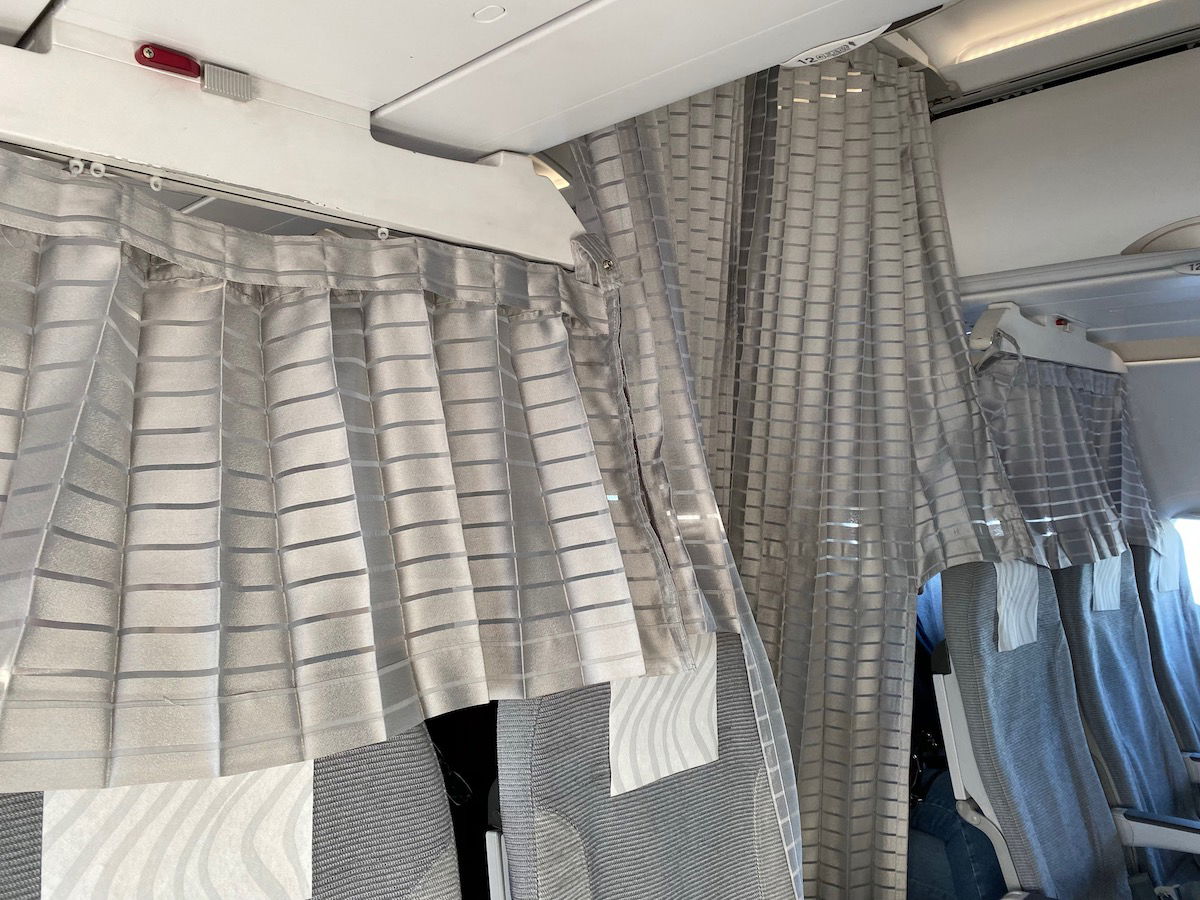 Finnair business class curtain
One of the areas where Finnair excels is that they have inflight Wi-Fi on virtually their entire narrow body Airbus fleet, so you can stay connected.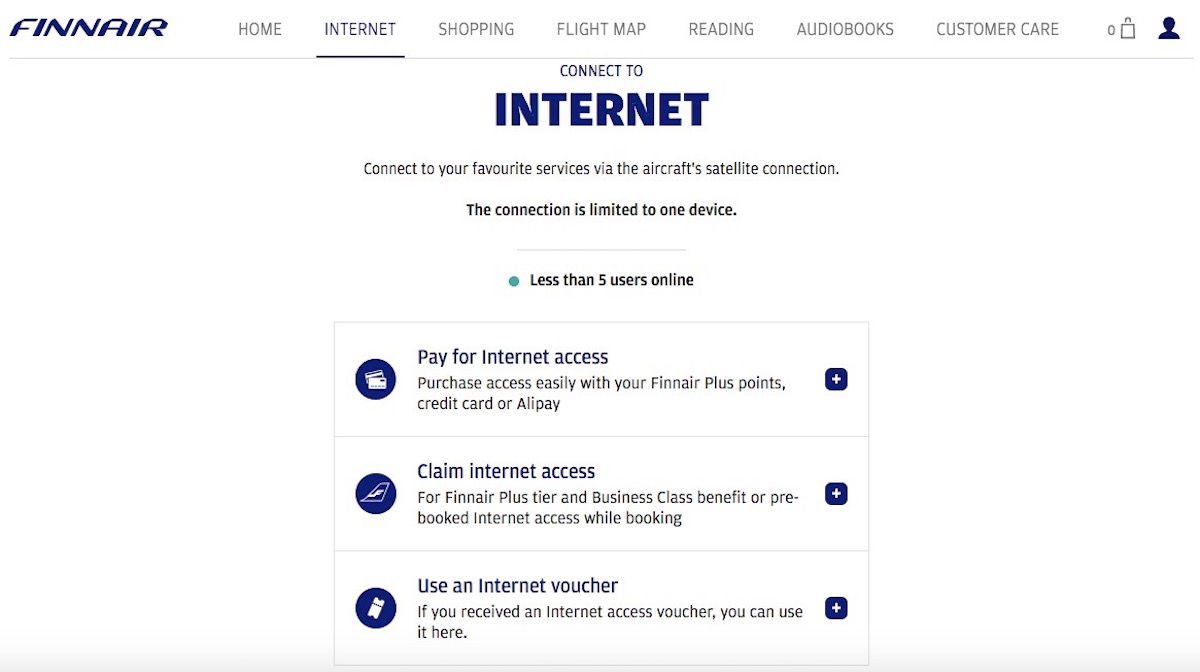 On intra-Europe flights, business class passengers and Finnair Plus elite members receive 30 minutes of free Wi-Fi, which they can take advantage of by entering their last name and seat number.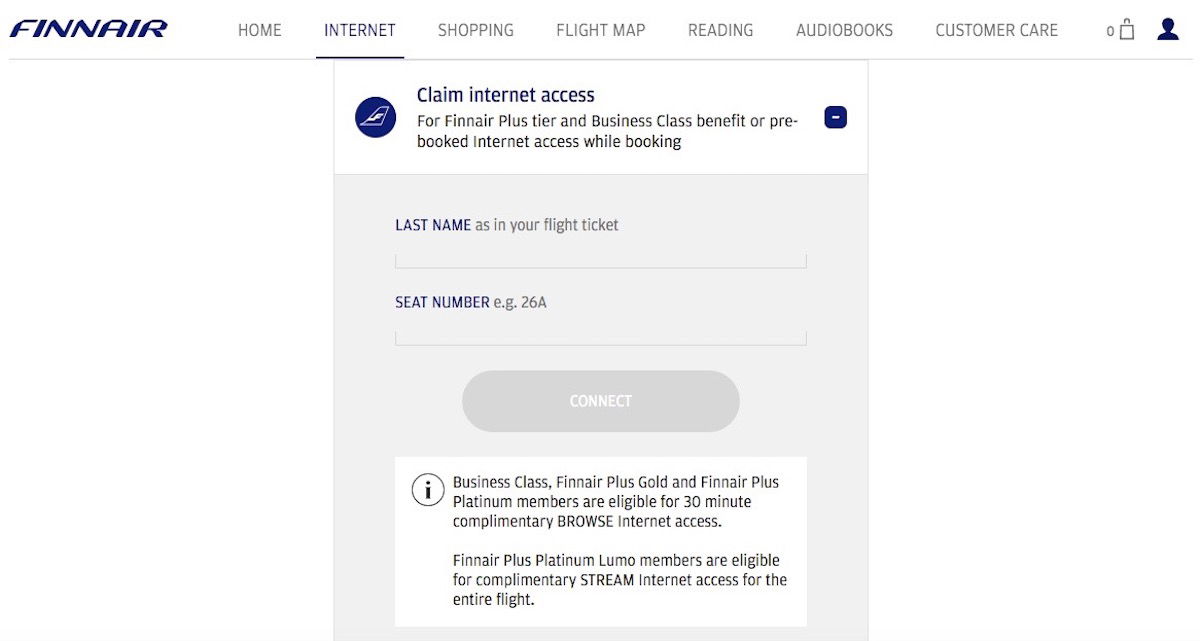 Alternatively you can purchase Wi-Fi at the following costs:
Browse (basic browsing and email access) costs 6.95EUR
Stream (audio and video streaming) costs 12.95EUR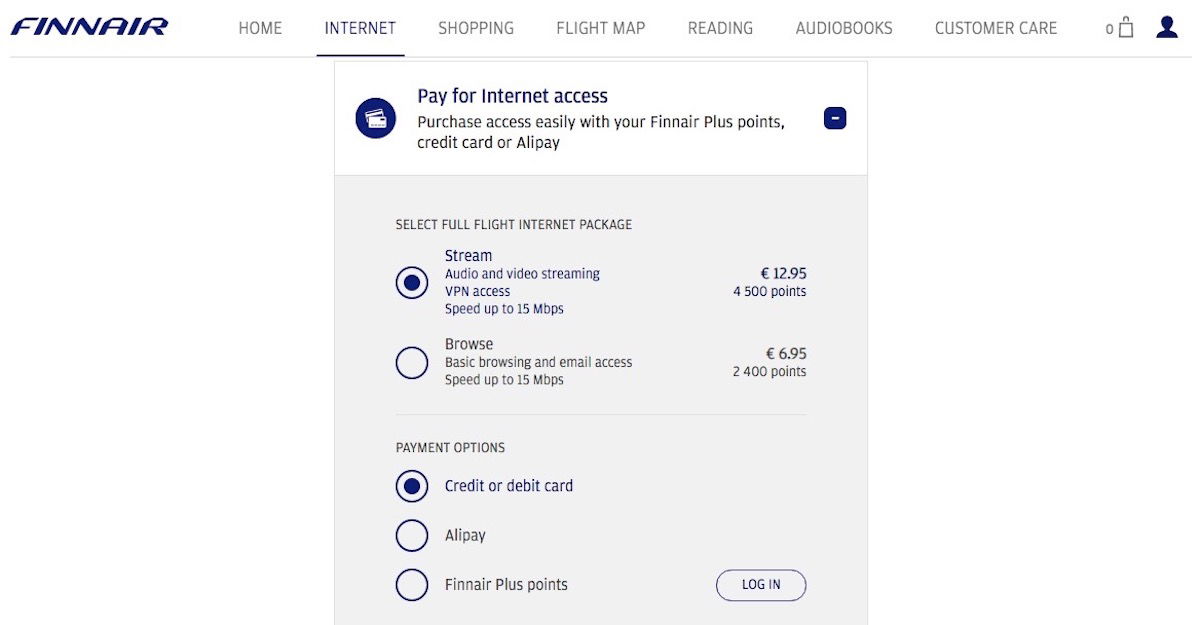 Finnair uses Viasat for their inflight Wi-Fi, which has among the best speeds of any Wi-Fi offering, so that's excellent. The only catch is that there are some significant coverage gaps. So for about 30 minutes during the flight we were outside the coverage zone.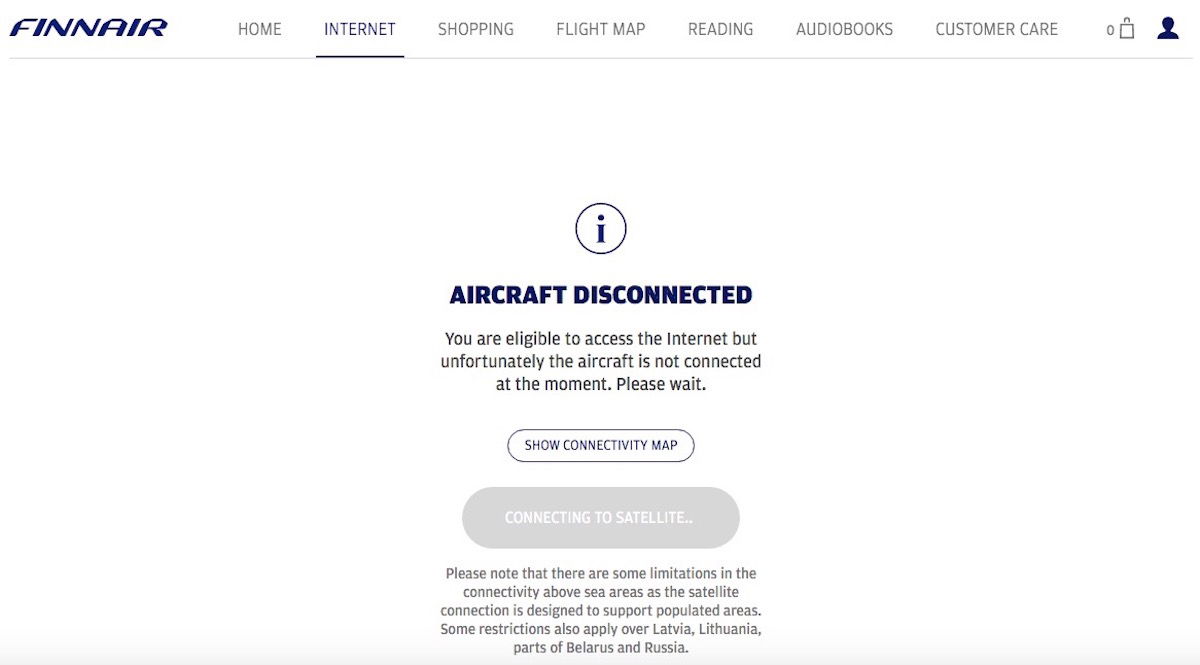 Rather conveniently there's at least a map that shows where the "dead" zones are, and they even have an airshow there, so you'll know roughly when you'll be without Wi-Fi.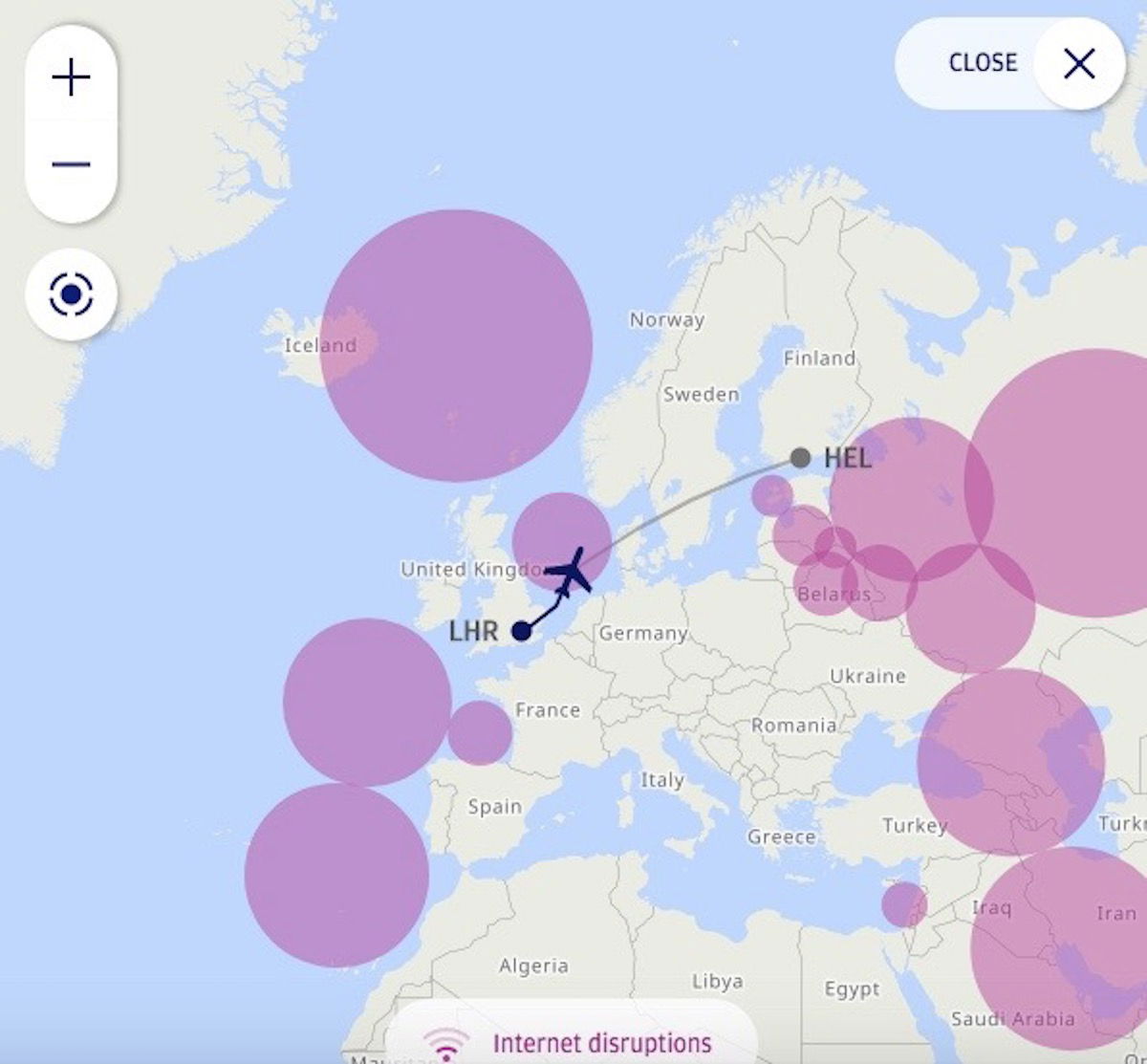 Anyway, about 15 minutes after takeoff I was offered a warm towel.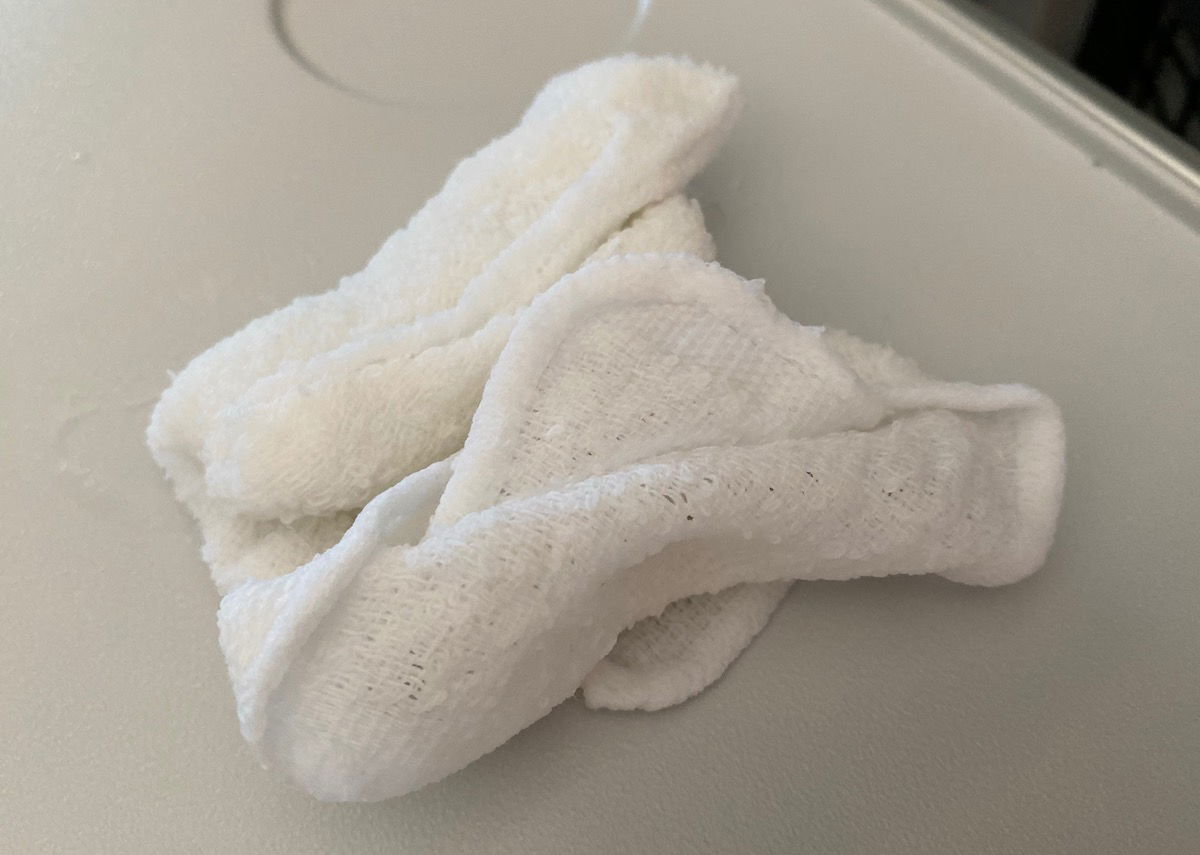 Finnair business class warm towel
About 15 minutes after that a cart was rolled down the aisle with the initial drink service. I ordered a glass of still water and a sauvignon blanc, which was served in a mini-bottle. That was served with some sour cream & chive flavored pretzels.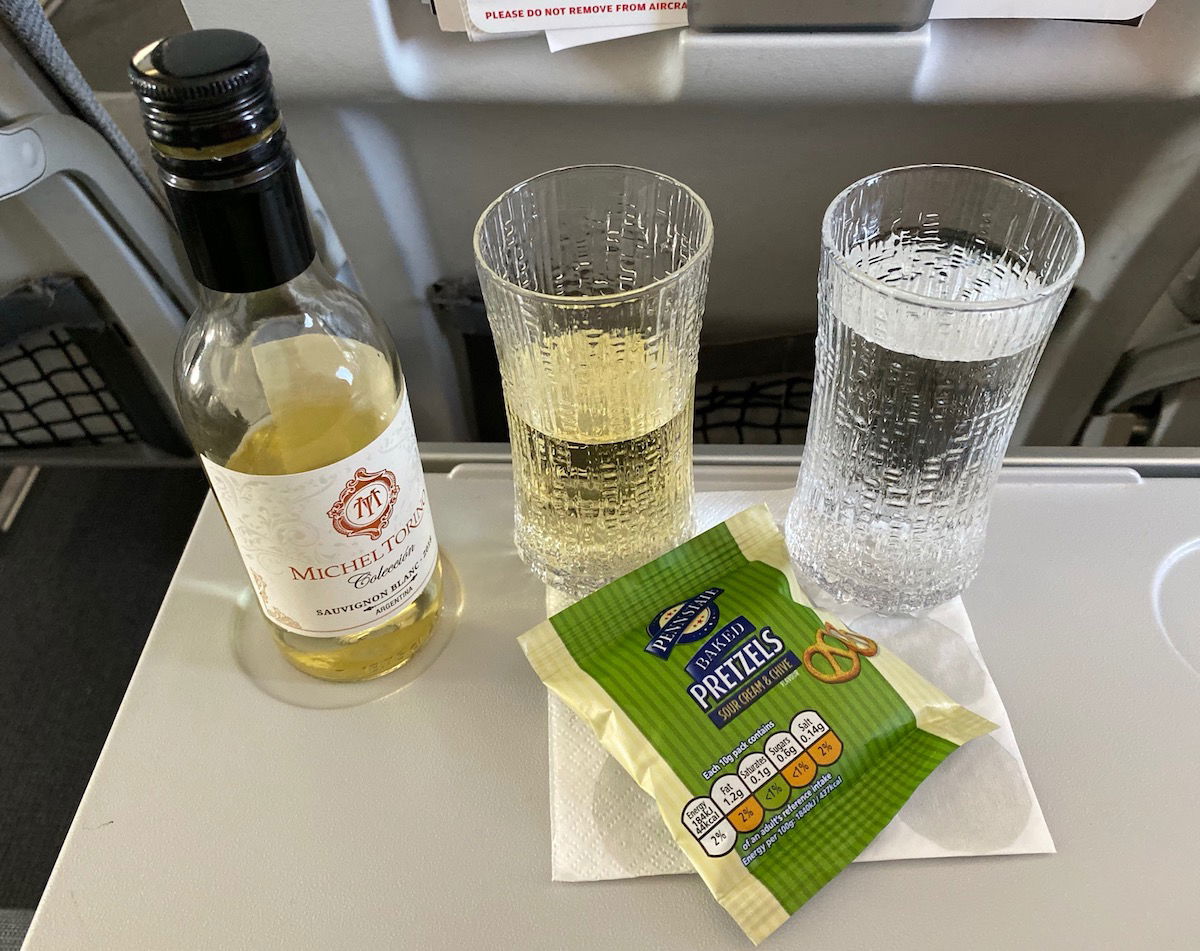 Finnair business class drinks & snack
Another 30 minutes later a cart was rolled down the aisle with the meals. There were two options, described as chicken with wheat salad, or ravioli with avocado and corn.
I selected the chicken, which was served with a duck appetizer, an apple cake dessert, and a piece of bread. The meal was surprisingly good, particularly the chicken dish.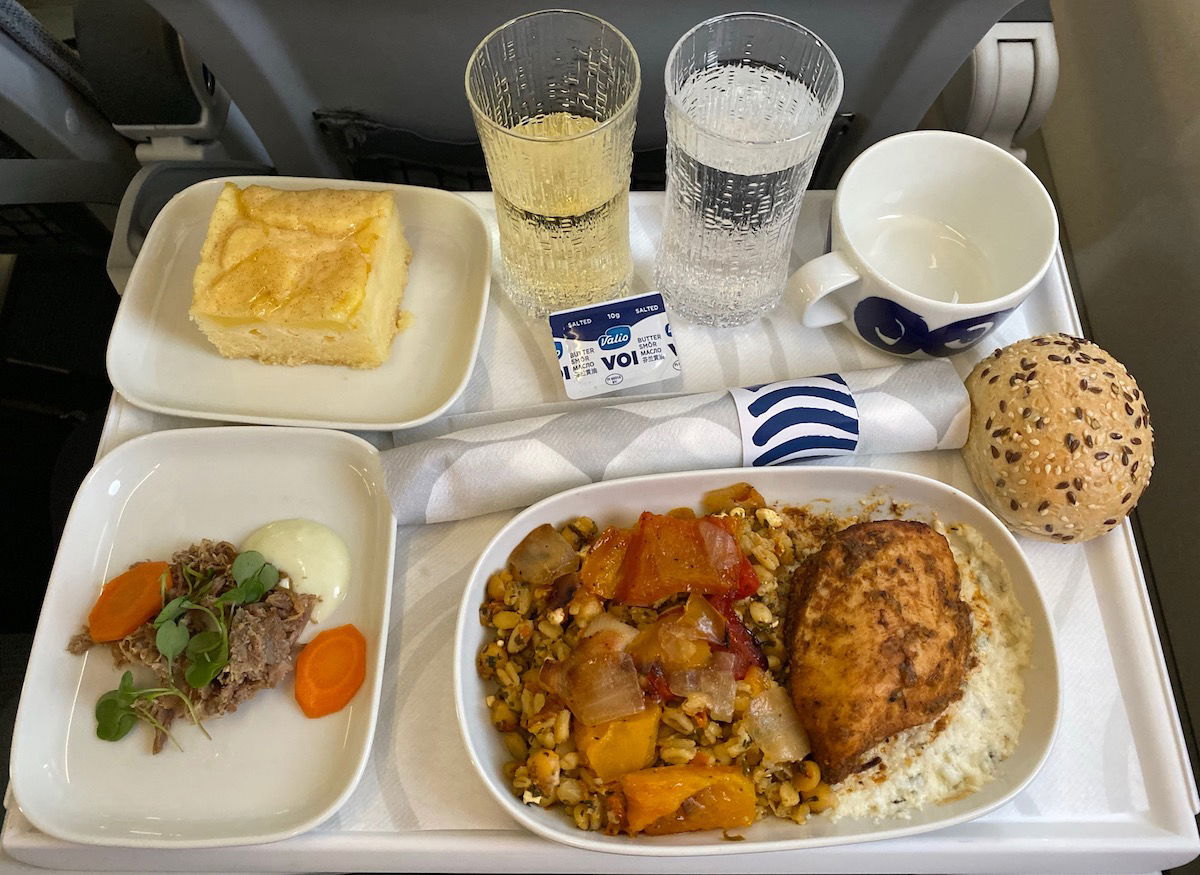 Finnair business class meal
The crew came through the cabin after the meal with coffee and tea.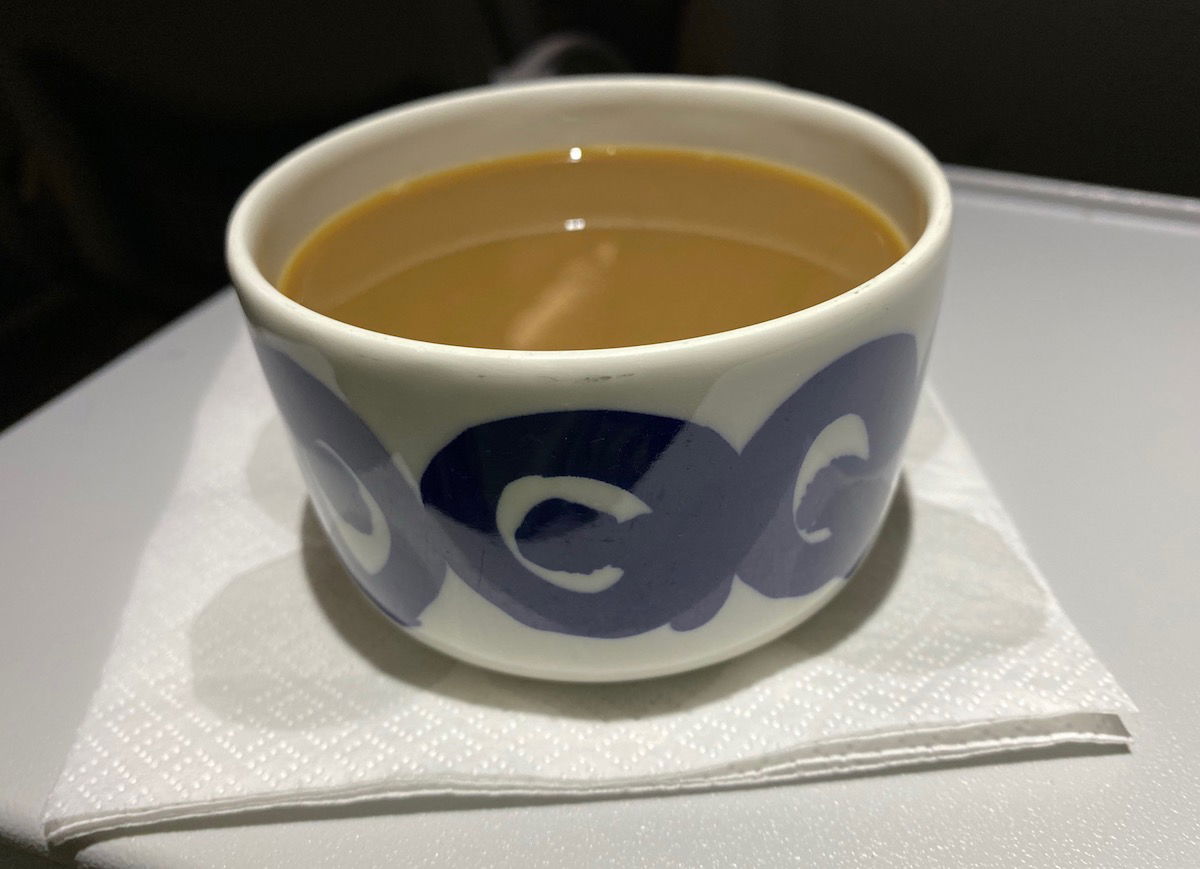 Finnair business class coffee
I thought the meal service and crew were both excellent. Both of the business class flight attendants were friendly and attentive, and genuinely seemed to enjoy their jobs.
It was amazing (though not surprising) how quickly the sun set on this flight. One minute it was complete daylight, a few minutes later there was a beautiful sunset, and then it was pitch dark.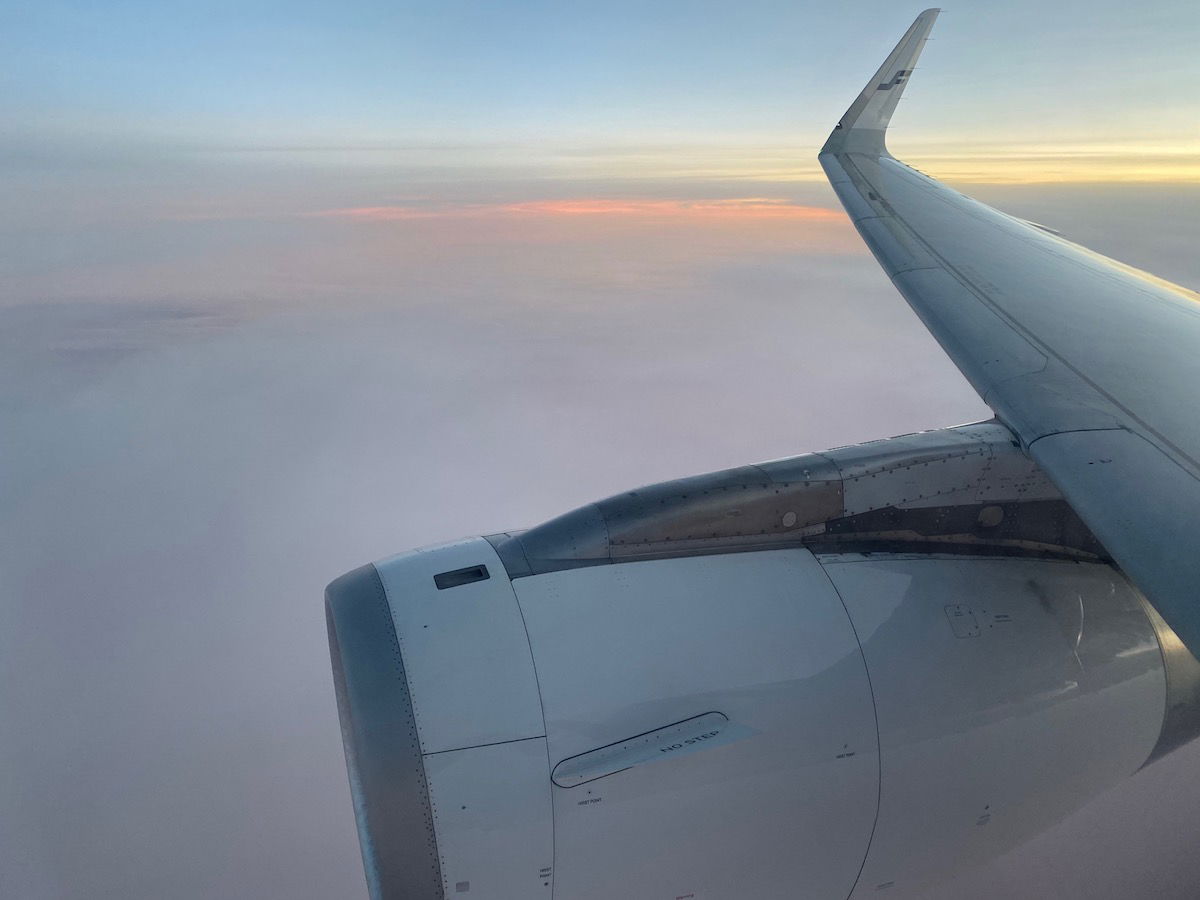 Sunset enroute to Helsinki
I spent the first two thirds of the flight working. At that point I decided to watch some of my own entertainment. Finnair has a personal device holder on the seatbacks, so you can place your own iPad (or whatever) there.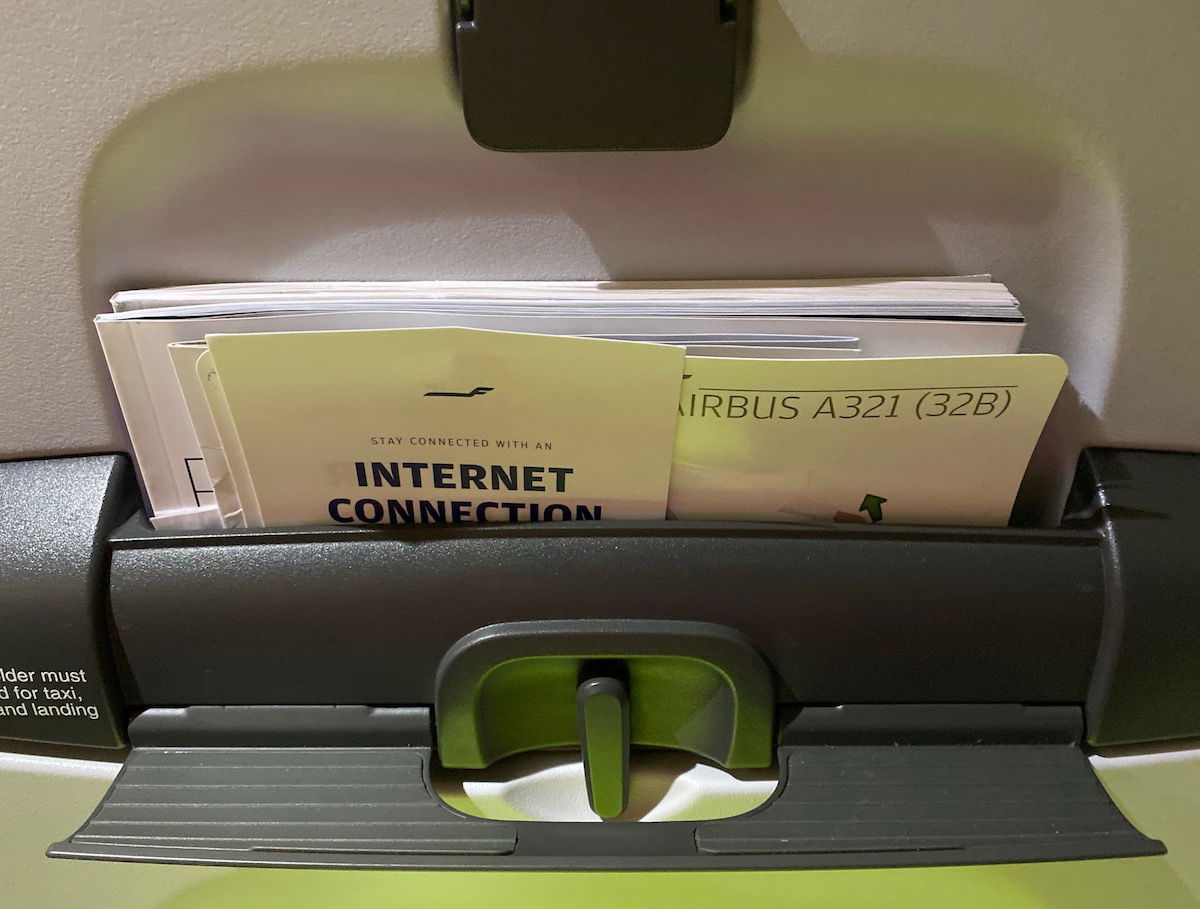 Finnair seat entertainment holder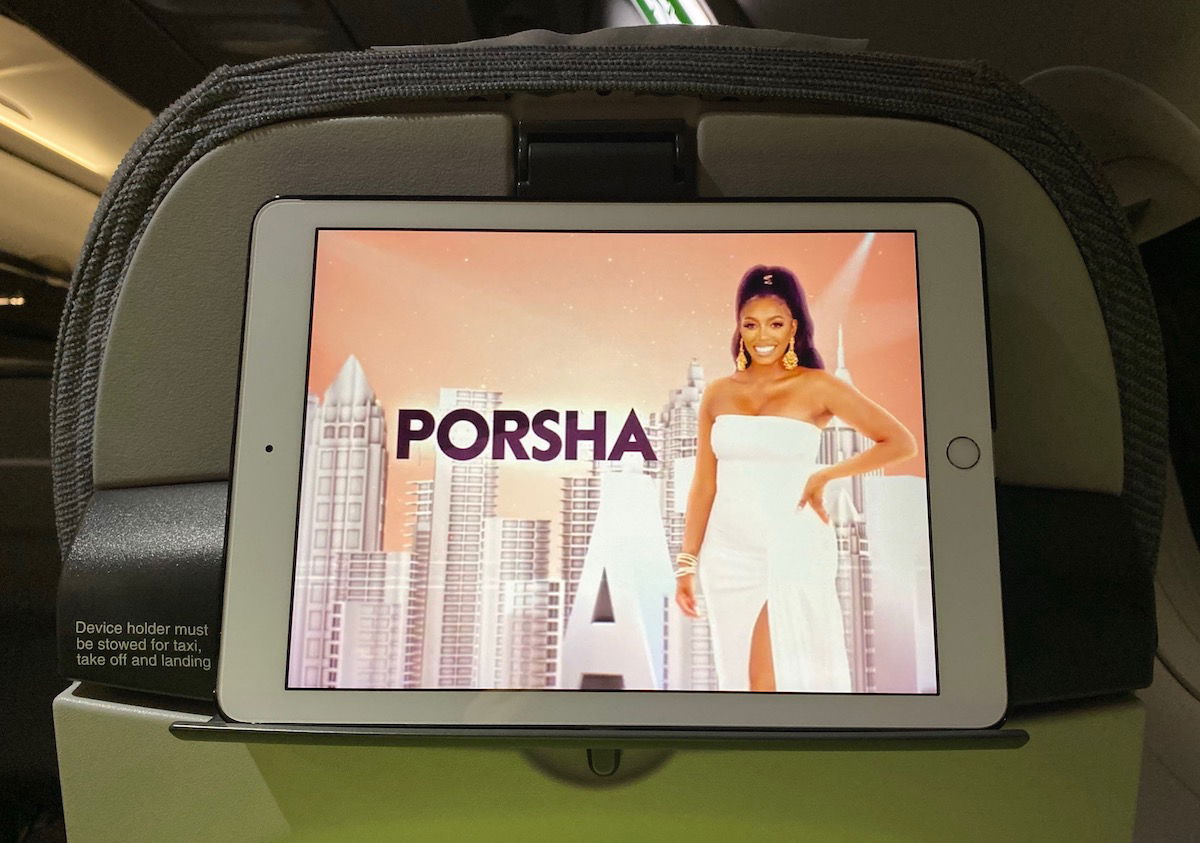 Quality entertainment on Finnair
Towards the end of the flight I checked out the lavatory at the front of the cabin, which was basic but clean.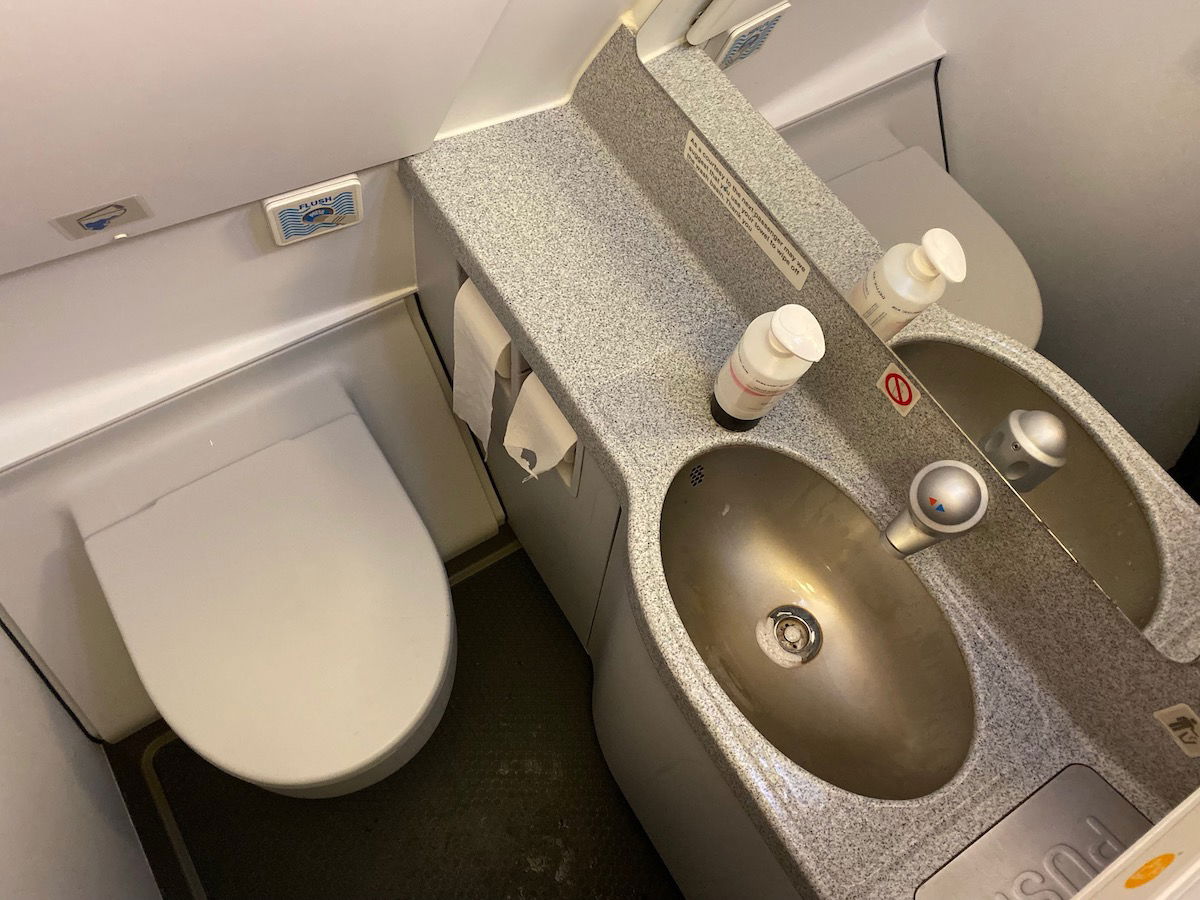 Finnair A321 lavatory
At 6:10PM Helsinki time (two hours ahead of London) the captain announced we'd be landing in about 30 minutes. 15 minutes later he turned on the seatbelt sign. Sure enough we touched down at 6:40PM, and from there had a five minute taxi to the gate.
It sure was a quiet and cold-looking evening in Helsinki. Fortunately I'd be continuing to a much warmer climate!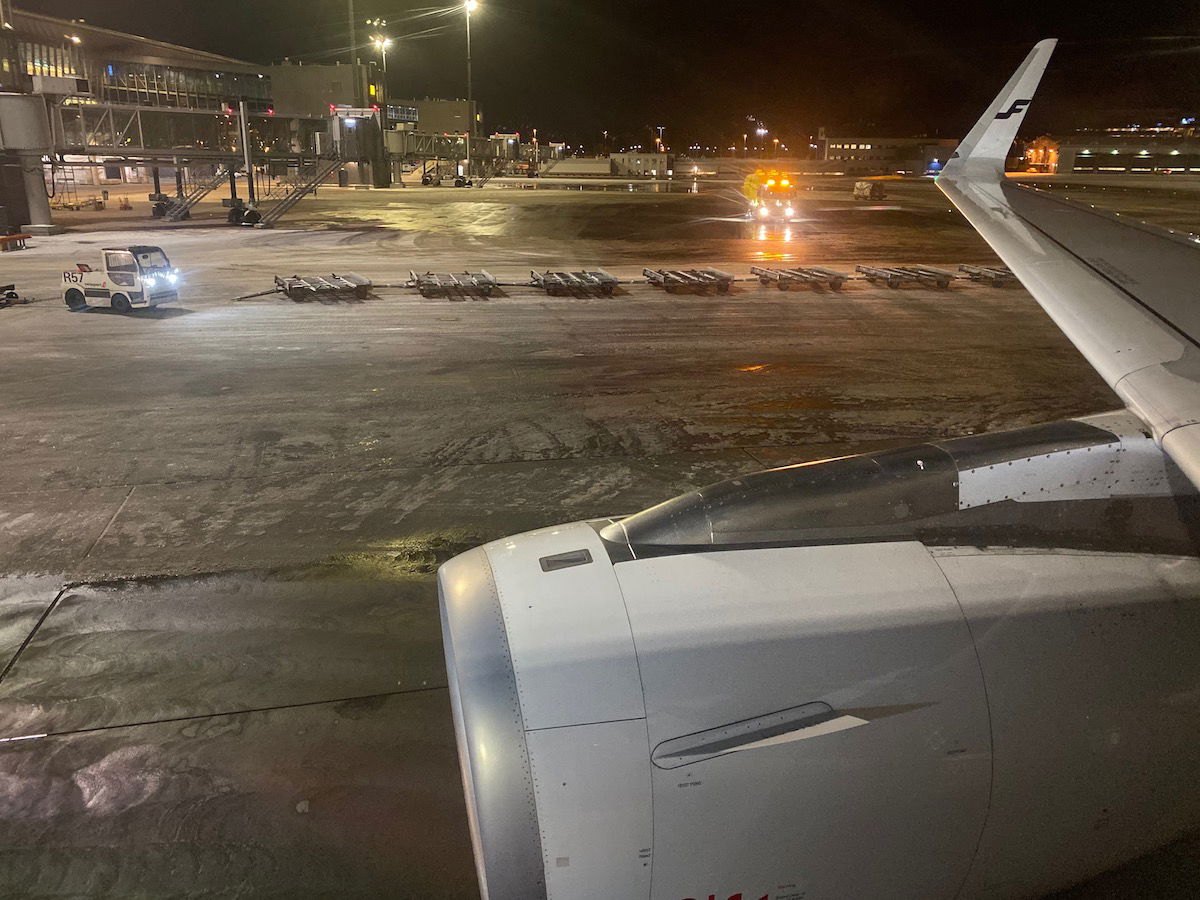 View upon arrival in Helsinki
Finnair A321 Business Class Bottom Line
Intra-Europe business class typically isn't much to get excited about, though all things considered I thought Finnair offered a solid experience — the food was very good, service friendly, and the high speed Viasat Wi-Fi was a real treat.
Of course intra-Europe business class simply being economy with a blocked middle is disappointing, but that's the standard, with the exception of a few airlines, including Aeroflot and Turkish.
If you've flown Finnair's intra-Europe business class, what was your experience like?