---
South African Airways 317
Johannesburg (JNB) – Cape Town (CPT)
Saturday, May 21
Depart: 9:10AM
Arrive: 11:20AM
Duration: 2hr10min
Aircraft: Airbus A319
Seat: 5A (Business Class)
Upon boarding I presented my boarding pass to the two lovely flight attendants at the door, and was pointed towards my seat.
SAA has a unique business class configuration on their A319s. The business class cabin features a total of 25 seats, spread across five rows in a 2-3 configuration.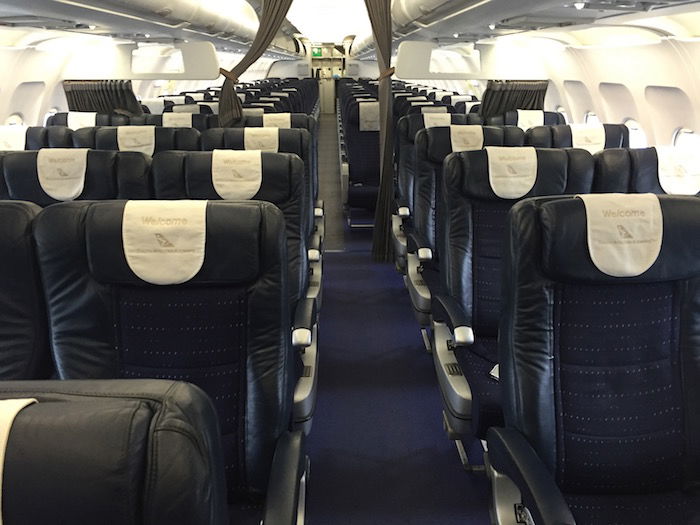 SAA A319 business class cabin
The seat pitch is apparently ~36″, which sounds about right. That means there are a couple less inches of legroom than you'll find in domestic first class on most US airlines.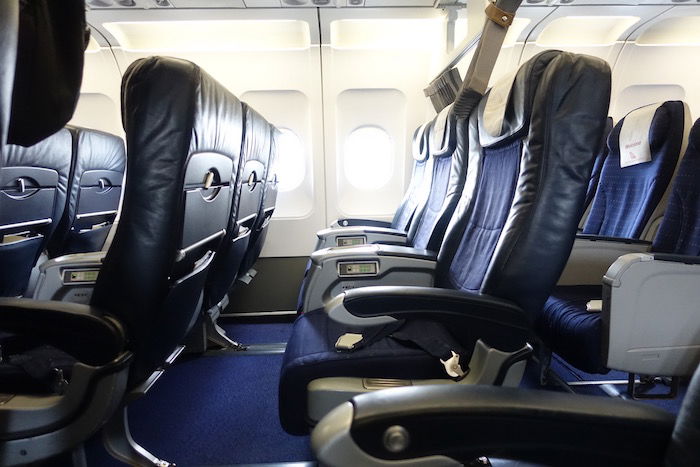 SAA A319 business class legroom
I had selected seat 5A, the window seat in the last row of business class (it had a curtain immediately behind it, separating business from economy).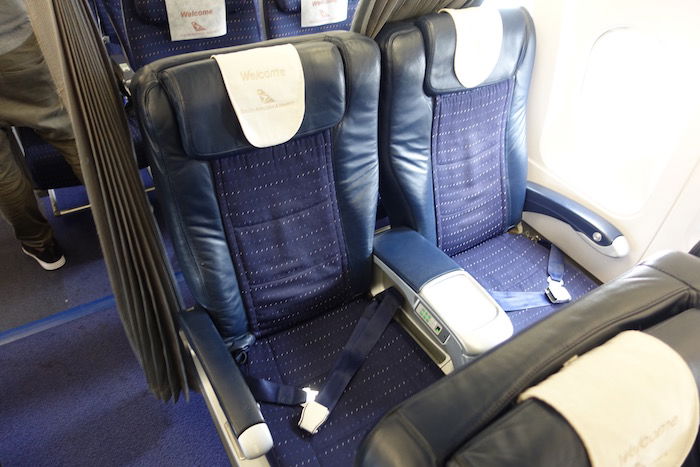 SAA A319 business class seats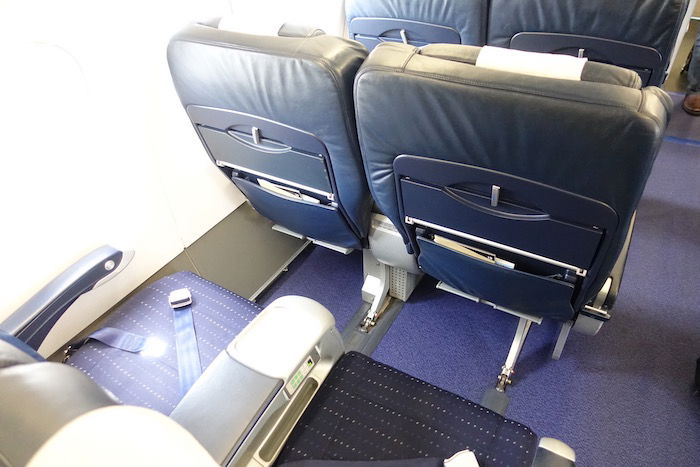 SAA A319 business class seats
The seat had a small footrest, which was well positioned, though it also limited what you could place underneath the seat in front of you (even when folded up, it still created a barrier of sorts).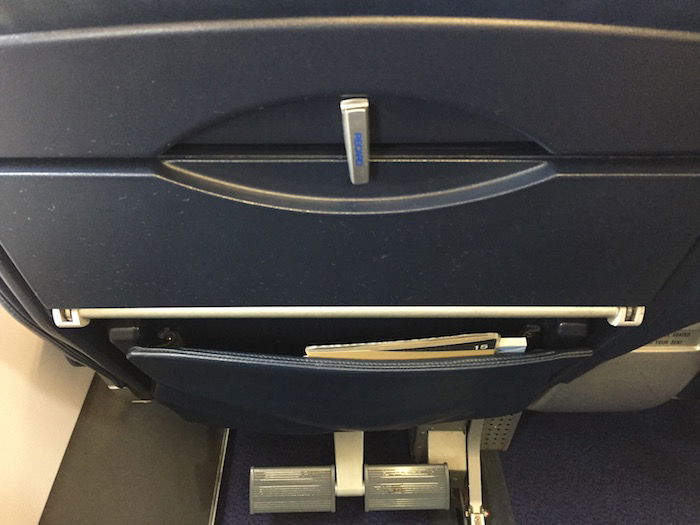 SAA A319 business class legroom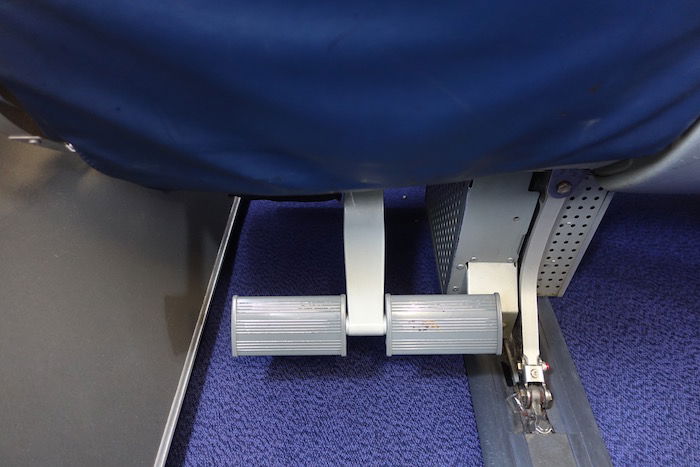 SAA A319 business class footrest
The tray table folded out of the seat in front, and flipped over, so that you could use either half a tray table or the entire tray table.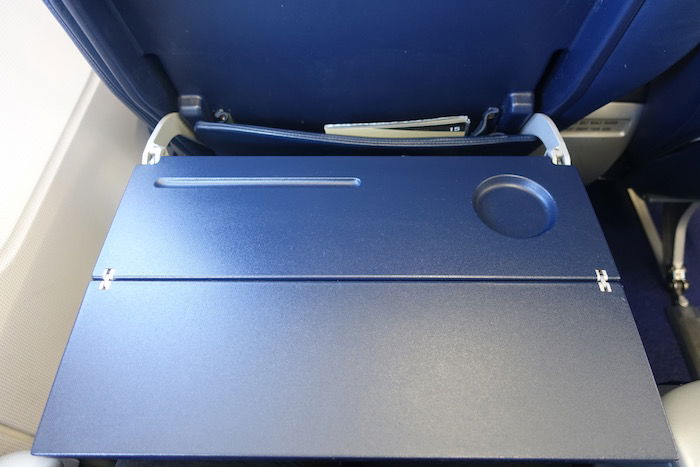 SAA A319 business class tray table
There were power outlets on the center armrest between seats, which is always much appreciated.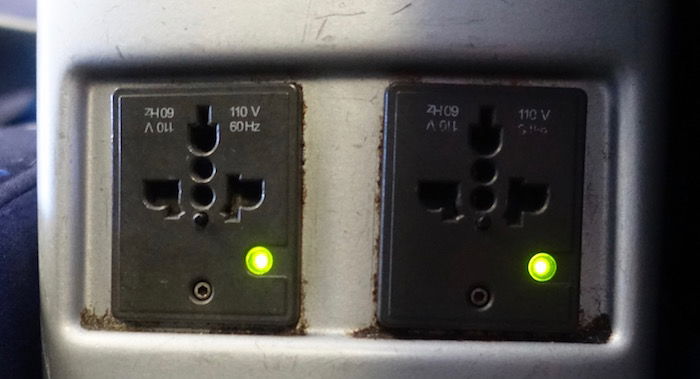 SAA A319 business class power outlet
Then there were also audio controls at the bottom right of my seat, though I didn't ever use those.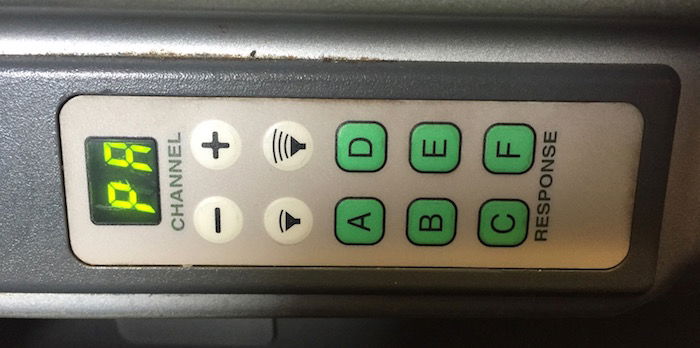 SAA A319 business class entertainment controls
It's interesting how airlines in different regions of the world approach business class, though this was an especially unique configuration.
In the US, business class (or domestic first class) is typically in a 2-2 configuration, with more pitch and width than in economy.
Meanwhile in Europe, business class is generally just economy with a blocked middle seat and better service.
In the Middle East you'll find some of the world's best business class products, often offering fully flat beds and incredible service.
These planes, on the other hand, are in a 2-3 configuration. So they've put some effort into differentiating the product, but then I also find it rather disappointing that one side of the cabin has a set of three seats, meaning each row has one middle seat. That's not very premium.
Boarding was very efficient, and within 15 minutes the plane was fully boarded. Five minutes after that the main cabin was closed, with a total of about five empty seats in business class.
The seat next to me was empty, and the only other person in my row was an off duty first officer, who was in the opposite window seat.
During boarding I was offered newspapers, though not a pre-departure beverage.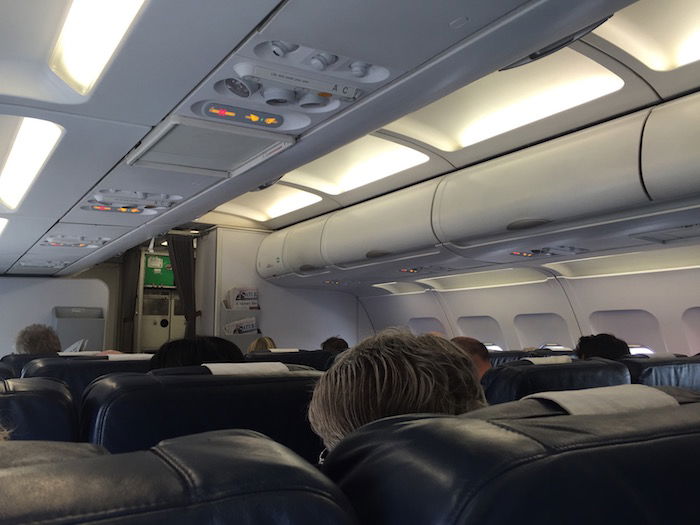 South African Airways business class cabin view
At 9AM the captain came on the PA to add her welcome aboard, and inform us of our flight time of 1hr45min. She said it would be a very smooth ride, and that "in Cape Town there's not a cloud in the sky and not a gust of wind."
We pushed back at around 9:05AM, at which point the safety video began to play.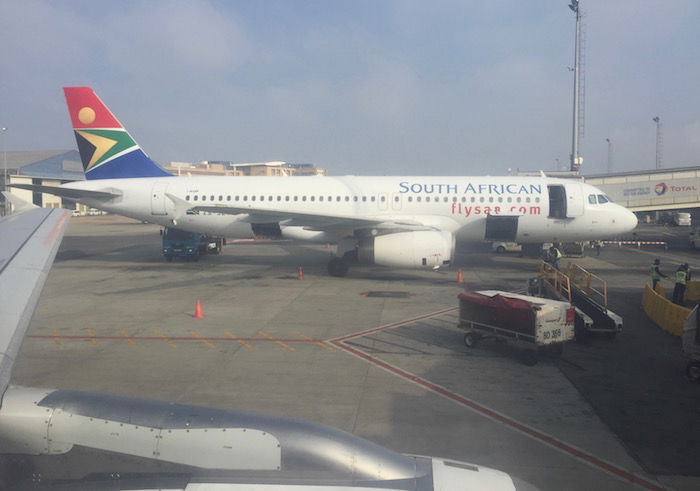 South African Airways A320 Johannesburg Airport
As soon as the safety video was done the crew buckled in for takeoff, even though the taxi took another 5-10 minutes.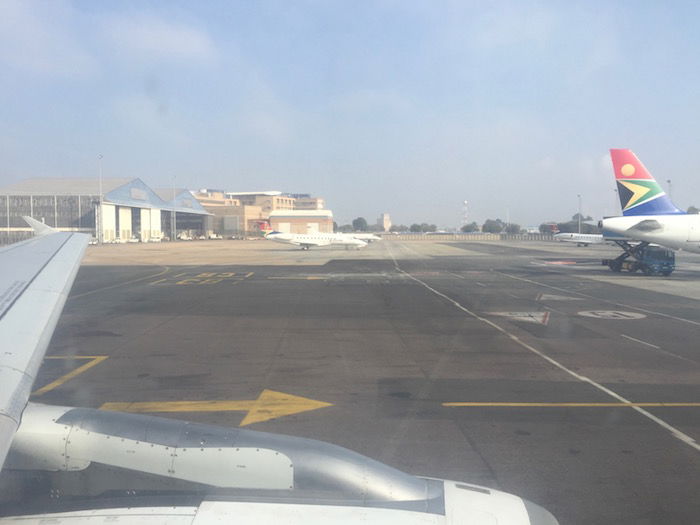 Pushing back Johannesburg Airport
The traffic to the runway was cool, including a few Comair planes in British Airways livery.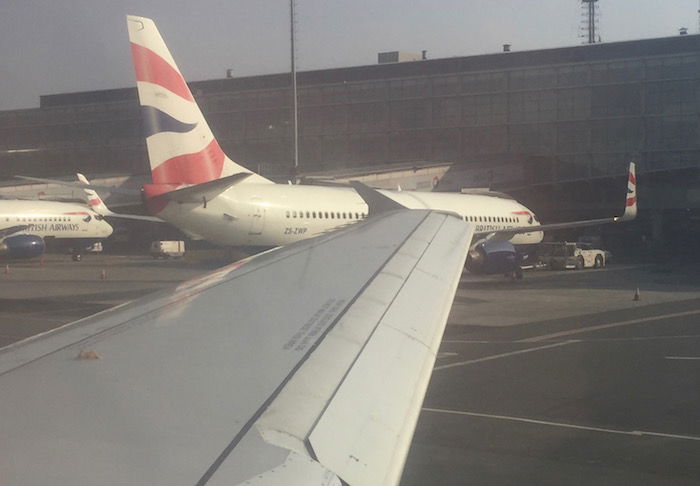 Comair 737 Johannesburg Airport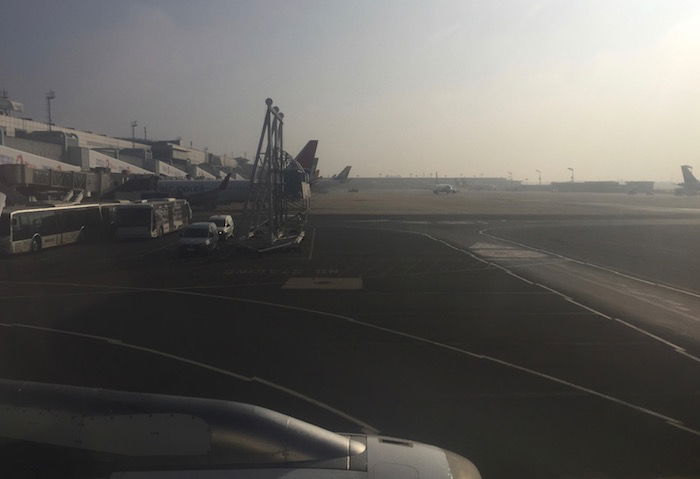 Taxiing Johannesburg Airport
By around 9:15AM we made it to runway 3L, where we were quickly cleared for takeoff.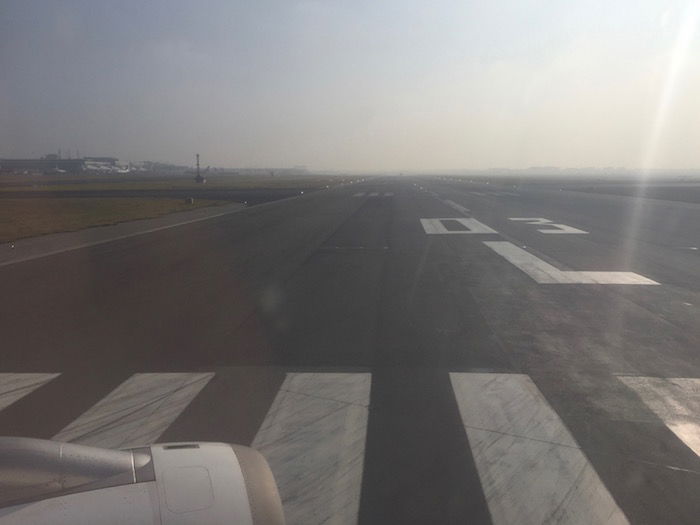 Taking off Johannesburg Airport
As we rolled onto the runway the pilot across from me rudely yelled "you need to shut that off now, it's a safety hazard." Up until that point it hadn't really clicked for me that SAA doesn't allow electronics (even in airplane mode) during taxi, takeoff, and landing (even in airplane mode). It's an outdated policy, given that a vast majority of modern aviation authorities now allow these. I would have preferred if he said it nicely and also didn't claim it's a safety hazard (which a phone in airplane mode isn't), but I turned it off, of course.
It's a bummer I couldn't take pictures, because the views on the climb out were interesting. About 10 minutes after takeoff the seatbelt sign was turned off, though the terrain wasn't as cool at that point. During their welcome aboard announcements, the cabin crew announced "please note admission to the cockpit is no longer allowed," as if that's a recent change.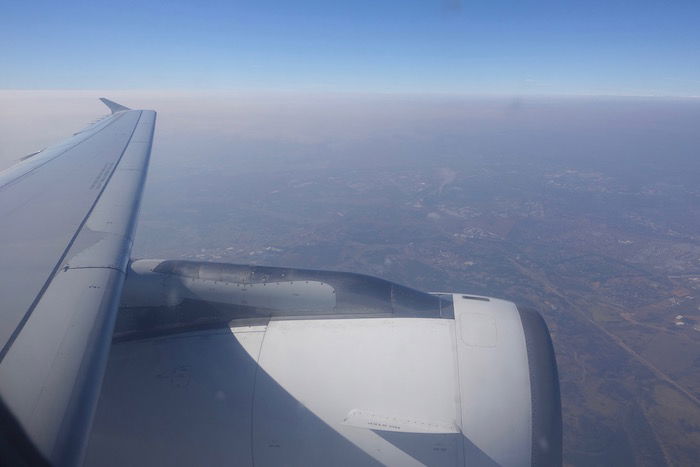 View after takeoff from Johannesburg
15 minutes after takeoff I was offered my choice of breakfast, though I actually didn't understand what either of the options were, other than that one was vegetarian, and one wasn't. I went with the former.
I found the presentation to be underwhelming. I never understand why some airlines serve dishes with the covers still on in premium cabins. Even as a germaphobe, I'd much rather they remove the cover in front of me, rather than me having to try and take them off, which can be a challenge, especially as these were sealed on quite tight.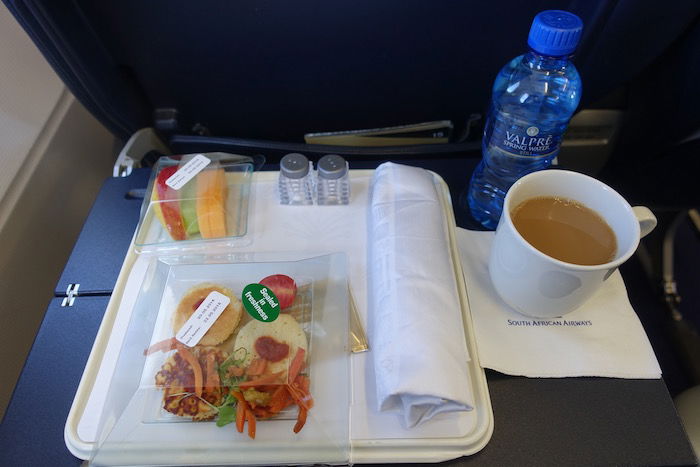 Breakfast service South African Airways business class
I'm not sure what exactly my snack consisted of, but it tasted rather stale.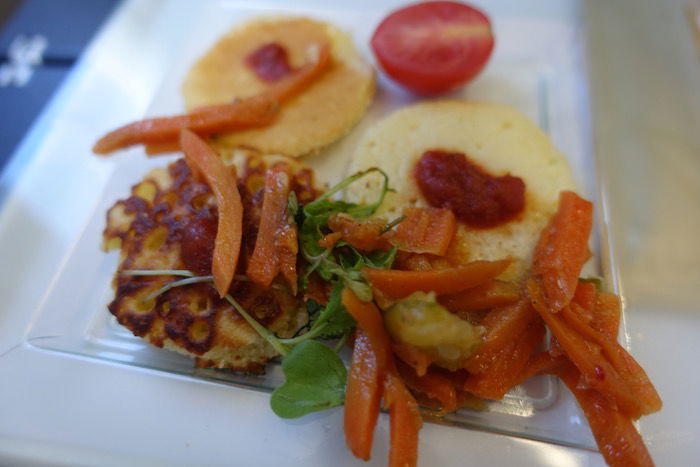 Breakfast service South African Airways business class
The small fruit plate was the best part.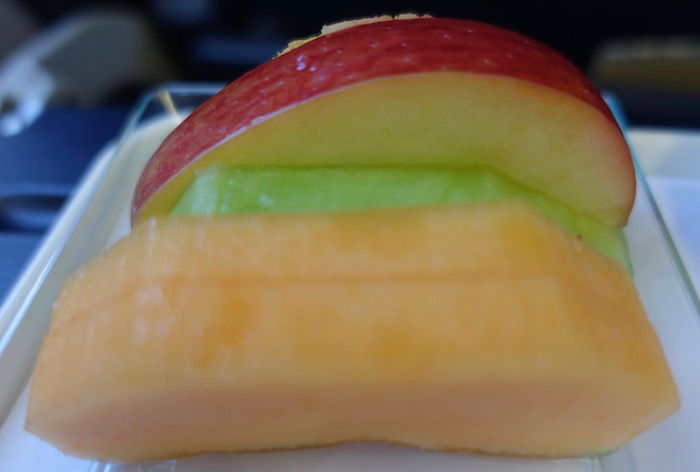 Breakfast service consisting of fresh fruit in South African Airways business class
I was served coffee and bottled water with the snack. The coffee once again tasted like it was the powdered variety.
I worked on my laptop for about an hour after eating the snack, and the crew was great about coming around to offer refills. The two flight attendants in business class on this flight really were exceptionally friendly.
At around 10:30AM the captain came on the PA to provide us with updated arrival information. Sure enough, within a few minutes we began our descent. About 10 minutes before landing we hit some serious chop, though that didn't last long.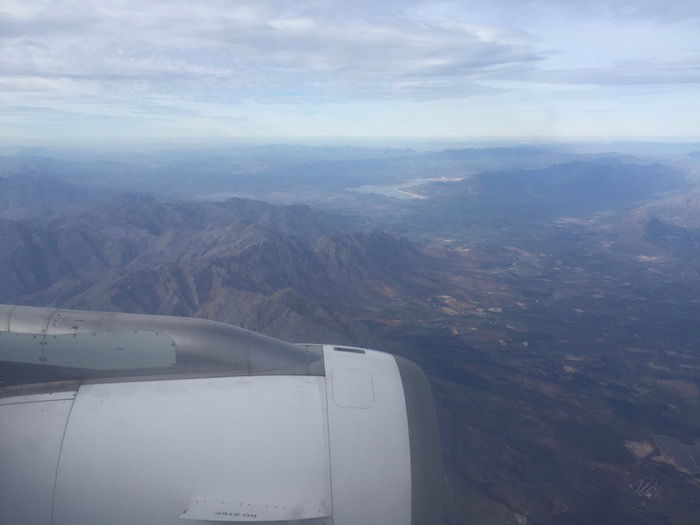 View approaching Cape Town
The views were gorgeous as we approached, and I'm bummed I couldn't take pictures once the seatbelt sign was on.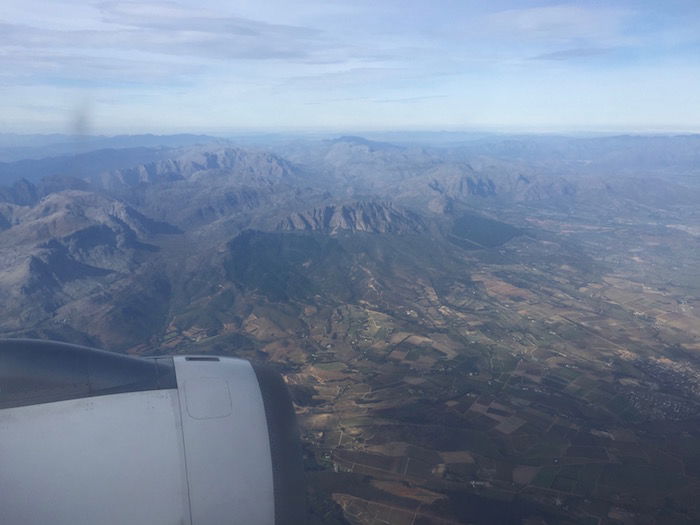 View approaching Cape Town
Our touchdown in Cape Town was smooth. We were on the ground by 11AM, and five minutes after that were at our gate, where we parked next to a Kulula 737.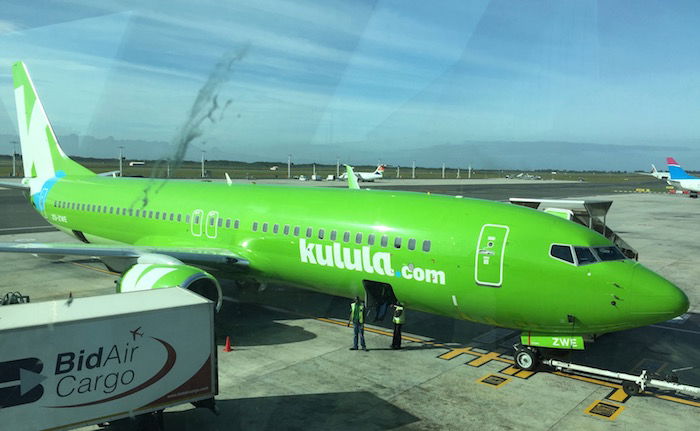 Kulula 737 Cape Town Airport
Cape Town Airport is nice enough, and within five minutes of arriving at the gate I was in a taxi to the Westin.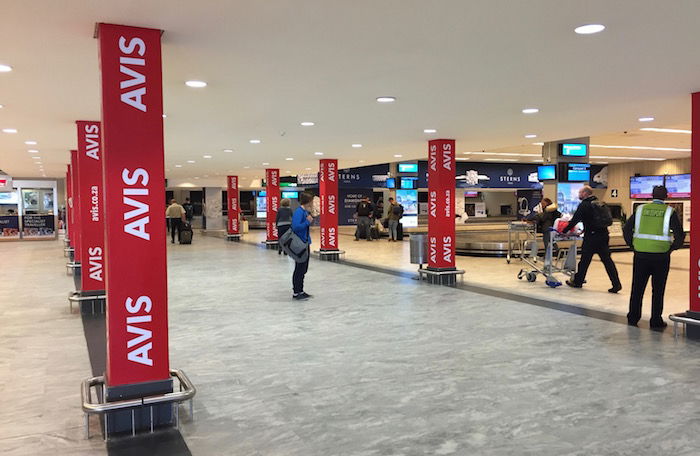 Cape Town Airport arrivals hall
South African Airways A319 Business Class bottom line
This was the first time I've ever seen such a business class configuration. While I do prefer it to intra-Europe business class, where you just get an economy seat with a blocked middle, otherwise it's not my favorite configuration, given that there's a middle seat.
That being said, the plane was perfectly comfortable for this short flight. I'd note that South African flies A330s and A340s between Johannesburg and Cape Town as well, which feature longhaul seats, so I'd maybe consider trying to book on one of those flights.
While I found the meal service on this flight to be underwhelming, the crew was friendly.