A couple of days ago British Airways revealed their new business class product to much fanfare. This will debut on the A350-1000. British Airways has had roughly the same business class product for the past 20 years, and at this point it's quite outdated.
Many of us were pleasantly surprised to find what a good business class product British Airways is introducing, with their new Club Suite. Essentially British Airways is introducing reverse herringbone seats with doors.
The product looks beautiful, and the feedback has been almost universally positive.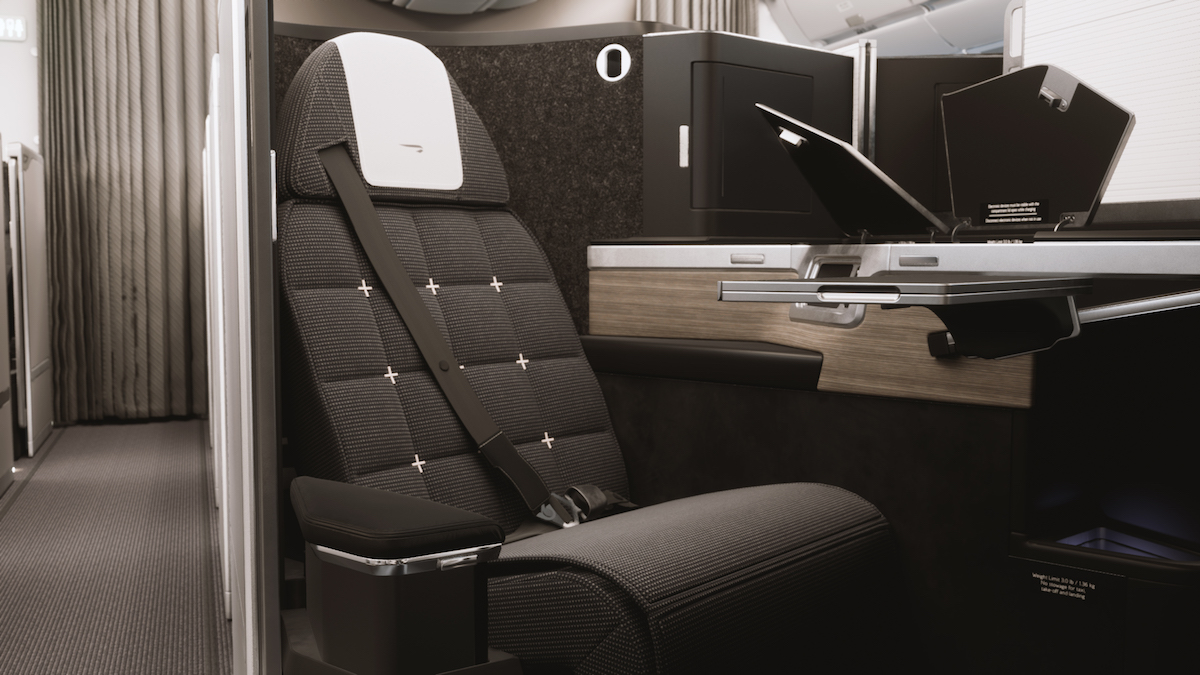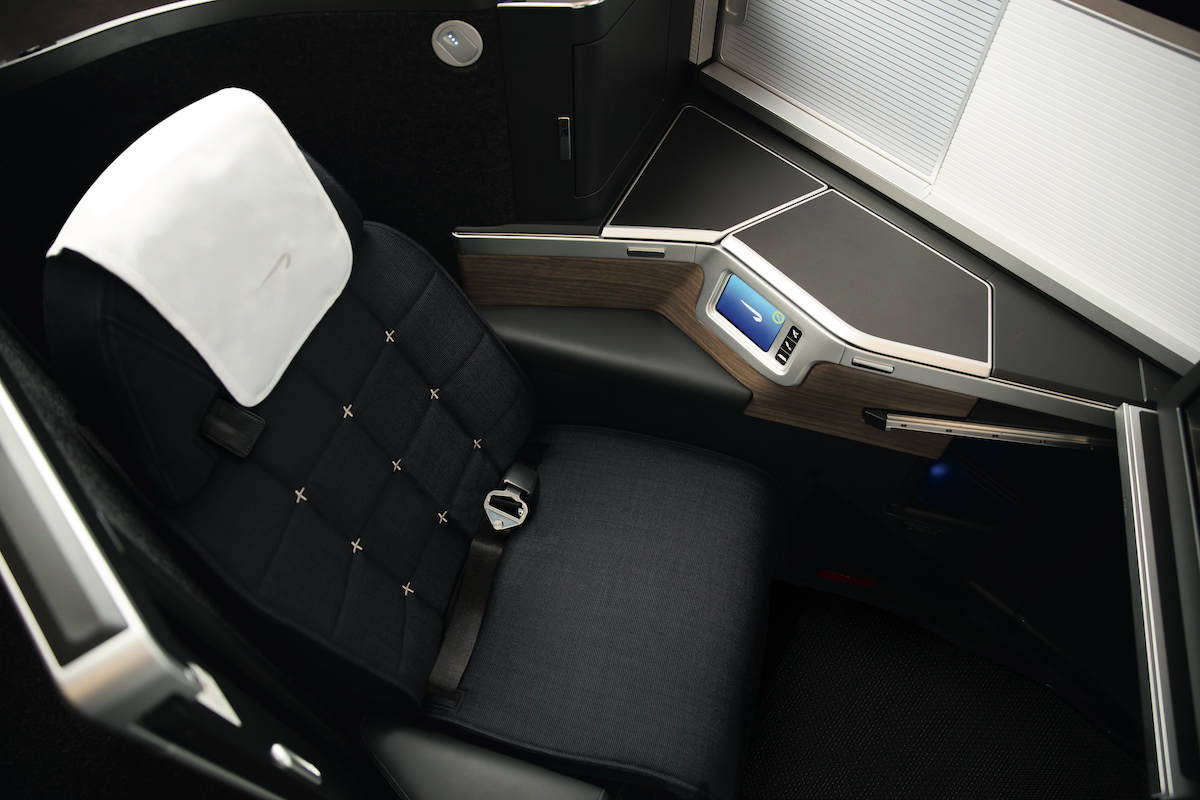 I don't necessarily want to play devil's advocate here, but I do think it's interesting to stop for a moment and consider the progression of business class seats over the years, and share one concern I have about British Airways' new business class seat.
The economical way airlines are introducing better business class seats
When you look at the progression of business class seats, years ago the industry standard was angled flat seats, which I find incredibly uncomfortable.

Singapore Airlines' A330 business class
Then we saw fully flat seats introduced, though largely airlines created space savings by adding "footwells" for seats, where you essentially place your feet between the seats in front of you. A flat bed is nice, but only having a small area for your feet isn't ideal.

Air Tahiti Nui's 787 business class
Then direct aisle access became the trend, with products like reverse herringbone seats. The downsides to these seats is that they efficiently use space by creating a footwell that's next to the seat in front.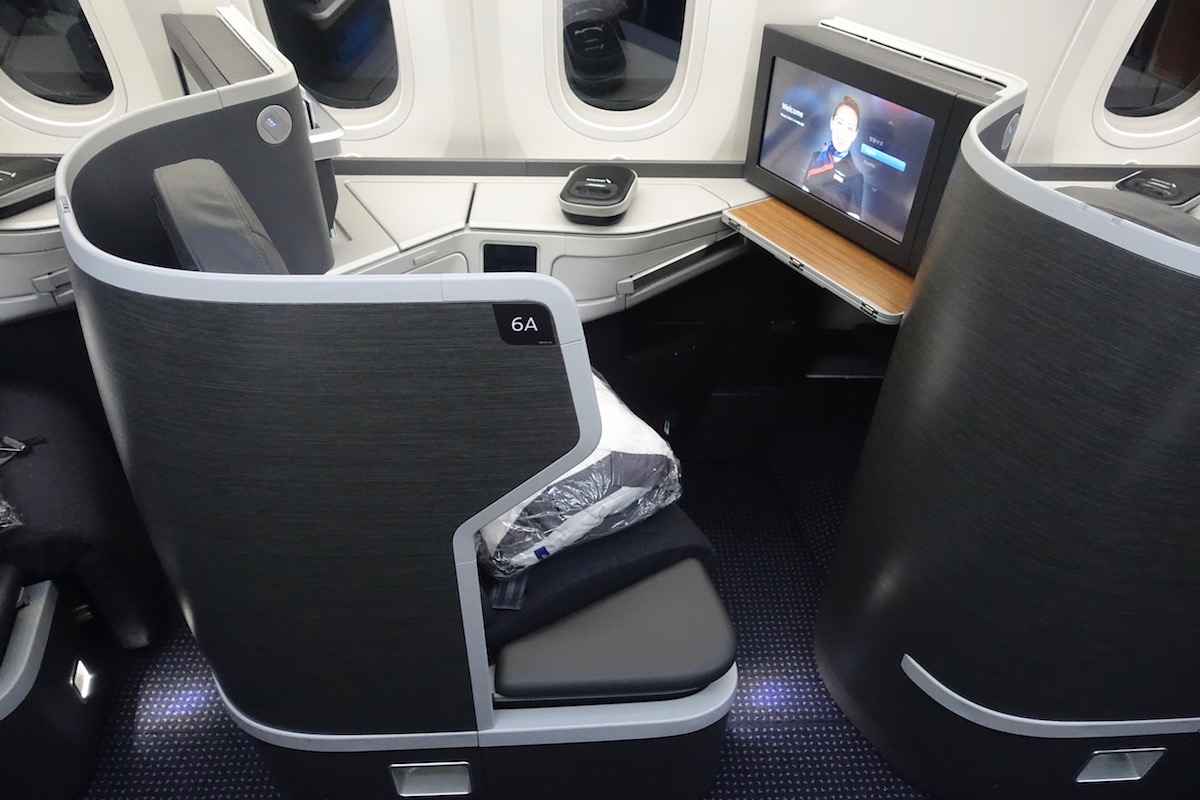 American's 787-9 business class
Now the latest trend is that we're seeing privacy be the latest focus, with airlines increasingly adding doors to seats.
Delta's A350 business class
All of these things are no doubt examples of airlines listening to customers (unlike when they make loyalty program changes), but the reality is that airlines aren't actually allocating more space per seat, they're just using space more efficiently.
Customers say they want flat beds, direct aisle access, and doors, though I guess the feedback isn't that they just want more space.
The reality is that all of these products have roughly the same footprint.
Air Tahiti Nui's 787-9, featuring flat beds in a 2-2-2 configuration, has 30 seats between doors one and two.
American's 787-9, featuring reverse herringbone seats, has 30 seats between doors one and two.
Shanghai Airlines' 787-9, featuring staggered seats with doors at every seat, has 30 seats between doors one and two.
Airlines aren't actually giving us more space, they're just using space differently.
What does this mean for British Airways' Club Suite?
British Airways' new Club Suite looks stunning and private. At the same time, over time my preferences when it comes to airline seats have been evolving. Last November I wrote a post titled "Have I Been Wrong About Business Class Seats All Along?"
The premise was that I'm really starting to prefer airline seats where your feet don't have to go in a small footwell. I find it so much more comfortable to sleep when I can choose how I position my feet, which is something that so many airlines don't allow nowadays in the quest to add privacy.
That brings me to my concern about British Airways' Club Suite. It's not intended to be a criticism, and it's not intended to even be negative. However, I feel like all the positive coverage has to be balanced with something. There is one massive downside to this seat compared to British Airways' old seat.
Personally I find B/E Aerospace Super Diamond reverse herringbone seats to feel really tight around the feet.
American's 787 reverse herringbone seat
The footwell where you place your feet is quite small, but typically when I lay down in it, I feel quite restricted in terms of movement.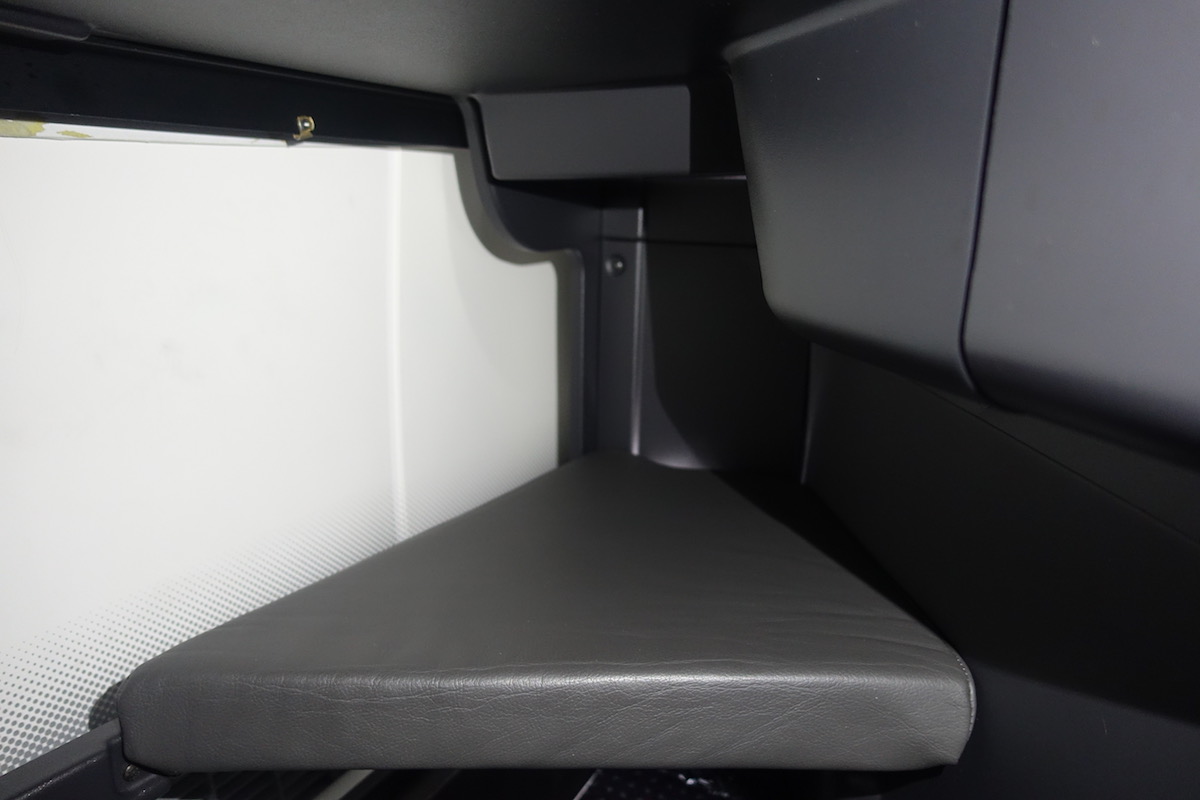 American's 787 reverse herringbone seat
In that sense I'm not sure if the door makes things better or worse. I already feel restricted in this seat, so I feel like with the door closed I'll outright feel like I'm in a coffin.
Now, of course the great thing about the door is that you have the choice not to use it, so there's no downside to having it. But personally I feel like if I were flying this product, I might just not use the door due to how tight it all feels.
At least that's my initial impression about the seat. I certainly could be wrong, but I just feel like this has the potential to feel pretty claustrophobic.
Now, in fairness there are other seats with doors, so what's the difference? Well, with the seats of Delta and Qatar, seats are staggered, so you can choose to sit in a seat where the door is quite far away from you.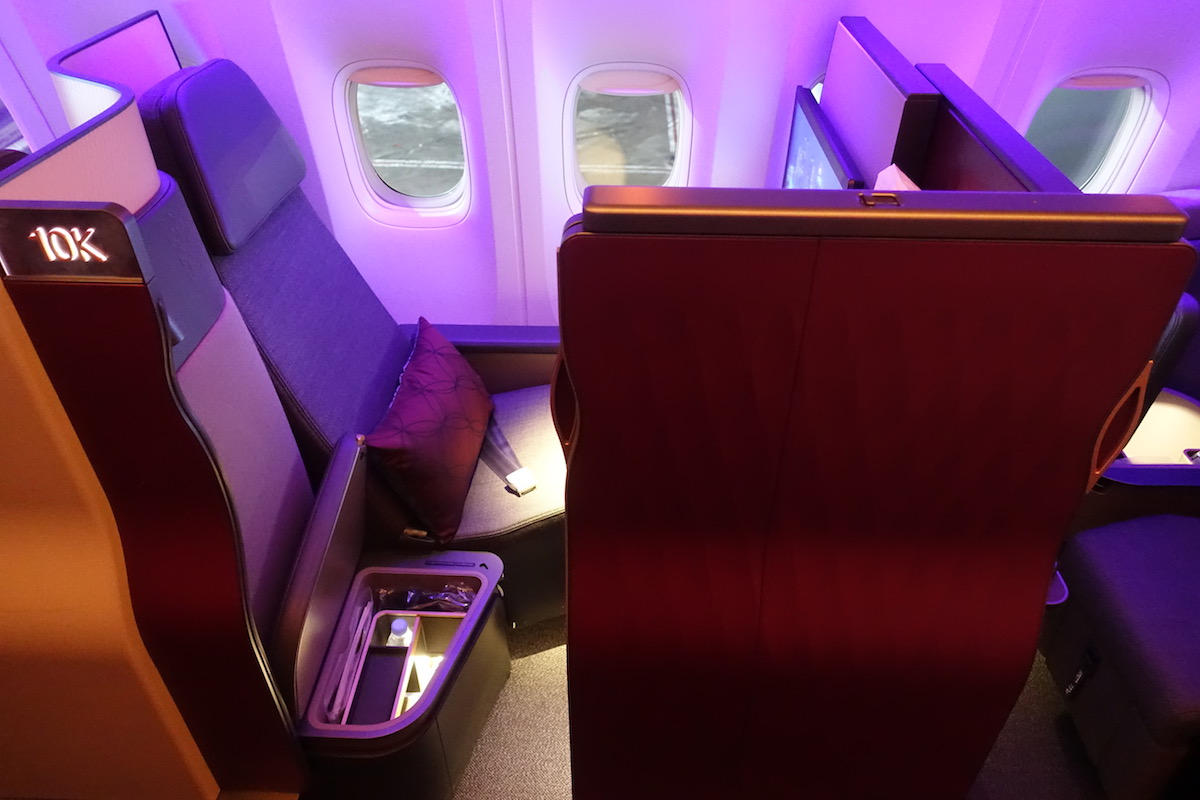 Qatar Airways' 777 business class
Given that reverse herringbone seats are positioned in the same way in every row, you're going to be pretty close to the door no matter what.
Bottom line
I'm really excited about British Airways' new business class, and I think it will represent a significant improvement. However, I do think it's worth acknowledging that as airlines keep "improving" business class, they're not actually allocating more space per seat, but rather are just using space more efficiently.
That's understandable, because the most costly thing an airline could do is greatly reduce the number of seats.
It's at least worth acknowledging that most of the advances with business class seats come at the expense of space for your feet when sleeping.
While just about everything about British Airways' new business class will be better than the old, the one major downside is that you'll suddenly have a lot more limited room for your feet. But of course there are tradeoffs with all seats.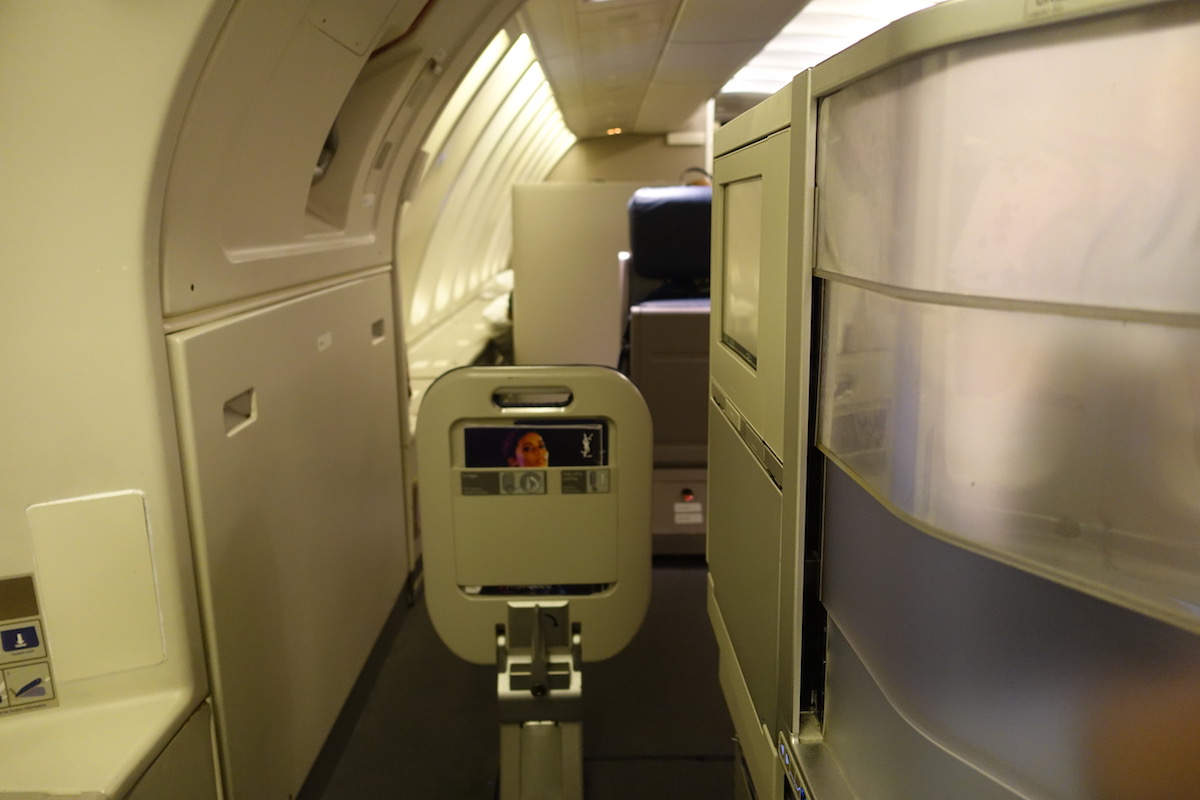 British Airways' 747 business class
Does anyone have similar concerns with the evolution of business class seats? Is there anyone who actually views the seat as a "downgrade" over the old product, given the footwell?