I'll admit it, I'm a mess sometimes. And instead of pretending like it didn't happen I instead open up and share it with y'all so we can at least all get a laugh out of my stupidity.
I'm enroute home from the UAE, and my return itinerary was Abu Dhabi to New York on Etihad Airways, and New York to Vancouver on Cathay Pacific, both in first class. At 90,000 AAdvantage miles and no fuel surcharges it's a pretty good value.
So why did I book New York to Vancouver? First of all, because you can't beat the comfort of a Cathay Pacific 777 for a coast-to-coast flight, and I've wanted to try that service since moving to Seattle. Second of all, it's the only place I could find award space to. Not surprisingly there was no saver award space from New York to Seattle just a few days before Christmas, while the Cathay Pacific flight had plenty of award space.
The issue was getting from Vancouver to Seattle. The Cathay Pacific flight gets into Vancouver at 1AM which means an overnight is required, though in theory it should be easy from there, given that you can fly, take a train, or take a bus. I really wanted to fly since I'm in a bit of a time crunch before the holidays, though not surprisingly there was no Alaska Airlines award space when I originally made the booking.
Award space did finally open up two days before departure, so I made a booking on that flight for just 4,500 British Airways Avios. I intentionally kept it on a separate record locator, since only the evening flight was available (for the night after I landed in Vancouver), and I was hoping to make a same day change for free given my Alaska Airlines MVP Gold status (and that's easier to do when you're booked on a separate record with just your Alaska frequent flyer number on the record). I booked the Sheraton Vancouver Airport on cash & points for the overnight, figuring it would be a good opportunity to catch up on some sleep.
Well, everything was going as planned. I had a pleasant flight on Etihad Airways from Abu Dhabi to New York.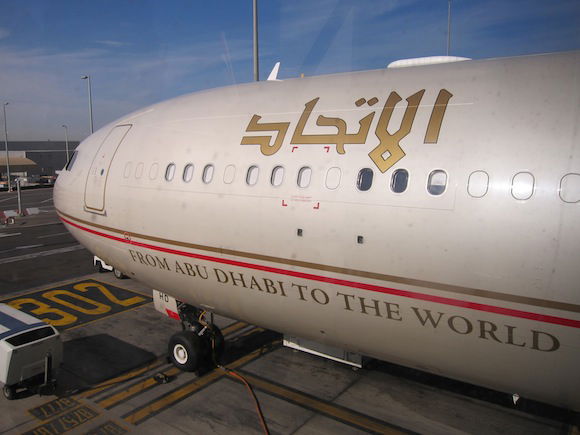 Etihad Airways plane to New York
I had pre-flight supper in the British Airways lounge before my flight to Vancouver.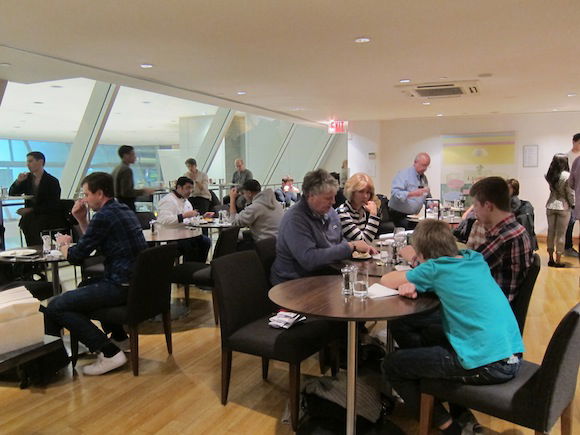 British Airways pre-flight supper
I had an awesome flight on Cathay Pacific from New York to Vancouver. The crew was Vancouver based, and the flight attendant working first class was extremely chipper. She was just so "westernized" (in the sense that it was like flying a US airline) compared to the formal and professional service I'm used to on Cathay Pacific, so I quite enjoyed it. It's the first time I've been asked "ya want some Krug, hun?"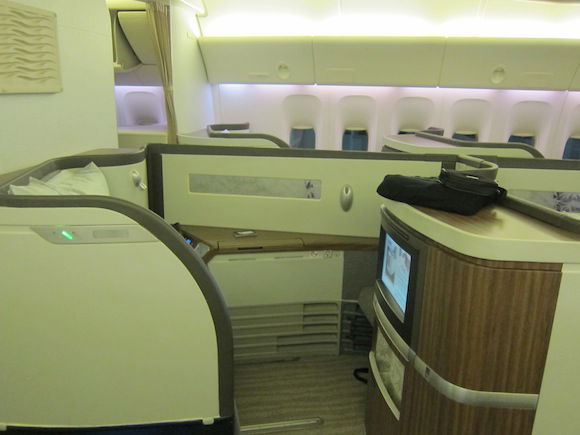 Not a bad way to fly coast-to-coast…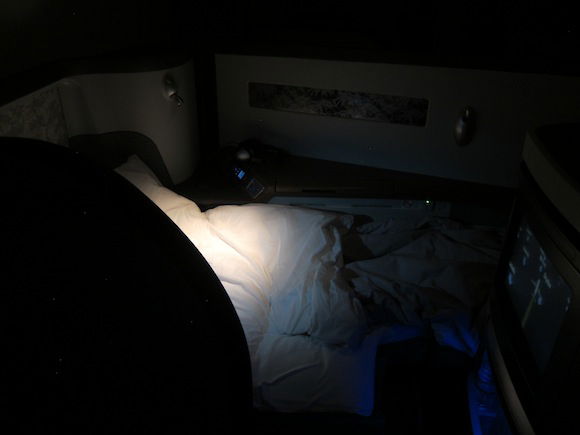 Comfortable Cathay Pacific bed
We landed in Vancouver right on time at around 1AM, and as usual Canadian customs/immigration was a joy, as I was questioned as if I were a drug, livestock, and child pornography dealer. Canada is the only country where I've been asked at customs what I was doing in my home country.
"Where are you coming from?"
"New York."
"Well, what were you doing there, eh?"
Seriously?!
By the time my checked bag arrived, I cleared customs, and I made it to the hotel it was 2:30AM. No worries, the Sheraton was nice enough (at least the service and proactive room upgrade), and I quickly logged onto the internet to make a same day change for my Alaska Airlines flight. Alaska lets MVP Gold members make confirmed same day changes 10PM the night before departure, so that was my first opportunity given that I had been flying at 10PM.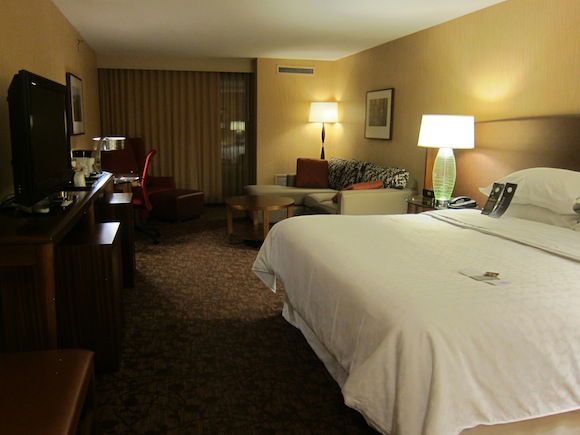 Sheraton Vancouver Airport
I went to alaskaair.com and entered my record locator. I got an error message, saying my reservation had been canceled. Crap. I quickly pulled up my e-ticket receipt, only to see that it had been made for the previous night. I'm not sure if it was my error or the agent's error, but I was a bit frustrated since there was nothing I could do to fix it, given that British Airways doesn't have a 24/7 call center in the US.
I called up Alaska Airlines and explained that an error had been made and asked if there was anyway they could rebook me on the same flight the following day (as it also had award space). The agent said there was nothing she could do, and said I'd have to call British Airways. I called back and phrased it slightly differently: "I was booked on the last flight of the night from Vancouver to Seattle which I missed, and by the time I got there the counters were closed. Is there anything you could do to help?" She was extremely friendly and wanted to help, and held the space for me on the same flight the following night (which had award space), though explained I'd have to just call British Airways to have the ticket reissued. Okay, awesome!
At this point it was 3:30AM and I was wide awake. I had another look at loads and realized that the 6:15AM flight still had several seats for sale. Given that the flight I was booked on the night before was the last flight of the night and this was the first flight of the day, I figured I might just be best off going to the airport and handling things there, as they'll almost always accommodate you on the next flight if you miss it.
I hopped in the shower and took the 4AM shuttle back to the airport. I got a look of utter confusion from the guy at the front desk that had checked me in, and explained I'd be back in a bit (just in case my standby option didn't work).
So I showed up at the Alaska counter and sheepishly explained I missed my flight the night before and the counter was closed by the time I got there, and within a few minutes he printed me out a boarding pass.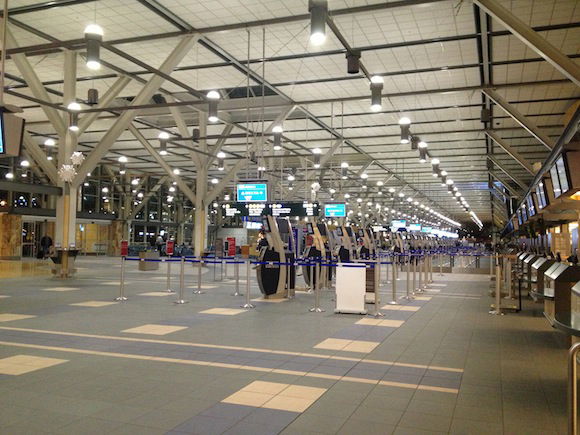 Vancouver check-in hall
I cleared security and US customs, and made it airside by about 4:30AM. At 5AM the Plaza Premium Lounge opened, which I could use since it was a Priority Pass lounge.
Then at around 6AM I boarded my Alaska/Horizon flight to Seattle, which was an adventure. They turned the safety announcement into a Christmas poem, with such gems as "Twas the flight before Christmas…" and "Santa knows who's nice and who's naughty, up front is the only potty."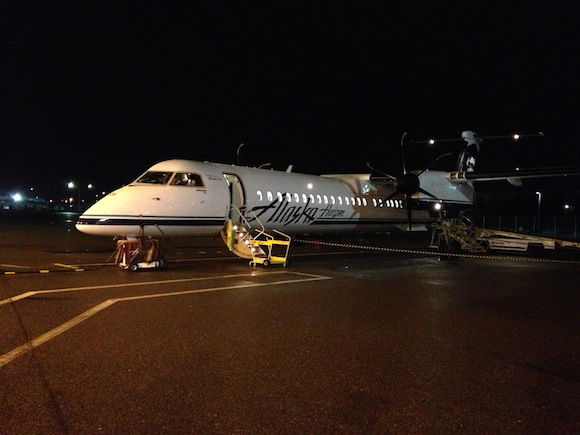 Alaska Q400
I made it home before 8AM and was tired after being up for 40+ hours, so slept almost all day.
I woke up to 17 missed calls from my poor mother, who was convinced I was dead and had called the police to search for me. FML.
All is well that ends well… right? So, has anyone else had a shorter hotel stay than that?