Hello from Seoul! As I mentioned on Friday, I just flew from Los Angeles to Seoul Incheon on the Asiana A380. It's the last A380 presently in commercial service that I've yet to fly, so I was excited to check it out (I've already reviewed the A380 first class products offered by Air France, British Airways, China Southern, Emirates, Korean Air, Lufthansa, Malaysia Airlines, Qantas, Singapore Airlines, and Thai Airways).
I should start by saying that I've long been a huge fan of Asiana. I've flown them in first class on their 777 and 747, and while their hard product has always been lacking, the soft product was among the best in the sky, on par with ANA, Cathay Pacific, Singapore, etc.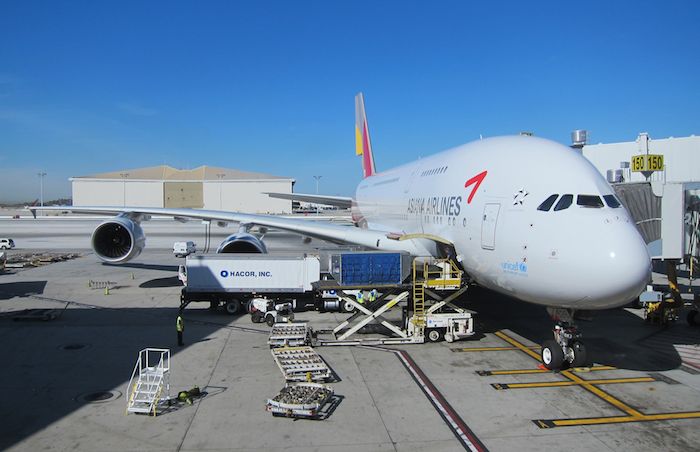 Asiana A380 at LAX
Asiana A380 First Class Seat
On the A380 the first class cabin consists of a total of 12 seats, spread across three rows in a 1-2-1 configuration.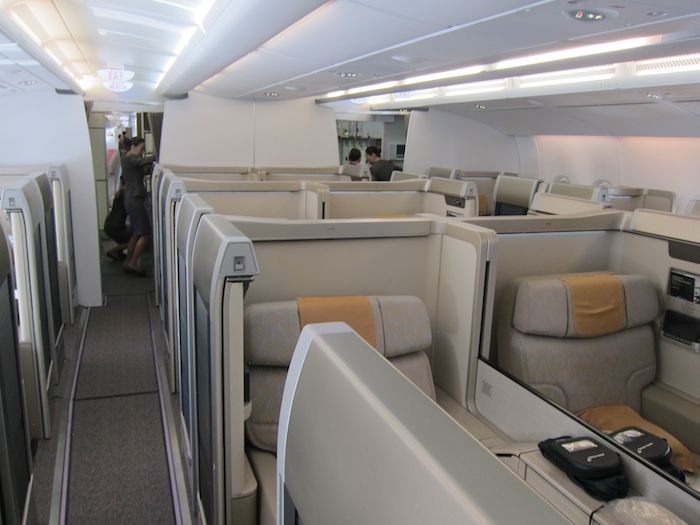 Asiana A380 first class cabin
First class is on the lower deck, which means the cabin is a bit wider than what's offered by airlines that have first class on the upper deck (of the airlines flying the A380, Air France, British Airways, China Southern, Korean Air, Malaysia Airlines, Qantas, and Singapore Airlines have first class on the lower deck, while Emirates, Lufthansa, and Thai Airways have it on the upper deck).
On the plus side, the cabin is spacious, the suites are fully enclosed, there's plenty of storage, and the TV screen is massive – supposedly the largest available on any airline, at 32″.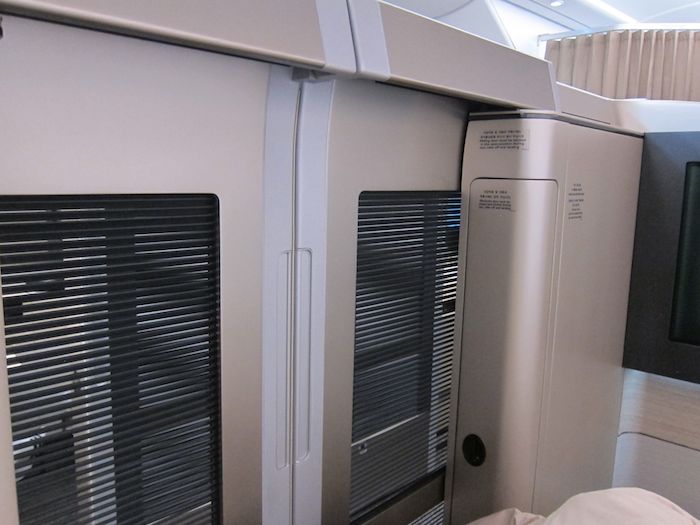 Asiana A380 first class suite
But if I'm being critical, that's where the positive aspects of the hard product end.
First of all, who decided on the color scheme of the cabin? Does anyone find the barf-colored tones to be visually appealing?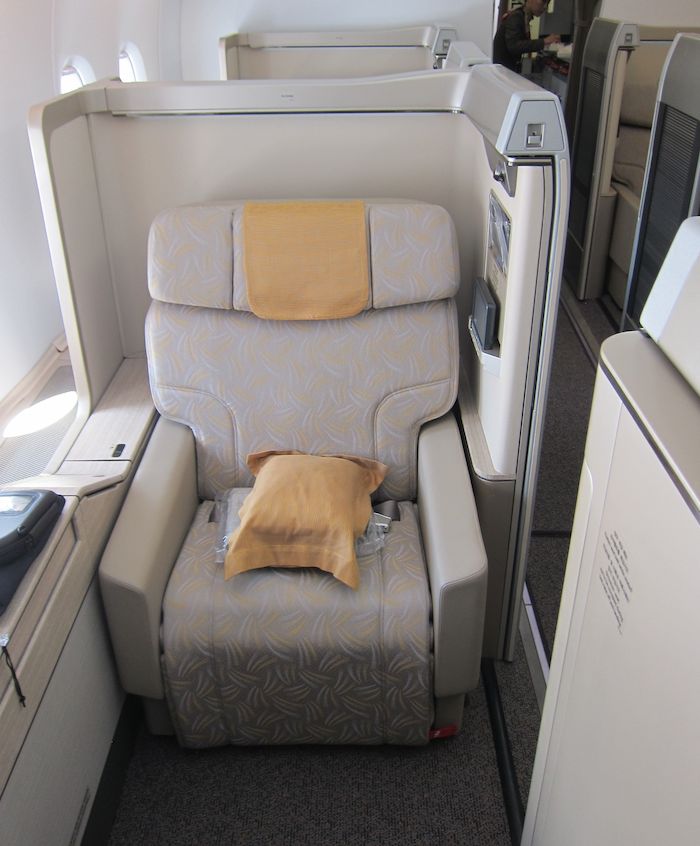 Asiana A380 first class seat
Let's talk about the entertainment selection for a second. You know what's even better than a 32" TV at your seat? Programming people would actually want to watch. Now I can't speak to their Korean programming, but in terms of English programming, Asiana must have among the worst selection of any airline. They don't even have any US sitcoms on the entertainment system. It made China Southern's entertainment selection look good, by comparison.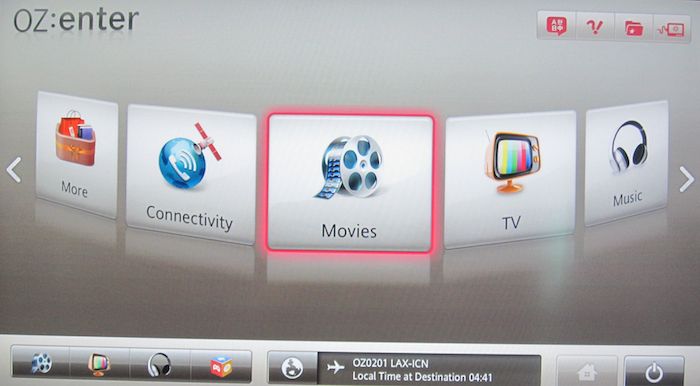 Asiana A380 first class entertainment selection

Beyond that, the entertainment controller was extremely difficult to use. That was fine given how bad the entertainment selection was, but I struggled to even turn on the airshow.
And while it's totally minor, here's one thing that shows the seat was designed by someone that has never sat in a first class seat before. The power port is located underneath the ottoman and at such an angle so that you have to get on your knees to plug anything in there. Maybe other people enjoy getting on their knees? I don't…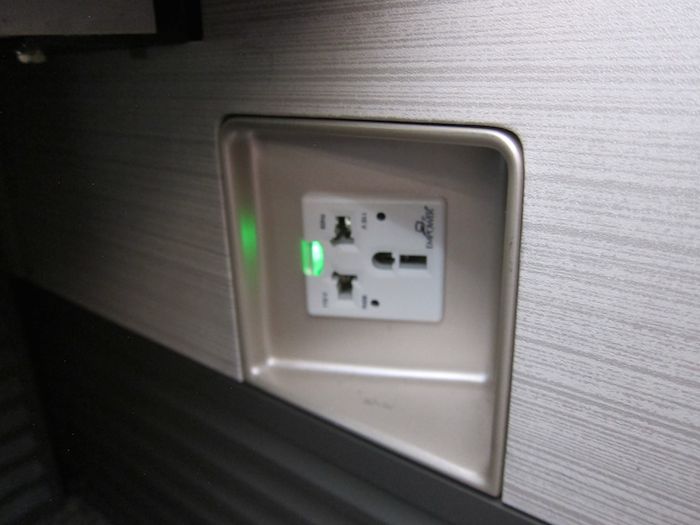 Asiana A380 first class power port location

Don't get me wrong, it's still a spacious and super comfortable product, but it just amazes me that a brand new plane has so many user-unfriendly features.
Asiana First Class Food
I love Korean food, so almost exclusively had Korean food on this flight.
The canapé was a turnip vegetable roll.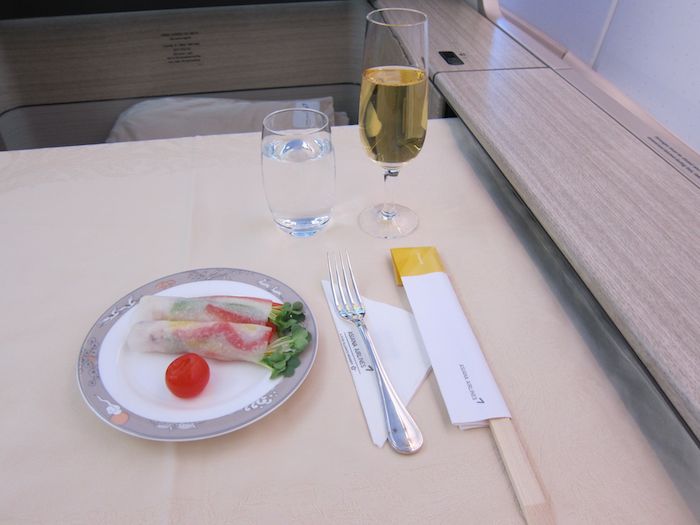 Asiana first class canape — turnip vegetable roll
Then I had caviar, which you can still opt to have even with the Korean meal. Kudos to Asiana for the presentation, and for their mother of pearl spoon (which my beloved Lufthansa really needs to pick up).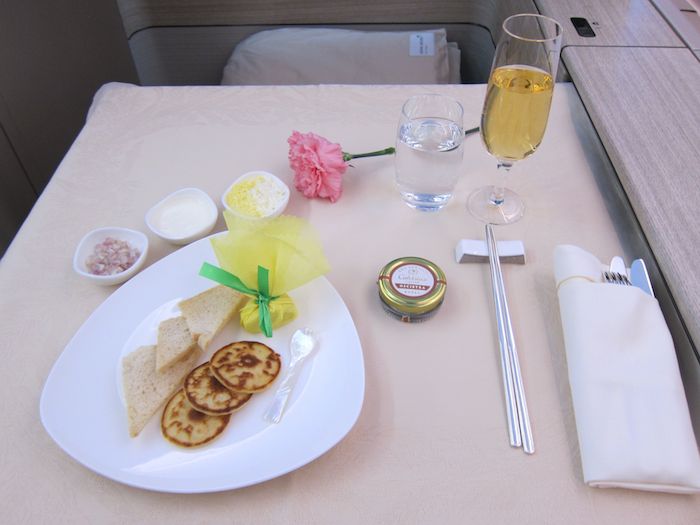 Asiana first class caviar presentation
Then I was served shrimp with vegetables.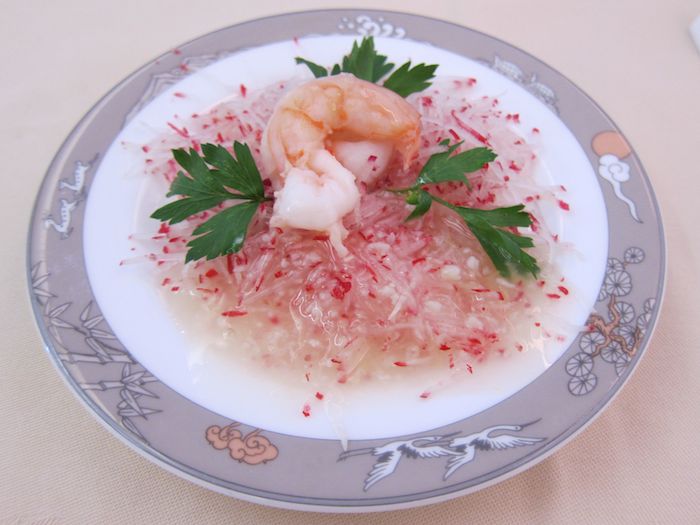 Asiana first class appetizer — shrimp with vegetables

Then Korean pumpkin porridge.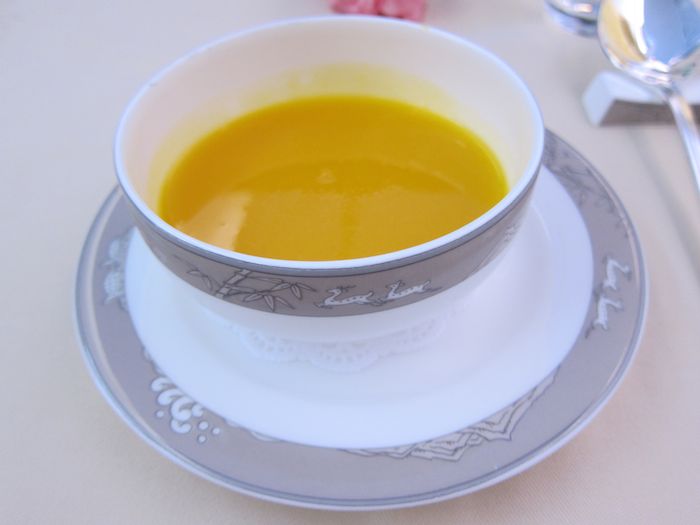 Asiana first class soup — Korean pumpkin porridge

And then I had the bibimbap. It was good, but didn't blow me away – I preferred the Korean meal I had on Korean Air earlier in the year, all things considered.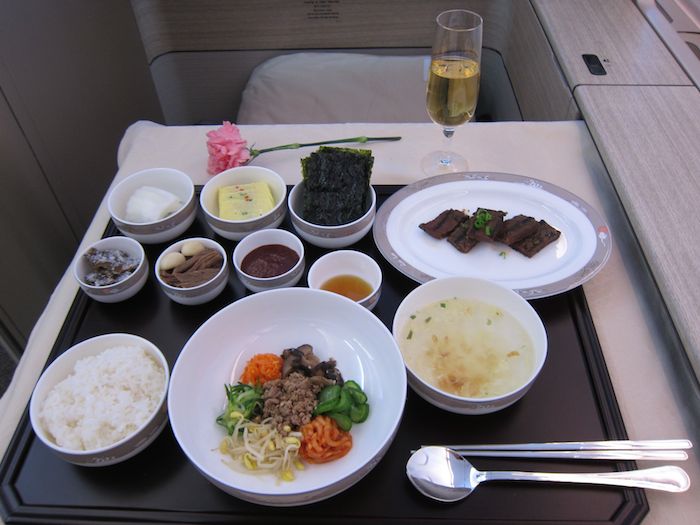 Asiana first class main course — bibimbap with beef short rib bulgalbi

Then for dessert I had some fruit and cheesecake, and the flight attendant also insisted I try the Korean dessert (which was the only part of the meal I didn't enjoy).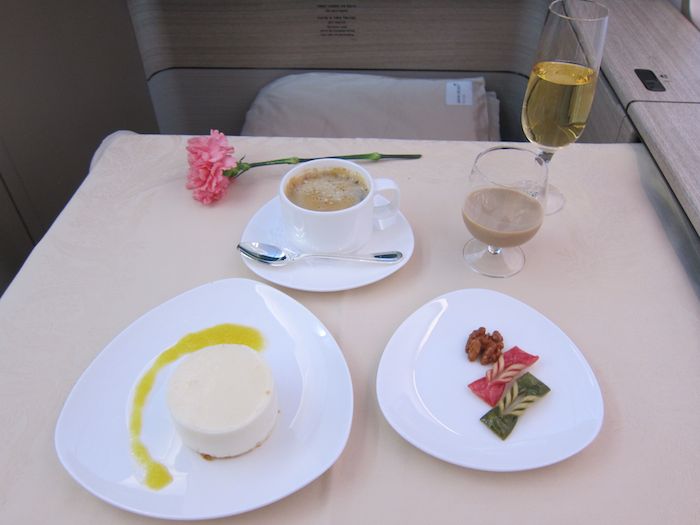 Asiana first class dessert — cheesecake and traditional Korean cookies

All-in-all the food was good, though comparatively I was more blown away be the western options in the past, at least compared to other airlines serving western food. When I flew Asiana in the past they had both a pasta course and then a beef course, and they'd prepare it to your liking. I think the best steak I've ever had was in Asiana first class.
In terms of drinks, Asiana had two types of champagne — Pol Roger Cuvee Sir Winston Churchill 2000 and Charles Heidsieck Blanc des Millenaire 1995. That's quite a selection, though I definitely preferred the latter. The Pol Roger was too complex for me, at least when accompanying a meal.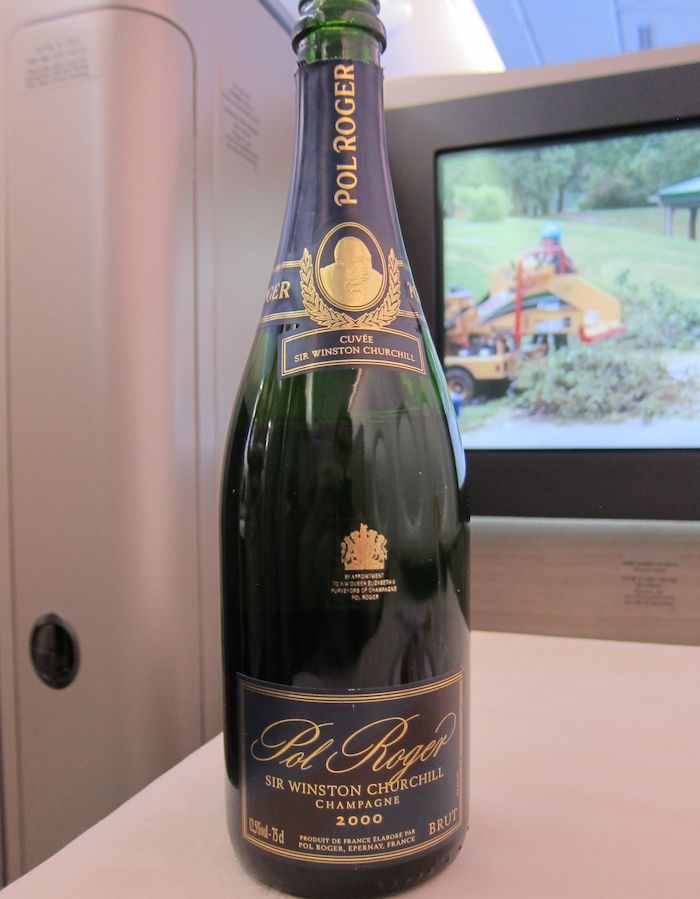 Asiana first class Pol Roger champagne
Asiana First Class Service
I've found service on Asiana to always be excellent, and this flight was no exception. The crew was charming, engaging, friendly, attentive, and proactive.
They didn't speak English very well, but then again my Korean could use some work as well. 😉
And they really did try, which made up for any language barrier.
I will say that the service was slow, though. Not uncomfortably slow, but it was 75 minutes into the flight before I was served my canape, which is a bit longer than I'm used to.
Asiana A380 Amenities
There's a single bathroom in Asiana first class, which is located on the right side of the cabin and in the front. It's a large bathroom with an interesting bench setup, so that you can sit down as well.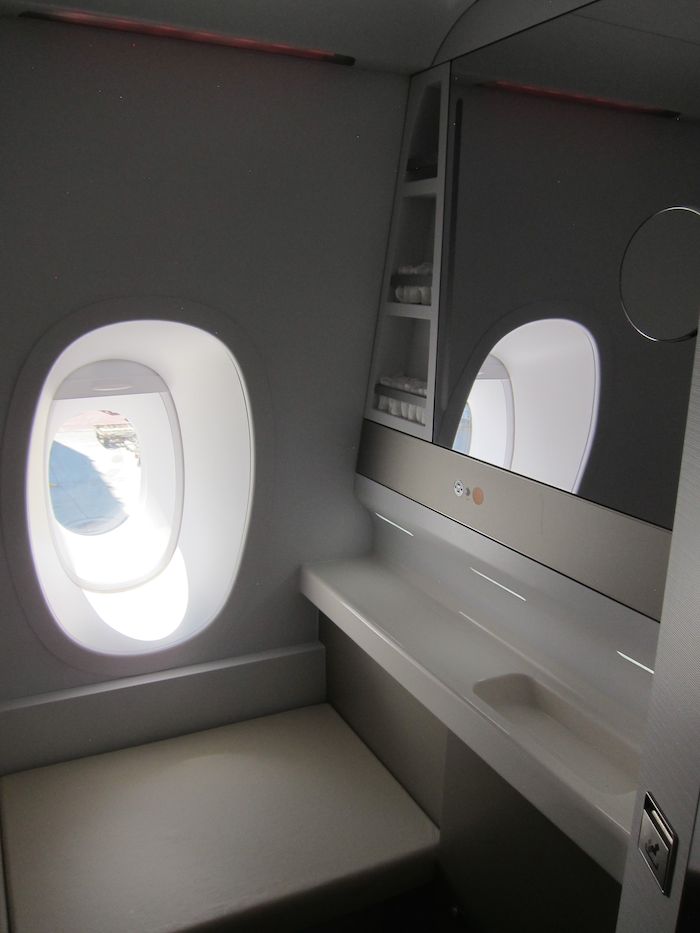 Asiana A380 first class lavatory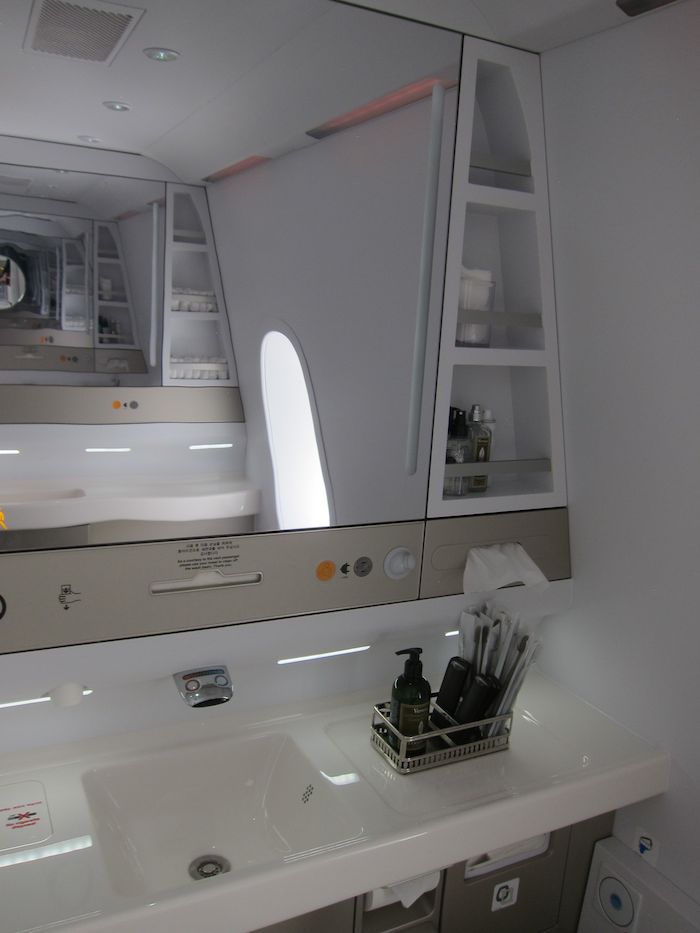 Asiana A380 first class lavatory
Then on the upper deck there's a small lounge with four seats at the very front of the cabin.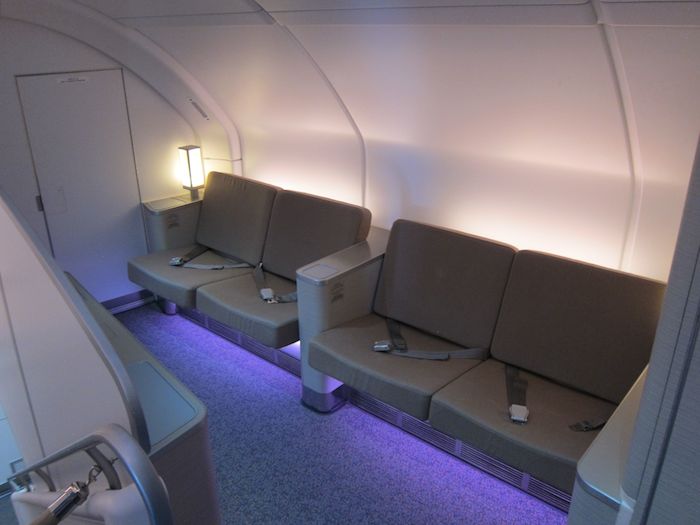 Asiana A380 business class lounge
Asiana's A380 certainly pales in comparison to Korean Air's A380, which has a small first class bar, huge business class bar, and duty free gallery in economy.
There was no self serve snack bar anywhere in first or business class – even China Southern has that!
Then again, they cram 495 seats on their A380s, which is 88 more than Korean Air has on their A380s.
In terms of first class amenities, there was a really nice Salvatore Ferragamo amenity kit, plus pajamas that were actually comfortable (unlike their old ones).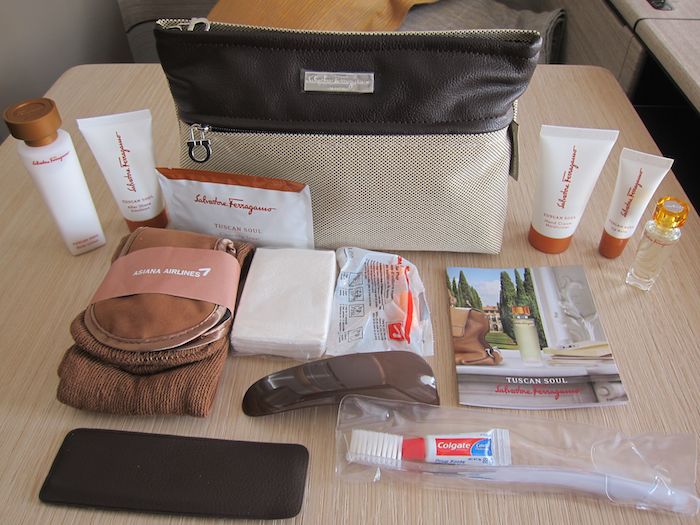 Asiana first class amenity kit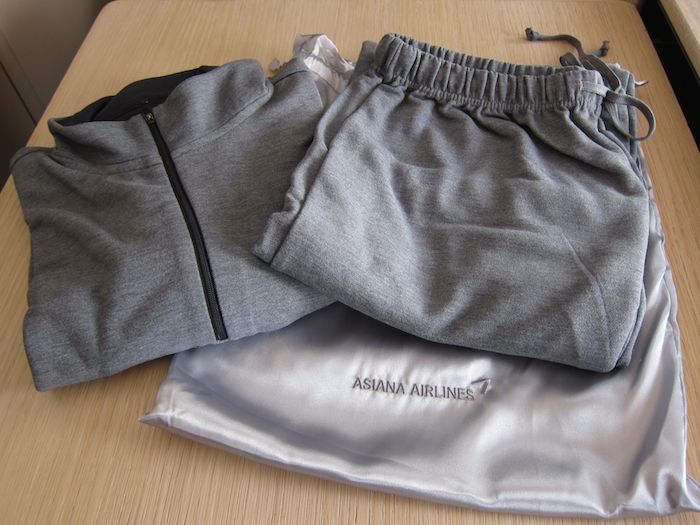 Asiana first class pajamas
The bedding left a bit to be desired — the pillow was small, and the duvet was rough and not very big.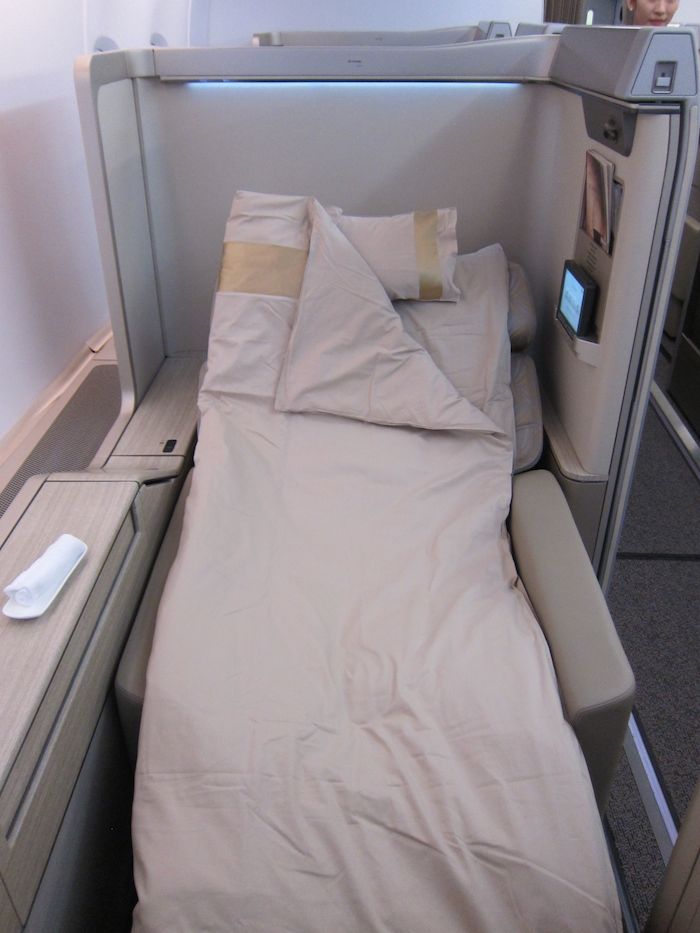 Asiana A380 first class turndown service
Asiana A380 First Class Bottom Line
I know this might sound like a negative review, but it really isn't. All things considered my flight was spectacular, with great food and service.
I tend to think we're most critical of the ones we love most, and I do love Asiana.
Their new hard product is a huge improvement over their old one, so that's exciting. There are aspects of it that leave me shaking my head, but it's still way better than their old product.
Anyway, I'd absolutely recommend Asiana's A380 first class. Just don't expect the A380 features offered by other airlines, like a bar, lounge, or shower.
Have you flown Asiana's A380 first class? If so, what was your experience?