---
I love Lufthansa. Have I mentioned that yet?
After being driven from my connecting Air Dolomiti flight to the terminal, I was escorted up to the First Class Lounge. Once there, the lounge attendant greeted me and informed me that my flight would be leaving from a gate, so I wouldn't be driven to the plane.
She held onto my passport, which was given to the immigration officer inside of the First Class Lounge.
The Munich First Class Lounge is similar in design to the Frankfurt First Class Lounge and even Frankfurt First Class Terminal, except:
Since there's only one First Class Lounge it tends to get more crowded than the ones in Frankfurt
The catering isn't done by DO&CO, so the food isn't quite as good
I only had an hour layover and wasn't especially hungry, so just grabbed a seat and connected to the Wi-Fi to get some work done.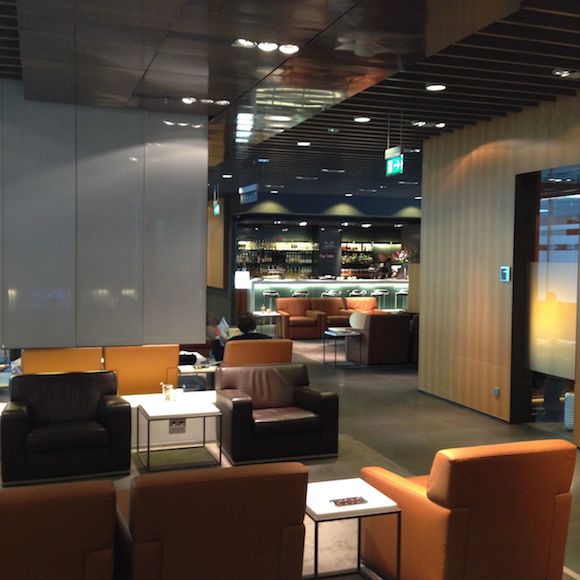 Lufthansa First Class Lounge Munich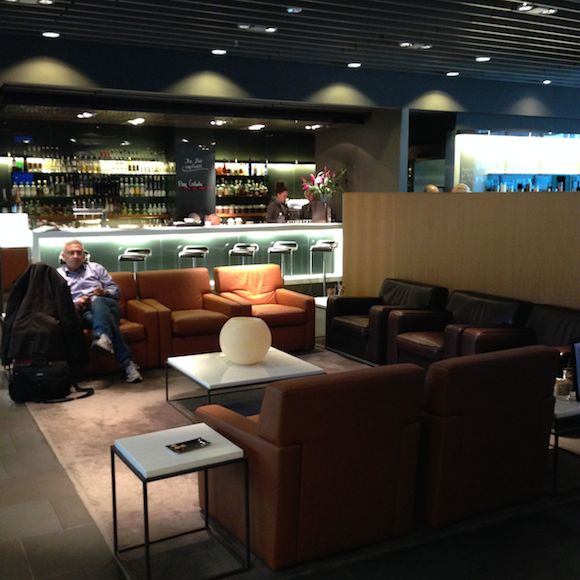 Lufthansa First Class Lounge Munich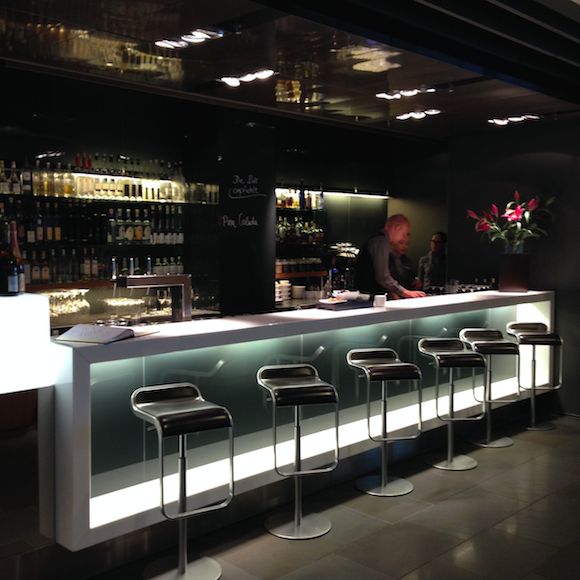 Lufthansa First Class Lounge Munich bar
I was quickly approached by a friendly server, who offered me a drink. I ordered a cappuccino and still water, which were served with a hot towel.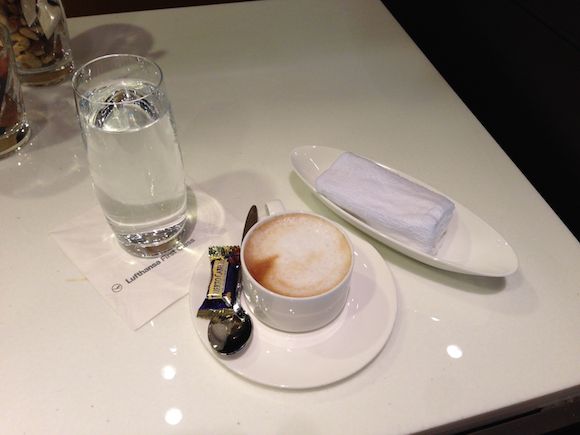 Lufthansa First Class Lounge Munich cappuccino

My flight was departing at 3:55PM, so at 3:35PM I headed to my departure gate. I had to stop by the immigration desk where I was given back my passport, and then began the walk over to gate H8. The entire end of the terminal is blocked off for US flights, so you once again have to show your passport there, and select passengers get additional screening. Fortunately I got through without much of a wait.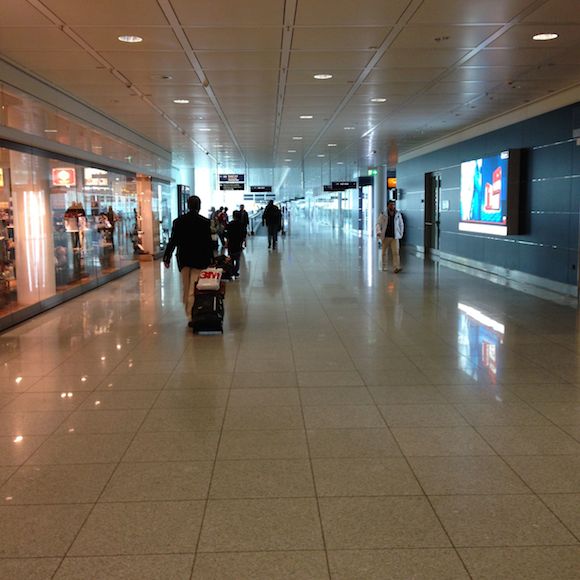 Munich Airport terminal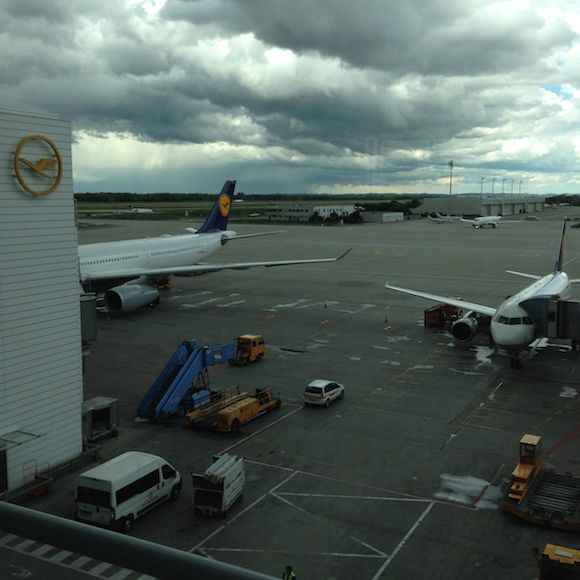 Munich Airport tarmac
Once at the gate I found that the flight was already mostly boarded, so I was among the last passengers onboard.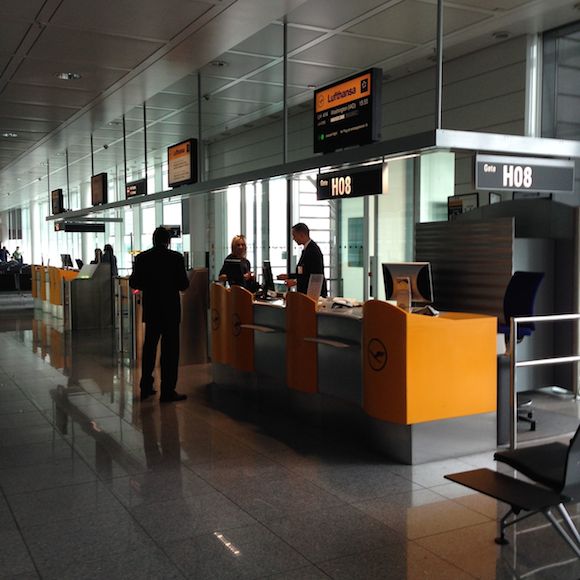 Munich Airport departure gate

Lufthansa 414
Munich (MUC) – Washington (IAD)
Monday, May 12
Depart: 3:55PM
Arrive: 7:20PM
Duration: 9hr25min
Aircraft: Airbus A330-300
Seat: 2A (First Class)
"Herr Schlappig, herzlich willkommen an bord. Sie sind heute unser einziger Gast." Ahhhh! I've had a half dozen flights in my life where I was the only first class passenger, but this was the first time on Lufthansa.
An Airbus A330 operates this route, and for what it's worth all of the Munich based A330s feature the new first class product, while it's a gamble if flying out of Frankfurt.
I quickly settled into seat 2A, and could tell immediately it would be a fabulous flight.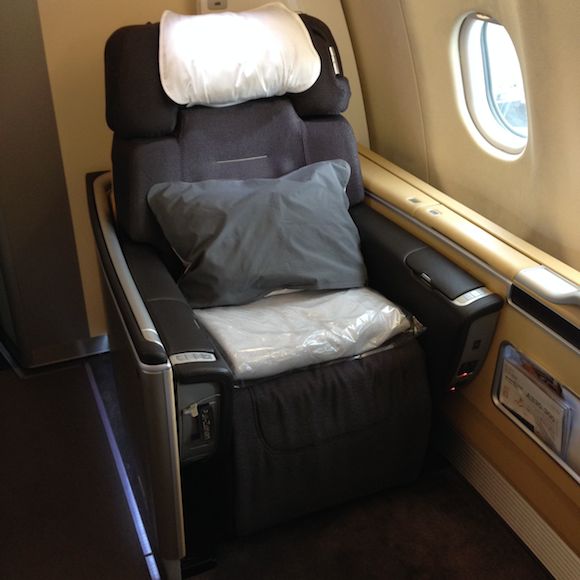 Lufthansa A330 new first class seat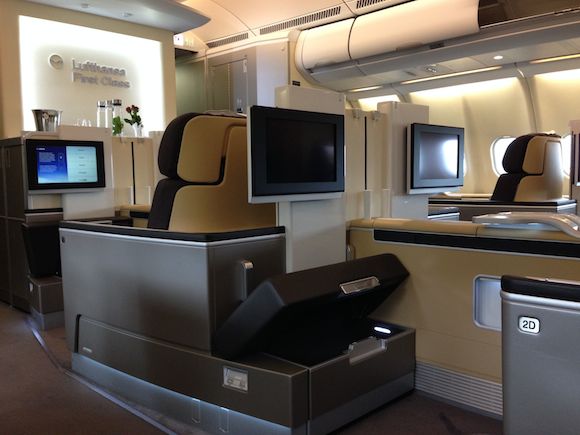 Lufthansa A330 new first class cabin
Less than a minute after settling in the aisle flight attendant working first class introduced herself. She had a "purser" name badge, but as it turns out she was a short-haul purser, so when she works longhaul flights it's not as purser. And it was actually her first time working first class in years, she said, so she was a bit rusty about the service (though incredibly enthusiastic).
She quickly offered me something to drink. I ordered a glass of Taittinger, which was served with macadamia nuts.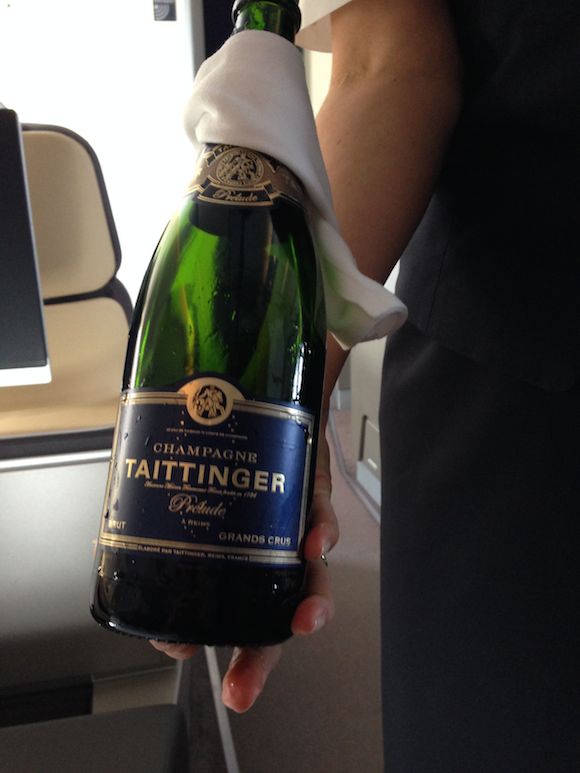 Lufthansa first class champagne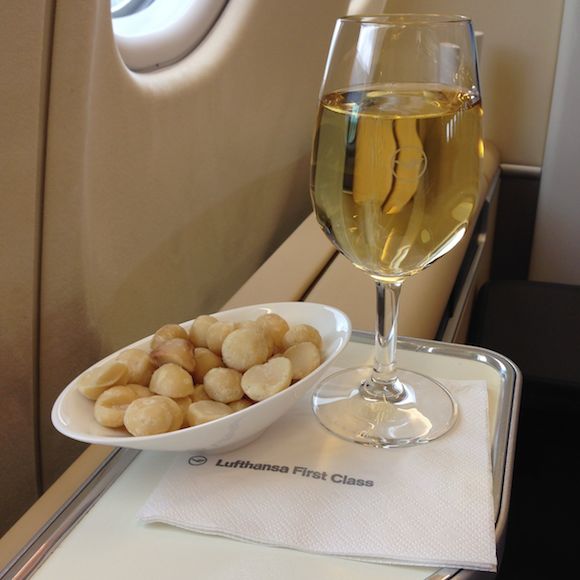 Lufthansa first class pre-departure champagne and macadamia nuts
I was also offered an Escada amenity kit, which the flight attendant pointed out to me can double as an iPad case. She then presented me pajamas, though only the top. Lufthansa is interesting in that they put the tops and bottoms in separate "pouches." I pointed this out to the flight attendant, and she was genuinely surprised, and quickly fetched me the bottoms as well.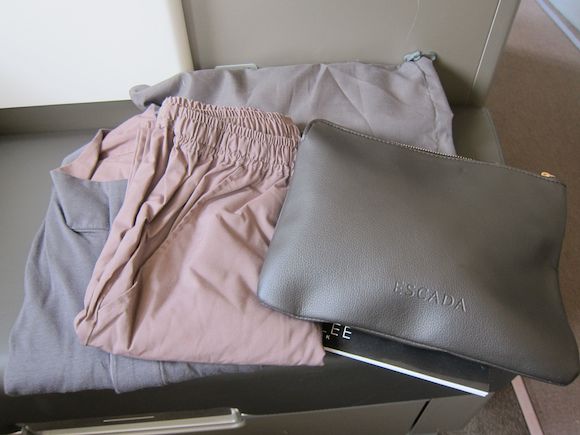 Pajamas and amenity it
Moments after settling in the purser stopped by my seat to introduce himself. This was in stark contrast to my outbound flight from Vancouver to Frankfurt, where the purser didn't make an appearance at all. This purser was cheery, and joked that he was certain I wouldn't have any trouble stretching out and being comfortable on this flight.
Moments later the captain came by my seat to introduce himself. I'd say on about half of my Lufthansa flights the captain comes to each first class passenger and introduces himself. And typically it's a bit awkward, since they're usually rather stiff and just stand there.
But this captain was more jovial and cracked a couple of jokes. He said the flight time would be 8hr50min and that it should be a smooth flight.
Right on schedule we began our pushback and taxi, at which point the safety video began playing.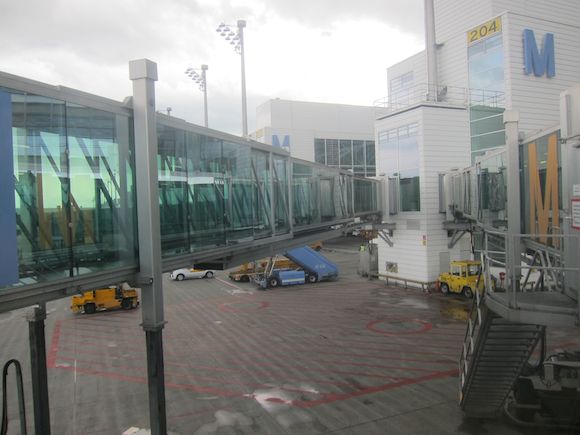 View out the window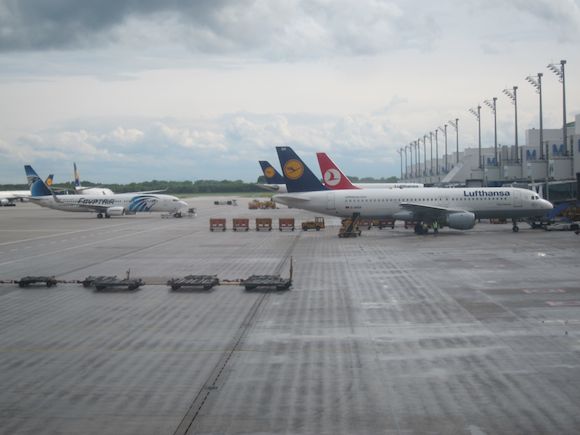 View on pushback
We taxied to runway 26R, where we were number four for takeoff behind an A340-600, A319, etc.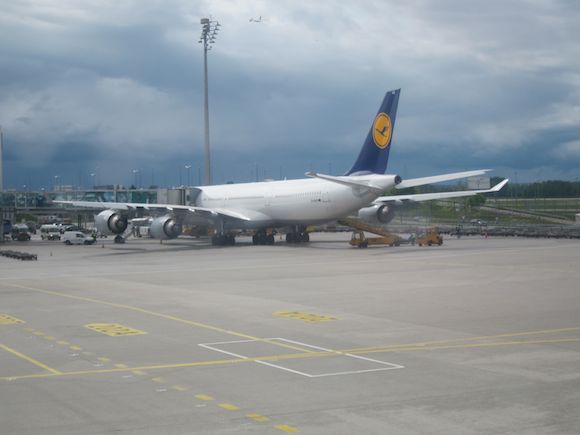 Lufthansa A340-600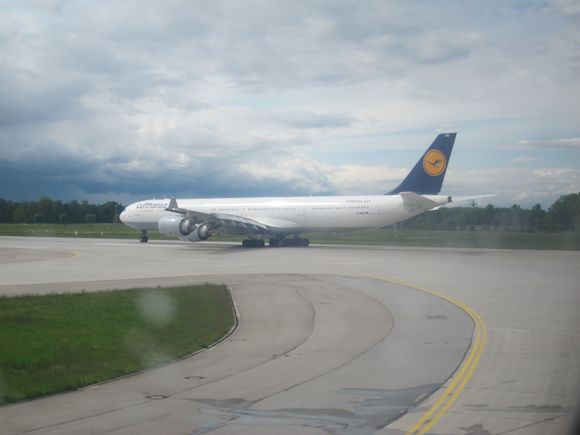 Lufthansa A340-600 ahead of us for takeoff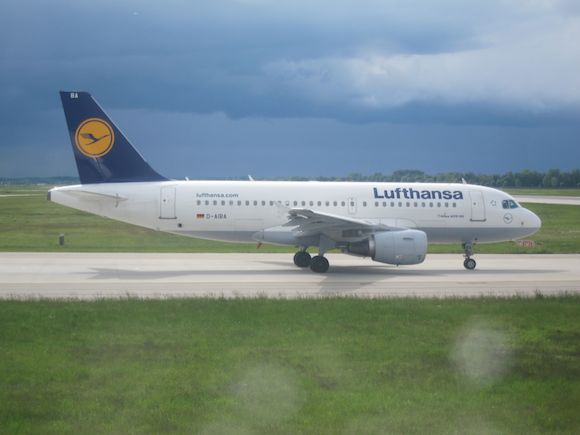 Lufthansa A319 ahead of us for takeoff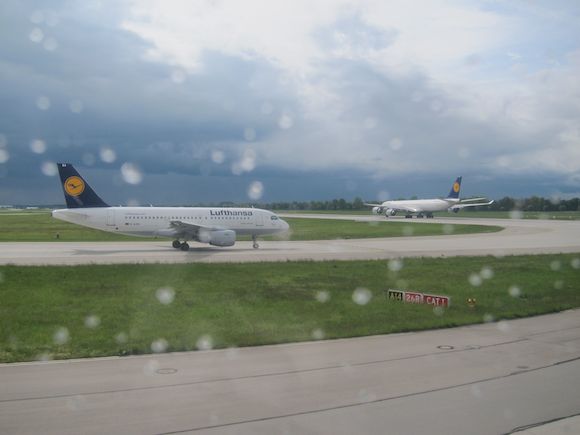 Runway view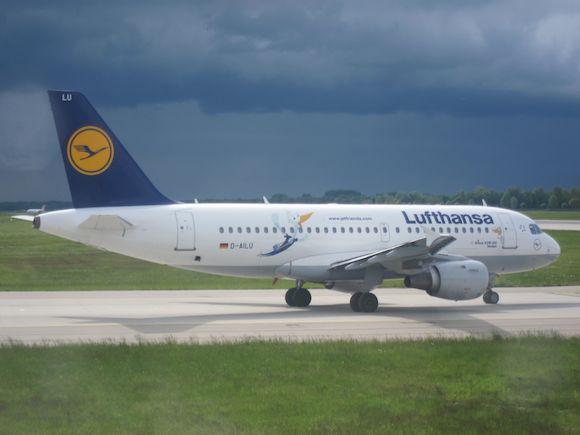 Lufthansa A319 behind us for takeoff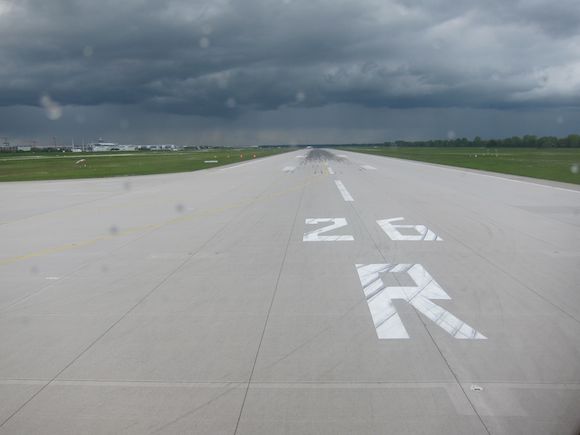 Cleared for takeoff
Once it was our turn for takeoff we taxied into position on runway 26R, and then the brakes were applied while the engines spooled up. There's nothing unusual about that, and it's standard operating procedure at some airports with short runways. But I've never at any airport had the brakes applied for as long as they were on this flight. We must have had the engines at near full throttle for 15 seconds before the brakes were released and we began our takeoff roll. Anyone know why that would be?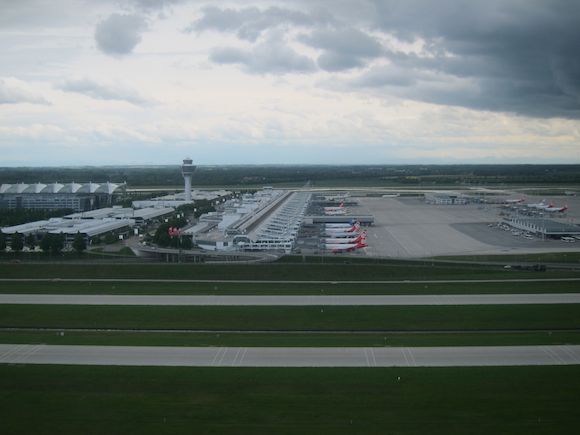 View shortly after takeoff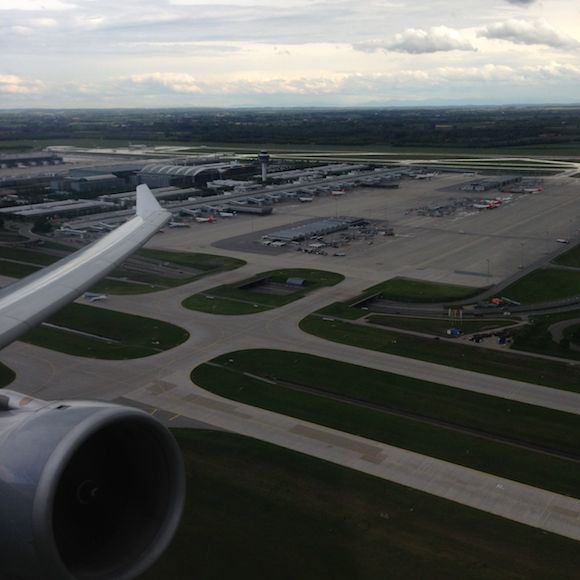 View after takeoff from Munich
Anyway, our climb out was smooth, and about 15 minutes after takeoff the seatbelt sign was turned off.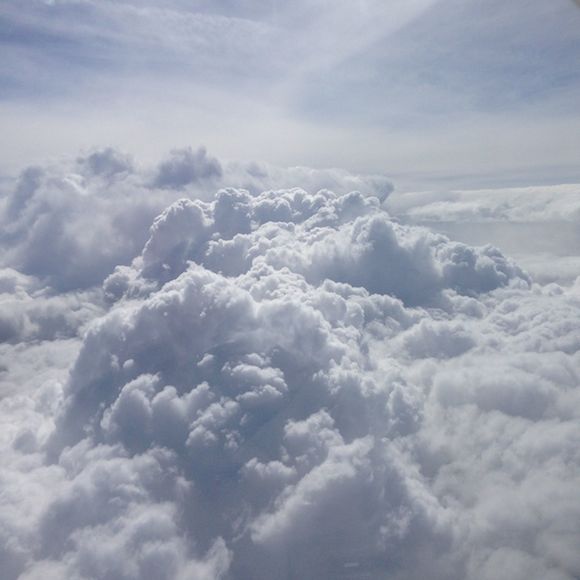 Cloud porn
On our climb out I was still trying to get over my excitement of having a completely private first class cabin. Flying in a private cabin (or private jet, for that matter) is a totally different experience than flying in a full cabin — it's just so damn awesome.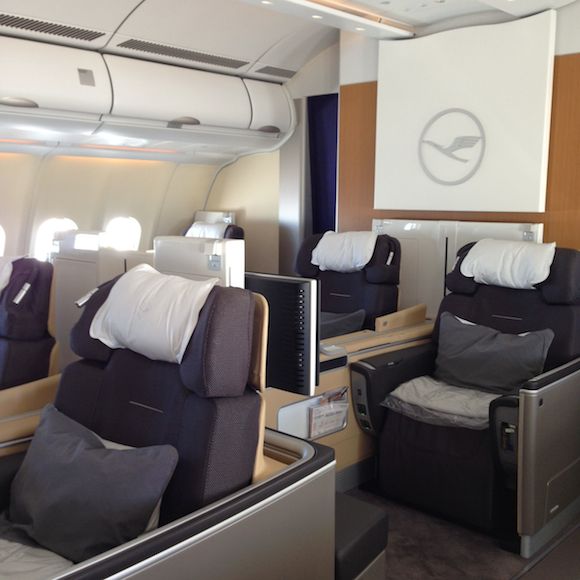 Lufthansa A330 new first class cabin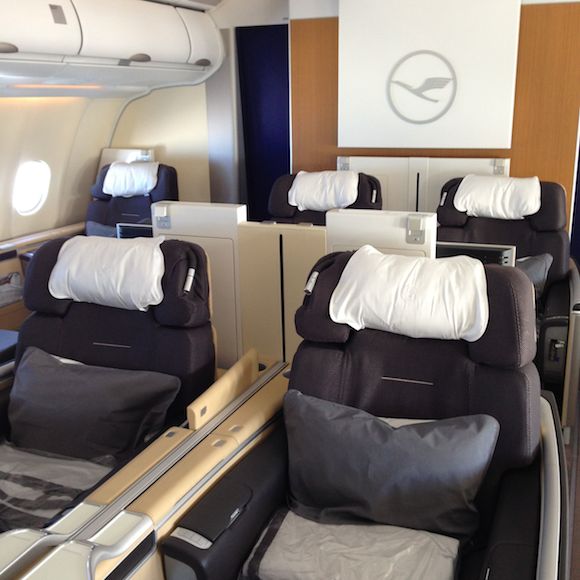 Lufthansa A330 new first class cabin
At that point the two first class flight attendants set up the "bar" area in the front of the cabin, which I found funny since I was the only first class passenger.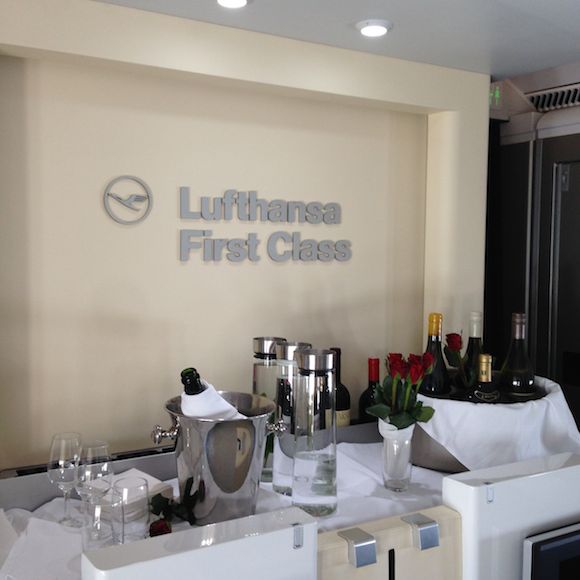 Lufthansa first class "bar"

The aisle flight attendant came by to tell me that I could have what I want when I wanted, so there was no rush with the meal service or anything. I suggested eating maybe 90 minutes after takeoff, though my glass of champagne was kept full in the meantime. She also offered me a hot towel and a rose.
Usually I have a hard time stepping away from my computer on Mondays, though the great thing about flying Lufthansa is that they have FlyNet, so I could stay connected to Wi-Fi for the whole flight. The cost for a 24 hour T-Mobile pass is 20 Euros, which I find to be incredibly reasonable. For what it's worth, the Wi-Fi was also the fastest I've ever had on Lufthansa, which was a welcome change after my flights earlier in the year where they were doing some "maintenance" (though in fairness they didn't charge for Wi-Fi at the time).
So I was productive for about 90 minutes, at which point I decided to eat lunch.
The lunch menu read as follows: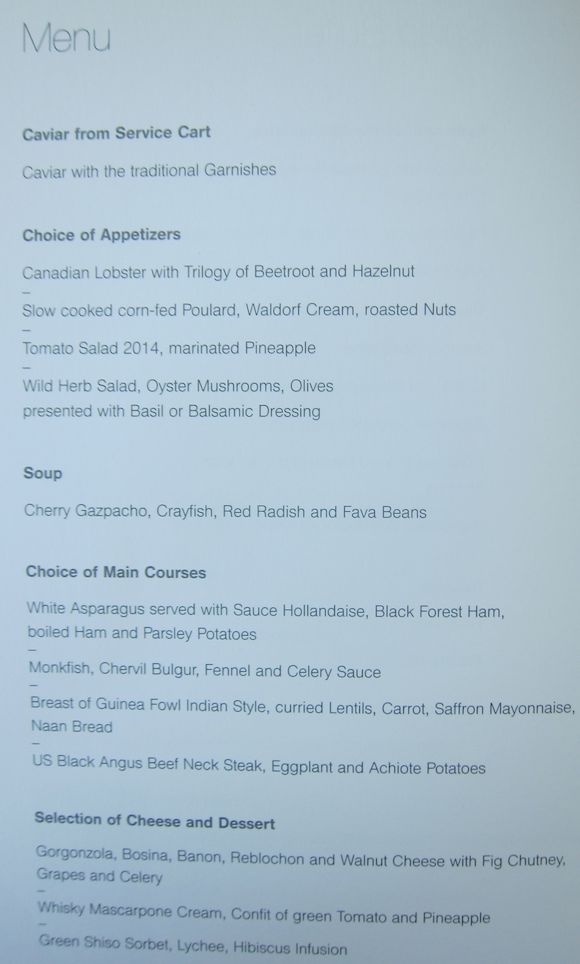 And the wine list read as follows: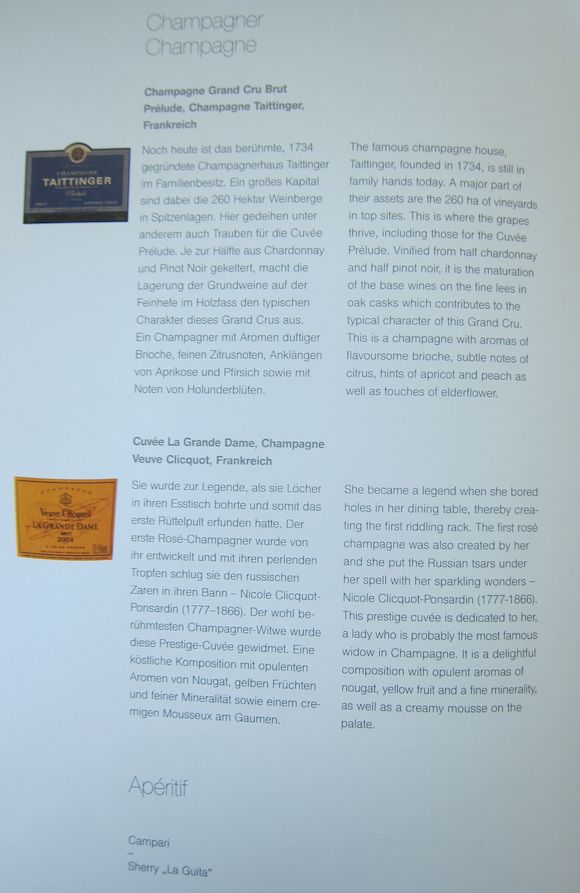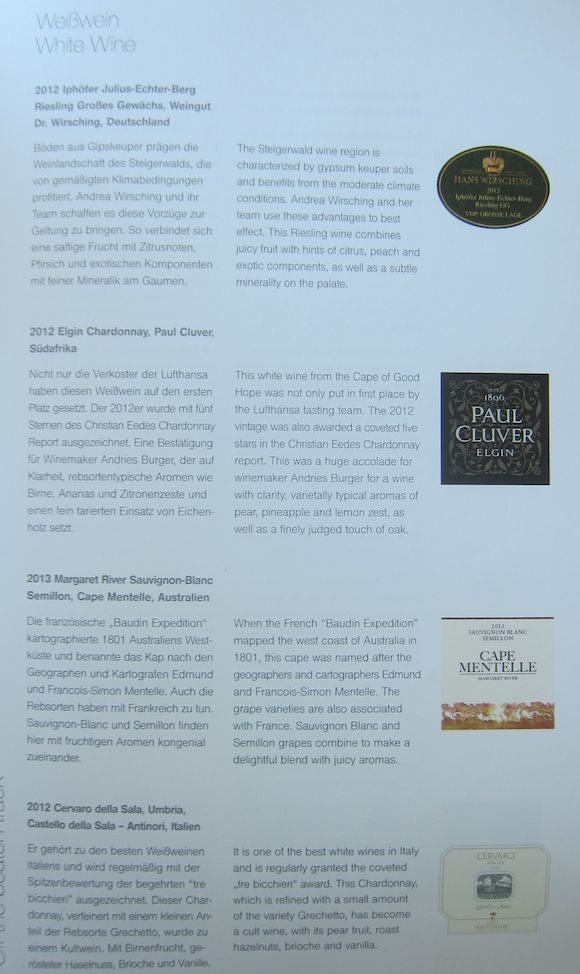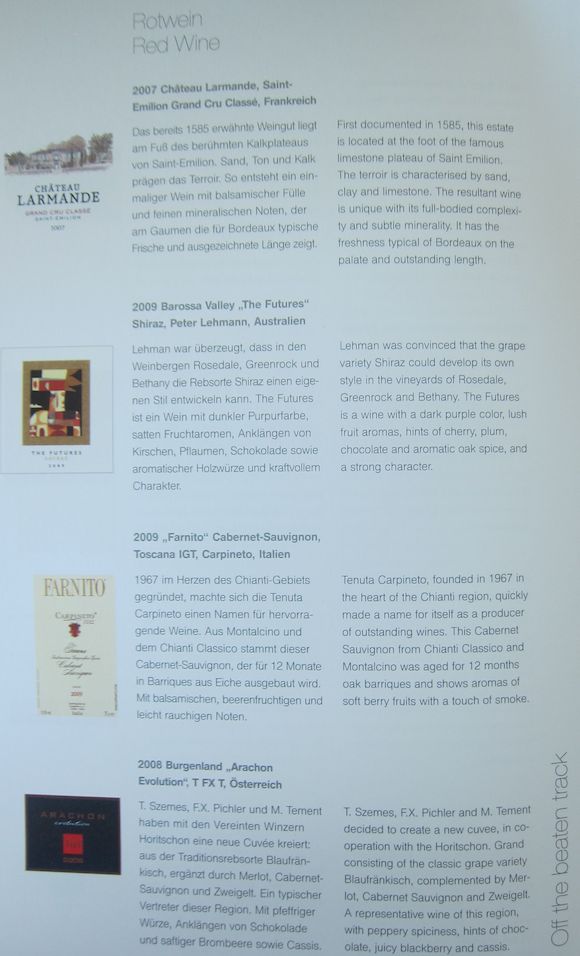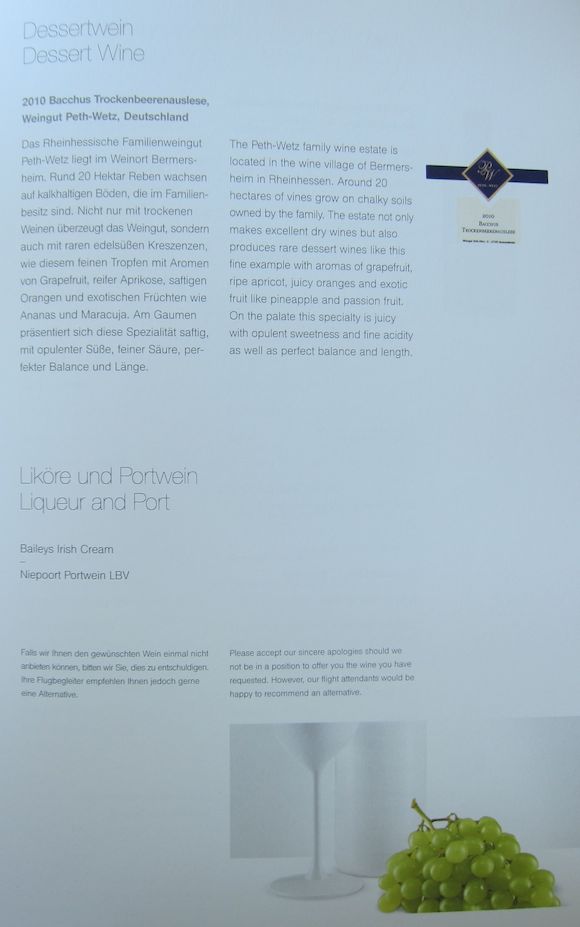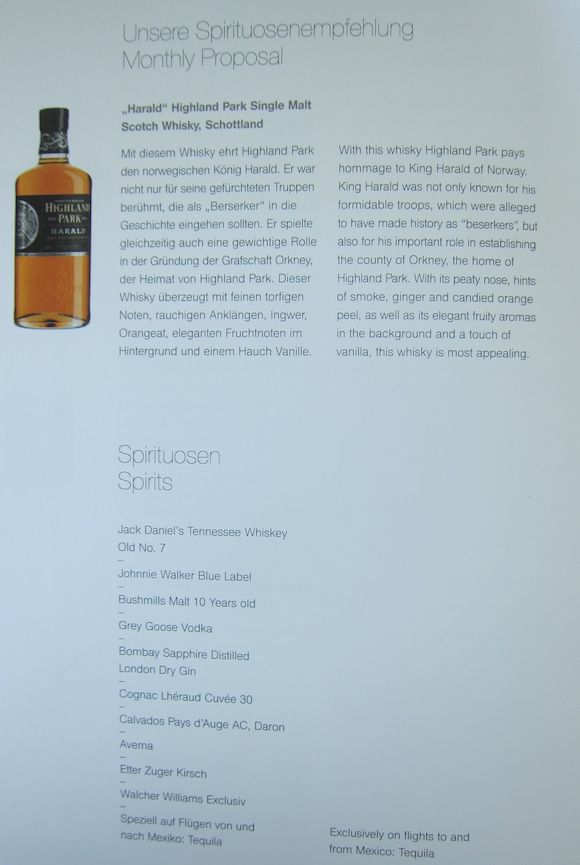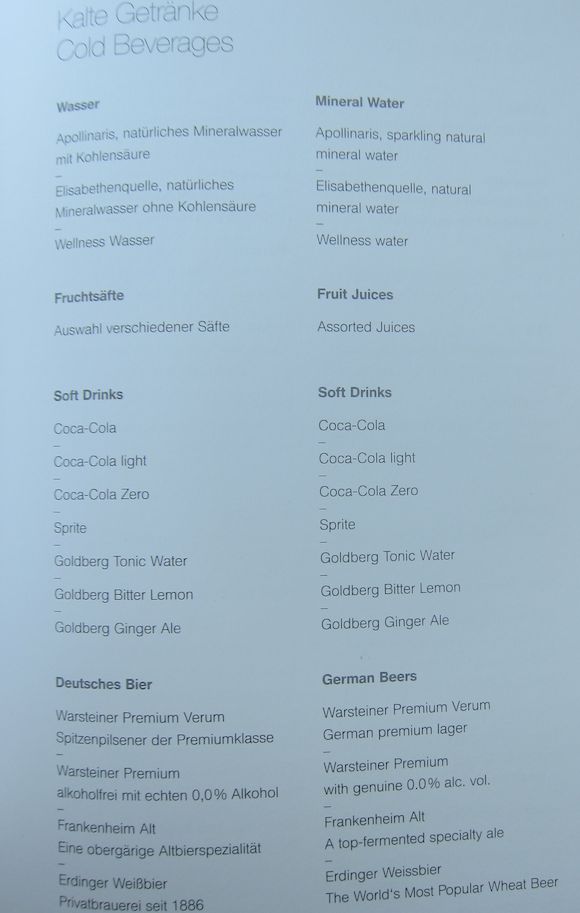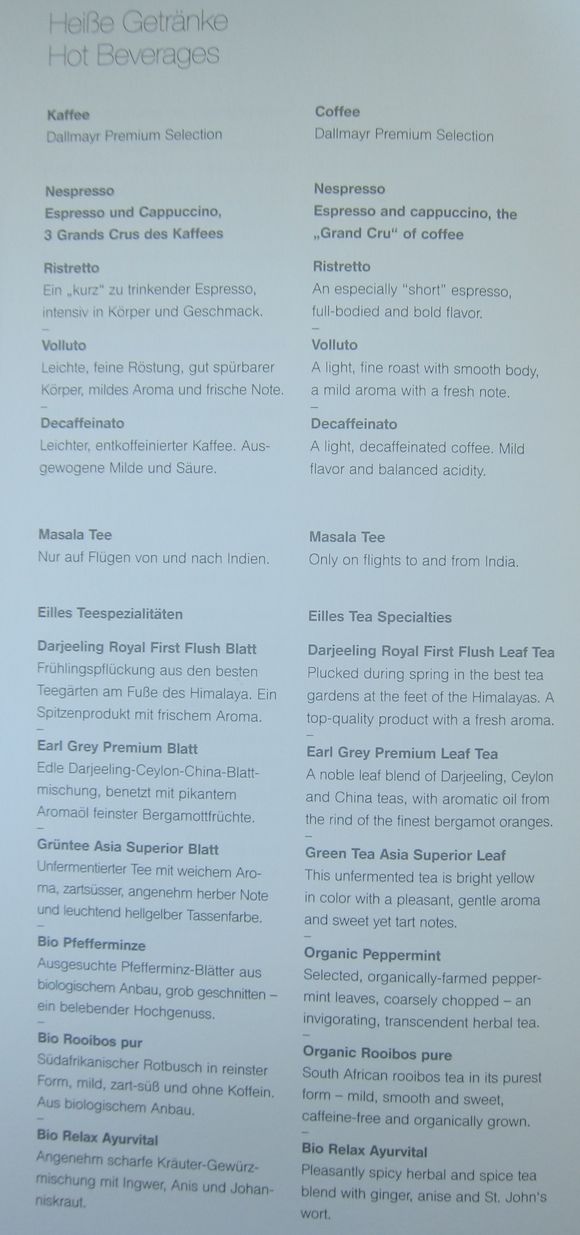 I started with thecaviar course. The flight attendant still set up the cart as if she were serving the entire cabin, as they had heaps of caviar. She served me a generous portion, and later asked me if I wanted more, though I passed (for those of you wondering what's in the yellow "pouch," it's lime).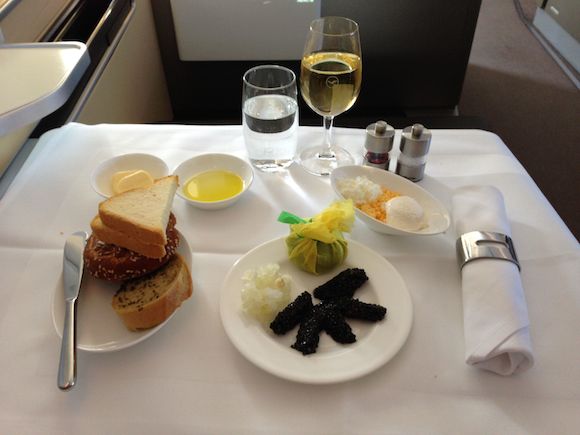 Lufthansa first class caviar service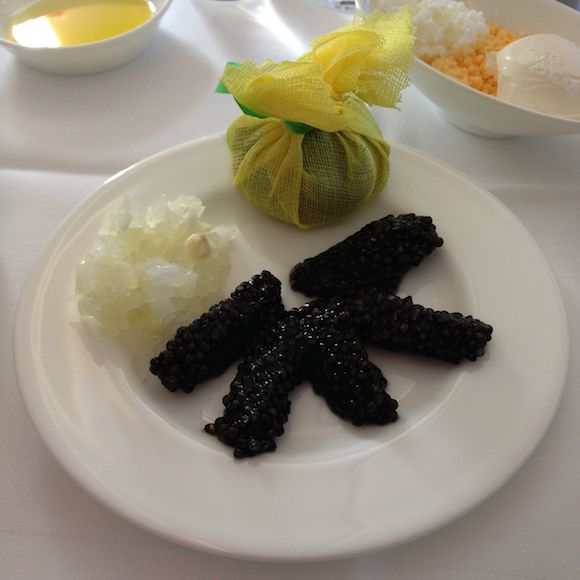 Lufthansa first class caviar service
Then I went for the trio of appetizers and the salad. They were all quite good.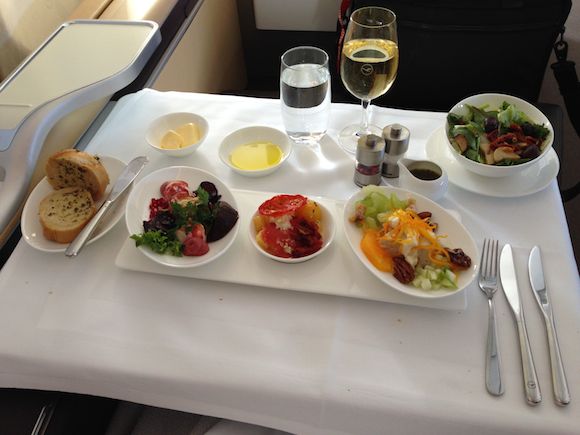 Lufthansa first class appetizer service
I skipped the main course (as I almost always do when flying out of Germany on Lufthansa, because I find the catering to be abysmal, at least for the main courses) and proceeded with dessert.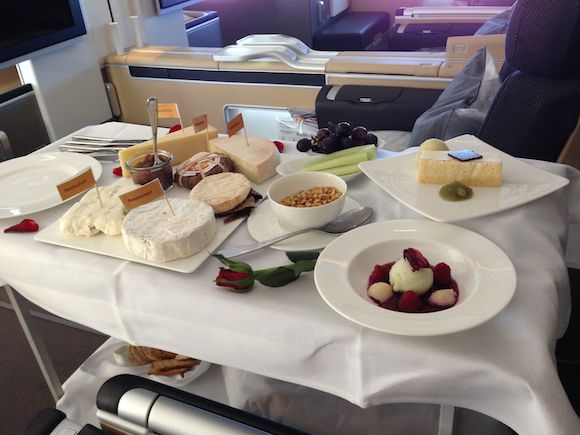 Lufthansa first class cheese/dessert cart

I think this particular dessert menu really sums up my frustration with Lufthansa's catering ex-Germany. Whisky mascarpone cream… yum, that sounds good enough! But with "confit of green tomato and pineapple?" Like, really?!

Lufthansa has the unique ability to make dessert sound unappealing.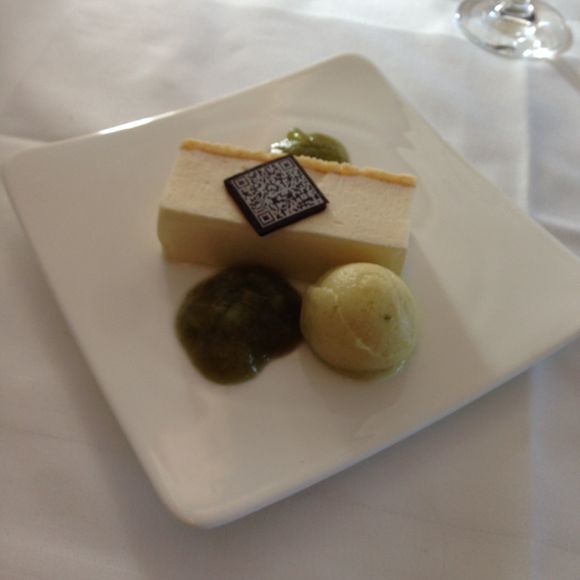 Lufthansa first class dessert

To finish off the meal I had a cappuccino and a couple of pralines.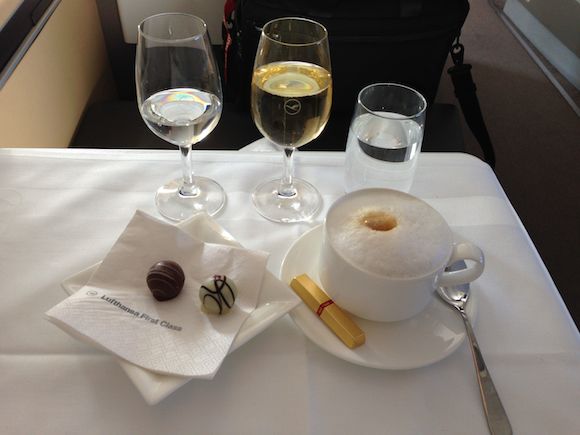 Lufthansa first class cappuccino and pralines

The service throughout the meal — and throughout the entire flight, for that matter — was just spectacular. I was addressed by name at every single interaction. I didn't sleep but instead worked on my laptop all the way to Washington, and I was constantly checked on. Literally throughout the nine hour flight I don't think there was a gap of more than ten minutes where I wasn't checked on.
This crew was just amazing, one of the best I've ever had.
I consider myself really fortunate to be able to work from anywhere in the world, but I have to say that this is one of my cooler "offices:"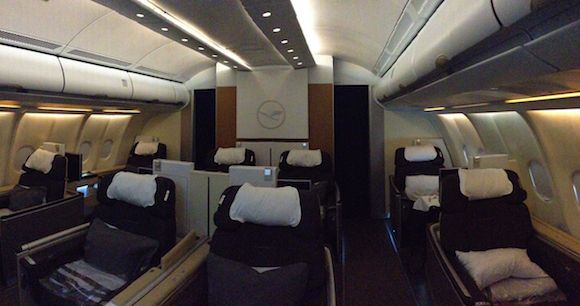 Empty Lufthansa first class cabin
About 90 minutes before landing I elected to have the pre-arrival snack.
The menu read as follows: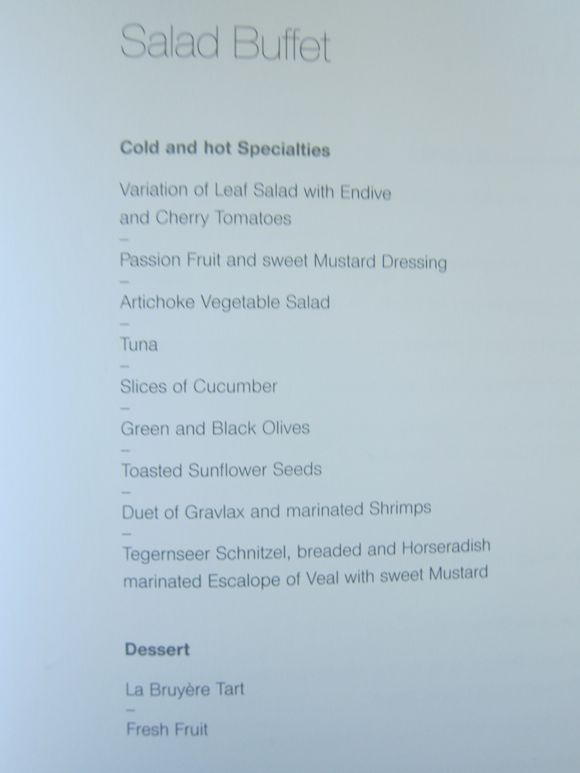 Usually Lufthansa's pre-arrival snacks are poorly executed, but this one was probably the best I've ever had. It's tough to beat a salad made "table side."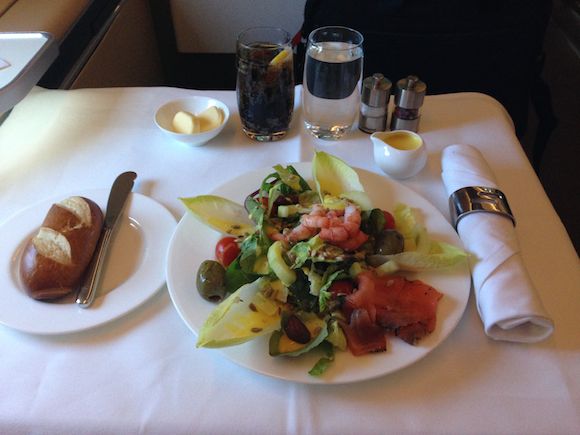 Lufthansa first class pre-arrival snack
About 30 minutes before landing I changed out of my pajamas and stowed by belongings. At this point the purser made an announcement on the PA informing passengers of arrival formalities at Washington Dulles and how the "people mover" will take passengers to immigration. Once he finished the announcement he came up to tell me that there would be a "special car" waiting to take me to immigration.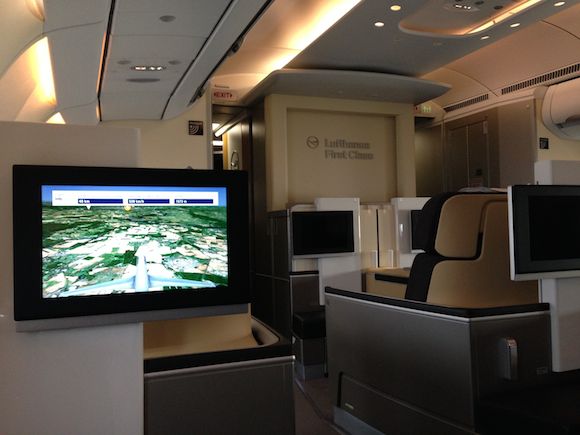 Airshow on approach into Washington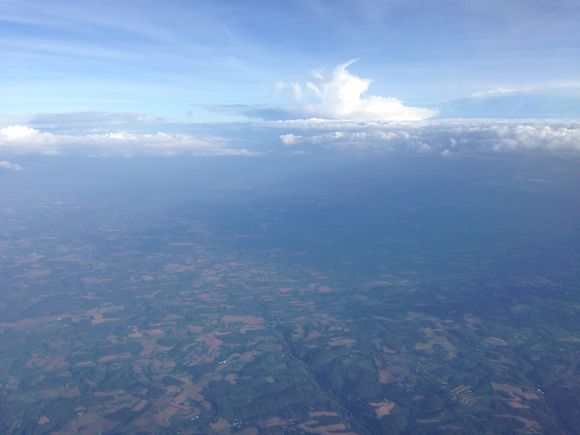 View on approach into Washington
Our descent into Washington was smooth, and we touched down at 6:55PM, and parked at our arrival gate just five minutes later.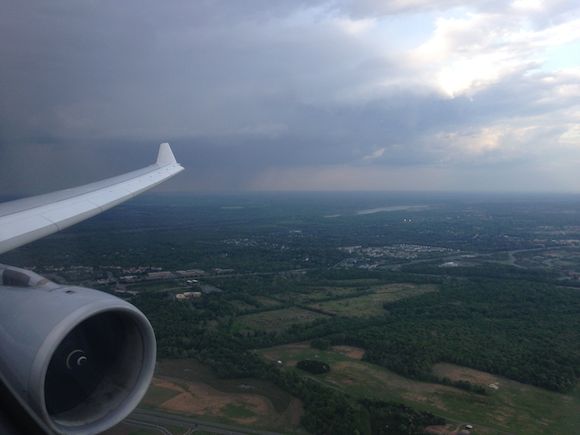 View on approach into Washington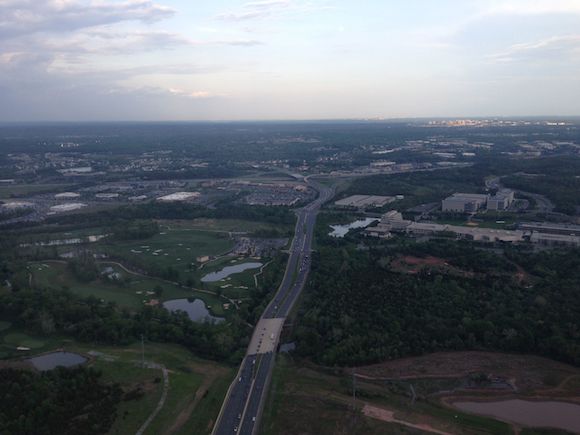 View on approach into Washington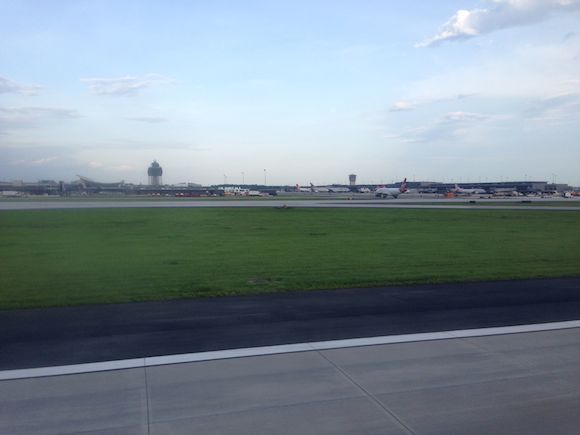 Touchdown in Washington Dulles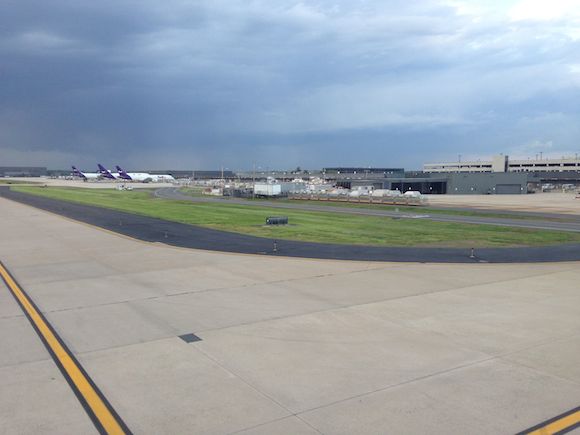 Taxiing to gate at Washington Dulles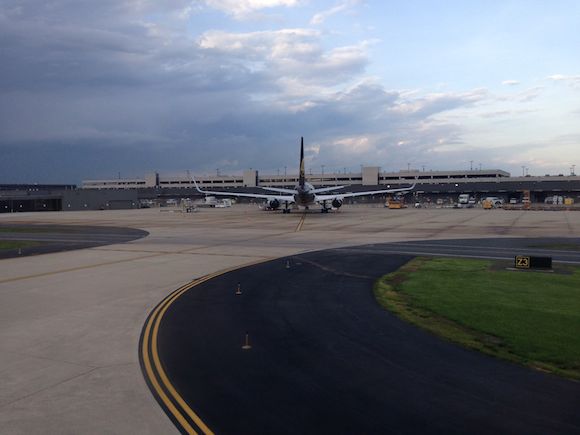 Taxiing to gate at Washington Dulles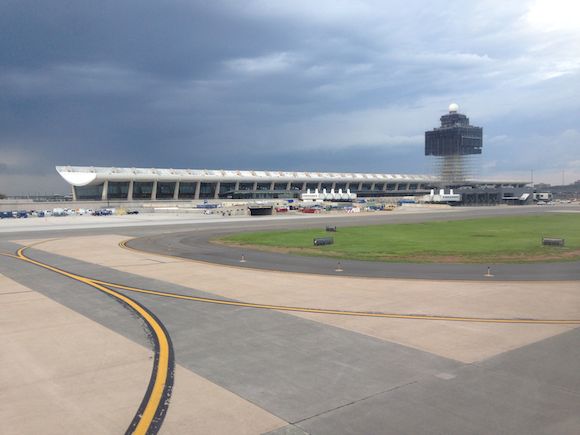 Taxiing to gate at Washington Dulles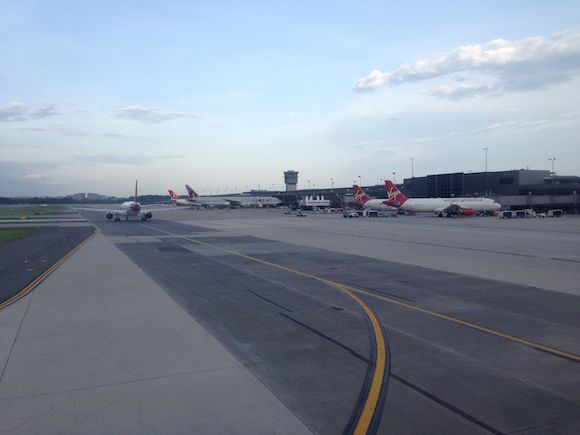 Taxiing to gate at Washington Dulles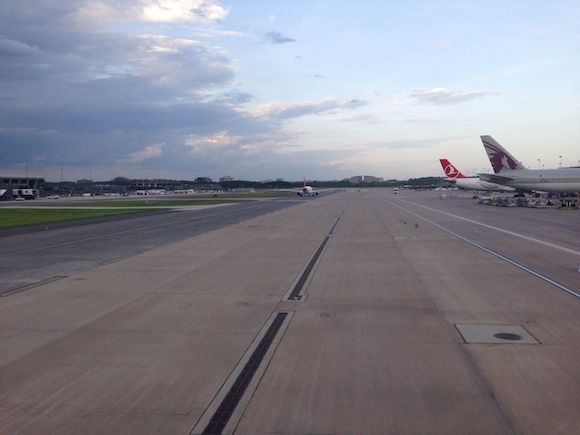 Taxiing to gate at Washington Dulles
We parked right next to the "people movers" and a Qatar Airways 777.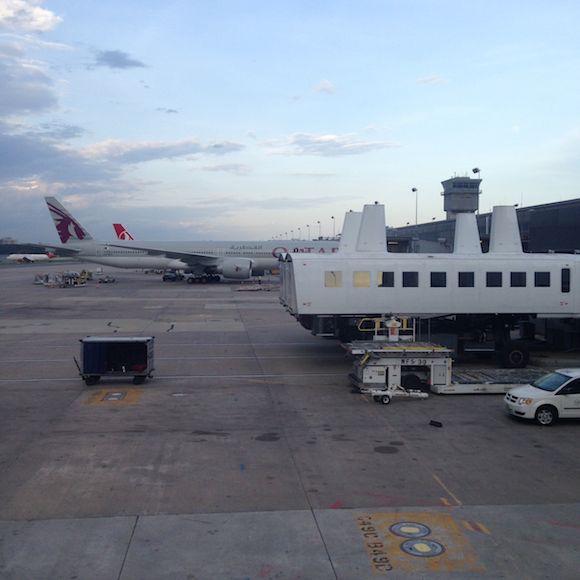 At gate Washington Dulles
Little did I know the most impressive part of the experience was yet to come. Last November Lufthansa improved their ground service at Washington Dulles for first class passengers and HON Circle members. Instead of making first class passengers take the "people movers," they started offering a separate small bus for first class passengers and HON Circle members.
So as I deplaned I was met by an agent that had a sign with my name on it. She escorted me down the jet bridge to an elevator, which took us down to the tarmac, where I boarded a bus to immigration.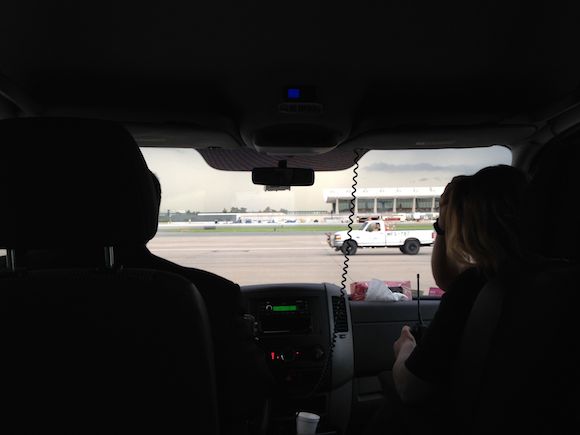 Bus to immigration Washington Dulles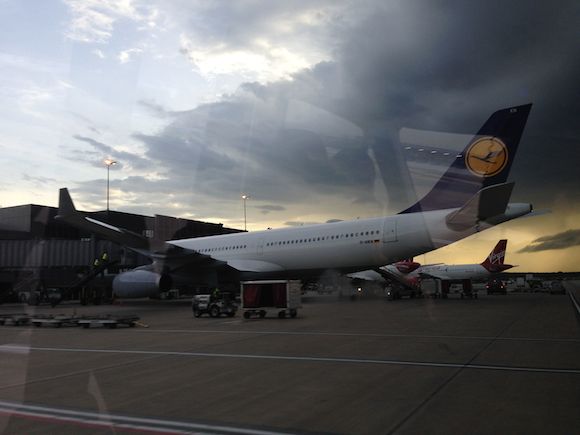 Bus to immigration Washington Dulles
On the ride to immigration the awesome Lufthansa agent confirmed that my checked bag was on the flight and should be at baggage claim in less than five minutes.
HUH?! I stopped her mid-sentence — "wait, you're telling me that my checked bag off an international flight will be at baggage claim in less than five minutes?" "Hopefully even faster than that," she responded. There aren't many things that truly catch me by surprise, but this did. So I said the first thing that popped to my mind — "I don't believe you, that just can't be." She smirked, and said "we'll see."
She explained that at Washington Dulles the Lufthansa station manager personally grabs the first class bags and drives them across the tarmac to baggage claim. I completed Global Entry, and as soon as that was complete the Lufthansa agent escorting me radioed the station manager and told him to drop the bags off at Belt 4. Within less than a minute my checked bags had arrived.
All-in-all I was curbside after an international arrival at Dulles with checked bags seven minutes after the aircraft door opened. I was so impressed I didn't know what to do with myself. I was speechless.
Bottom line
This was one of my best flights ever, on any airline. The crew was phenomenal. The arrival service Lufthansa offers first class passengers at Washington Dulles is one-of-a-kind. And having a private cabin wasn't too shabby, either.