I've flown dozens upon dozens of segments in international first class, and they all have one thing in common – I get off the plane absolutely stuffed, for better or for worse. Certainly that was the case on my ANA, Singapore, and Thai first class flights in the past few days.
So I think it's only fair to report on my flight this evening from Tokyo to Seoul in first class on United. The flight time is over two hours in the air, which is plenty of time to serve a proper meal. The flight departs at 6PM and arrives in Seoul at 8:25PM, so it's prime dinner time. Tampa to Washington is a similar distance to this flight, and in domestic first class they serve hot nuts, cheese ravioli, a dinner roll, and carrot cake.
Here we have an international flight in first class, and what am I served?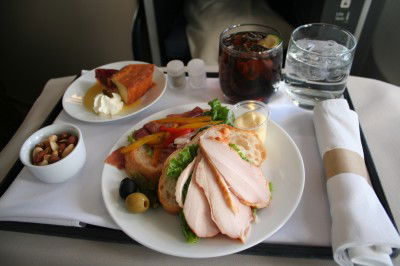 A cold "snack," consisting of two small slices of bread topped with turkey and bacon. To start there were hot nuts and for dessert there was a slice of cake. But I'm in utter shock here. How the hell can United have worse meal service in international first class than domestic first class? Serving a cold "snack" that's hardly substantial during a dinnertime flight in international first class is pathetic.
That may very well explain why I'm the only "paid" passenger in first class. There are two non-revs that have been chatting with the Narita based flight attendants the whole flight, getting a couple of "gifts" to go. Hopefully United can retain their business, because they seem to be sending everyone else away. 😉
What came first, the chicken or the egg? What came first, United, the paying premium customer or a premium product that's worth paying for?