---
While it would be an exciting (and long) day of travel, my day started like any other run-of-the-mill domestic trip. I was booked on the usual 8:45AM Tampa to Washington Dulles flight, which I typically take once or twice a week. I woke up at around 6:15AM, showered, and did some last minute packing. I'm usually awful at packing in advance, but I was actually almost all set to go the night before, I guess because I was really excited about this trip. At 7AM my mom gave me a ride to the airport, and while rush hour was a bit worse than usual, I still made it there by 7:57AM, three minutes before the check-in cutoff.
The lovely TPA ground staff checked me in promptly and printed out my boarding passes all the way to Singapore, which includes my flights on ANA and Singapore Airlines. One of the agents who I know pretty well asked why I wasn't flying United all the way, but I didn't have the heart to explain to him the huge lapse in offerings between US airlines and top foreign carriers.
I proceeded to security where the line was virtually non-existent, and was through in no time. As I've blogged about in the past, I have a sticker on my laptop that reads "I love being treated like a criminal by the TSA." The guy working the x-ray saw it, and pointed it out to his colleague. His colleague commented "I guess you've never been to the big house before." Oh, the irony! I was so tempted to ask how she knew what jail was like, but instead I shut up and just smiled at her. After all, as a law enforcement officer government clerk, she deserves respect on account of her badge.
I got to the gate by 8:15AM, at which point boarding began. I bid farewell to Annie, my favorite gate agent in TPA, who was working the flight, and off I went.
United 0424, TPA-IAD, 757-200
Tuesday, June 15
Depart: 8:45AM
Arrive: 11:02AM
Duration: 2hr17min
Seat: 6C (First Class)
The flight attendants aboard were surprisingly cheery given the short overnight they have in TPA, and I was soon offered pre-departure orange juice. I was even served it with two Continental napkins! Coincidence? I think not! 😉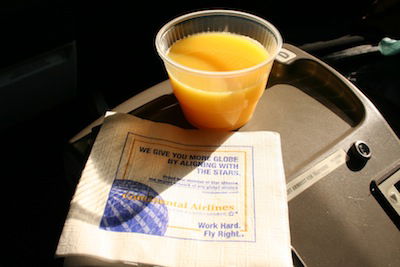 Unique pre-departure beverage
First class slowly began to fill up, and eventually my favorite flight attendant that lives in Tampa and is based in Washington settled into 6B, right across the aisle. We've come to know each other just from sitting next to each other on flights between Tampa and Washington, though I hadn't seen her since mid-May. It's fun when you can start up again where you left off. She took a couple of weeks of vacation, so we talked about that, along with all the other fun stuff going on at United.
We pushed back on-time and after a quick taxi to the runway were airborne for our 1hr55min flight. Not a whole lot to report on this segment, given that I fly it close to 100 times per year. I was offered a fruit plate or cheese frittata for breakfast, but given that I'd be flying in international first class in a matter of hours, I decided to pass. Since United doesn't have a catering contract in TPA, the meals are flown in from a hub the night before, so they have the lovely "black box" TV dinner presentation.
I simply had an orange juice and splurged on a coffee. While I don't usually drink coffee, United has replaced their saucer and cups with mugs in the past week, so I wanted to try them out. It's definitely an improvement, though they still don't hold that much coffee.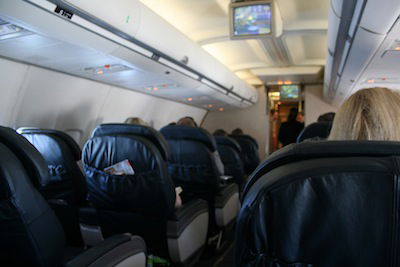 First class cabin from 6C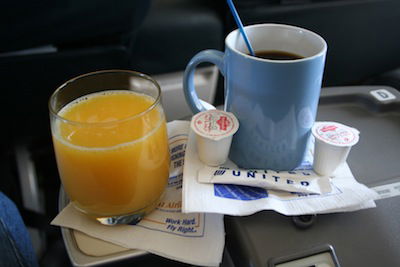 Orange juice and coffee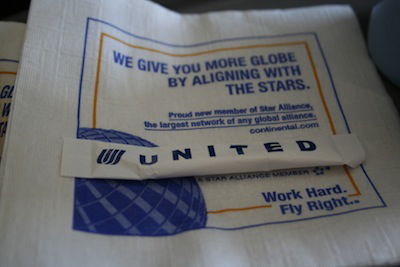 My rendition of United's new logo 😉
Since this segment was on June 15 I was hoping they would have the second half of June entertainment (which is only supposed to start on June 16), but there was no such luck, unfortunately. It was the same episode of Two and a Half Men where Charlie gets pissed at Alan over the bowl, followed by the same TV show about lightning, followed by Arrested Development. Instead I spent most of the time talking to my flight attendant friend, which is better than any other sort of in-flight entertainment.
We landed on-time and were at gate C23 by 11AM.
My flight to Tokyo was supposed to depart from the B concourse at 12:20PM, so I headed to the train which connects terminals, which departs from near gate C16 (though it's still a lot of walking). While the whole train system is futuristic, at least by Dulles standards, I still think the old "moon buggies" were more practical. And while the rest of the airport was warm, the trains are as cold as a freezer.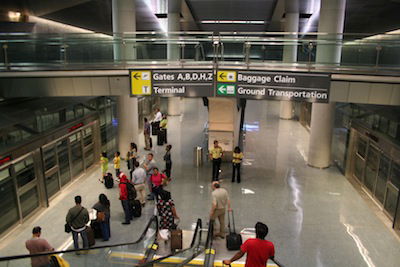 Train connecting terminals at Dulles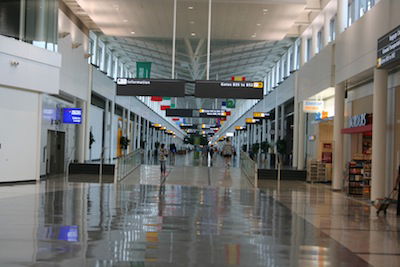 Lovely B concourse
The good news is that the train gets off right by the Lufthansa lounge, which is what ANA now uses for their passengers at IAD. They used to share a lounge with Air France, but that seems to have changed recently as Air France moved their lounge. On one hand that's a good thing since the Lufthansa lounge is quite nice, but on the other hand there's not really a first class section.
I proceeded into the lounge where an ANA representative was seated at the desk, who checked my passport and reprinted my boarding pass. She directed me to the Senator side of the lounge and said that the flight is delayed by 10 minutes and will now board at 12:15PM. I asked where the gate was, and she said we would be able to board through the lounge, which sounded odd to me (since the plane wasn't parked there). Upon request she also gave me a Wi-Fi access code.
On an unrelated note, it's worth noting that the Lufthansa lounge now opens at 8:20AM daily. As a Star Alliance Gold member, even on a domestic ticket, you can use this lounge. The lounge only used to open in the afternoon, so it's great news that it opens earlier now.
This was my third time in the Senator lounge in the past week or so, and I wasn't looking forward to it. Why? Because I've probably gained about 10 lbs. from their pretzels, cheesecake, and cookies alone. They're insanely good.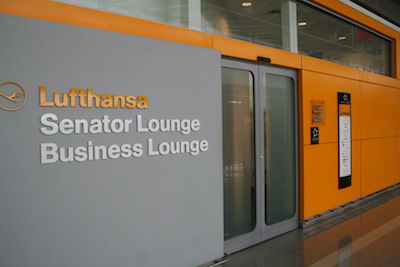 Lufthansa lounge at Dulles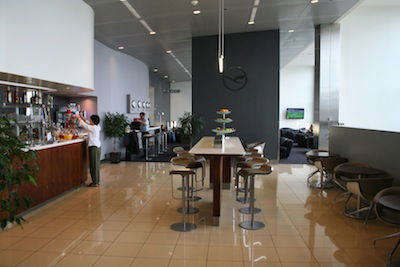 Senator Lounge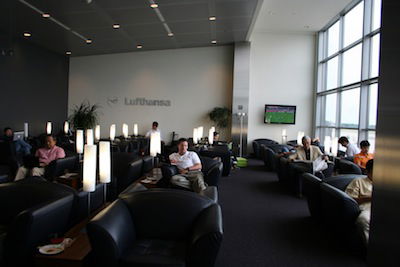 Senator Lounge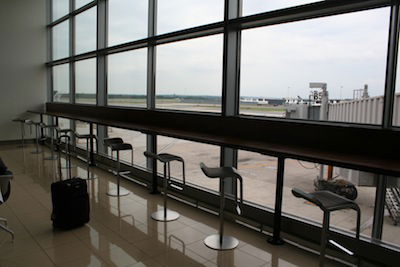 Senator Lounge Seating Area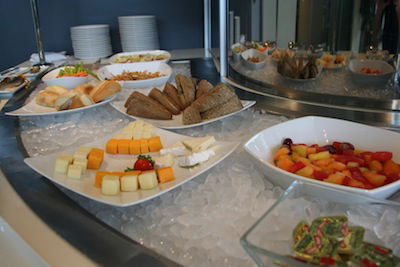 Senator Lounge snack selection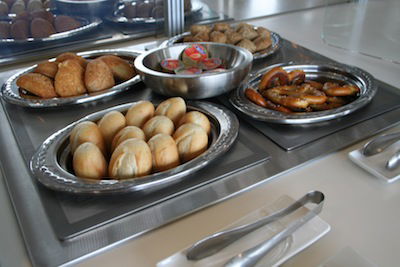 Senator Lounge snack selection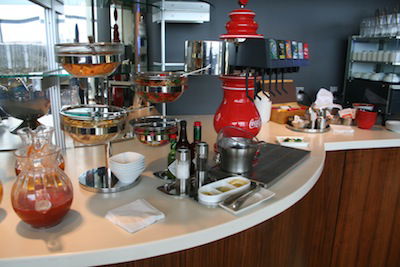 Senator Lounge snack/beverage selection
While I didn't want to eat anything, I couldn't resist a pretzel and one of the cookies. Fortunately there was no cheesecake on display, or I may have indulged there as well. The good news (or bad news?) is that the pretzel was stale, probably from the day before, so I wasn't tempted to take another one. The cookie, however, was delicious.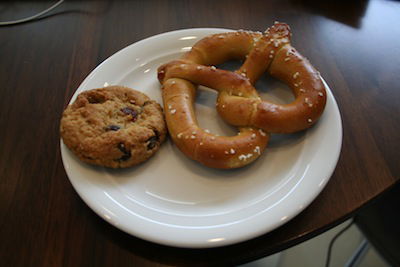 Evil snack selection!
I surfed the web for about an hour catching up on email and made some last minute phone calls. On both ANA and JAL, no electronic devices can be used on the ground, including cell phones. I believe it's a Japanese Aviation Authority regulation. So that means you have to finish all your phone calls before you board the plane.
At around 12:10PM an announcement was made that boarding would begin at gate B45. That made more sense than the agent earlier, who advised me that I could board through the lounge. I packed up, bid farewell to my loved ones, turned off my phone, and walked to gate B45, which was maybe two minutes away.
Once at the gate there was a dedicated line for first and business class passengers, where there was no wait. I handed the agent my boarding pass and passport, and proceeded down the short jet bridge that would let off at door 1L.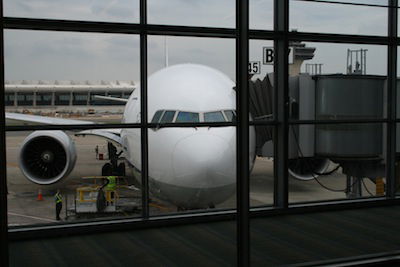 777 taking us to NRT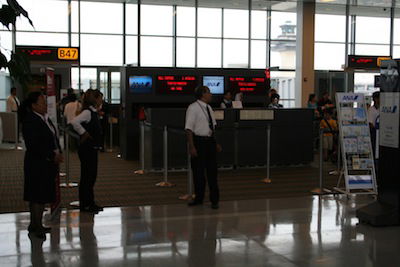 Gate B45
It's worth noting that I flew JAL, ANA's biggest competitor, between Tokyo Narita and New York last year, and wrote a trip report, which can be found here. For comparison purposes, feel free to check that one out.