——————————————————————————
This was my second time visiting Seoul, and it was mainly to be able to spend time with my brother. That's to say there are other Asian cities I would have liked to visit before revisiting Seoul, or for that matter, other cities I would revisit before Seoul. I had previously visited Seoul for five days, and saw all of the highlights back then, including a day trip to the DMZ, which was very interesting.
Since my brother was staying a day longer than me, he booked a day trip to the DMZ for his last day, when he would be alone anyway.
We basically had an afternoon and a full day to see the city. The first afternoon we walked mostly around the COEX area, which doesn't have all that much in the way of activities, and at around 6PM went to a Korean grill for dinner.
The restaurant was really cool. The meat was cooked at our table and well marinated, and there were tons of side dishes, as is to be expected at a Korean BBQ.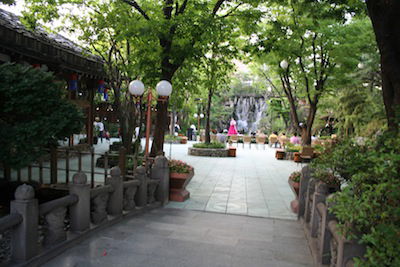 Korean Grill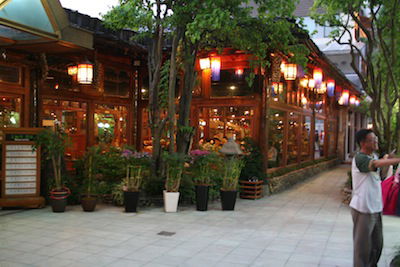 Korean Grill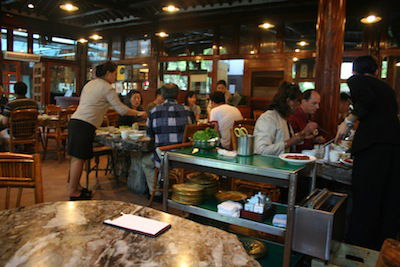 Korean Grill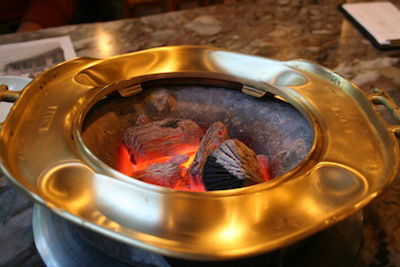 Grill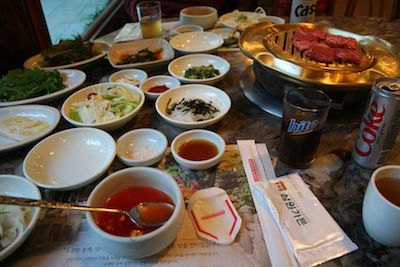 Side dishes
There was a seriously language barrier, despite doing our best to communicate mostly by pointing at menu items. The food was very flavorful and spicy, though at times I wondered what I was eating.
We went to bed early the first night, since my brother had just arrived from Frankfurt the same day and was quite exhausted.
The following morning we took the subway to the downtown area and visited City Hall, the Gwanghwamun Plaza, and eventually made our way to Insadong, an area with tons of shops selling all kinds of stuff, but mostly toilets! It was quite entertaining to watch people go toilet shopping, mostly by sitting on them (though thankfully not "trying them out").
It was a hot day, so after about a dozen bottled water breaks as we wandered aimlessly, we walked back towards the river, which was a bit more peaceful. Unfortunately most of the temples seemed to be closed because it was Monday (the DMZ wasn't open either).
It was easy enough to kill a day in Seoul, though it's not a city I have to return to. And I said that last time as well. It's not that it isn't interesting, because it is — and the DMZ is definitely worth a visit. But it just lacks something that my favorite Asian cities have.
Hong Kong is dynamic, which I know sounds trite. I don't know what word to use to describe it, other than to say it's my favorite city in the world. It's uniquely Hong Kong. No matter what street corner I'm in, I know I'm in Hong Kong. Tokyo is bustling. No city quite has the energy of Tokyo. Bangkok is bustling, but it's the opposite extreme of Tokyo — instead of bustling with bullet trains and luxury cars, it's bustling with samlors and cars with transmissions that are a kilometer from going bust (fortunately you'll never move that far in Bangkok during rush hour). Then there's Singapore, which is idealistic from the perspective of a tourist. It's somewhat sterile, but just restores some faith in humanity. And then there are cities like Ho Chi Minh City, etc., that are equally fascinating, where the biggest challenge the first day is trying to figure out how to cross the street.
But I'm just not sure where Seoul fits into all of that. I just don't know how to describe Seoul's "spirit."