ANA 0001, IAD-NRT, 777-300ER
Tuesday, June 15
Depart: 12:20PM
Arrive: 3:25PM+1
Duration: 14hr05min
Seat: 2A (First Class)
Once aboard I was greeted by the purser and another flight attendant, who promptly directed me to my seat. They were all smiles. The "Another Sky" signature ANA boarding music was playing, which is soothing. On one hand I never like the no cell phone on the ground rule, but on the other hand I all of a sudden felt so relaxed. It had been a tough couple of weeks on many levels, and being able to escape mentally was perfect.
While I have flown ANA a handful of times before, this was my first trip with them in first class, so I was quite looking forward to it. The first class cabin is equipped with a total of eight seats, and I was the only passenger to begin with.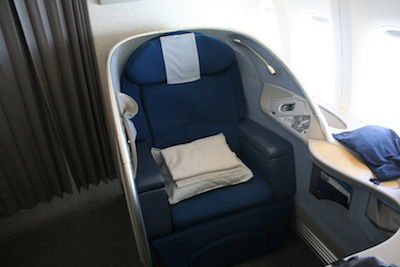 Seat 2A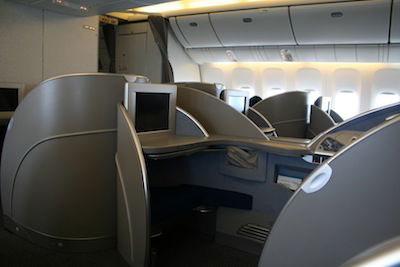 View from 2A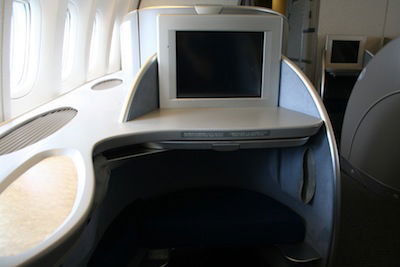 View from 2A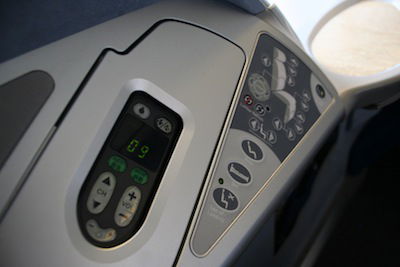 Seat controls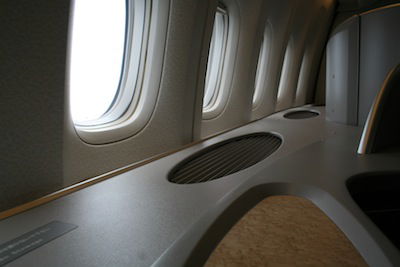 Side of seat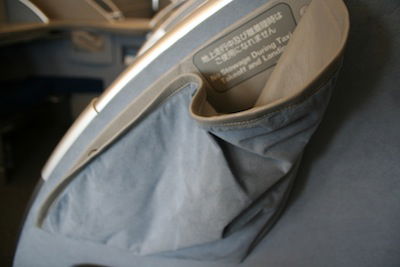 Seat storage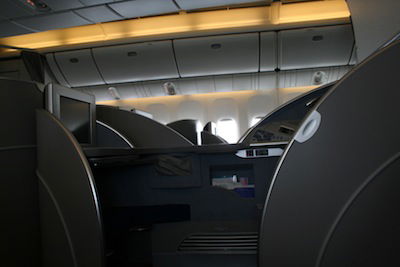 Other seats
Once settled in the purser came by my seat and introduced herself. She explained that there was a sweater and pair of pajamas at my seat that I could change into, and I indicated I would like to change after takeoff (the reason being that I wanted to take a picture of the pajamas first, and I can't take a picture of them on the ground since no electronic devices are allowed).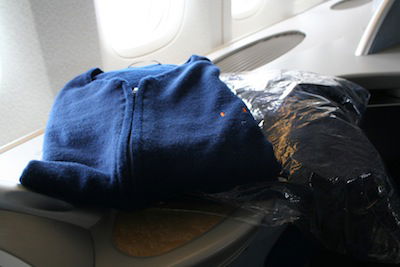 Sweater and pajamas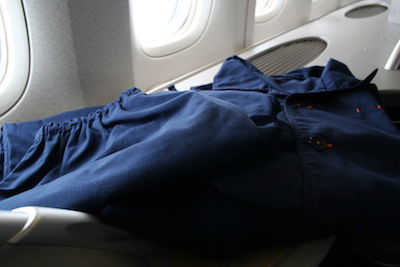 Pajamas
She offered me magazines and newspapers, and I went with USA Today and Time. The other first class flight attendant then came by to introduce herself, and asked me how to pronounce my last name.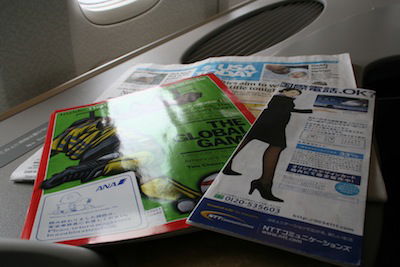 Newspapers and magazines
The flight attendant then returned with a basket full of toiletries/amenities, along with a bag. ANA doesn't have a traditional amenity kit stocked with goodies. Instead, they fill it up with what you need. No expensive brands like JAL, which has Shiseido products in their amenity kit. Instead they just had ANA branded toothbrushes, eye masks, face and hand cream, combs, and little aroma kits. Hardly spectacular, though the flight attendant stocked my "bag" quite liberally.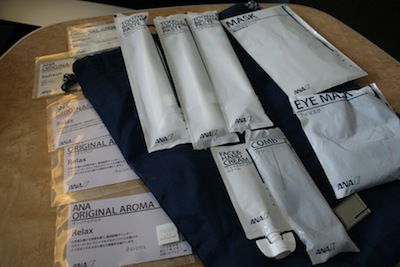 Amenity kit contents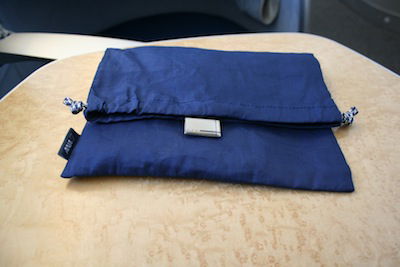 Amenity kit
Japanese Aviation Regulations apparently also dictate no pre-departure beverages, so there were none of those, unfortunately. Fortunately the boarding process is pretty quick so there wasn't much time to just sit around, but I did explore the seat a bit. The cabin is configured in a 1-2-1 configuration with two rows, and each seat is quite private. While it's not as private as Jet Airways first class, that can be a good thing. When the cabin isn't full I'll take an "open" cabin over a suite where I have a door, as it feels more spacious.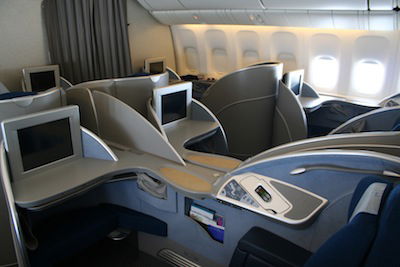 First class cabin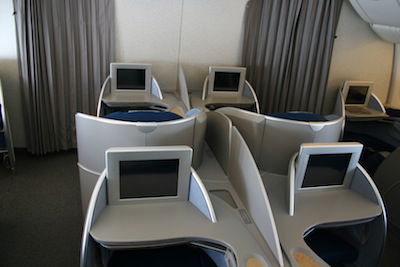 Center seats in first class cabin
As boarding finished up one more passenger, an older Japanese man, joined me in first class. He was seated in seat 1K, so we were on completely opposite ends of the cabin. The doors closed by around 12:40PM, about 20 minutes late, and we quickly began our pushback.
The manual safety demonstration commenced, and the flight attendants did their "safety" checks. Now this is the thing that absolutely cracks me up about ANA. Before the plane takes off the flight attendants will go up to every overhead bin and literally just touch it with one finger to ensure it is closed. Not only that, but in this case, I spotted four flight attendants checking the same overhead bins in first class. It's just the most superficial safety check, so it really is quite entertaining. And the worst part is that they're not even touching the latch, but rather just a random part of the bin.
After a slow taxi to runway 19C the quadruple chime was heard throughout the cabin and we slowly but surely rolled down the runway. After a long takeoff roll we were airborne. There were some bumps on the climb out, so the seatbelt sign was only turned off after about 10 minutes.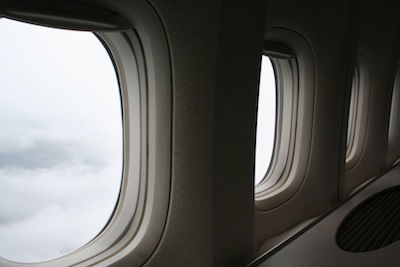 Climb out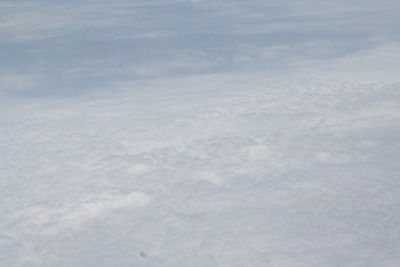 Clouds from close to cruise altitude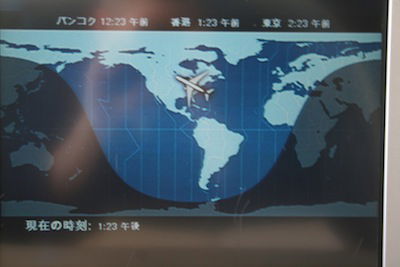 Airshow after takeoff
At that point, I changed into pajamas. It's worth noting that ANA doesn't actually let you keep the pajamas. They wash and reuse them, which is a bit disappointing, given that JAL, their competitor, lets you keep them (and ANA is generally thought of as the superior carrier).
The funny thing is that in the lavatory they have a little "platform" that folds down for changing. I guess the premise is that you don't want to change on the floor that's constantly being peed on. Creative!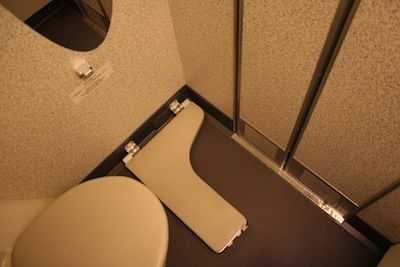 Lavatory platform to change on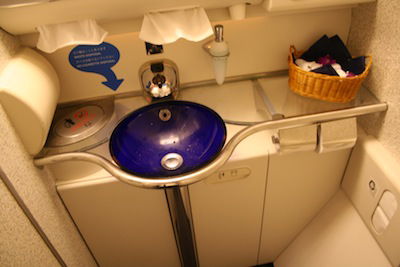 Lavatory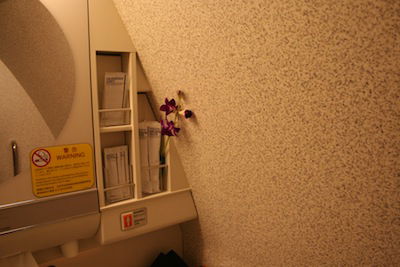 Lavatory amenities
As I exited the lavatory I tried to fold my clothes a little bit before hanging them, but the purser absolutely insisted on doing it for me.
As we leveled off the captain came on the PA and announced the flight time of 13hr17min. I didn't really understand anything else he said.
The purser then offered me the menu and wine list, which was presented in a nice folder.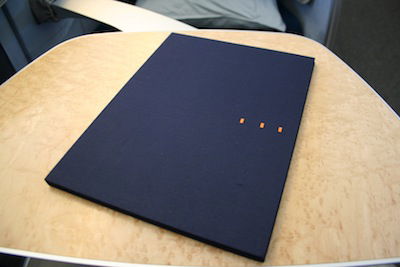 Menu folder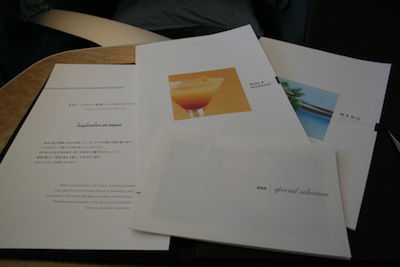 Menu and wine list
The lunch menu read as follows:
Our special kappo course

Our original Japanese cuisine is carefully prepared with seasonal ingredients and accented with palate-pleasing flavors. Enjoy a course meal or feel free to select single dishes of your choice. Then, savor your selection in comfort — just as you would in a private dining room at your favorite restaurant

Otsukuri
Quick-seared rare tuna and kombu kelp-cured flounder sashimi with steamed sea urchin eggs

Nimonowan
Savory egg custard and seasonal garnish in hot seafood stock

Mushimono
Steamed red tilefish wrapped up in grated turnip with wasabi-flavored seafood broth

Kobachi
King crabmeat cocktail, cucumber and wakame seaweed with Tosa vinegar

Shusai
Sake-steamed sablefish with rich vegetable broth

Braised duck breast and vegetables with lightly citrus soy sauce

Steamed rice
Freshly-steamed Hokkaido Yume Pirika rice, miso soup and assorted pickles

Freshly-steamed Megumimai rice, miso soup and assorted pickles

Wagashi You can also choose from the cheese plate, dessert, or petits fours on our a la care menu.
Azabu monaka (a wafer cake filled with red adzuki bean jam)

A la carte

Enjoy modern European delicacies from our menu degustation.
You can choose from half portion or full portion dishes, and then mix and match selections to suit your taste, just as you like.

Appetizer plate
Caviar with traditional garnish
Lobster and avocado cocktail with spicy mayonnaise
Seasonal white and green asparagus with prosciutto
Foie gras pâté with pear compotes trio

Fresh garden vegetables Our cabin attendant will serve you personally
Served with a choice of dressings — yuzu citron of Japanese harmony taste, Italian or creamy pepper

Main plate
Gratinéed mussels with herb and fennel flavors
Braised beef and burdock root galantine in red wine-flavored veal stock
Veal costoletta Milanese with sour vegetable salsa

Selection of breads Choose from four kinds of breads, or select steamed rice from our special kappo course.
Choice of flavorful premium lsigny butter or extra-virgin olive oil with bread

Cheese plate
Camembert, Stilton and Comté

Dessert You can also choose wagashi from our special kappo course
Premium vanilla and mocha chip ice cream duo
Fruits tart
Warm apple crumble tart with premium vanilla ice cream
Fresh seasonal fruits

Petits fours
And the wine list read as follows:
Champagne:
Krug Grande Cuvee

White Wine:
Mer Soleil Chardonnay 2007
Brauneberger Juffer-Sonnenuhr Riesling Spaetlese 2007
Chablis 1er Cru Fourchaume 2007 Domaine Chatelain de Oliveira

ANA Special Select Wine:
Bulgia 2006 Testamatta Di BIBI GRAETZ

Red Wine:
Hess Collection Cabarnet Sauvignon 2006
Corton Perrieres Cru 2007 Vincent Girardin
Cirrus Syrah 2006

ANA Special Select Wine:
Grace Merlot 2006

Dessert Wine:
Chateau Lafaurie-Peyraguey 2005
Immediately thereafter the other flight attendant brought my noise reduction headsets and a towel, and took my drink order.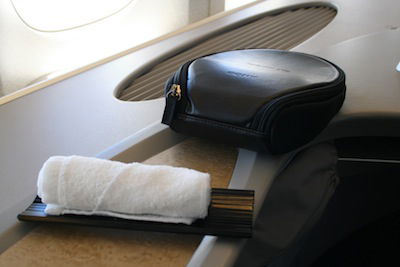 Headsets and towel
I asked for a Diet Coke with ice and lime, which was promptly served.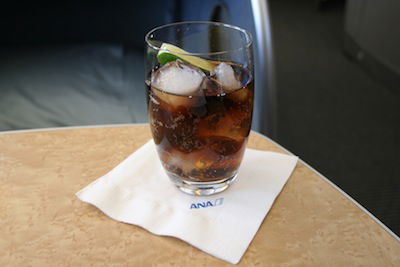 Diet Coke with lime
There were at most four ounces of Diet Coke in there, between the half full glass and ice, though the flight attendants were so attentive that they could pull it off. I thought it was funny that every time I requested a refill, it came in a new glass instead of just topping off my glass.
The flight attendant brought out an appetizer cart with six small plates to nibble on, including three western options and three Japanese options. Based on what I've read about ANA, they board plenty of food, and they're all for letting everyone sample as much as they want. So I didn't feel too sheepish about taking the three western options and one of the Japanese options. They were quite tasty, and even more impressive to me was the precision with which the flight attendants served, when it came to the way they placed everything on my tray.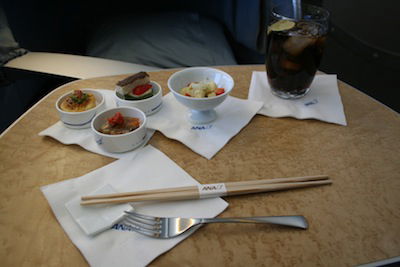 Pre-appetizer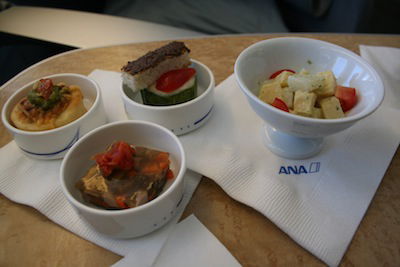 Pre-appetizer
After the small plates the purser came by to take my order, and I decided to go to town. I ordered the caviar, the lobster and asparagus appetizers, the salad, and the beef tenderloin. I can't begin to say how impressed I was by the flight attendants. They genuinely cared and wanted to provide great service, and they were much more confident with their English abilities than their counterparts at JAL. I don't want to say I prefer an airline because the flight attendants speak better English, but it really does make a difference because it makes them more confident and less nervous when communicating, and that's generally reflected in the quality of their service.
The caviar course was quite good, and the flight attendant insisted I have a glass of Krug with it, which I accepted.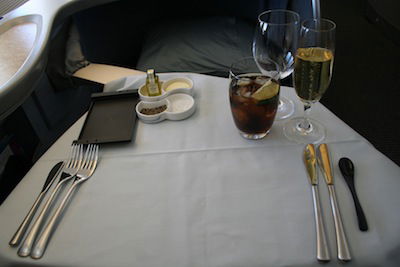 Table setup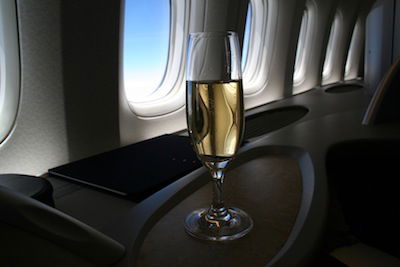 Krug

Caviar with traditional garnish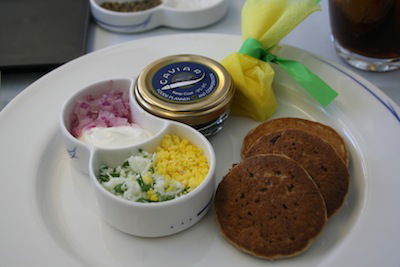 Caviar with traditional garnish
I have to say I really love ANA's plating and glassware. As soon as the caviar course was cleared, the two appetizers were delivered, which were the lobster and avocado cocktail with spicy mayonnaise and seasonal white and green asparagus with prosciutto. Unfortunately lobster and prosciutto aren't my two favorite foods, but it was still decent. I was also offered some bread from the bread basket, and went with a baguette and roll.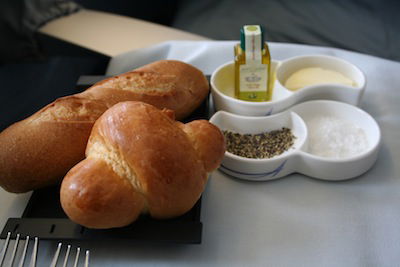 Bread from breadbasket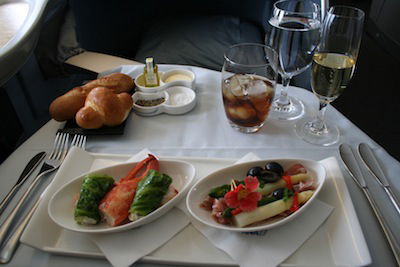 Lobster and avocado cocktail with spicy mayonnaise and seasonal white and green asparagus with prosciutto
Next, the salad was served with creamy pepper dressing. It too was tasty.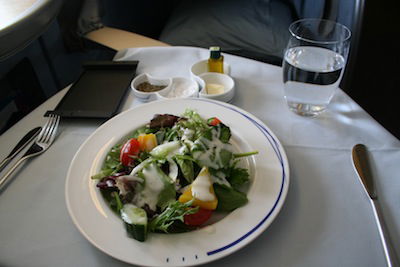 Salad
Now here's where I'm a bit confused. Typically main courses in international first class are quite grand. In this case the flight attendant served me a tiny plate with the braised beef. I can't say I really liked it, but it wasn't bad either. And to clarify, I don't have a problem with the small portion after eating about 10 plates worth of food, but it was just a bit surprising.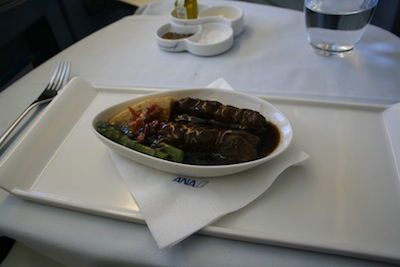 Braised beef and burdock root galantine in red wine-flavored veal stock
I was stuffed, but I wasn't in a position to turn down ice cream. I asked for some Baileys and had some mocha and vanilla ice cream. The flight attendant apologized profusely as the ice cream was still hard, and said it would take a few minutes.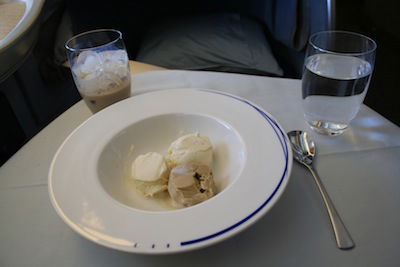 Premium vanilla and mocha chip ice cream duo
Overall I was really impressed by the service. The food was quite good, though for my taste buds I far prefer Swiss, but the service and attention to detail were exceptional. Maybe it's partly because there was only one other passenger, but the service was just at the perfect pace, lasting about two hours.
To finish off the meal the purser offered me a bottle of water, towel, and pralines.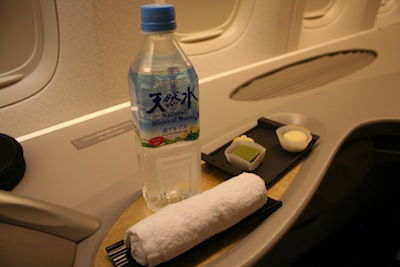 Water, towel, and pralines
I asked her if I could get a duvet and blanket, at which point she expressed concern as to whether I was feeling OK, given that it's only 3PM and I wanted to sleep. I explained that I hardly got any sleep the night before, but more importantly enjoy watching movies while in "bed," so wasn't going to sleep yet. She sighed with relief, obviously distressed that I might not be happy with the flight. She began by dimming the cabin lights, which was much appreciated.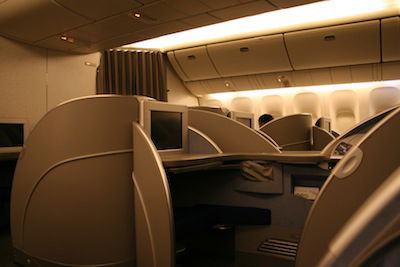 Cabin after lunch
She made my bed with great care, and asked me if the cabin temperature was alright, which it was. Did you hear that, European airlines? Other airlines ask passengers about the cabin temperature, unlike the typical Lufthansa upper deck sauna. 😉
The bed was extremely comfortable. There were no "awkward" positions/intrusions, and there was plenty of width to the seat. The duvet and pillows weren't great, but the amazing bed more than made up for it.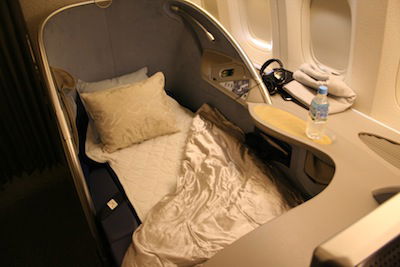 In bed mode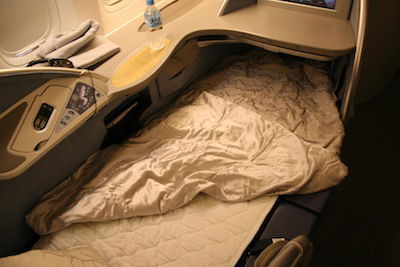 In bed mode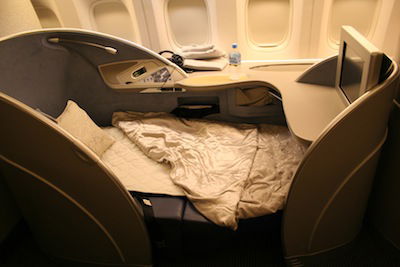 In bed mode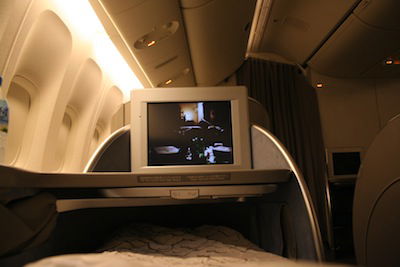 TV while in bed mode
I decided to watch a movie, and eventually decided on Intolerable Cruelty. It was quite entertaining, though by the end of it I was drifting to sleep, so decided it was time for a nap. With about eight hours to go to Narita, I figured I had plenty of time. While I was exhausted, I just wasn't tired, so didn't get more than two hours of rest.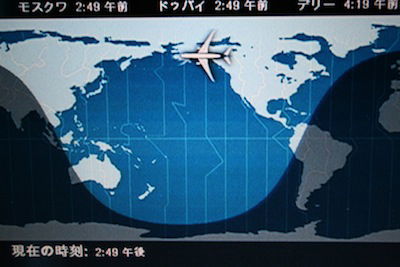 Airshow location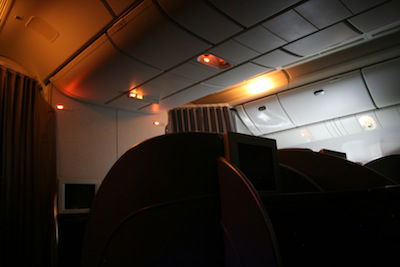 Cabin when waking up
When I woke up a flight attendant quickly appeared to offer me something to eat. Lady, you just served me a 38 course meal, I'm not hungry! But since I am on an airplane, I get tempted a bit too easily. The snack menu read as follows:
Light dishes

We invite you to enjoy light dishes whenever you wish. You'll find these dishes are a delicious follow-up to alcoholic beverages

Bowl of hot Japanese udon noodles with nameko mushroom and yam garnish

Japanese tea poured over steamed rish, garnished with spicy-pickled takana greens

Steamed chicken thigh with simple sesame soy sauce, served over steamed rice

Traditional clam chowder

Toasted pork cutlet sandwich

Penne amatriciana

Chicken tikka masala, accompanied with steamed rice
After mulling over the menu, and remembering what an awful sweet tooth I have, I asked whether there was any way I could get the apple tart with vanilla ice cream. She obliged, and 10 minutes later appeared with a glass of water and towel.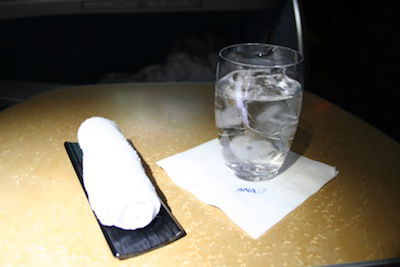 Hot towel and water
This was quickly followed by a tablecloth and steamy apple tart accompanied by slowly melting ice cream. It was delicious.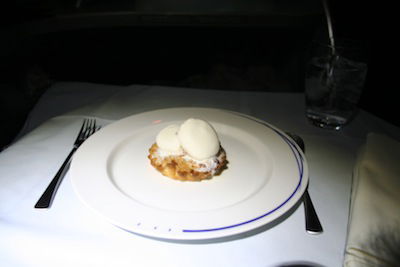 Warm apple crumble tart with premium vanilla ice cream
I wasn't hungry and I really shouldn't have eaten more, but what the hell. I started watching From Paris with Love, which was entertaining enough, but what's the fun in watching a movie without something to eat? So I ordered some udon noodles. They appeared about 15 minutes later, and were tasty.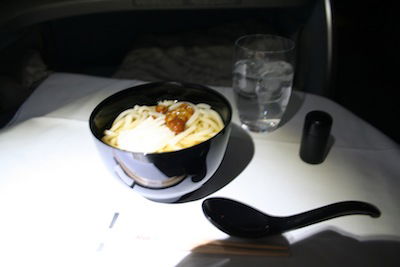 Bowl of hot Japanese udon noodles with nameko mushroom and yam garnish
She still tried to convince me to eat more, but eventually I decided to be rational and resist. Almost as if disappointed at not having done a good enough sales job, she walked away and cleared my tablecloth and bowl. She also brought me a bottle of water and another towel.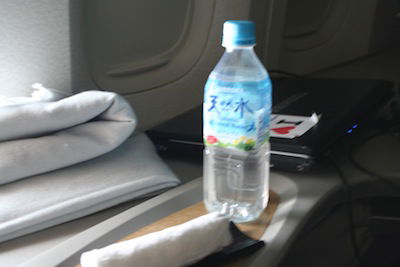 Towel and water
From Paris with Love was entertaining enough. It's one of those movies I won't remember tomorrow, but at the same time I don't regret seeing. Then again, as many of you have pointed out, I'm no movie critic, because I liked Couples Retreat.
As the movie finished up I decided to do the "call button test." On every flight in international first class I try to push the call button when no flight attendants are in sight to see how long it takes for one to show up (and it's a legitimate test — it's because I'm feeling lazy but wanted some more water). I had the timer on my iPhone on, and it took the flight attendant 7.6 seconds to appear. Not bad in my book! She refilled my water and once again tried to convince me to eat something, but I declined.
After From Paris with Love I decided to take another nap for about an hour, waking up with about 2.5 hours to go to Narita. Within minutes of me waking up the flight attendant asked whether I'd care for something to eat. I figured it would be as good of a time as any for the pre-arrival meal. The pre-arrival menu read as follows:
Refreshing fare

Set menus are available for your refreshment before arrival. You can mix and match dishes of your choice from petite Japanese course or petite international course menus

Petite Japanese course You can also choose fresh seasonal fruit from the petite international course

Kobachi — Lightly vinegared mozuku seaweed

Shusai Salt-grilled salmon

Steamed rice, miso soup and assorted pickles or creamy rice pooridge

Accompaniment for steamed rice Choose from four condiments
Dried seaweed
Natto (fermented soybeans)
Braised tangy sansho pepper
Braised green pepper sprouts

Petite international course You can also choose steamed rice from the petite Japanese course

Main dish — Braised chicken thigh in creamy veal stock

Bread roll
Accompanied with flavorful premium lsingy butter and a choice of strawberry confiture, marmalada or

Fresh seasonal fruit

Crisp brown rice flakes with milk
I wasn't a huge fan of "chicken thigh," so asked if I could go with the penne from the snack menu instead. It wasn't an issue, and within about 10 minutes it was served.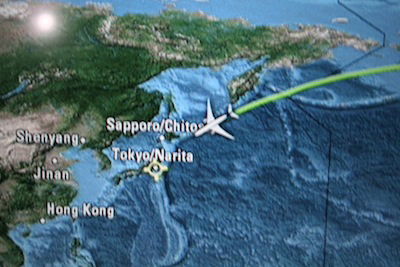 Location during pre-arrival meal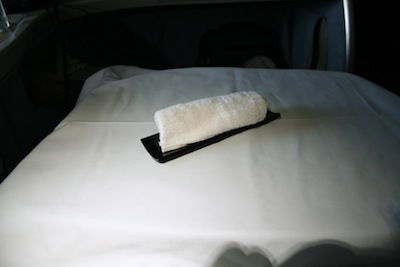 Hot towel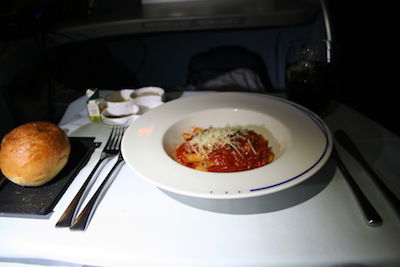 Penne amatriciana
Following that was a fruit plate, which was light and refreshing.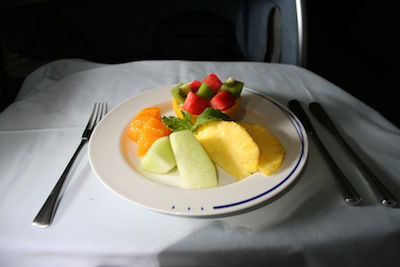 Fresh seasonal fruit
Since I had gone for two of the three desserts from the lunch menu, I asked whether they still had a fruit tart from the first meal service, which was also promptly delivered.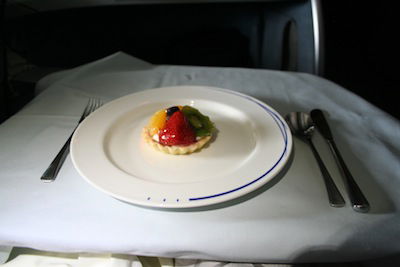 Fruit tart
While I'm not the biggest fan of ANA's food, the menu flexibility is awesome. You can have basically anything from any menu at any time. That's kind of hard to beat.
With about an hour to go to Tokyo I changed out of my pajamas and freshened up, in preparation of what would be a long rest of the day, first with a three hour layover at Narita and then a seven hour flight to Singapore.
Before landing I made a quick trip to business class to see what the load was like. As I walked towards the curtain the purser chased me with a look of horror on her face, as she reminded me the first class lavatories were in the front of the aircraft. I explained that I just wanted to stretch my legs, and she of course obliged. Not only that, but she followed me to business class to let all the other flight attendants know that I was actually in first class, so that they don't try to stop me when I return. Overkill much? 😀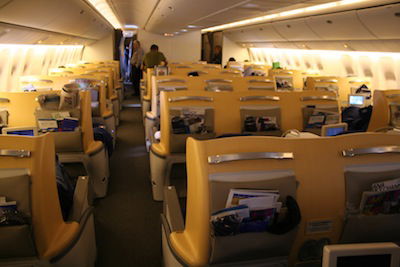 The biggest of the three business class cabins on this aircraft
We landed on runway 16L and came to a very quick stop by around 3:10PM, at which point we taxied for about 15 minutes. When we arrived at the gate the flight attendants quickly closed the curtains between business and first class (which always cracks me up), and I bid farewell to the crew and thanked them for the great flight.
Overall I was really impressed by ANA, much more so than JAL. The attention to detail of the flight attendants really made the flight great. For example, every time I went to the lavatory the flight attendants would re-make my pillow and bed, adding a bottle of water to my console along with a hot towel.
That being said, I still prefer Singapore Airlines. While the service is excellent on both, the food is a bit more to my liking on Singapore. Most importantly, though, the entertainment is much, much better. I was kind of bored during the flight. The movie selection is limited (there was only one comedy, for example), and there were no TV shows. There's nothing I like more than a few episodes of The Simpsons, Two and a Half Men, The Big Bang Theory, etc., during a flight. But they didn't have a single sitcom I would consider seeing.
But I would fly ANA in first class again in a heartbeat. They're a solid airline and the first class seats are among the most comfortable of any I've had for sleeping – too bad it was a daytime flight!