——————————————————————————
Sometimes nothing beats a spur of the moment trip. My brother had spent the summer in Germany before starting a new job in August, having just graduated from business school.
Much like me, my brother likes to fly. Back when I booked his award ticket to Germany for summer, I could have just booked him in first class to Germany for 100,000 Aeroplan miles. But what's the fun in that? For just 120,000 miles, he could fly to Asia via Europe. Essentially, his one month stay in Germany would turn into his "stopover," and for only 20,000 additional miles, he could get an extra 20+ hours of flying, along with a visit to a new city. So I had booked him a quick getaway to Seoul, outbound on Lufthansa and returning on Asiana.
I was looking into hotel options for him, and nothing struck me as being a particularly great bargain. But the Park Hyatt Seoul was available using "Big Welcome Back" nights from Hyatt's very generous promotion, so I decided to pull the trigger and join him in Seoul. I wouldn't have done it if the flights didn't work out as beautifully as they did.
When all was said and done, here's the routing I came up with for my trip: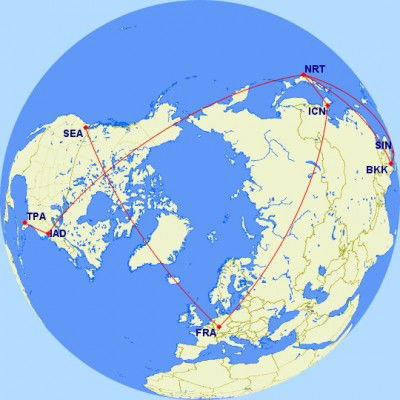 June 15, TPA-IAD, UA0424, 8:45AM-11:02PM, First, 2hr17min, 757
June 15, IAD-NRT, NH0001, 12:20PM-3:25PM+1, First, 14hr05min, 777
June 16, NRT-SIN, SQ0011, 7:10PM-1:15AM+1, First, 7hr05min, 747
June 18, SIN-BKK, SQ0976, 4:00PM-5:25PM, Business, 2hr25min, 777
June 18, BKK-NRT, TG0640, 10:10PM-6:20AM+1, First, 6hr10min, 777
June 19, NRT-ICN, UA0891, 6:00PM-8:50PM, First, 2hr50min, 777
June 22, ICN-FRA, OZ0541, 12:30PM-5:00PM, First, 11hr30min, 777
June 23, FRA-SEA, LH0490, 10:05AM-11:25AM, First, 10hr20min, 333
Not bad, right? Best of all, it was a mere 120,000 Aeroplan miles. Basically I had booked a US to Asia award, going one way via the Pacific and one way via the Atlantic. Aeroplan allows one stopover and one open jaw on award tickets, so my destination was Singapore, my stopover was Seoul, and my open jaw was between Tampa and Seattle. Why fly to Seattle? Because it's a longer flight time than Europe to the East Coast, and I had friends I could visit there. Remember, it's all about maximizing the value of the award!
I think this is the most Star Alliance first class products I've been able to sample on a single award ticket. And best of all, I get to sample what are five of the six best Star Alliance products, in my book (only Swiss is missing).
I would get to sample two Star Alliance first class products — ANA and Asiana — for the first time. I would get to fly Singapore Airlines in first class, which is a very rare treat. For a couple of years they hadn't released a single first class award seat between the US and Asia using Star Alliance miles, but since their relationship with Delta ended, they've been opening up some seats on SQ11 and SQ12 a few days before departure.
I was also excited about the Thai flight between Bangkok and Narita. First of all, as you'll see in the trip report, they have some of the most phenomenal ground services in the world for first class passengers, including an hour-long massage in their spa. Second of all, and a new experience to me, is that they are leasing some 777-300ERs from Jet Airways, which has one of the best first class hard products in the world. I flew Turkish in first class last year, and that was the same plane that Thai also leased from Jet Airways, and I'm quite a fan of that product as I blogged about in my previous trip report. Hell, each first class suite has a "door," and the novelty of that just hasn't worn off for me yet.
Lufthansa is the old, reliable airline. It's just an option you can't go wrong with, so it was a no brainer for me.
While booking the award itself was quite a pain, as I had to argue with the Aeroplan agent for an hour over minimum connection times at Dulles, it was nothing compared to the value I would receive out of this award. The taxes for the ticket came out to $159, plus the $30 Aeroplan booking fee.
The hotel hunt was equally rewarding. Since I'd be arriving in Singapore late the first night, I decided to book the Crowne Plaza Changi Airport, using 25,000 Priority Club points. For the second night I managed to use a Hyatt "Big Welcome Back" night at the Grand Hyatt Singapore. Then in Seoul, I used 8,000 Hyatt Gold Passport points for the Hyatt Regency Incheon Airport, where I would stay the first night as I waited for my brother, who only arrived the following afternoon. Then the next two nights we would stay at the Park Hyatt Seoul, once again using "Big Welcome Back" nights.
So in the end I was quite proud of the value I received. The grand total for the trip was $189, 120,000 Aeroplan miles, 25,000 Priority Club points, three Hyatt "Big Welcome Back" nights, and 8,000 Hyatt Gold Passport points. Not bad, in my book!
Sit back, relax, and enjoy the trip report. If you have any questions, comments, requests, etc., just hit the comments section below.