In the interest of full disclosure, OMAAT earns a referral bonus for anyone that's approved through some of the below links. These are the best publicly available offers (terms apply) that we have found for each product or service. Opinions expressed here are the author's alone, not those of the bank, credit card issuer, airline, hotel chain, or product manufacturer/service provider, and have not been reviewed, approved or otherwise endorsed by any of these entities. Please check out
our advertiser policy
for further details about our partners, and thanks for your support!
Want to receive extra benefits for stays at Aman properties, including a room upgrade, complimentary breakfast, a hotel credit, and more, all at no extra cost to you? Contact

[email protected]

for more details. He may even be able to help if you already have a stay booked.
One question I'm often asked if what my favorite hotel or hotel group is. Since most of my travel is funded through miles & points, I have my favorite brands that are bookable with points (St. Regis and Park Hyatt), though those aren't true favorite brands if you take points out of the equation. Rather, Aman Resorts are by far my favorite resorts in the world.
I've been fortunate enough to stay at about a dozen of their properties over the years, and in the back of my mind I'm always dreaming of my next Aman stay. They're that special. Unfortunately Aman doesn't have a loyalty program, so in this post I wanted to talk about how to maximize value at Aman Resorts, and more.
What are Aman Resorts?
Aman Resorts was founded in 1988, and operates 33 hotels in 21 countries. "Aman" means "peace, security, safety, shelter, protection" in the Sanskrit, Hindi, Punjabi, Arabic, Urdu and Persian languages, which should give you a sense of what they're going for.
While the company is headquartered in Singapore, in 2014 the company was (rather controversially) sold to a Russian businessman. The reason I say this was controversial is because it left a lot of people wondering if Aman would maintain the same quality, though best I can tell it seems to mostly be "business as usual" for now.
What makes Aman Resorts so special?
When most people think of luxury hotels, the first brands that come to mind are probably Four Seasons, Ritz-Carlton, Mandarin Oriental, etc. Personally it kills me to drop a lot of money and stay at a mega resort where you don't get amazing service and you just feel like you're part of an assembly line. I'm not saying that's the case at all Four Seasons and Ritz-Carlton properties, though I have shared my experience at a few properties, especially in North America.
Aman Resorts are also quite expensive, but they're so different than any other cookie-cutter mega resort you'll find. What makes Aman special?
Aman has a huge focus on unique destinations, and you'll find that most Amans are in the middle of nowhere and are all about nature (they do have some city hotels, though)
Most Aman Resorts are tiny, and most that I've stayed at have 12-30 rooms; I believe the biggest Aman is the one in Tokyo, which has 84 rooms
Amans aren't flashy, but rather one of the primary focuses is the insider access they give you at many destinations, as they've developed local partnerships to in many cases see things that you couldn't if you weren't staying at the resort
The service at Amans is simply unparalleled (I'll talk more about that below)
I guess what it boils down to is that some people spend $1,000+ per night to stay at a hotel where they're treated as a transaction, where you can't even get a table at the hotel's restaurant, where you get charged for everything under the sun, etc.
Amans are different. Yes, they're largely still very expensive, but you feel like you're getting an experience that's special.
More often than not when I've stayed at Amans I've asked myself whether the hotels make any money, despite the high rates. I've been at an Aman where my room was the only one occupied, and I've been at a couple of Amans where there were at most a few other guests. Sometimes staying at an Aman is almost like having the most over-the-top vacation residence in the world.
There's some indescribable level of peace you feel when staying at Amans. It's difficult to describe, though in a way I think these ads of their individual hotels really sum that up, just to give a couple of examples:
Is service at Amans really that good?
I wanted to talk a little about service at Amans, because I think that's what truly sets them apart. With the exception of the Fogo Island Inn, I've never received service that's as warm and polished as I've gotten at Amans. Just a few things that come to mind when it comes to Aman service:
Somehow they manage to refresh your room several times per day (like, basically every time you leave), yet you never actually see them
You'll never be asked for your room number or name; rather they always know exactly who you are, what you've been doing all day, etc.
In addition to extremely polished and sincere service from locals, the general managers at these hotels are always fascinating people, as they've largely spent their lives managing hotels in remote parts of the world, and are always fun to talk to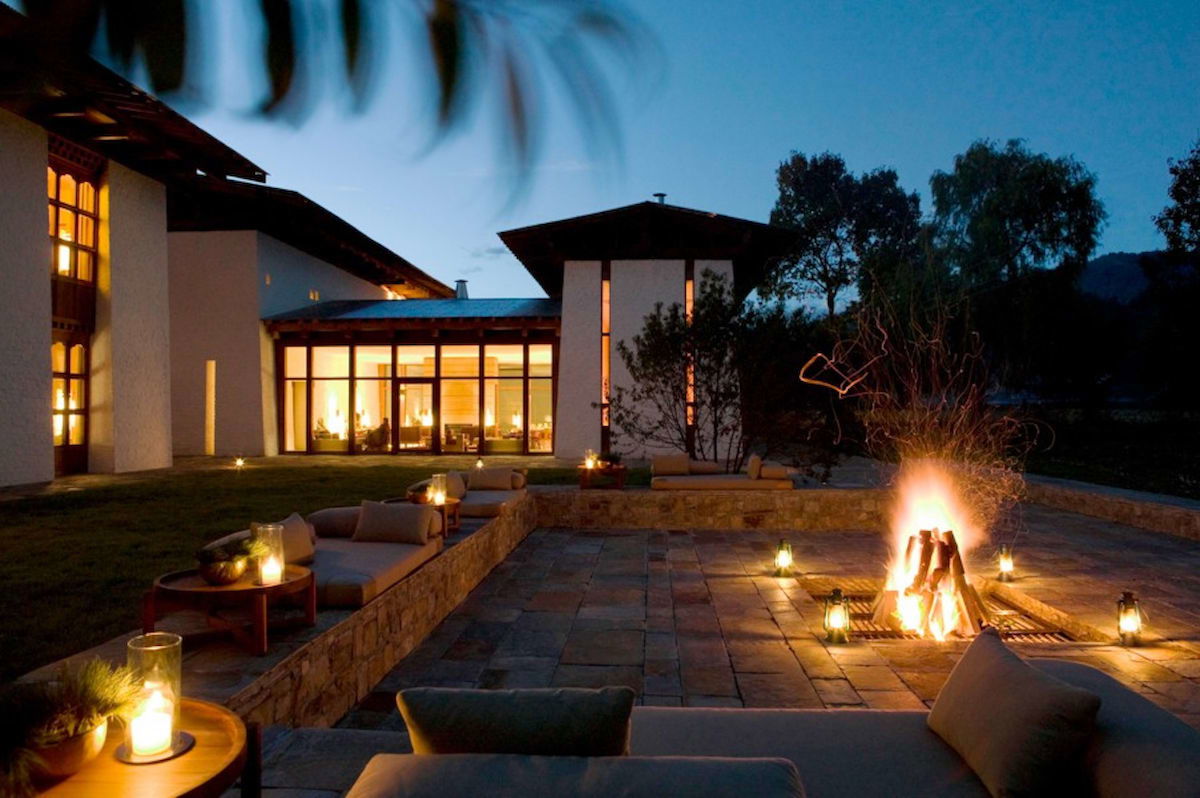 Amankora in Bhutan
I'm fortunate to have stayed at several Amans, but…
Let me acknowledge that I'm incredibly fortunate to have stayed at several Amans over the years. For example, last year when I proposed to Ford, I booked us at Aman Sveti Stefan, and we had an incredible stay. I'm lucky that I can afford to splurge on this sometimes. While Aman hotels are quite expensive, I would like to point out that many of the people I've come across at Amans aren't super wealthy people.
Rather they're upper middle class people who think that peak experiences in life are worth investing in. There's a term for those who are fans of Amans — Amanjunkies — and these are people who largely plan their vacations around Aman locations.
While Aman doesn't have a loyalty program, I also know plenty of miles & points people who frequently stay at these hotels. The way they view it, they're saving a ton of money by redeeming miles for flights to their destination, and then they spend more for their vacation once on the ground.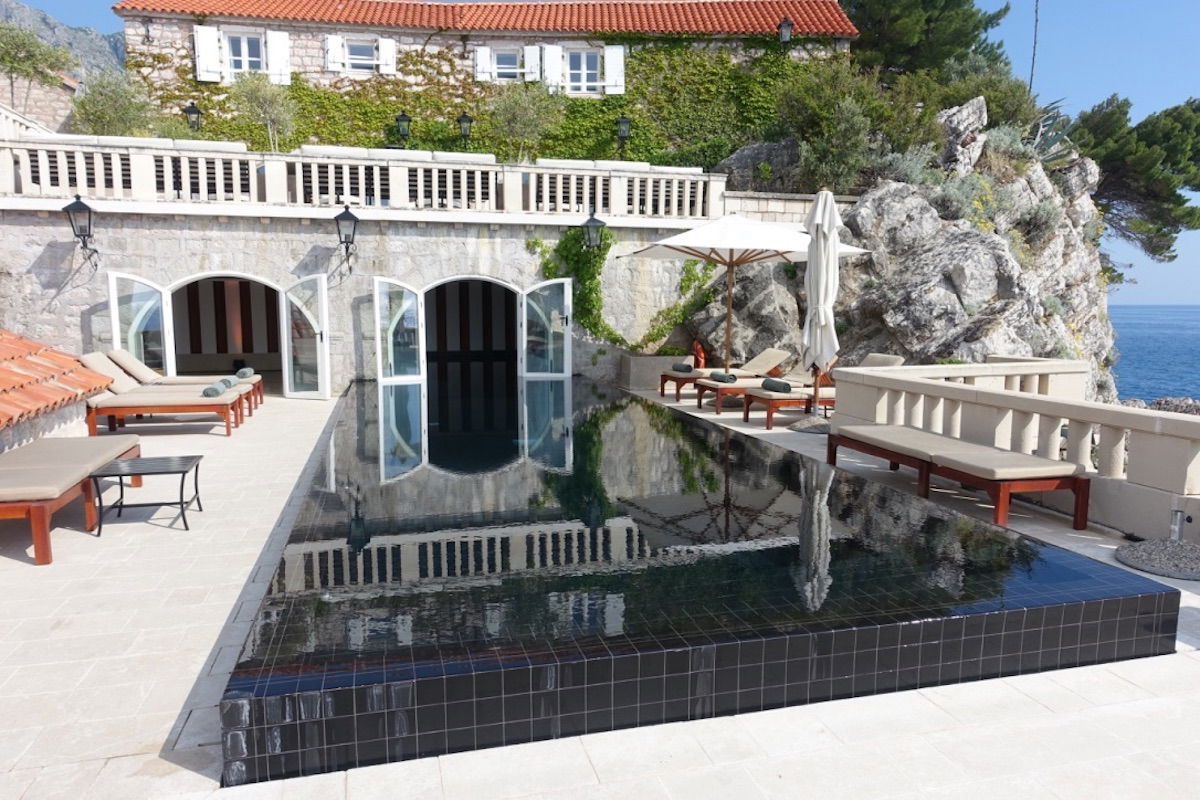 Aman Sveti Stefan in Montenegro
Where are Aman Resorts?
Aman has resorts in the US, Caribbean, Europe, Africa, and Asia, though as you can see below, a majority of their properties are in Asia. Here are their 31 existing properties, as well as their two that are under construction:
Americas & Caribbean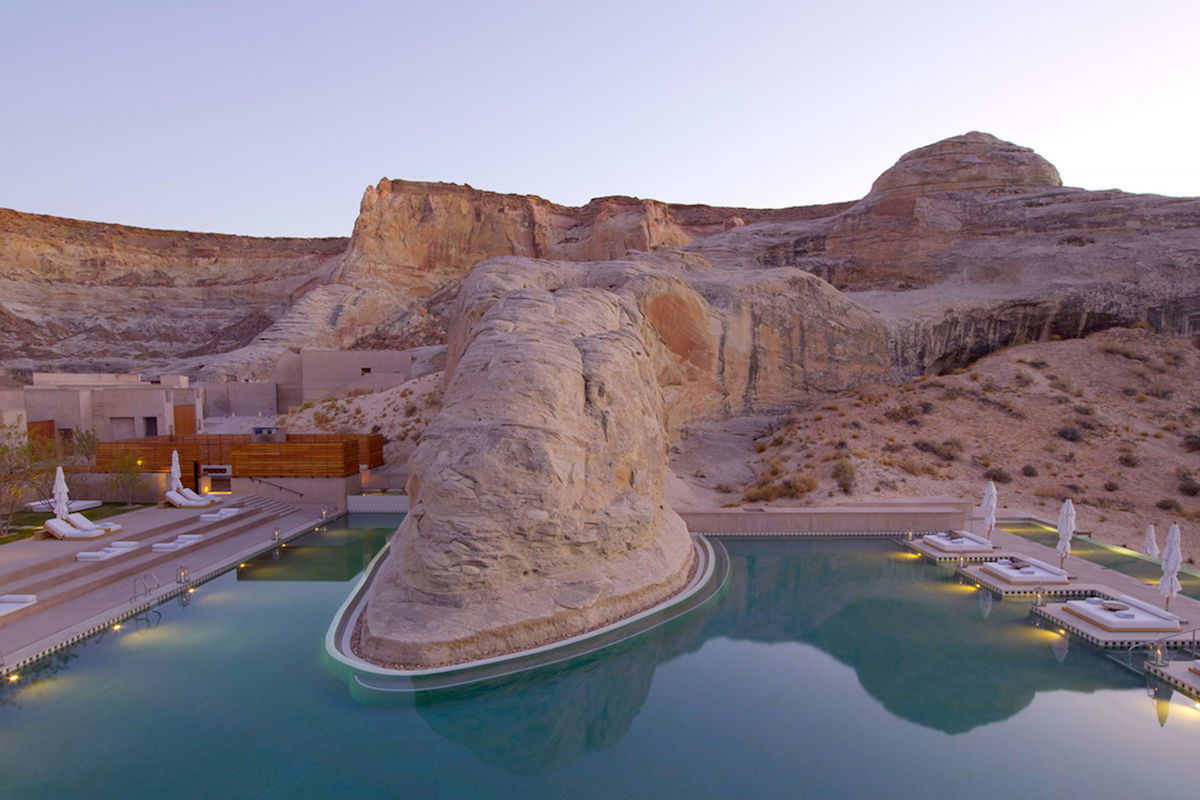 Amangiri in Utah
Europe & Africa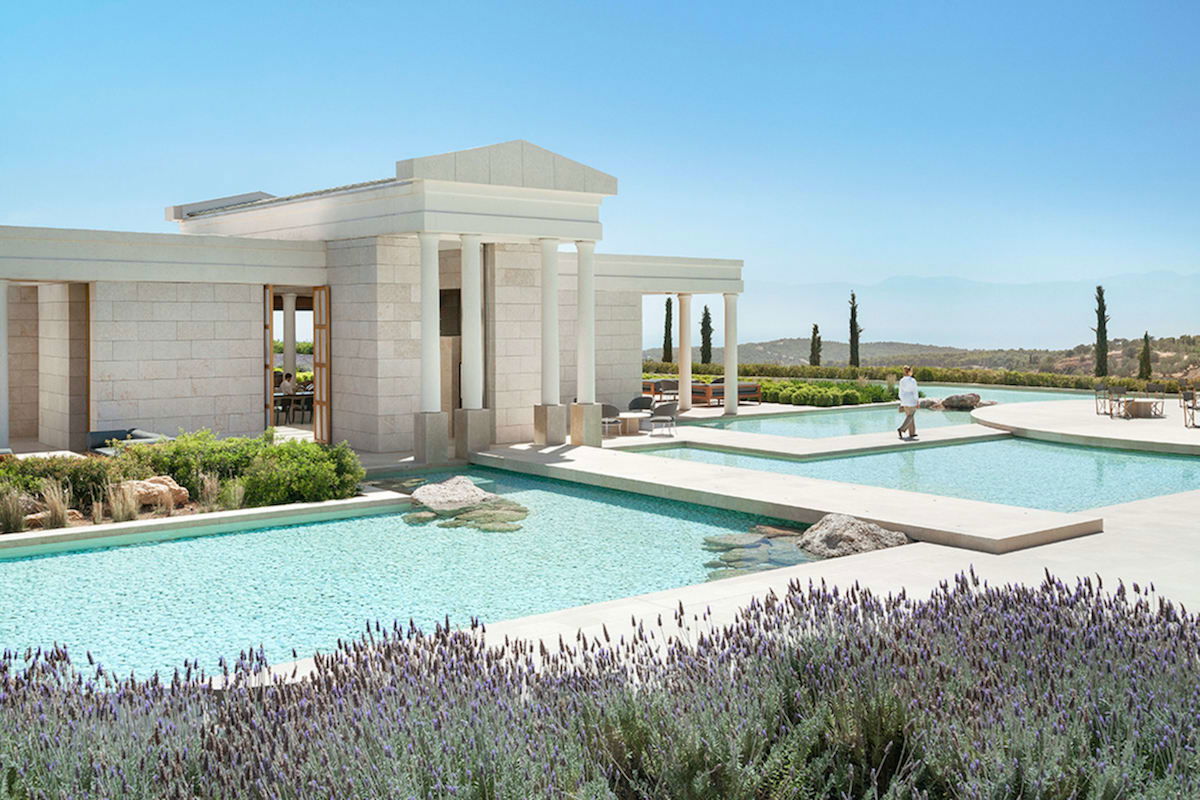 Amanzoe in Greece
Asia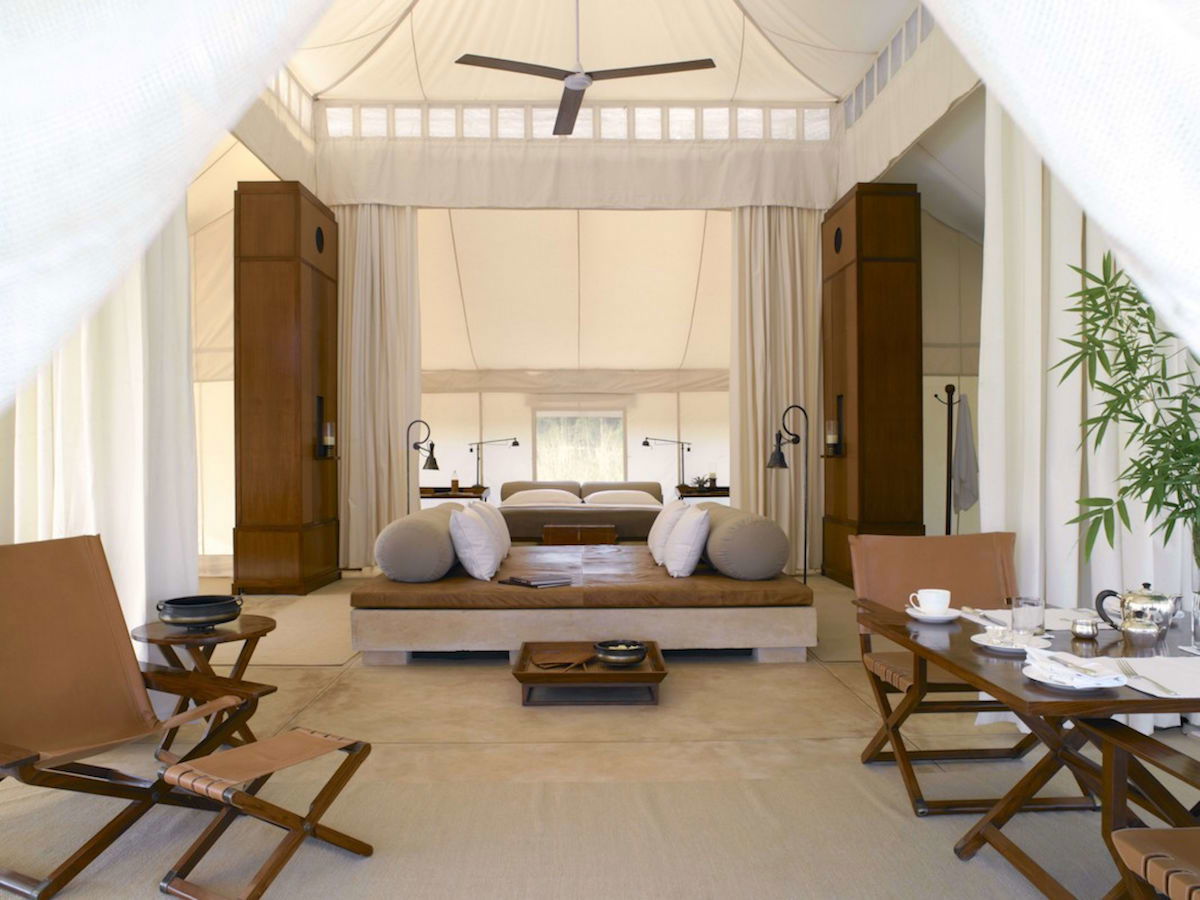 Aman-i-Khas in India
How expensive are Aman Resorts?
There's a huge variance in terms of the cost of staying at Aman Resorts. As you might expect, the cost varies based on the time of year you're traveling, the specific hotel, how long you're staying, and if there are promotions.
What I love about Aman's website is that you can use a calendar to search rates at a particular hotel for months at a time, so it's really easy to look up rates.
In terms of price, on one end of the spectrum you have Amanyara (in the Turks & Caicos), which in peak season will cost $1,800+ per night.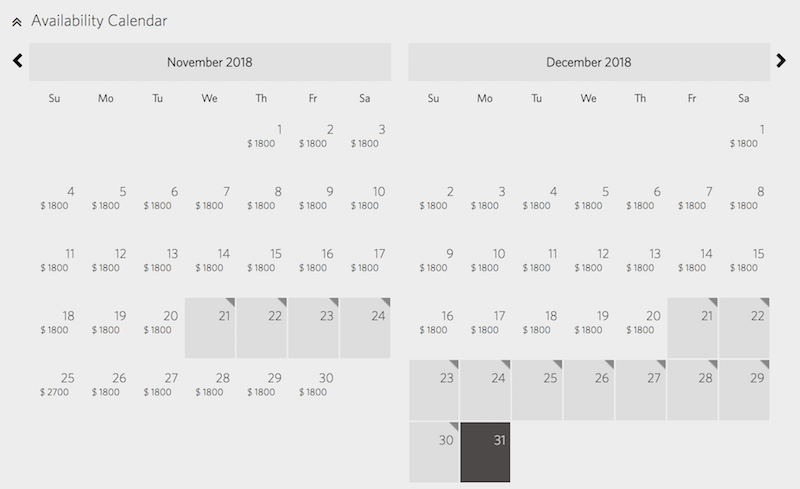 But not all Aman Resorts are that expensive. Generally speaking you'll find that the Aman Resorts in China, Indonesia, Morocco, and Sri Lanka are more reasonably priced.
For example, Amanjiwo in Indonesia starts at $700 per night.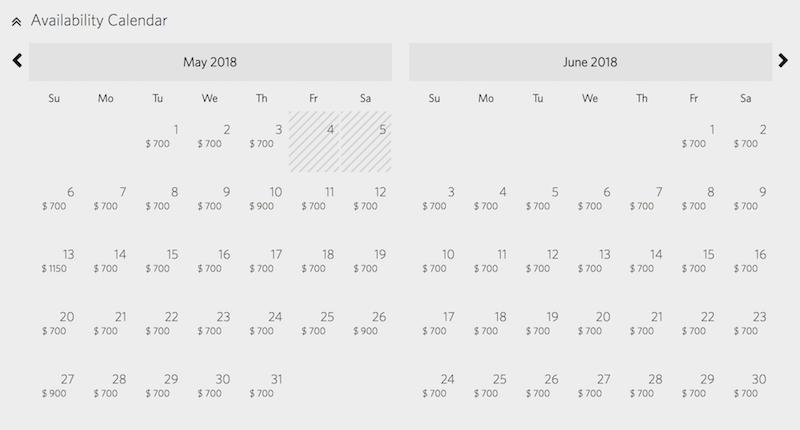 Amangalla in Sri Lanka starts at $550 per night.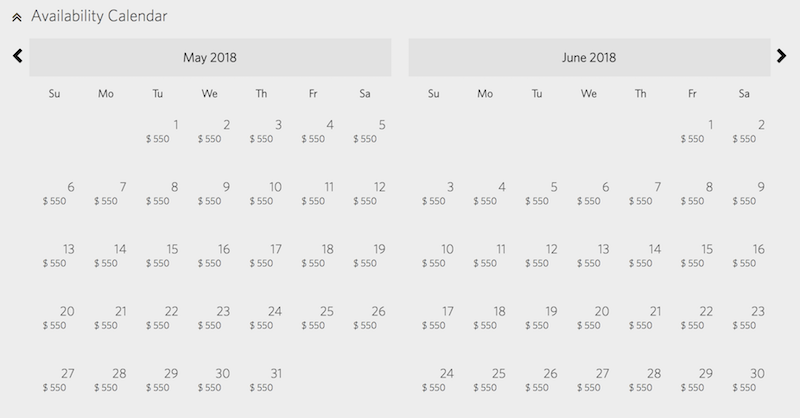 Aman Summer Palace in Beijing starts at 3,300CNY (~520USD) per night.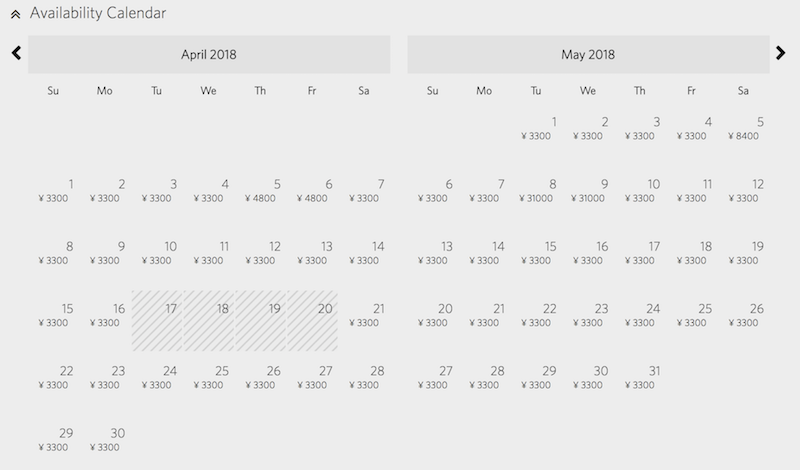 Note that these are the "base" prices, though as I'll note below, you can potentially do much better than that.
How can you maximize value at Aman Resorts?
Aman doesn't have any sort of a loyalty program, so you're not going to earn free nights directly with Aman. With that in mind, what are the best options for scoring a deal on an Aman stay?
Hotel package deals
In addition to the calendar rates you usually see, individual Amans often publish special rates. The best place to find the details of these is to go to the individual hotel's webpage, and then click on "Exclusives" tab along the top. Lets use Amanjena, the property in Morocco, as an example.
If the calendar is to be believed, the lowest nightly rate is 570EUR.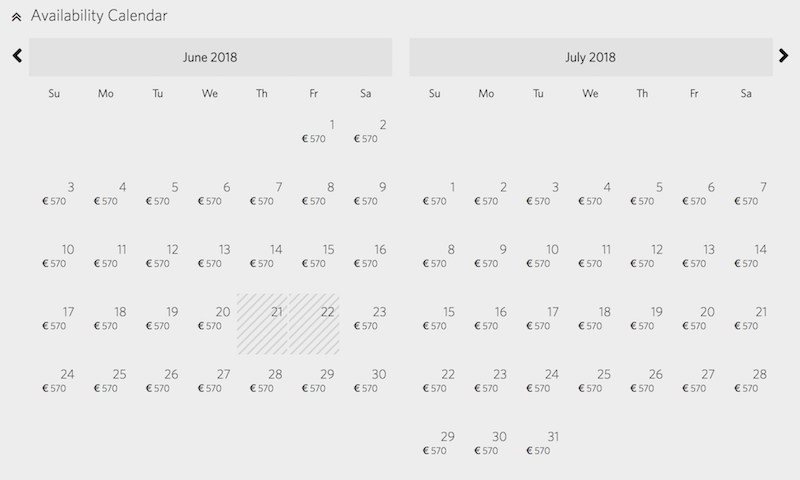 When you go to the Amanjena Exclusives page, you'll see the various options. For example, there's both the "Undiscovered Marrakech" package and the "Amanjena Wellness Retreat," both of which are valid for stays of at least three nights, and offer significant value over the usual 570EUR per night standard rate.


So, what do these packages get you? The "Undiscovered Marrakech" package lowers the nightly rate from 570EUR to 430EUR per night, and that still includes breakfast and roundtrip airport transfers.

Or for 100EUR more than the original 570EUR rate, you can get a package that includes a daily massage for two people, a daily activity, and one Moroccan hammam treatment and oil head massage per person per stay. Given how much they'd otherwise charge for spa treatments, that has the potential to be an excellent deal.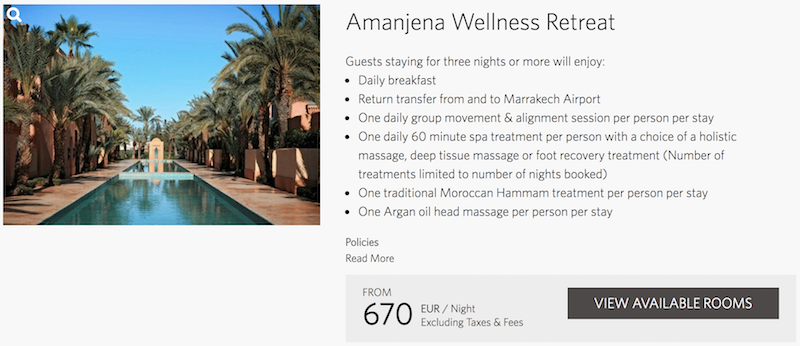 Similar packages are available at other properties.
Multi-hotel package deals
In addition to there being value-add packages available at individual Aman hotels, Aman also has the benefit of having several properties in close proximity to one another. In these instances they usually offer special package deals where you can visit multiple properties and they offer you a discount, transfers between hotels, and more.
Here's the page showing the multi-destination journeys that Aman offers. As you can see, there are packages for Indonesia, China, and India, among others.
Probably the single most popular package is the Aman Bali Break, where you can stay at multiple Aman properties in Bali, given that they have some properties on the coast, and also have a property in Ubud (which is the interior). By booking a package that includes two nights at one property and three nights at the other, you get transfers from the airport, between resorts, and back to the airport, as well as activities at each resort. This can add significant value.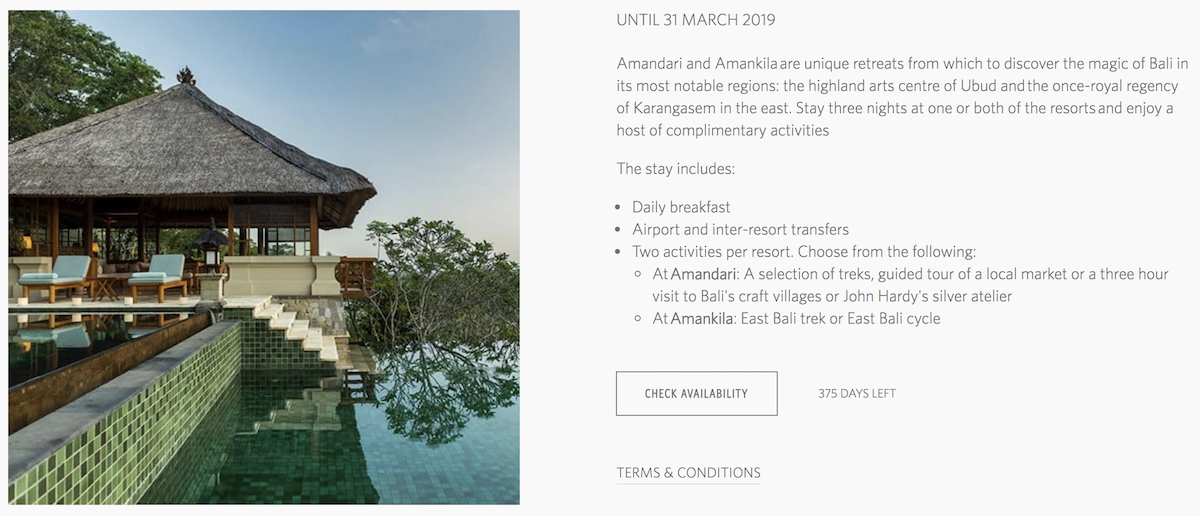 Use a Virtuoso-affiliated travel advisor
Almost all Aman properties belong to Virtuoso, which is an invitation-only alliance that some travel advisors have access to. If a hotel belongs to Virtuoso, guests can receive daily breakfast, complimentary room upgrades, and free internet, as well a property specific amenity, which could include a food & beverage credit, a free massage, or something else.
Generally speaking Virtuoso benefits aren't combinable with packages, meaning that they need to be booked at the standard rate (though there may be some exceptions). One of the huge perks of booking through Virtuoso is the potential upgrade, especially since many Aman hotels only have a few categories of rooms. So if you book a base room, there's a lot of value to be had by getting an upgrade to a room one category higher, since it may retail for hundreds of dollars more per night.
But really I'd say the main benefit of working with a Virtuoso affiliated travel advisor is that they can help you navigate what the best option is, whether it's a Virtuoso rate, one of the package deals, or one of the multi-hotel packages. They can also arrange your transfers to/from the airport and between hotels, if applicable. Booking through them typically won't cost anything extra, regardless of which option you go with. Furthermore, many advisors have relationships with the hotels, so can help make your stay special.
Ford is affiliated with Virtuoso and books a lot of Aman reservations, so is more than happy to help, and can be reached at [email protected] with any Aman questions. Other travel advisors are also welcome to leave their contact info below.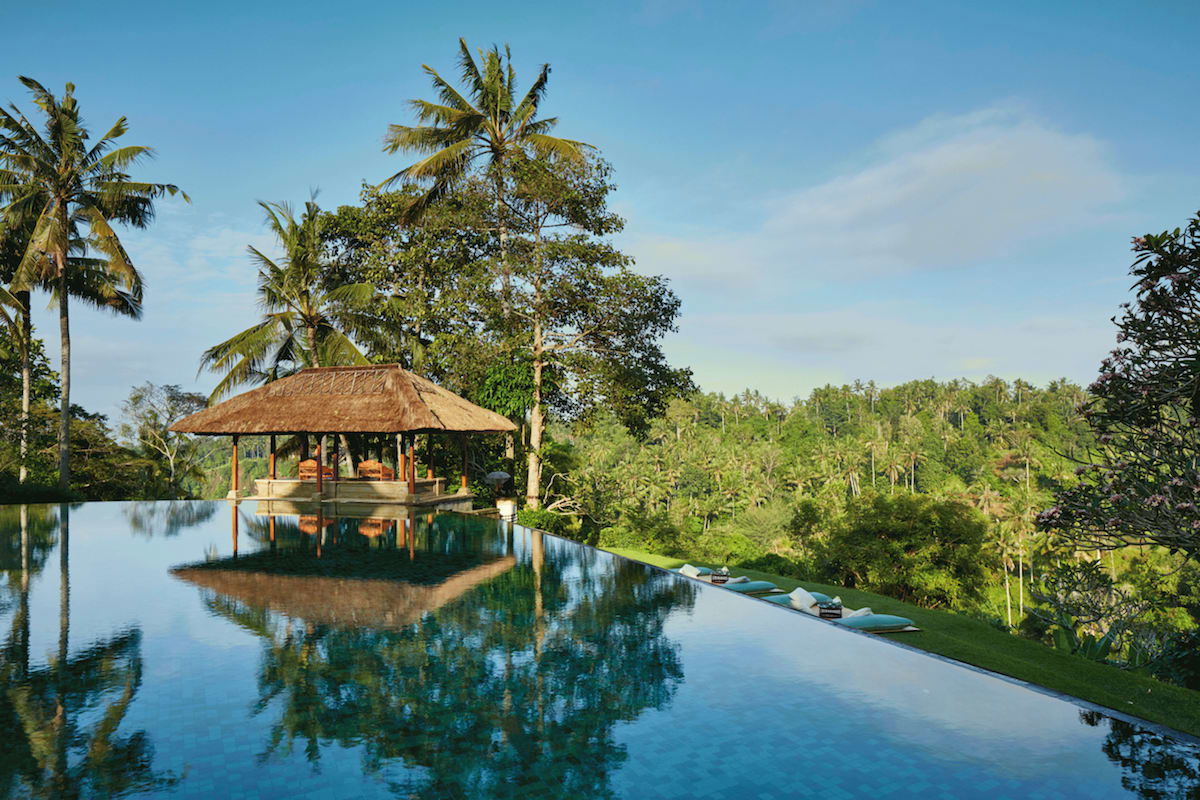 Amandari in Bali
American Express Fine Hotels & Resorts
As an alternative to Virtuoso, you can also book through American Express Fine Hotels & Resorts, which is available to those with The Platinum Card® from American Express and The Business Platinum Card® from American Express. This offers similar perks to what you get through Virtuoso and you can book directly online, though the flip side is that you won't get someone with expertise on the property. Alternatively, a Virtuoso advisor can also typically make a Fine Hotels & Resorts booking for you, if you decide that's the best option.
Use a travel cash back card
Since Aman doesn't directly have a loyalty program, the only way you're going to be able to redeem points for a stay at an Aman property is if you have a credit card that offers cash back rewards that can be redeemed towards travel.
For example, if you have the Capital One Venture Rewards Credit Card you can redeem miles for one cent each to offset the cost of a travel purchase. The same is true for the Capital One Spark Cash Plus, which offers similar returns. So that's not going to help get you outsized value of those rewards, though at least if will help you offset the cost of a "splurge" stay.
Bottom line
To me Aman Resorts are incredibly special. So much thought has been put into every property, and between the incredible and intimate settings, the insider access they offer, and the unparalleled service, I'm always dreaming of my next stay at an Aman.
If you're someone who wants to really splurge on hotels every once in a while, I can't recommend a stay at an Aman enough. I know a lot of people will say "a hotel is just about a place to sleep, and I don't like to pay more than $____ per night," and I totally respect that. However, for those who are in a position to spend more for hotels and see the value for such properties, I think you'll find an Aman hotel to be a great option. In my opinion it's money much better spent than staying at an overpriced mega-resort.
To those who have stayed at Aman properties, what was your experience like?
Want to receive extra benefits for stays at Aman properties, including a room upgrade, complimentary breakfast, a hotel credit, and more, all at no extra cost to you? Contact

[email protected]

for more details. He may even be able to help if you already have a stay booked.