Want to receive extra benefits for your stay at Amanzoe, including a space available room upgrade, a hotel credit, and more? Contact [email protected] for more details. He may even be able to help if you already have a stay booked.
In the previous installment I wrote about our Pool Pavilion at Amanzoe, and in this installment I wanted to look at everything else the hotel has to offer, including the pool, gym, spa, beach club, restaurants, service, and much more. So, let's get right into it.
Amanzoe's main building
While the resort's 50 villas are spread out over acres, there are two main public areas. There's the main resort building, and then there's the beach club, which is a few kilometers away.
Amanzoe has impressive architecture. When I first saw pictures of it online I thought it almost looked cheesy, like the Castle Hotel in China, but in person it looked so much more beautiful. You really feel like you're in a Greek palace.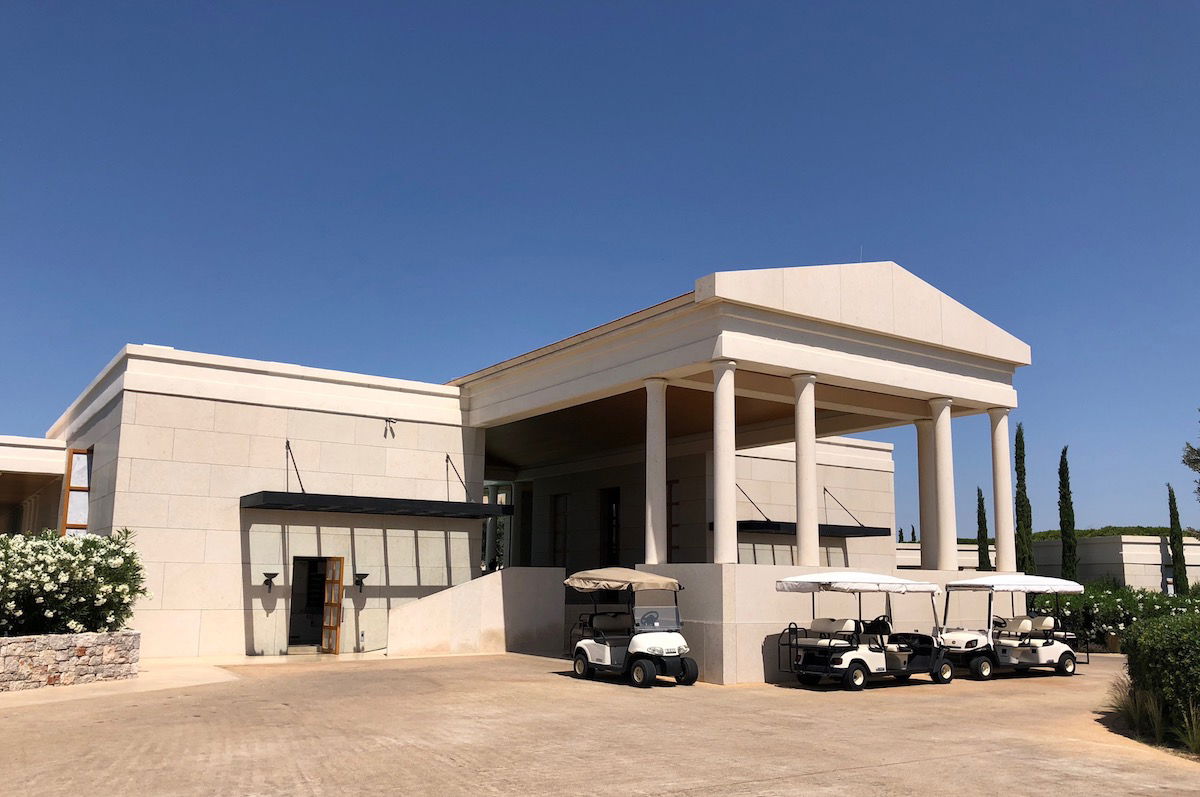 Amanzoe exterior
Just inside the entrance is the main reception area. In reality you'll never really spend any time here, since with the way service works at Aman, they always come to you.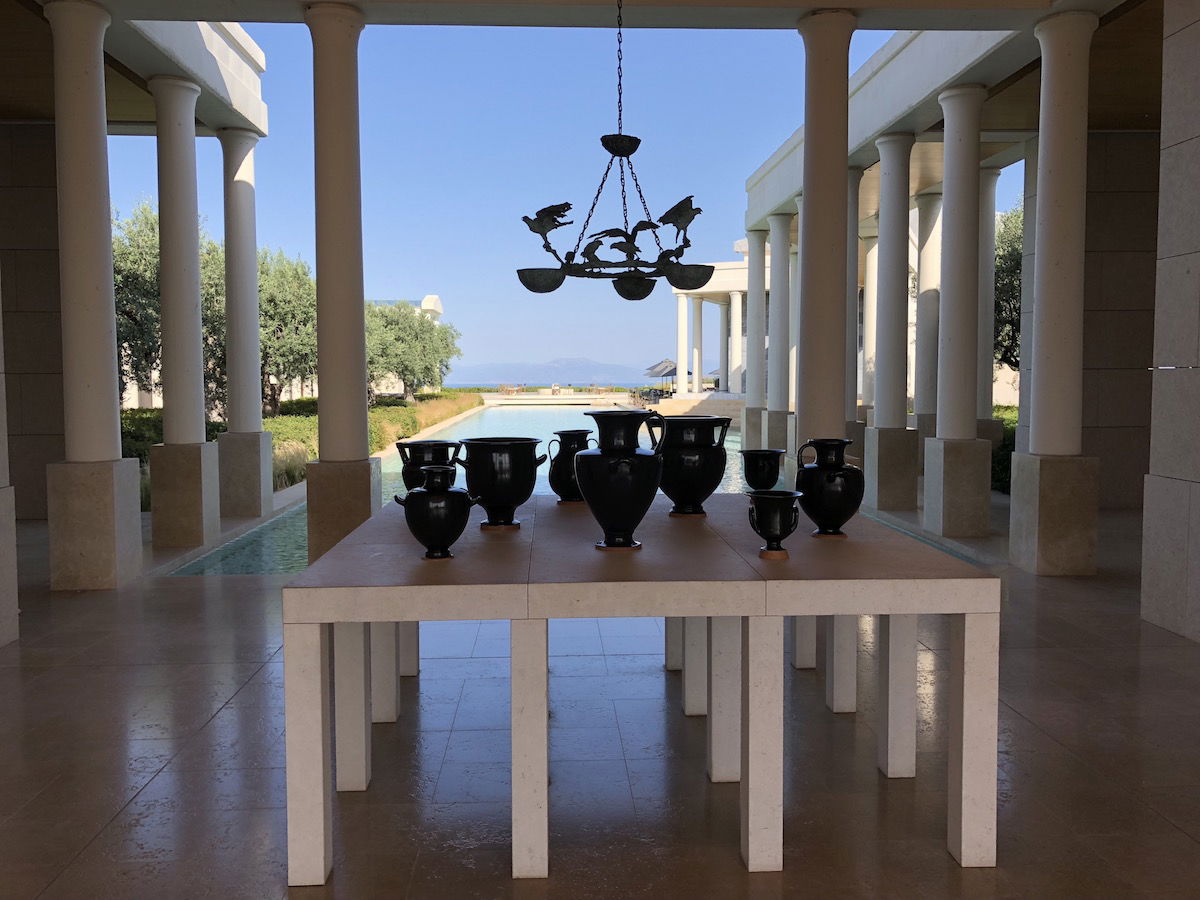 Amanzoe reception
There's a pond (or whatever you'd like to call it) that runs alongside the main building, which is beautiful, especially at sunset.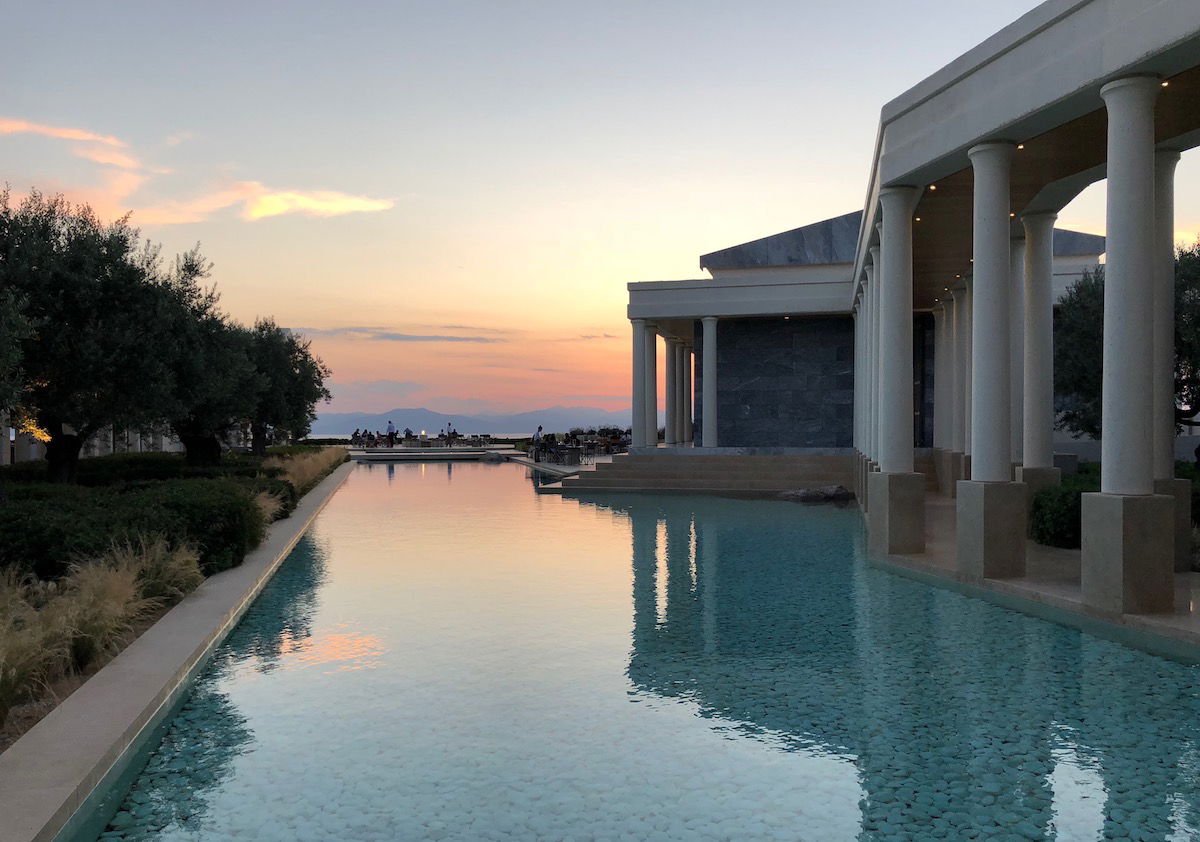 Amanzoe property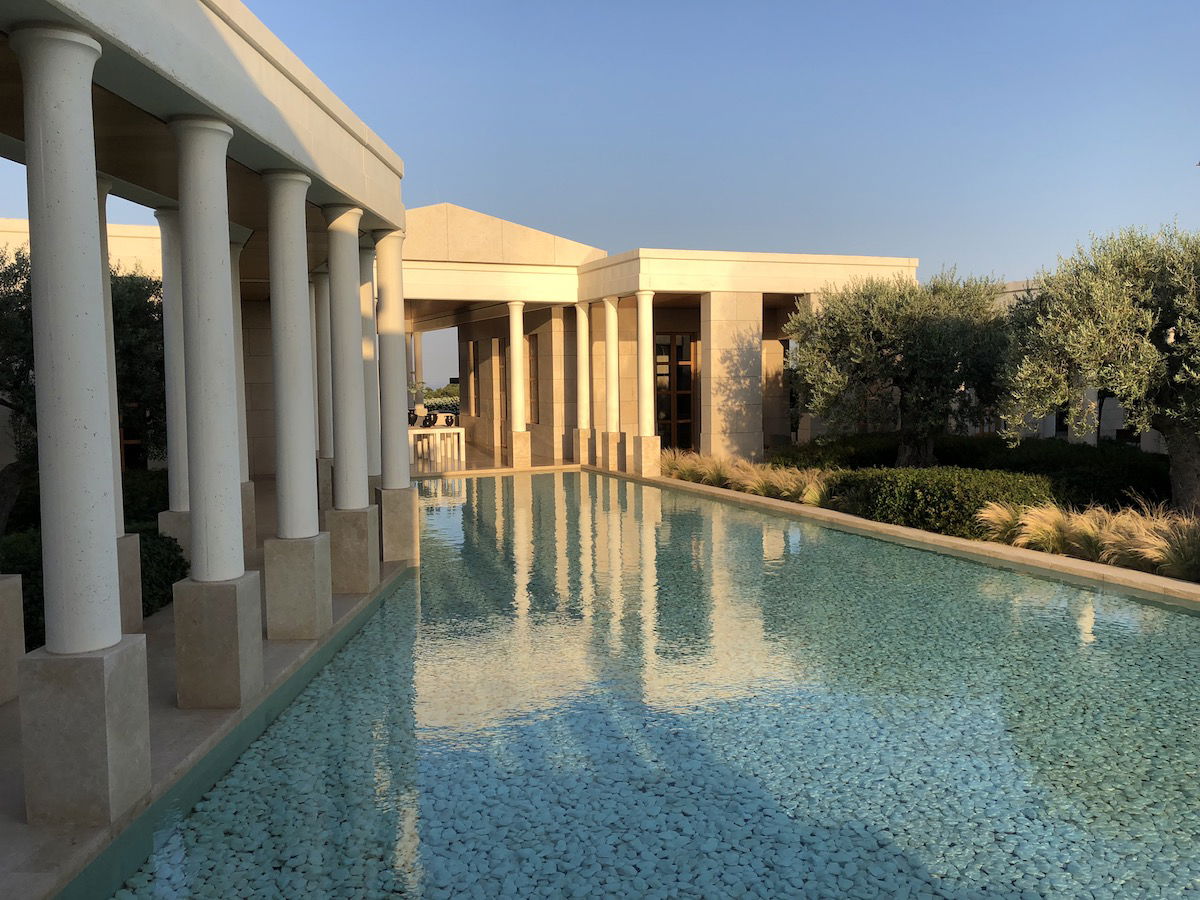 Amanzoe property
At the end of that was some seating, which had views of the nearby hills and the water in the background. This faced directly west, so was a gorgeous setting from which to enjoy the sunset.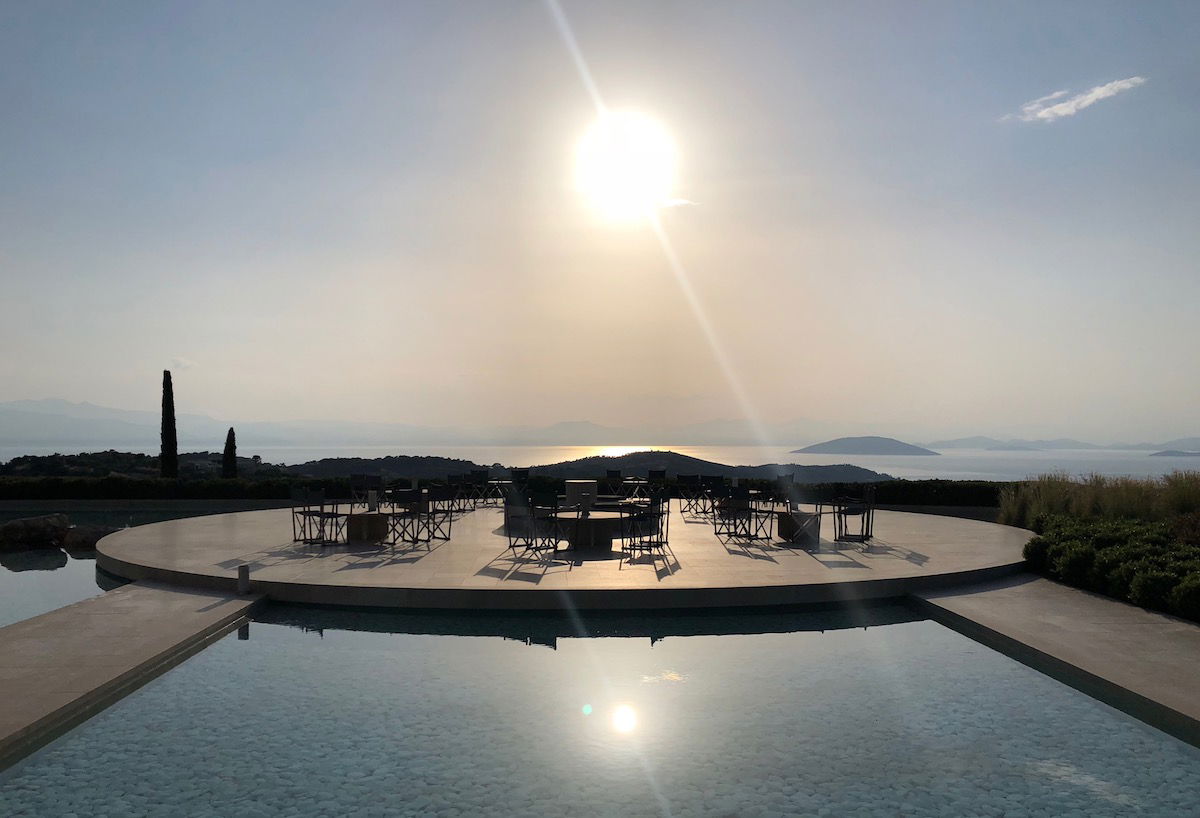 Amanzoe seating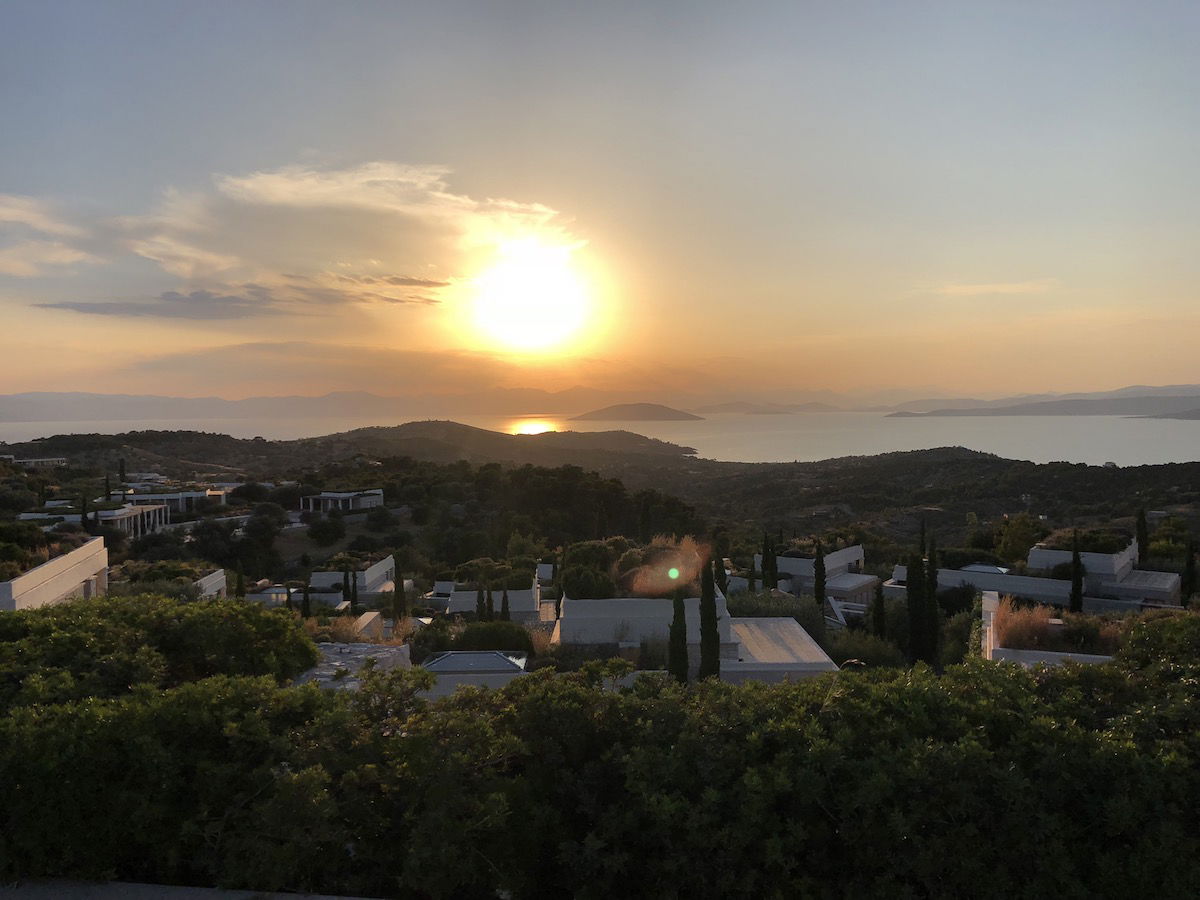 Amanzoe view
Even just walking around the hotel is a treat. How palatial is this?!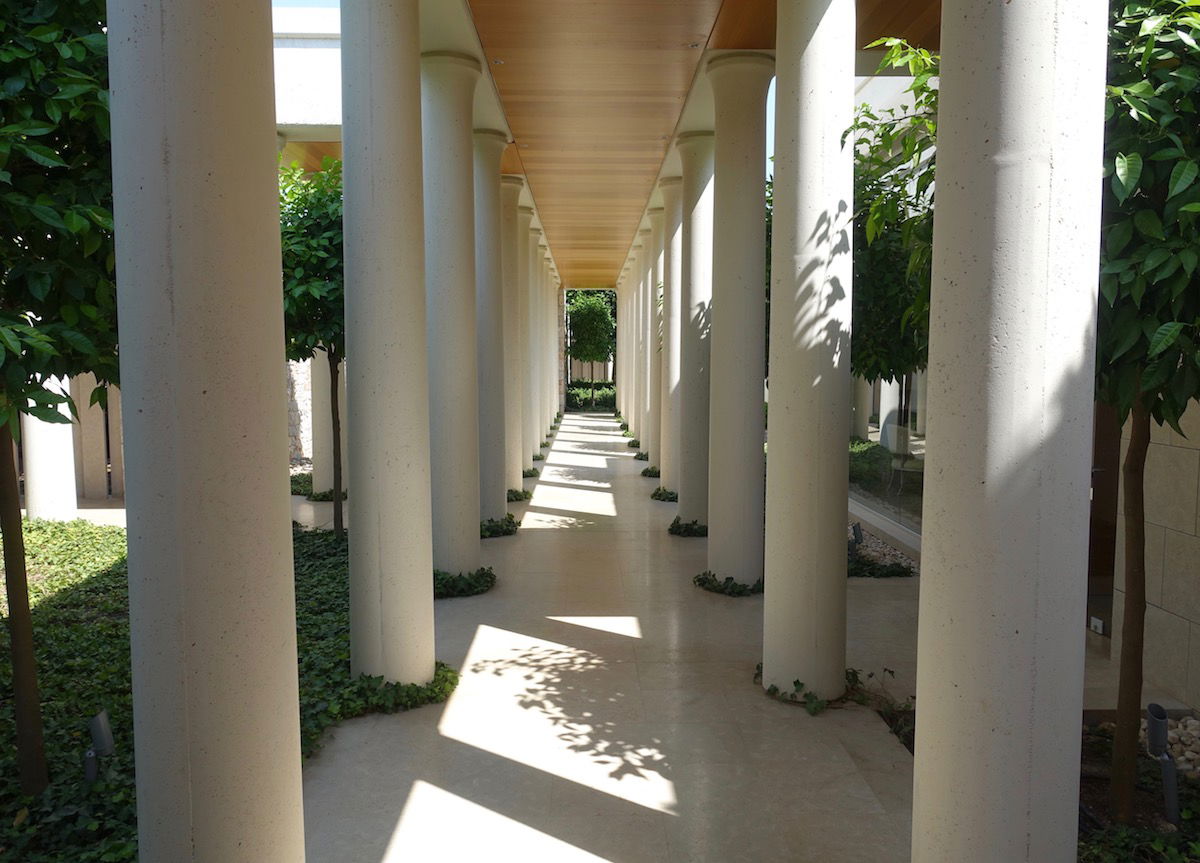 Amanzoe walkway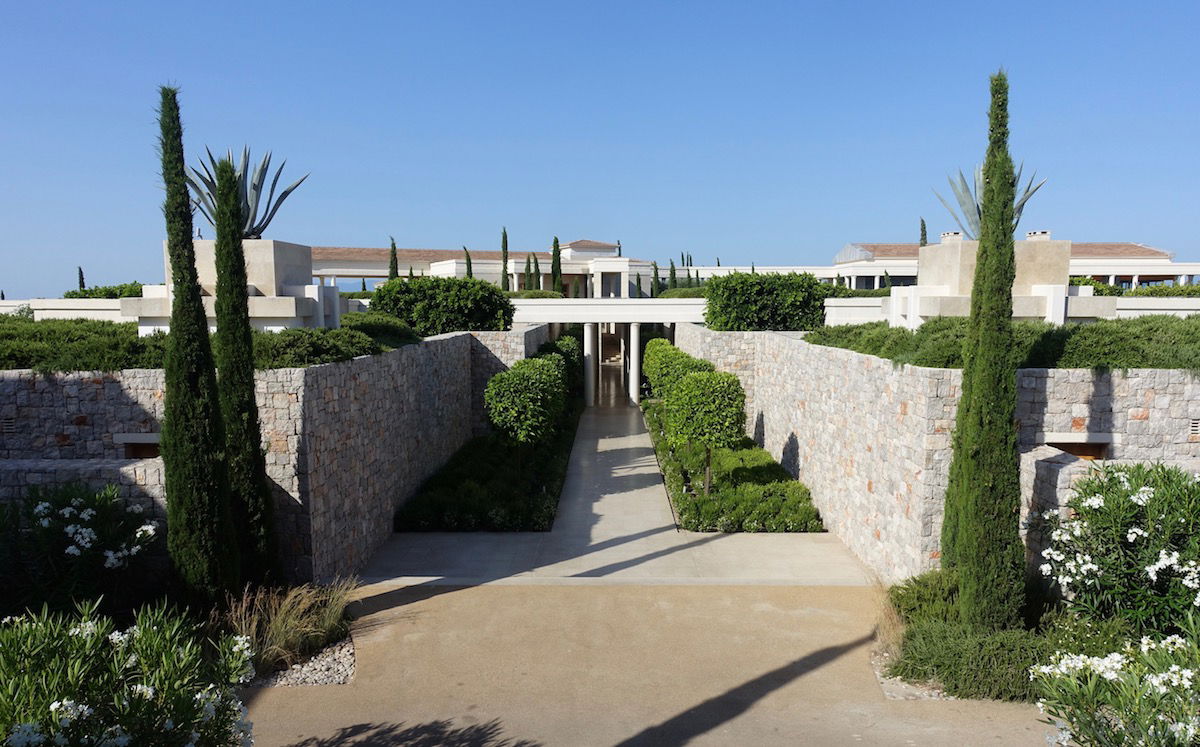 Amanzoe walkway
Now let's look at some specific features of the hotel.
Amanzoe pool
Amanzoe has one main pool area, which was located next to our room, up a set of stairs.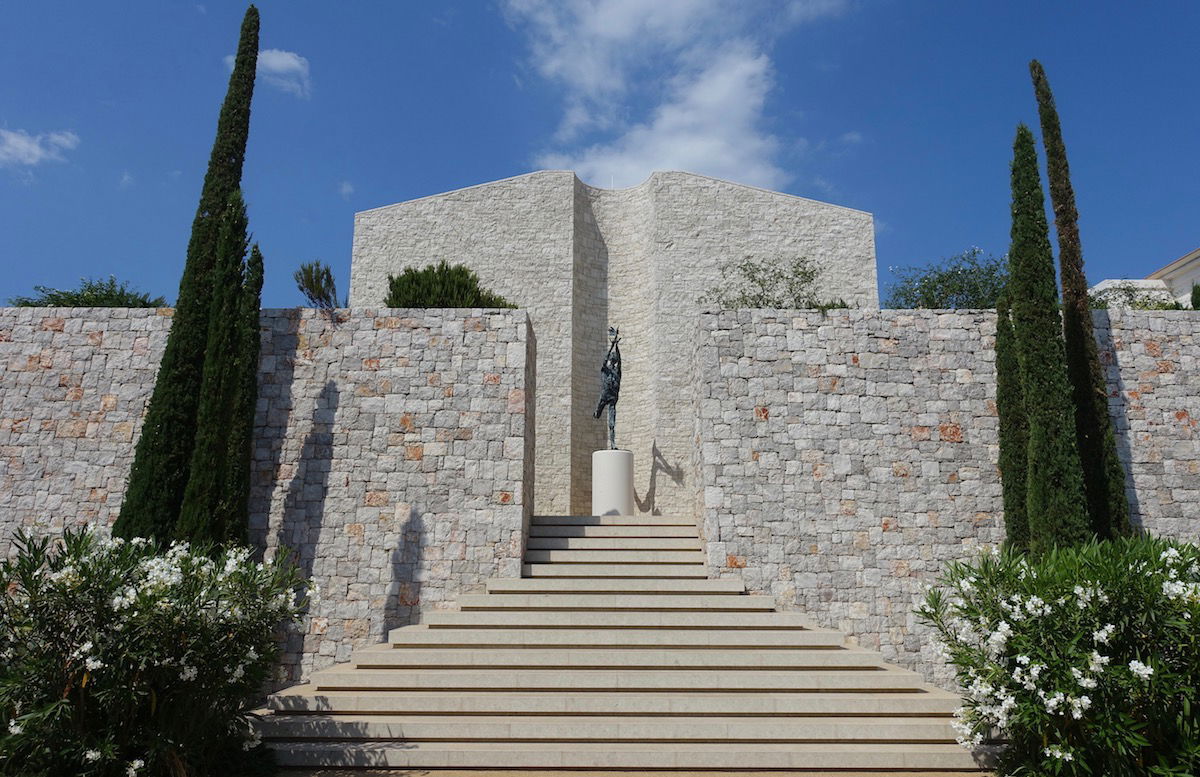 Amanzoe pool entrance
The pool would be a treat everywhere, but it was especially a treat here, given that it was always empty. That's in spite of the fact that the hotel was at capacity. Why? Because everyone hangs out at the beach club during the day (more on that below).

Amanzoe pool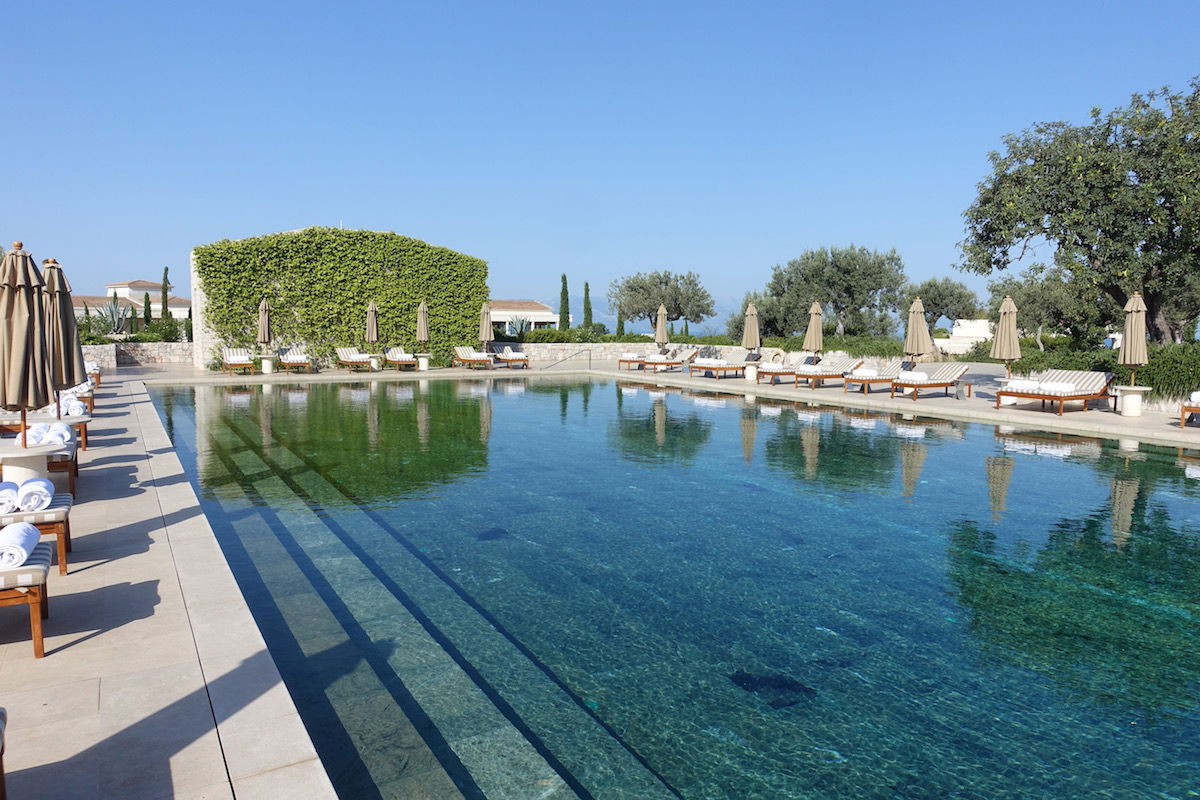 Amanzoe pool
Off to the side of the main pool was a smaller pool. I'm not sure if this was intended for kids or what, but since I never saw anyone there, I guess it could be whatever you want it to be.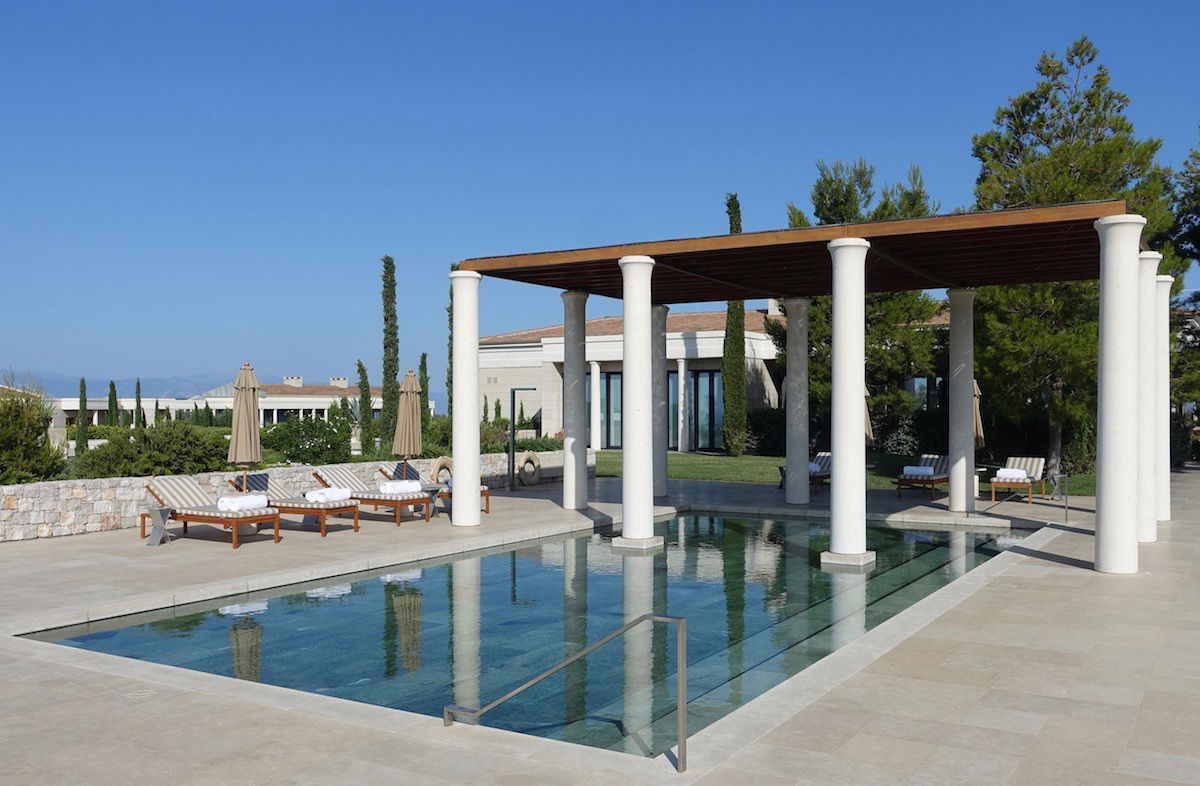 Amanzoe pool
From the pool you also had views of the rest of the property, which maybe gives you a sense of the hotel's geography. The below villas are some of Amanzoe's residences, I believe.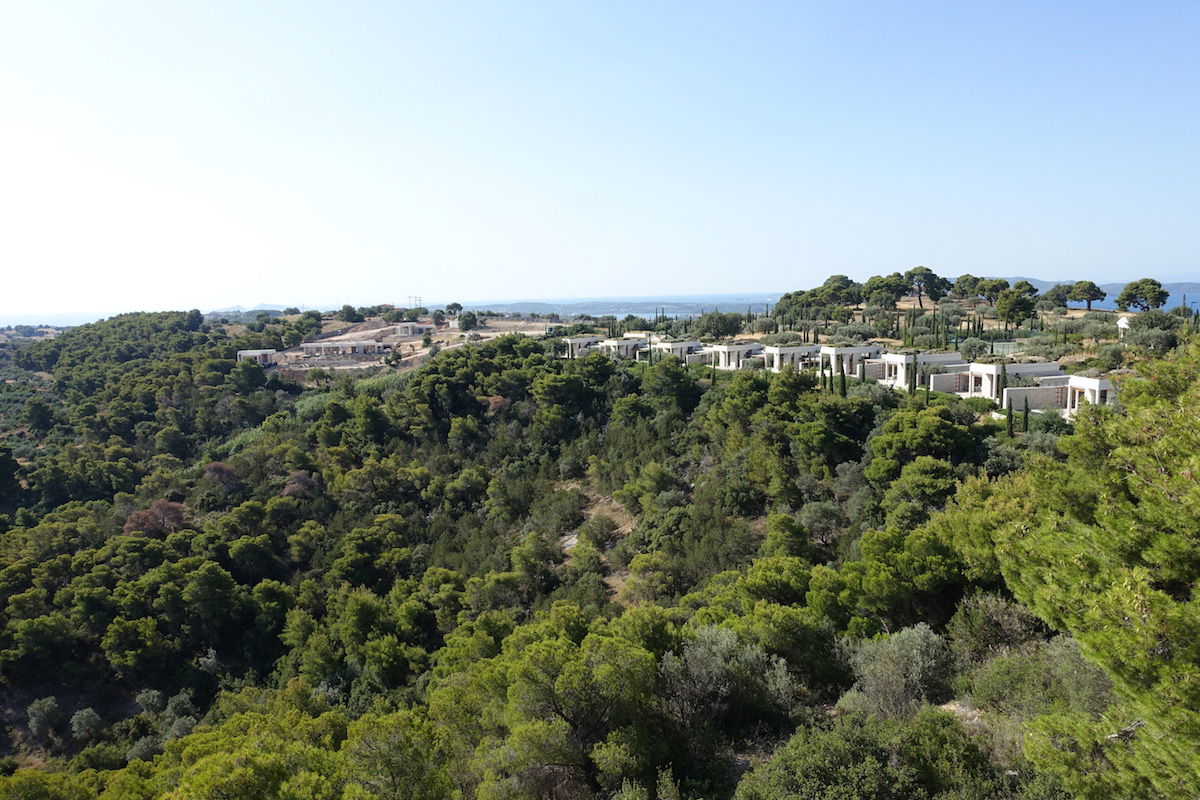 Amanzoe view
Amanzoe library
Most of us probably aren't going to Greece to read, though the hotel has a breathtaking library. There's really not a need for something like this, but my gosh, it's beautiful. Sometimes I came here to work, since it was such an underutilized space.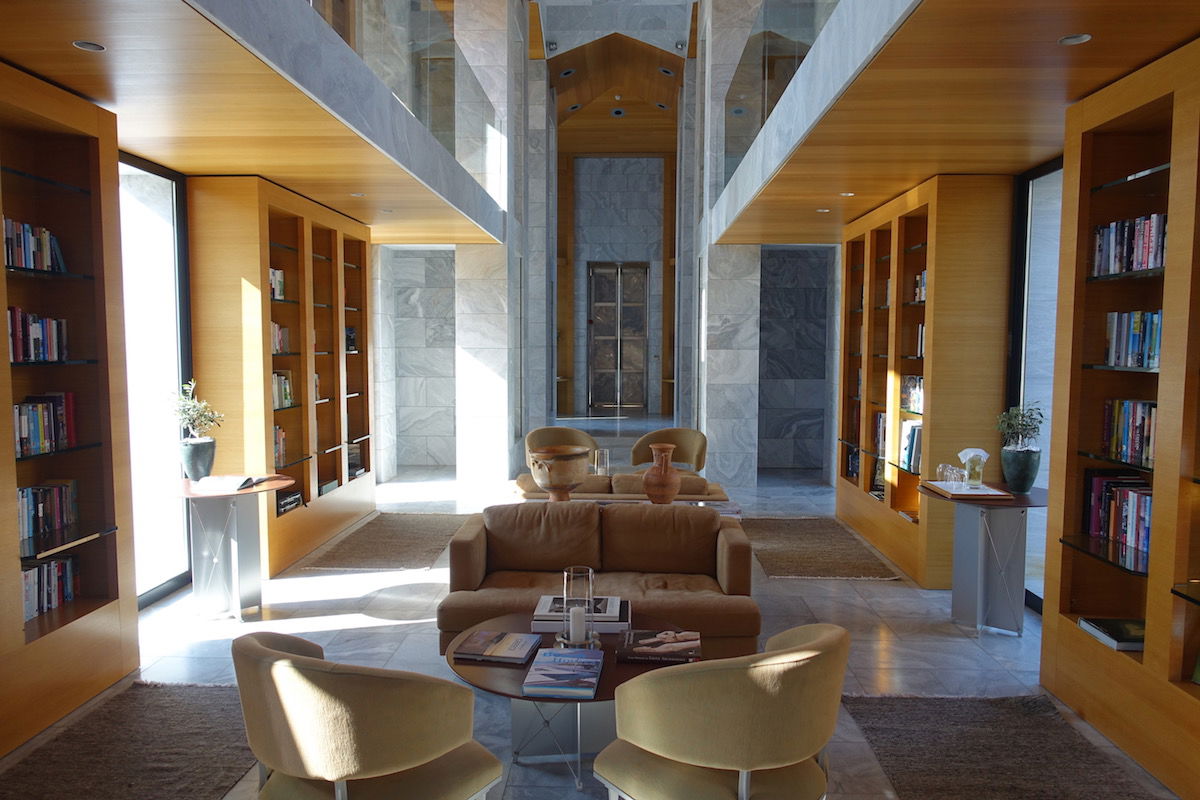 Amanzoe library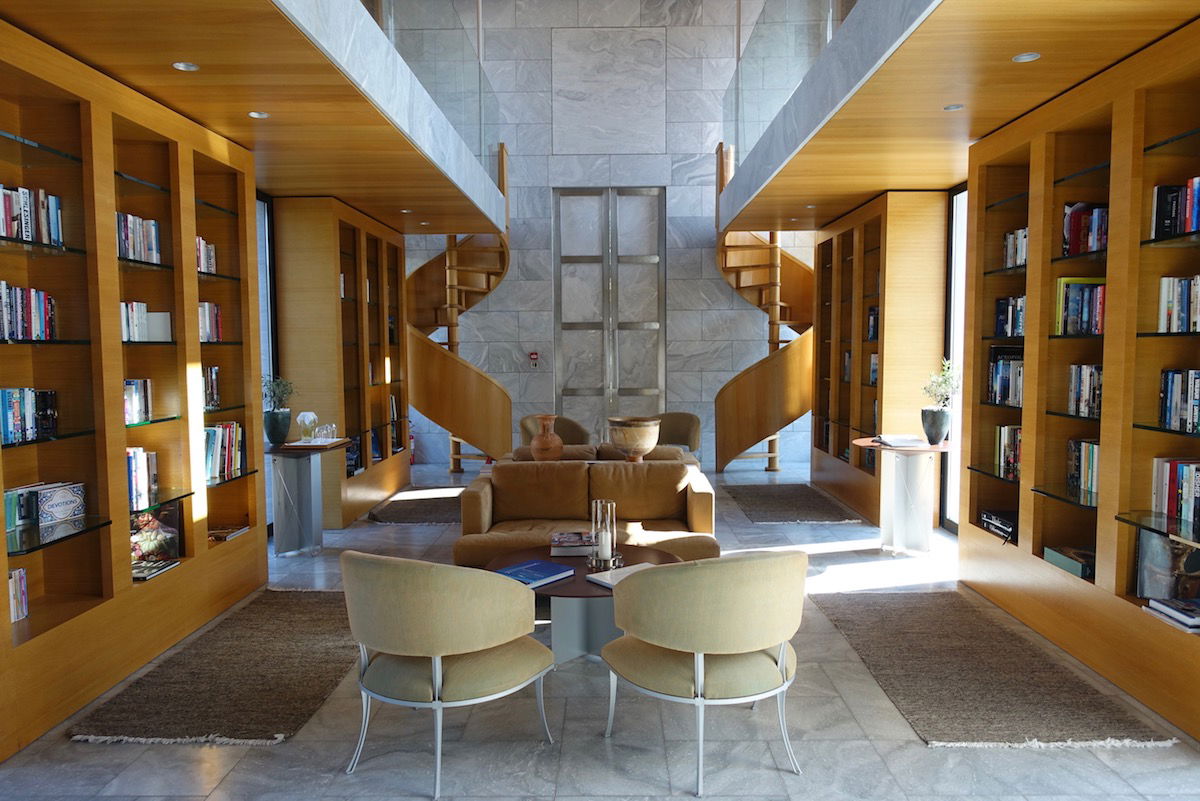 Amanzoe library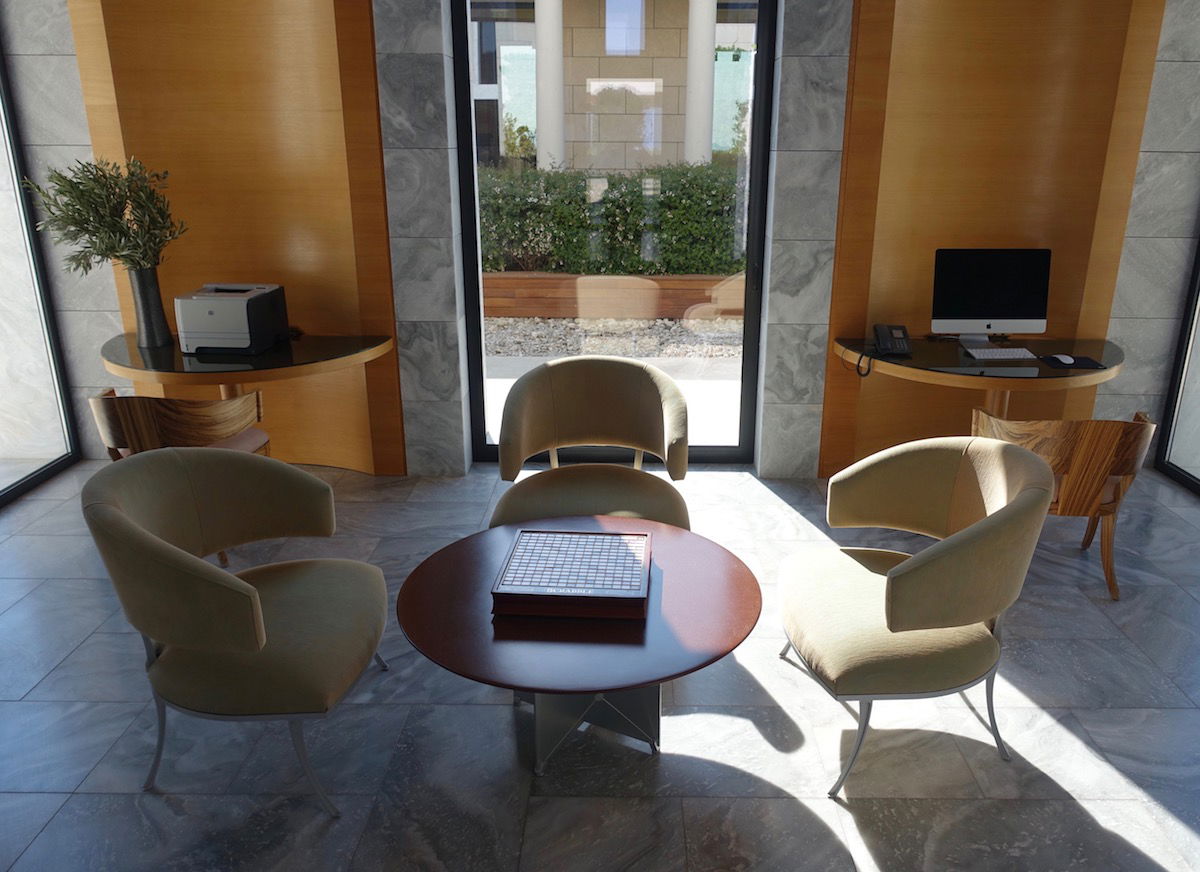 Amanzoe library
Amanzoe gym
For a fairly secluded resort, Amanzoe had an impressive gym, with tons of equipment, and even a separate yoga room.

Amanzoe gym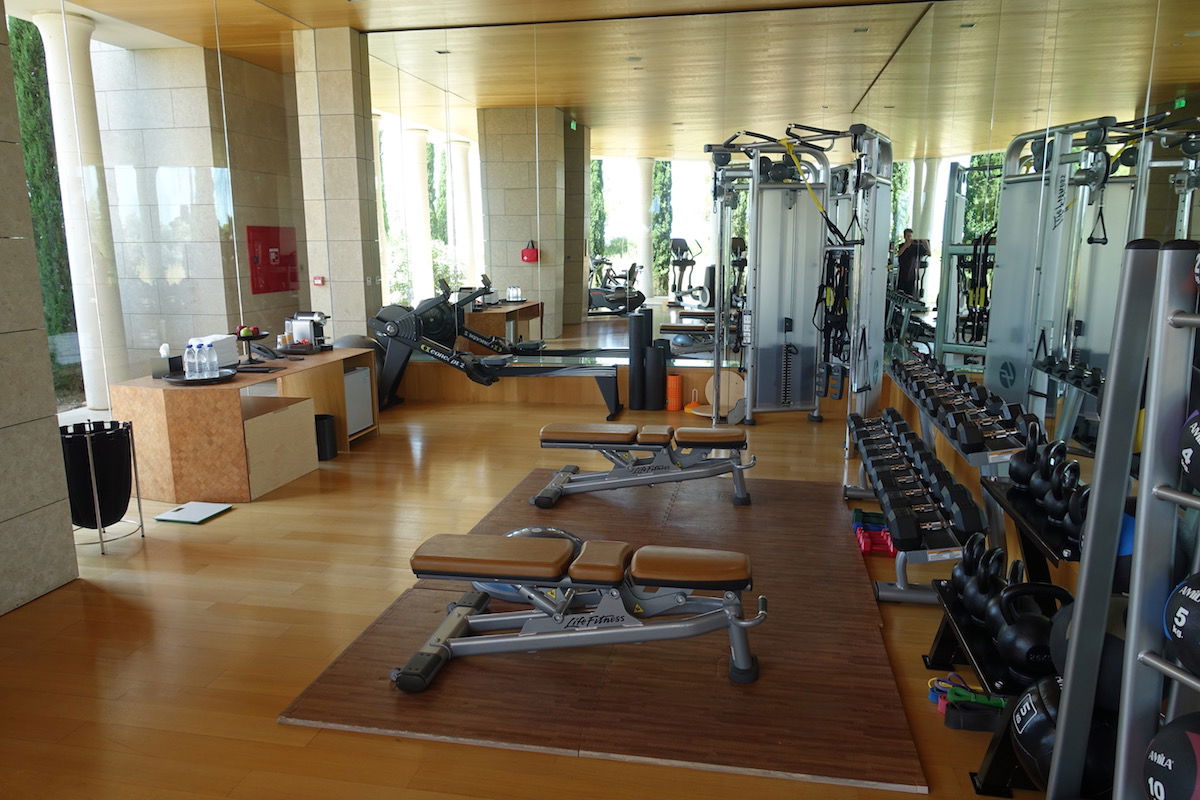 Amanzoe gym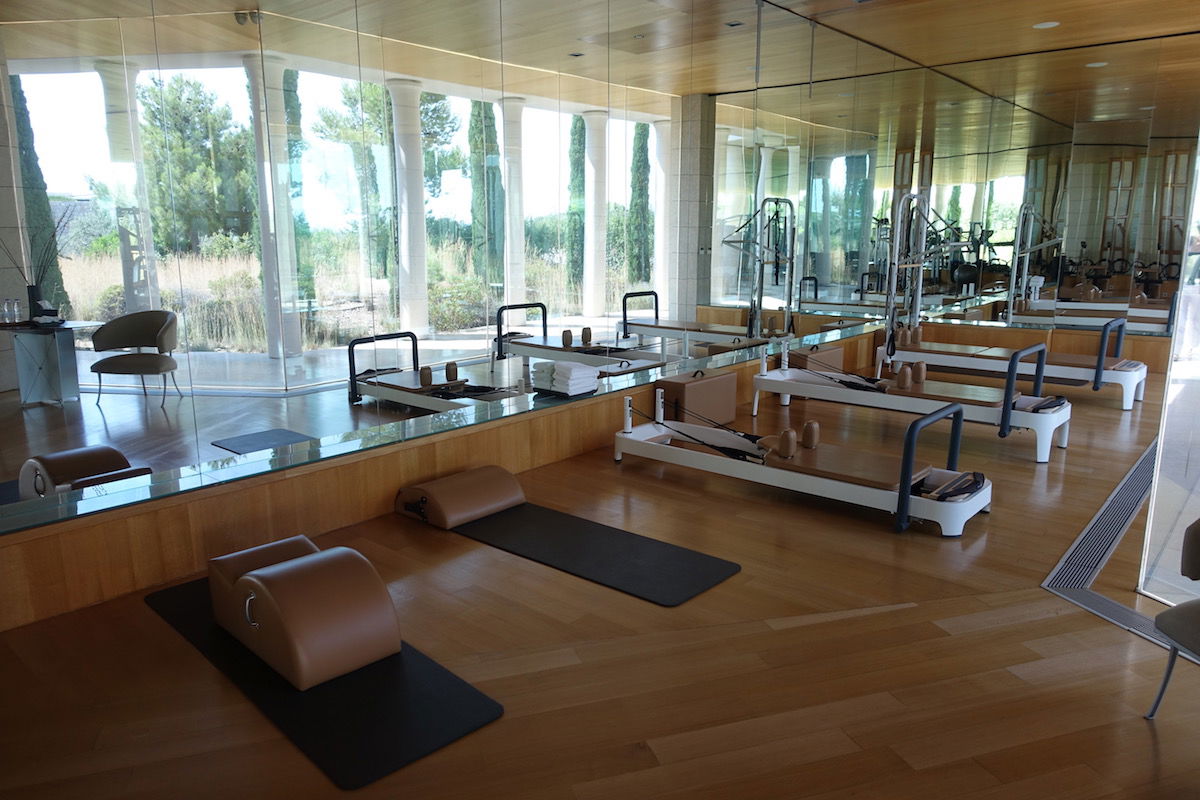 Amanzoe gym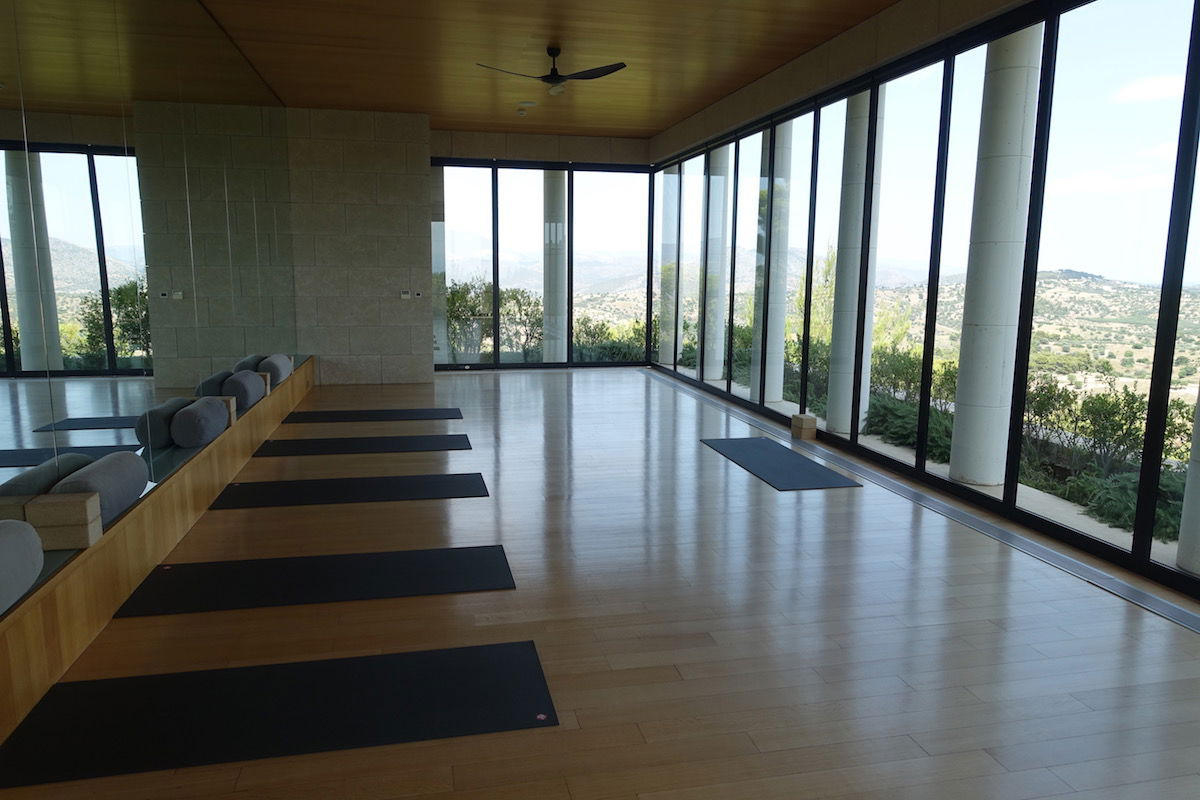 Amanzoe gym
Amanzoe spa
Amanzoe has an incredible spa, located near reception. It's open from 10AM until 8PM, and has nine treatment rooms. As you'd expect, prices aren't cheap, though all taxes are included, and there's no tipping at Amans, so at least it's an "all-in" cost.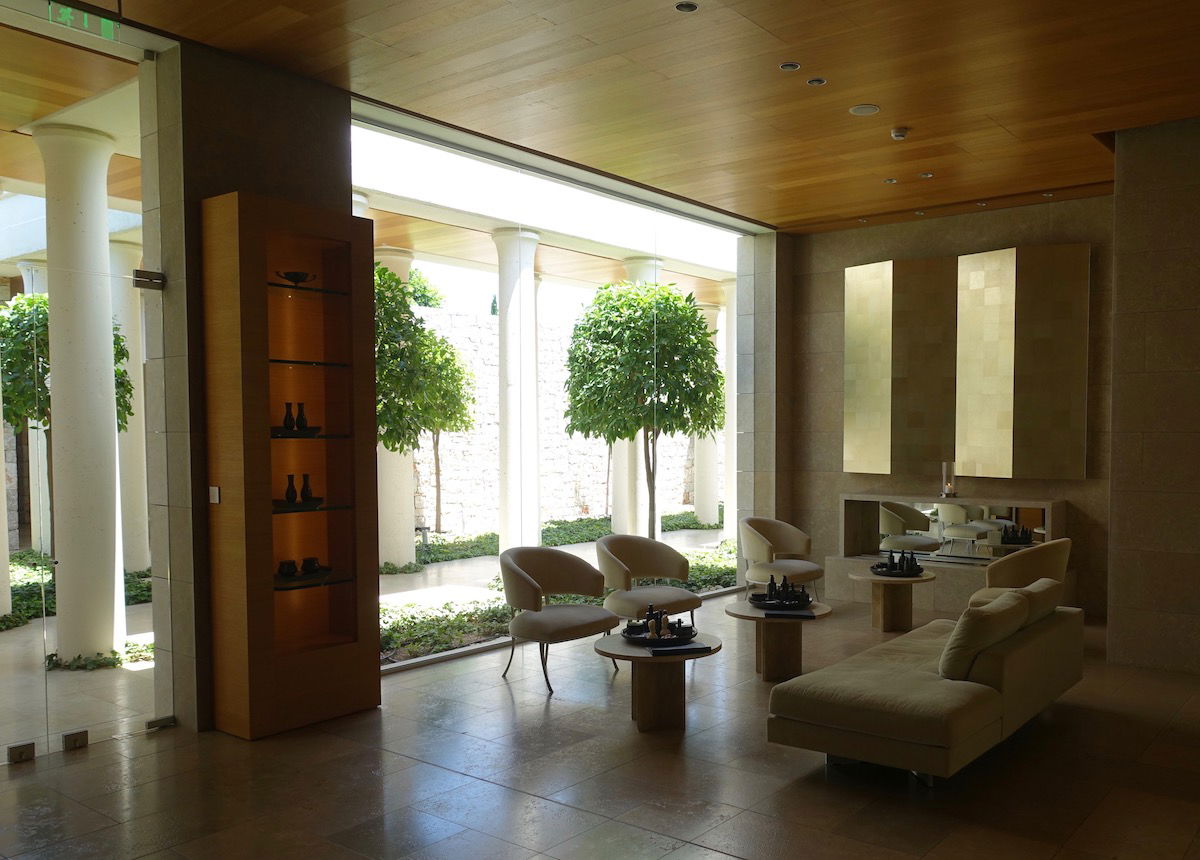 Amanzoe spa
The spa treatment menu read as follows: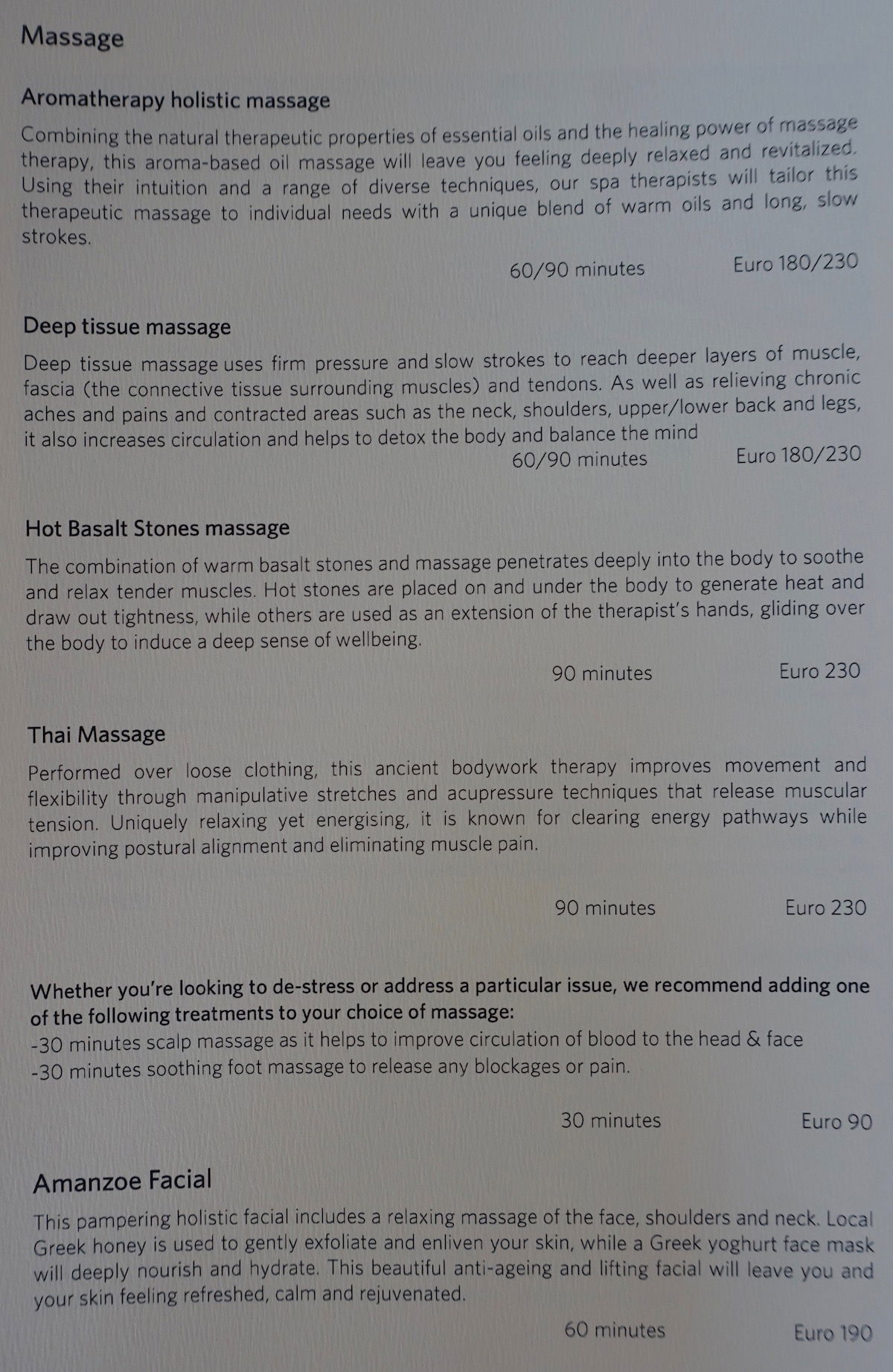 I only had one treatment while here, though it was truly one of the best spa treatments I've ever had.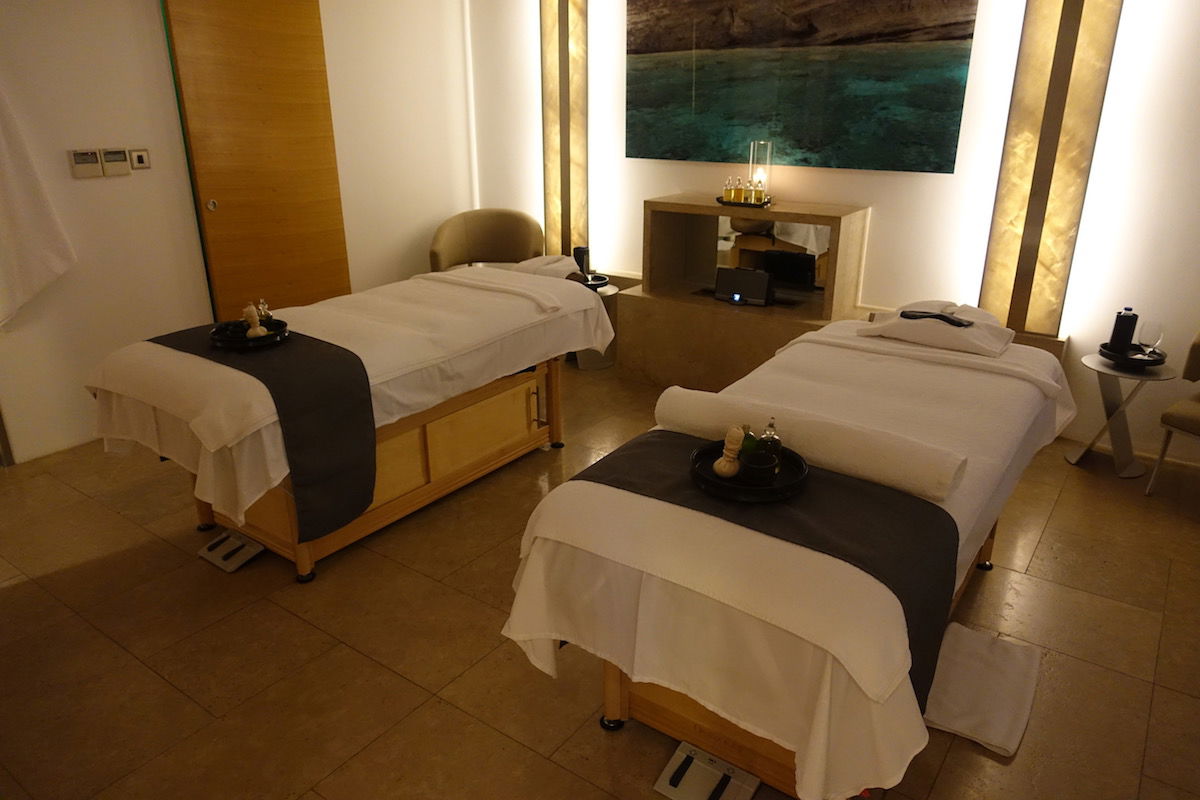 Amanzoe treatment room
Amanzoe beach club
Since Amanzoe is on a hill, the main resort doesn't have direct access to the beach, though there is a beach club about 5km from the hotel.
There are two ways to reach it. One way is using their constant (complimentary) shuttle service, as the drive only takes 5-10 minutes. The shuttles run all the time. Like, all the time, as you can see based on the number of cars lined up in the below picture waiting to transport guests back and forth.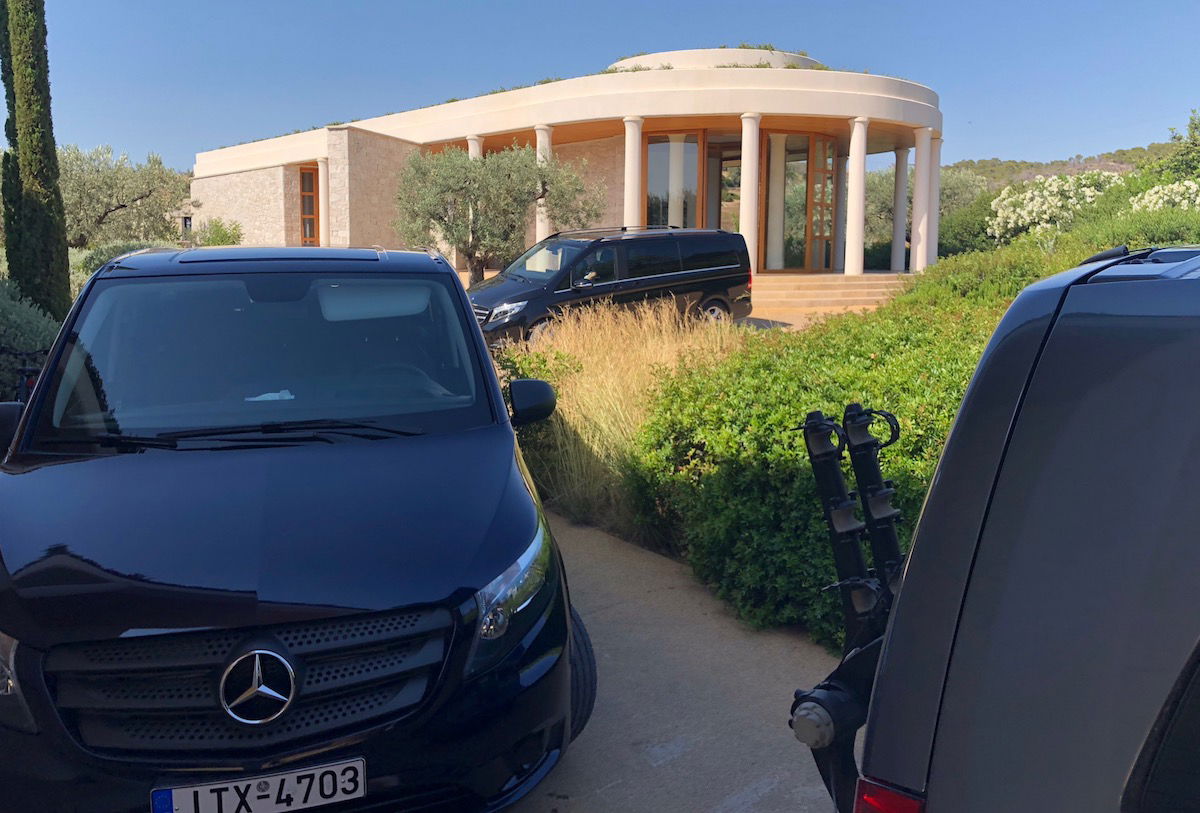 Fleet of cars to & from beach club
Alternatively you can bike. Most people just bike down to the beach club, since it would probably be pretty tough to bike back up.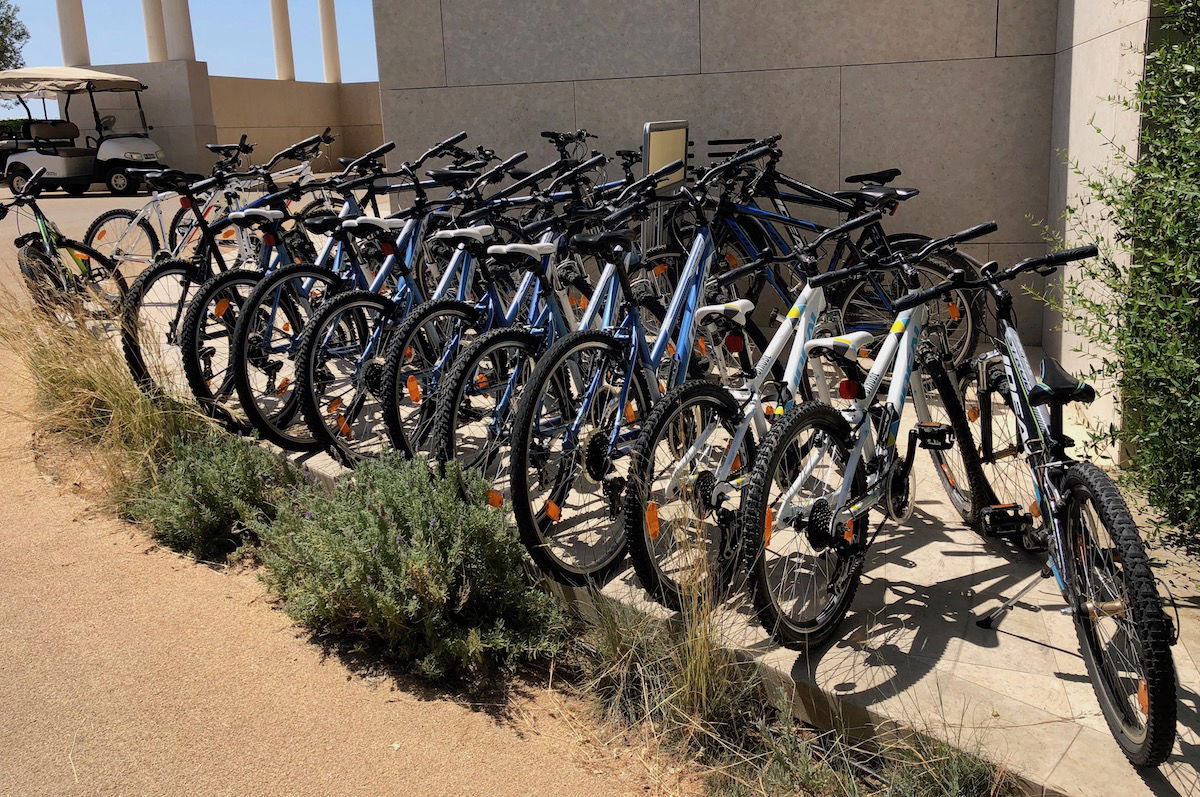 Amanzoe bikes
We decided to bike both times we visited, and enjoyed the ride. In reality it wasn't much exercise at all, since it was all downhill.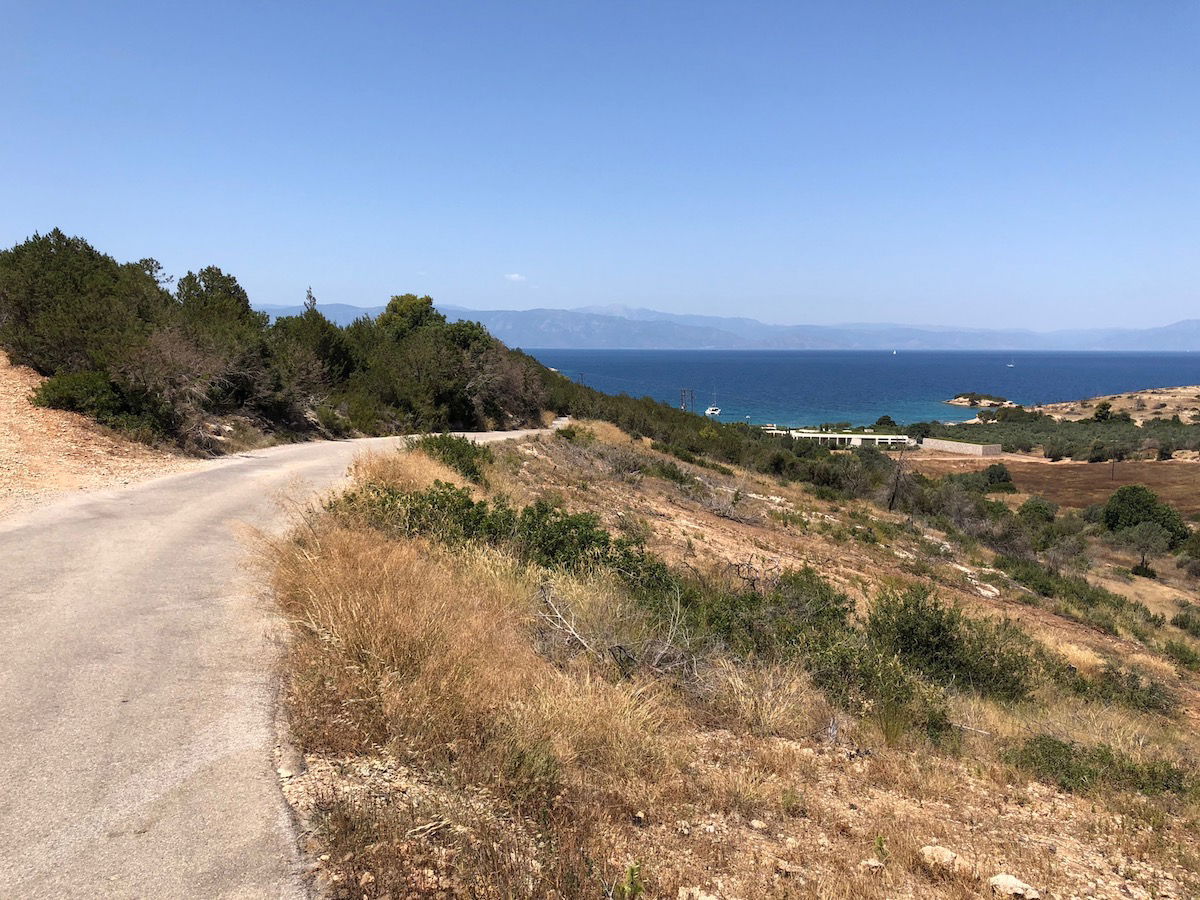 Drive to Amanzoe beach club
The beach club has a similar design to the hotel itself.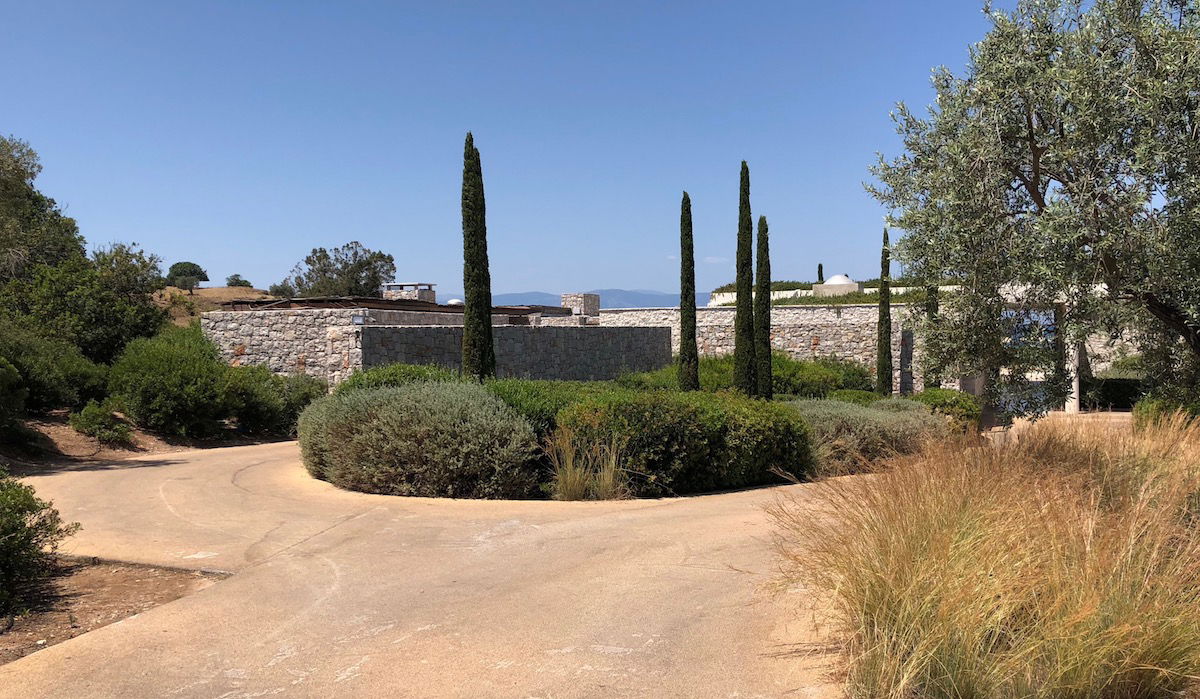 Amanzoe beach club exterior
I didn't know what to expect, though once there, I realized why everyone spends most of their days here. The beach club has two pools that run along the length of it.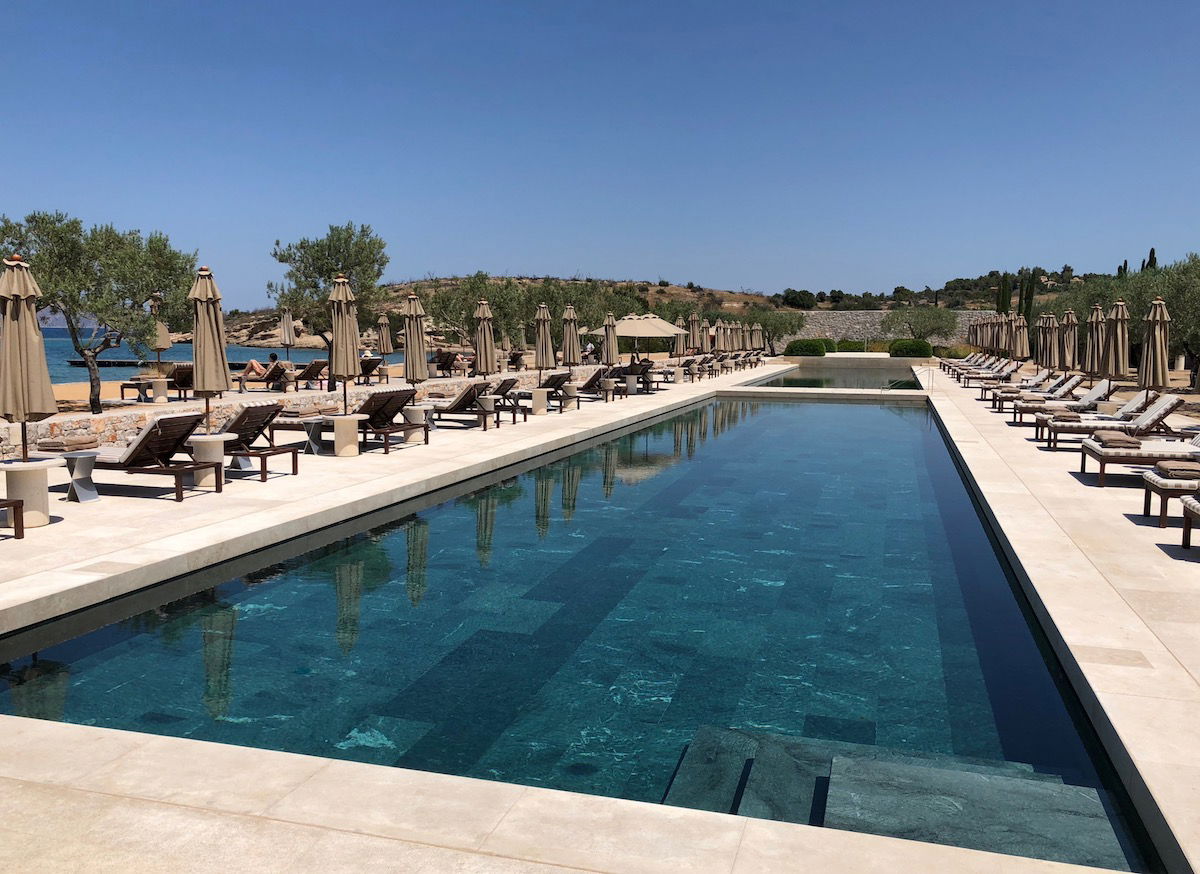 Amanzoe beach club pool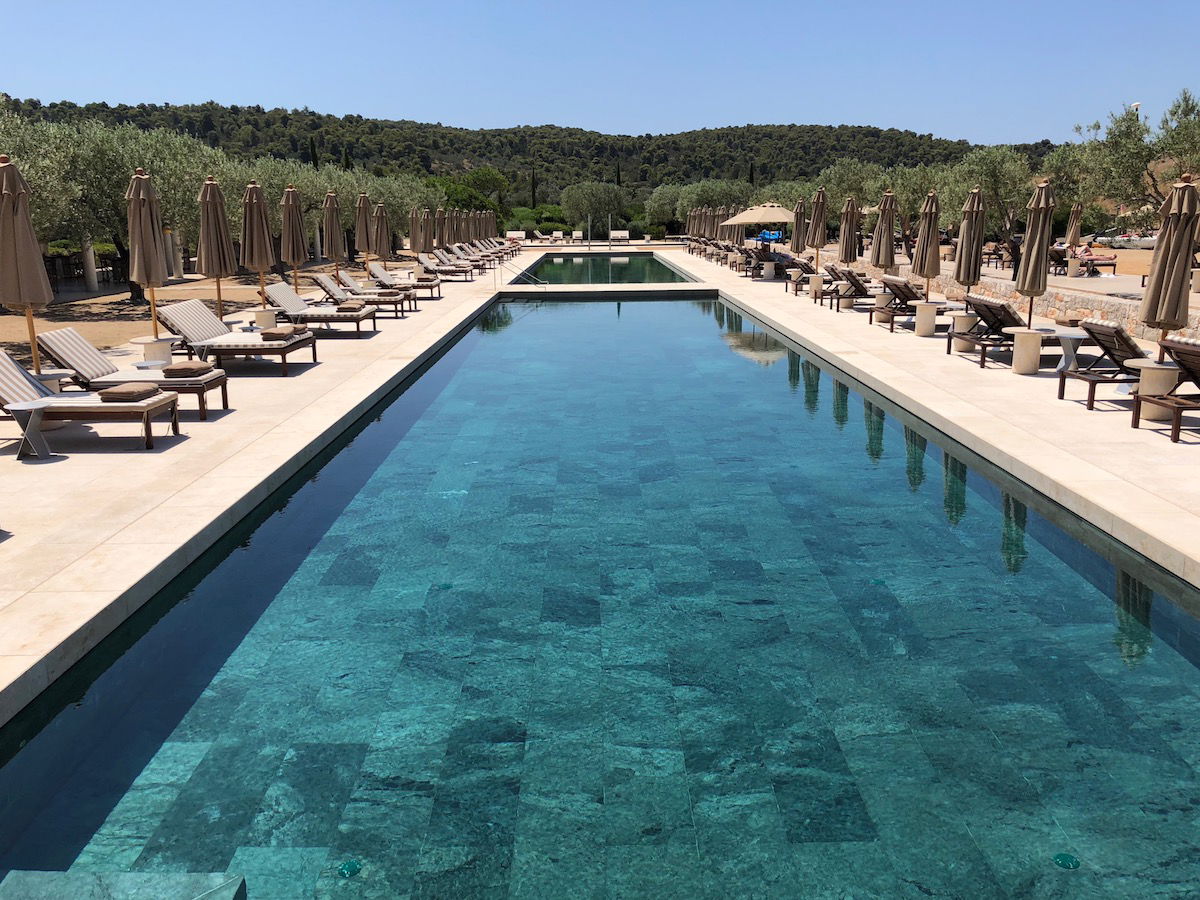 Amanzoe beach club pool
The beach is pretty, and the water calm.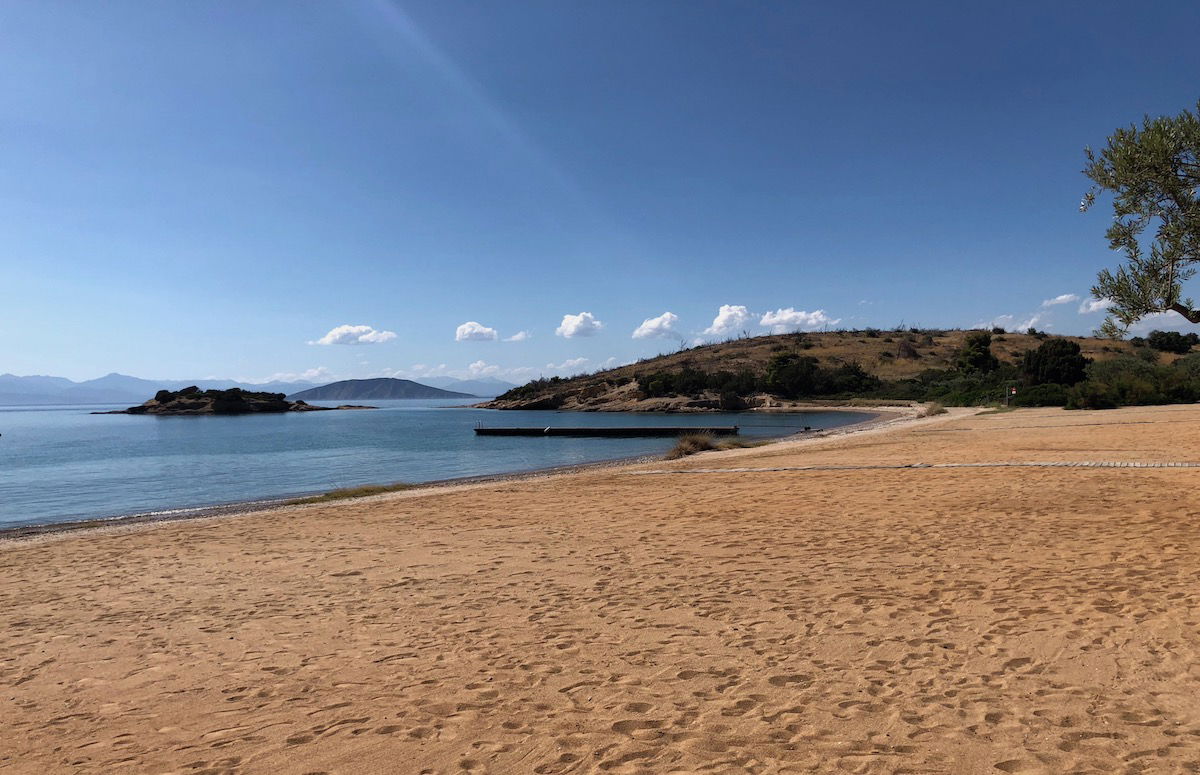 Amanzoe beach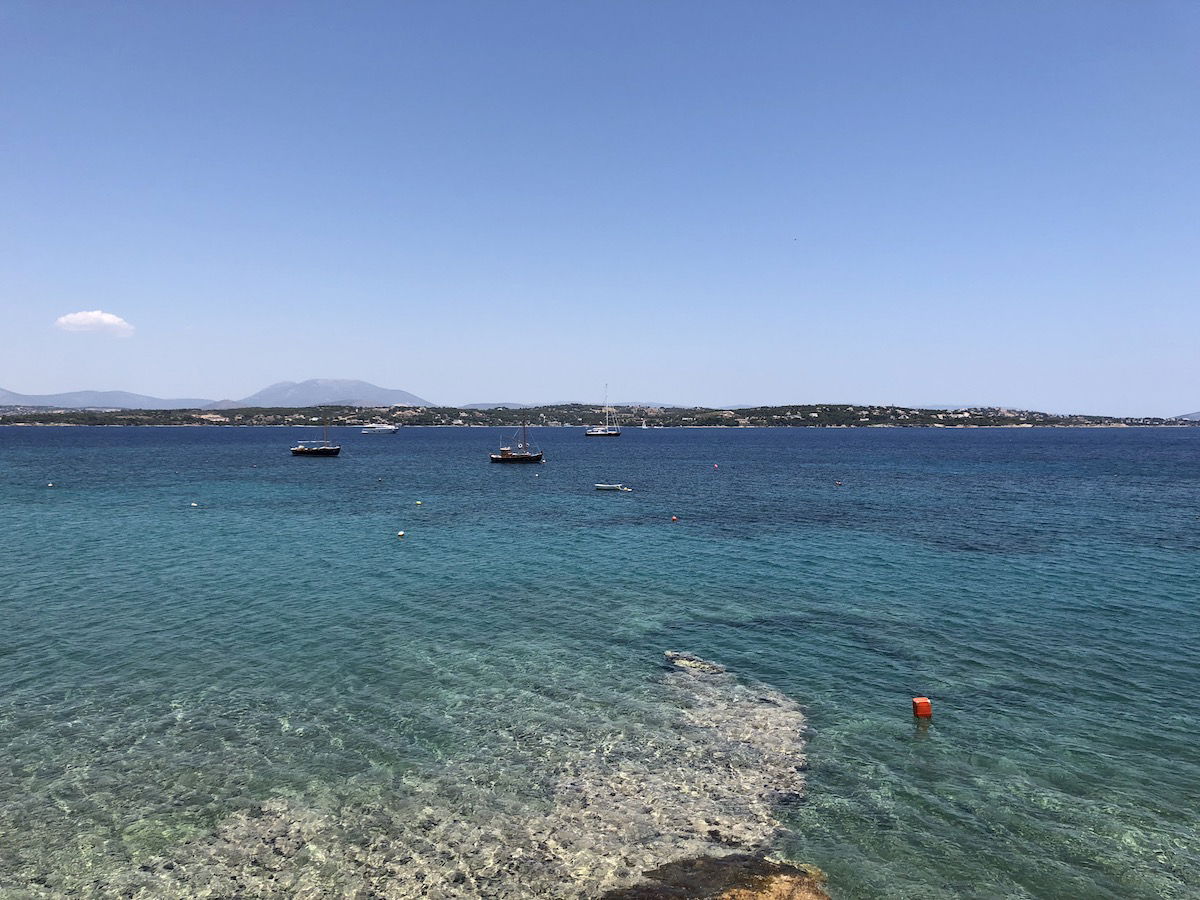 Amanzoe beach
There are all kinds of non-motorized water sports to choose from. Both days we were there we decided to kayak.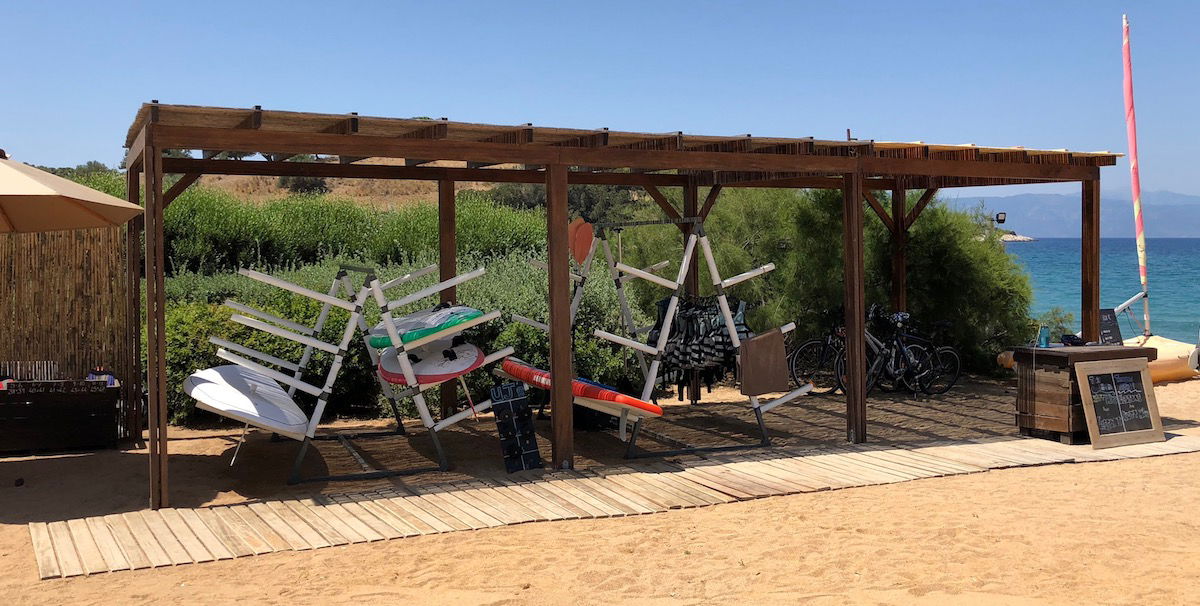 Amanzoe beach club activities
There are tons of lounge chairs, both in the sun and in the shade.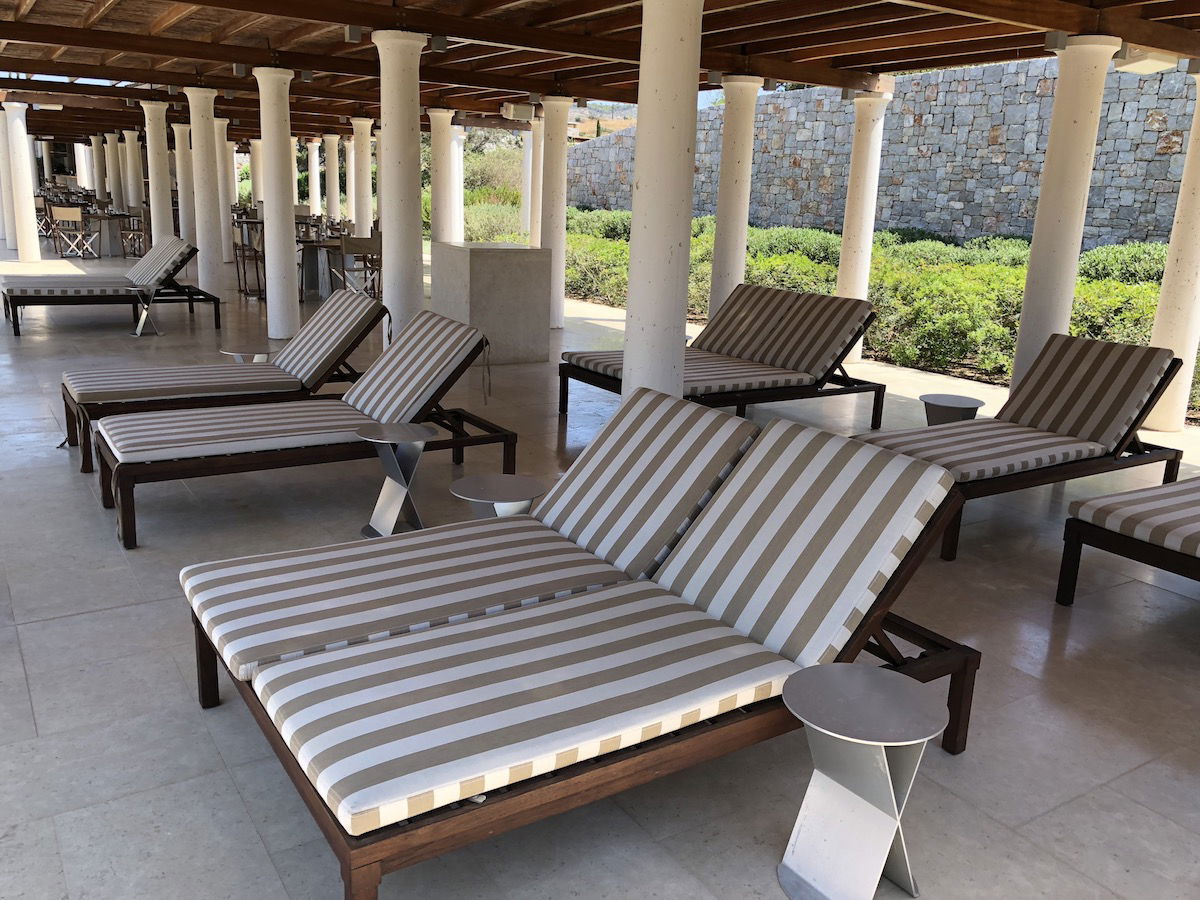 Amanzoe beach club
The beach club also has a restaurant that's open for lunch and afternoon snacks.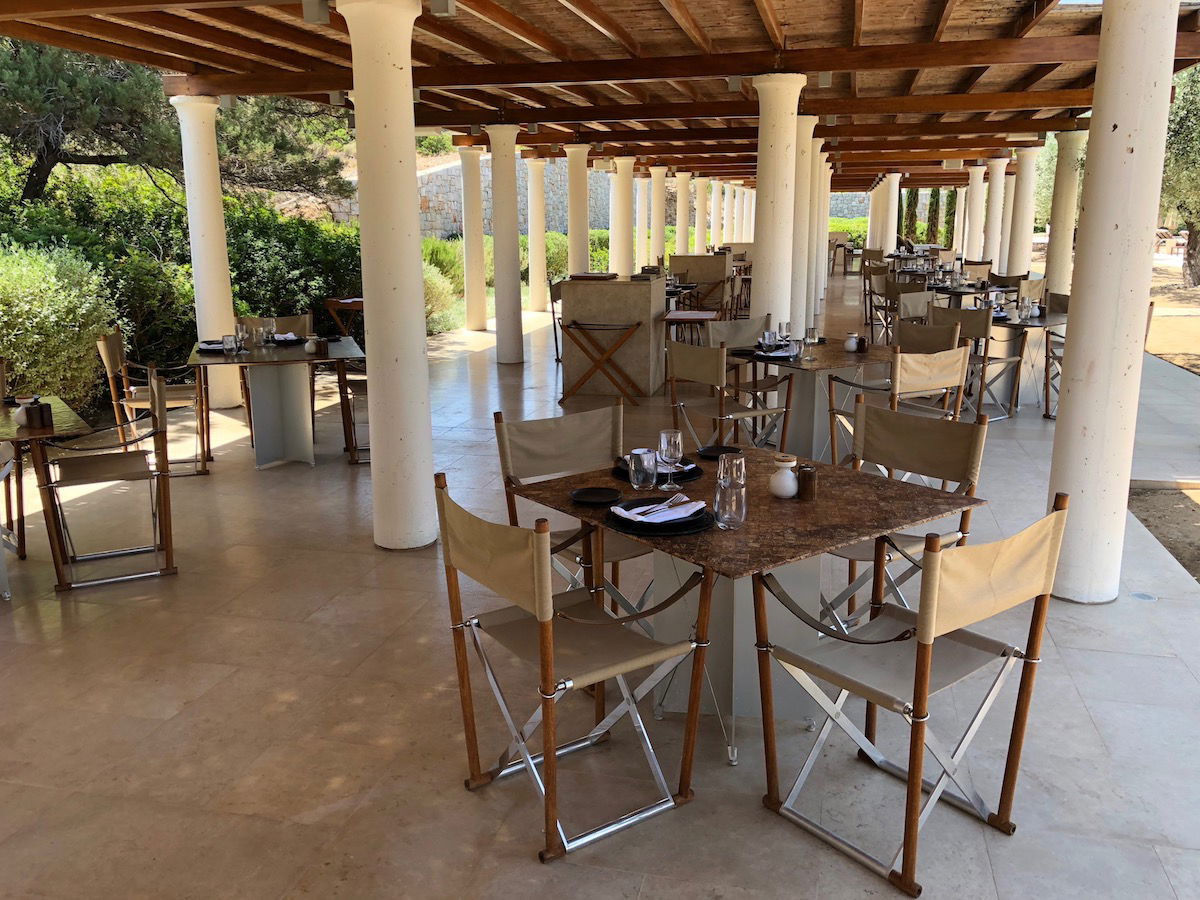 Amanzoe beach club restaurant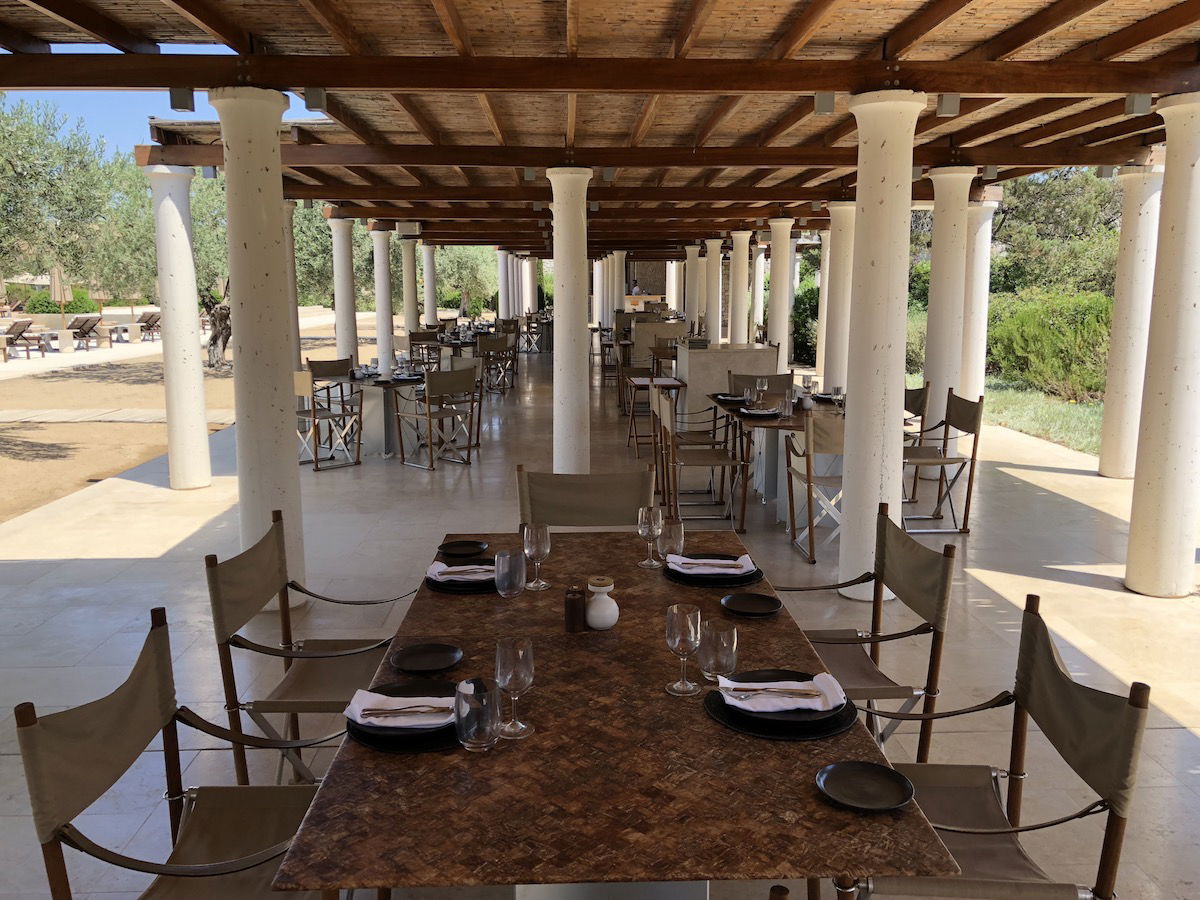 Amanzoe beach club restaurant
There's even a spa at the beach club, should you want a treatment here.
Service at the beach club was incredible, as it was everywhere at the hotel. When we first arrived every day we were brought a welcome drink.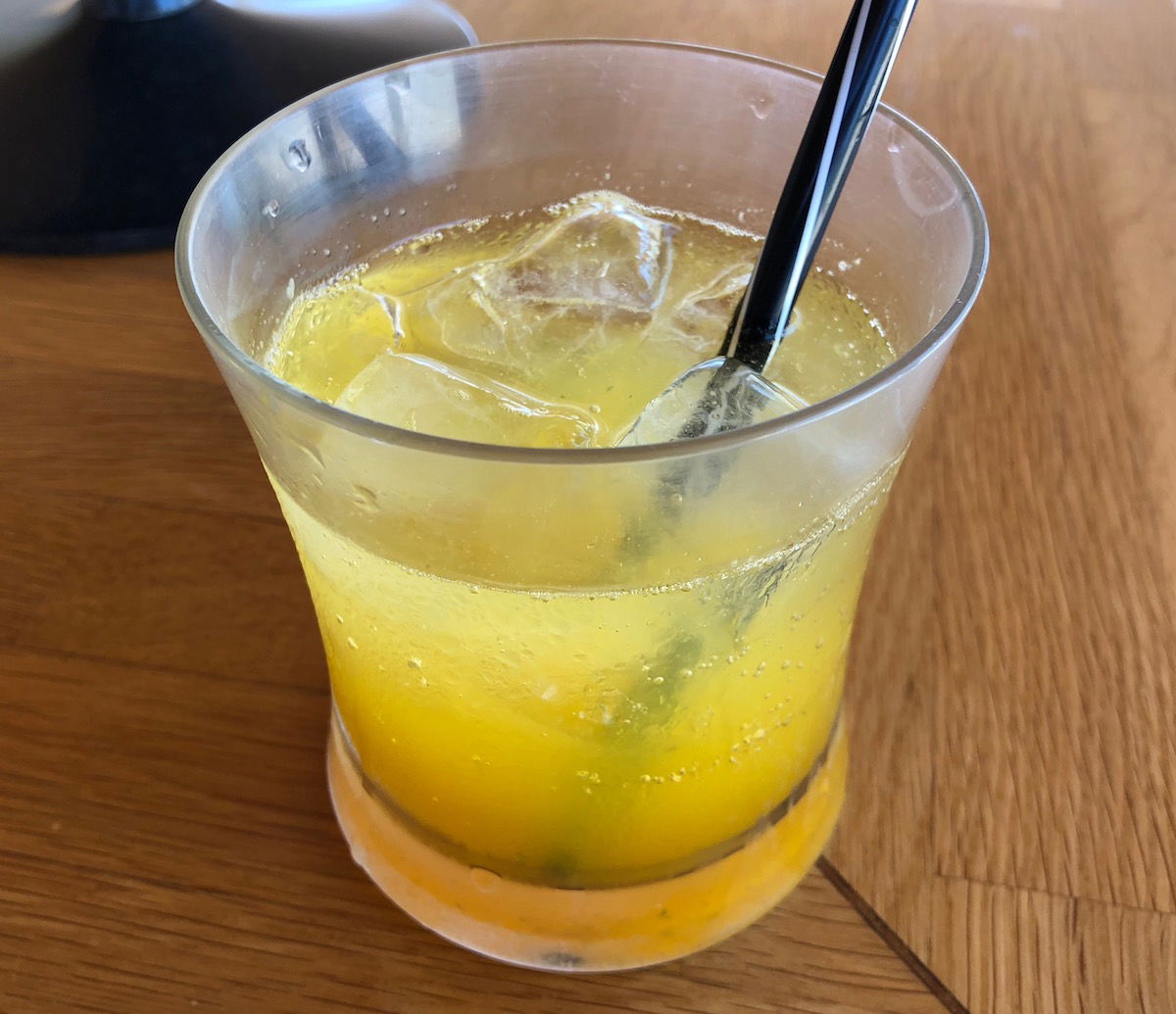 Amanzoe beach club welcome drink
Then we were constantly brought cold bottles of water and towels.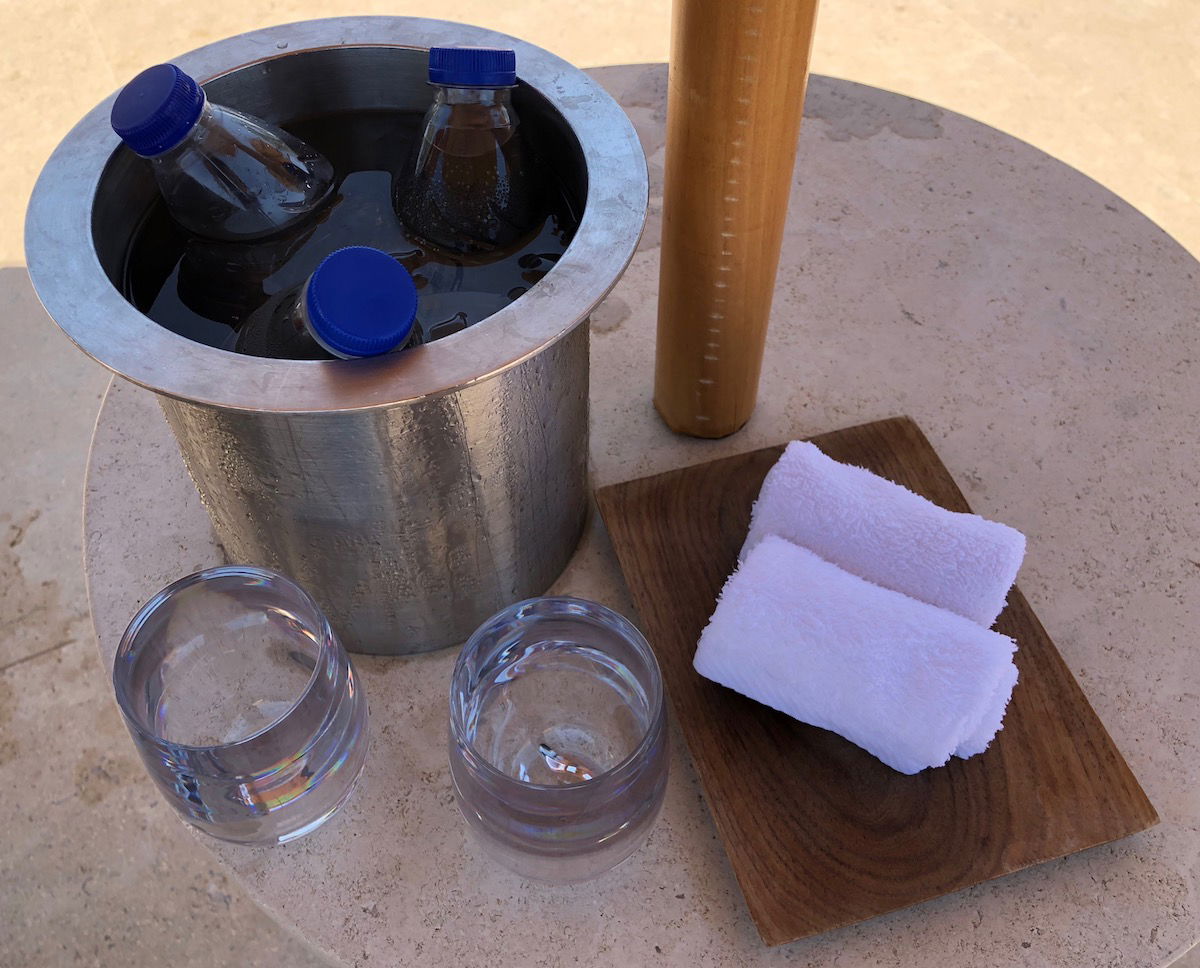 Amanzoe beach club water & cold towels
Now let's talk a bit about dining at Amanzoe.
Breakfast at Amanzoe
Breakfast was available every morning from 7AM until 11AM either in the main restaurant, or via room service. The main restaurant has plenty of outdoor seating, as well as an interior area with about a dozen tables.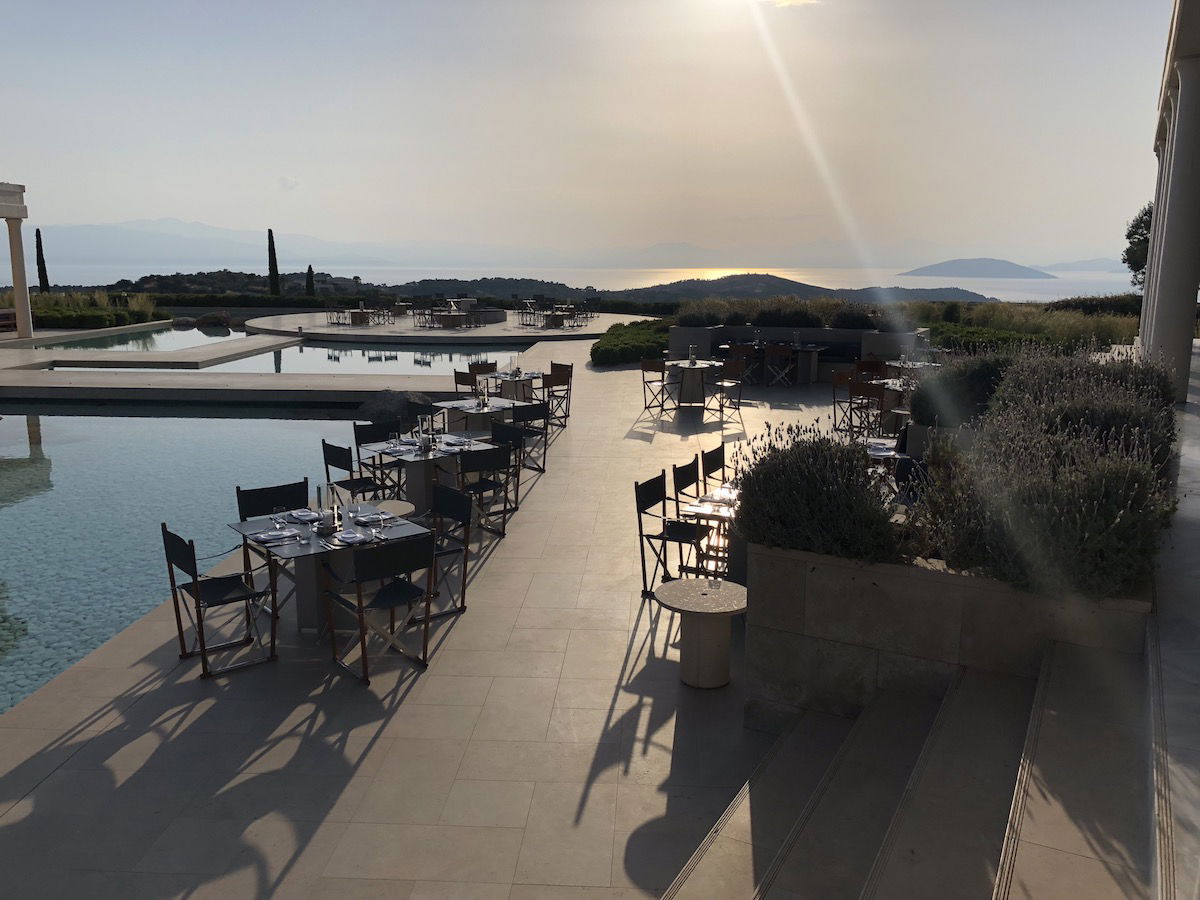 Amanzoe main restaurant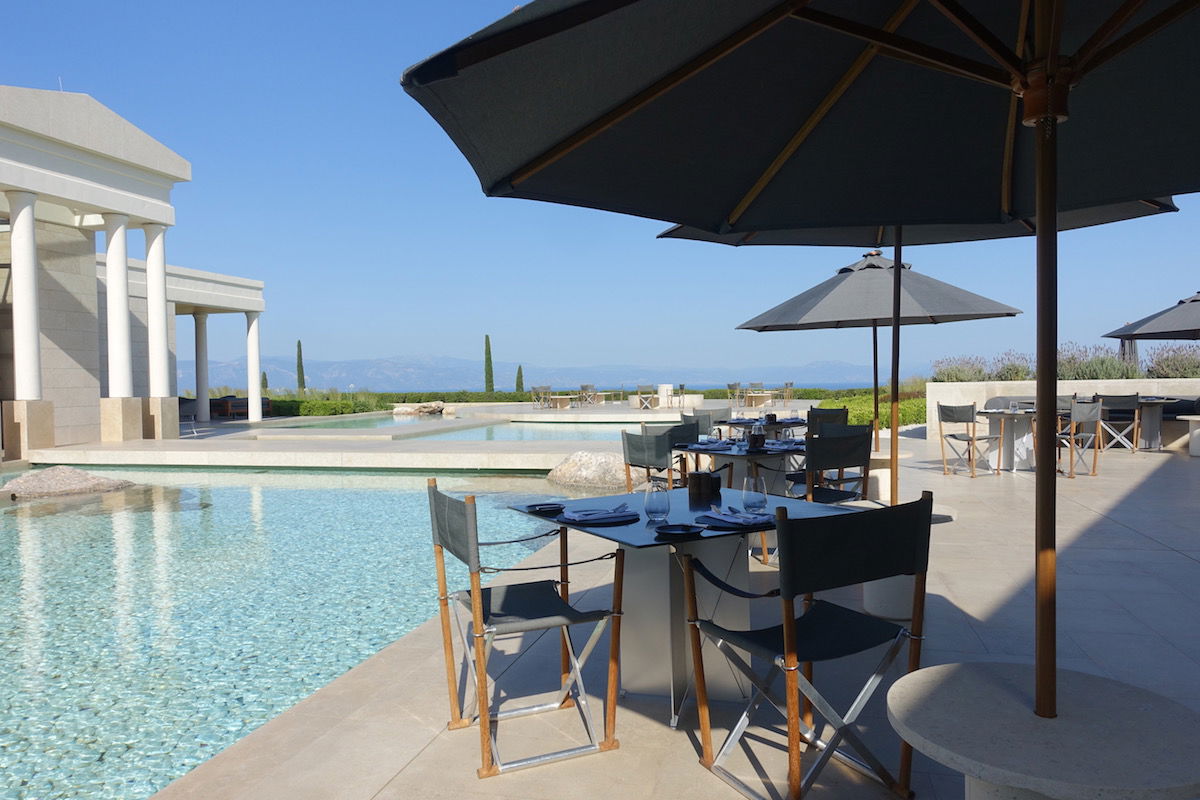 Amanzoe main restaurant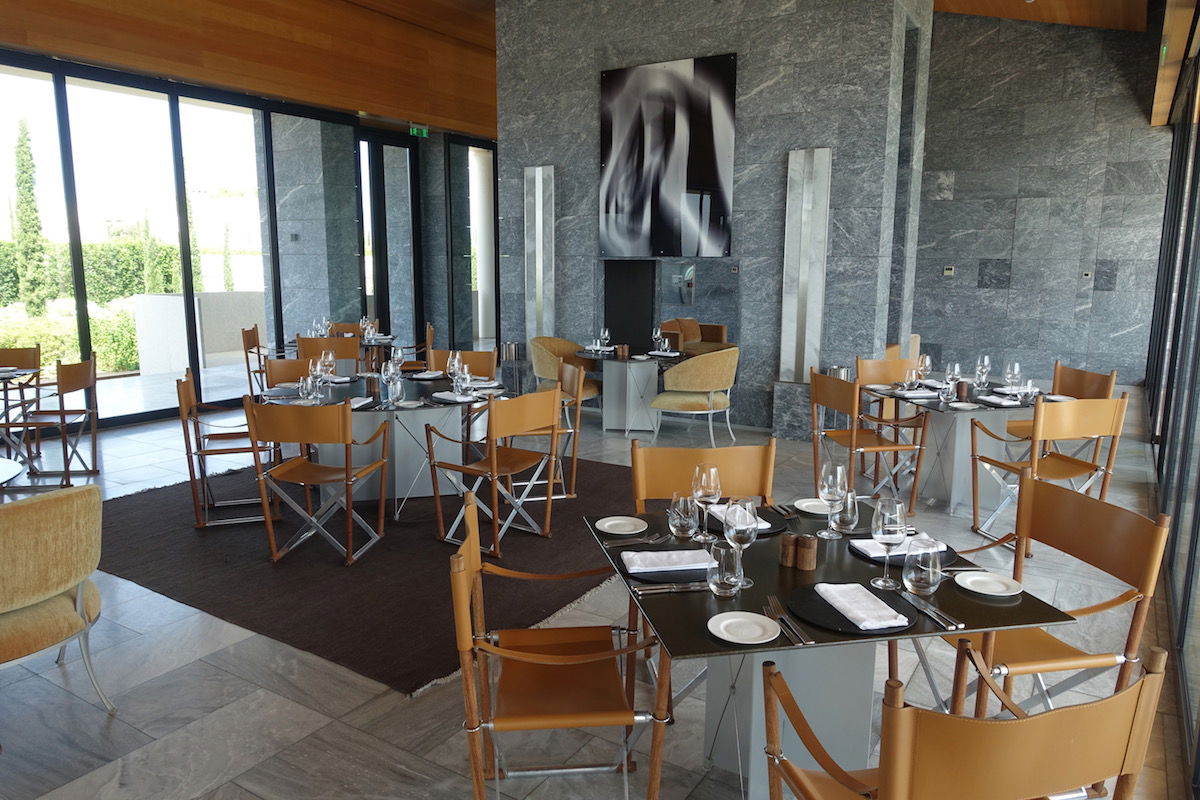 Amanzoe main restaurant
All rates at Amanzoe include breakfast, and you can order whatever you'd like off the menu (and as much as you want). The menu read as follows: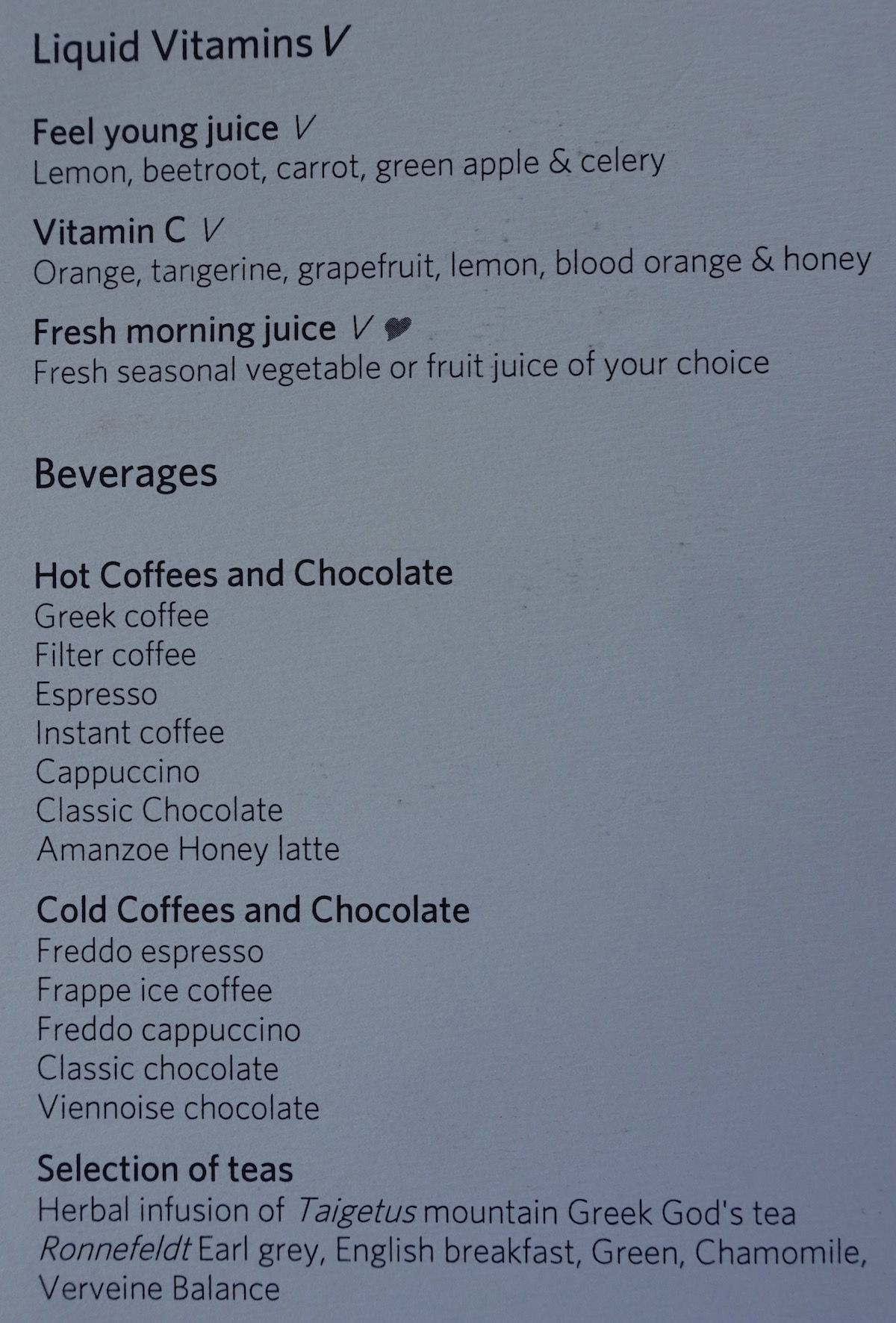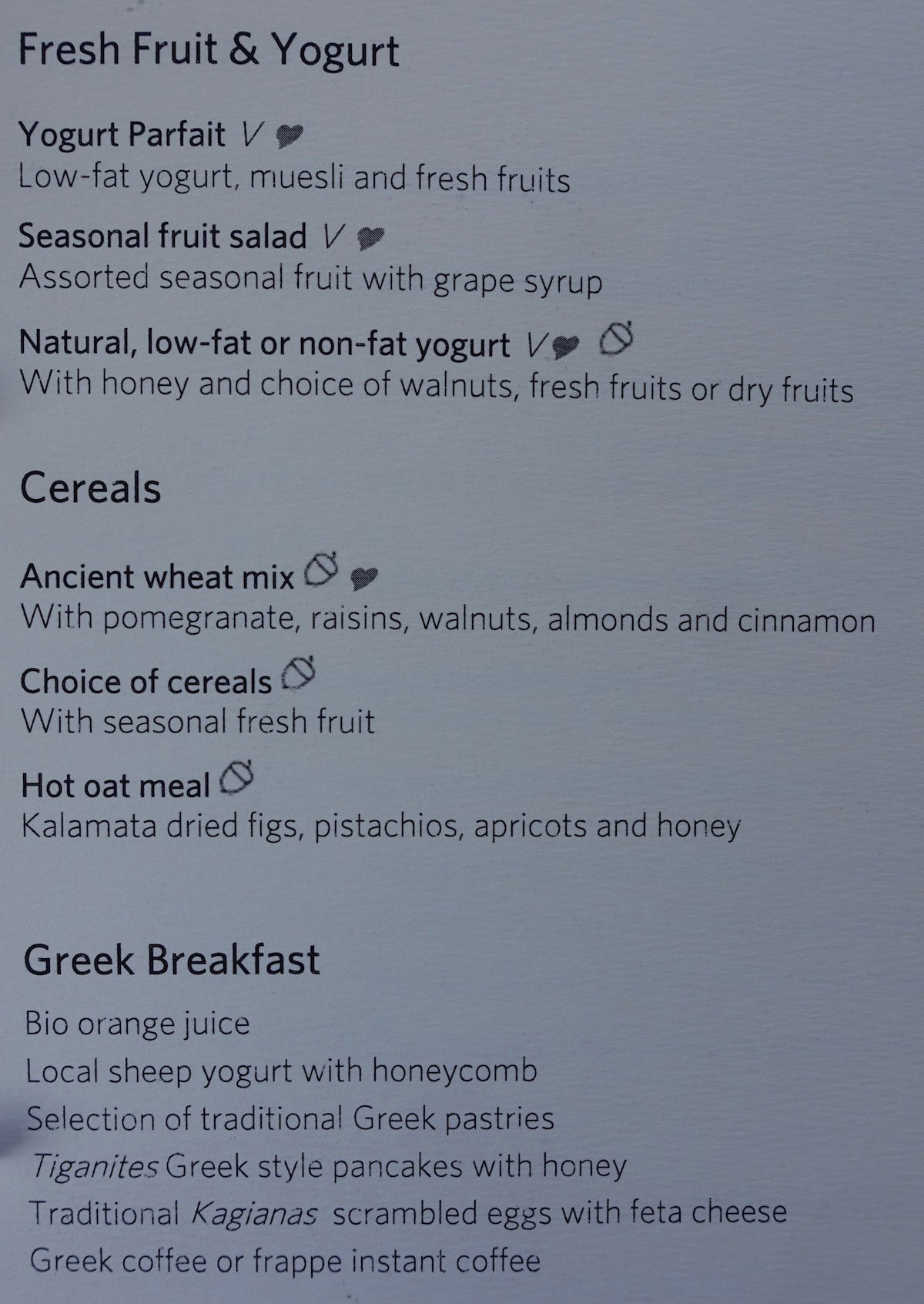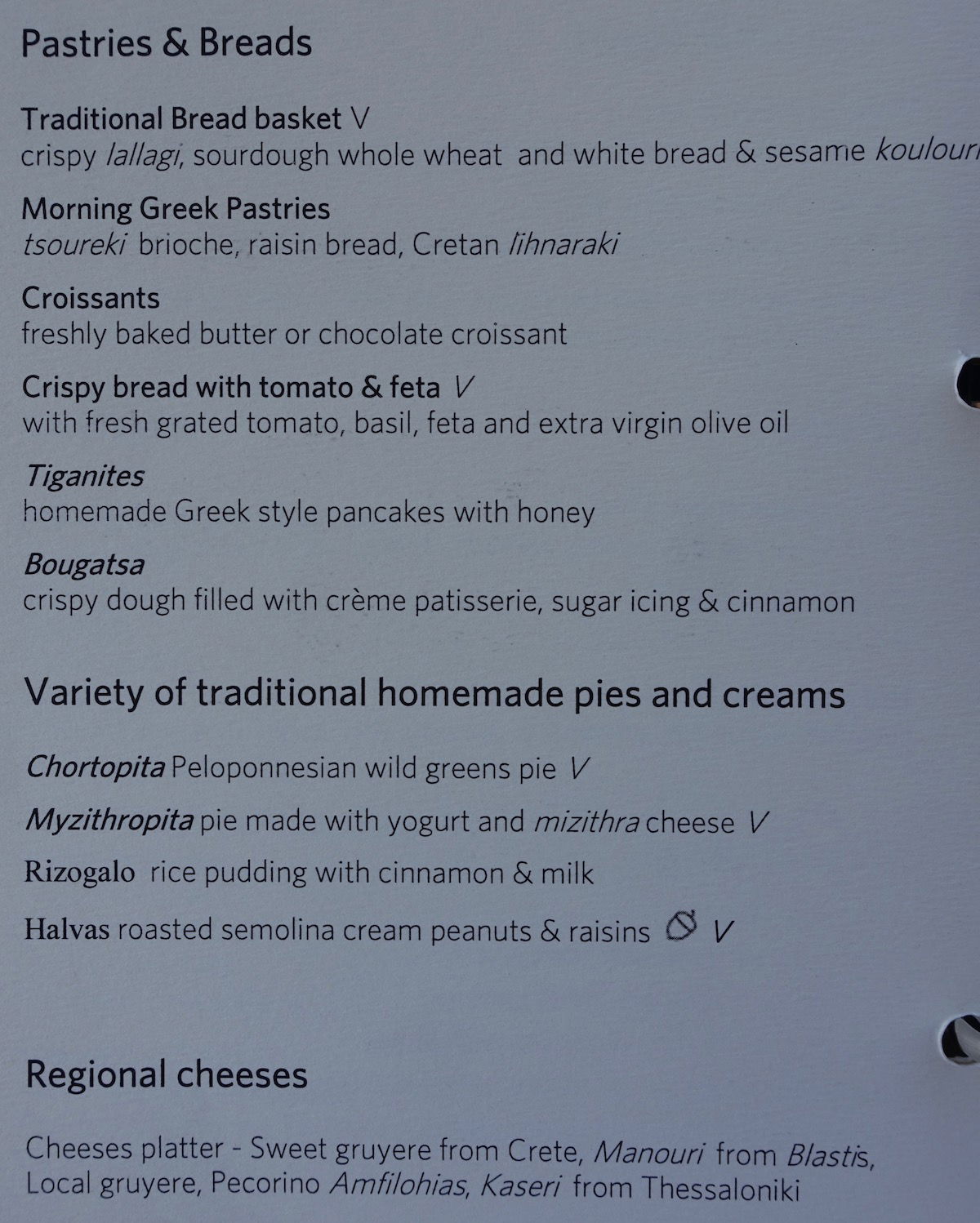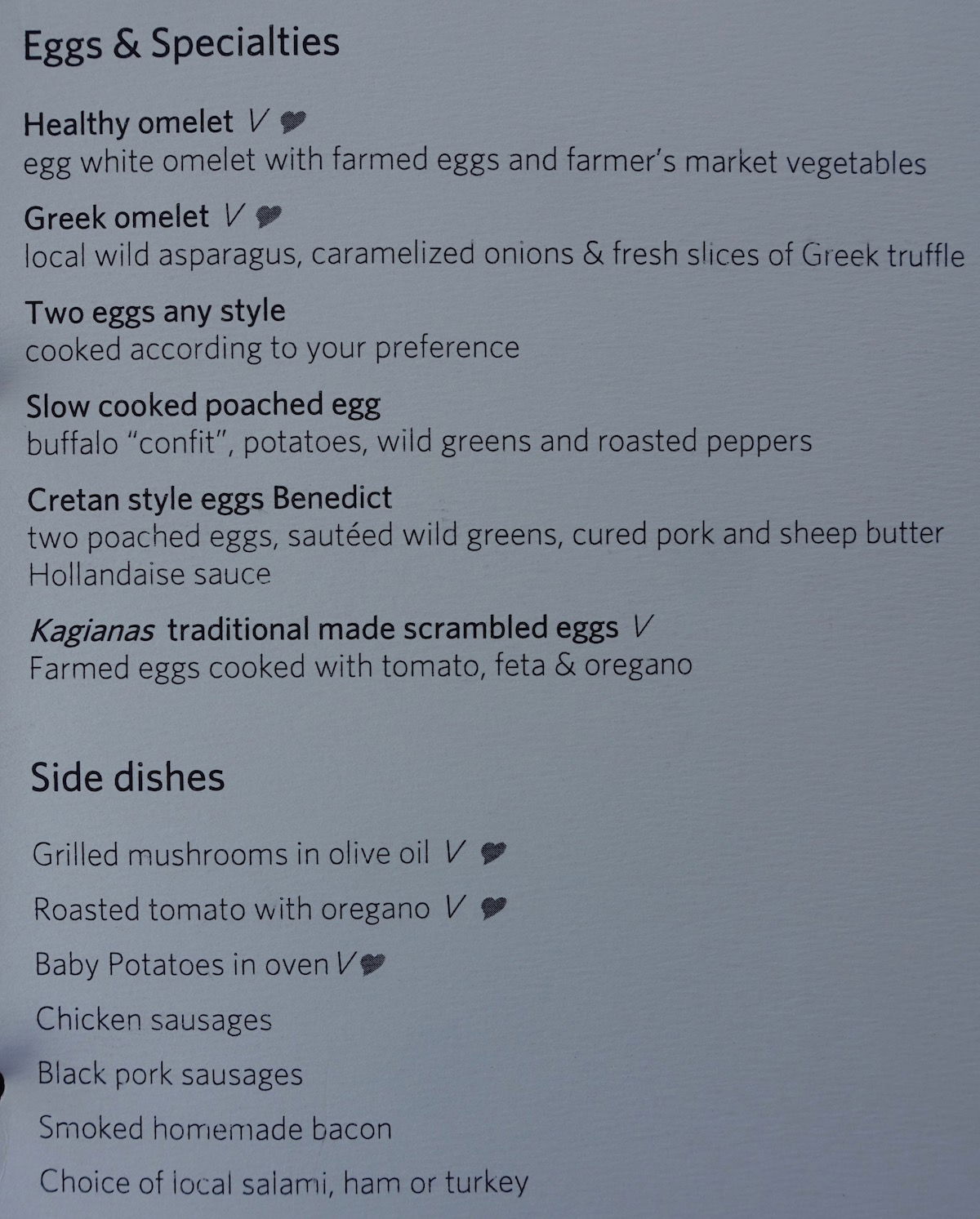 Every morning we'd first be brought some bread. This was the most boring part of breakfast, given that everything else was amazing, and the bread was just alright.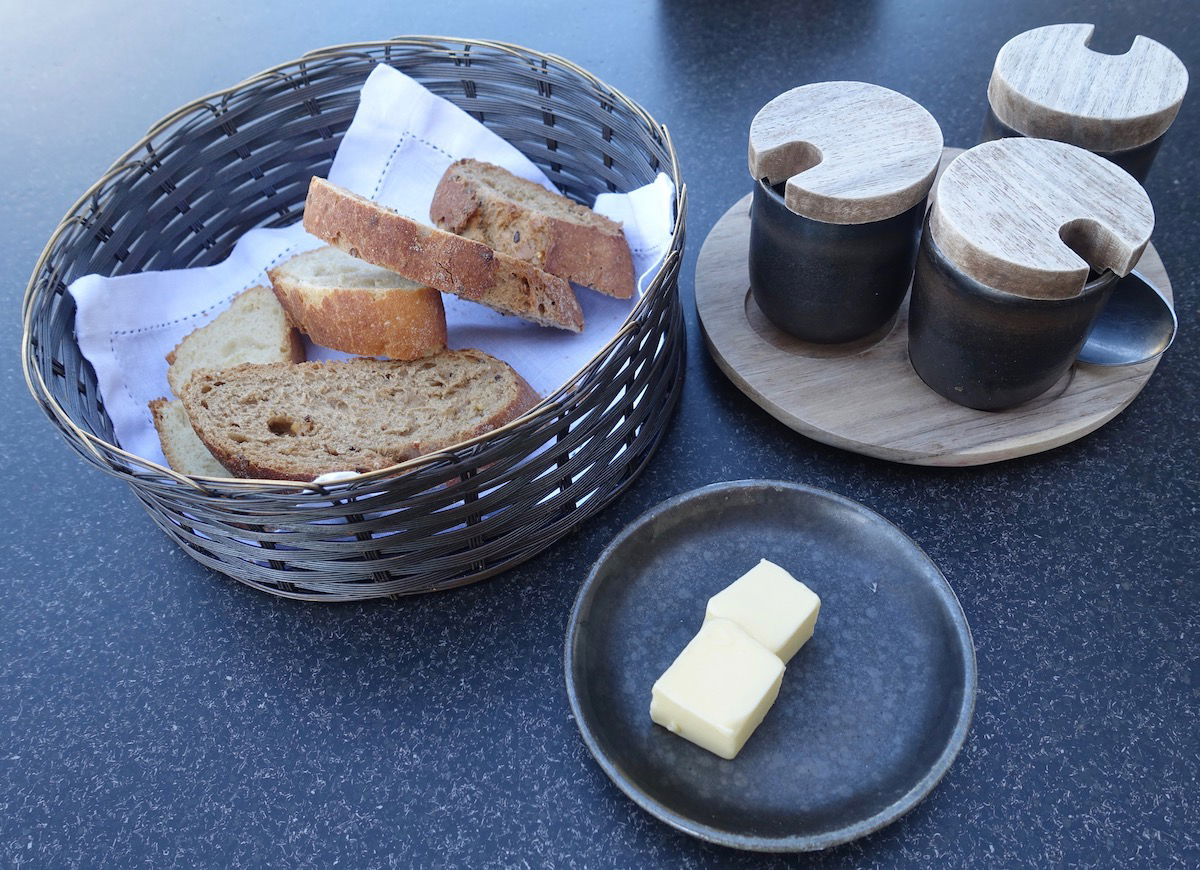 Amanzoe breakfast — bread
There were all kinds of great drinks, and most mornings I had an iced cappuccino and a green juice.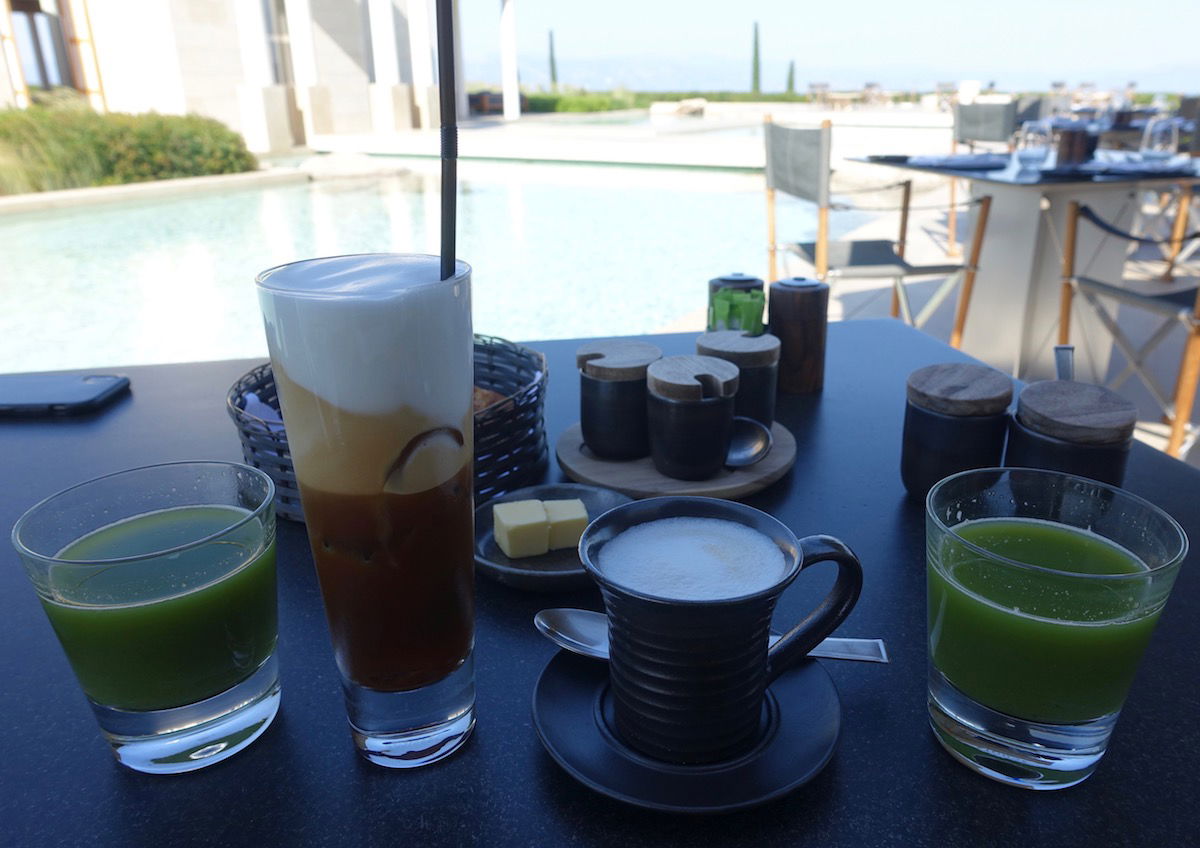 Amanzoe breakfast — drinks
Below is a sampling of some of the food we had over our stay here.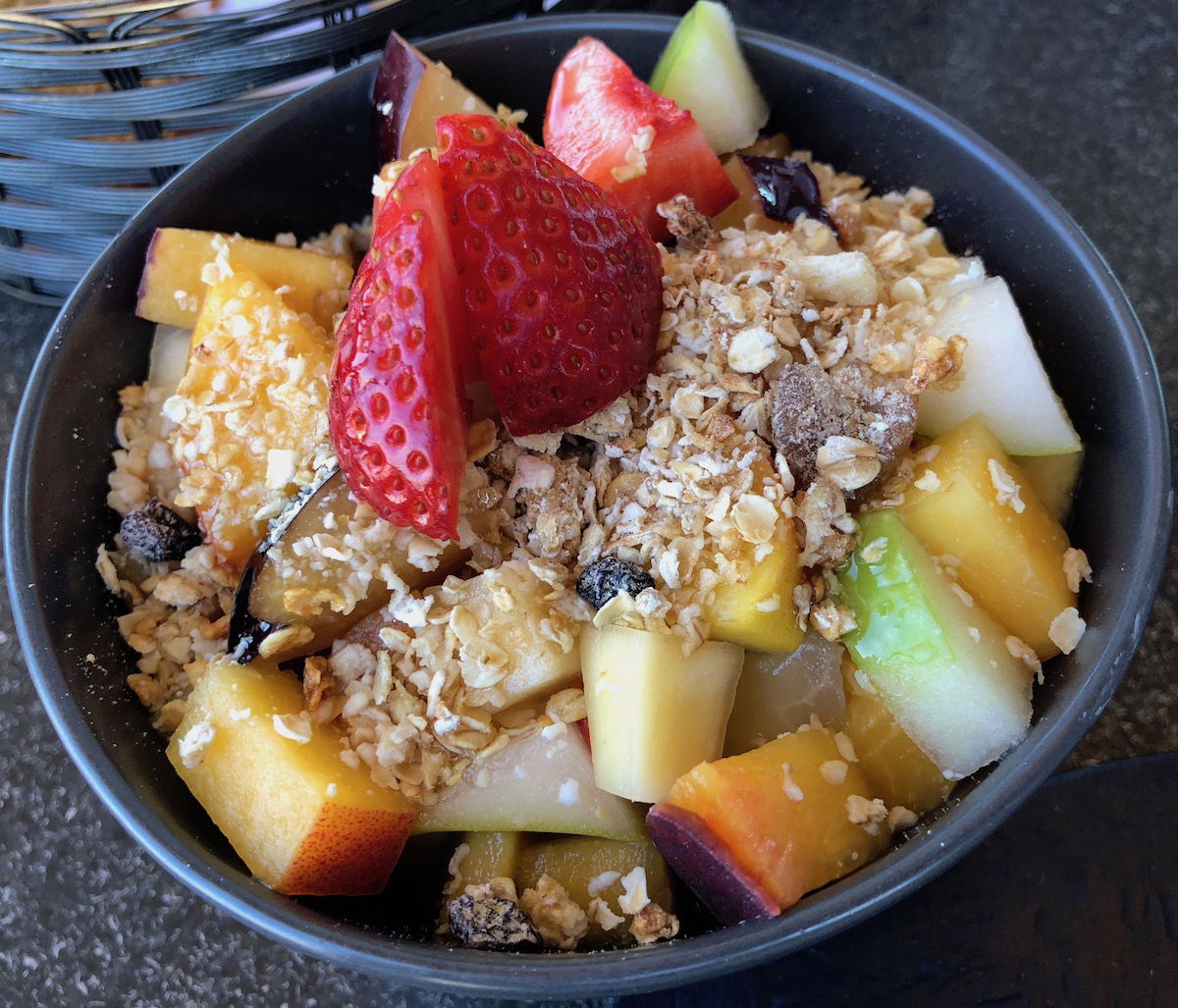 Amanzoe breakfast — yogurt parfait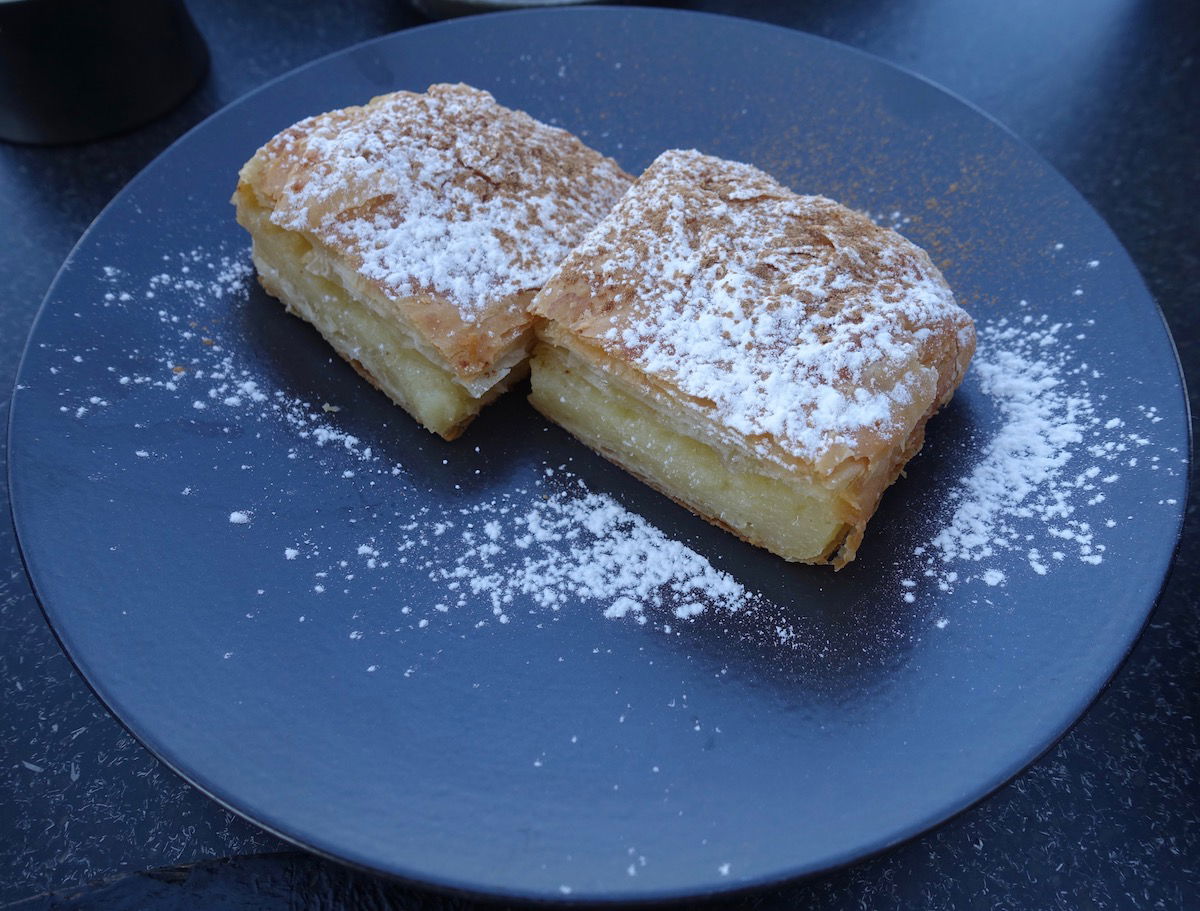 Amanzoe breakfast — myzithropita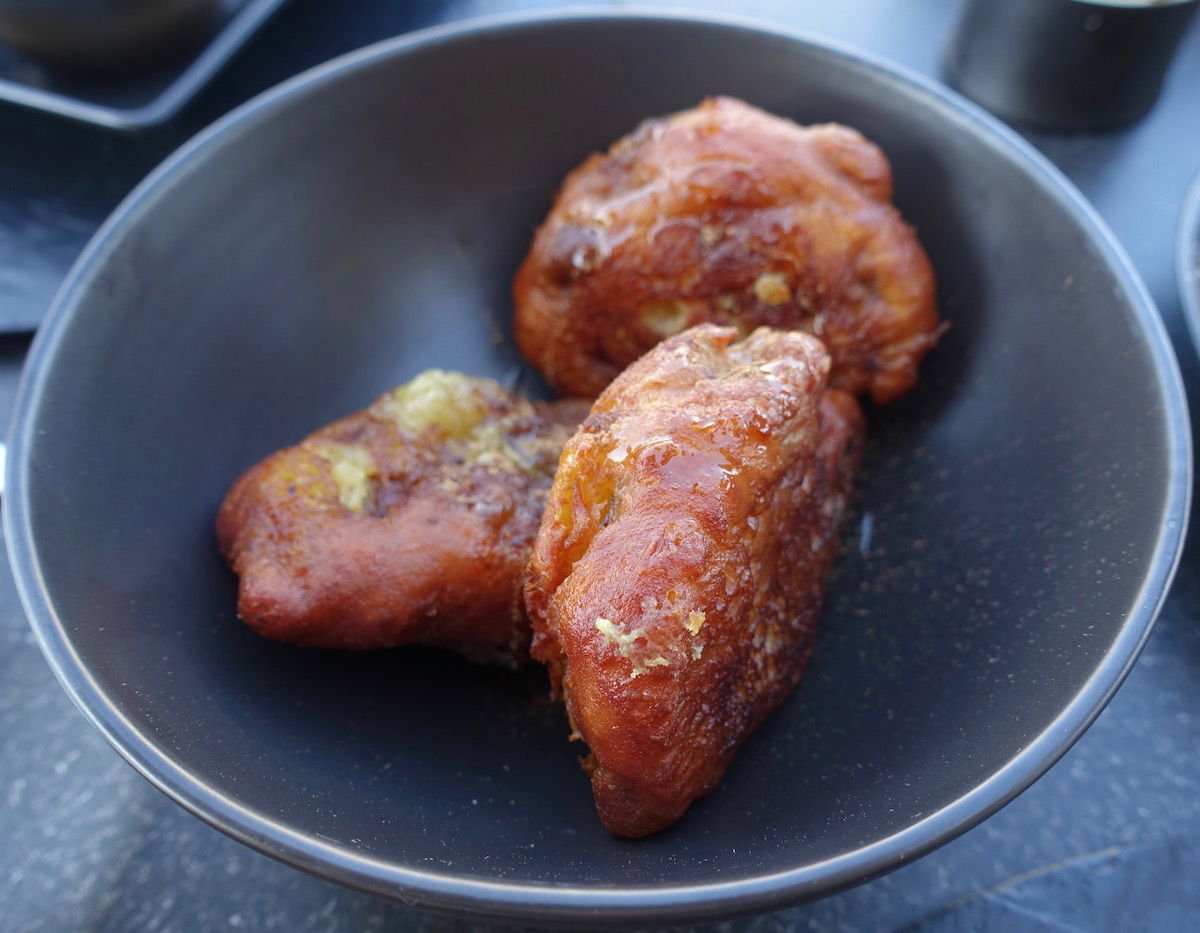 Amanzoe breakfast — bougatsa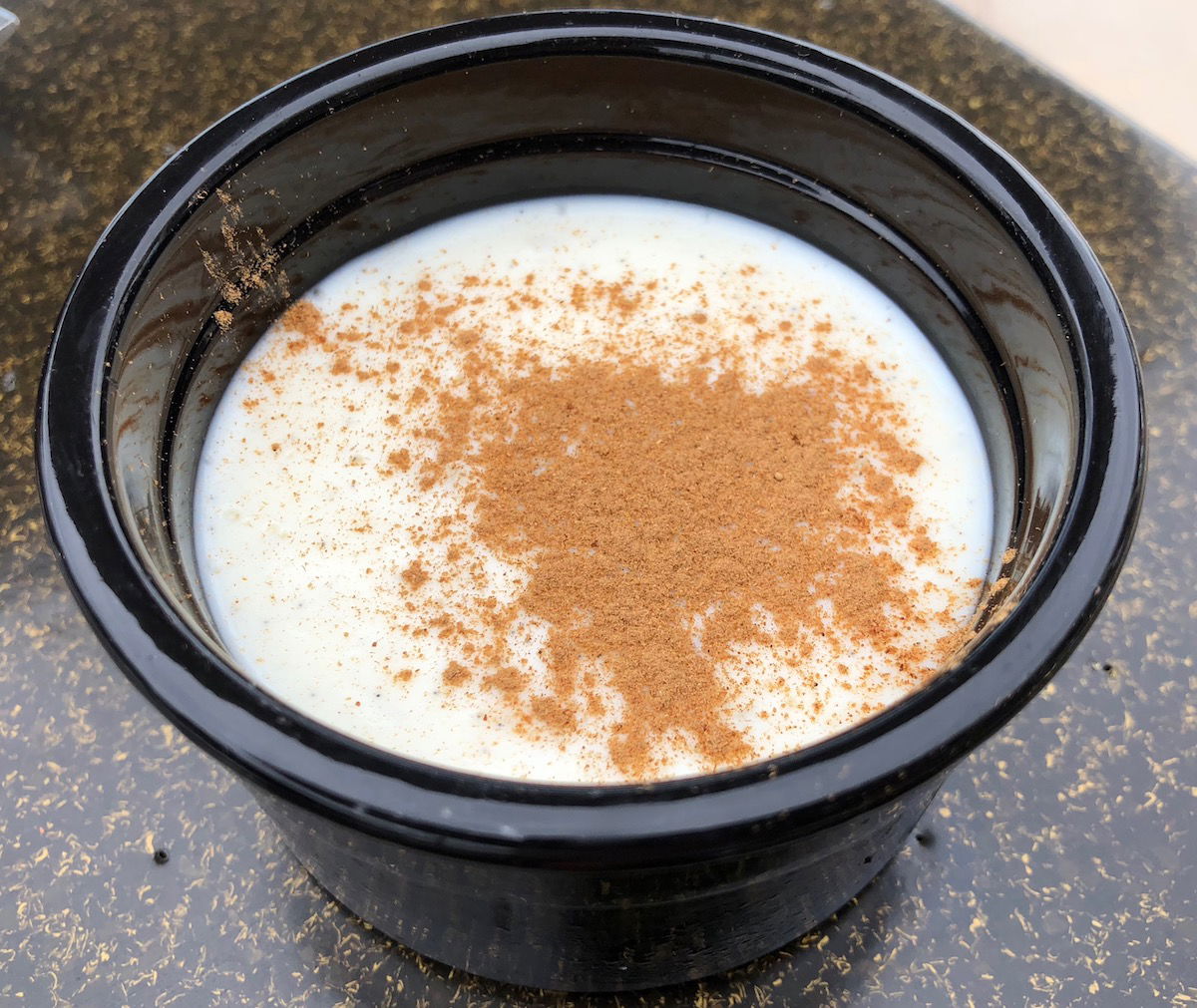 Amanzoe breakfast — rizogalo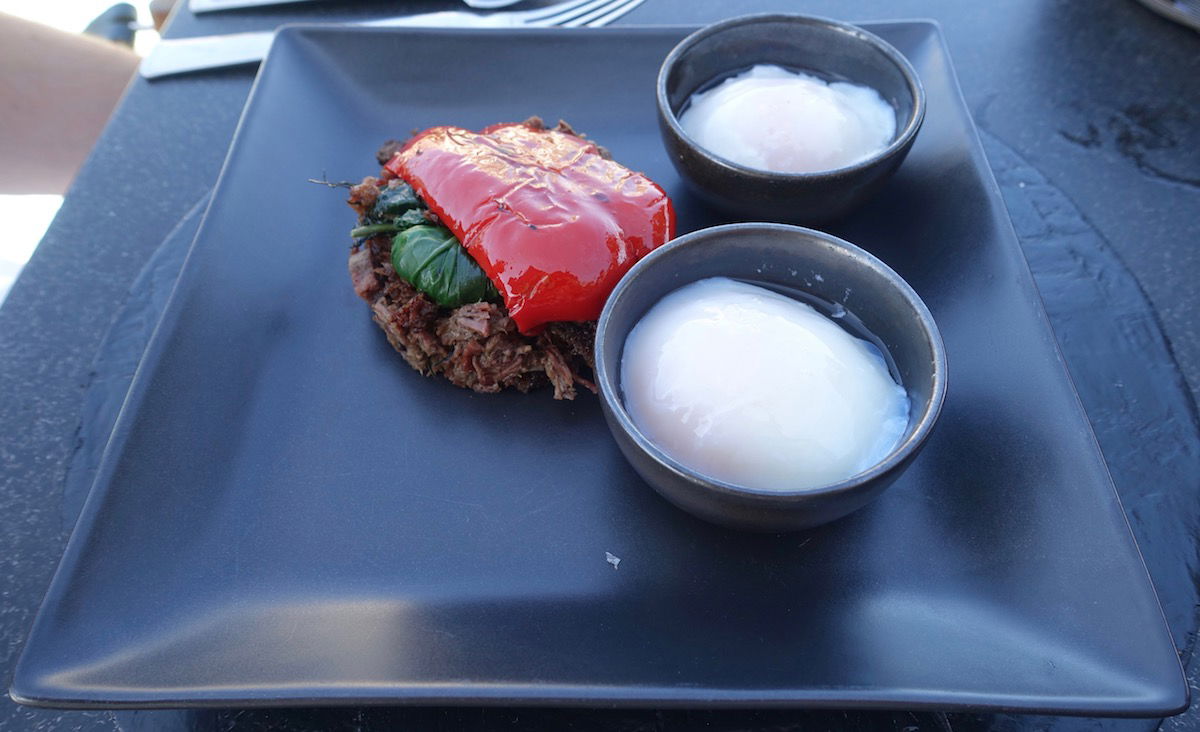 Amanzoe breakfast — eggs benedict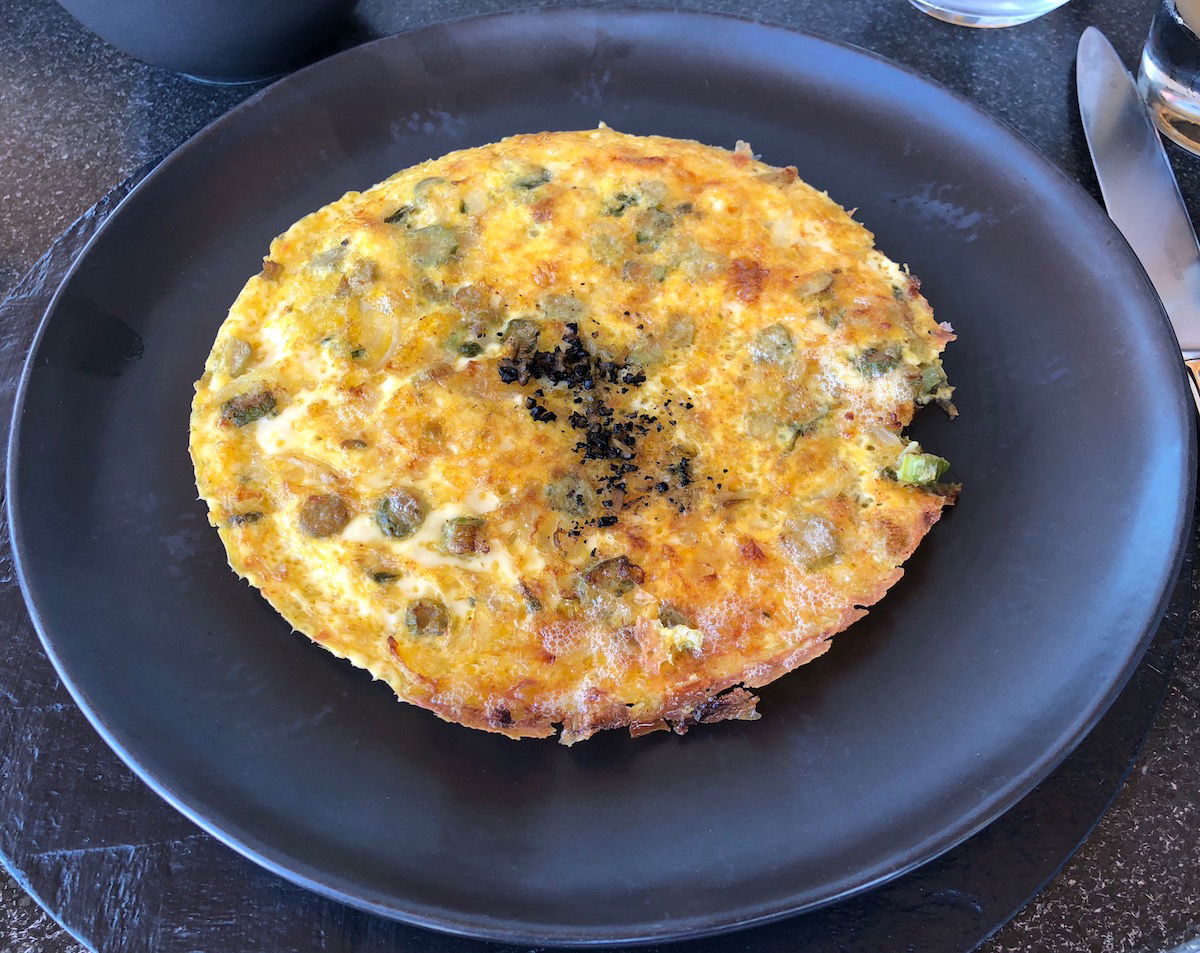 Amanzoe breakfast — omelet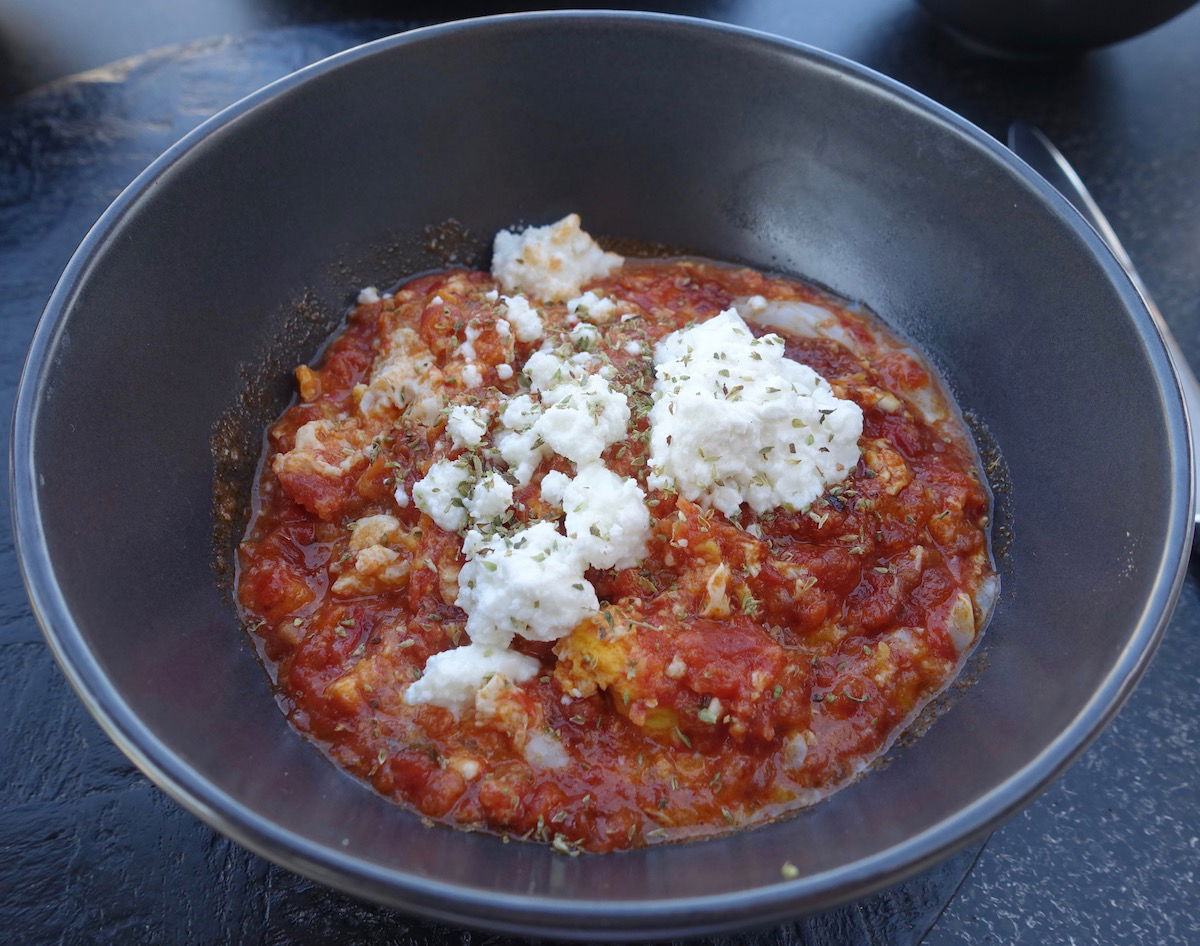 Amanzoe breakfast — kagianas
There was also a small buffet with cereal, fruit, yogurt, and some pastries. I never did get anything from here, since the menu was so good.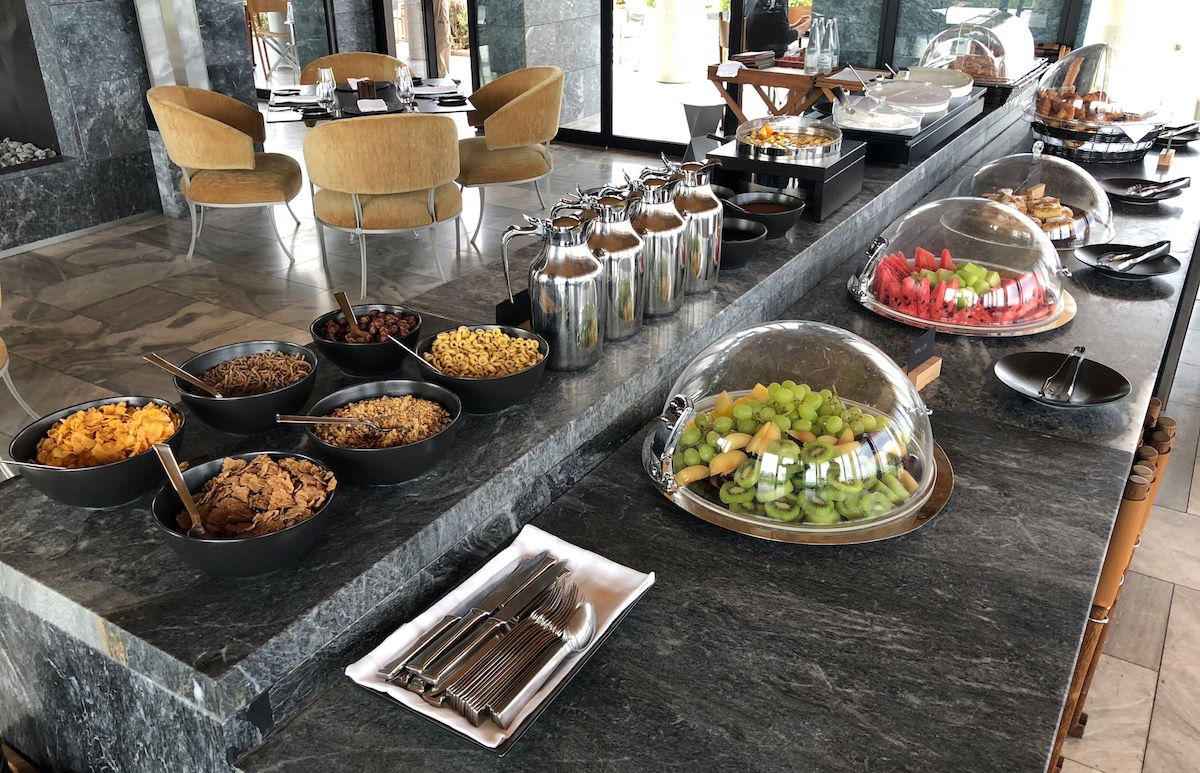 Amanzoe breakfast buffet
Lunch at Amanzoe
You have a couple of options for lunch at Amanzoe, aside from in-room dining. The most popular lunch venue is at the beach club.
The lunch menu there read as follows: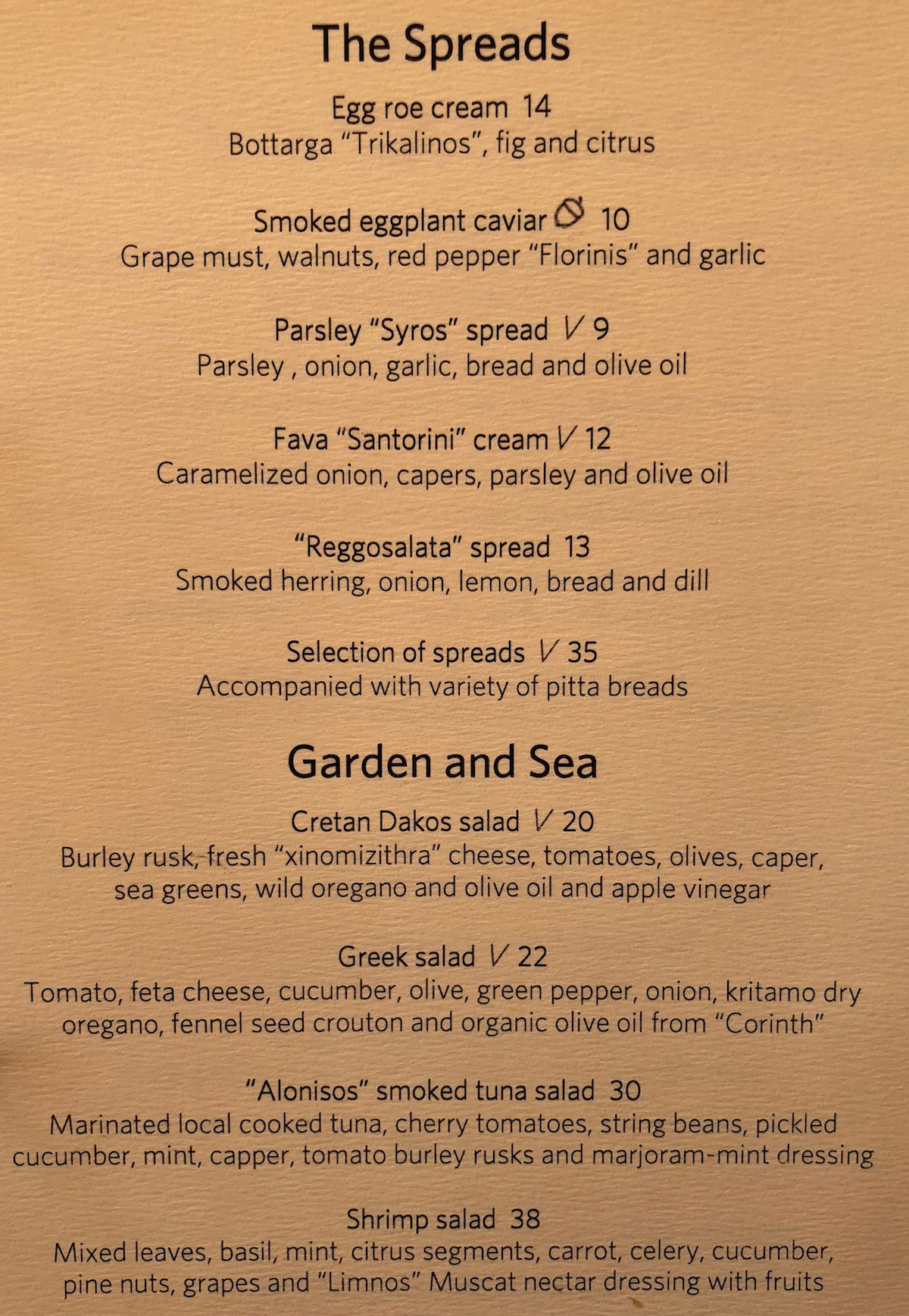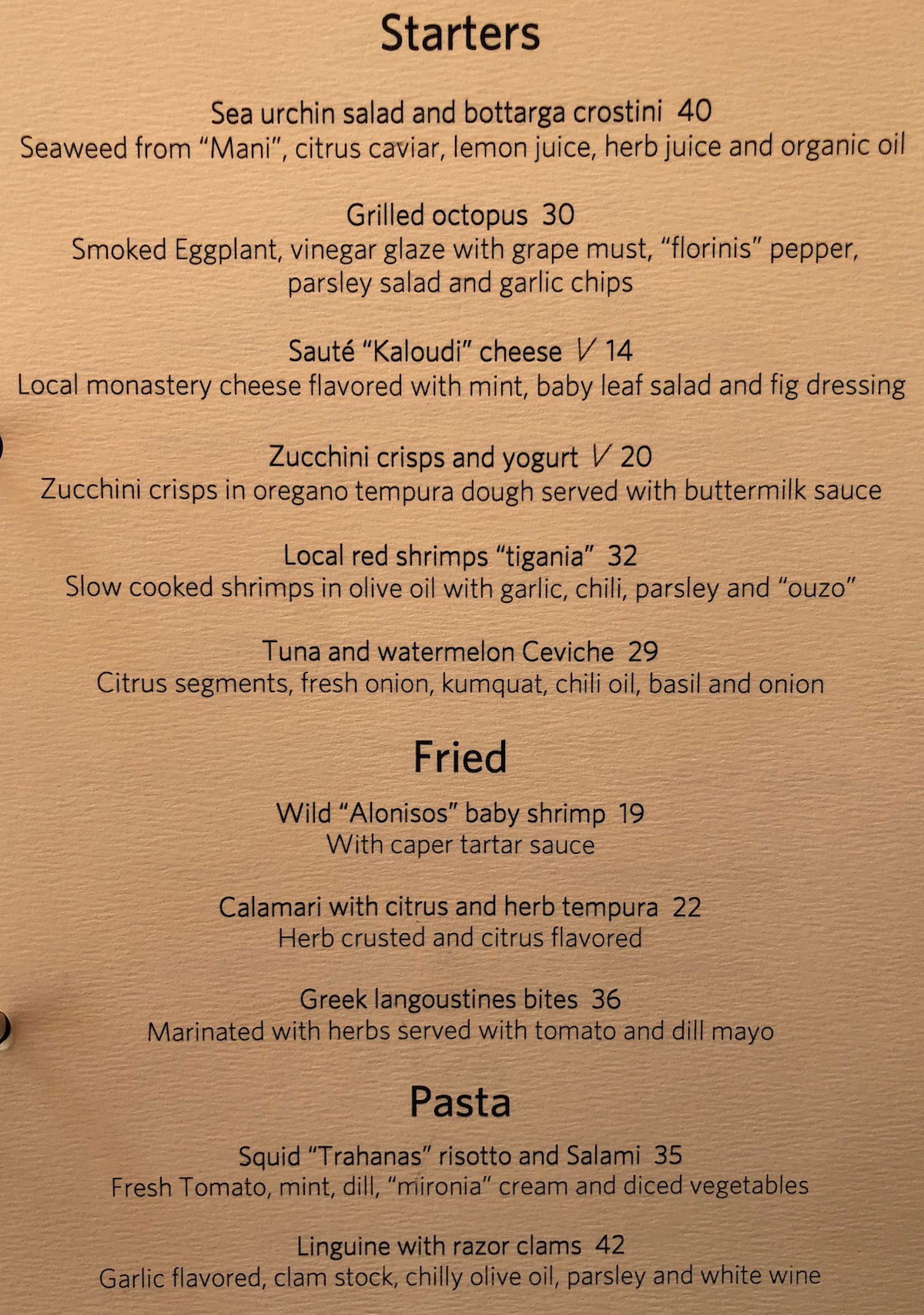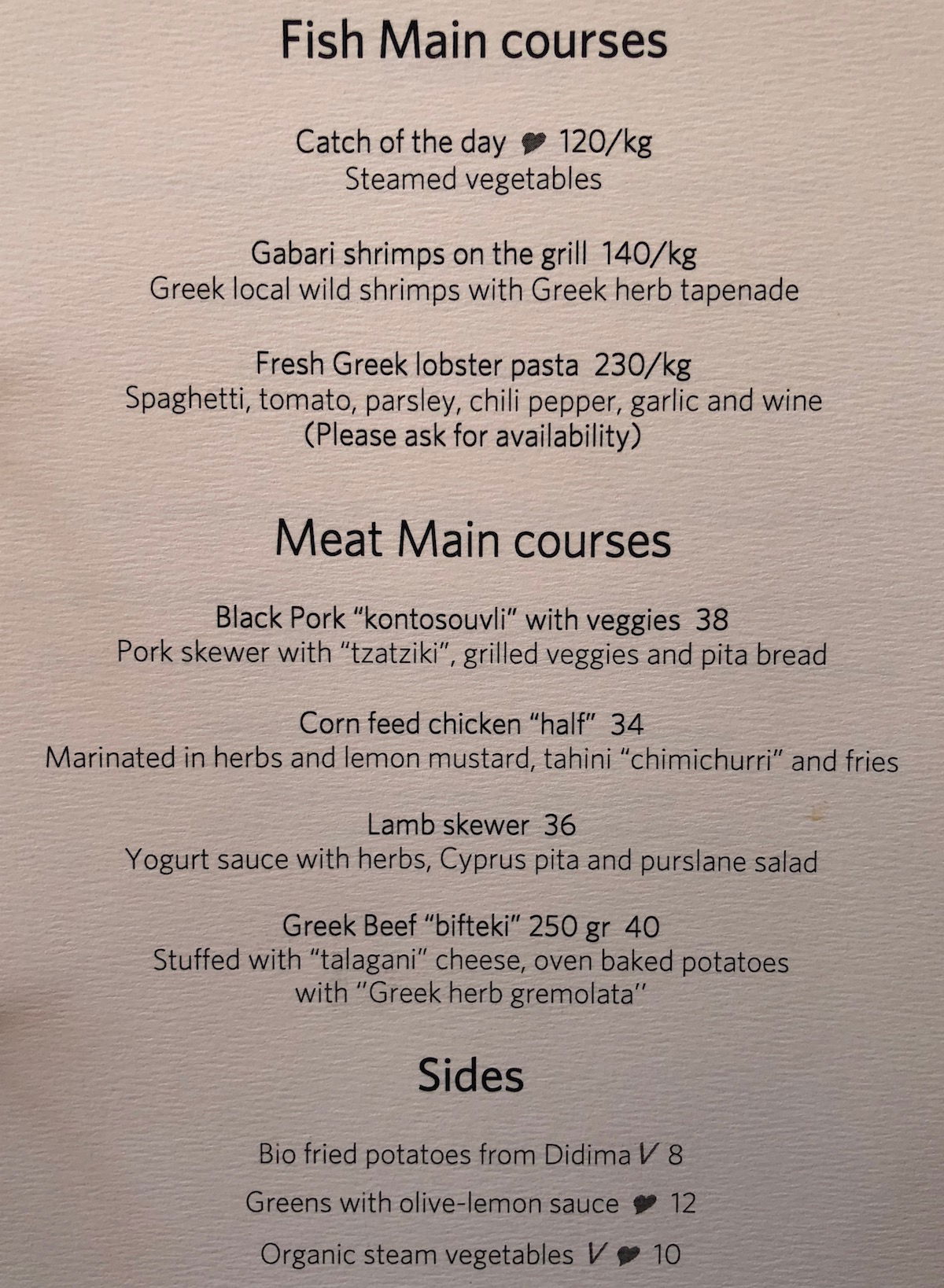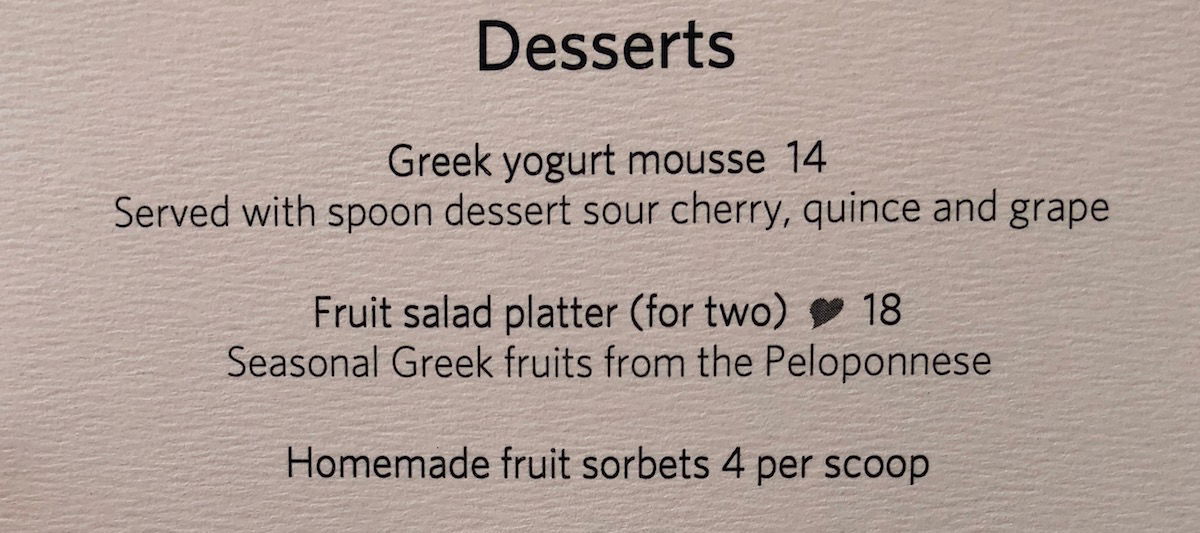 On top of that there's a snack menu, should you want something closer to dinnertime: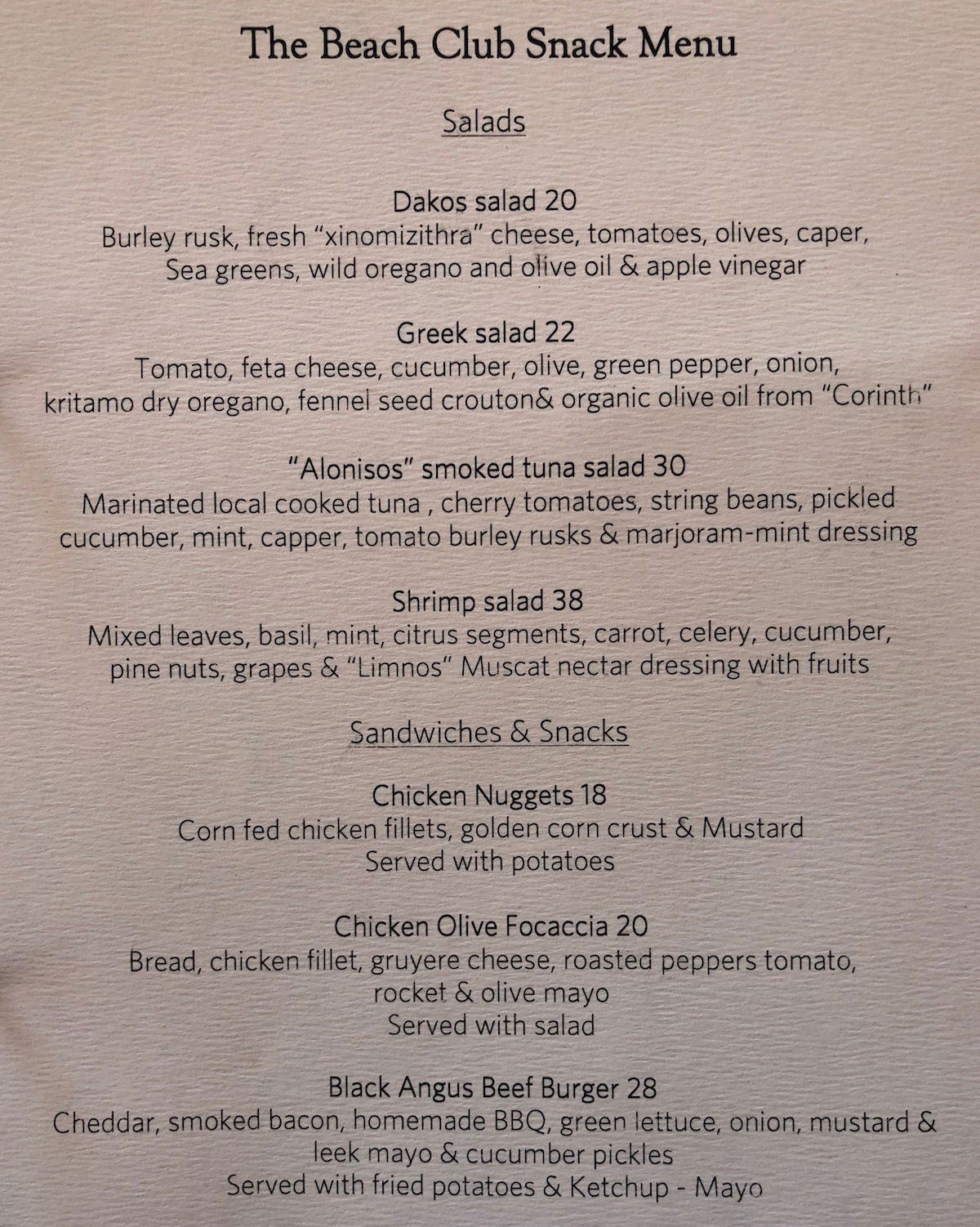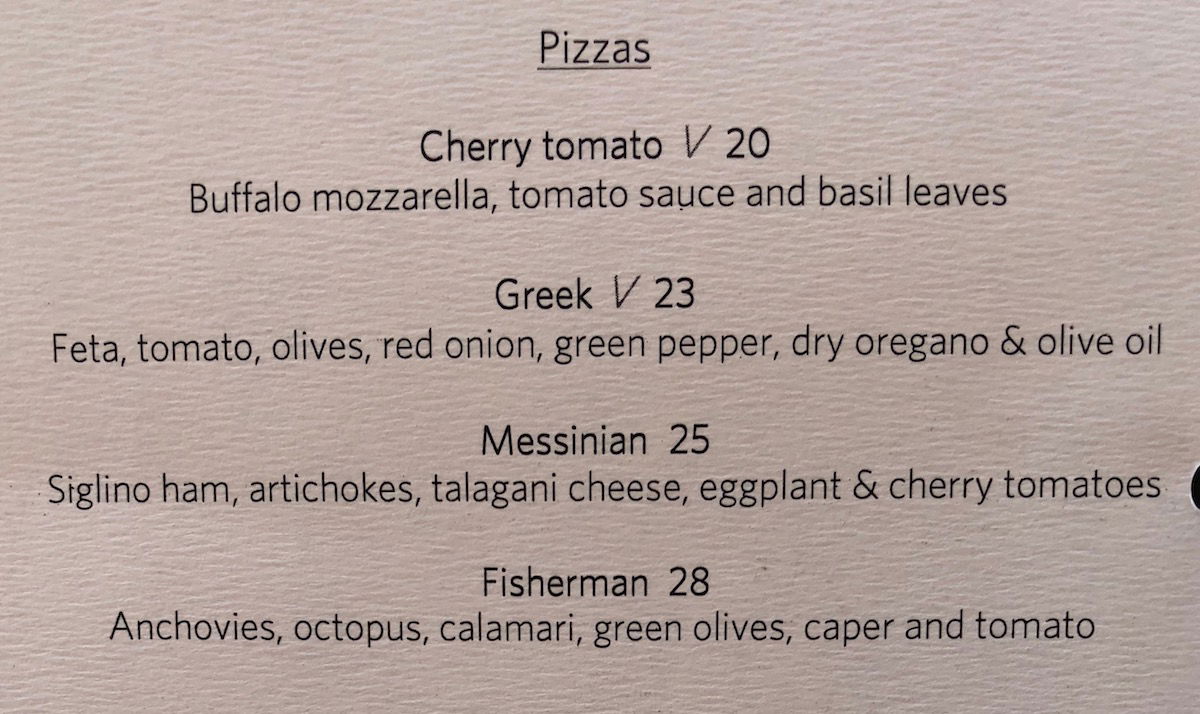 Below is some of the food we had over our two lunches at the beach club.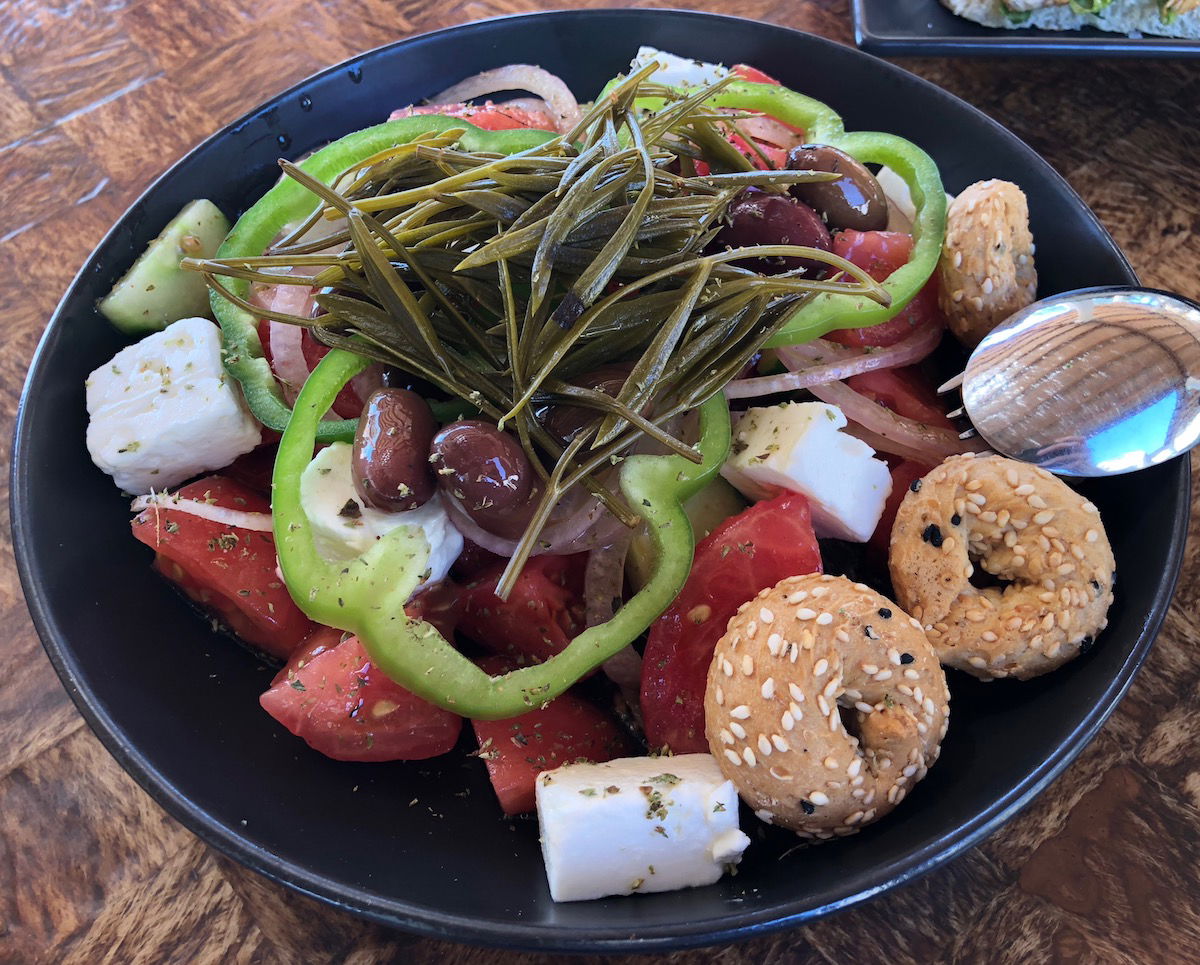 Amanzoe lunch — Greek salad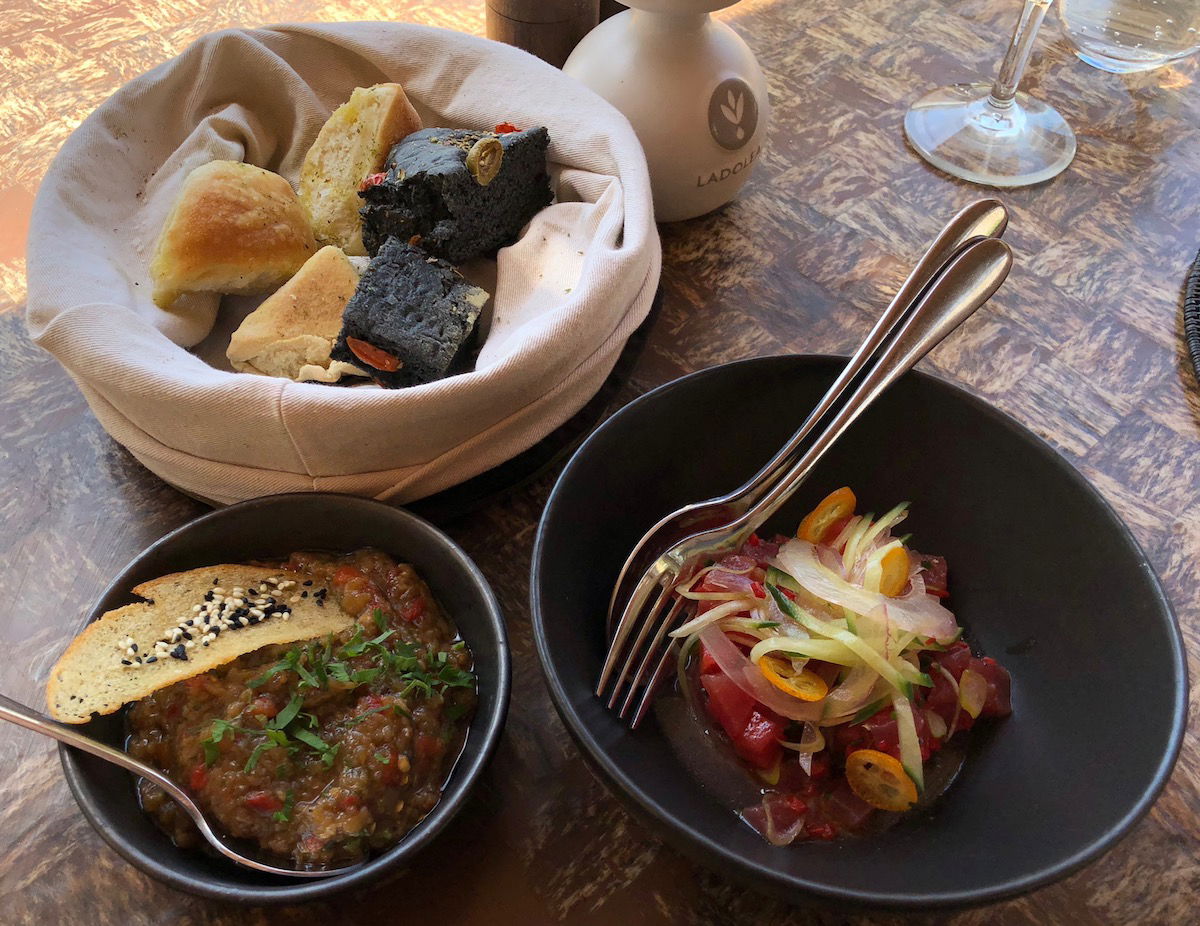 Amanzoe lunch — spread and tuna and watermelon ceviche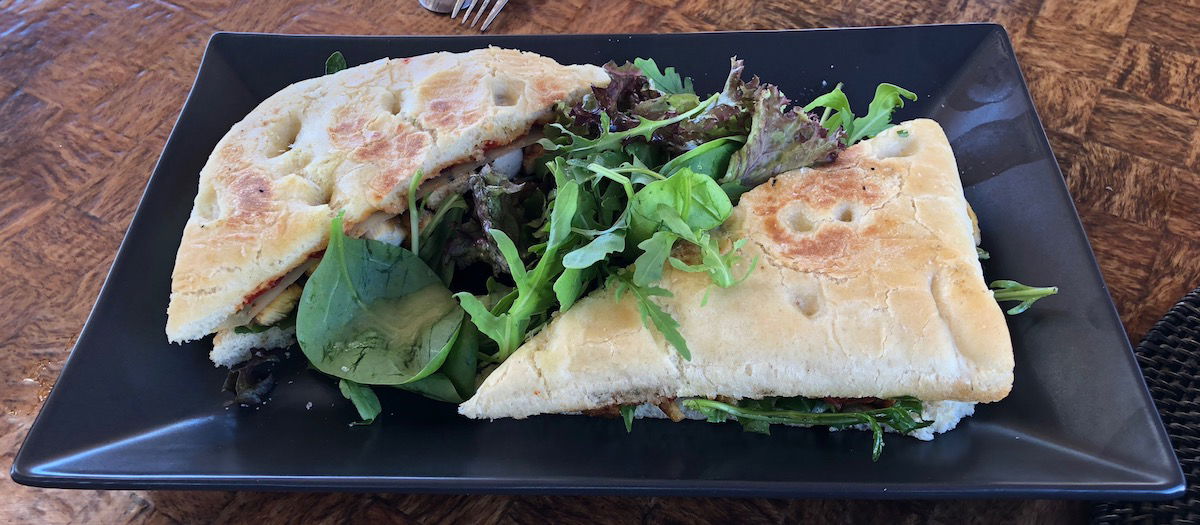 Amanzoe lunch — chicken olive focaccia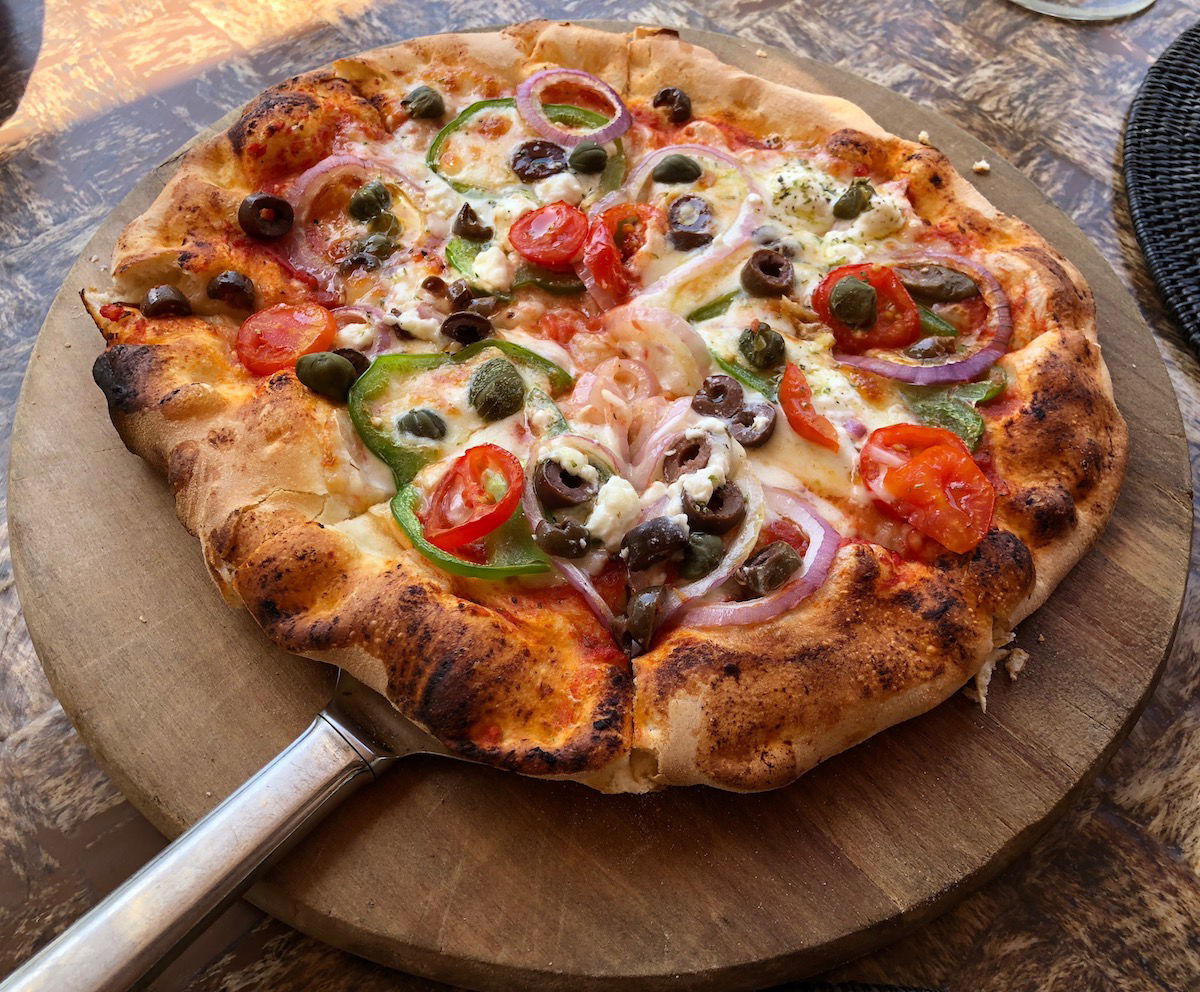 Amanzoe lunch — Greek pizza
The other lunch venue is the restaurant at the main pool (not the beach club pool, but rather the one attached to Amanzoe). This transforms into their Japanese restaurant at night.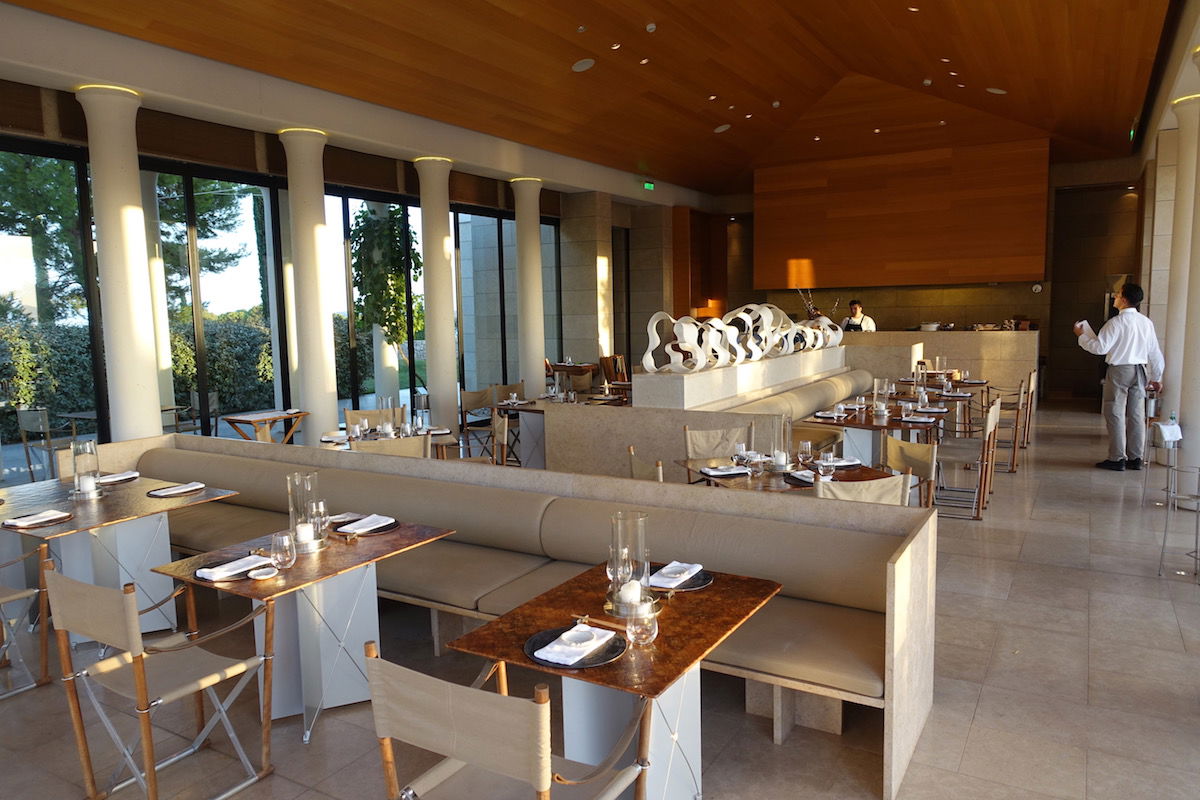 Amanzoe pool restaurant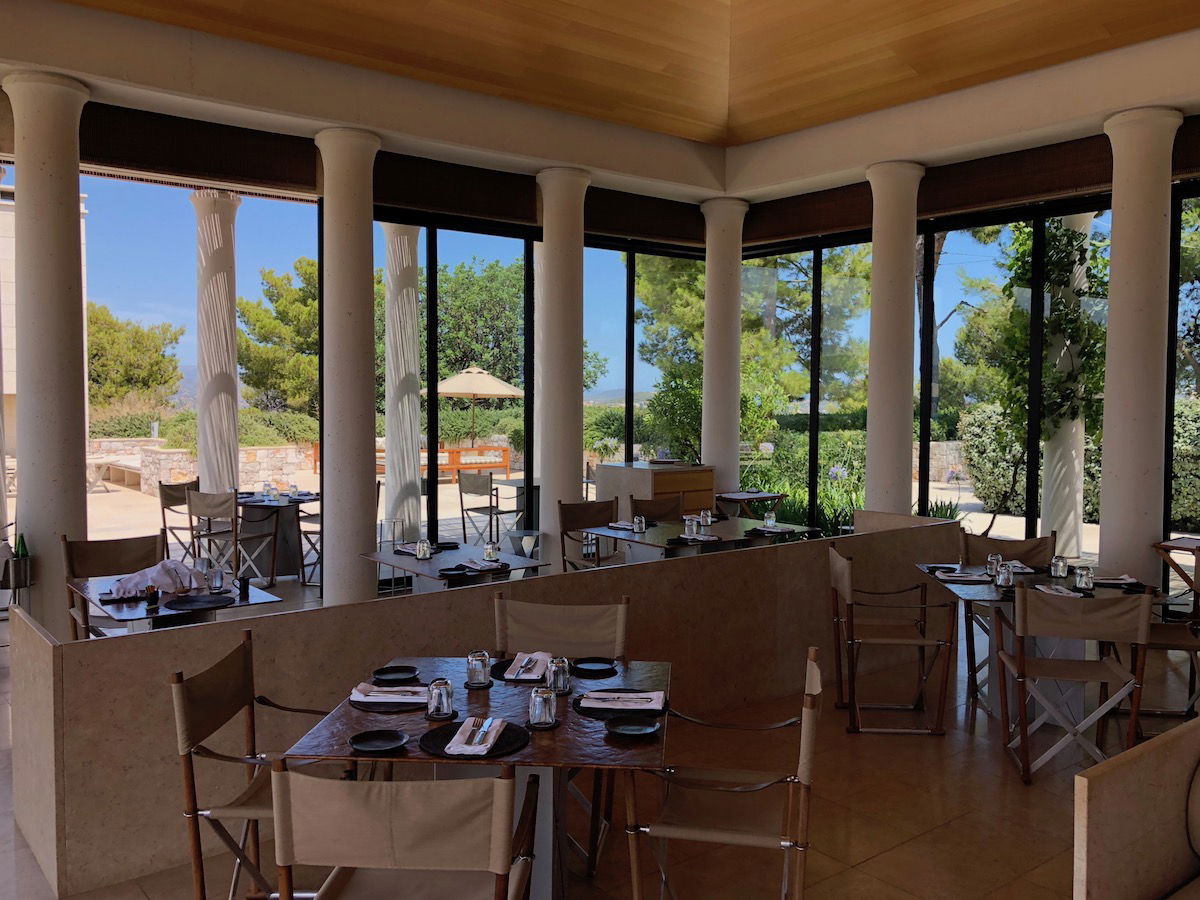 Amanzoe pool restaurant
The pool lunch menu read as follows: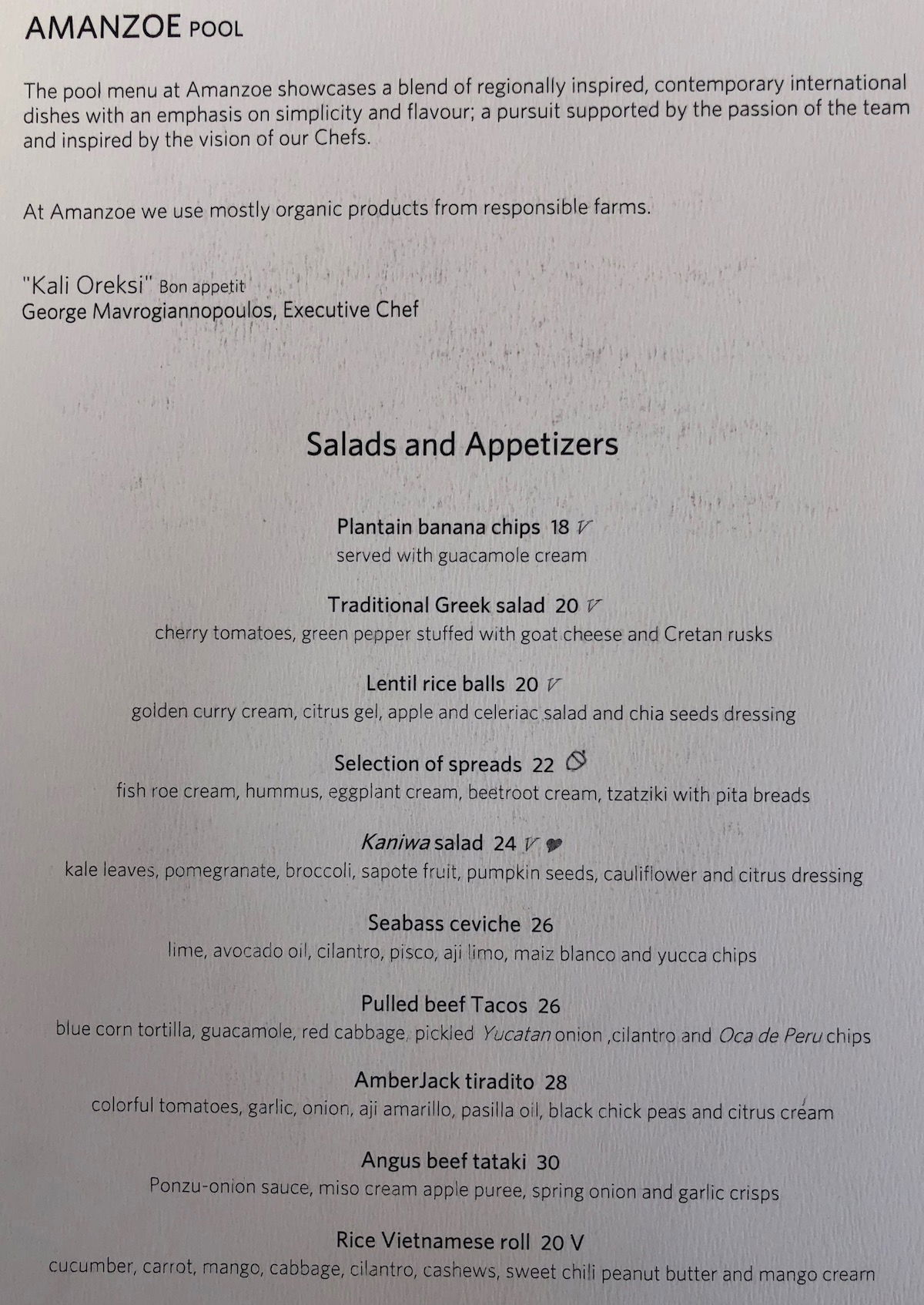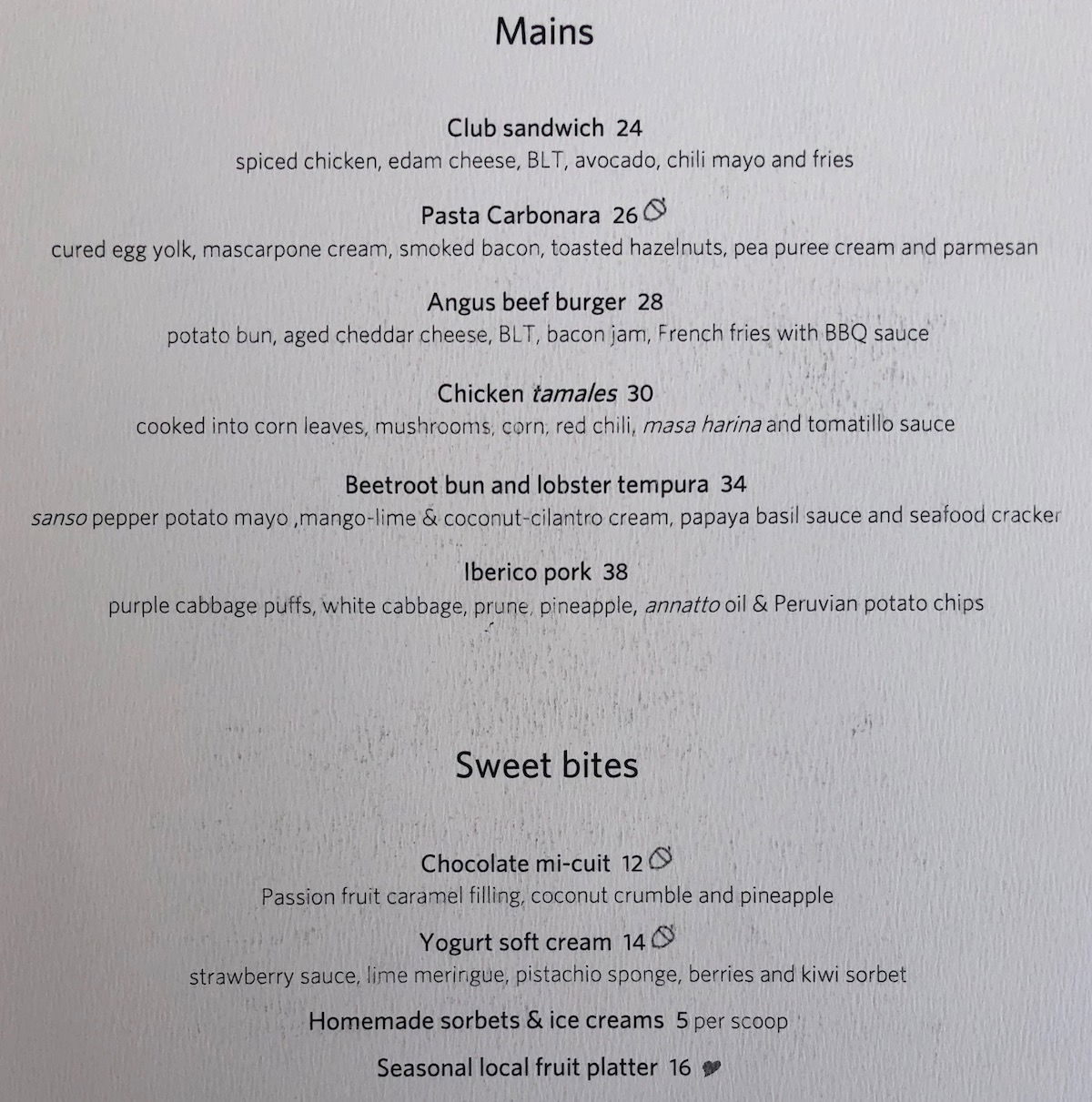 We only ate lunch here our last day, and ordered the pulled beef tacos. While they tasted good, I thought the portion was comically small.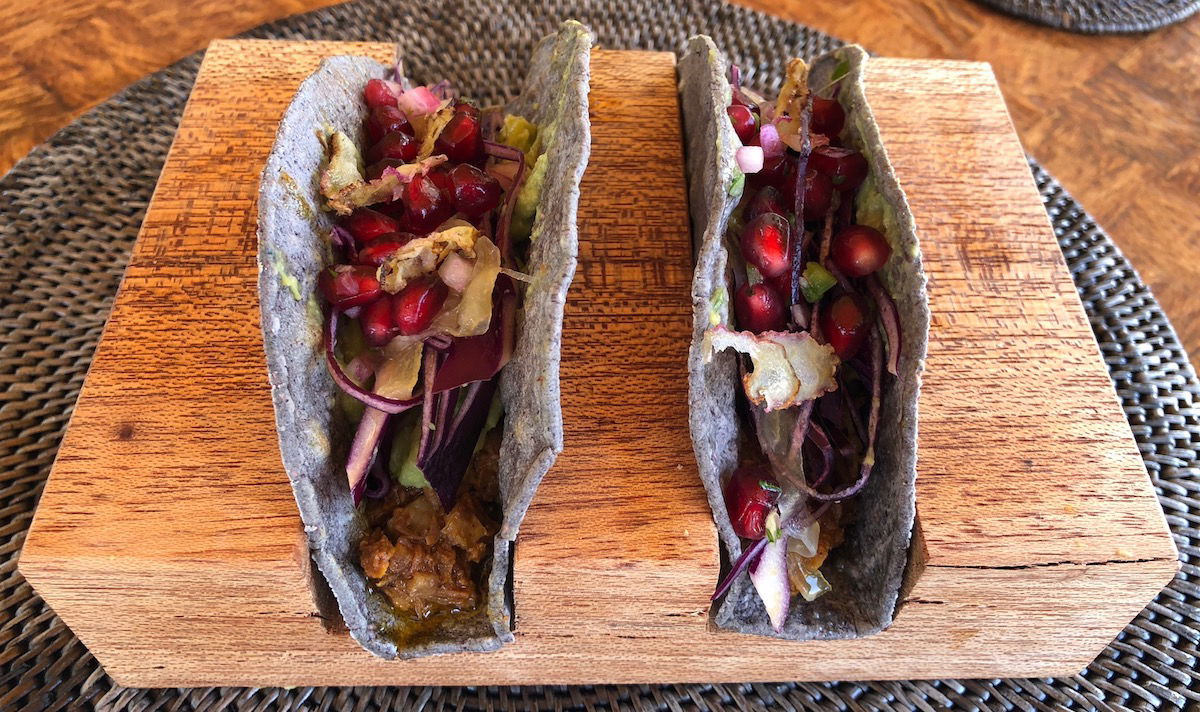 Amanzoe lunch — pulled beef tacos
Dinner at Amanzoe
Then for dinner there are two options, in addition to in-room dining.
In the main restaurant (where breakfast is also served), the dinner menu read as follows: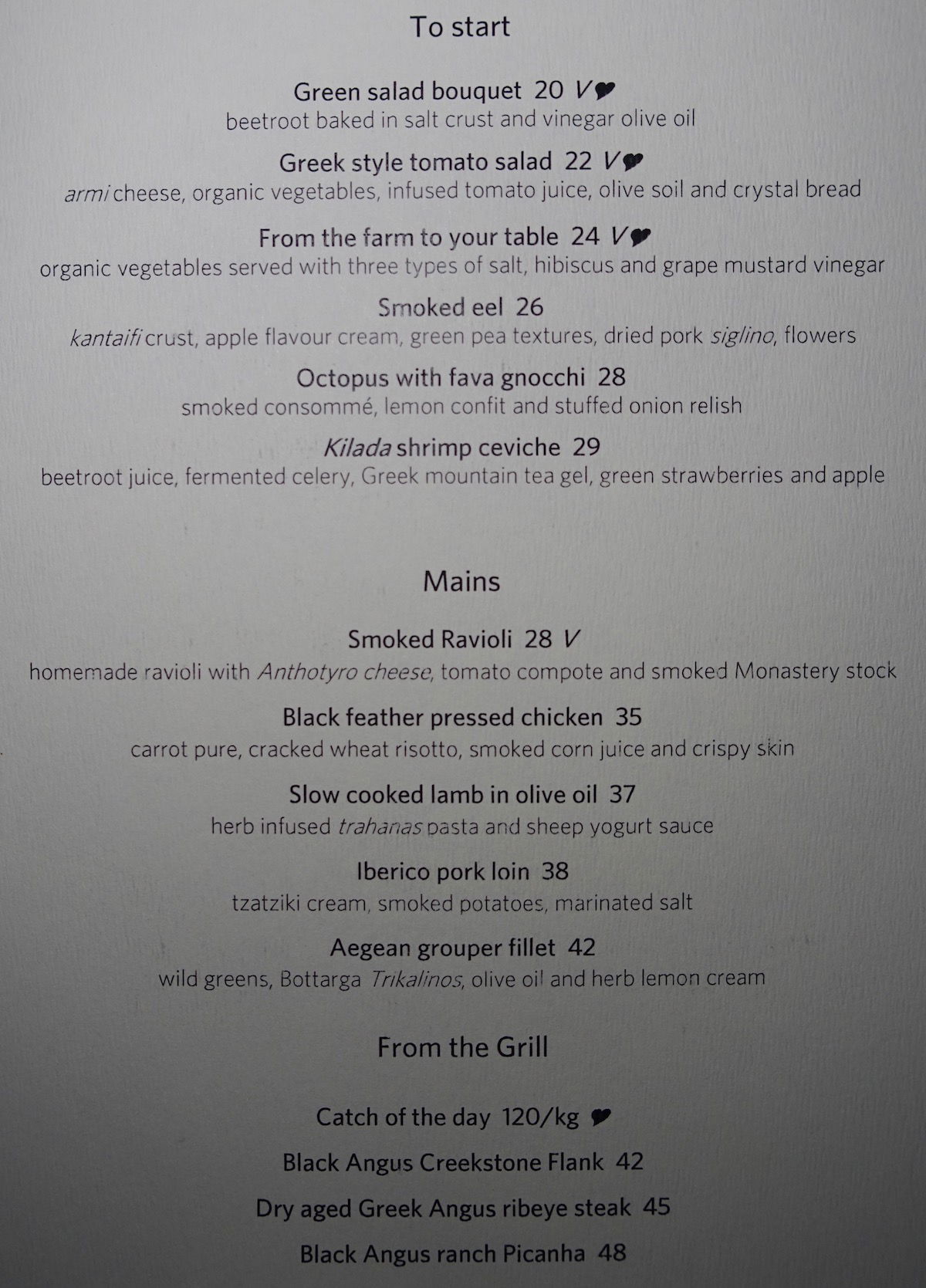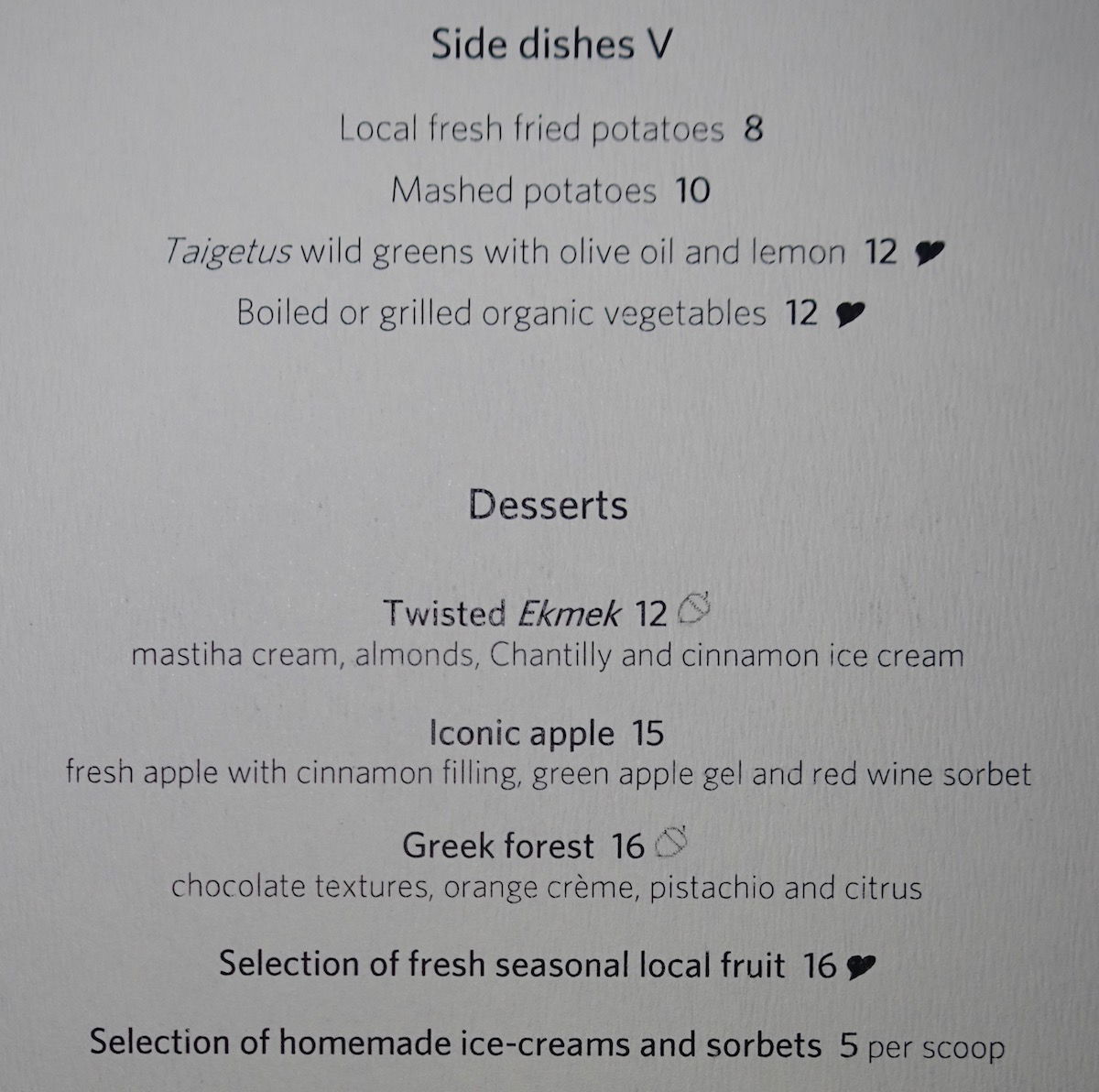 There was always a selection of bread.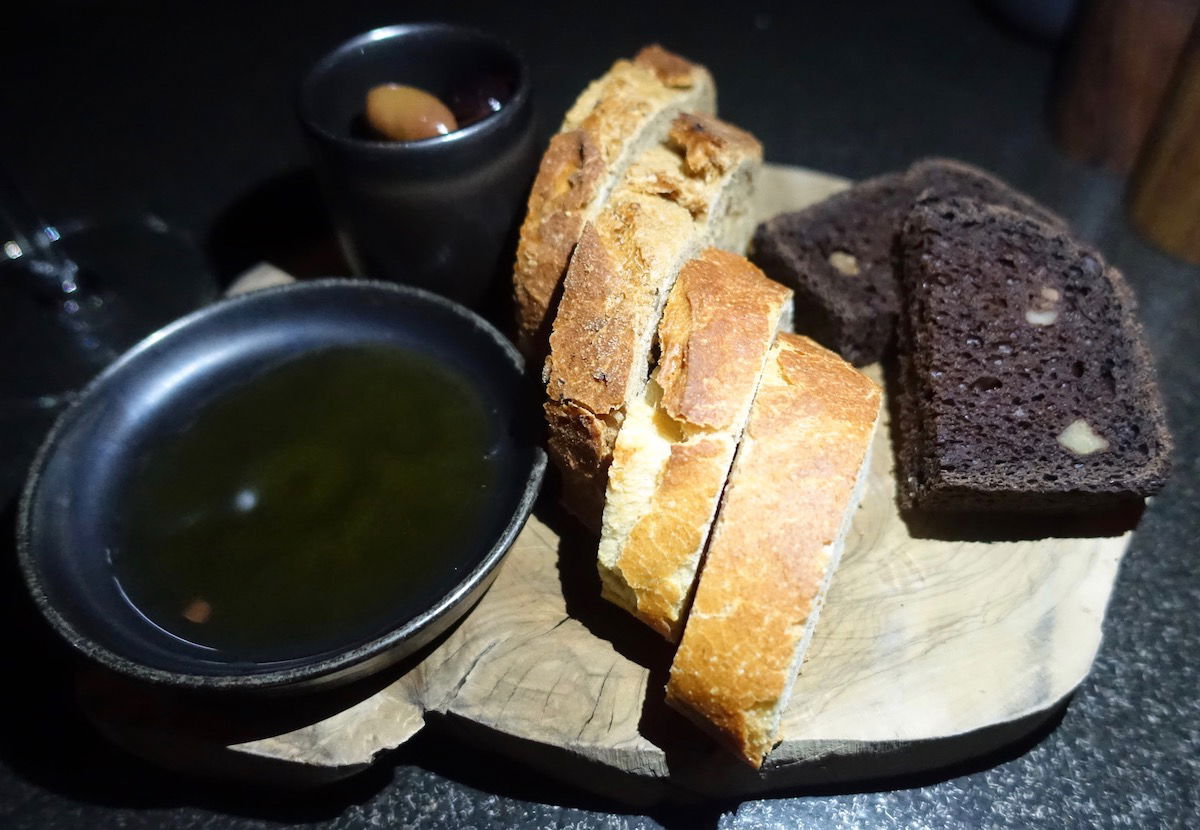 Amanzoe dinner — bread
We only had dinner here one night, so below is what we ordered.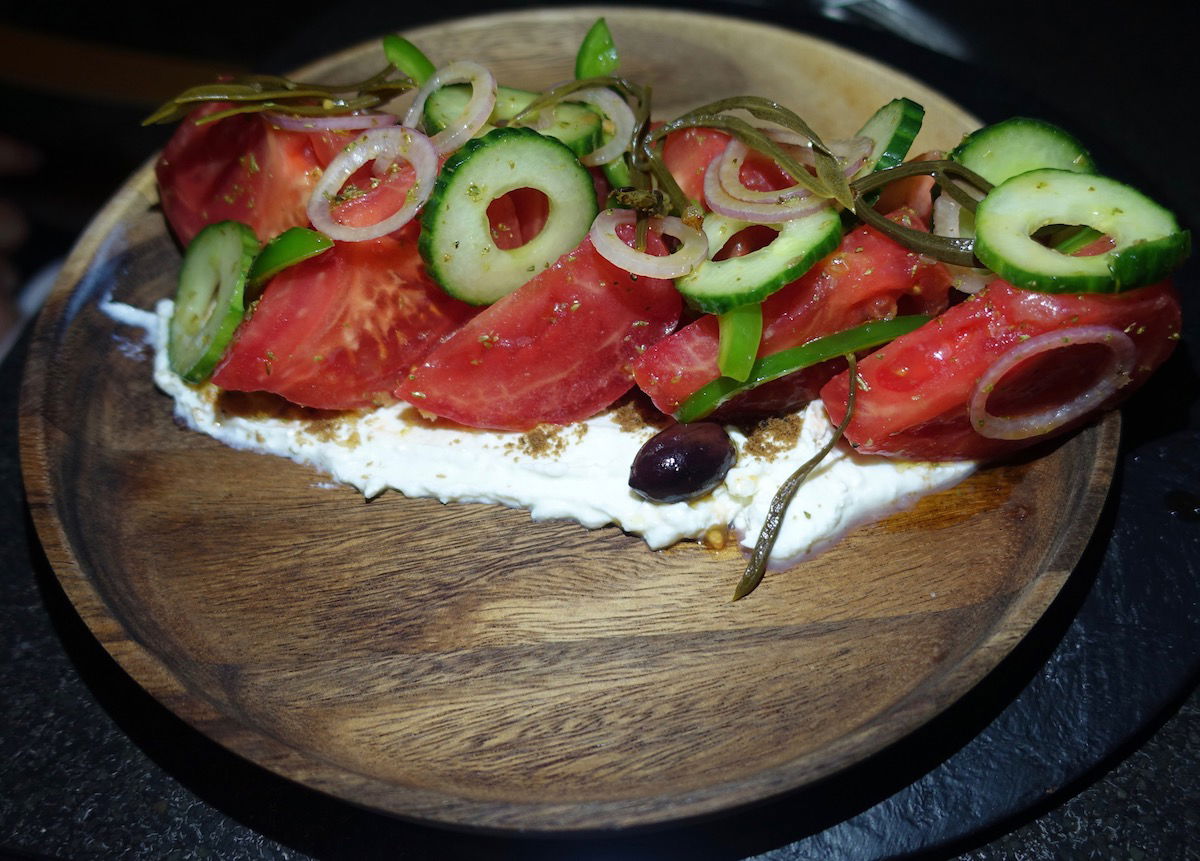 Amanzoe dinner — Greek style tomato salad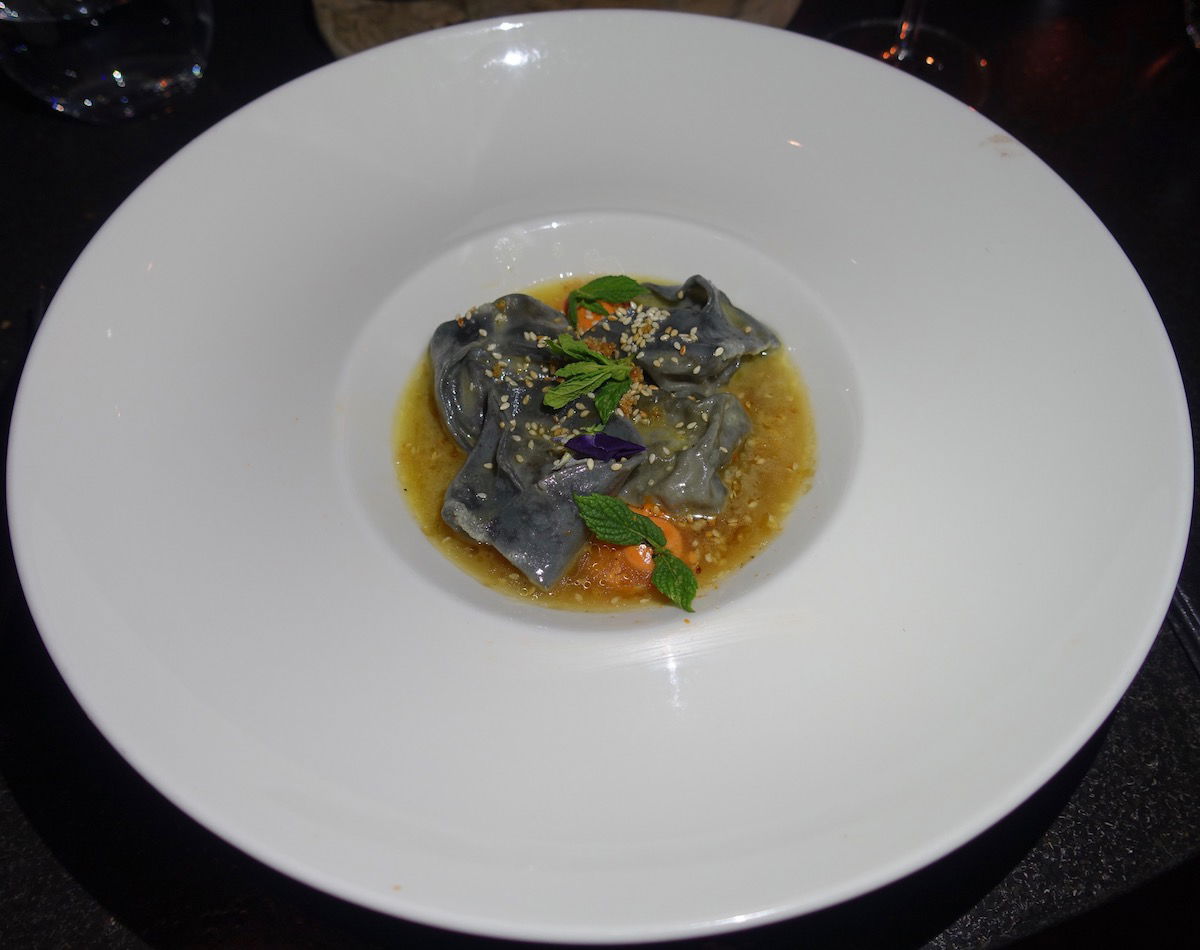 Amanzoe dinner — smoked ravioli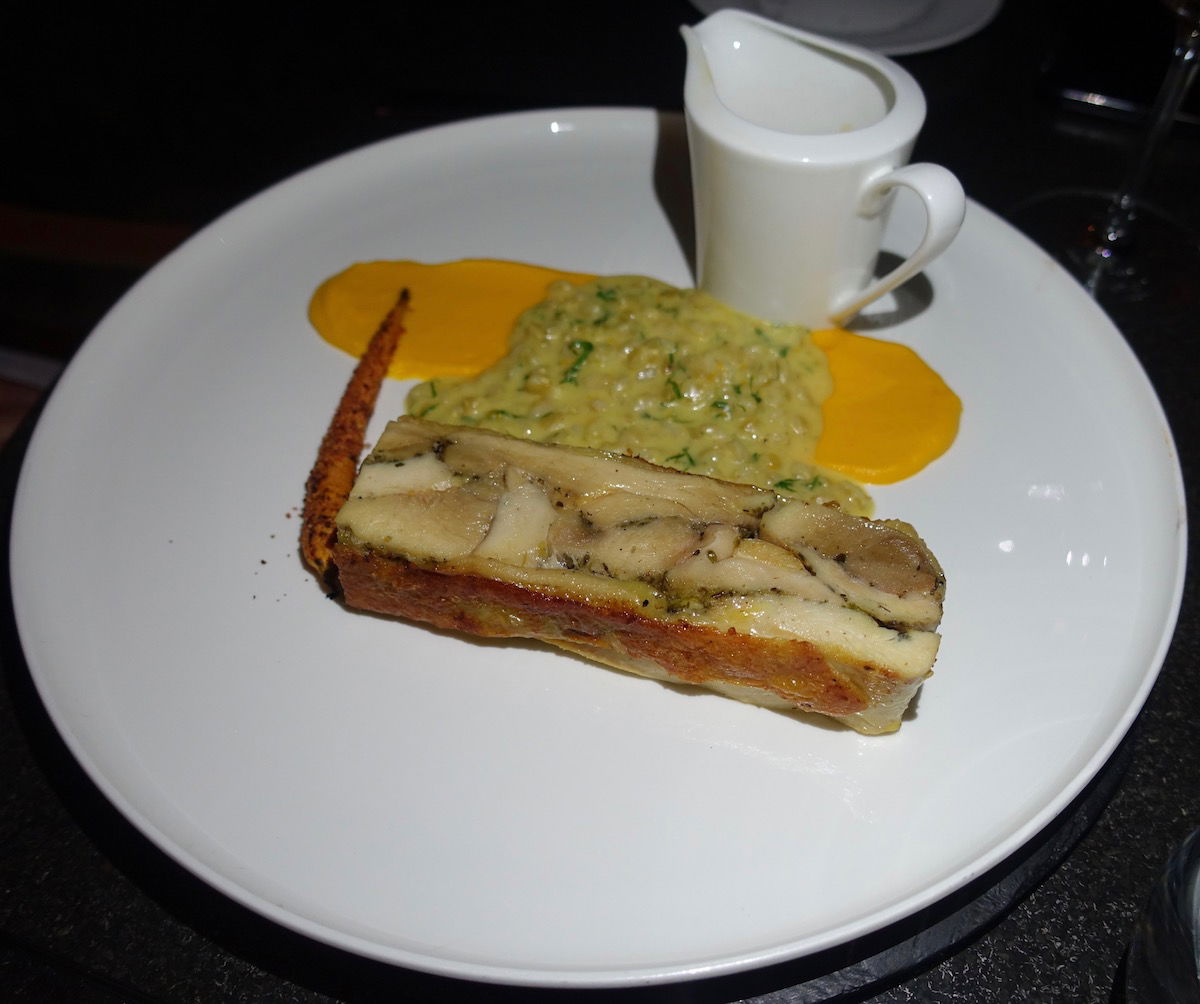 Amanzoe dinner — black feather pressed chicken
Then the second dinner restaurant is by the pool. That's a Japanese restaurant called Nama (Aman backwards). The menu for that read as follows: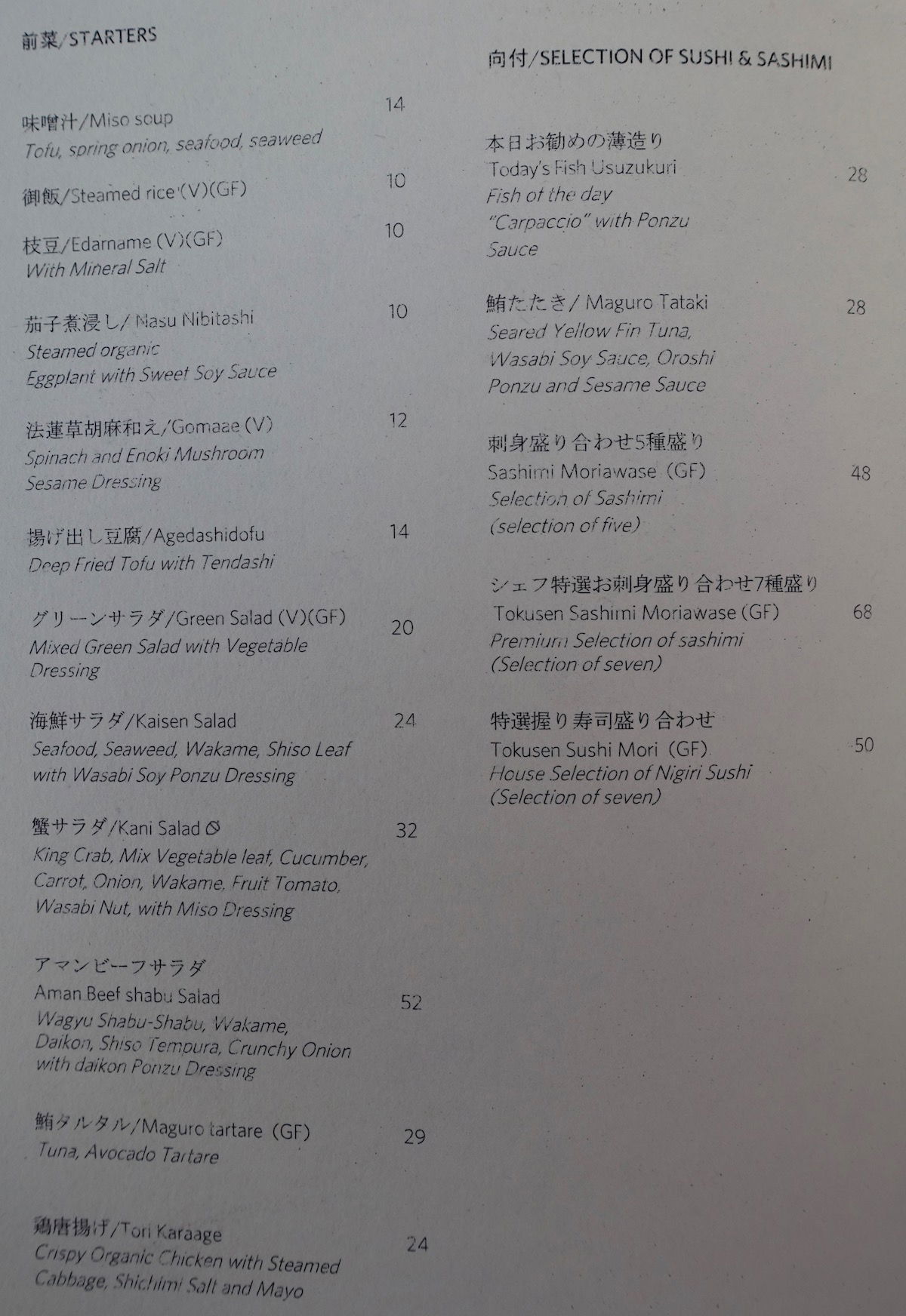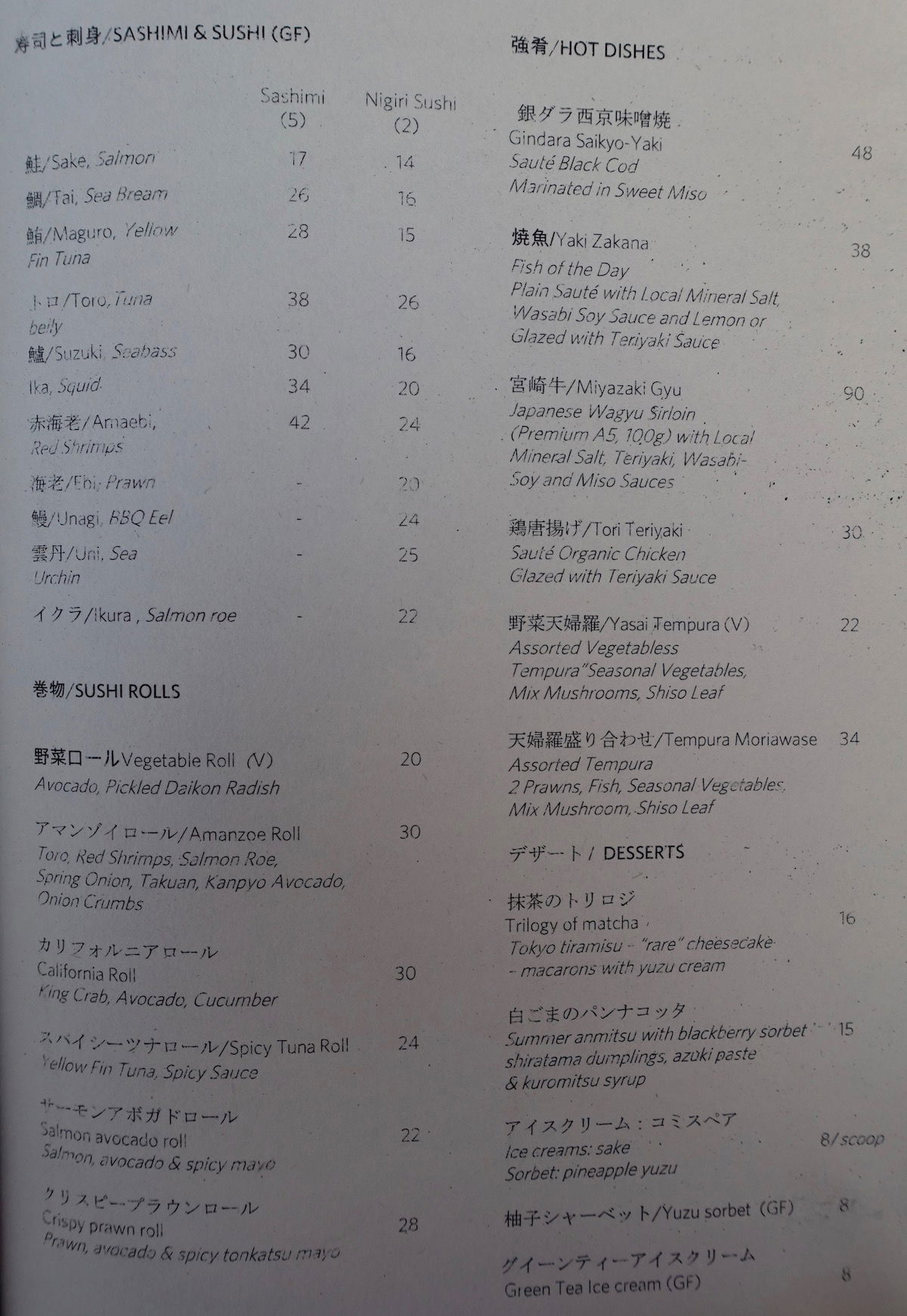 Below are some pictures of our dinner here.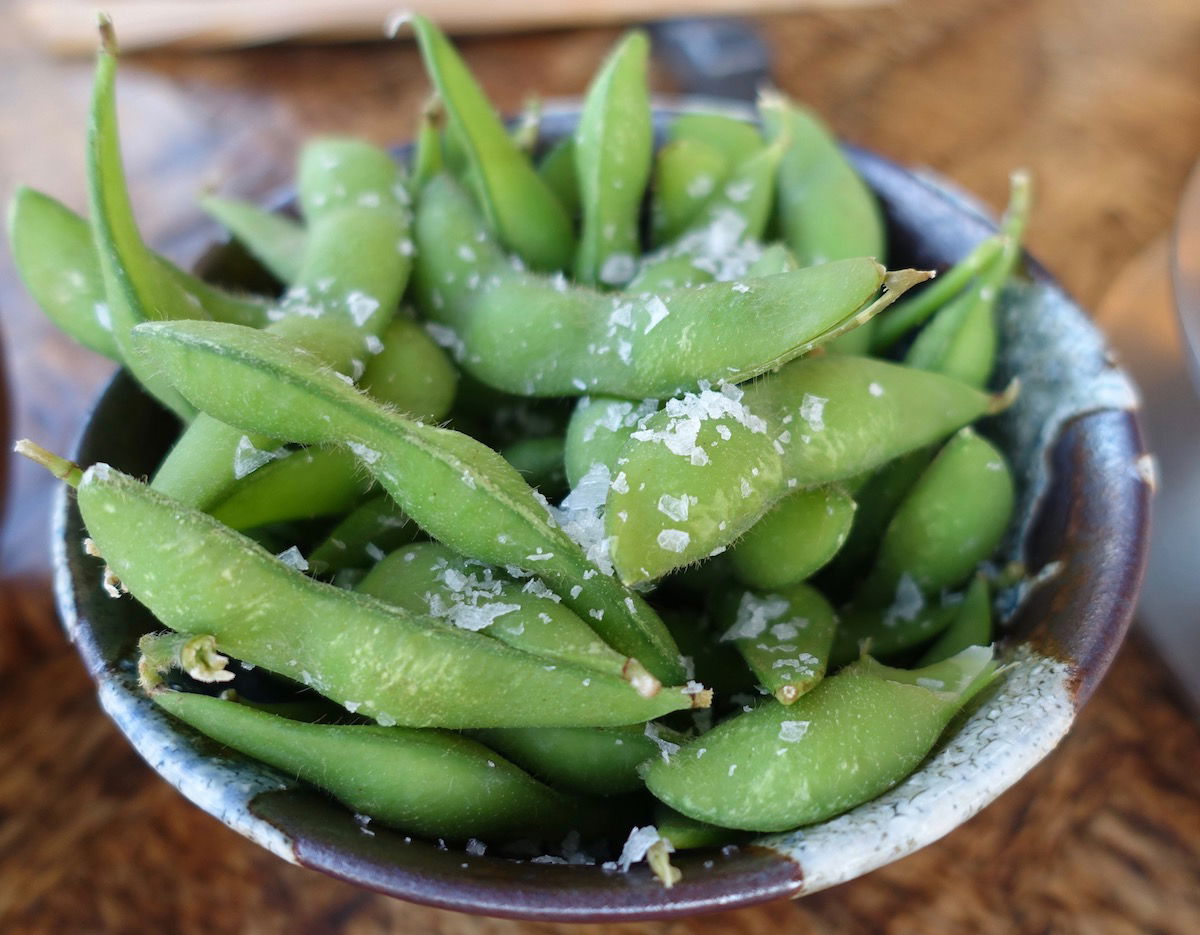 Amanzoe dinner — edamame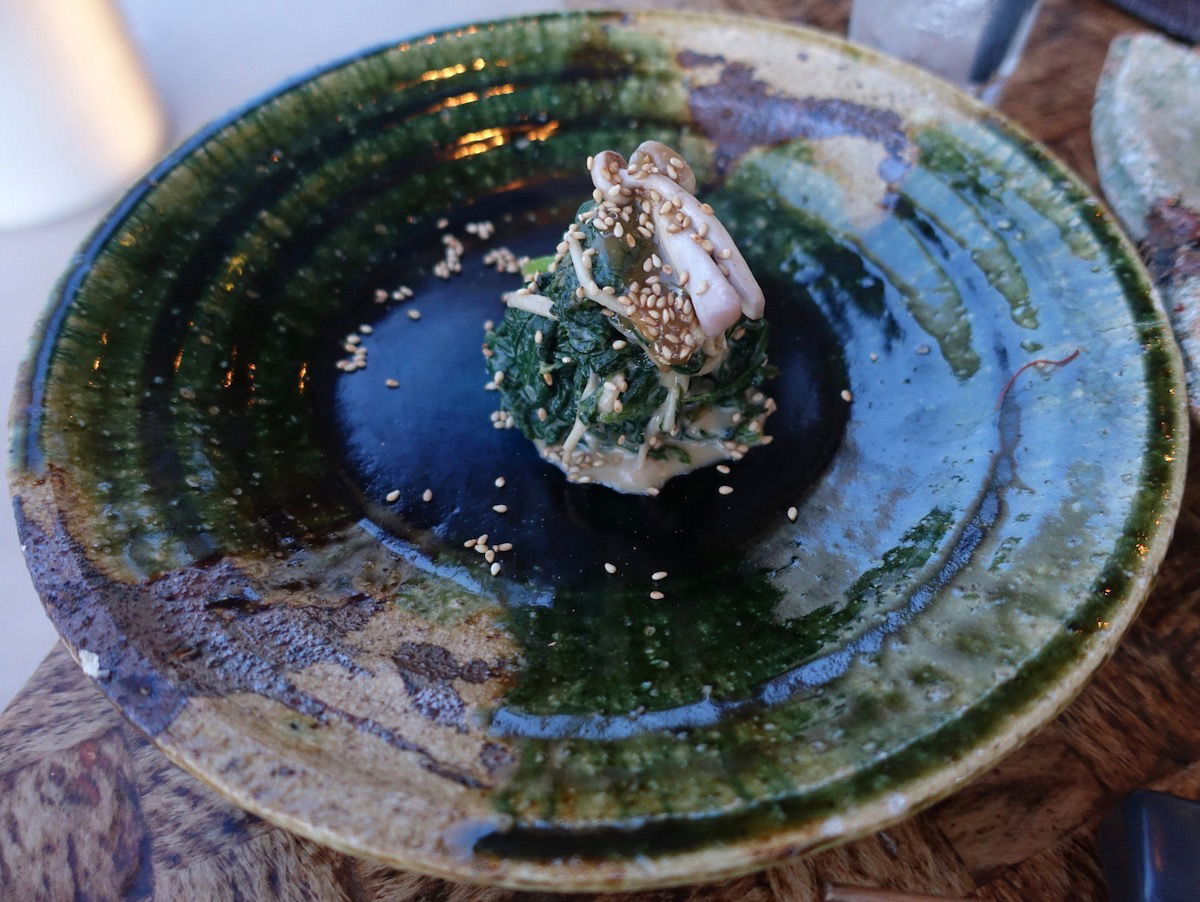 Amanzoe dinner — spinach and enoki mushroom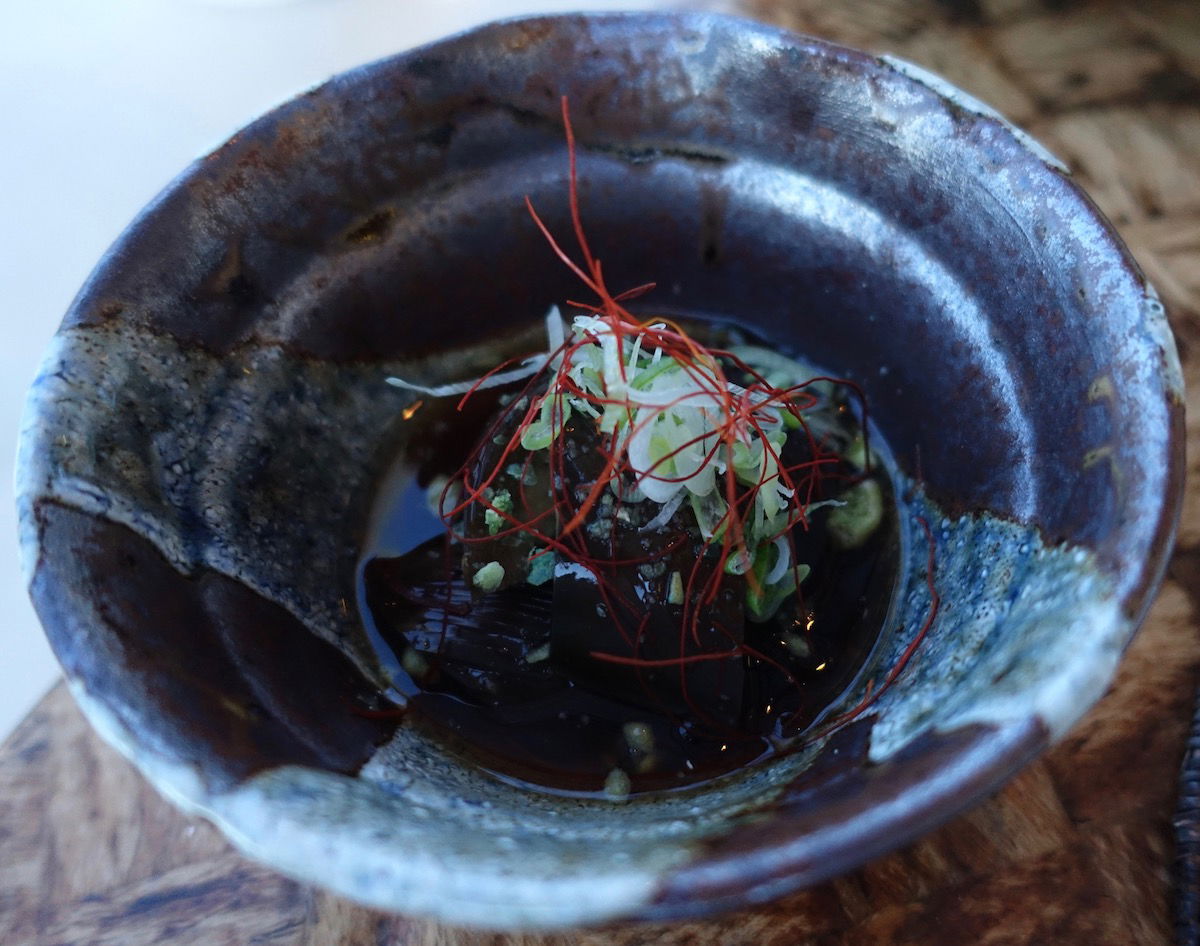 Amanzoe dinner — steamed organic


Amanzoe dinner — sushi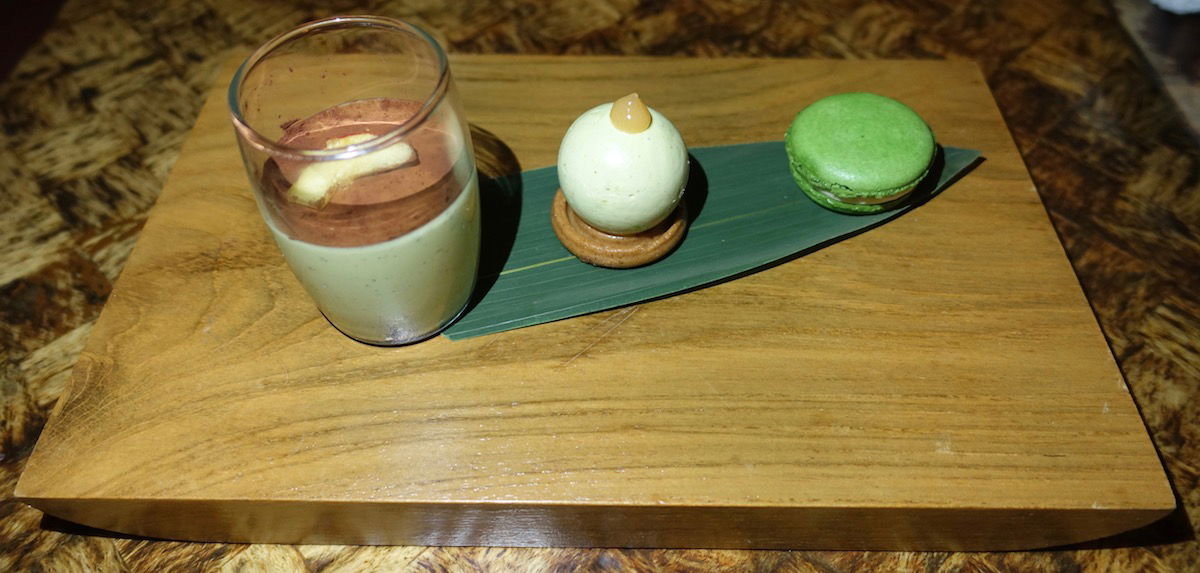 Amanzoe dinner — trilogy of matcha
Drinks at Amanzoe
Across the pond from the main restaurant was the bar, which was huge. It was open all day for drinks and snacks, and was a hybrid indoor/outdoor space.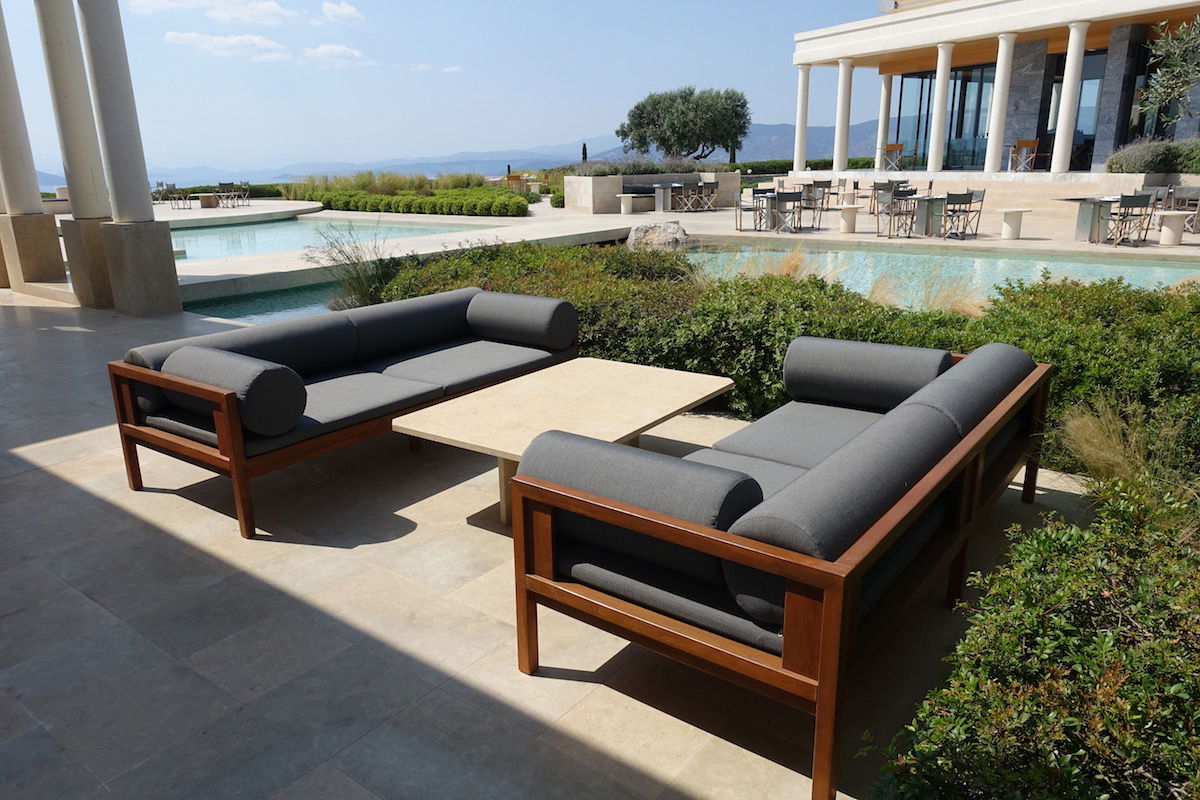 Amanzoe bar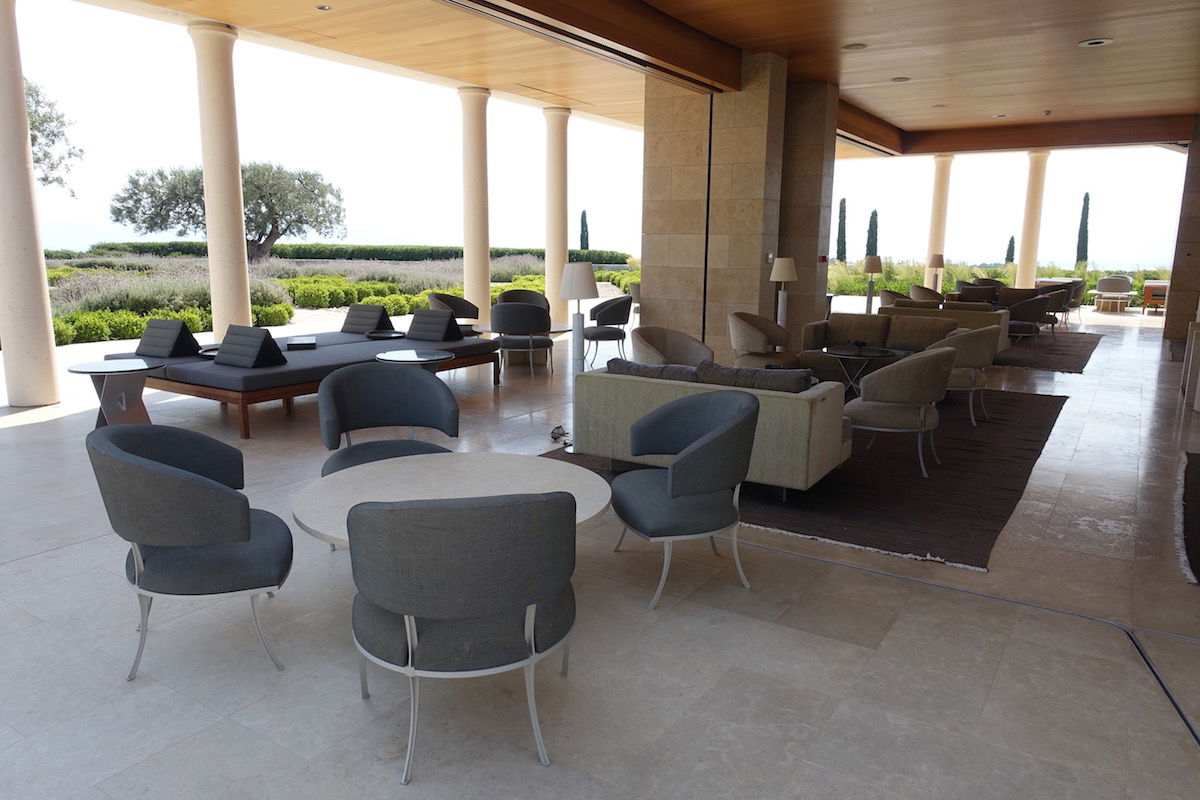 Amanzoe bar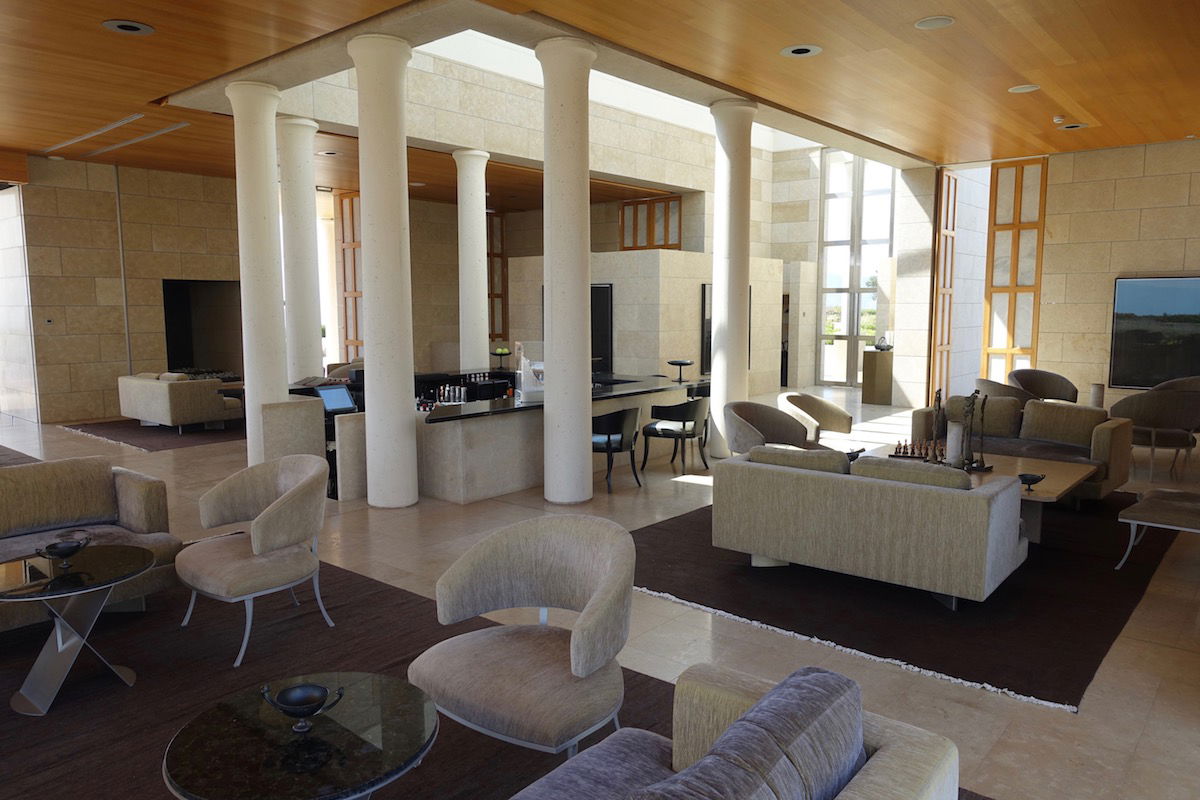 Amanzoe bar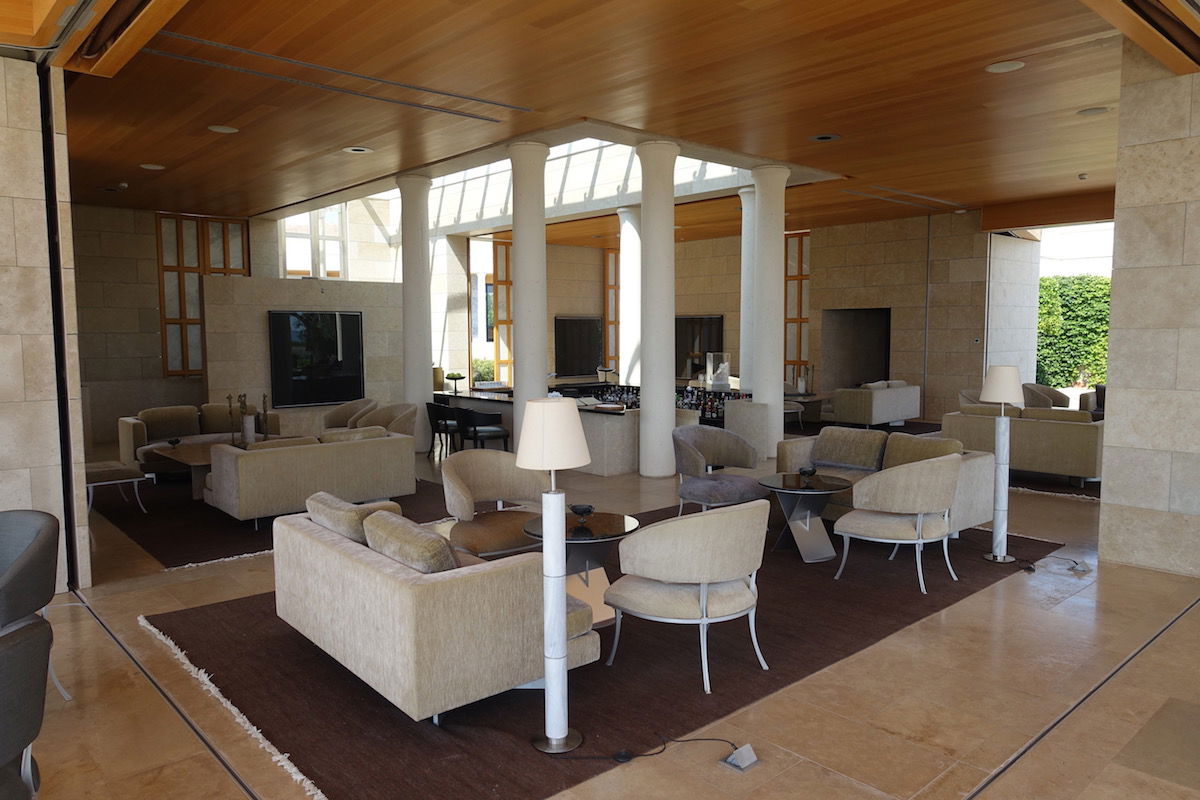 Amanzoe bar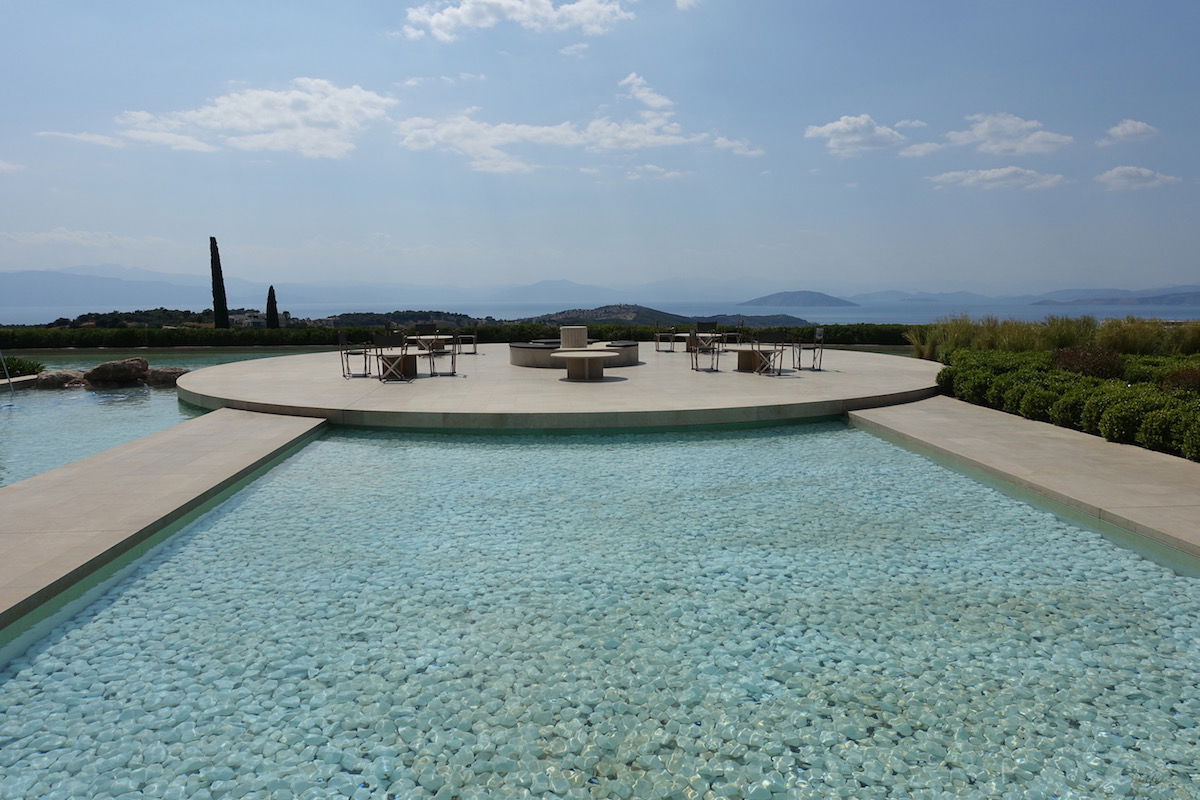 Amanzoe bar
The cocktail menu read as follows: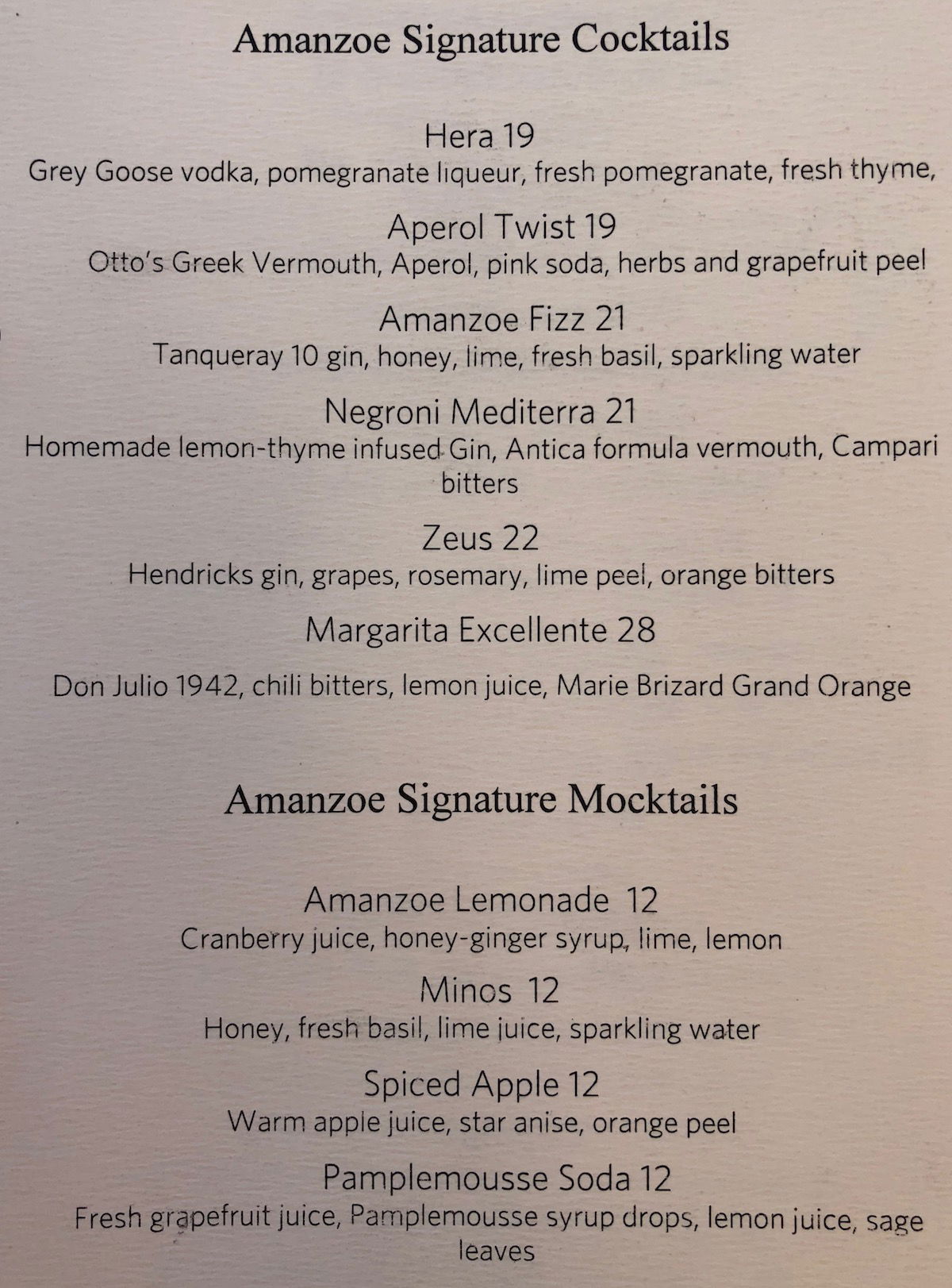 We typically came here for sunset, given the views, and all the drinks we had were excellent.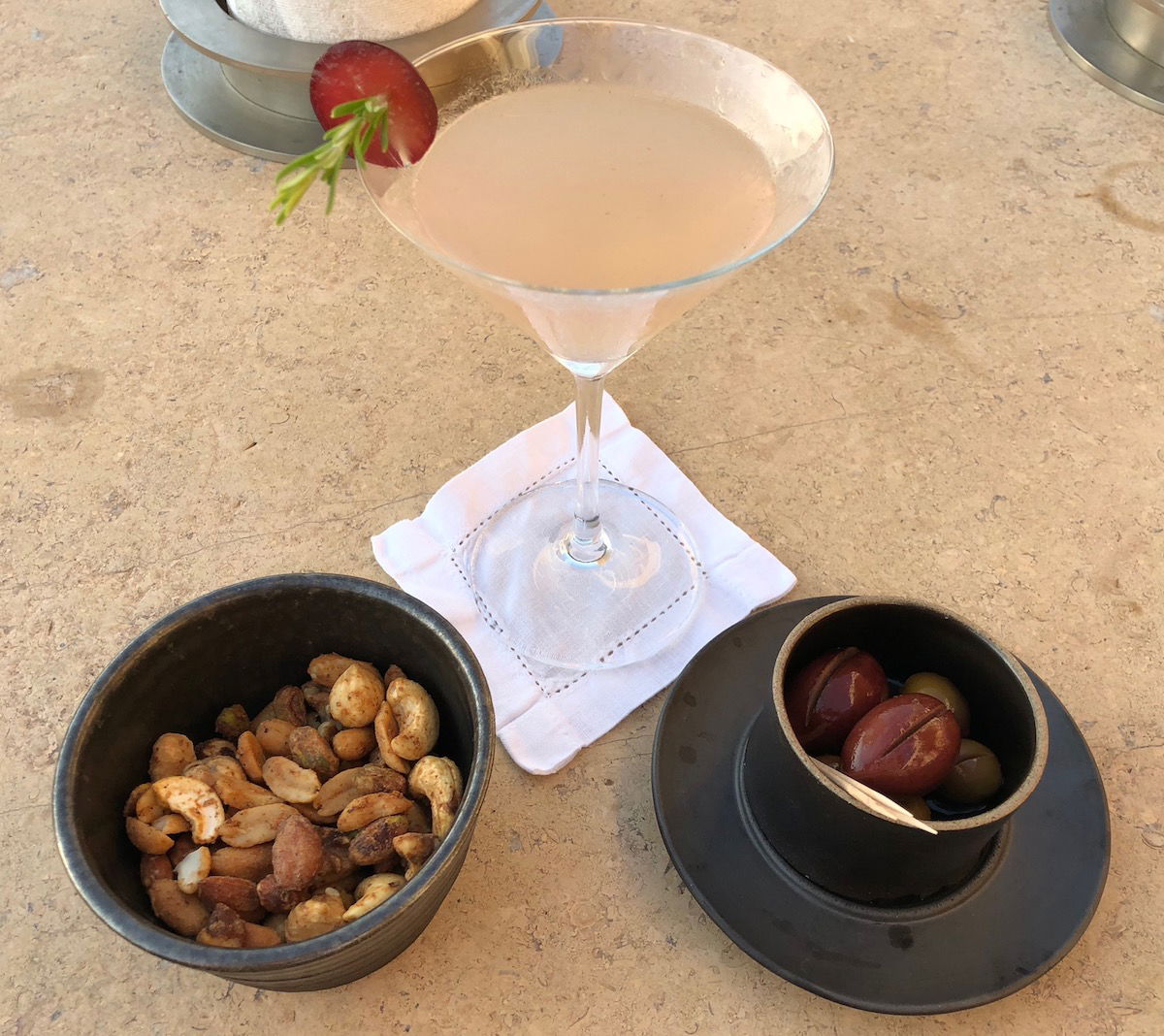 Amanzoe cocktails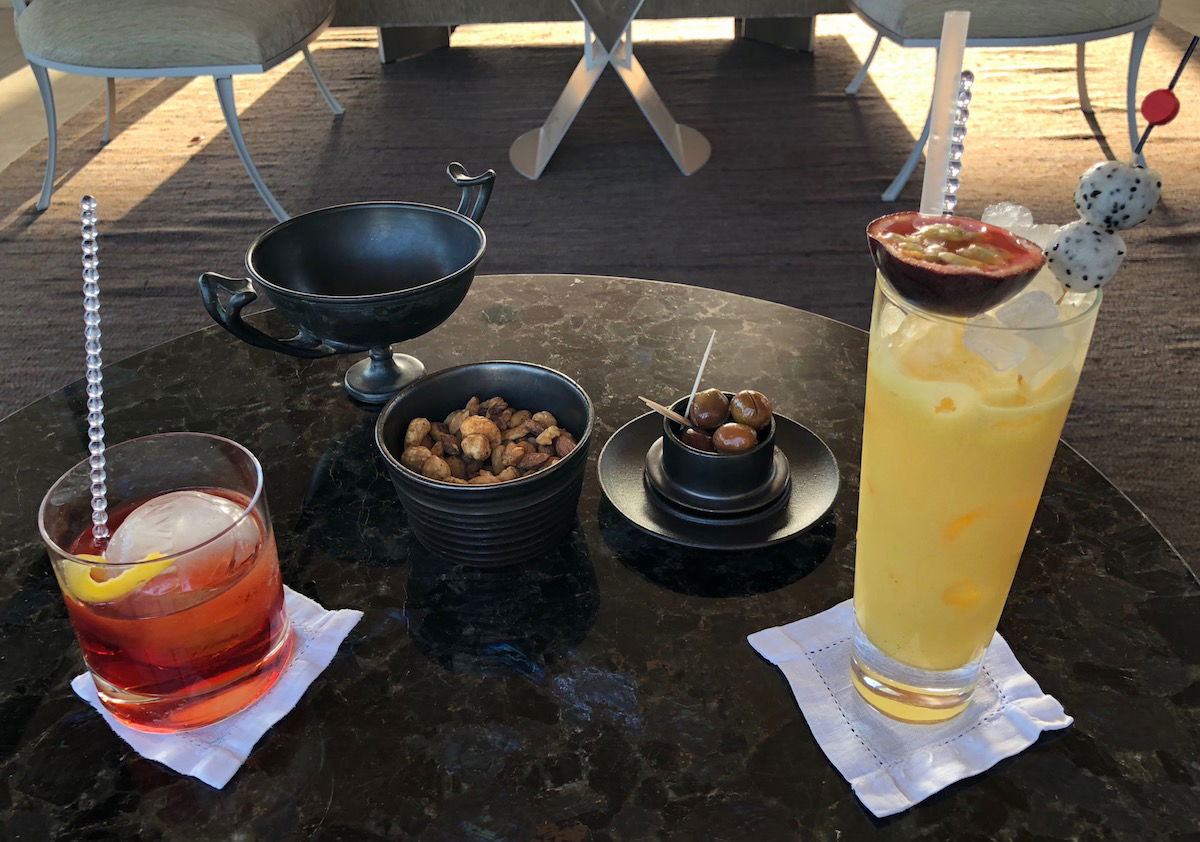 Amanzoe cocktails
In-room dining at Amanzoe
Breakfast, lunch, and dinner were available via in-room dining, and that menu read as follows: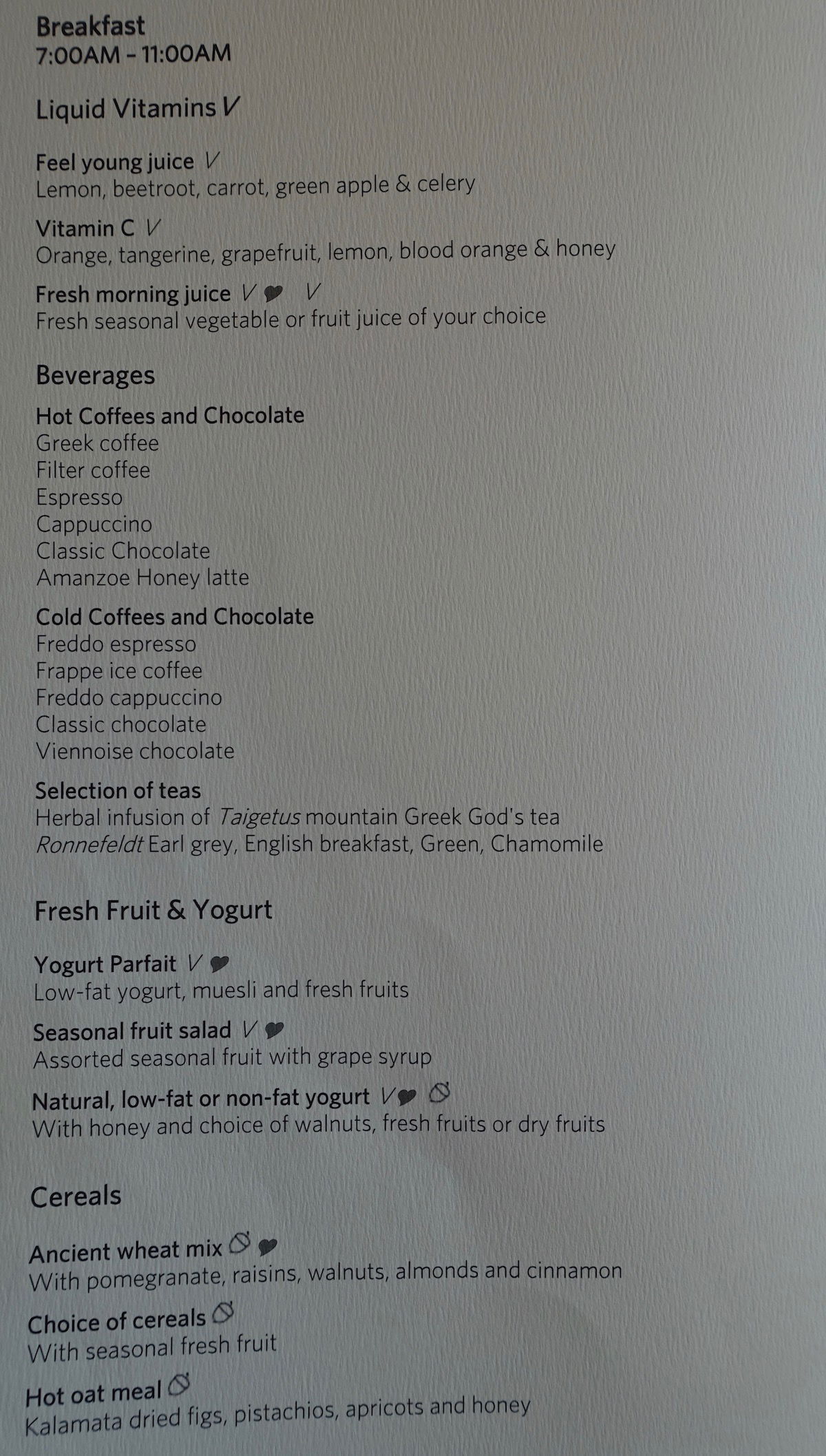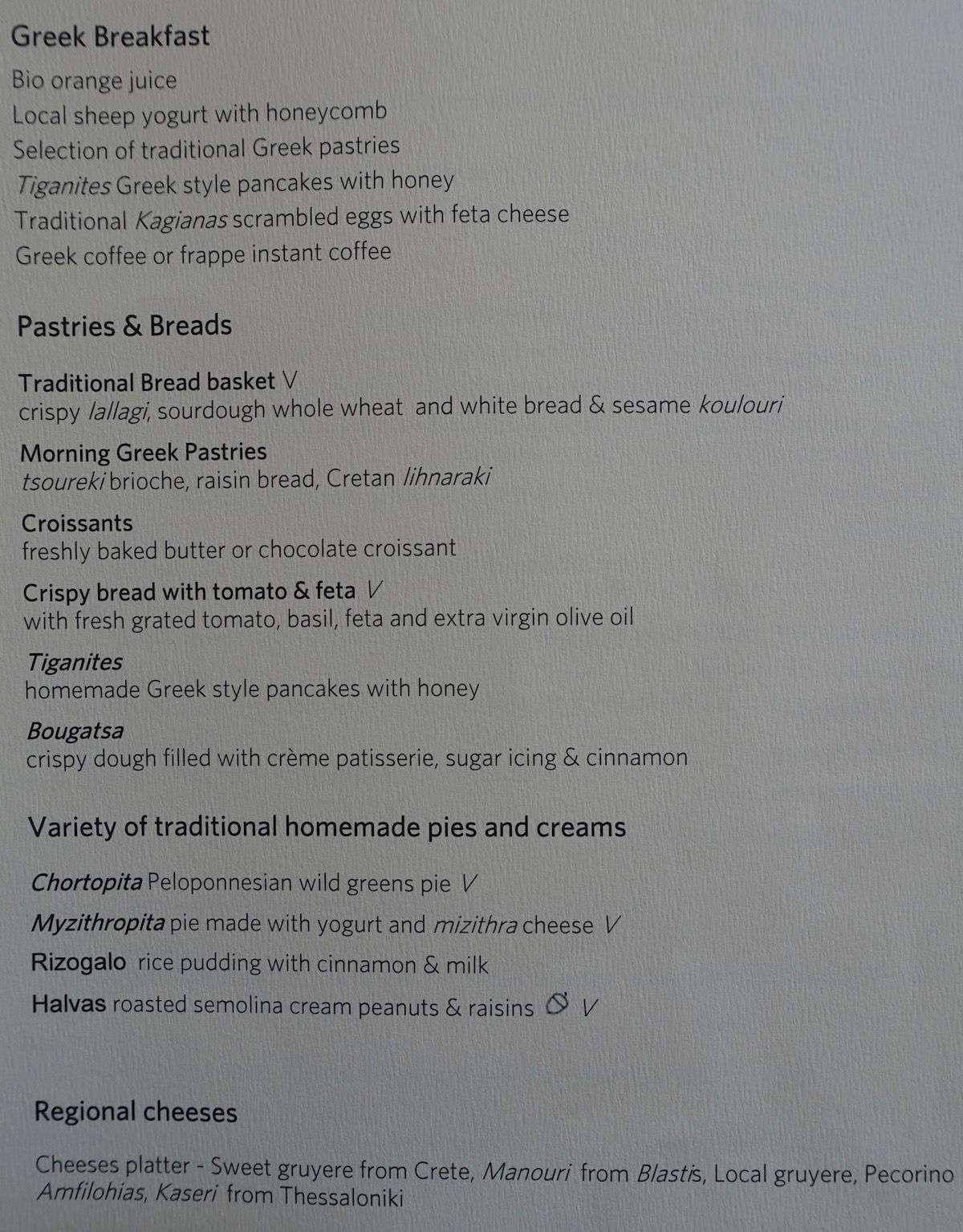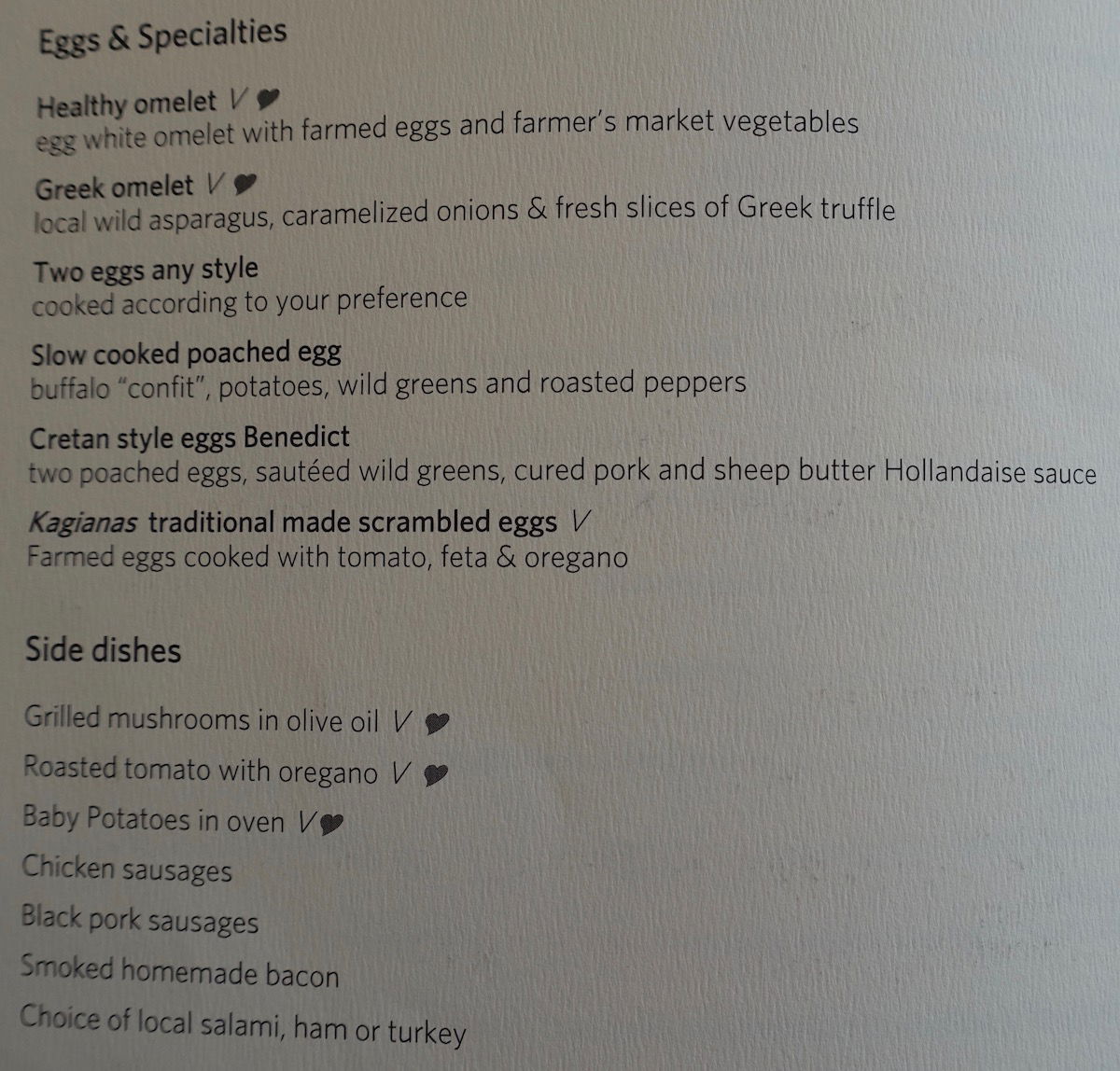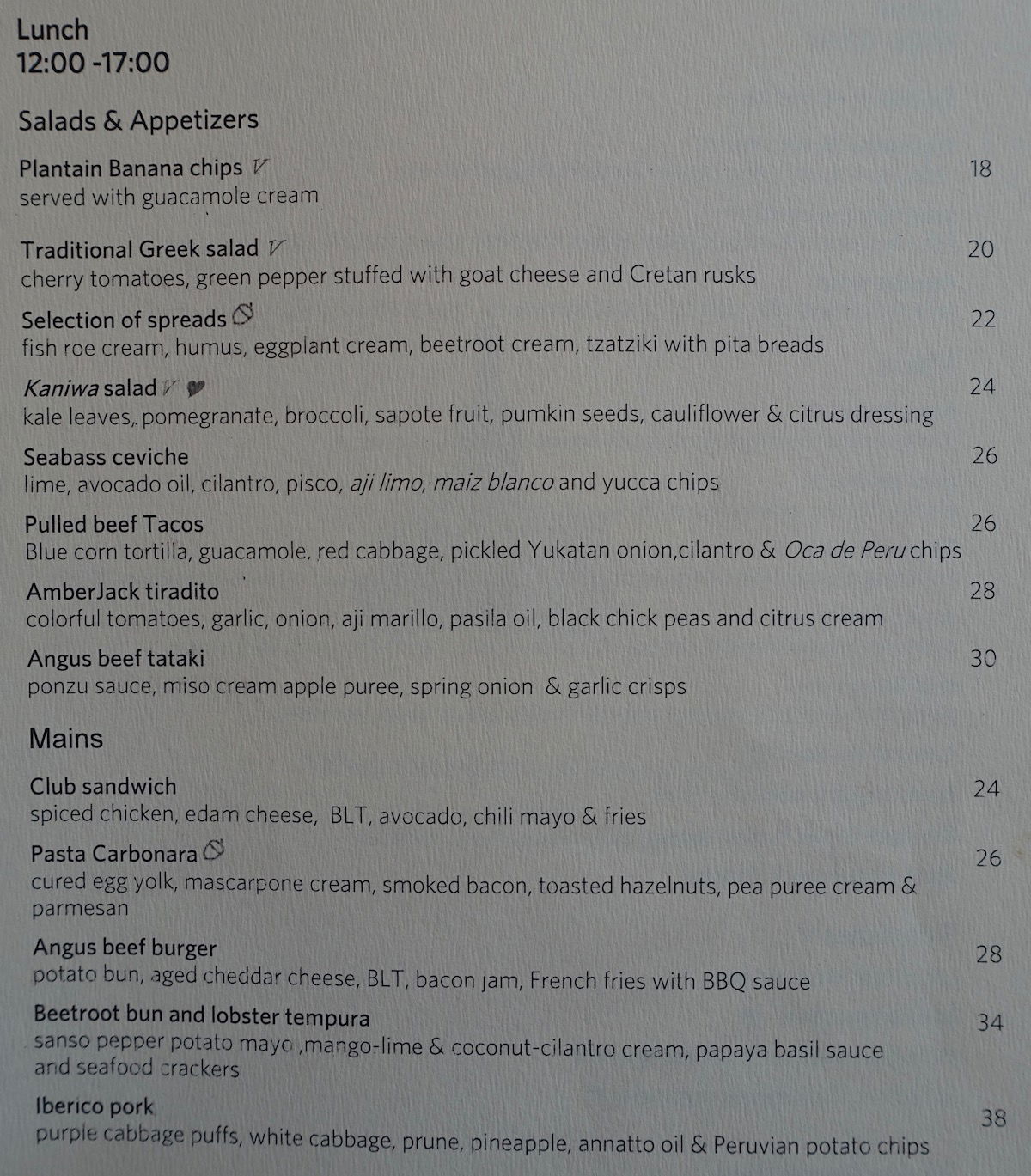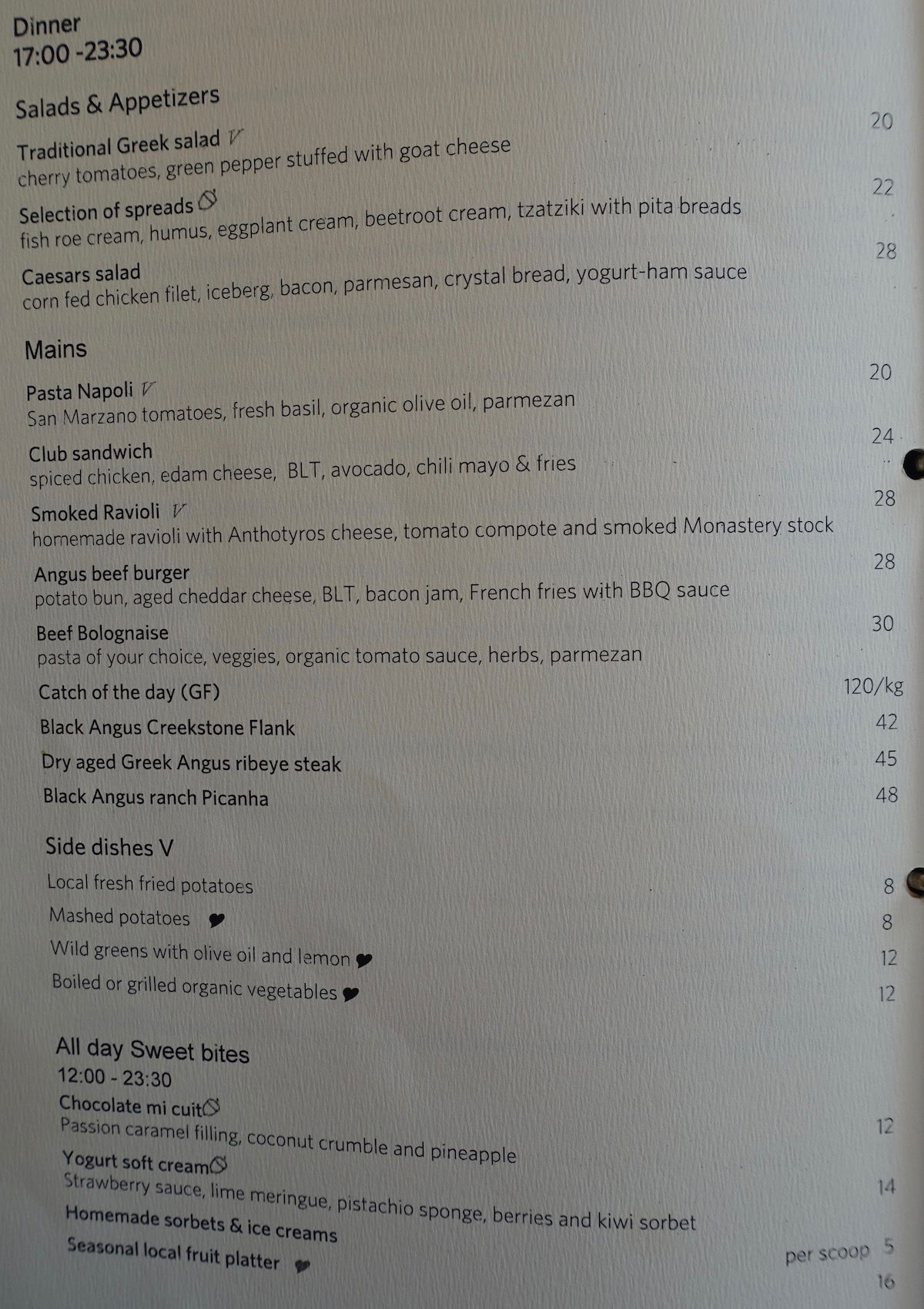 We had lunch in our room the first day, and ordered a club sandwich, a Greek salad, and beef tataki, all of which were excellent.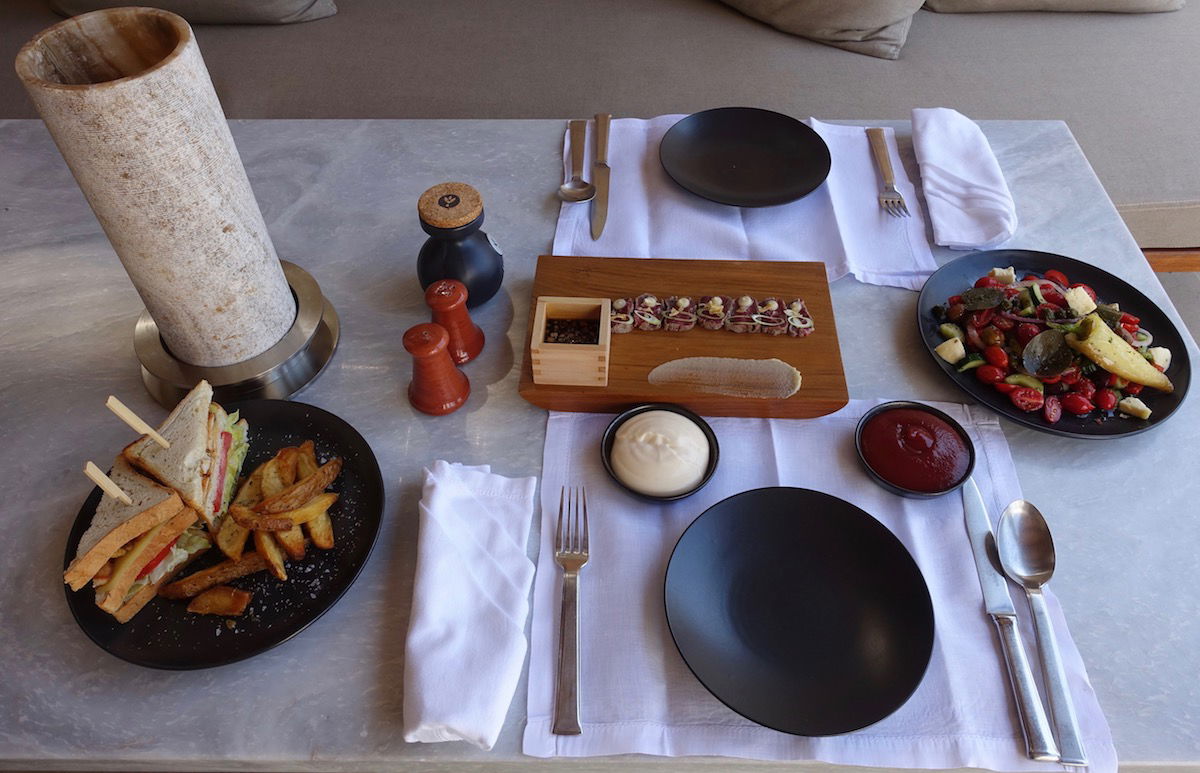 Amanzoe room service lunch
Amanzoe service
What makes me love Amans so much is the level of service they provide. Most of the Amans I've stayed at have been in Asia, where you'll generally find a better service culture than in Europe. Furthermore, I've stayed at many Amans that were nearly empty. So I was very curious to see how service would be at a full Aman in Europe in summer.
Suffice to say that service was flawless.
I'm not going to lie, half of the reason I love staying at Amans is just to observe their ridiculous attention to detail. Aman is in a league of their own when it comes to their obsession with getting the details right (the only non-Aman I can think of with a similar service level is Fogo Island Inn).
There are a few "standard" Aman features you'll find at just about any Aman, including:
You won't ever be asked for your name or room number
You'll never have to sign for anything, because stuff will always be charged directly to your room
Your room will be refreshed just about as often as you leave it, and you'll never notice housekeeping; they even refreshed our room one hour before our check-out time
The GM and other managers check with each party at least once (but often twice) per day to see how everything is, if there's anything they can plan for you, etc.; this might sound annoying (at least it sounds annoying to me, as an introvert), but I find Aman managers have a brilliant ability to read people, so they can sense if you want to talk or don't, and will excuse themselves appropriately
That's impressive, but in a way, expected. What amazes me is everything else. Maybe the easiest way to explain the Aman magic is to give a couple of examples:
One day at lunch I asked Ford "did you have the tomato salad last time, I forgot?" This was the same time that the server was pouring us water, and she said "yes he did, and you had a bite of it."
We did a day trip to the island of Spetses, and the Aman recommended a restaurant. We didn't ask them to make a reservation, didn't say whether we'd go, etc. We decided to go to the restaurant after biking around the entire island, and when we arrived they said the following, before I could even say anything: "Mr. Schlappig from Aman? We have a table for you."
Sometimes it's tough to describe, but the degree to which every detail is always perfectly thought of is nothing short of a miracle to me.
What is there to do around Amanzoe?
While the resort and beach club are beautiful, there's also quite a bit to see around the hotel. There are several small towns near the Aman, including Porto Heli. Perhaps what makes this so cool is that there are very few tourists in these towns, so it's very different than going to Santorini or Mykonos. You can have a great dinner at many of these restaurants for 20EUR.
Our favorite activity was a day trip to the island of Spetses. This is a really cute island that's about a five minute ferry ride from the mainland. The island doesn't have any cars, so you can rent an ATV or electric bike and explore the entire island in just a few hours.
Ultimately I recommend visiting Amanzoe if you're looking to relax, though, rather than if you're looking for a super active vacation (unlike some other Amans).
Amanzoe bottom line
Many Amanjunkies rank Amanzoe as the best Aman outside of Asia, and in many cases as one of the best Amans in the world. That is very well deserved, and I'd say this is one of my five favorite hotels ever.
Amanzoe impressed me in so many ways. Yes, the resort itself is stunning and the entry level villas are some of the nicest I've seen. But what really impressed me was the fact that service was on par with what I've experienced from Amans in Asia, which is saying a lot.
Yes, this hotel is really, really expensive. But at least I feel like they deliver an unforgettable experience. I'd rather spend the money they're charging for a hotel like this than a Ritz-Carlton resort factory (and yes, some of those hotels charge $1,000+ per night, and give you next to nothing).