---
As the Aeromexico lounge was so depressing, we decided to head to the gate early.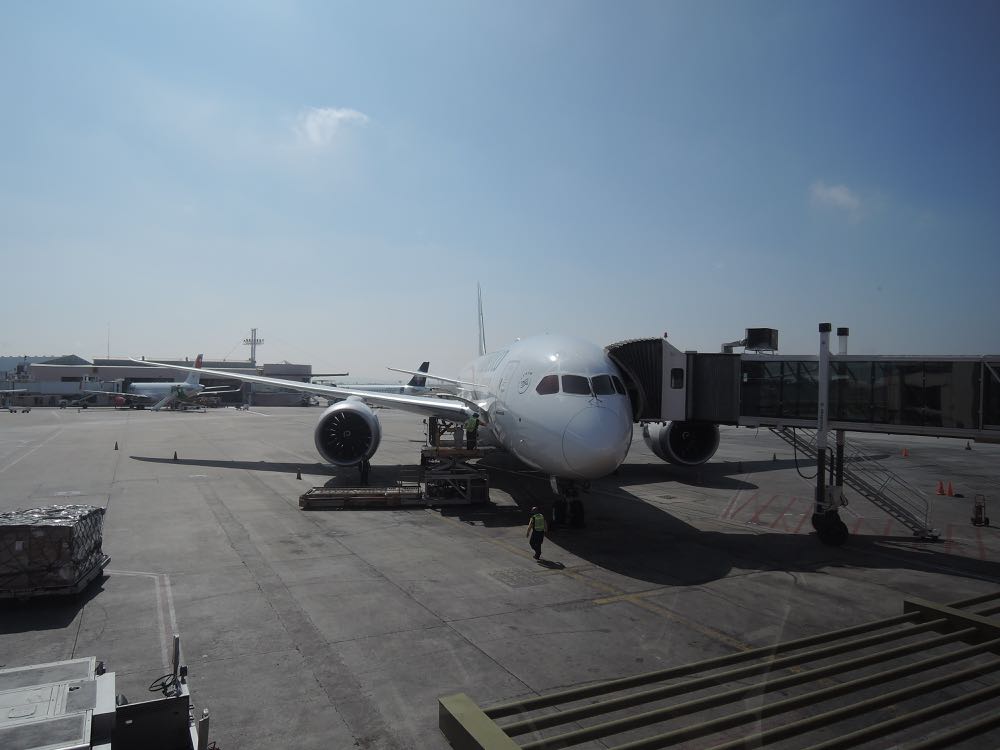 Hey, it's our plane!
Which was a good decision, because holy cow the gate area was a cluster.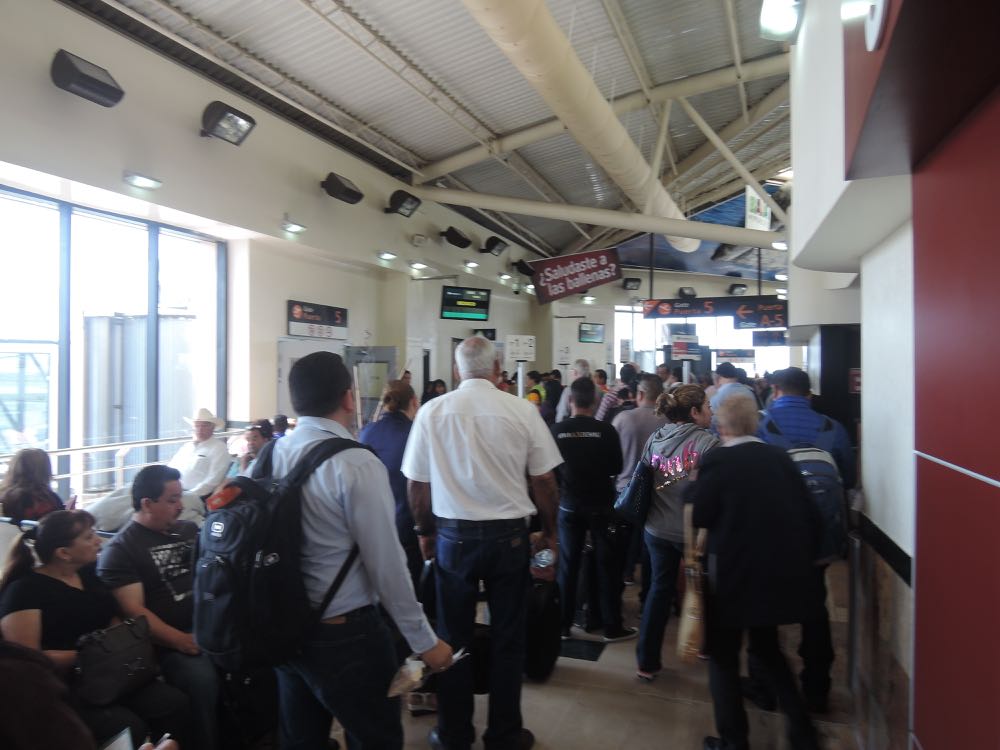 Yep.
Let's zoom in on the Sky Priority queue…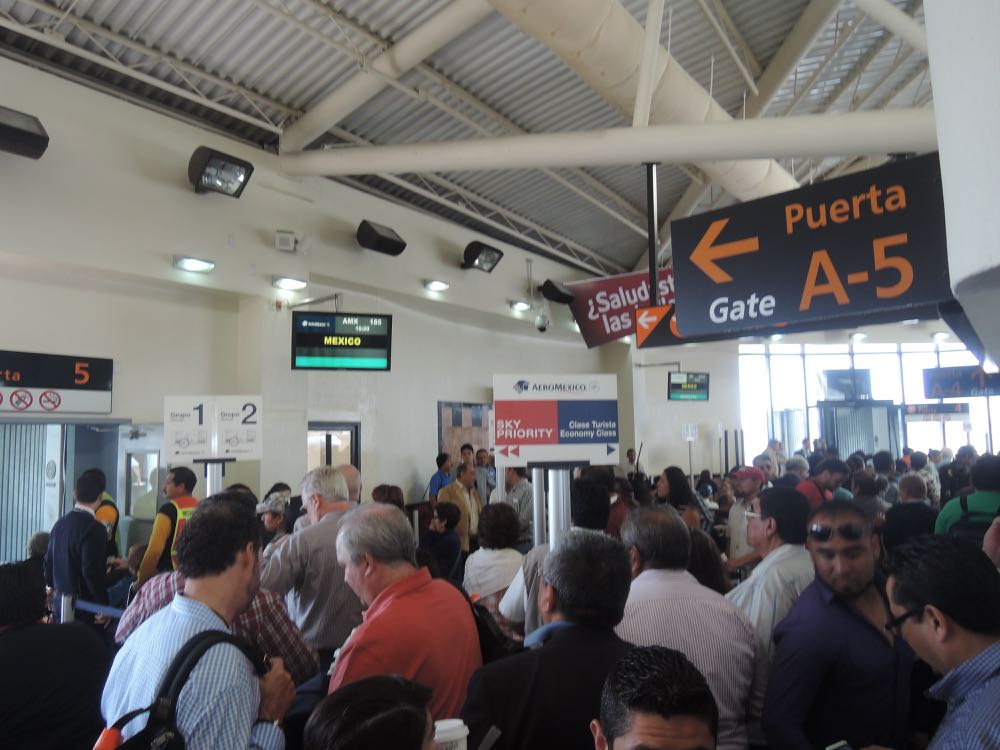 They could have used some of those ANA ladies with their boarding group signs…
Aeromexico 185
Tijuana (TIJ) – Mexico City (MEX)
Thursday, May 12
Depart: 10:20AM
Arrive: 3:10PM
Duration: 2hr50min
Aircraft: Boeing 787-8
Seat: 6A & 6C (Business Class)
Before we get into details, keep in mind that this was a domestic flight. And not a long one. The flight distance is similar going from Tijuana to Mexico City as it would be from San Diego to Dallas, and I think that's an important perspective.
I had hoped to board early to take photos of the mini-cabin (where we were to be seated), but that obviously didn't happen, and many of the other passengers were already seated by the time we boarded. Check out Ben's recent Aeromexico reports for more photos of the cabin interior.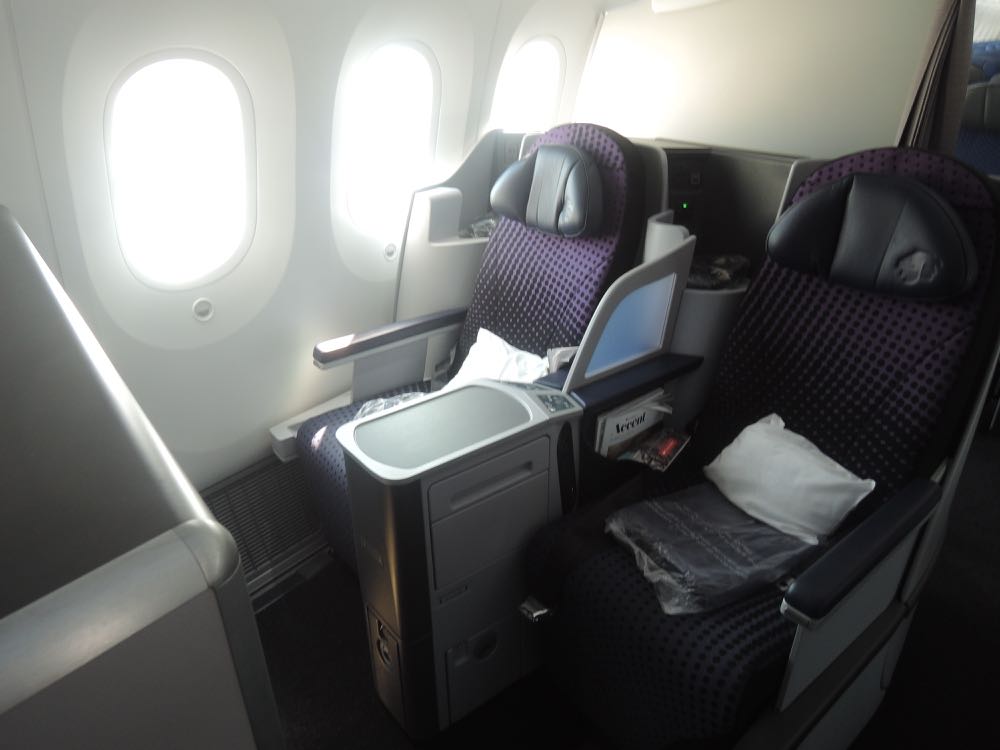 Aeromexico 787 business class
We boarded to find a super tiny pillow and blanket at our seats, which were the same B/E Aerospace Diamond seats that I love on American's A321T.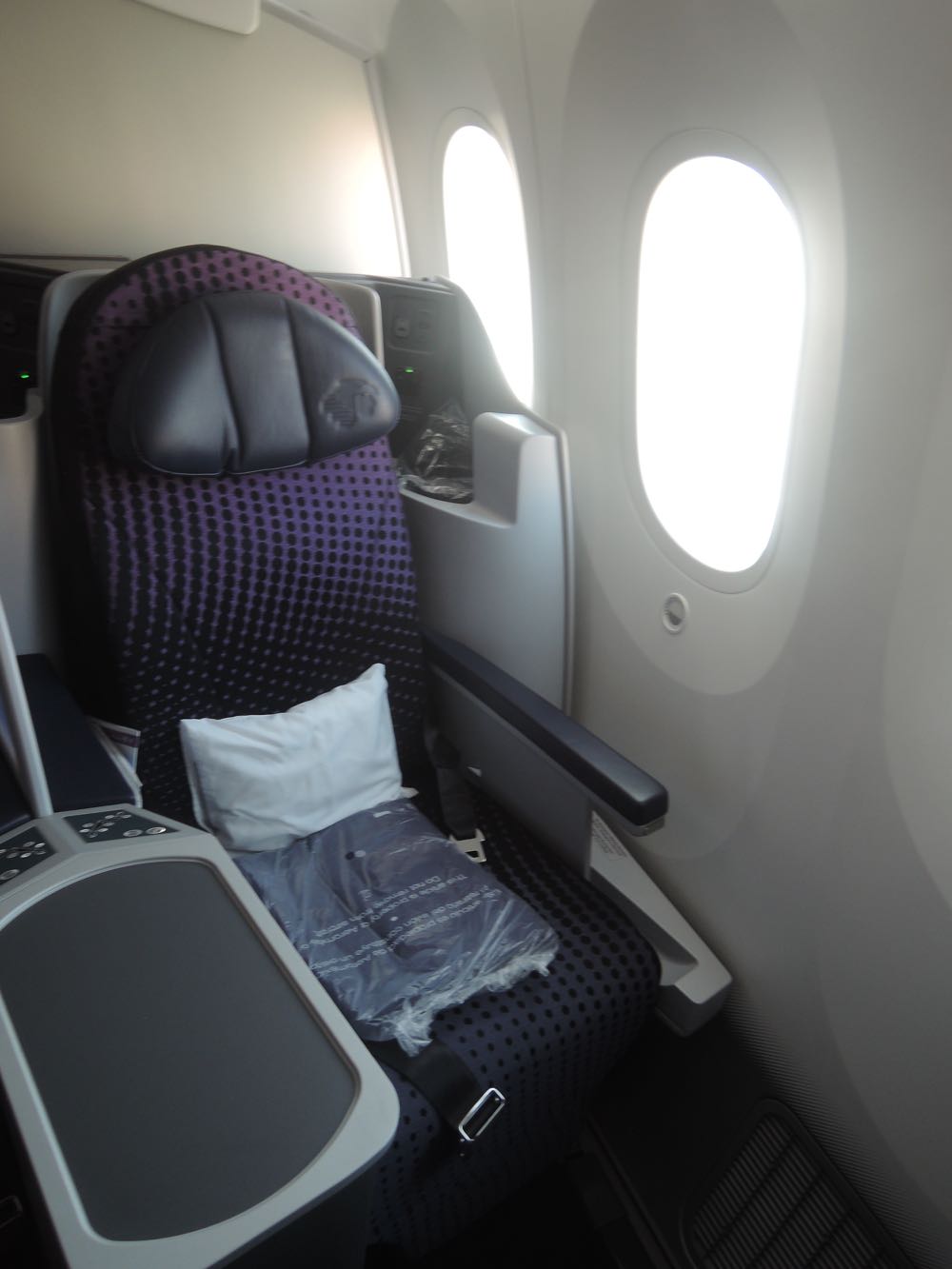 Aeromexico 787 business class
The mini-cabin is really the way to go on this configuration, particularly on the window side, as you have much more foot room, and are closer to the nice lav (the front lavatory doesn't have a window).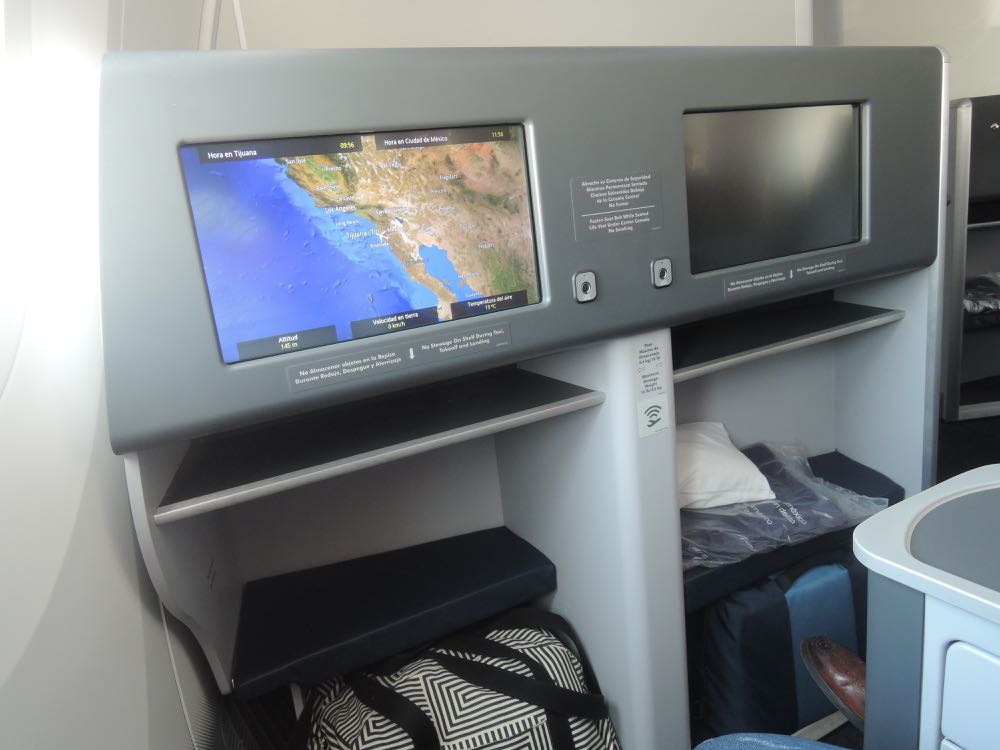 Aeromexico 787 business class
The highlight of the boarding process? The gentleman in 5D. I don't know who he was, but probably 65% of the other people on the plane did.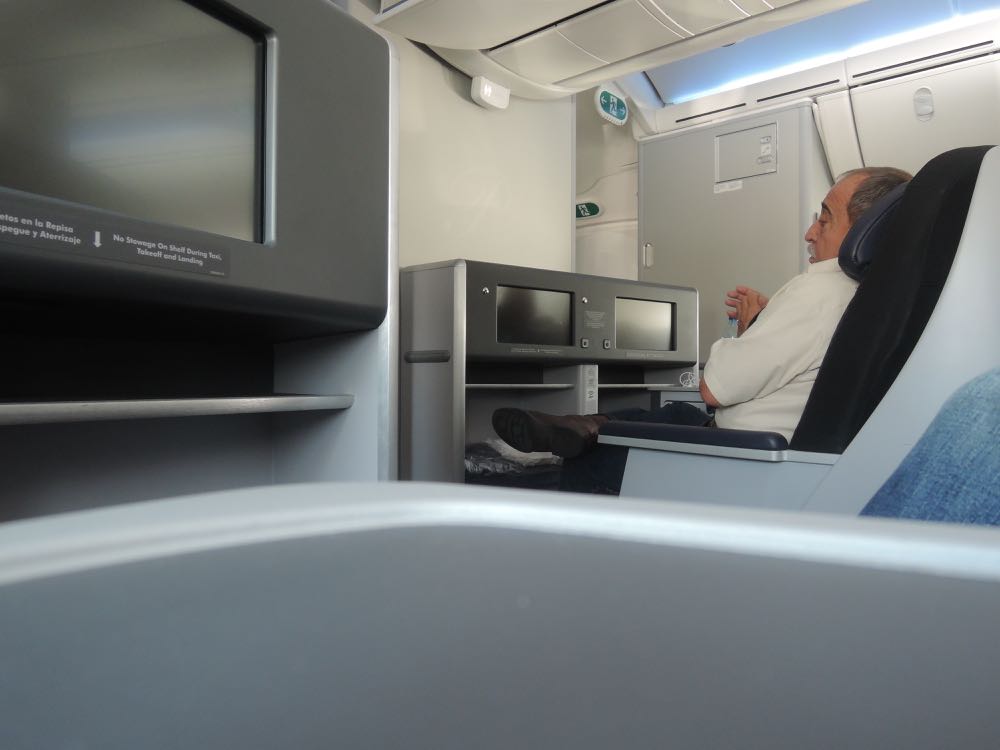 Mysterious passenger in 5D
Boarding took an exceptionally long time, as most of the economy class passengers stopped to shake his hand as they filed back to their seats. Many of the business class passengers came back from the main cabin to have a little chat as well.
He was very good natured about the whole thing, so my guess is that he was a local politician of some sort? The interactions were very fun to observe.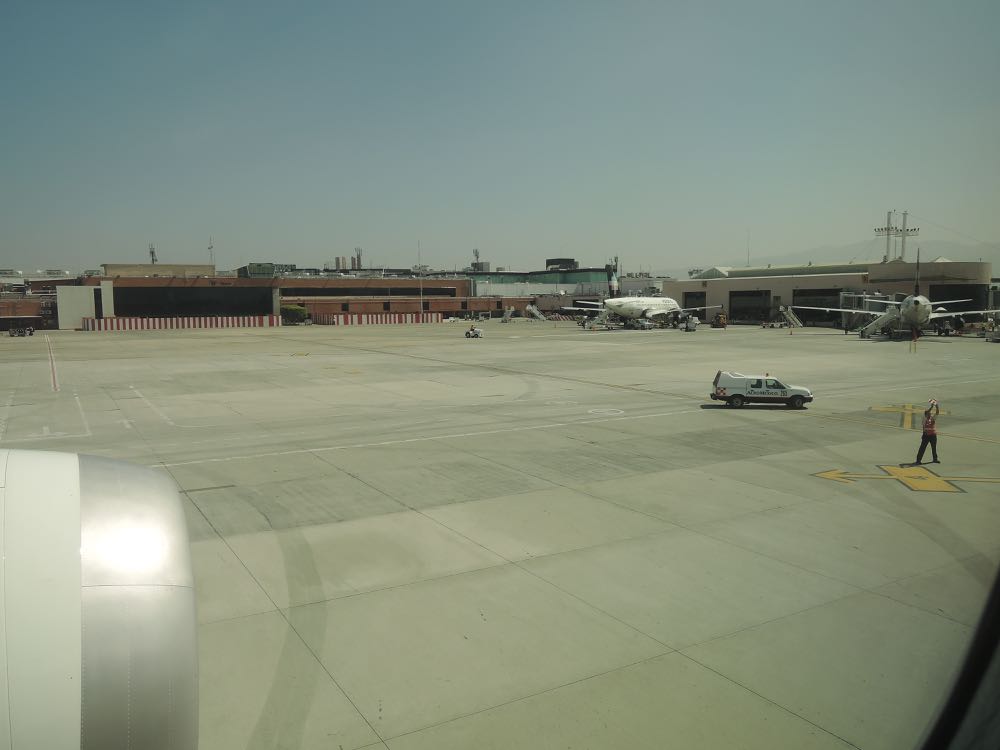 Tijuana airport terminal
The taxi out was fascinating, due to the combination of random construction projects and even more random aircraft.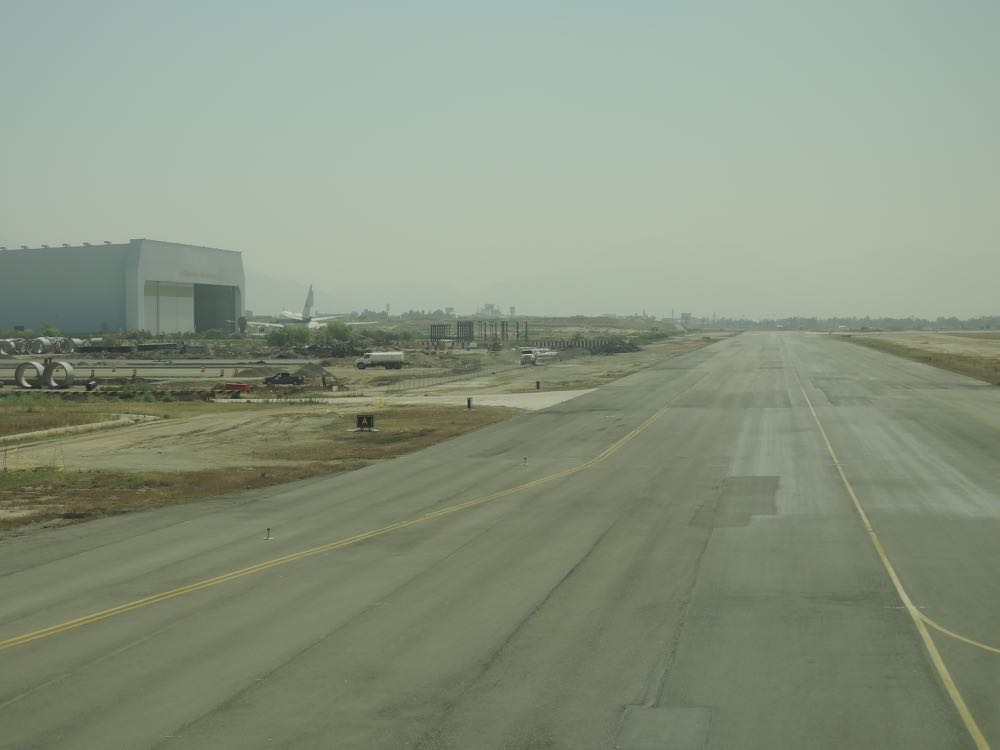 Tijuana airport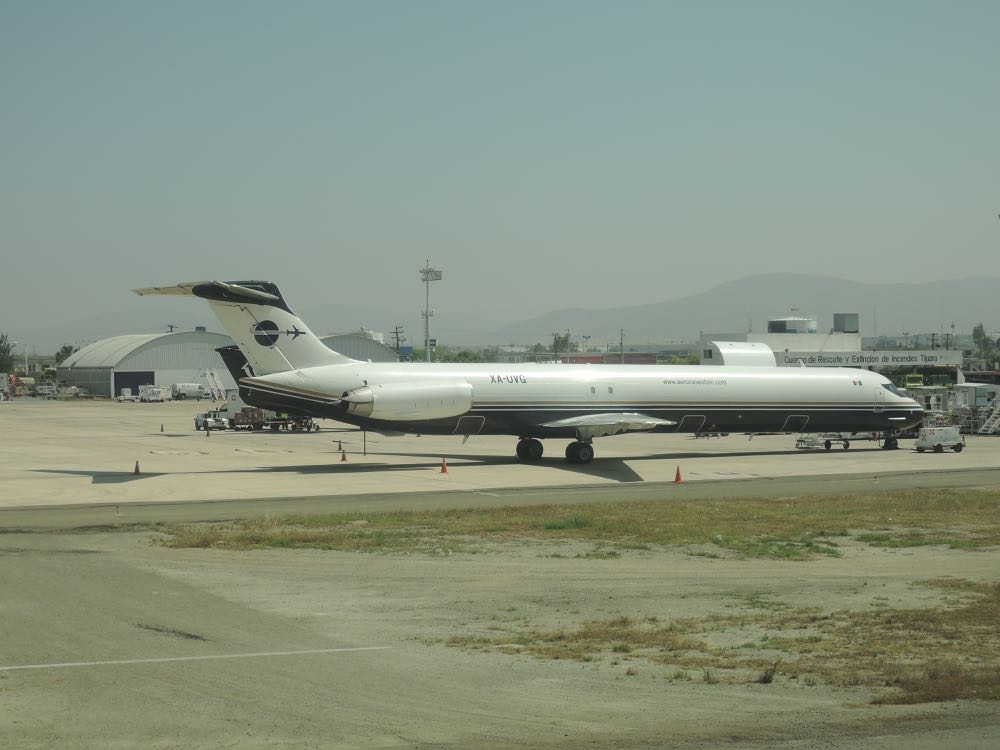 Random cargo plane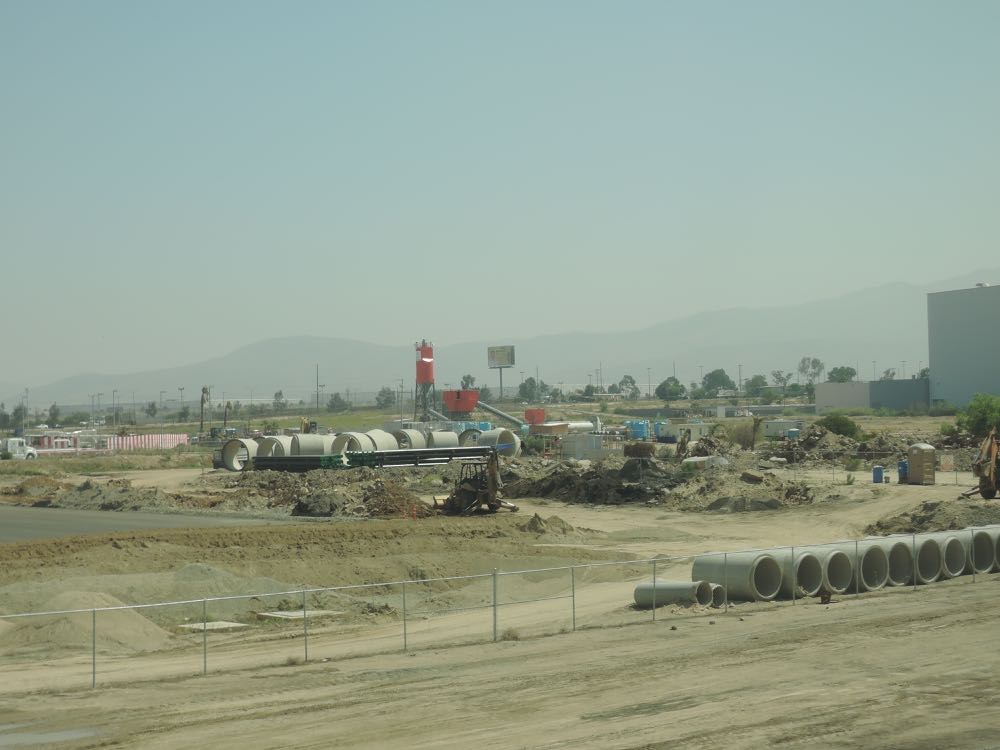 Some construction…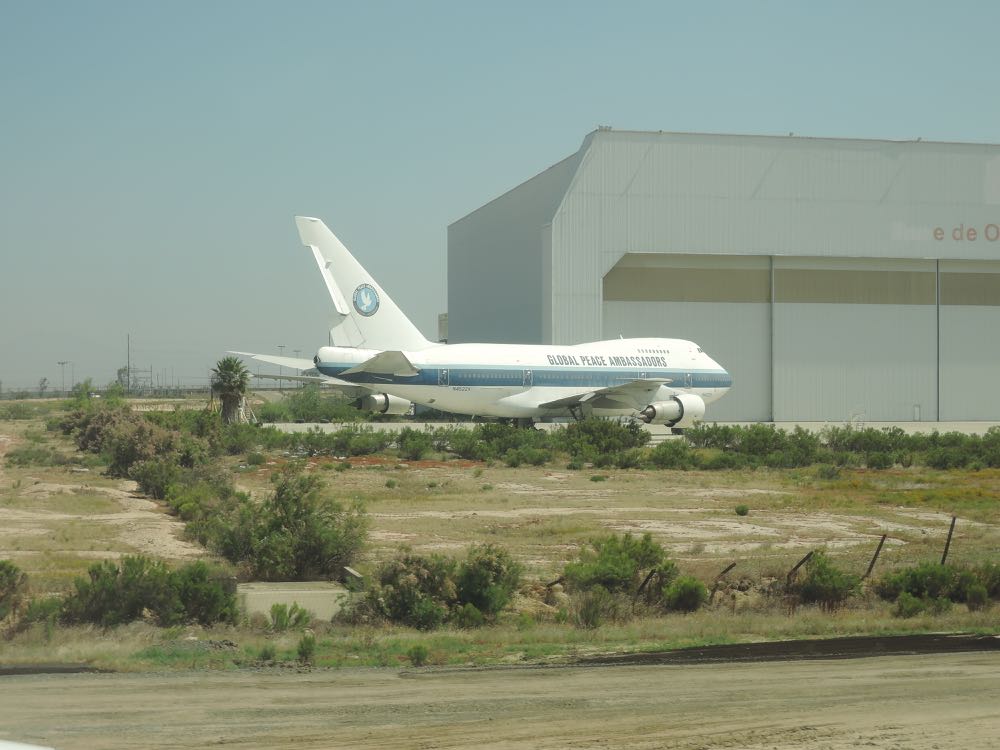 Ooh! A 747SP!
Interesting story on this 747 — I showed the picture to Andrew as soon as I saw him (because he's a huge avgeek, and how often do you see a 747-SP in the wild?).
He promptly recognized the plane as the aircraft involved in the China Airlines 006 incident. Apparently the new owners have been deferring maintenance, as the plane has just been sitting in Tijuana for years.

Tijuana from above
The climb out wasn't particularly scenic, as metropolitan Tijuana isn't that attractive. I do like the extra height of the 787 windows though.
Shortly after takeoff the flight attendants dimmed all the windows in the cabin. I thought was a bit of an overkill for a short daytime flight, but to each their own.
This flight offered WiFi, but as I'd already synced my various inboxes to my "offline" setup, I didn't bother using it on this flight. I did use an hour of WiFi on the return, and didn't have the same data gobbling problem on my laptop as Ben experienced on his phone. Definitely make sure your iPhone settings are correct before trying to use a system that limits your MB usage.
About 45 minutes into the flight, the meal service was delivered. There was no choice of meals, nor really a choice as to whether or not one wanted a meal.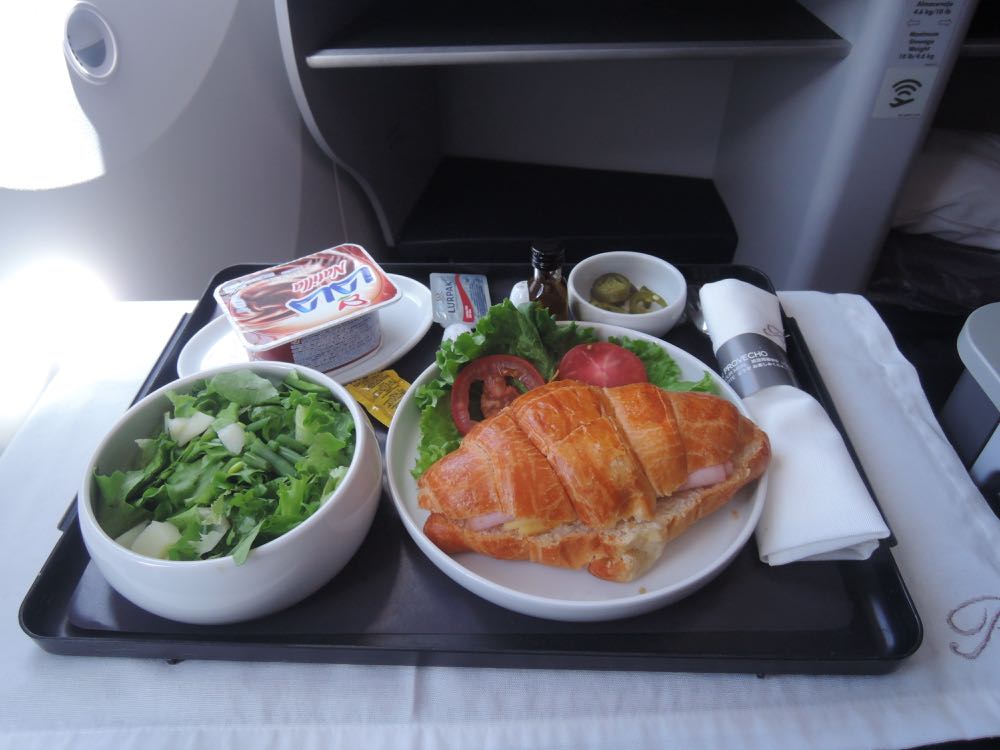 Business class lunch on Aeromexico
The meal itself was mostly unremarkable. It wasn't bad enough to complain about, but certainly wasn't good either.
That probably sums up the service as well. Our flight attendant was… perfunctory. Not rude, but certainly not friendly. After the meal trays were cleared we didn't see the crew again until landing.
The other great thing about row 6 of the mini-cabin?
This view.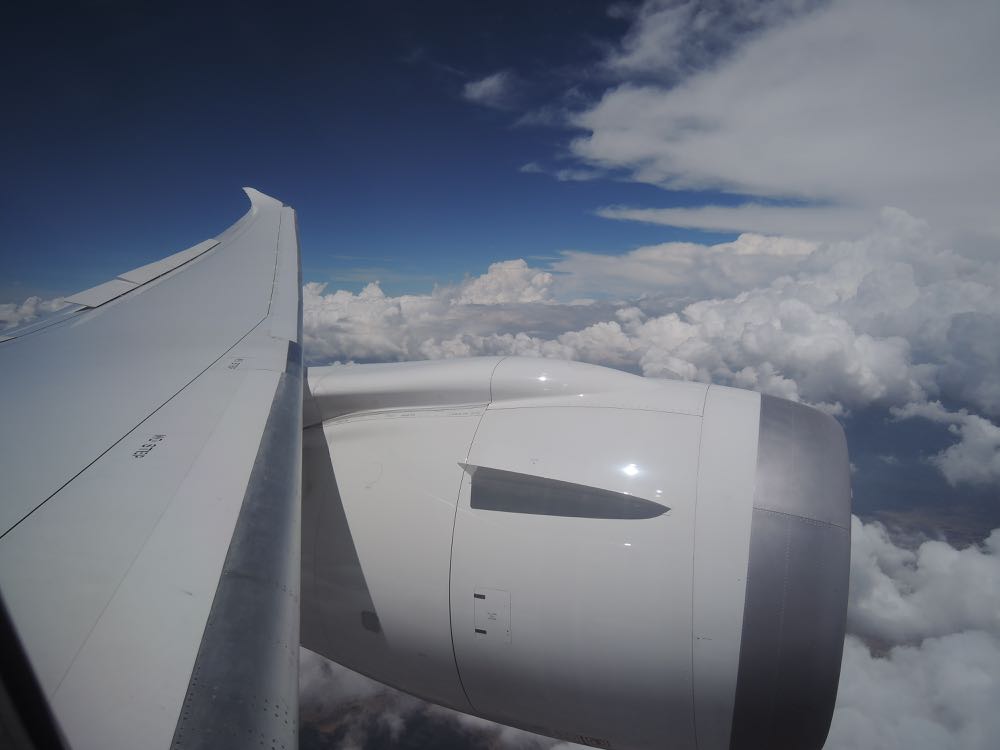 Aeromexico 787
The views were fun as we approached Mexico City as well.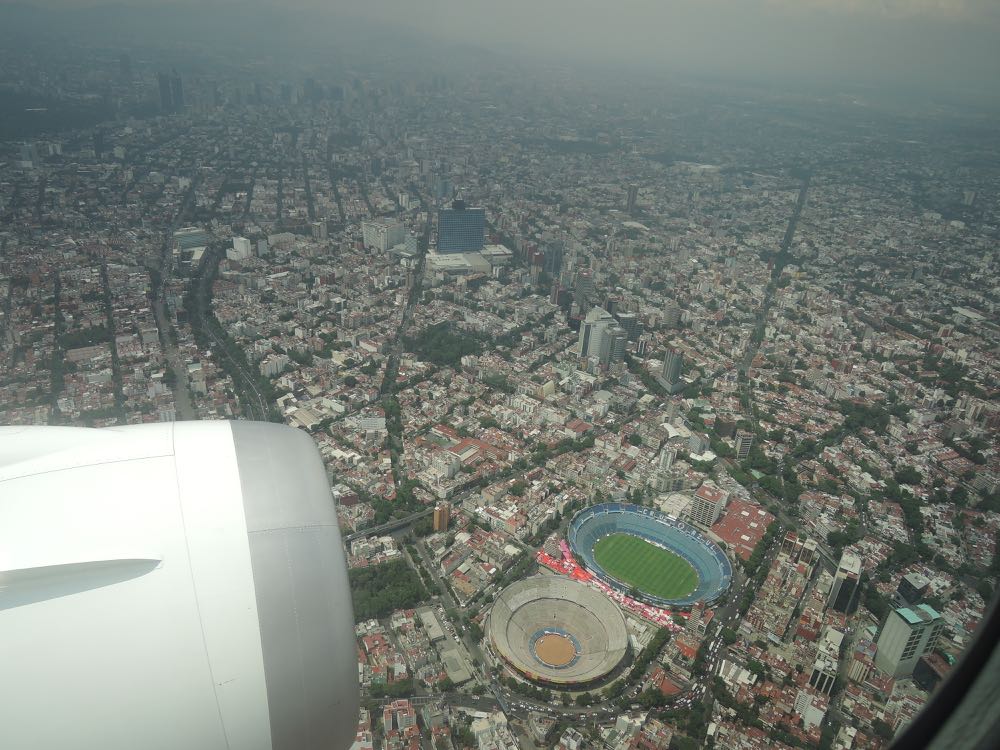 Football (soccer) stadium and bullfighting arena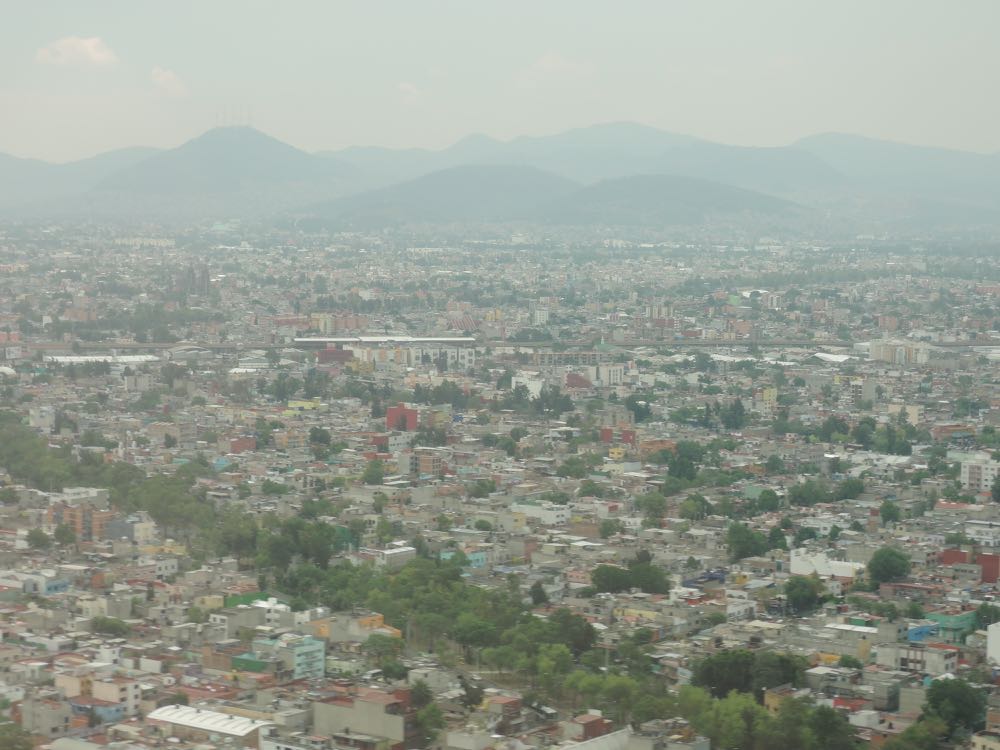 A hazy afternoon, but a decent sense of the nearby mountains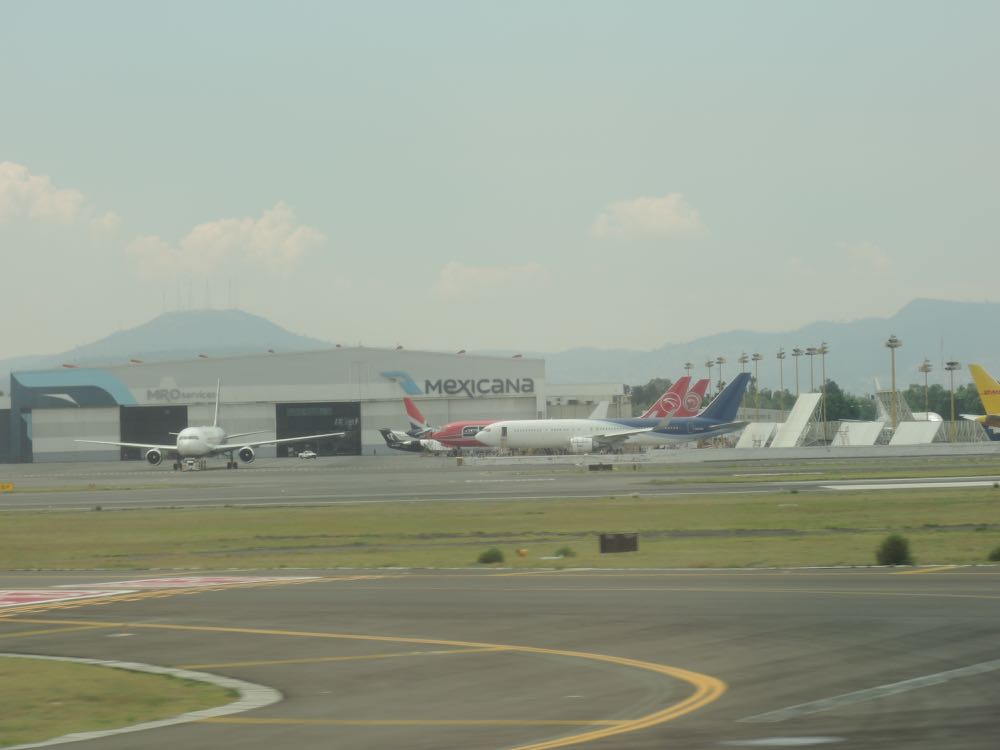 Oh hi Mexicana!
As we'd already cleared immigration in Tijuana (seriously, this CBX thing is great), we arrived in Mexico City as domestic passengers.
It was a quick walk through the terminal, though we could immediately sense the change in altitude.
One of the coolest parts of the airport was baggage claim. Seven-year-old me could have spent hours watching airport operations through the huge windows.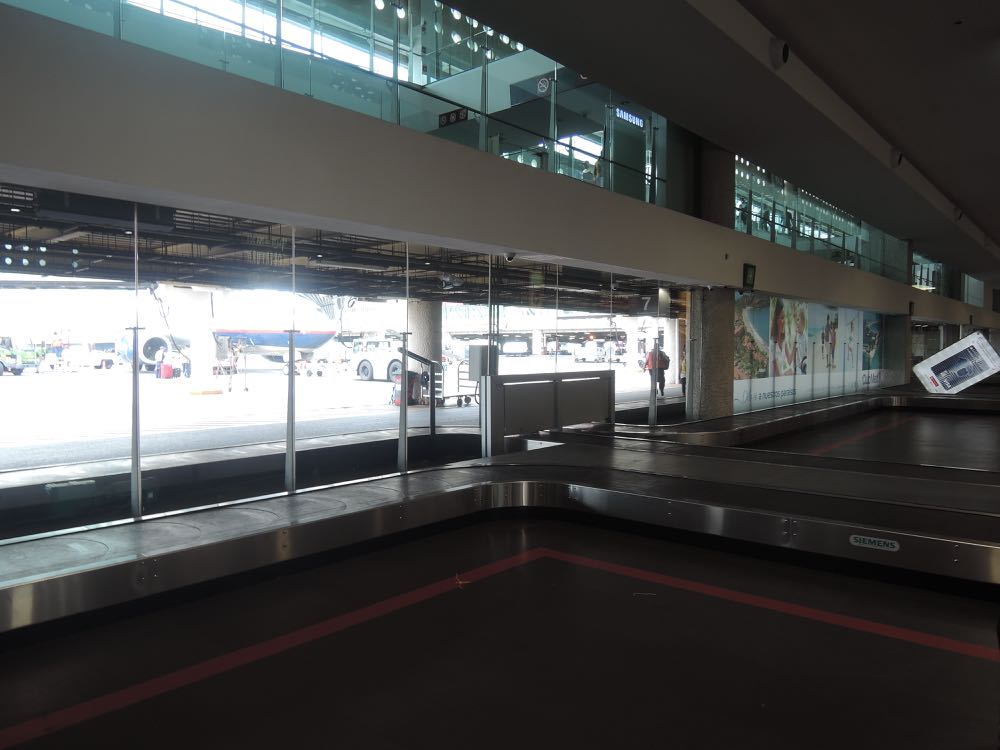 Mexico City airport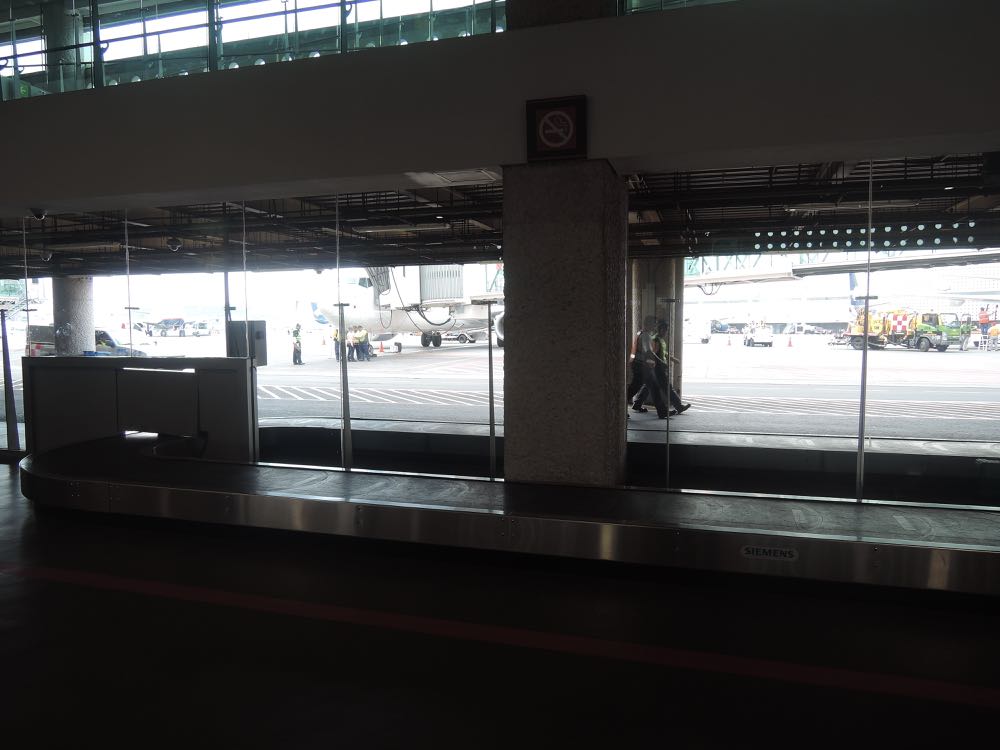 Mexico City airport
We didn't have checked bags though, so moved straight to the arrivals hall, grabbed some pesos from the ATM, and headed into the city.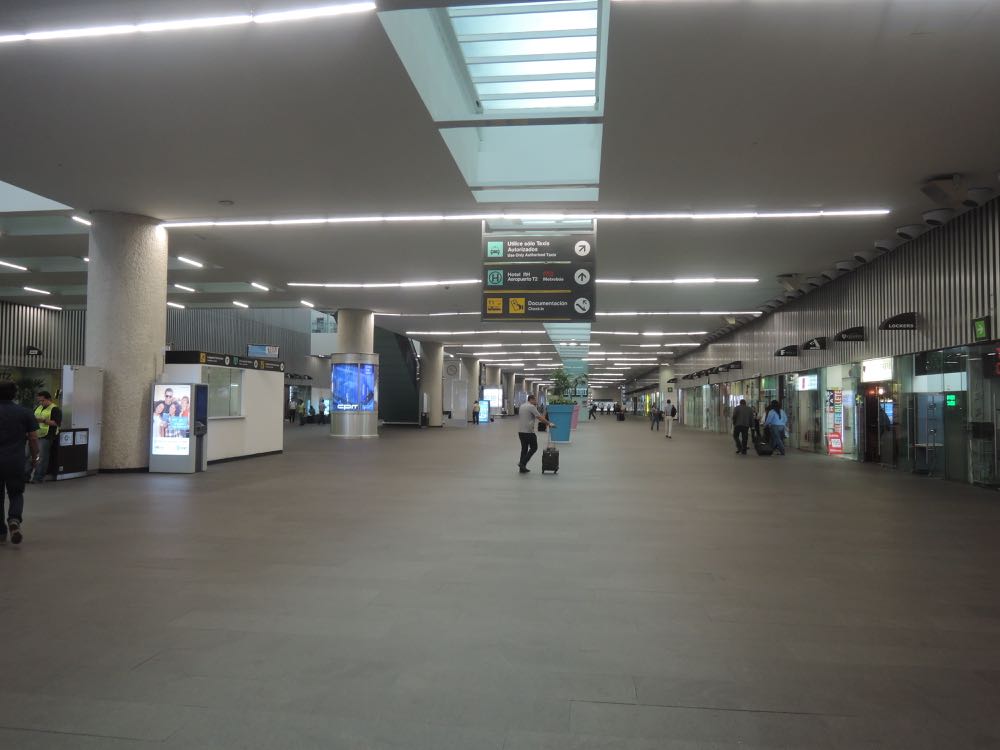 Mexico City airport
Bottom line
I had a great flight, for reasons almost entirely independent of Aeromexico. I love the B/E Aerospace seats, the views were fabulous, and I was traveling with my husband, which is rare these days.
The service and catering were mediocre, at best, even when I remind myself that this was a domestic flight. From Ben's reports though, it doesn't sound like those are significantly improved on longer segments, so who knows.
Really though, you can't beat having an internationally-configured business class on a three-hour flight.
For those who fly AM more often — is this typical catering/service for domestic routes?