---
I wrote about the new Tijuana Airport Cross Border Xpress when it first opened, but this trip was my first opportunity to use the new terminal.
For those of you who aren't familiar, the CBX is basically a small facility on the San Diego-Tijuana border. You can park (or be dropped off) in San Diego, enter the terminal, get your boarding pass, and then walk across a dedicated bridge right into the Tijuana Airport.
It was pretty awesome.
Arriving at the CBX
We live near the San Diego airport, and budgeted thirty minutes in case of traffic. It only took twenty minutes to reach the CBX facility.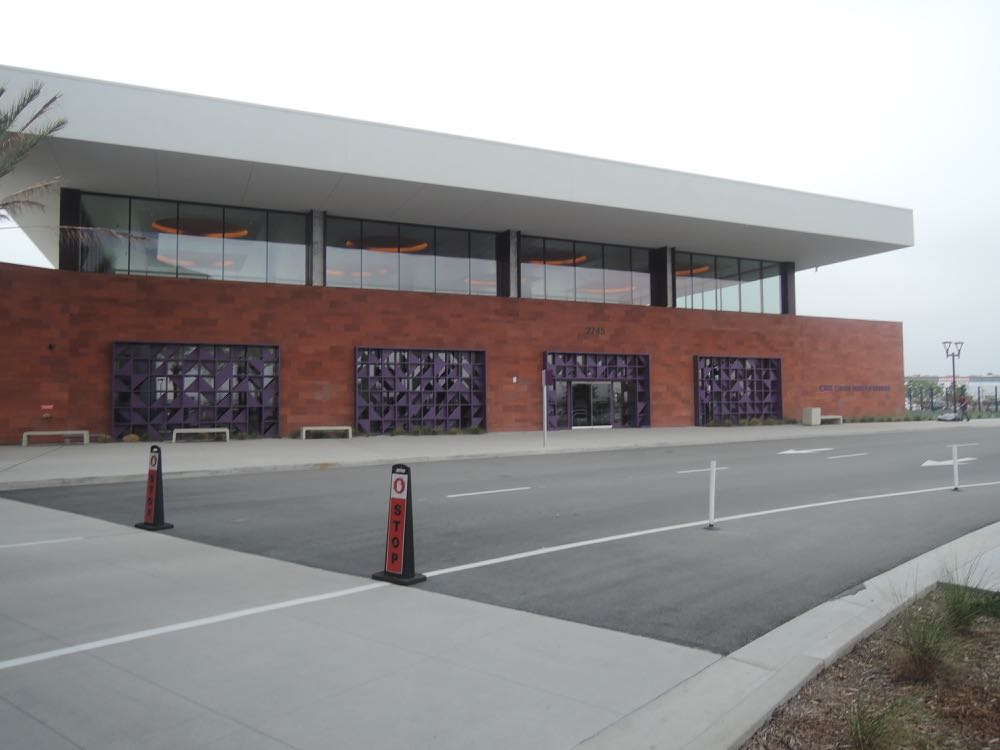 Cross Border Xpress exterior
There weren't many people there on a Thursday morning, but I can definitely see parking being an opportunity as the CBX gets more popular.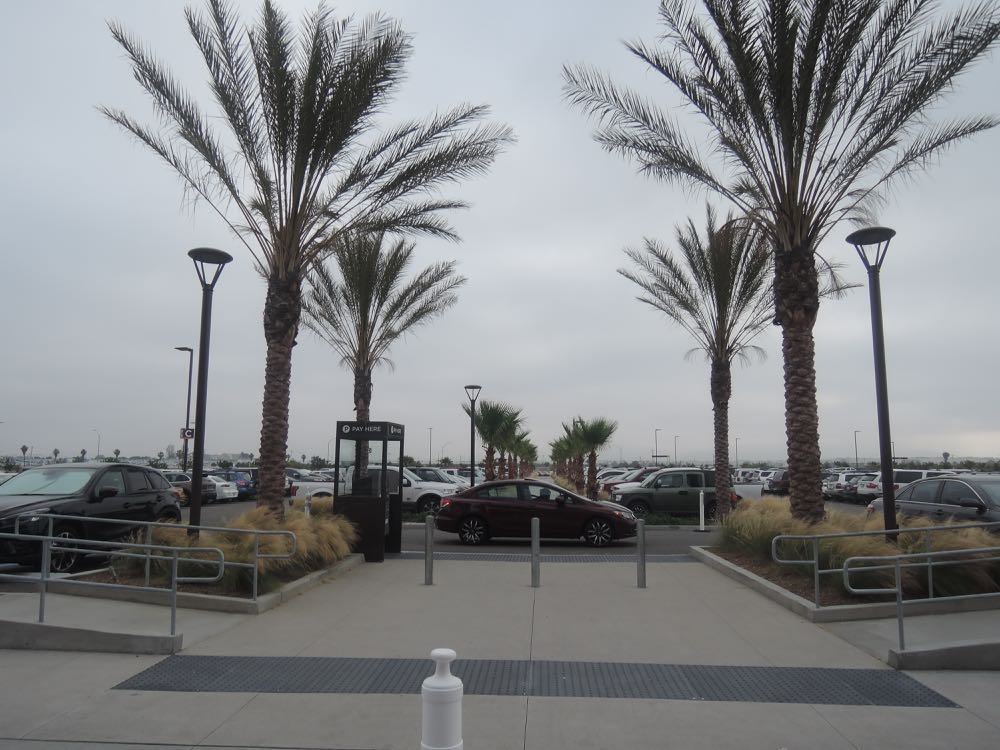 Cross Border Xpress parking lot
There did seem to be an off-site parking structure across the street, and hopefully more facilities will open. We had a friend drop us off, but I think Uber would be a reasonable alternative to the parking prices if you are coming from anywhere South of the 8. There are also shuttles from downtown San Diego (the Amtrak station), and San Ysidro.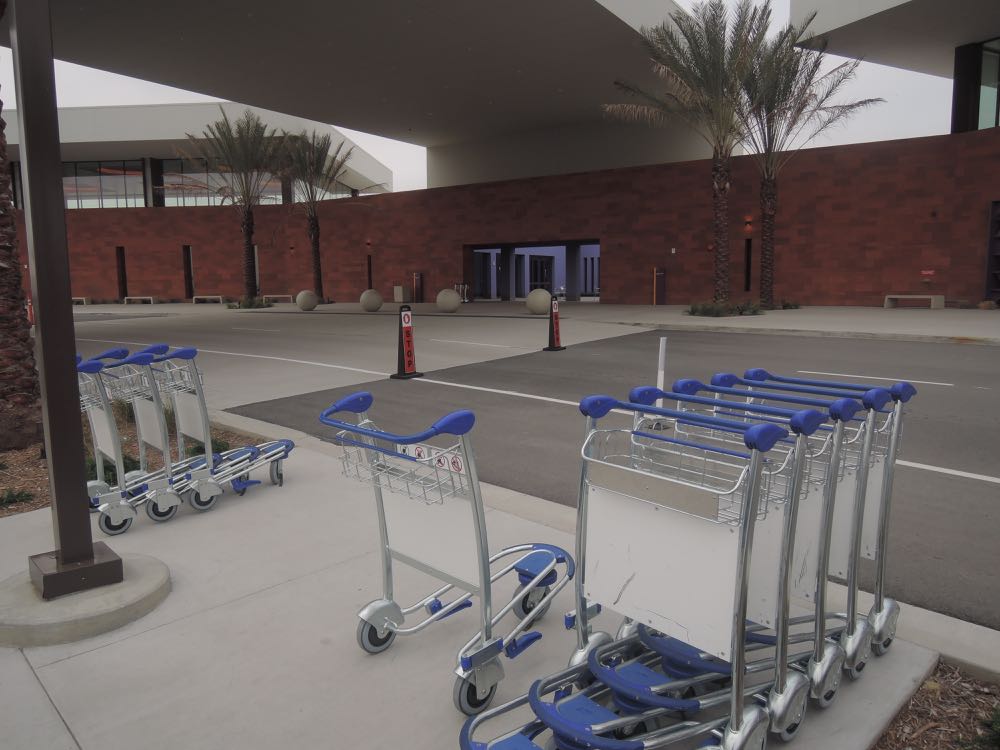 Cross Border Xpress exterior
The entrance to the CBX was off a small atrium with a few tables and chairs. A coffee shop was located just inside the terminal, and this could be a nice place to have a snack or wait for your ride on the San Diego side.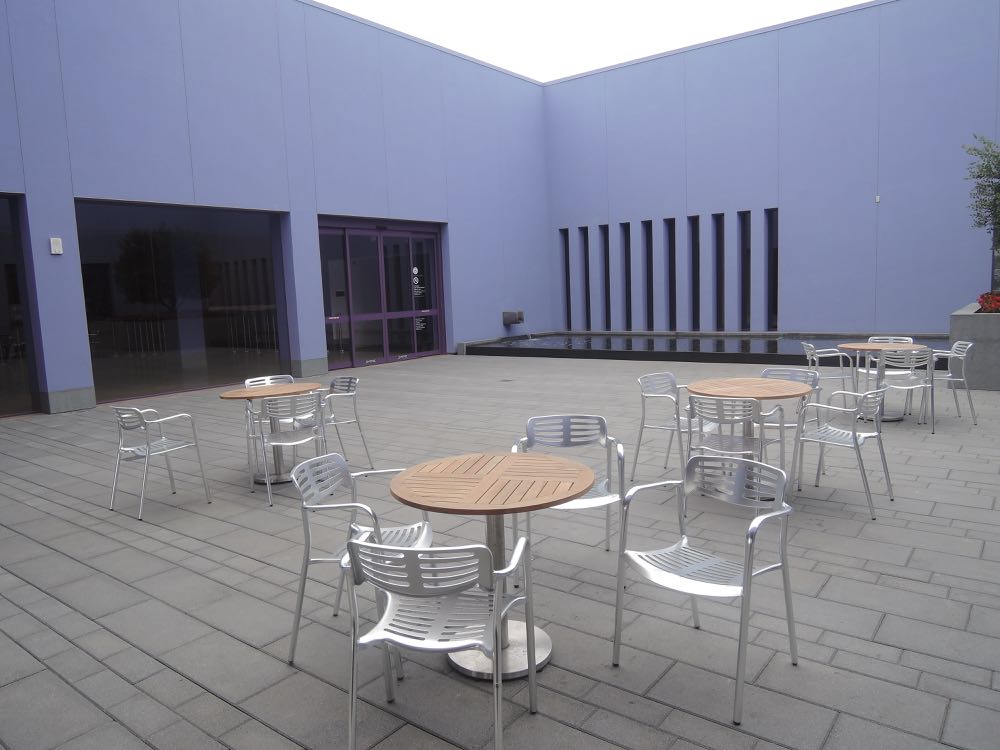 Cross Border Xpress exterior courtyard
The departures area of the terminal itself was small — like you'd expect to see at a small regional airport. Aeromexico and Volaris both had plenty of agents in addition to the self-serve kiosks.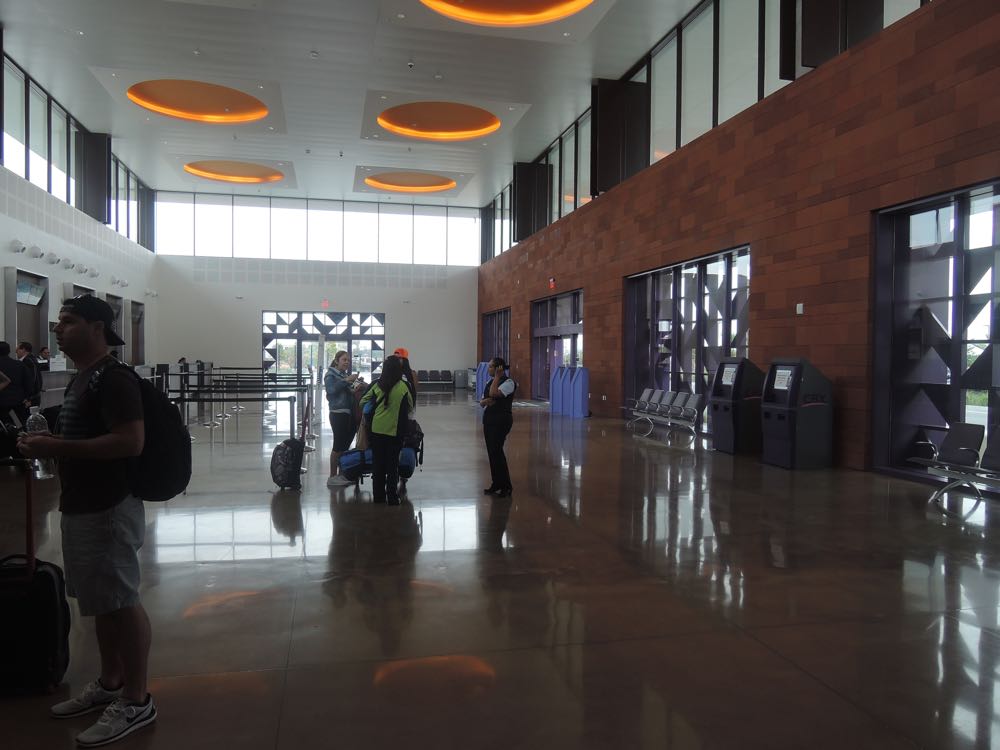 Cross Border Xpress departures terminal
As soon as we entered the terminal we were greeted by a smiling Aeromexico agent who asked which airline we were flying, and if we'd already purchased our tickets for the crossing.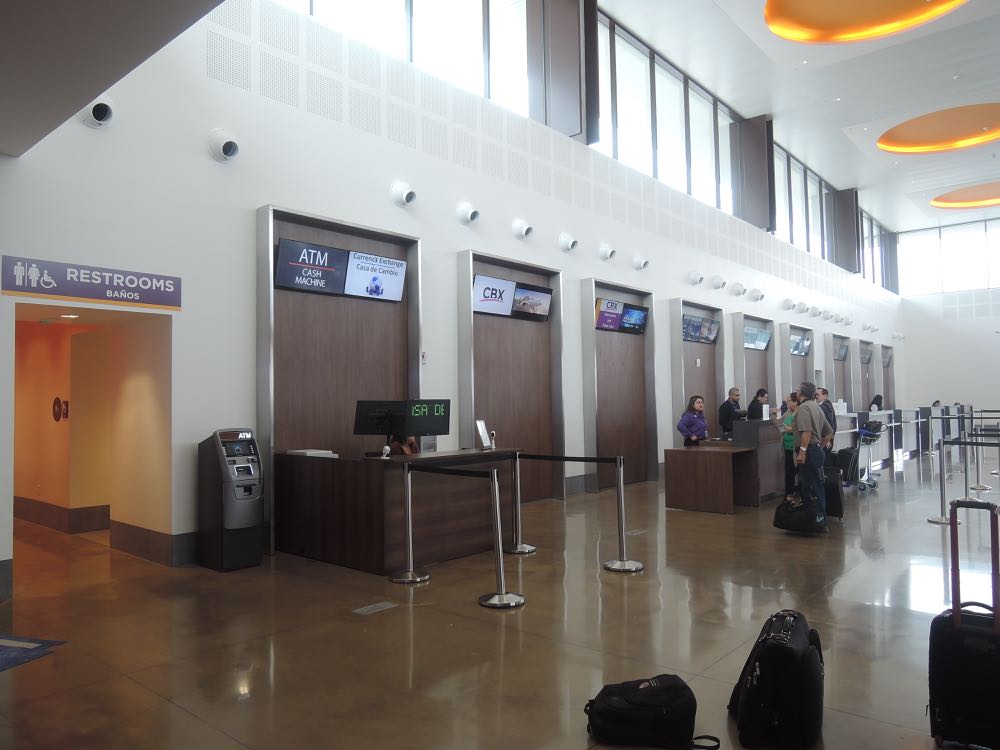 Cross Border Xpress departures terminal
We gave her our boarding passes, and she printed our bridge tickets, emphasizing that they were round-trip tickets, and reminding us not to lose them.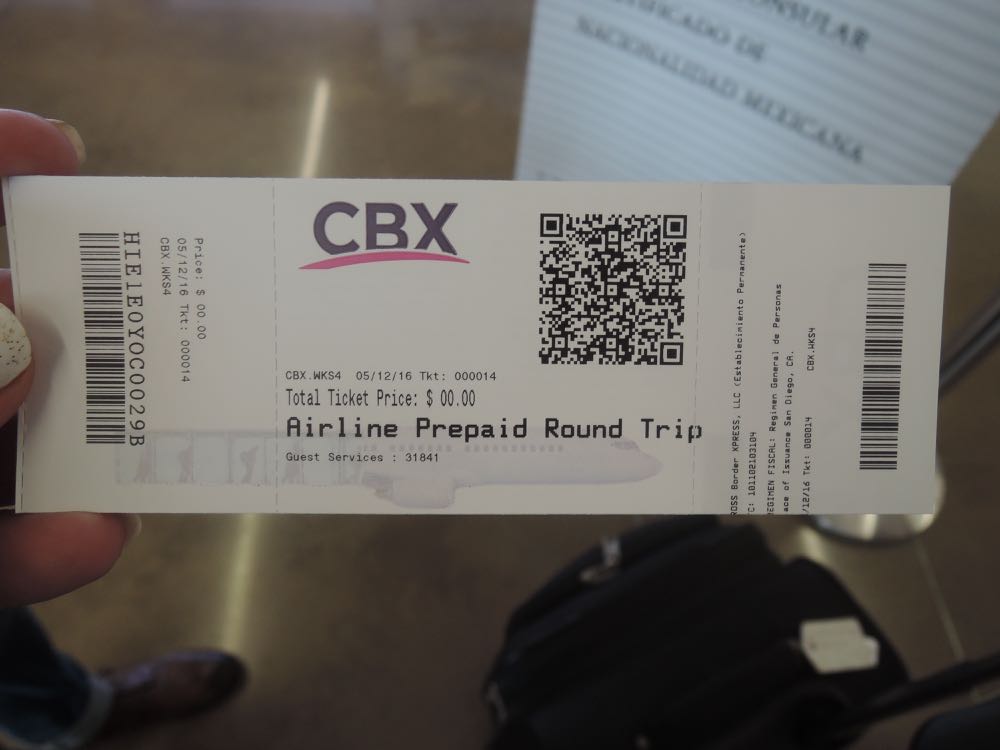 Cross Border Xpress tickets
Leaving the US, and the mysterious Amex lounge
The queue to exit the terminal was short, but took a long time. Your boarding pass has to be scanned, then your bridge ticket, along with a quick ID check. There was a single line, and only one person handling the process.
Construction seemed to be ongoing, so hopefully they add staff (and a second lane!) in the future.
After the ticket check we entered a tiny Duty Free Shop, which was comically overstaffed. There's some work to be done with the staffing schedule, for sure.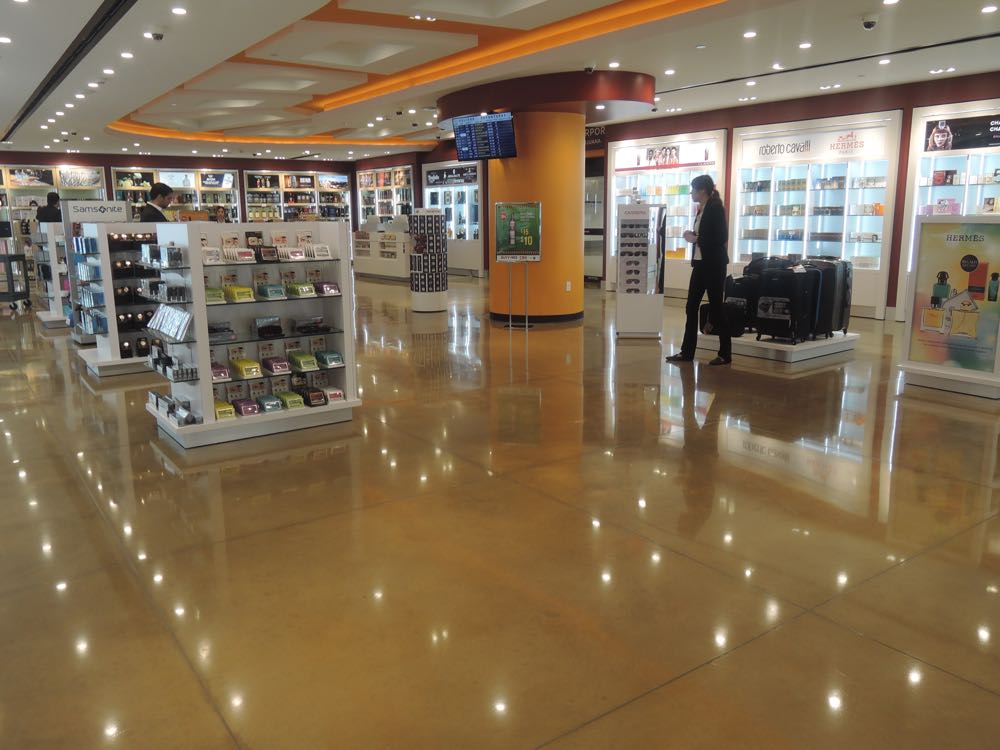 Cross Border Xpress Southbound Duty Free store
We exited the shop to a vestibule with a handful of kiosks for US customs agents. They were mostly just waving everyone through, so I'm not sure what the point was.
After the kiosks was a scanner — I can see this process taking a long time if you had a quantity of checked bags.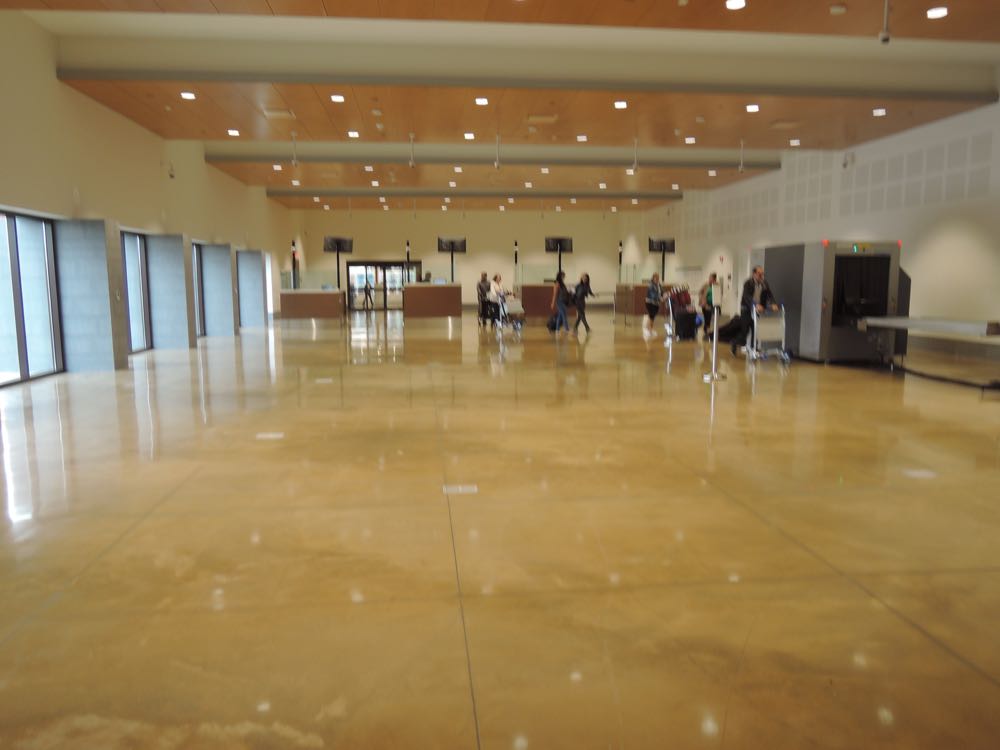 From there, you could take either an escalator or bank of elevators up to the bridge.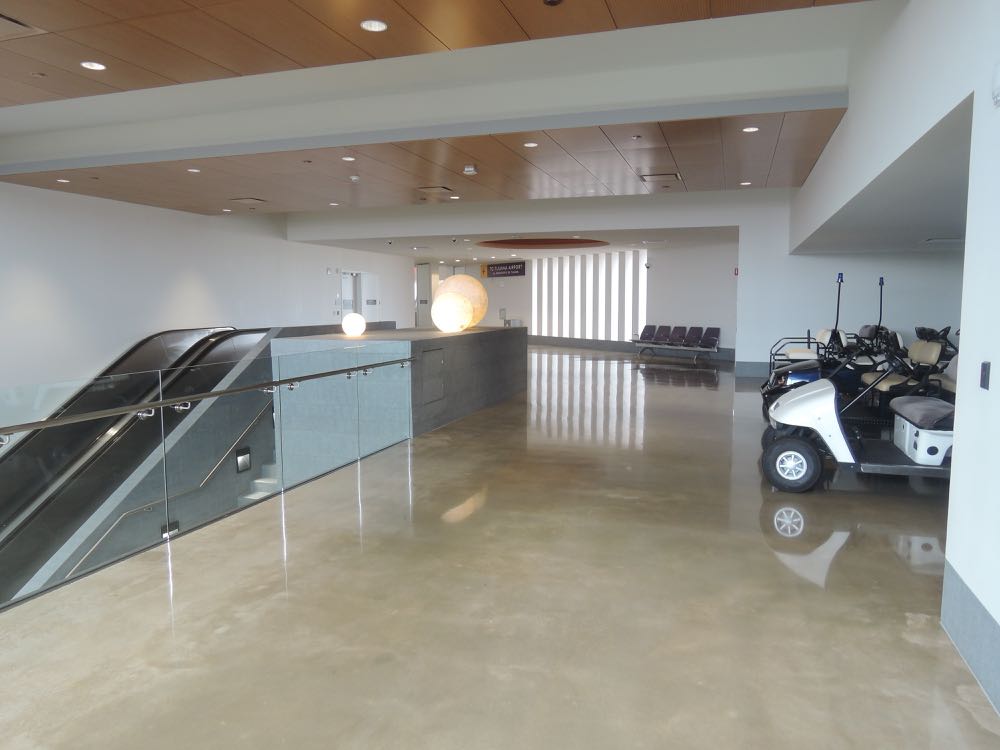 The CBX website claims there is a lounge for American Express cardholders, but I'm calling BS.

I am pretty darn good at finding lounges (as you'll see in the next installment), and we went directly from the door, to the terminal, to the shop, to the escalators, to the bridge.
I didn't even see anywhere to put a lounge, so if anyone knows where it is please let me know!
Walking to Mexico!
I love that this is a thing, I really do.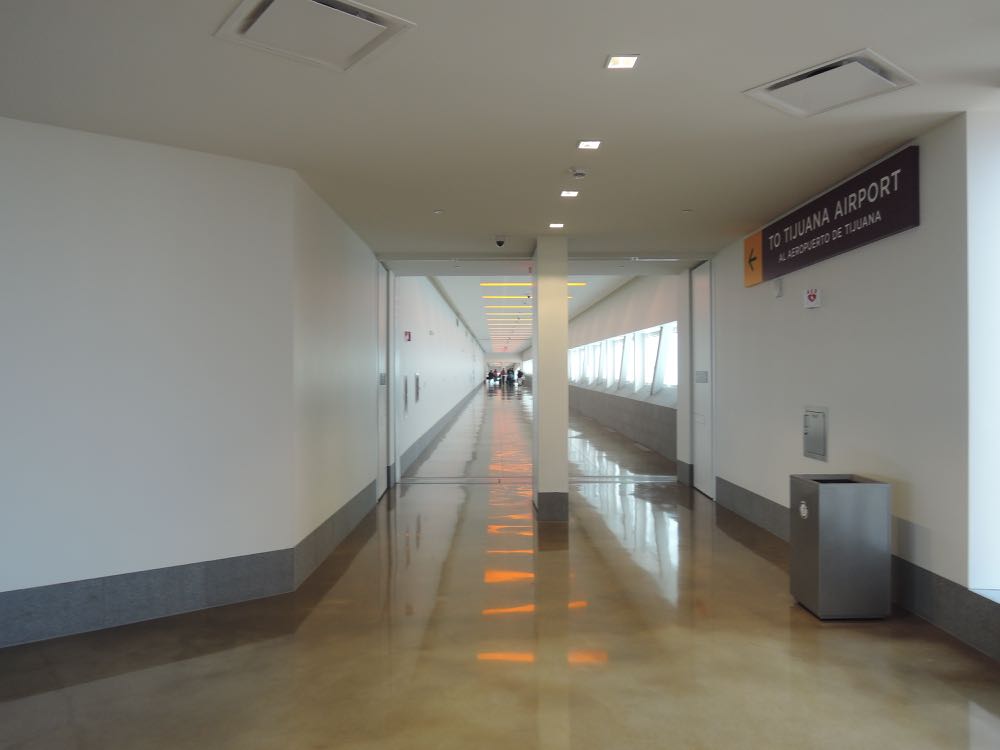 Cross Border Xpress bridge
The bridge itself is maybe 400 feet long, and there are plenty of carts if you need help with your baggage.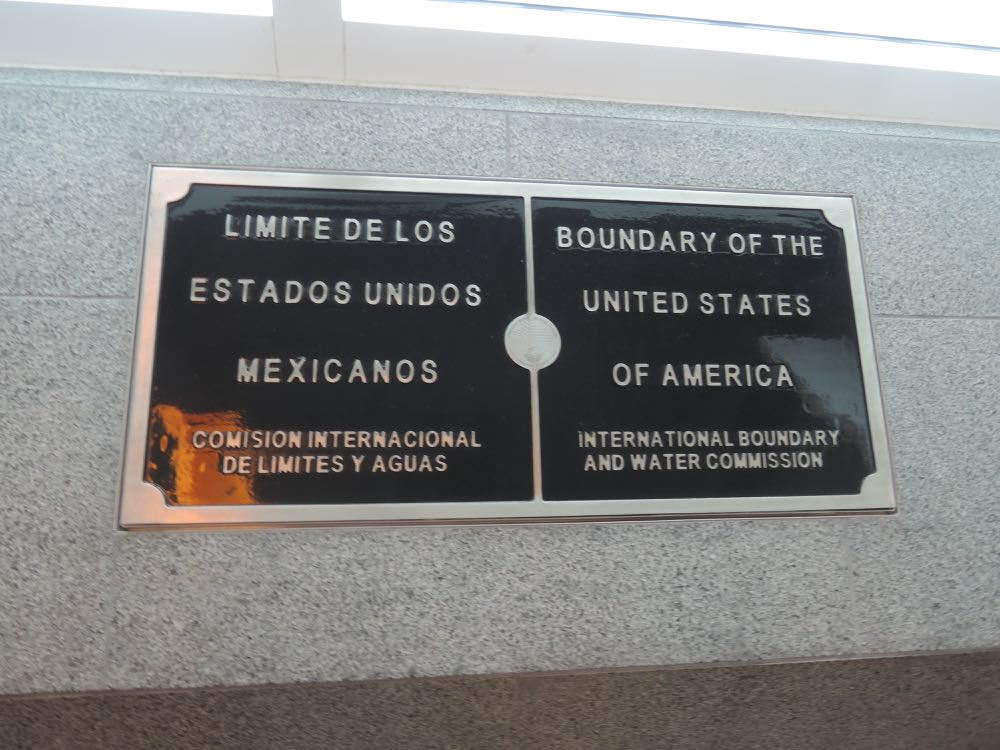 Placard marking the international border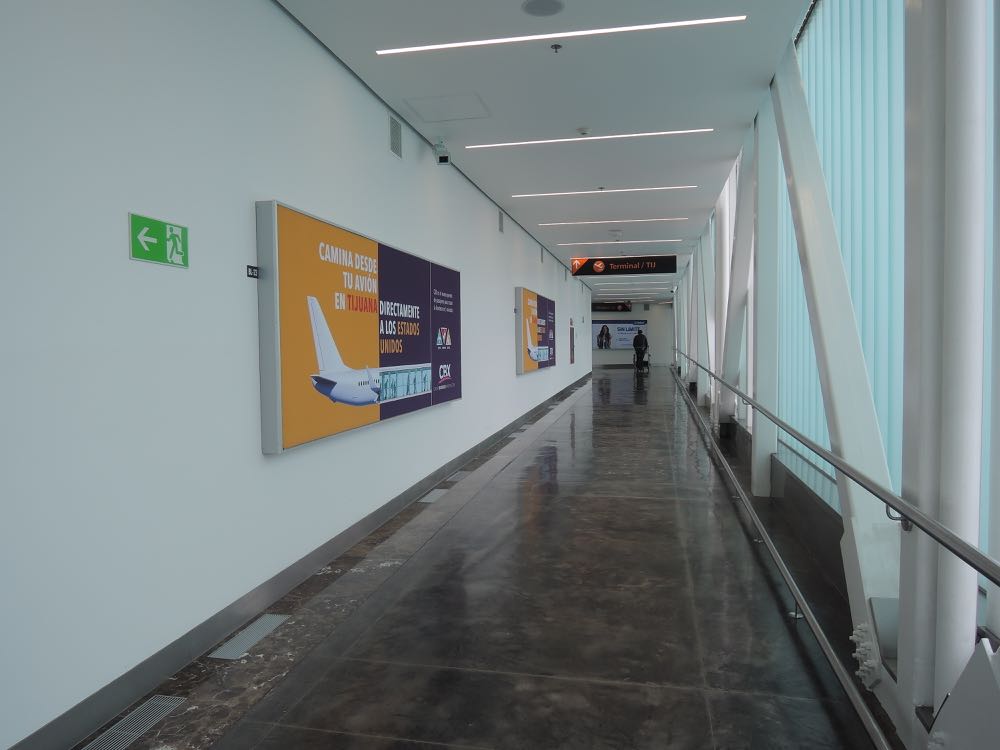 More bridges and hallways
You can't take the carts into Mexico, however, so you'll have to leave them at the end of the skybridge.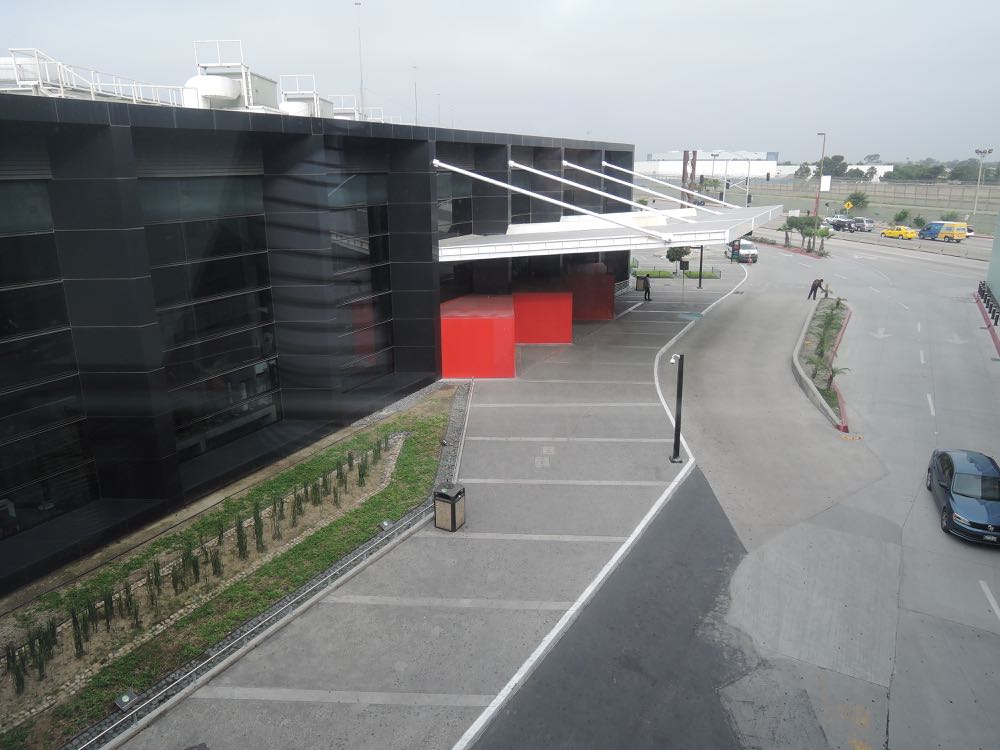 View of the Tijuana airport
A set of escalators takes you down to Mexican immigration, which was an interesting experience on several levels.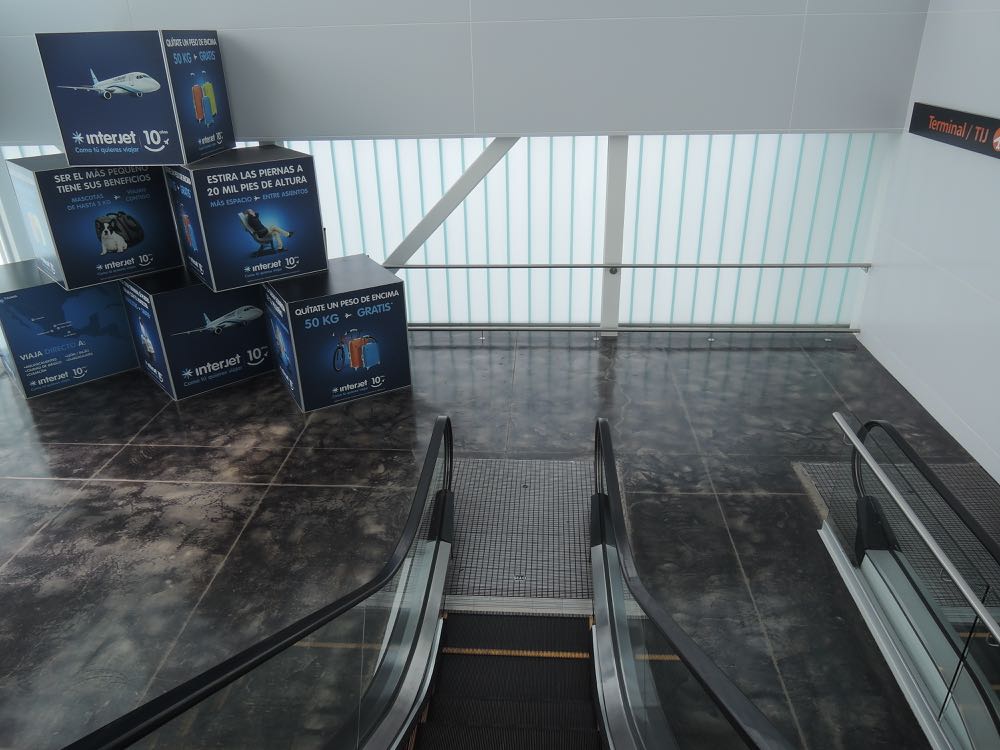 The escalators themselves weren't that interesting
One, this was the first opportunity to fill out entry cards for Mexico. You'd really think they'd pass these out on the San Diego side, and there was quite the bottleneck as everyone filled out their forms.
Secondly, I had never considered how instrumental the flight experience is to acclimating to a language change. I am not bilingual (not even close!), and even returning to Italy it generally takes my brain some time to adjust to a new language. Walking made that worse — rather than patient flight attendants reminding me of words I knew and adjusting over several hours, it was just "BAM! SPANISH!"
Which led to this hilarious exchange with a very good natured Mexican immigration officer:
"Bongior — ack, no, buenos dias."
"Hola, buenos dias senora, [something my brain couldn't process, but assumedly about destination, dates, and purpose of visit]"
::wide-eyed confusion::
"Ahhh…una gringa. Entiendes '¡Buenos dias!' '¿Como estas?' y nada mas. :)"
So that was fun.
Even more fun? Mexico's discounted alternative to the TSA's $300,000 randomizer app.
Walk up to the pillar, hit the button Family Feud-style, and see what comes up. Green, you're good, red, you've got secondary. So simple.
And with that, we were in Tijuana! We entered right into the departures hall (and I'll write about our best-of-times-worst-of-times Tijuana airport experiences in the next couple of installments).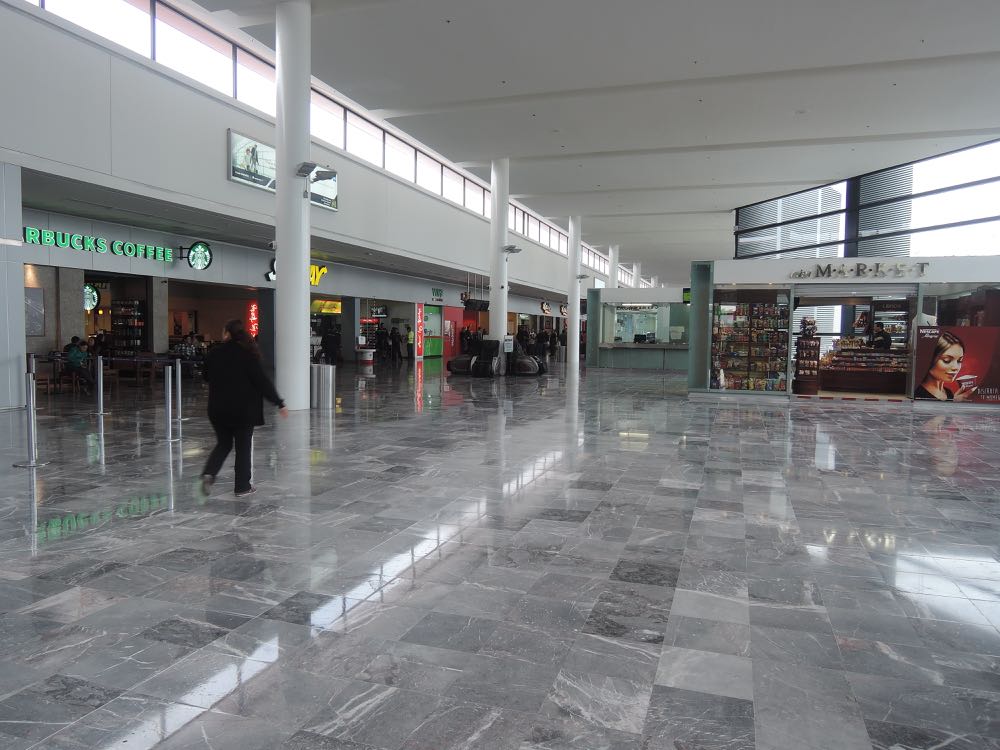 Tijuana airport departures hall
Walking back to San Diego
Our return trip was just as easy! Upon arrival we walked through baggage claim, then followed the very ostentatiously marked pathway to the CBX entry. The agent scanned our boarding passes, took the second half of our tickets, and waved us down a corridor.
Eventually we reached a bank of escalators, an identical long bridge, and another set of escalators — just like the outbound trip, but this time it was US Customs officials waiting for us.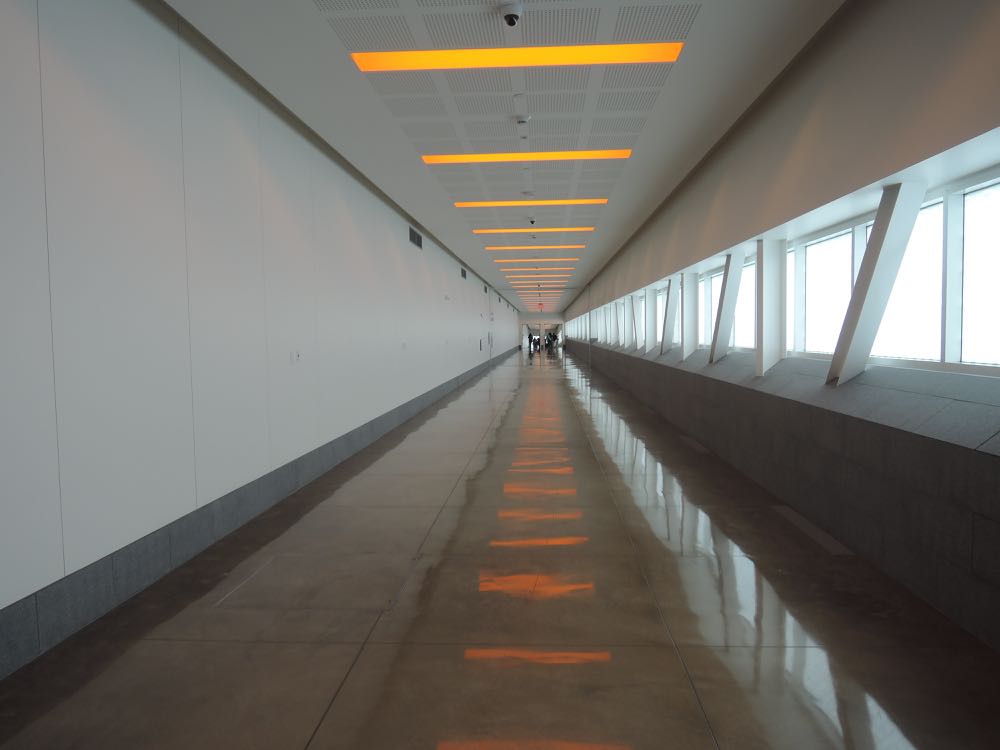 An identical (but separate) bridge for the return walk
Two interesting things to note about our arrival in the US:
We never actually interacted with Mexican authorities on our departure, which in retrospect I'm a bit perplexed by. We still have our departure cards, as there was never anyone to give them to.
Although there were signs for Global Entry, the kiosks themselves were entirely different. They didn't even have fingerprint readers, so it was a bit of a waste of time to swipe passports, and then still have to talk to the CBP officer. But, we got to skip the line.
CBX Bottom line
This is a great new option for San Diegans, and we will definitely be using the Tijuana airport more frequently now. Provided I haven't overstayed my tourist visa or otherwise created an international incident by not submitting my departure card.
The parking seems like it could be a challenge, and if you have lots of luggage you definitely want to plan extra time for dealing with your bags. Otherwise, it's a simple facility, but works well.
Has anyone else used the Cross Border Xpress? Any tips?