---
Attending a wrestling match might not be at the top of the list of things you'd consider doing on an international trip, but for lucha libre in Mexico City you'll want to make an exception.
Yes, the fights are choreographed and ridiculous, and yes, it gets a little loud and boisterous, but it's such an experience!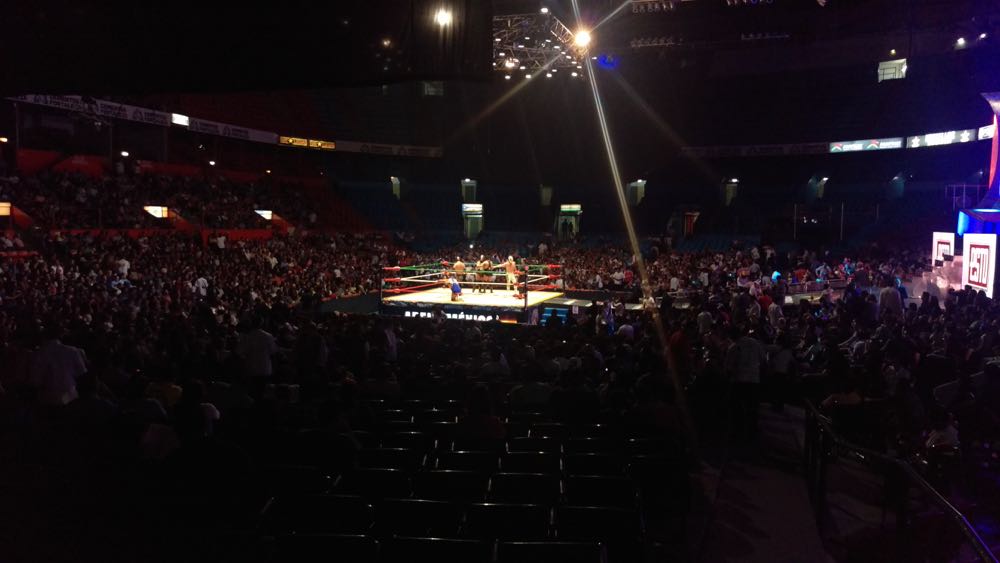 The Arena Mexico seats 17,000 people
I had hoped to attend a lucha libre match from the beginning, but my arch-nemesis Ticketmaster made that difficult. I don't know why I had a hard time finding the event on the website, but with the help of Wandering Aramean (who was conveniently in town just a few days prior) we figured it out.
https://www.instagram.com/p/BFXzuRsA1HA/?taken-by=tebfunk
You want to go to a match at Arena Mexico if you can — this is the main arena, and is definitely an experience. Tickets can be purchased online, and then claimed at Will-Call. You mush show the credit card used to purchase the tickets, and the card must have raised numbers. Supposedly. I used my Sapphire Preferred, and that was fine, but YMMV.
There are apparently tours that will take you to the fight, but I'm having a hard time imagining why that would be necessary. If you have been to any sporting event, ever, or to anything with reserved seating, you should be fine on your own. There were signs for Will-Call, signs for the entrance, signs for the bathrooms, and ushers happy to show you to your seats in exchange for a tip. I'm not sure what value a tour company would have provided.
Sit ringside, or as close as you can
We purchased Friday night tickets at the last minute, and paid ~$18 each for our ringside seats.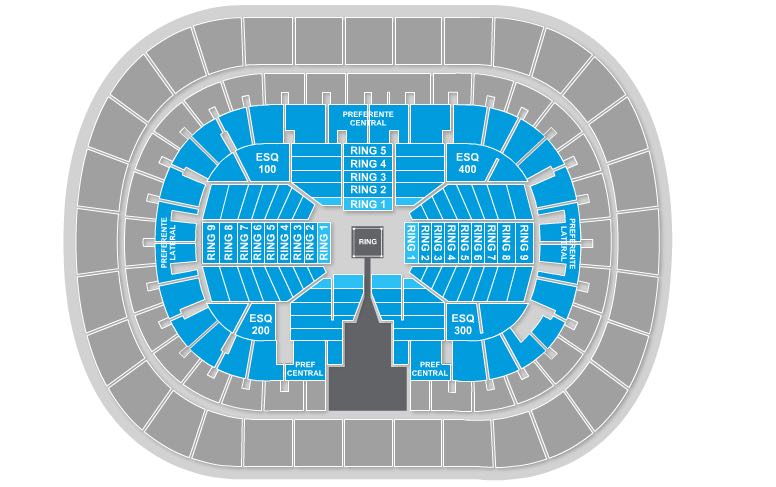 Arena Mexico seating plan
I don't know that they were the best of the ringside seats (we had a row of three seats to ourselves in the purple area), but they certainly weren't bad.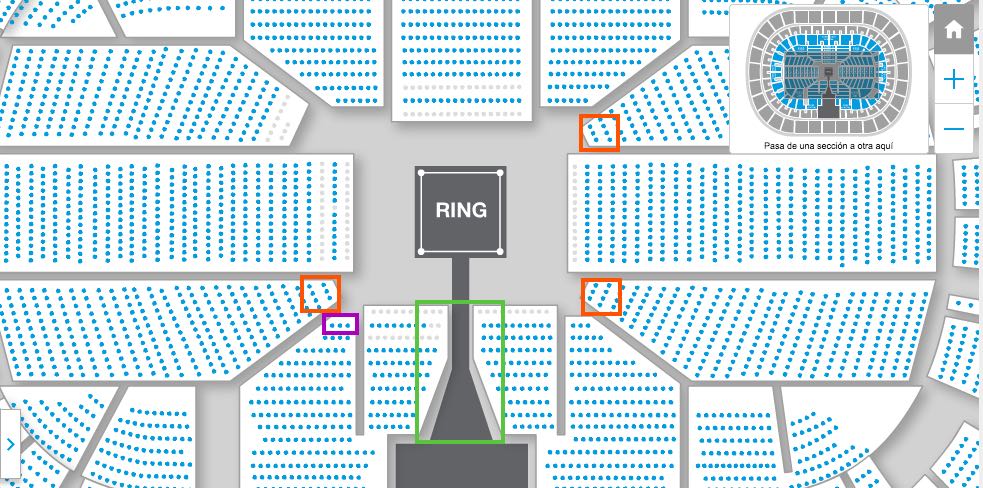 The closer to the action, the better
Ideally, I'd suggest sitting alongside the ramp (marked in green). The extravagant entrances were one of my favorite parts (flashing lights, highlight reels, and dancing girls), and much of the fighting action spilled out onto the ramp.
The orange seats would have been better than our purple seats, but really — this is just a place where you want to be close to the action. It's worth the few extra dollars.
Everyone goes to the lucha
Families. Couples dressed for dates. Young people. Old people. Groups of friends. Single fans. Everyone.
I don't know if this is the case in the U.S., because I've personally never been to a professional wrestling match otherwise, but I was impressed with the diversity of the crowd. That alone made the evening particularly fun, especially as it seemed everyone was having a universally fantastic time.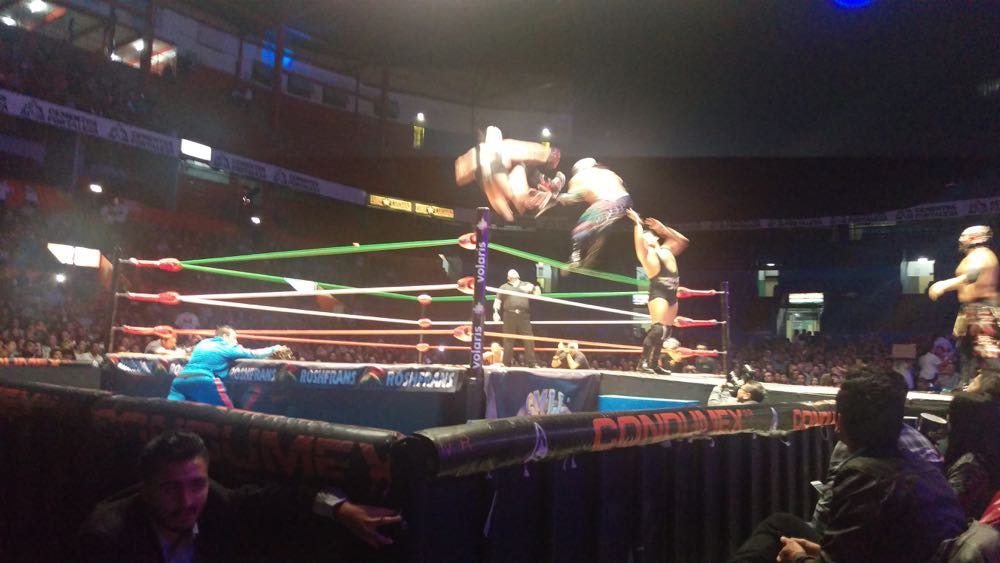 The aerial moves and acrobatics were impressive, and definite crowd-pleasers
The concession crew is on point!
Granted, the offerings themselves weren't gourmet or anything, but the concession delivery system was a well-oiled machine. The ratio of vendors to attendees was impressive, and everything from beer to chicharrones to Dominos was quickly distributed throughout the crowd.
Other vendors hawked wrestling masks, toys, noisemakers, and other souvenirs, but not aggressively so. It all contributed to the festive and enthusiastic atmosphere.
Things to know
The area around the Arena Mexico apparently has a "meh" reputation, though it didn't seem particularly unsavory when we were there. Our hotel might be used to coddling their clientele, as they suggested we pay a taxi to wait for us during the match rather than linger in the neighborhood at night. That sounded ridiculous, and we took Uber without any problems (though we did leave a bit before the end of the match).
A few other tips:
Cameras are not allowed in the arena — security will check yours and give you a claim check if you forget.
Bring small coins to tip ushers, buy things from vendors, etc.
Avoid bringing large bags to the arena as there isn't space for them
It's also worth noting that the earlier fights have more campy (and potentially offensive) comedy. Little people, fighters in drag — apparently it's all fair game. The later matches are better choreographed, and thus much more violent. If either option seems bothersome to you, plan your arrival and departure times accordingly.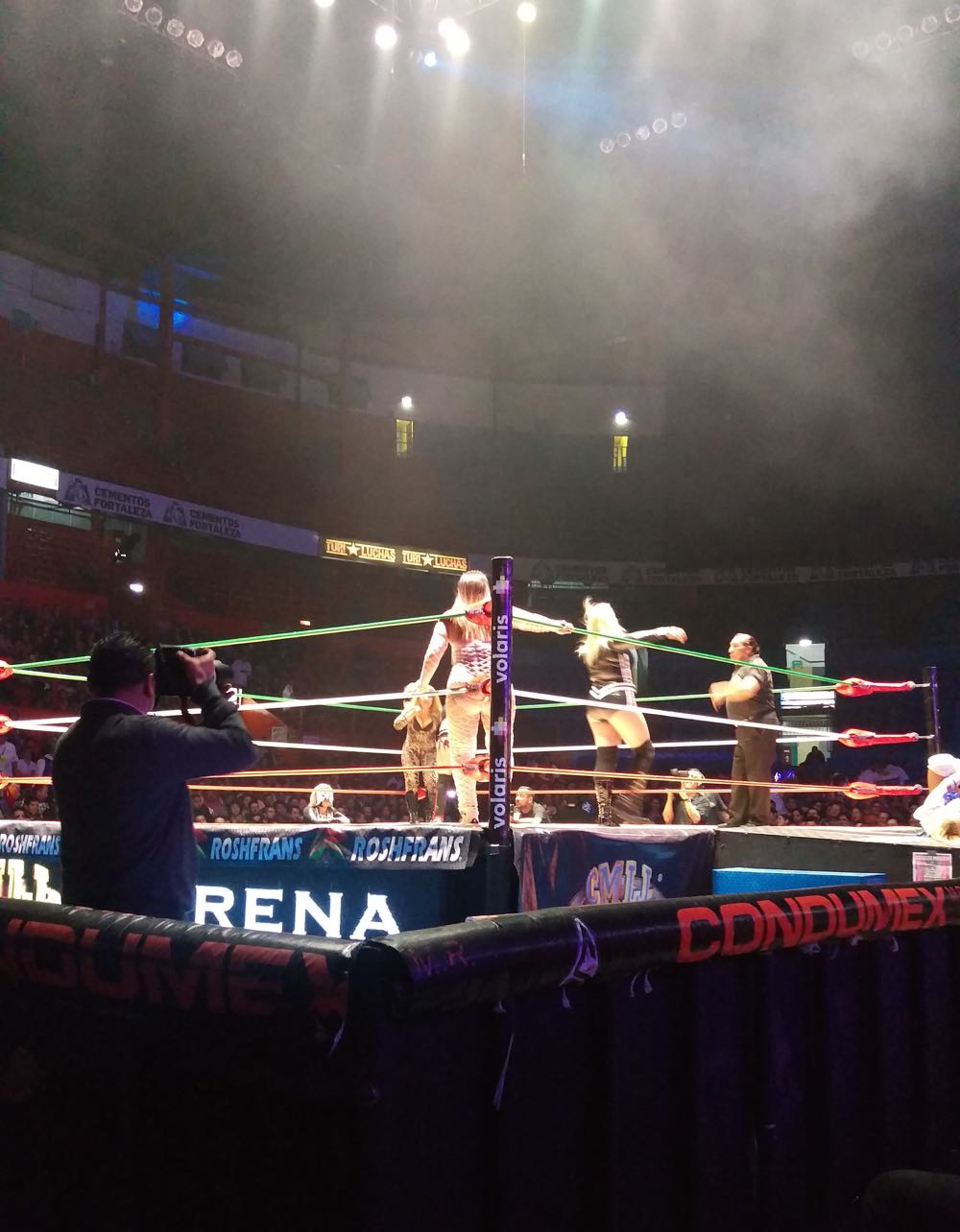 Lucha libre may be one of the only entertainment events where the women wear more than the men
Bottom line
I don't know if going to a lucha libre match is something that you must do in Mexico City, but it was certainly a very entertaining evening. I had a great time.
I particularly enjoyed watching the crowd, and seeing how the fighters engaged with the fans. And even Andrew, who was not entirely thrilled with the aggressive violence of some of the luchadores admitted he would suggest others seek out a match on a visit to Mexico City.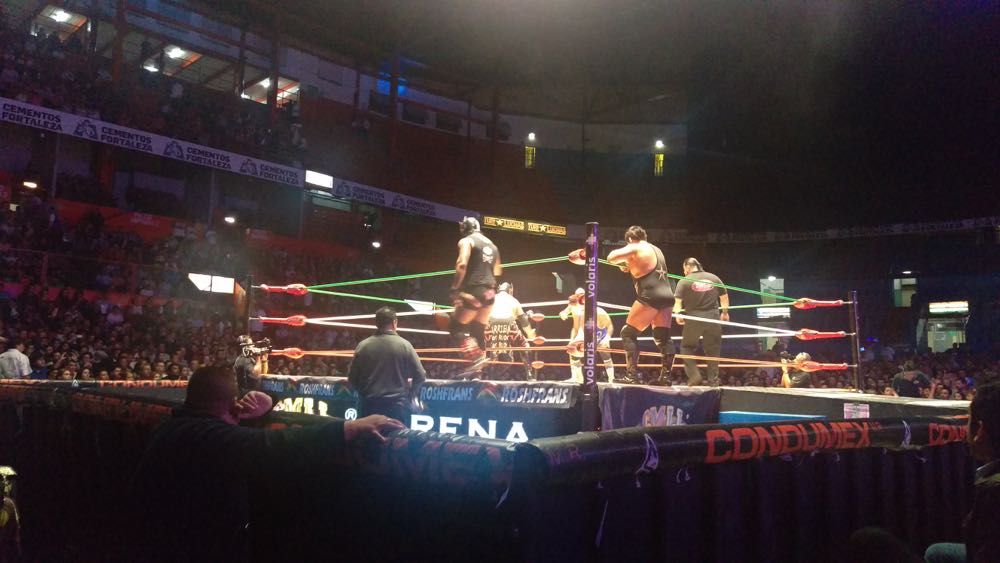 Mid-match deliberations
Has anyone been to lucha libre at Arena Mexico or another stadium?