As I've mentioned previously, I spent much of late February mileage running (I know, that's a funny joke in 2016). My itineraries were technically in international first class, but the best aircraft were the A321 on the transcon routes between New York and San Francisco or Los Angeles.
I had a half-dozen segments in business class on the transcon routes, which gave me plenty of time to form an opinion on the product, especially in comparison to first class, which I've flown several times in the past.
And on balance, I think I actually prefer the business class product!
1) Especially in the window seat, there's more space for my stuff
The first class seat certainly has plenty of space in general, with an extended table, and a couple of sections for storing personal items.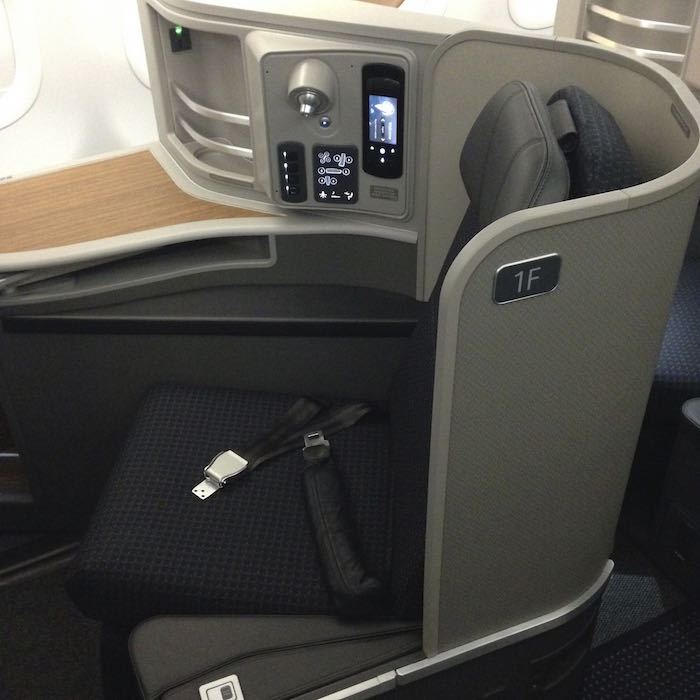 American A321 first class cabin
So it doesn't seem like this should be the case, but in practice there's more workable space in business (at least in the window seats).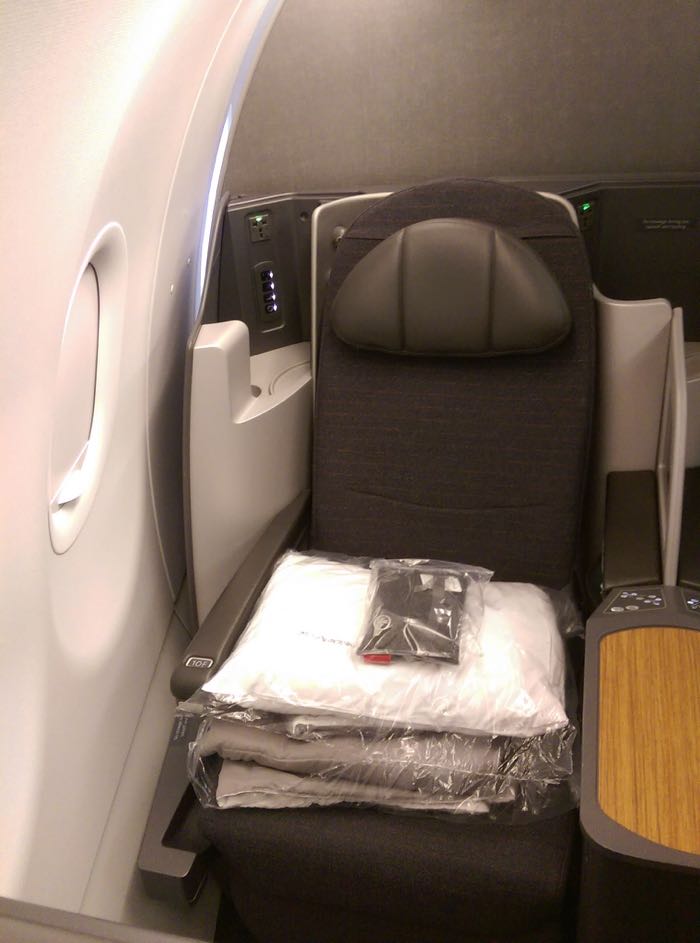 American A321 business class seat
Being able to keep your bag under the seat throughout the flight of course helps, but the little slot under the monitor is nice for stowing a laptop during the meal, and the storage area by the headrest has enough space for phones, chargers, amenity kits, water, my Kindle, etc.
And in a pinch, there's plenty of space along the side to stash pillows and blankets until you're ready to use them.
2) I can talk to my seatmate, or not
The seats in business class are slightly staggered, so while you have a seatmate, you still have some privacy.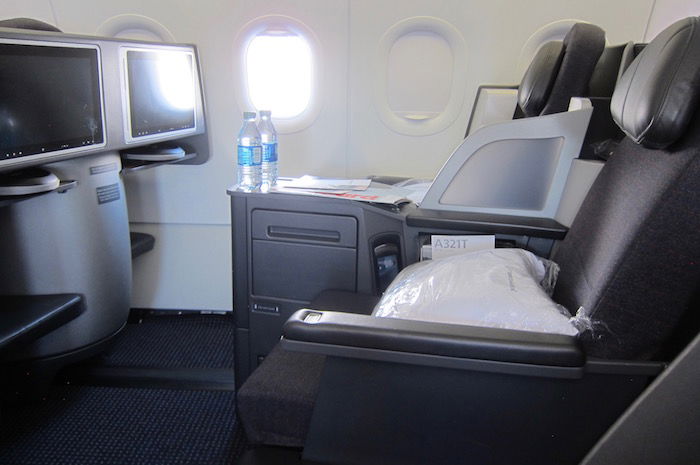 American business class A321
This is great if you're traveling solo, as you don't feel obligated to talk to the other person, since you're not really sharing much space.
But it's even better when you're traveling with someone, as you can actually talk and share the experience. That's tough to do in first given the separation between seats.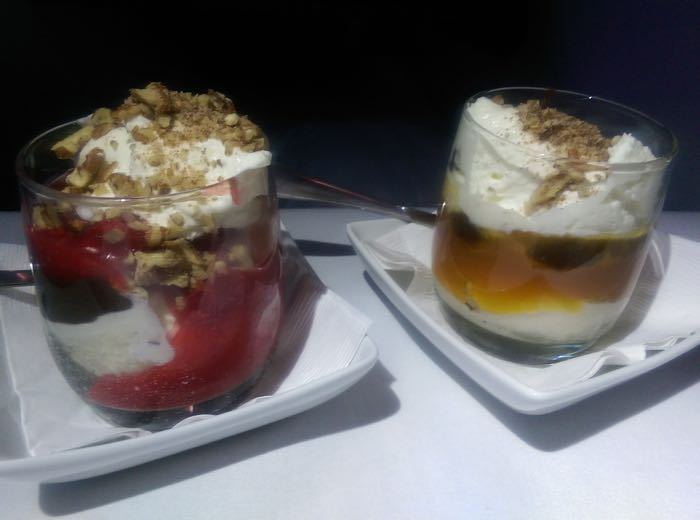 Ice cream sundaes are better when shared
3) The seat itself is more comfortable
This probably comes down to personal preference, but I find the business class seat to be more comfortable all-around. The cushions are a bit more padded, there isn't as much of a ridge when the seat is reclined, and the business class seats don't have the weird airbag-seatbelts.
I also like that the IFE screen is head-on in business. In first you have to pop the screen out to watch the monitor (which means it also has to be stowed for taxi/takeoff/landing), but in business class you can watch the airshow from gate to gate.
You also have more legroom and foot space in the window seat of business than you do in first. The aisle seat of business and first are closer to being equivalent, ironically.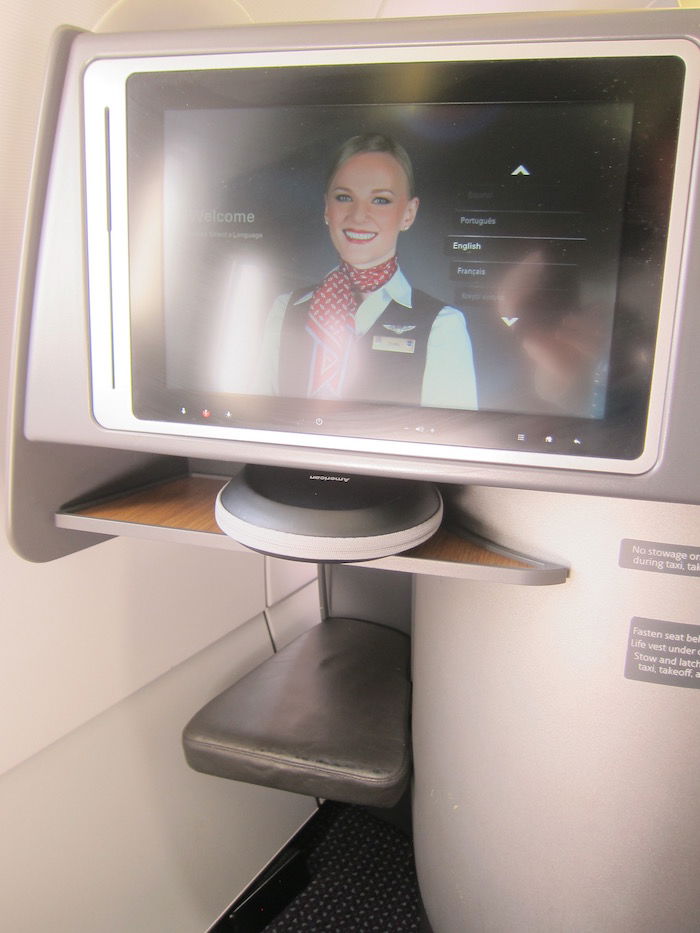 American A321 business class window legroom
This looks smaller in the picture than it actually is — my "personal item" has about the same dimensions as Ben's Killspencer bag, and fits in that space with no issues.
4) I can see out the window
You can see out the window in first, of course, but the angle is less natural due to the reverse herringbone configuration. So there's a bit of neck-craning that has to happen.
In business class (and in the window seat), the window is right there. Which, if you're like me and want to spend the bulk of your time marveling at the miracle of flight, is a nice perk.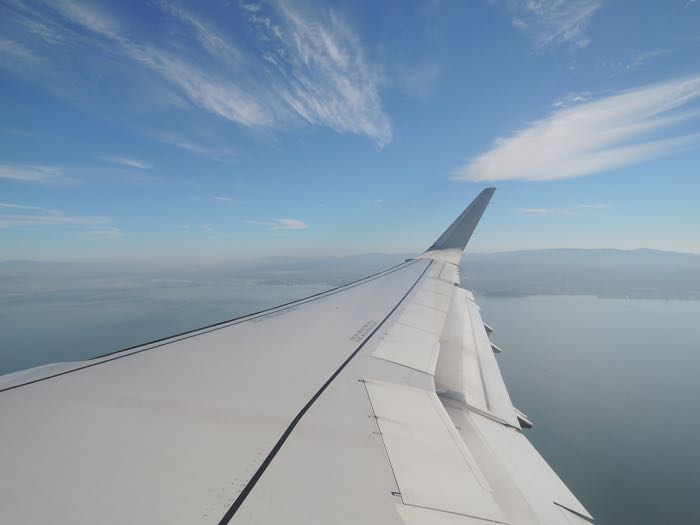 A321 wing over San Francisco Bay
So what about first?
Having done a half-dozen transcons in the past few weeks, in a mixture of business and first, I definitely prefer the business class seat. Even on a red-eye the reduced privacy didn't bother me, and the other seat features are preferable in a lot of ways.
Of course, while business class is all about the seat, first class is differentiated by a few "add-ons," which are worth mentioning.
1) Flagship check-in
This falls in the category of "things I couldn't possibly care less about, personally" but I can see why it would matter to others.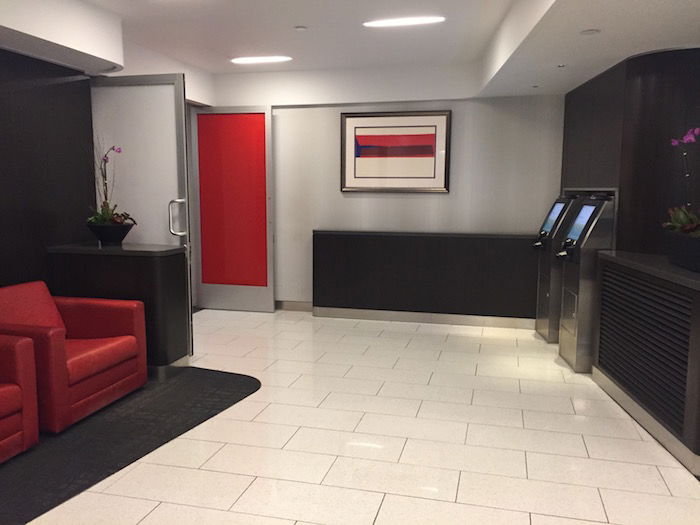 American Airlines Flagship Check-In LAX
First class passengers flying between New York and Los Angeles or San Francisco can use the Flagship check-in areas; business class passengers cannot unless they're continuing on to international first class.
As I never check a bag, and typically have Pre-Check, I find this to be of marginal value. But, it could make a difference to some.
2) Access to Flagship lounges
While American's Flagship lounges are hardly up the standard of international first class lounges, they are still a significant upgrade. The access rules are as follows:

Again, first class passengers on the A321s have access, while business class passengers do not (unless they're connecting onwards in first internationally).
Personally, I think international itineraries are when Flagship lounge access would be most valuable anyway. Unless you're timing your arrival at JFK such that you can avoid the disastrous security situation, the lounges in LAX and JFK really aren't worth spending extra time at the airport for, and San Francisco doesn't even have one.
3) The bubbly
For a few glorious weeks in late summer, American was offering Lanson Brut in both business and first class on the A321 flights. Those were some fun plane rides.
Nowadays, American is serving prosecco in business, and keeping the champagne exclusive to first. I think that's probably a good decision on American's part, and I do like prosecco in general, but this particular prosecco is…. bad.
4) The lavatory
Granted, this seems like a minor thing, but the first class cabin has ten seats, and one lavatory.
The business class cabin has twenty seats, and still only one lavatory.
So, you know, you can do the math there.
Bottom line
While the extra perks of first are nice, on balance I still prefer the business class seat on this plane. If I was booking an international ticket and both cabins had award availability I think I would have a hard time choosing even as a solo traveler, and if I were traveling with someone, business would be an easy choice.
And I don't think I'll use system-wides to upgrade to first again on this route.
What about you? Does anyone else prefer business to first?