As I hinted at on Monday, I just flew Etihad Airways from Seoul Incheon to Abu Dhabi, and had a 14 hour delay. It ended up being my best Etihad flight ever, though I'll have more on that in a separate post.
After having virtually no delays for the past couple of years I've been having an unlucky streak lately, whereby I've had several 4-6 hour delays. However, it has been years since I've had a 14 hour delay.
Anyway, I figured I'd share the story of what happened, since it ended up being pretty amusing… or something like that.
My flight from Seoul Incheon to Abu Dhabi was scheduled to depart at 12:20AM, and I showed up at the airport at around 8:30PM.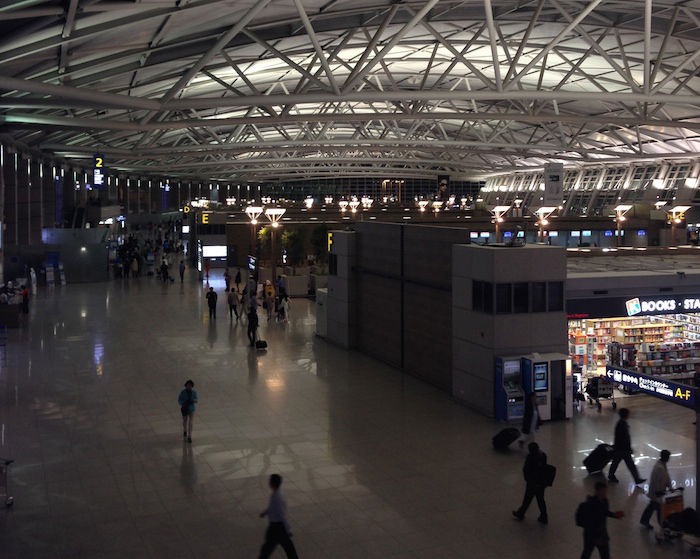 Incheon Airport check-in termal
As it turns out, check-in only opens at 9:05PM, which was annoying, but such is life. I got an iced coffee at the McCafe on the arrivals level, and was back at check-in by 9PM.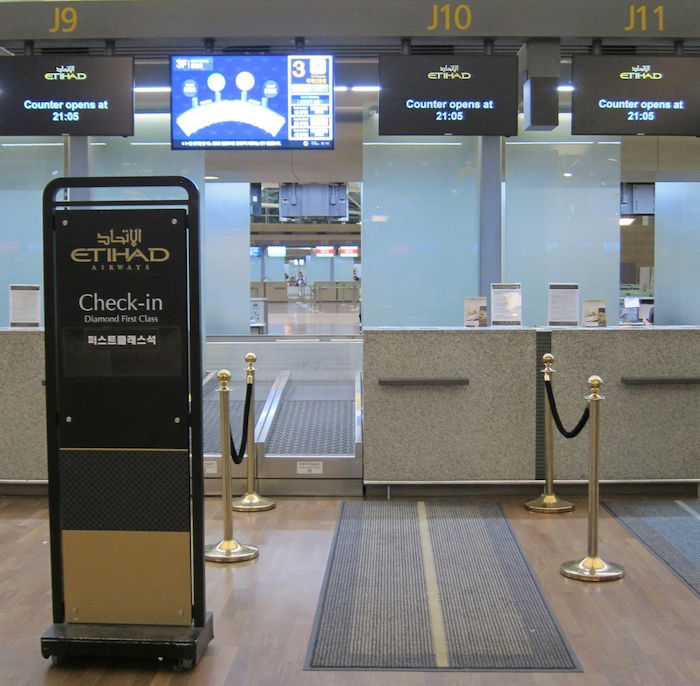 Etihad Diamond First check-in counter Incheon Airport
At 9PM the ground staff arrived at the check-in counter. There was one agent in an Etihad uniform, while the others were all contract workers in Korean Air uniforms. Usually check-in counters open with punctuality at Incheon Airport, though in this case they all seemed to be huddled up in a corner.
At 9:10PM they finally made an announcement along the lines of "Attention passengers booked on Etihad Airways 873, Air Seychelles 5377, Air Berlin 4015, Asiana Airlines 6971, Korean Air 7901 to Abu Dhabi. This flight has been delayed due to aircraft maintenance. We are sorry for the inconvenience."

Well that's an odd announcement… they left out the most important detail! After a few people started yelling they made another announcement: "Attention passengers booked on Etihad Airways 873, Air Seychelles 5377, Air Berlin 4015, Asiana Airlines 6971, Korean Air 7901 to Abu Dhabi. The new scheduled departure time for this flight is 1:30. The cause of this delay is aircraft maintenance. We are sorry for the inconvenience."
Loud moans were heard throughout the check-in area… and that's based on passengers thinking there was a 70 minute delay (they said the new departure time was 1:30, and didn't specific AM or PM).
Next the agents put up posters around the check-in area indicating the flight was departing at 1:30PM, not 1:30AM (notice how they didn't even spell Abu Dhabi right).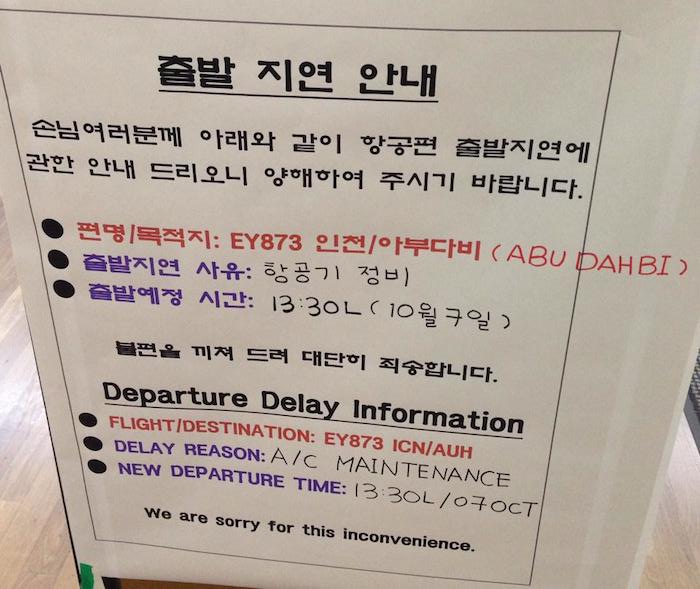 Etihad flight delay poster
The news quickly spread that the flight wasn't delayed 1hr10min, but rather 13hr10min, at which point a near riot began.
Let me start with my philosophy on delays:
Delays suck just as much for airline employees as for passengers. You think your 14 hour delay sucks? How do you think that delay is for the agent that has to deal with hundreds of angry passengers? I can assure you they hate the delay at least as much, if not more.
In the case of delays I have higher expectations at a hub than at an outstation. Airlines have a lot more resources at their hubs than at outstations. For example, I'd be pissed if they had just a couple of employees dealing with a delay at a hub, while I expect that at an outstation, since they can't really create resources out of thin air.
It's all about communication. I'm happy as long as the delay is being communicated well. Communicate it as early and realistically as possible, in my opinion.
With that in mind….
People were just flipping. Flipping the hell out. "No, this can't be, you can't delay my flight for this long." "F*ck you Etihad!" "No, you will fly me now and you will take my bags." "I want to talk to the CEO of Etihad." Right….
One pair of guys got into an especially heated (and dumb) argument. I'm not actually sure what they were arguing over:
"F*ck you."
"No, f*ck you."
"F*ck you, [something in a different language]."
"If you're going to call me names, be a man and do it in English."
"Because you're too stupid to learn other languages?"
"[Cusses in a different language, presumably]."
"[Cusses something in a different language, presumably]."
At this point they look like they're about to get physical, so I just said "guys, we're all tired and frustrated, but you know this isn't helping. Please stop."
At that point the guy turns to me and says "f*ck you, pussy." Okie dokie…
The part that left me puzzled is that Etihad's flight from Abu Dhabi to Incheon arrived before 12PM, so it had already been sitting on the ground for a long time. Did they really not know the maintenance delay would happen until the time that check-in opens? Some people brought this up, and the agent claimed that Etihad "just got the call from Airbus and can't fix the plane without a new part, which won't arrive until tomorrow."
Fortunately I was the only passenger in first class, meaning I was the first person in the first class queue at the time. The Korean Air contract agent explained that they were putting everyone up at the Grand Hyatt Incheon Airport, so was going to give me a hotel voucher.
Of course I tried to be one step ahead of them, because while she was getting started on a hotel voucher I was looking up alternatives. Emirates had a flight leaving 30 minutes before Etihad's original departure time, with a convenient connection to Cairo, and had first class availability. In the cases of irregular operations that are within the airline's control, it's reasonable to expect to be rebooked on a flight like that.
I asked the agent about the possibility of being rebooked on this routing, and she referred me to the one Etihad agent, who had "set up shop" one counter over. At this point there was a queue of about a dozen people at the Etihad counter, so it was an hour before I was being helped.
When it was my turn I presented her with the Emirates flight numbers and explained they had availability for a comparable routing. She appreciated that I had already found options and was open to the routing, so she called up "head office" (as she called it — presumably just central reservations), and within three minutes they had me booked on Emirates. She wrote down the flight numbers and ticket number, and told me to go to the Emirates counter. Woohoo, A380 shower, here I come!
I get to the Emirates counter and the agent is lovely. She tries checking me in but has an issue. After a minute she says "hmmm, it looks like they canceled your ticket." The Emirates agent goes over to the Etihad counter, and then the Etihad agent follows her back to the Emirates counter. The Etihad agent says to me "they canceled your ticket because you're on an industry discount ticket, why don't you come back to the counter with me and I can help you?"
Go figure at this point there's a line about a 100 people deep for the agent, and I just follow her. They all think I'm trying to cut, so I get a few words yelled at me. She finishes up with one passenger, and then explains that since I'm on an industry discount ticket I can't be rebooked on another airline. I explained that I'm not on an ID ticket (which is usually used for airline employees), and after calling "head office" again they explain that the issue is that I'm on another airline's ticket stock, so they can't rebook me on another airline (I was on American ticket stock, for what it's worth).
I explain that if they just put the segments in the record I can get it reissued. But then I also realized that Emirates check-in was about to close, that I was fighting an uphill battle, and that I was unlikely to win. So rather than chance it and ending up in line behind 100 people to get a hotel voucher, I might as well just get a voucher for the Grand Hyatt Incheon and call it a night, since my Emirates plans were unlikely to work due to time constraints.
She quickly issued me a voucher, and said check-in opens tomorrow at 10:30AM at counters G30-36. She did everything she could, and I certainly don't envy her job of having to deal with all of us.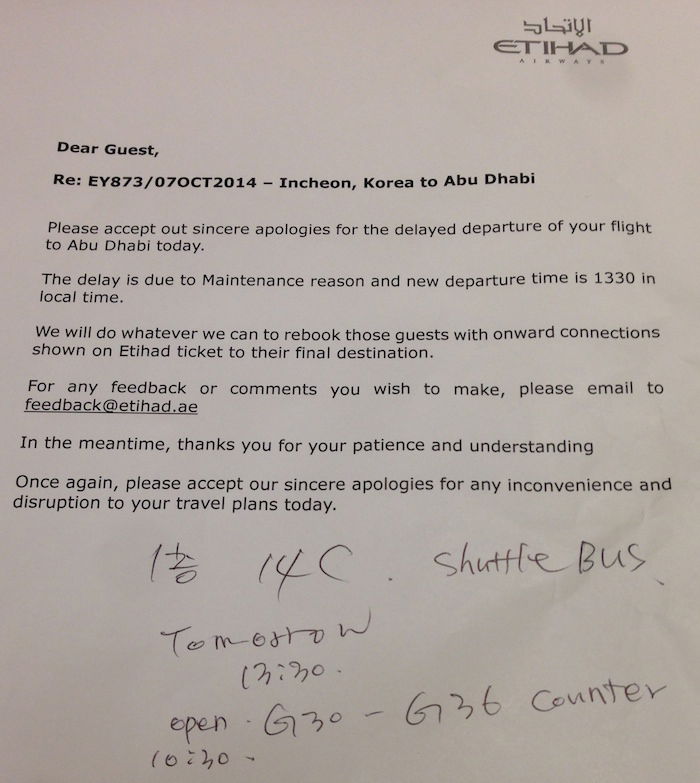 Delay letter from Etihad
The Grand Hyatt Incheon was stunning, and was completely different than the Hyatt Regency I stayed at before the property was rebranded.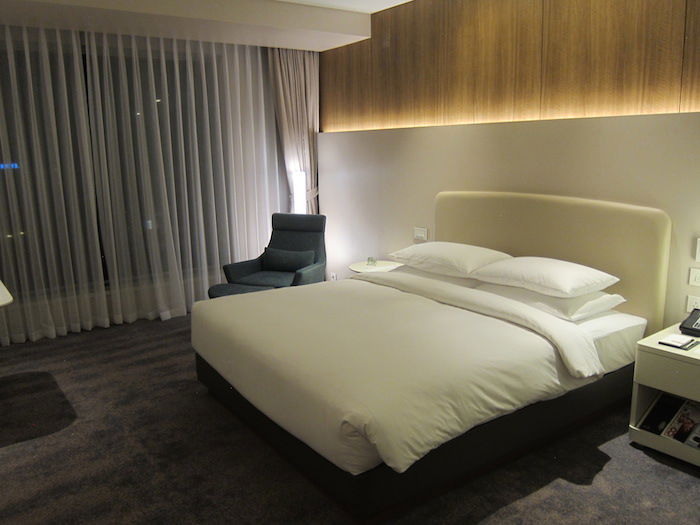 Grand Hyatt Incheon room
The next day I showed up at the airport at 10:30AM, and everything went more smoothly. At this point they had a good number of Etihad employees on hand, including the station manager and assistant station manager, who both apologized profusely. They explained it was their first major delay of the year, and how embarrassed they were by the situation.
The good service continued aboard. As I said above, this was the first Etihad flight I've taken that actually blew me away, so stay tuned for that next.
Bottom line
The delay was of course a pain, though all things considered I think they did a reasonably good job handling it. I was a bit surprised they didn't proactively offer any sort of compensation/gesture of goodwill, which I've certainly seen other airlines do in similar situations.
What I took away from the experience more than anything is how rude some people are, and how they completely lack tact when dealing with frontline employees. I don't know what they hope to accomplish by cussing out or arguing with frontline employees — it's just pathetic.
The delay made for an interesting evening, if nothing else…