Last week I wrote about my flight in Etihad first class on Wednesday, whereby they ran out of food several hours before landing… for my second longhaul flight in a row!
I've also written in the past about the new Abu Dhabi US pre-clearance facility. Basically on select US bound flights you clear customs & immigration in Abu Dhabi, and then land in the US as a domestic flight.
The UAE is picking up most of the cost of the facility, thinking it's a big selling point for flying Etihad out of Abu Dhabi.
The problem is that the pre-clearance facility in Abu Dhabi is a complete mess.
I'll go so far as to say it's quite possibly the most dysfunctional facility I've ever seen at an airport. Virtually no flights have left on-time since this was introduced, and passengers hate the facility.
But if you ask Etihad you'll get a different story. Etihad's CEO was quoted as saying:
"This is a game changer as far as Etihad is concerned. The facility has made a huge difference and really couldn't have gone better. It's great not just if you are flying direct to the US from Abu Dhabi but also connecting from elsewhere in the region."
There aren't many things that really piss me off. I can appreciate the innovation in trying the facility, so can't fault them for it. And I also do believe Etihad genuinely thought it would be a selling point of flying out of Abu Dhabi, so I do think it was well intentioned. For that matter, I could also appreciate if the CEO said "we are still working out some kinks and evaluating the program."
But for the CEO of the world's fastest growing airline to say that a facility "couldn't have gone any better" when flight operations using the facility are departing an average of two hours late, makes me livid.
I'm passionate about this industry, and I want to see airlines do well. But there's no way an airline can do well long term if their CEO is so out of touch with reality, or is willing to completely fabricate the state of a situation for the purpose of making bureaucrats happy.
I wrote about my experience when I flew Etihad out of Abu Dhabi in June, so let me share what happened on my flight this Wednesday.
I was on the 10:30AM Etihad flight from Abu Dhabi to New York. At 8:30AM the attendant in the first class lounge told me I must leave the lounge now or else I will miss the flight. I explained I had Global Entry, but she insisted I needed to depart right away, So I did.
I followed the signage to the far end of the terminal, where the US pre-clearance facility is found.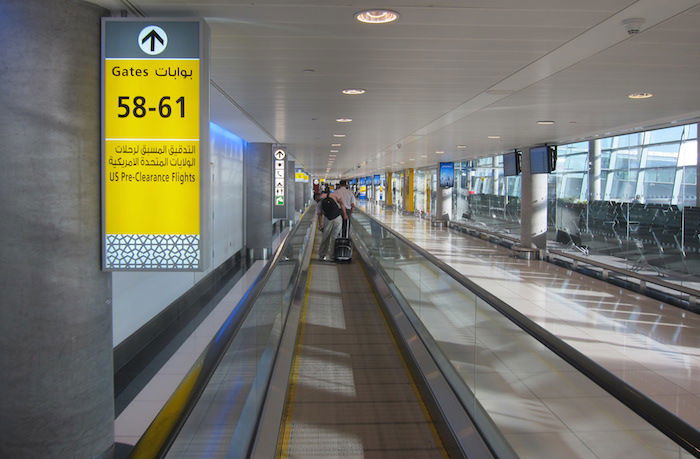 First you wait in a queue to get your boarding passes checked. There are four US bound flights leaving within two hours of one another (Chicago, Los Angeles, New York, and Washington). There is a special first and business class lane, but there's no one enforcing who goes in that queue, and the area is shared with wheelchair passengers.
I can't put into words the number of people I heard grumbling in that queue. I'm used to people being pissy at airports, but everyone was griping nonstop.
After that was the security checkpoint. You clear security after check-in, and then have to go through another checkpoint to enter the pre-clearance area. And that's fine, but it's quite possibly the most superficially detailed and rude security checkpoint I've ever been through. I had to turn on all my electronics and even take shoes out of my bag, along with the crap you usually go through.
Again, there's a premium line, but it's in the same area as wheelchair passengers, and poorly enforced. And with how tightly the US flights are timed you're potentially looking at ~180 premium passengers trying to use the lane at about the same time.
After that is immigration. There are two Global Entry kiosks so I had my "slip" in no time, but then I had to wait in the queue to talk to an immigration officer, which was (again) shared with wheelchair passengers.
I figured I'd just have to show the slip, but the agent grilled me. He asked my name, where I'm from, etc. I was fine with that of course, but it was just a bit uncharacteristic for a Global Entry experience. I actually ended up having a nice five minute conversation with him about the whole Abu Dhabi Pre-clearance facility.
He was frustrated beyond words by the whole facility, as he used to work at a Canadian pre-clearance facility (those facilities actually make sense). He kept saying "I'm not allowed to comment about this facility, but…"
Great.
So despite all that, I was then through immigration and security, and it was only 9:15AM or so (but still 45 minutes after leaving the lounge).
At least I figured I could sit down in the gate area. The problem is Etihad doesn't actually open the gate area until boarding starts, so you're kind of just stuck standing in the small departure area. There's a single coffee kiosk, but nothing else to do on that side of security.
No restaurants.
No shopping.
No lounges.
And you can't even bring bottled water or anything, since it's confiscated at the security checkpoint.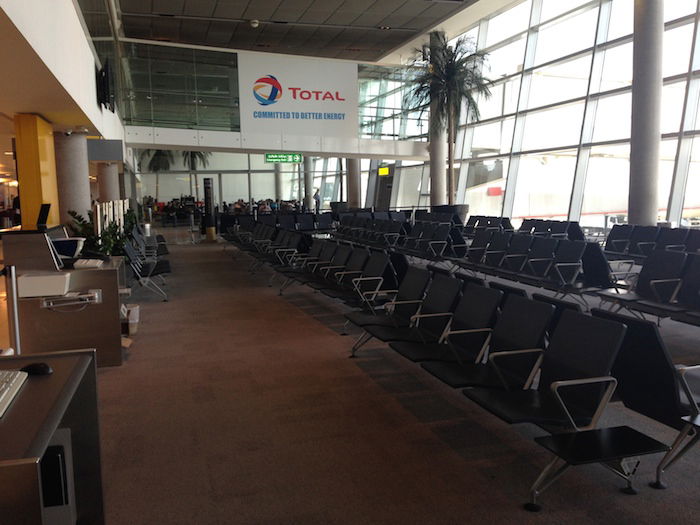 My boarding pass said that boarding would begin at 9:30AM, though at 9:30AM there was no agent working my gate.
Instead they were announcing literally a dozen "last and final" boarding calls for the Etihad flight to Los Angeles.
I was so amazed by how horrible the situation was, that I sought out the gate manager to share some feedback. After all, if no one says anything there's no way they can really know how unpleasant the facility is.
He was friendly, and I explained to him that as a first class passenger it's ridiculous that I was more or less forced to leave the lounge two hours early and there's literally nowhere to even sit past security. The least they could do is open up the gate area so there's at least seating for passengers. And then I mentioned how generally unpleasant the experience is.
I asked him if he had a single on-time flight that week using the pre-clearance facility. He said he hadn't, and seemed to share my overall feeling about the facility.
At 10:15AM (45 minutes after the posted boarding time) the crew slowly began to show up, one by one.
I asked the gate supervisor why the crew was showing up roughly 15 minutes before our scheduled departure time.
"Oh the queues at the pre-clearance facility were long, it took them a while."
And they couldn't plan for that?!
You know your system is broken when the crew is strolling towards the gate one-by-one 15 minutes before departure.
Finally the crew was all aboard by about 10:30AM, and at 11AM boarding finally began.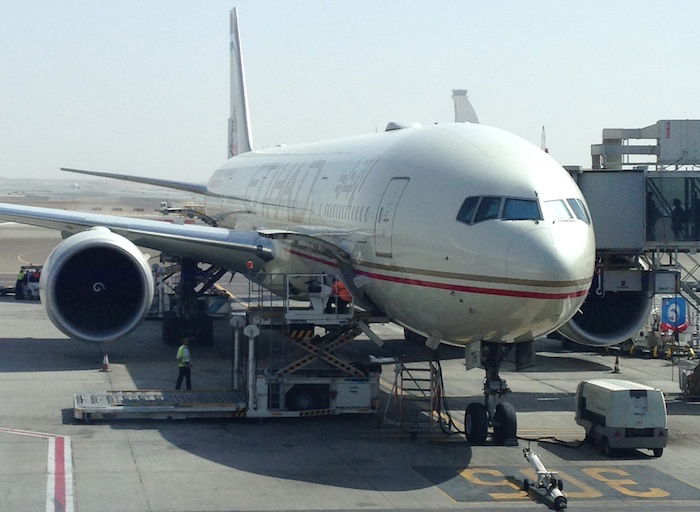 While most passengers were aboard by 11:30AM, there was a further delay of over an hour which wasn't initially explained to us, but was because we were still waiting on other passengers in the facility.
For anyone still keeping track, we're at over four and a half hours from when I left the first class lounge in Abu Dhabi to the departure of my Etihad flight.
I asked a handful of crew members whether they had operated a single on-time flight to the US since the facility started. They universally hadn't, and individually noted the two hour delay is now standard.
Look, there are bigger issues in the world, I get that. I'm not trying to say "the major problems in the world are Etihad's pre-clearance facility in Abu Dhabi and world hunger."
But I'm genuinely really passionate about this industry, and over the years I've learned what works and what doesn't.
For example, while I take some ethical issues with Qatar's CEO Akbar Al Baker, the guy is growing on me otherwise. Because his anal-retentive attention to detail is actually reflected in every aspect of the Qatar experience. You know why the lounge had a delayed opening? I can assure you because His Excellency was touching every wall, checking every toilet cover, and trying every meal himself. Because he's that ridiculous and over-the-top passionate about the little details, even to a fault.
I have a lot of respect for James Hogan, Etihad's CEO. Based on everything I've heard he's a really bright guy and seems to do a good job running the airline.
But what I don't understand – and what actually offends me – is that he would claim that the facility couldn't be going any better.
It shows a lack of respect for his customers (who find the experience miserable), his pilots and cabin crew (who find the experience miserable), and his ground crew (who find the experience miserable).
Saying the facility is operating as well as it could suggests that nothing is being done to innovate it, which shows a complete disregard for the time and experience of everyone involved.
If anyone from Etihad is reading this, feel free to reach out. I want you guys to succeed and really love your airline.
But I'd love to hear what you think it says about your airline when a facility that has caused unquantifiable customer aggravation and delays averaging two hours per flight "couldn't be going any better?"
Is this a sentiment Etihad leadership still believes?
I genuinely don't believe that there's a single passenger that has been thrilled by the facility and would choose Etihad over another airline because of it.
So if by "game changer" you mean it will cause passengers to fly other airlines, then I think you're right — it will change that "game."
And if by "it couldn't go any better" you mean you've realized it's a horrible idea and there's no saving it other than eliminating it entirely, then I think that's true as well.
If anyone has any experience with the Abu Dhabi pre-clearance facility recently, please do leave your feedback, be it positive or negative.
I'm sure someone at Etihad will see this, and I'm sure they'd love to hear your thoughts as well.